23

min read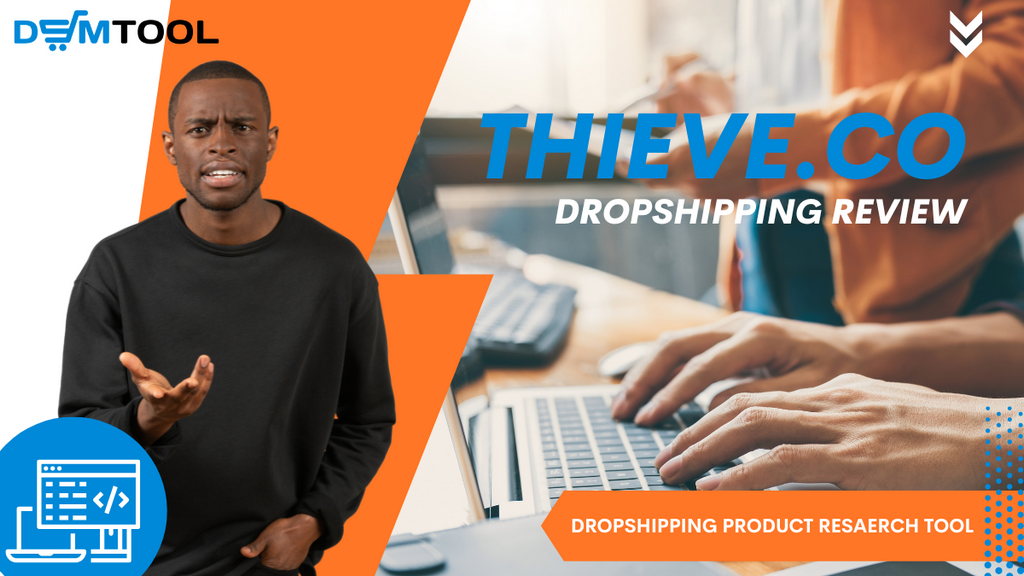 In my article How To Find Dropshipping Products, I covered the 15 best dropshipping product research tools in the market as of November 2022. In this review, I will take a closer look at one of them, Thieve.co AliExpress product research solution. The tool is among the most popular, so I decided to check what makes it stand out. We will discuss how it works and its features, pricing, and subscription benefits. You will also learn the difference between Thieve.co and Thieve Supply. We will talk about the following:
What is Thieve.co?
How Does Thieve.co Work?
Thieve.co dropshipping features.
What is Thieve Supply?
Thieve.co pricing.
So, here is my Thieve.co dropshipping tool review!
What is Thieve.co?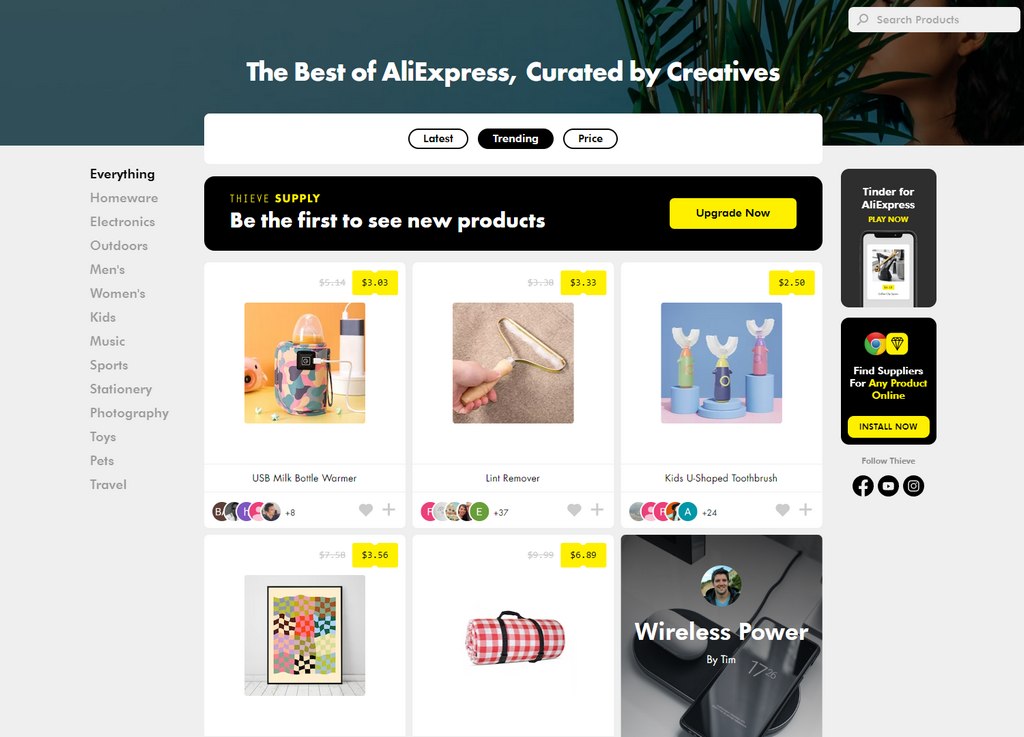 You have to look very hard at AliExpress to get something good and profitable: the site is full of cheap knick-knacks that break almost instantly. Thieve solves this problem – this is a catalog of high-quality products chosen by real people.
Thieve.co dropshipping product research tool is software for finding your winning products. It provides information about hot-selling items from any niche and the necessary data to consider whether to sell them. The software allows you to peek at how much people are searching for a particular product, how it changes in demand and pricing over time, etc.
Founded in 2015, Thieve.co dropshipping tool started from fellow entrepreneurs purchasing and reviewing products from AliExpress. Nowadays, over 200 different people pick the best products and share them with other dropshippers. The suggested products are hand-picked by a group of creatives, designers, bloggers, and eCommerce specialists who regularly add new items. So you can say that Thieve.co is more like a curated list of products than product search software. It specializes in AliExpress trends.
Thieve.co dropshipping website is free to use and allows one to view trending products with prices and order volumes without signing up. No catch. The platform makes its money through affiliate commissions. Currently, there are over 400,000 registered members on the platform.
How Does Thieve.co Work?
The idea of how Thieve.co works is pretty simple: visit the website – find the product – proceed to AliExpress to purchase it. Here is the detailed process.
You visit the Thieve.co website and find a product you are interested in. For that, you can browse specific product categories:
Homeware
Electronics
Outdoors
Men's
Women's
Kids
Music
Sports
Stationery
Photography
Toys
Pets
Travel
And sort by Latest (most recently curated on Thieve Supply), Trending (popular with Thieve users recently), and Price (sorted by lowest price first; you can't change it to sort by highest price first).
For example, I went with the Homeware category, which is among the most popular dropshipping niches and sorted by Trending. I picked Lint Remover, liked by other 42 Thieve.co users (5 + 37, under the picture of lint remover).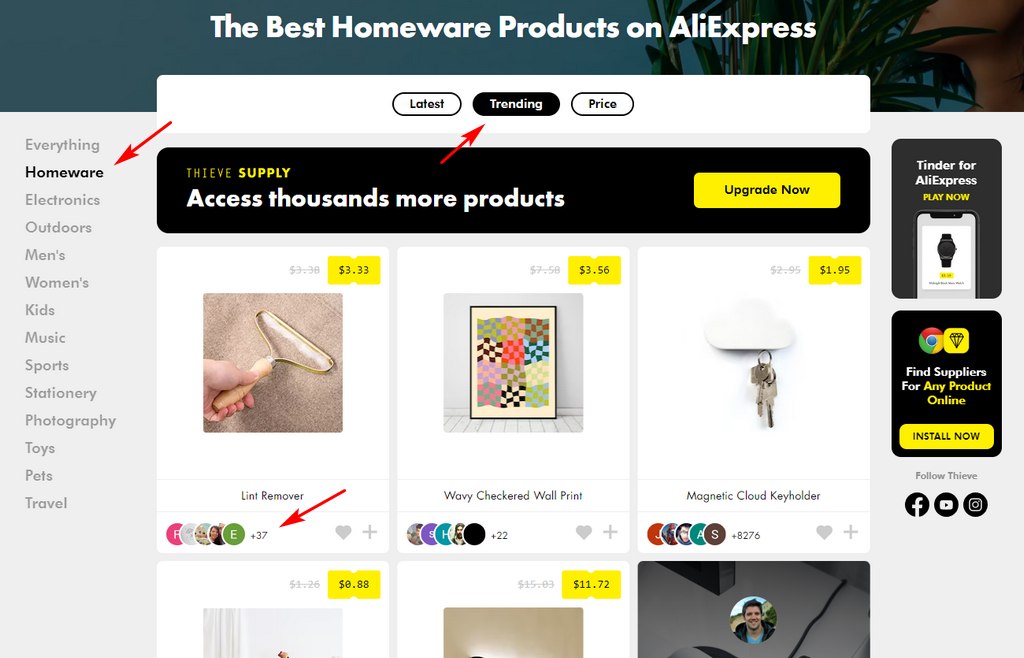 Click on the item you like to proceed to its Thieve.co product page. There, you can access some info like how many times it was ordered (under the Buy on AliExpress button, 2935 orders in my case). Please note that the amount of data you can access on a product page differs depending on your subscription. I started the Thieve.co Dropshipping free 14-days trial to see some of the features and analytics they offer. You can also try the Pro plan, but this subscription is too expensive for most dropshipping beginners, so I settled with a more affordable plan.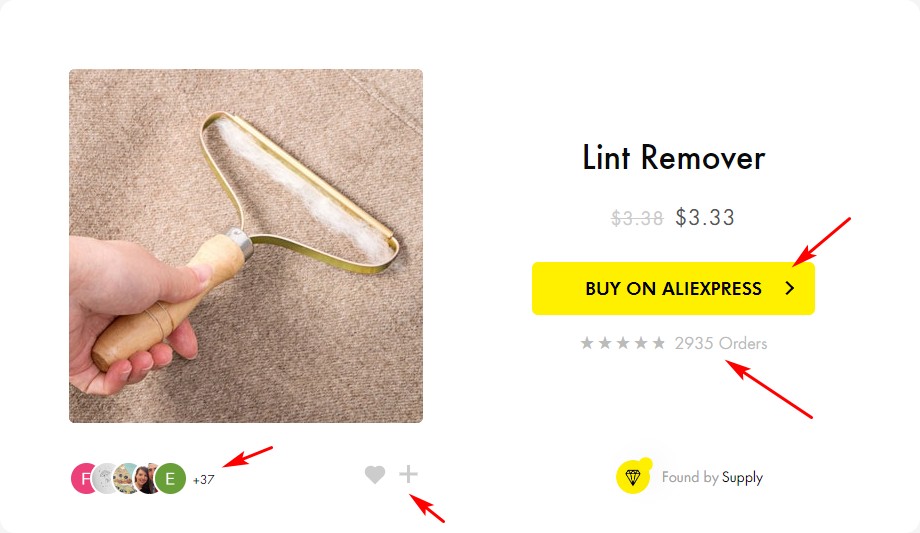 Thieve.co Dropshipping plan gives access to Supplier Assets – images, description, and features, which is nice, but I can get these from AliExpress. Thieve Premium Assets are available only on the highest plan.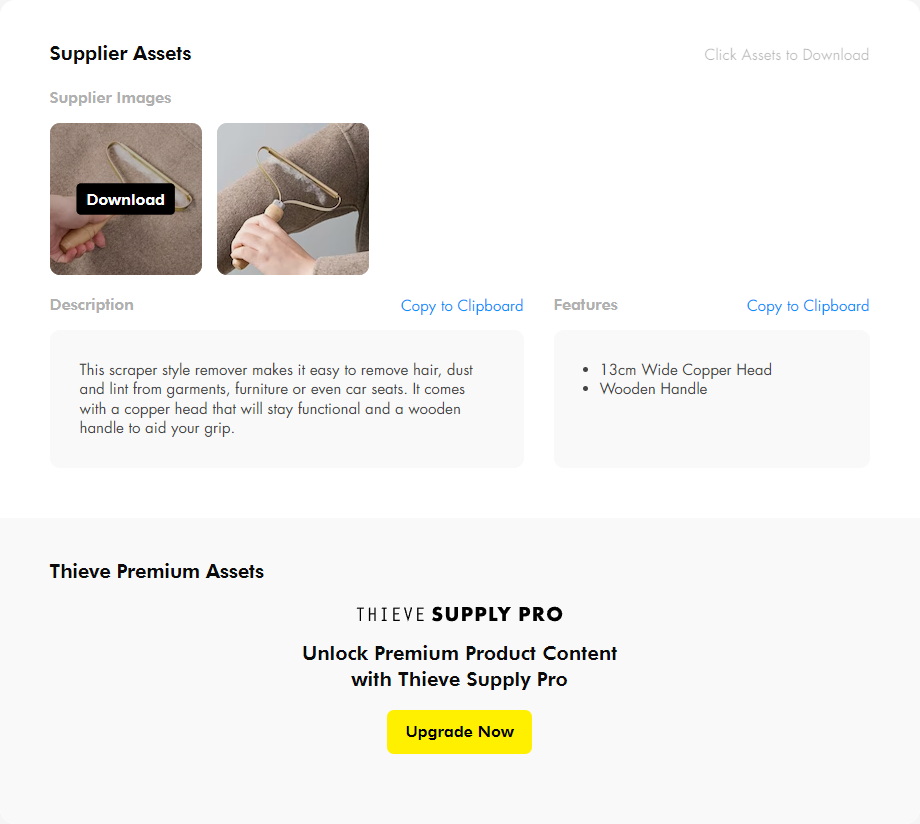 Below Supplier Assets, you can see another paid feature, Related Keywords. It shows keywords related to the product, the number of times users search for each keyword per month, and a chart under each keyword that shows changes in search frequency over time.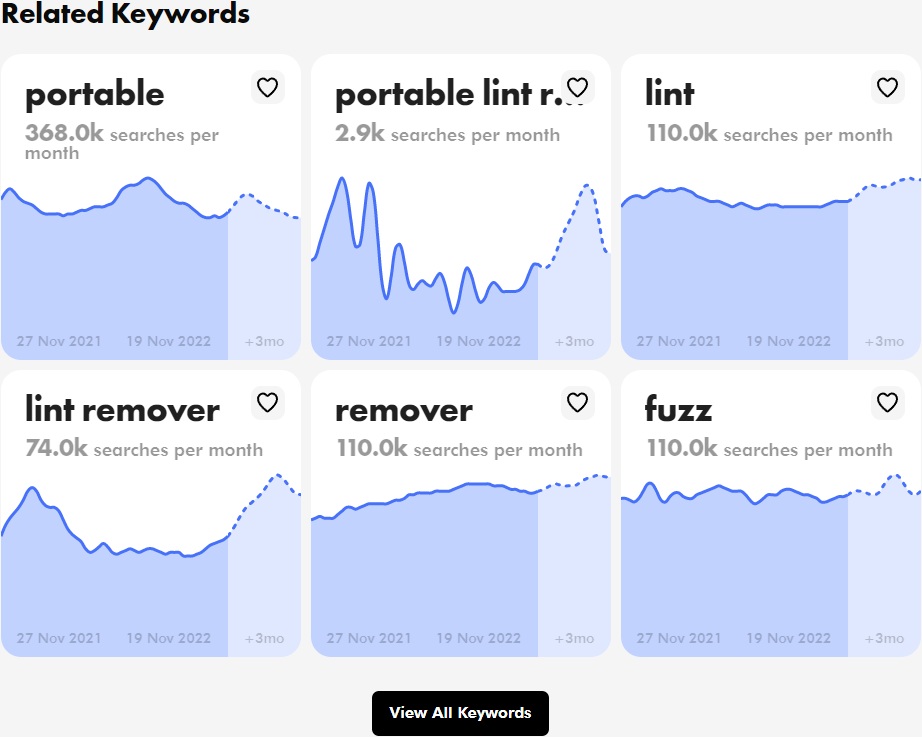 You can click on a keyword to access more data like Related Keywords, Related Search Terms, and Products Tagged With this keyword.
Below Related Keywords, you can see other items liked by users who liked the product you are browsing.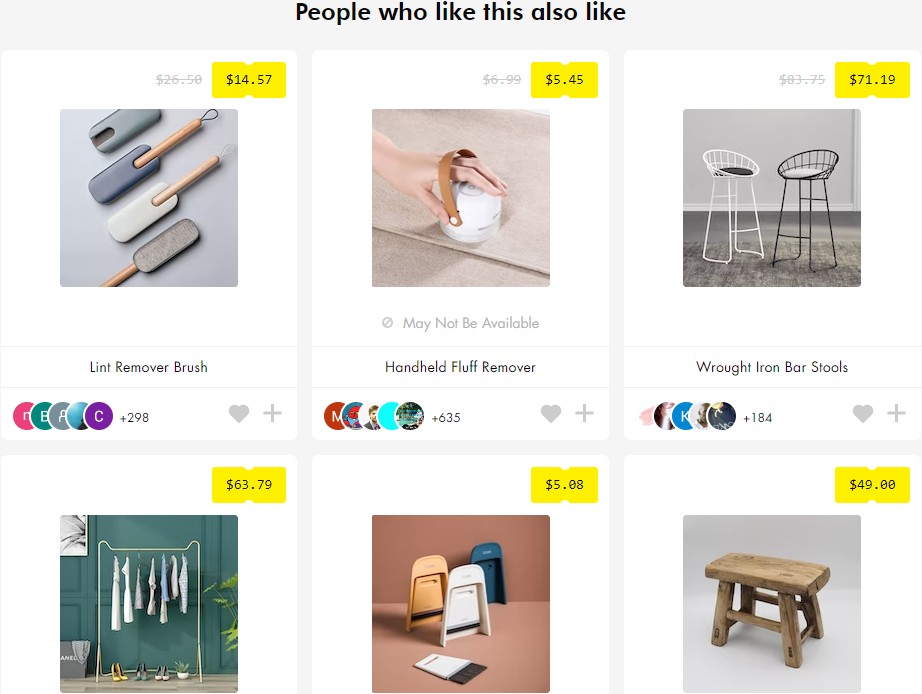 When you press the Buy on AliExpress button, Thieve.co will redirect you to the product supplier page on AliExpress via the affiliate link.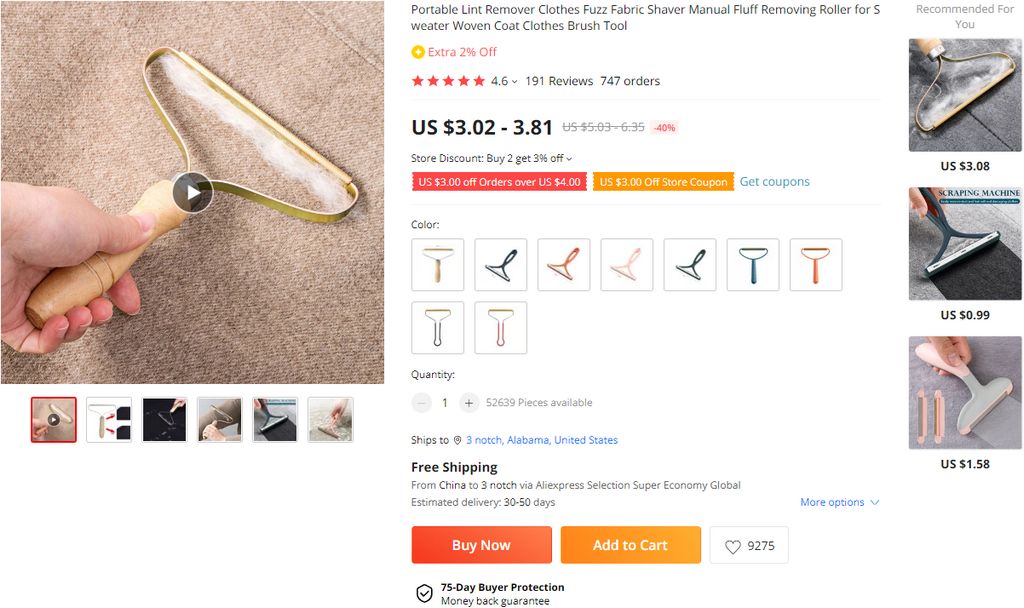 Make a purchase, and Thieve.co earns a commission from the order. It does not influence the price you pay. You get product ideas and save time while Thieve.co gets paid from AliExpress – it is a win-win. The process is the same for all subscription plans. The only difference is the amount of analytics you get.
How Thieve.co Selects Products?
Thieve.co has a team of several hundred all-kinds of persons: bloggers, photographers, designers, and other creatives curating products for the platform. Initially, only the team and invited curators were involved in product curation. Then the ability to add products was extended to anyone to submit items via Thieve Chrome Extension.
Before making it to the front page, a product passes through a verification process that involves a few steps. First, after submission, it needs to be approved by a team member to make sure it meets quality and style guidelines. Before accepting, curators ensure the product is visually appealing; then examine the product and supplier ratings, check comments and images, and so on.
After the verification process, the product goes to Thieve Swipes – a Tinder-like game in which registered users vote for products they like. And after that, the most popular products get to the front page, where all users can see them.
As you can see, a product passes quite a journey before you can see it. To become a winning dropshipping product, it has to meet strict Thieve.co criteria and be liked by other users. All products you see are well-vetted before getting published.
It is what makes Thieve.co great – the products are hand-picked by real people for people. Yes, it takes longer, and the number of products is lower than what you can get from an AI. However, it is not an AI that looks at items in your online store and decides whether buy them or not but real people. Thus it is advantageous when people and eCommerce experts vet products before you list them.
Thieve.co Dropshipping Tools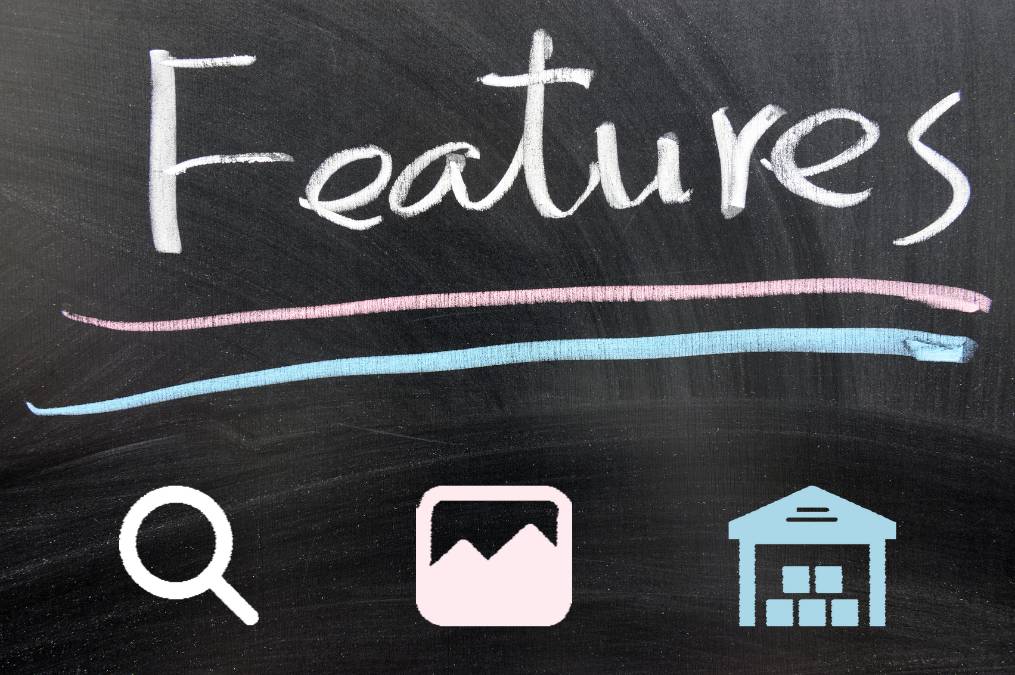 While the sole purpose of Thieve.co is to provide winning dropshipping products, it has a few additional tools you might find helpful. You can find them on the Tools page: Image Search, Supplier Finder, and Image Tool.
Image Search
AliExpress has a built-in image search tool, but it is not very convenient when using it on personal computers like desktops or laptops. Thieve.co Image Search tool takes an image from the internet or uploaded by you, scans and analyses it, and suggests products from AliExpress that visually relate the most. You can then browse the products and find similar items. You can also install the Thieve Chrome Extension which enables you to start an image search by right-clicking on a picture.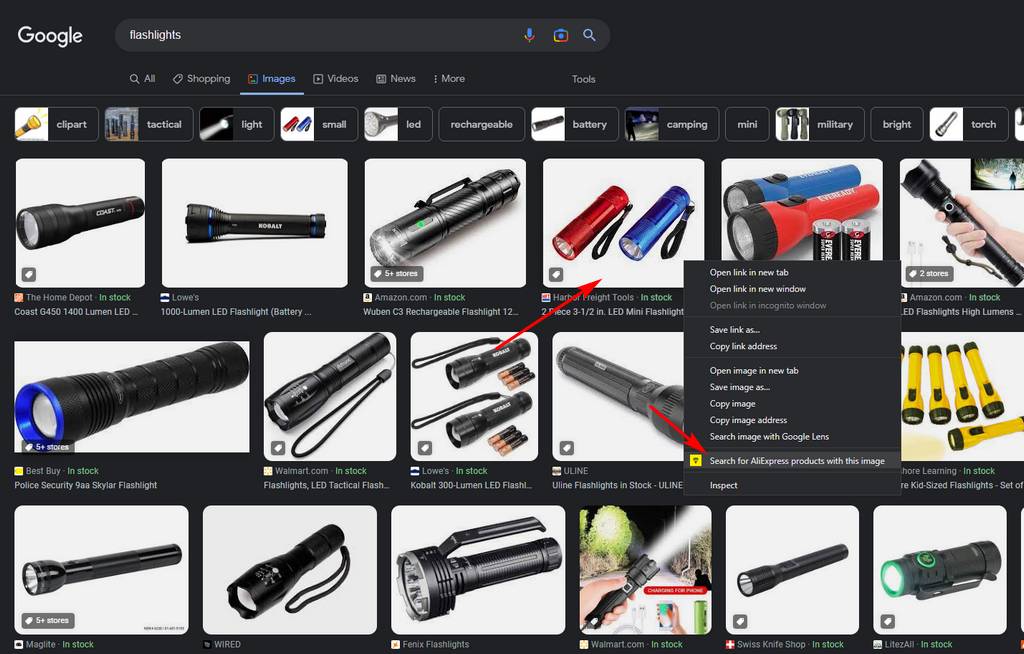 Here you can see how I googled "flashlights" and deployed the image search feature via the extension and what results I got.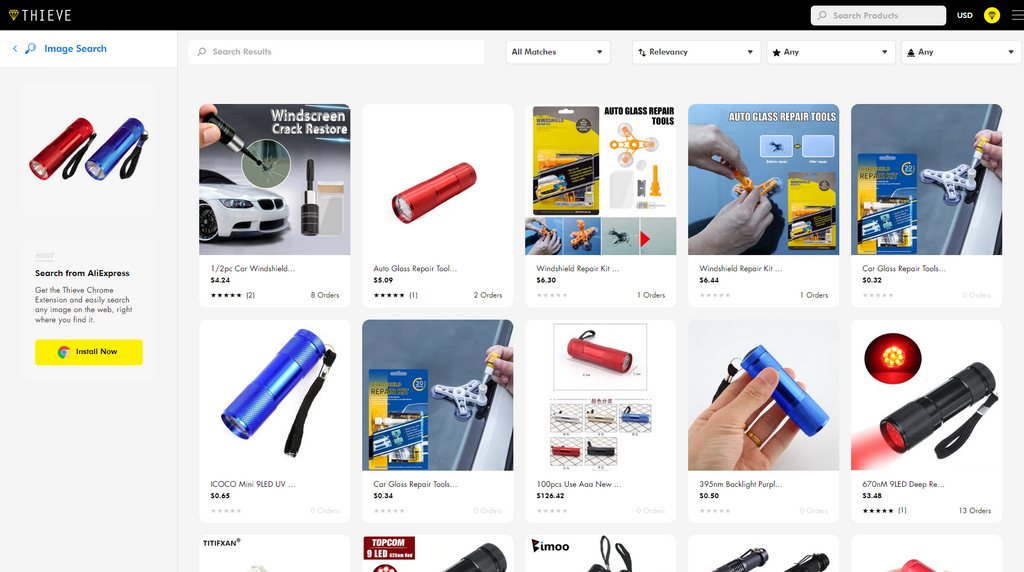 You can sort results by different criteria like relevancy, price, and orders. Premium filters include the quality (based on orders & reviews) and supplier location.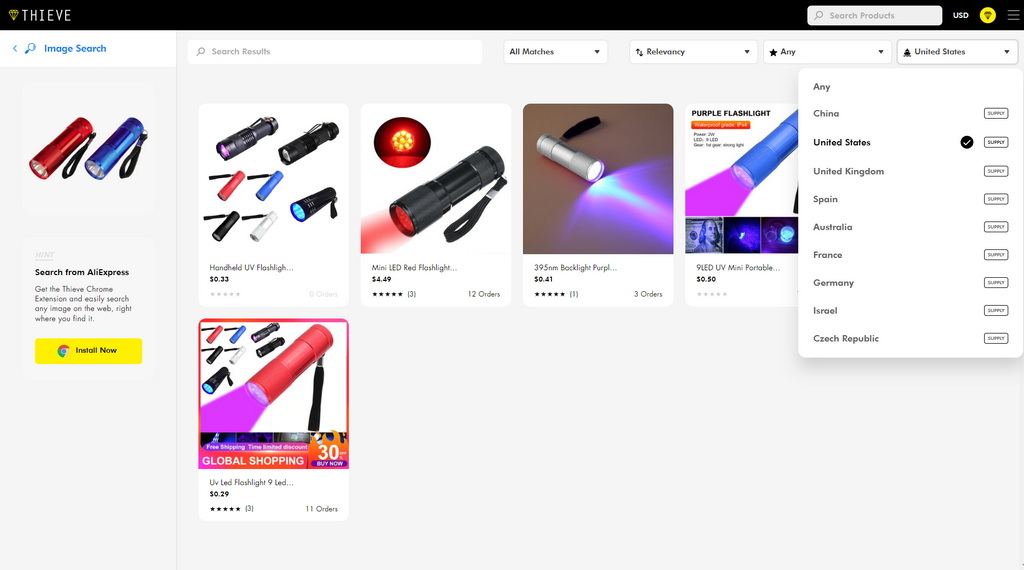 I should mention that when trying the extension, half of the time, I got the error URL Too Long. Other times, when uploading images manually, I received the error Oops, something went wrong.
Supplier Finder
Supplier Finder works the same way as the Image Search feature, but instead of an image, it searches for items visually similar to a product inputted via URL. Paste a link to an AliExpress product, and the Supplier Finder will find matching products you can sort through and find alternates. It helps to discover other dropshipping suppliers or stores selling the same item on AliExpress, giving you more options for sourcing.
Here you can see products similar to this item, with results filtered by rating, quality, and US warehouses.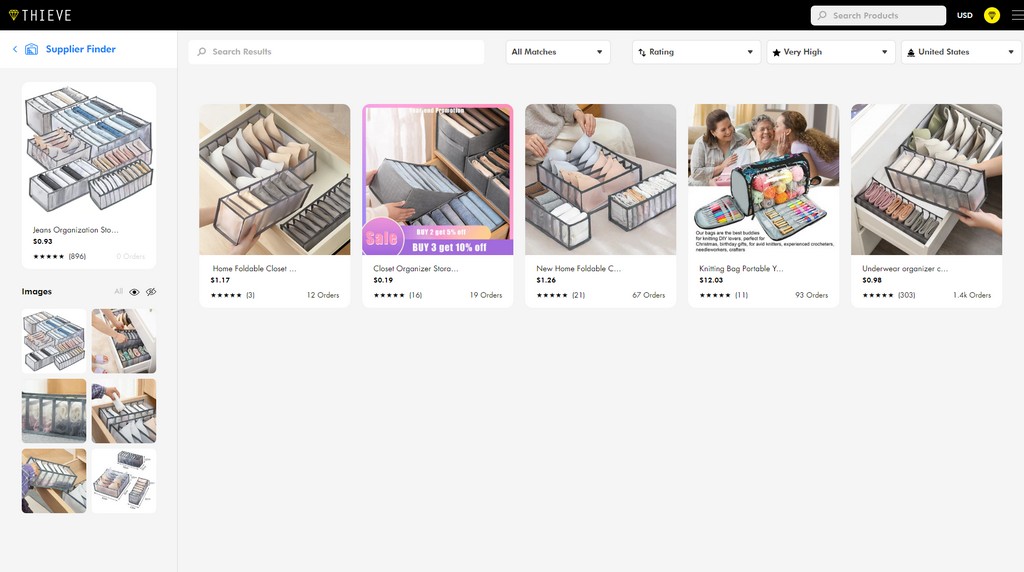 Image Tool
The Image Edit Tool removes watermarks from images you upload and splits items into separate images. The images should have a white background, and to separate objects, they must have white space between them.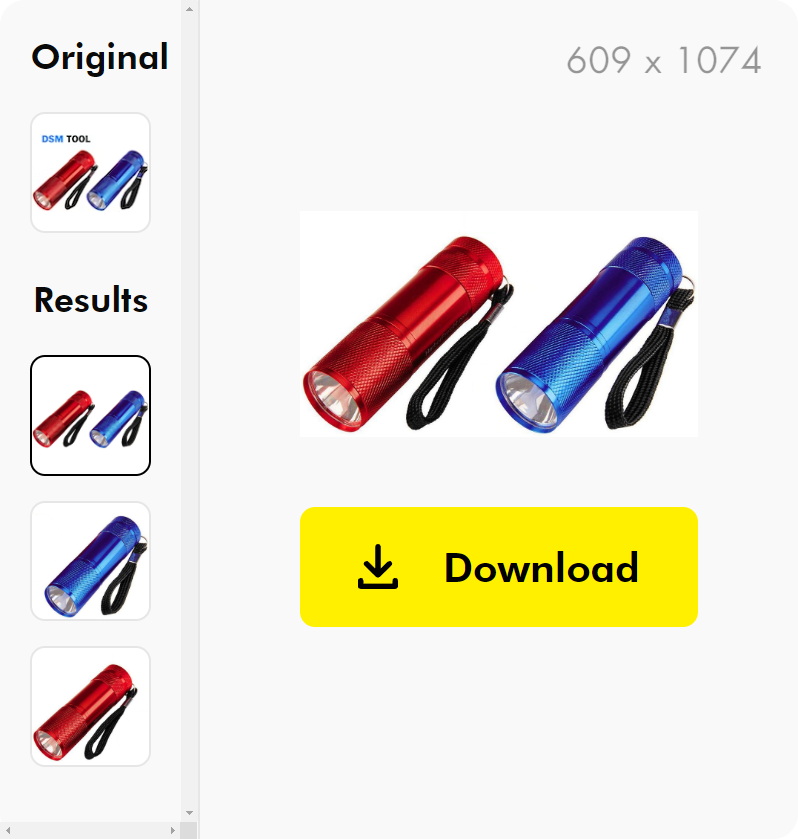 In the image above, you can see that I uploaded a picture with the DSM Tool watermark. After processing the picture, I got three images: the original without the watermark and two images with separate items. The tool is quite helpful and can save time; however, it only works if photos meet strict criteria.
Thieve Supply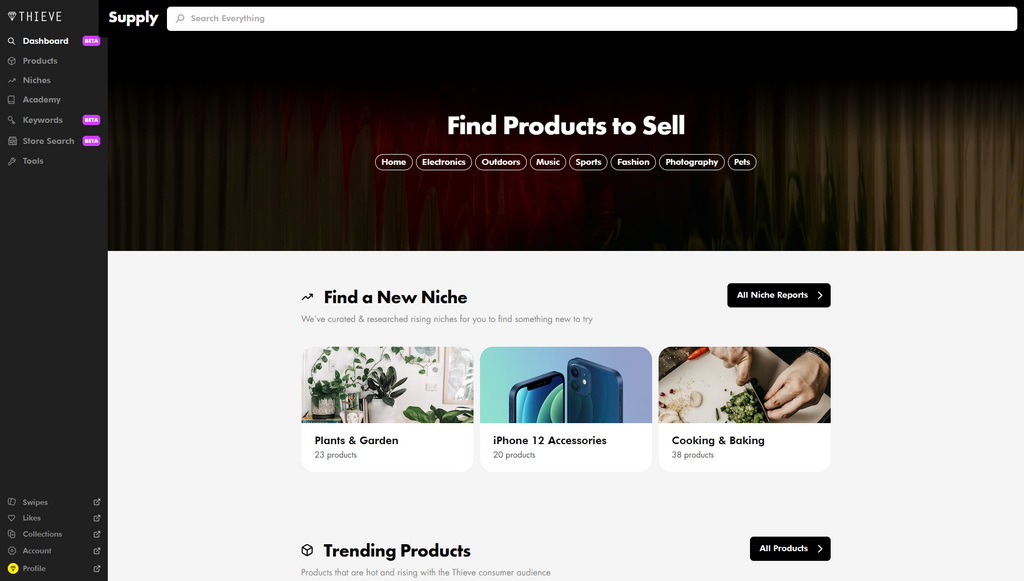 Thieve Supply is a premium solution available for paid users only. While you can find Thieve.co and Thieve Supply to be quite similar, those are two slightly different dropshipping product research tools. Thieve.co gives you access to the best AliExpress products curated by creatives. With Thieve Supply, you can explore around 4,000 more winning products gained by compiling real-user data and the best suppliers of those products.
When visiting Thieve Supply, you land on the Dashboard that shows the latest insights about niches, trending products, featured keywords, and useful dropship resources. Those are just insights gathered from respective tools for user convenience.
From the menu on the left, you can navigate to the following tools and features:
Dashboard (already mentioned);
Products – 3804 to browse as of the time of writing;
Niches – current trends, categories & niches that are relevant and rising;
Academy – dropshipping resources on the web, curated by e-commerce experts;
Keywords – keyword research tool;
Store Search – peek at the best Shopify stores;
Tools – the tools we discussed earlier: Image Search, Supplier Finder, and Image Tool.
From the lower left, you can navigate to:
Swipes – a Tinder-like game where users vote for products they like;
Likes – the products you liked;
Collections – collections of products you created;
Account – account settings (notifications, payment, subscription, etc.);
Profile – log out from your account or navigate to account settings.
We are interested in the following features: Products, Niches, Keywords, and Store Search.
Products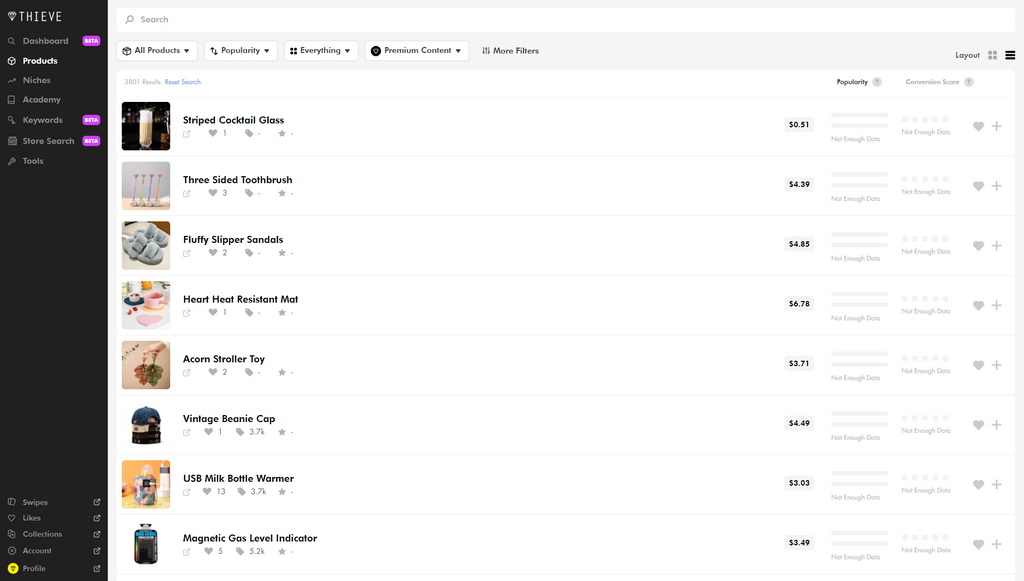 Thieve Supply Product feature is similar to what you get from Thieve.co, but it has far more filters and sorting options.

Both tools have the same 13 product categories and allow sorting items by Latest, Trending, and Price. Here is what the Product feature offers you on top of that:
What products to show – All Products (everything on the platform), Thieve (only publicly published products), Dropship (products that have been curated for dropshipping but don't fit the aesthetic), Likes (products you have liked).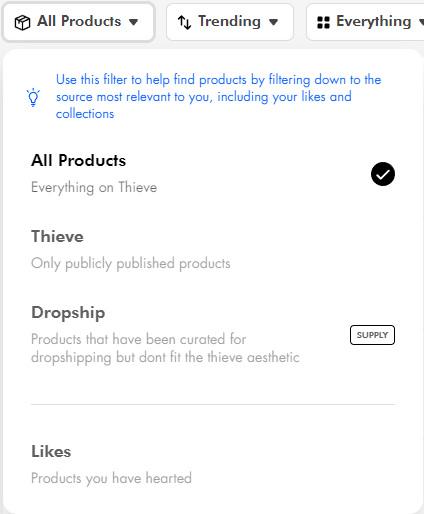 Sort by – Latest (most recently curated on Thieve Supply), Trending (popular with Thieve users recently), Price low to high (sorted by lowest price first), Price high to low (sorted by highest price first), Sales (most orders on AliExpress), Most liked (products with the most likes by Thieve users), Popularity (how well a product is liked by Thieve users), Male popularity (popularity with male Thieve users), Female popularity (popularity with female Thieve users), Conversion score (likelihood products will convert to sales), Premium at (Products most recently upgraded with Premium Content).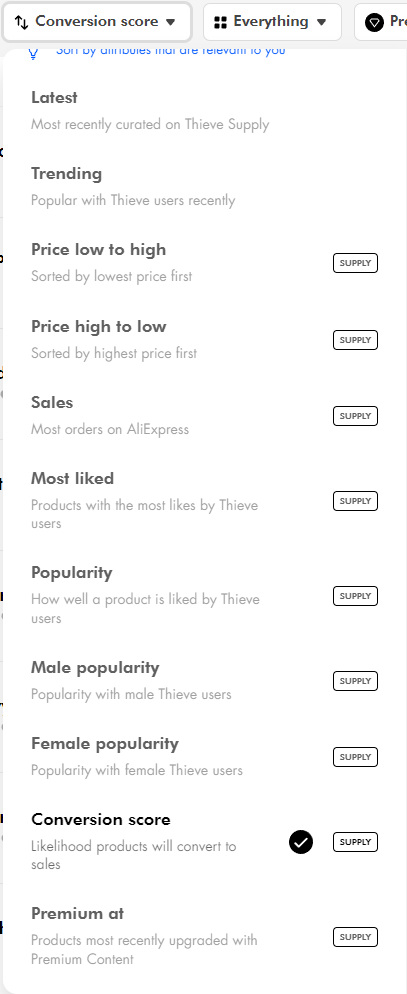 Filter by Thieve categories – the same 13 categories Thieve.co has.
Premium Content – Premium Content Products (custom studio content, exclusive to Thieve). Available on the Pro pan only.
More Filters – Star Rating (filter by products with higher star ratings from AliExpress reviews), Ships From (filter by products in warehouses where your audience is), Posted (filter by products curated in a recent time range), Price (set a price range to find products that fit your markups), Sales (set a sales range to find popular or unsaturated products).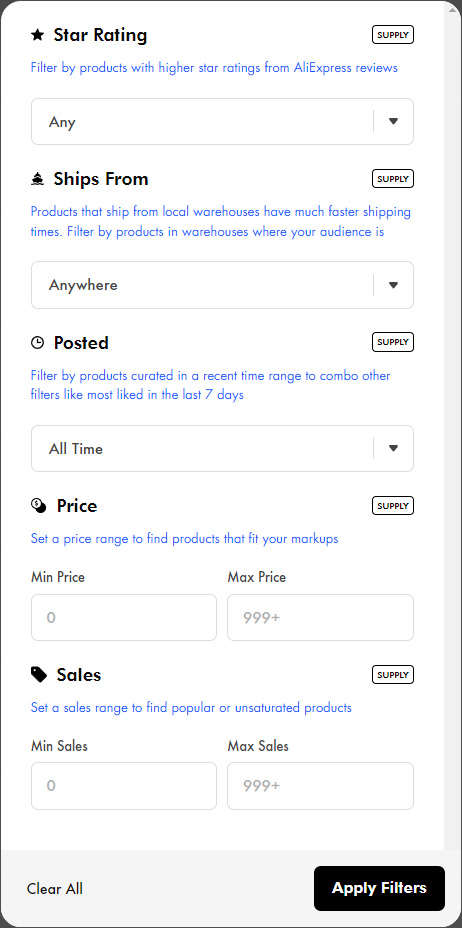 As you can see, Thieve Supply offers a wide range of powerful sorting options and filters, allowing users to tailor their searches to any requirement. On the good side, almost everything is available on the Thieve Dropshipping plan. Only Premium Products are locked unless you subscribe to the Pro plan. On the bad side, the AliExpress Product Rating, Popularity, and Conversion Score metrics were not working at the time of writing this article, displaying Not Enough Data.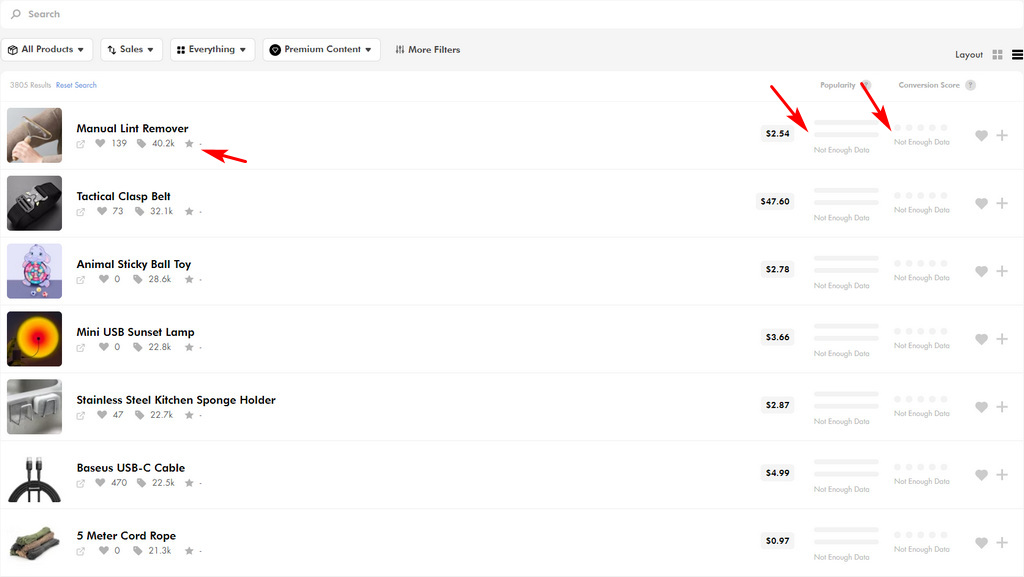 While writing this article, I noticed that the number of products available was increasing by more than 20 units per day. It is a good sign, meaning the software is active, and you always have new products to choose from
Niches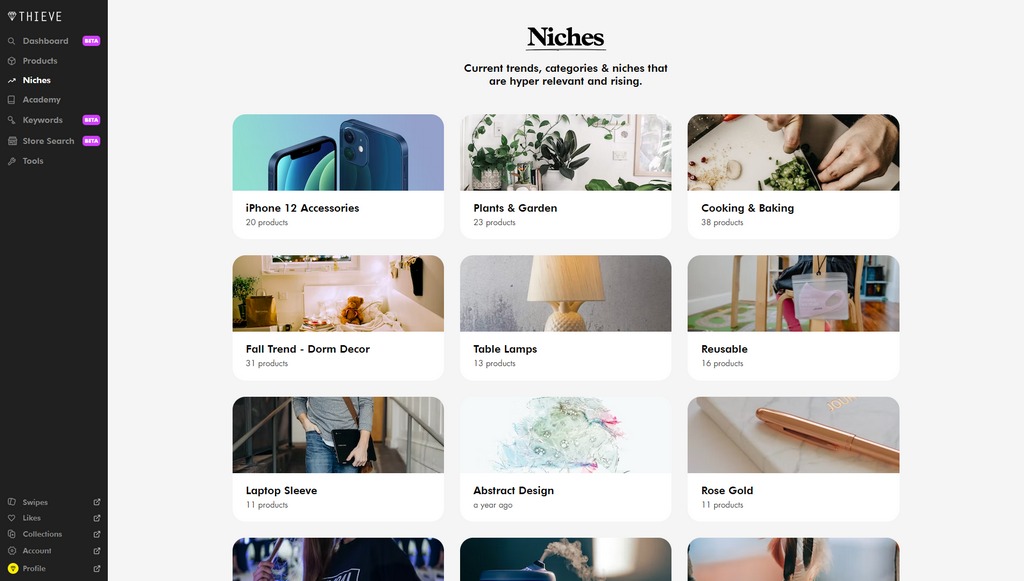 When first visiting the Niches feature page, you might think it is the same as the Topics page available from Thieve.co – niche-related articles, with a number of products under each title. You can see the difference only after subscribing to a paid plan. Topics are just articles available to all, even unregistered users. Open an article to get a short description of what it is about and 4 products related to the topic.
When opening an article through the Niches page (e.g. on a paid plan), you get the following:
Short info about the niche.
Keywords and keywords trends associated with the topic.
In-depth analysis that contains info regarding the audience, competition, trends, profitability, Shopify store examples, similar topics, and product considerations.
Unlimited access to Thieve products related to the topic.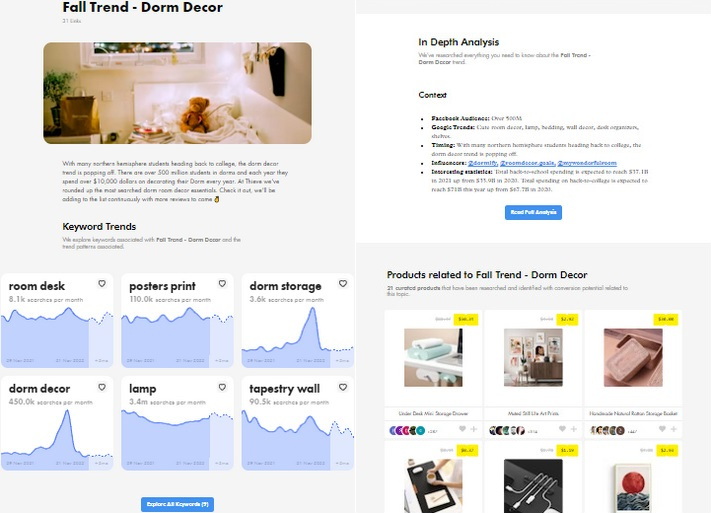 For paid users, the Niches and Topics features are the same tools, just accessed through different places. The Topics is the same Niches feature limited for free users, but there is no difference after you upgrade. I counted 62 articles in both Topics and Niches, so there are no premium articles; the difference is only the analytics and number of related products available.
Essentially, these are trends and niches curated by Thieve. You don't have to analyze anything – choose a topic and read analytics gathered and prepared by curators.
Tip
Finding The Right Niche is the very first step in starting a dropshipping business. And one of the most important ones!
Keywords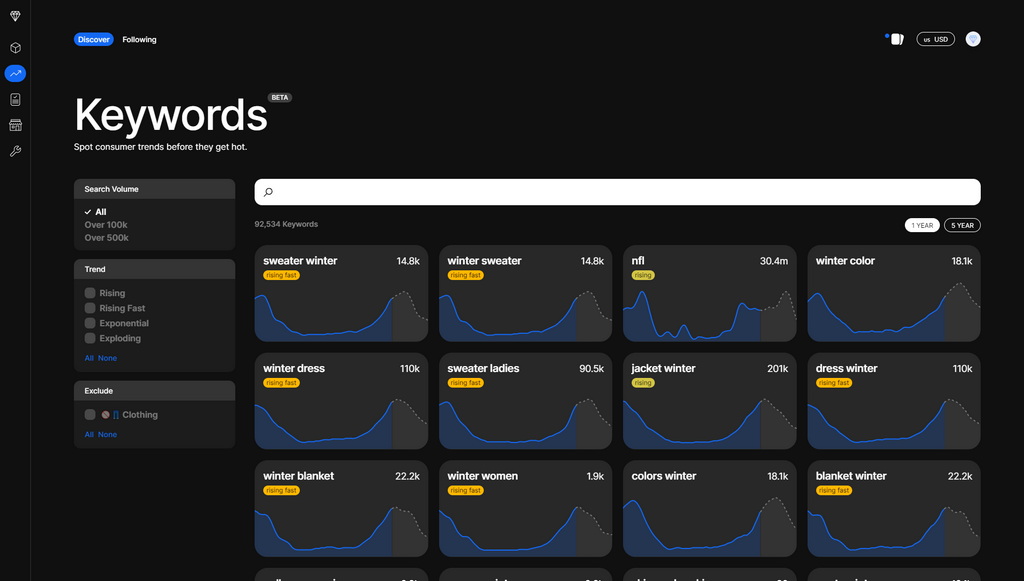 Thieve Supply Keywords feature, designed to spot consumer trends before they get hot, is a powerful keyword research tool. It enables users to analyze trends over two time periods: one year and five years. This allows you to explore how popular a product is now and how demand changes in the long term. You also have the following filtering options to make a search more precise:
Search Volume – sort by how many times a specific keyword is searched.
Trend – sort by how fast the trend changes.
Exclude – categories to exclude from searches (only Clothing, as of the time of writing).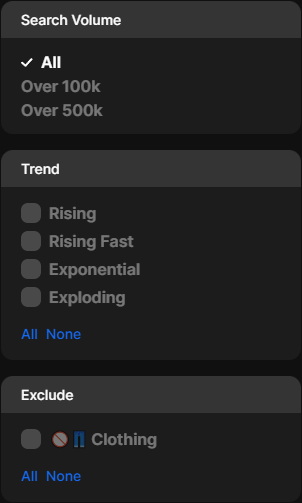 By clicking on a keyword, you can access additional data like related keywords, related search terms (what people also search for), and see related products.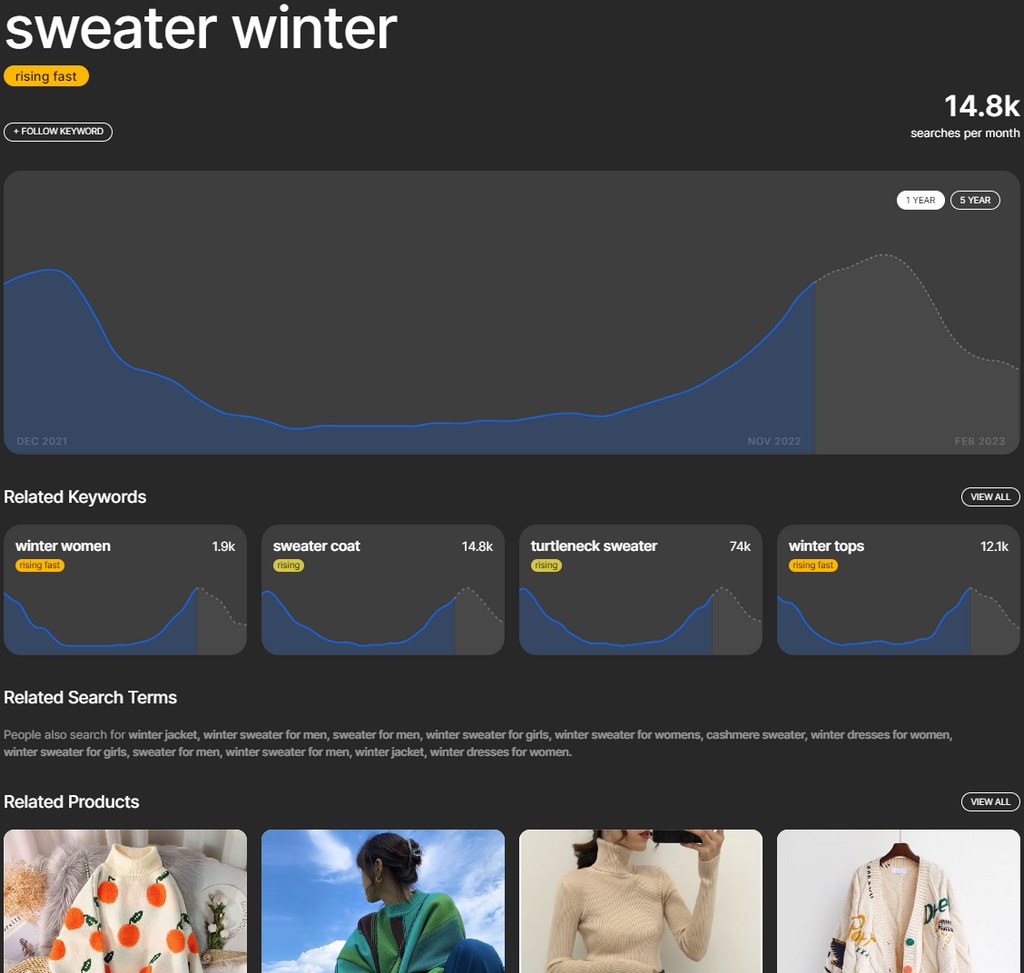 While the number of available filters and sorting options is rather limited, overall, the Keywords tool is enough for quality dropshipping research. You can also follow keywords to access them instantly from the Following tab.
Store Search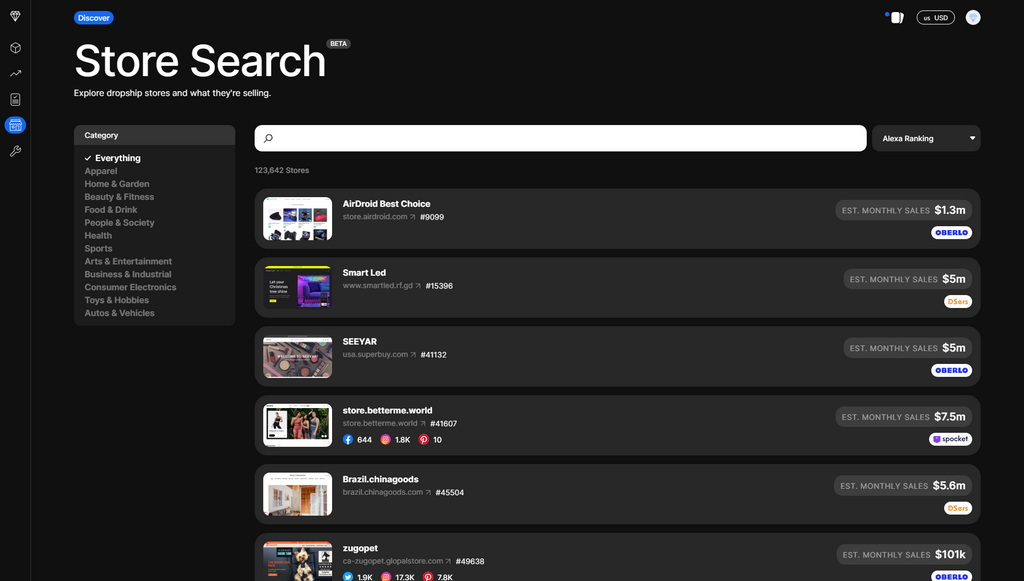 Now, this is something useful! Thieve Store Search feature is a spying tool that gives insights about the best Shopify stores.
You can filter stores by the following categories:
Apparel
Home & Garden
Beauty & Fitness
Food & Drink
People & Society
Health
Sports
Arts & Entertainment
Business & Industrial
Consumer Electronics
Toys & Hobbies
Autos & Vehicles
And sort by the following criteria:
Alexa Ranking
Sales
Facebook Followers
Instagram Followers
Monthly App Spend
Theme Cost
Newest
Oldest
Product Count
Click on a store you are interested in to get insights about its social accounts, Shopify apps used, and the latest products. From there, you can navigate to a Shopify store's page or its best sellers.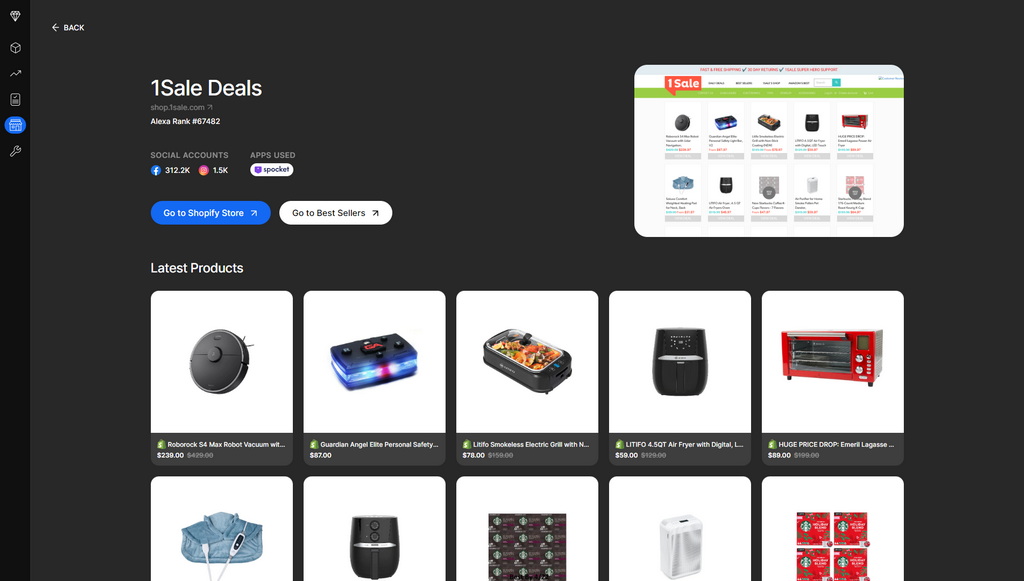 The tool is quite useful – you can see what Shopify stores have the highest rankings or numbers of social followers and browse their product inventories. There are other tools that give more insights about competitors, but they are usually much more expensive. Speaking of pricing, it's time to see how expensive Thieve.co is.
Tip
Shopify is a very powerful dropshipping platform, especially when using plugins. Here are the Must Have Shopify Apps your eCommerce shop needs.
Thieve.co Pricing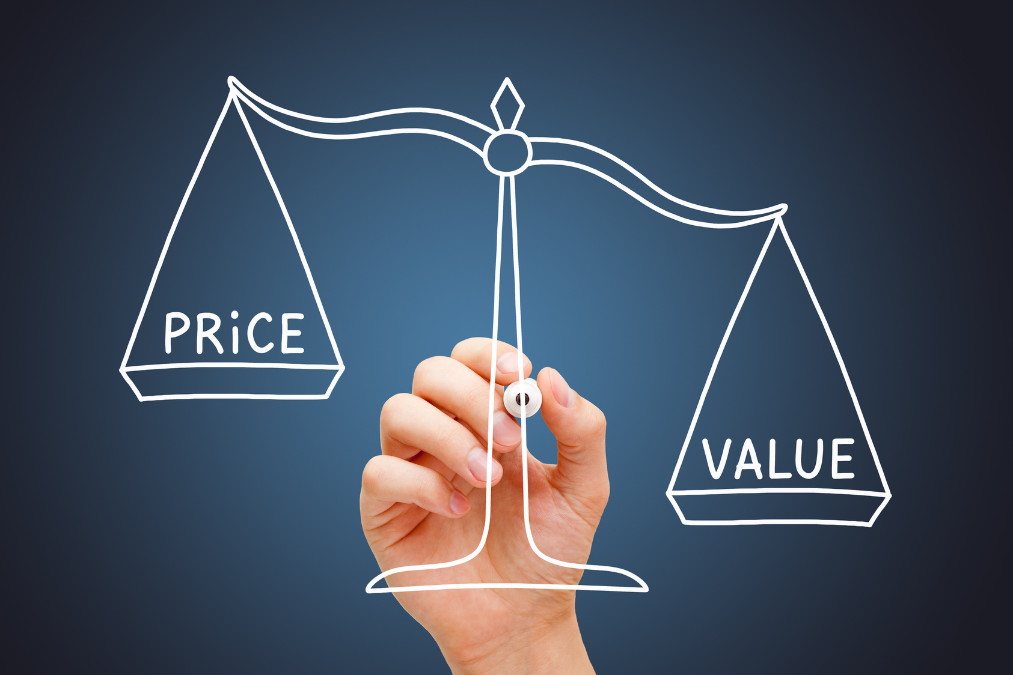 Thieve.co offers Free, Dropship, and Pro membership plans with multiple features and tools. High-cost Thieve.co pricing plans have more features and data insights, like product searching, result sorting and filtering, estimated sales charts, curated reviews, and currently popular products.
The free plan is what makes Thieve.co great. While it only gives access to winning products feature, this is exactly what you need from a dropshipping product research tool in the first place. And you don't even have to register. As I already mentioned, Thieve.co makes money from a purchase you make when going to AliExpress from their website via affiliate links. I don't know how much the platform gets paid from AliExpress, but it has no effect on the price you pay for a product. Image Search, Supplier Finder, and Image Tool are also available on the free plan.
Thieve Dropshipping or Dropship plan costs $15 per month and provides the following Thieve Supply features:
Products – winning items plus filters and sorting options to narrow searches by different criteria.
Niches – discover trends and demanded products.
Keywords – keywords research tool for spotting consumer trends.
Store Search – a spying tool that gives insights about the best Shopify stores.
Both Thieve Dropship and Pro plans do the same thing – allow you to access Thieve Supply, a set of tools and analytics for dropshipping. The main difference is that the Pro plan provides premium winning products for dropshipping not available on lower membership plans. The Pro plan costs $49 per month; you can try both subscriptions during a 14-day free trial.
Tip
If you are interested in working with top EU and US suppliers, then you should consider Spocket. Find out more in our guide Spocket Dropshipping Review: Is Spocket Good For Dropshipping?
Conclusion
The good – Thieve.co is a great service for finding good quality winning products from AliExpress. It is also free to use, and you don't have to register to use the free plan. What I like the most is that products are hand-picked by the Thieve team, curators, and registered users and go through a strict approval process to get features. You get products that might get sales because they are picked by real people and for people.
The bad is that you need to subscribe to get any analytics, metrics, and insights. Talking about Thieve.co Dropshipping plan, it has a great price to features value, where you get plenty of metrics, features, and tools. The Pro plan brings additional perks, but I am not sure it is worth $49 per month. Other solutions provide more features for the same or even lower pricing.
Overall, Thieve.co is a solid choice for dropshippers sourcing from AliExpress. It provides products, metrics that allow you to evaluate how good a product is, trends, and insights about Shopify stores.
If you are starting AliExpress to Shopify or eBay dropshipping, it is worth checking the following articles:
That's it! I hope you find this Thieve co review helpful. You are welcome to share your thoughts on Thieve.co dropshipping tool in the comments below!