28

min read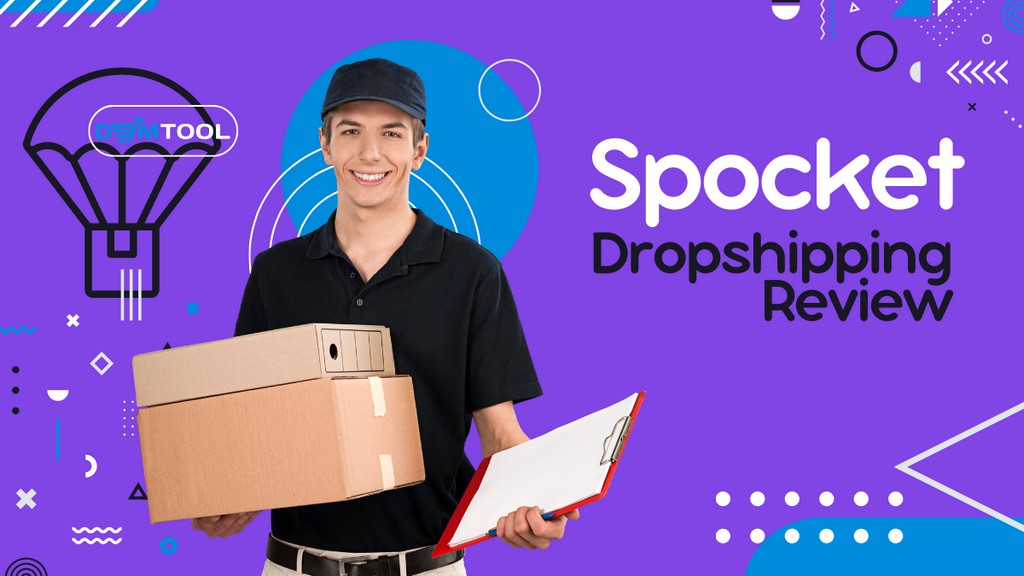 When it comes to eCommerce business, dropshipping in particular, beginners might stumble upon a few big names, like Shopify, Spocket, or DSM Tool. Shopify is easy to find information about, but others require some digging. If you are looking for Spocket dropshipping review, you've come to the right place!
Ask any dropshipper about what is crucial for successful dropshipping, and most will tell reliable suppliers. And they are correct. Dropshipping is a business model where you resell products you don't actually have in stock. Dropshippers are middlemen between buyers and suppliers. When someone buys products from a dropshipping store, the seller sends order details to its dropshipping supplier for fulfillment.
Good, reliable dropshipping suppliers fulfill orders quickly, and their products are of the highest quality. Bad suppliers are the opposite. So as you can see, dropshipping suppliers are essential for an eCommerce business because they do most of the job. And Spocket is one of the best suppliers in 2023 to work with.
In this Spocket dropshipping review, you will learn:
What is Spocket dropshipping?
How does Spocket dropshipping work?
How much is Spocket dropshipping?
Spocket dropshipping reviews.
How to start Spocket dropshipping.
And most important, is Spocket good for dropshipping?
Spocket Dropshipping Review
To learn whether Spocket is a good choice for your dropshipping business, you should understand what it is and its key features first. We will discuss how Spocket can help your business and whether the price is worth it. Let's begin by discussing what Spocket is.
What Is Spocket Dropshipping?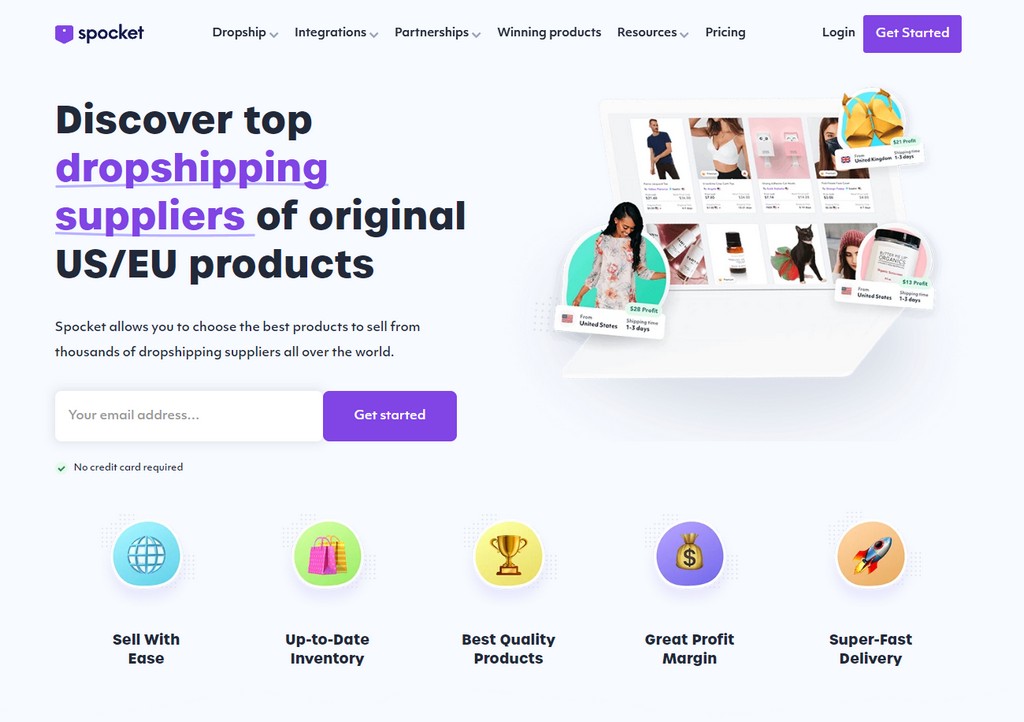 Spocket is a dropshipping platform that helps entrepreneurs start and grow their businesses by connecting them with suppliers and wholesalers from around the globe. Specifically, Spocket specializes in US/EU suppliers and products, like clothing, accessories, electronics, and home goods. The company was founded in 2015 by a team with extensive experience in e-commerce and dropshipping and has since become one of the leading dropshipping platforms in the industry.
Spocket is a platform for dropshippers to find and purchase unique products from thousands of vetted suppliers and wholesalers. With Spocket, entrepreneurs can easily manage their businesses more efficiently by finding dropshipping products to sell in their online stores without the hassle of managing inventory or shipping logistics.
It also offers features like automatic order fulfillment and tracking updates, making it easy for sellers to focus on growing their business and providing the best customer service.
Spocket integrates with the most popular eCommerce platforms, including Shopify, WooCommerce, BigCommerce, Wix, and Squarespace. These integrations make it easy for online retailers to connect their Spocket account with their online store, regardless of which platform they are using.
How Does Spocket Dropshipping Work?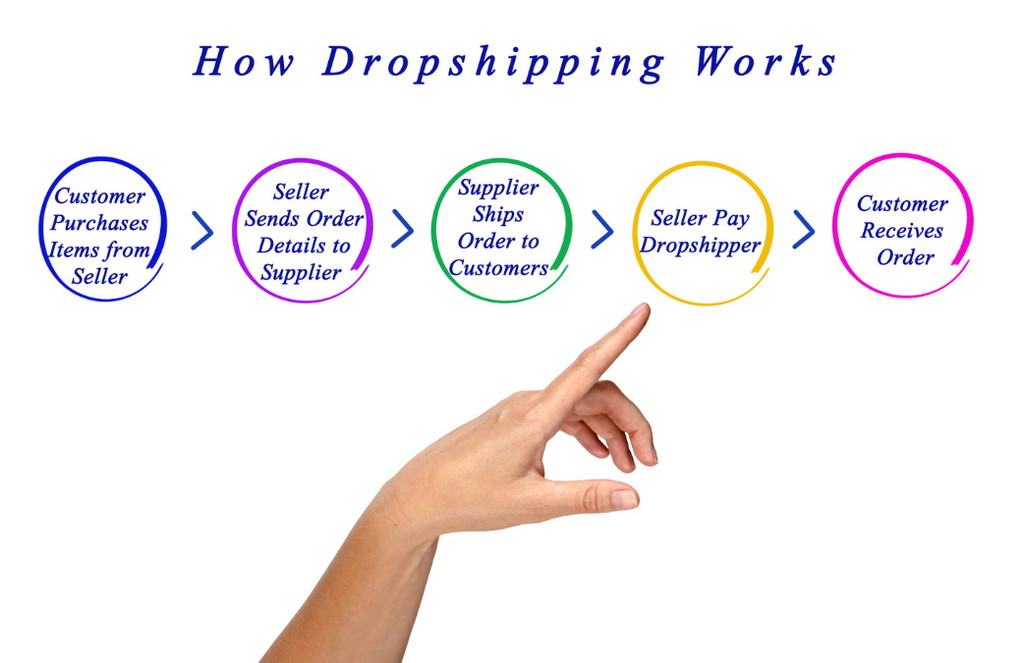 Spocket dropshipping is almost the same as usual drop shipping, with the difference being that you use Spocket for product sourcing and order fulfillment. A shopper visits your dropshipping store and makes a purchase, you send order details to Spocket, and Spocket processes the order and ships the product to your customer. You earn the difference in price the buyer paid you minus what you paid to Spocket for the product and shipping costs. Also, Spocket provides various tools and features to help you streamline your operations and grow your business.
How Much Is Spocket Dropshipping?
Spocket offers several subscription options for dropshipping services, including a free plan and four paid subscriptions. As of March 2023, these options are:
Free Plan: This plan is free and is limited to browsing Spocket's 5 Million+ US/EU products and access to email support. Note that it is limited to testing the app and does not include the ability to list products or place orders. The plan does nothing.
Starter Plan: This plan costs $29 per month. It includes up to 25 unique products, real-time inventory updates, and automated order processing. Not recommended. Worth only when starting out.
Pro Plan: This plan costs $49 per month when billed monthly or $29 per month when billed annually. It includes all the features of the Starter Plan, up to 250 unique plus access to 25 premium products, branded invoicing, and chat and phone support. Optimal for small-medium businesses.
Empire Plan: This plan costs $99 per month when billed monthly or $57 per month when billed annually. It includes all the features of the Pro Plan, up to 10000 unique plus access to 10000 premium products, plus access to VIP support, a dedicated account manager, and unlimited premium products. For big stores.
Unicorn Plan: This plan costs $299 per month when billed monthly or $79 per month when billed annually. It includes all the features of the Empire Plan, plus access to exclusive features such as supplier sourcing, product requests, bulk checkout, early product access, and a dedicated success coach.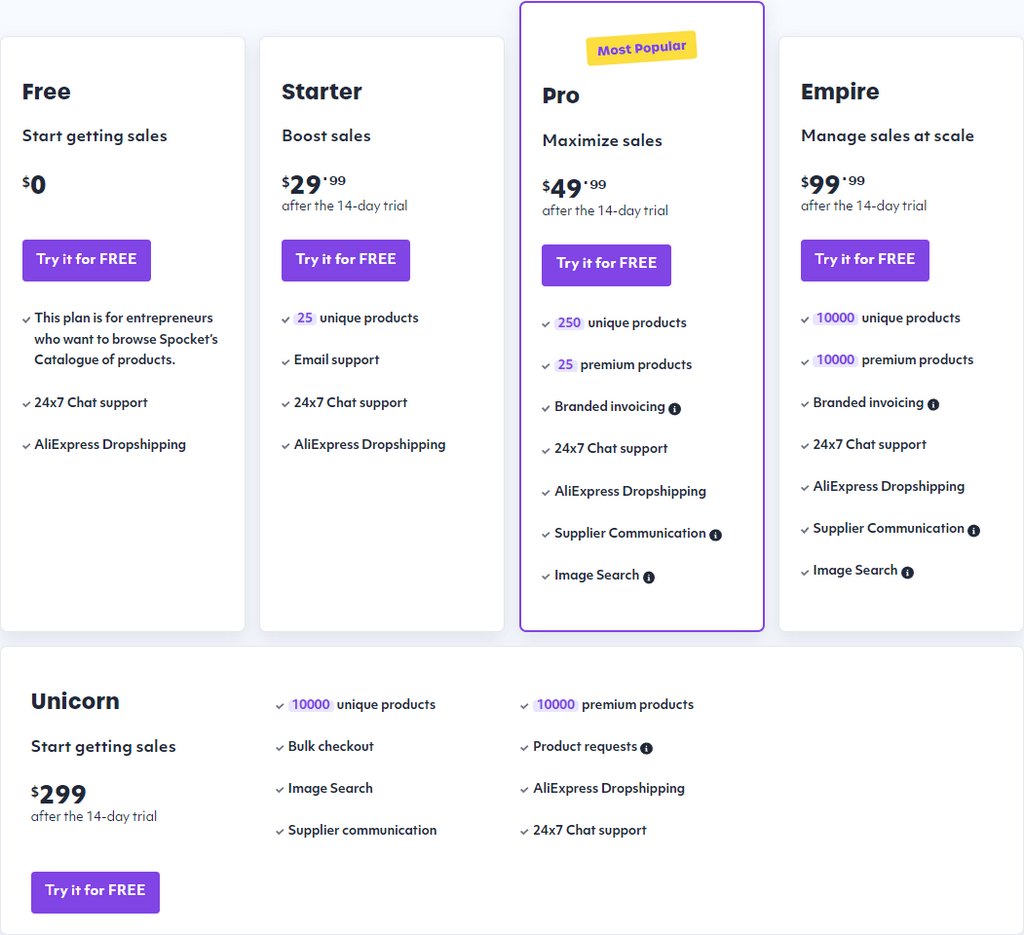 Please note that all these plans come with a 14-day trial and a 7-day money-back guarantee for all paid plans. Additionally, the Pro, Empire, and Unicorn plans offer discounts for annual billing.
Spocket Dropship Advantages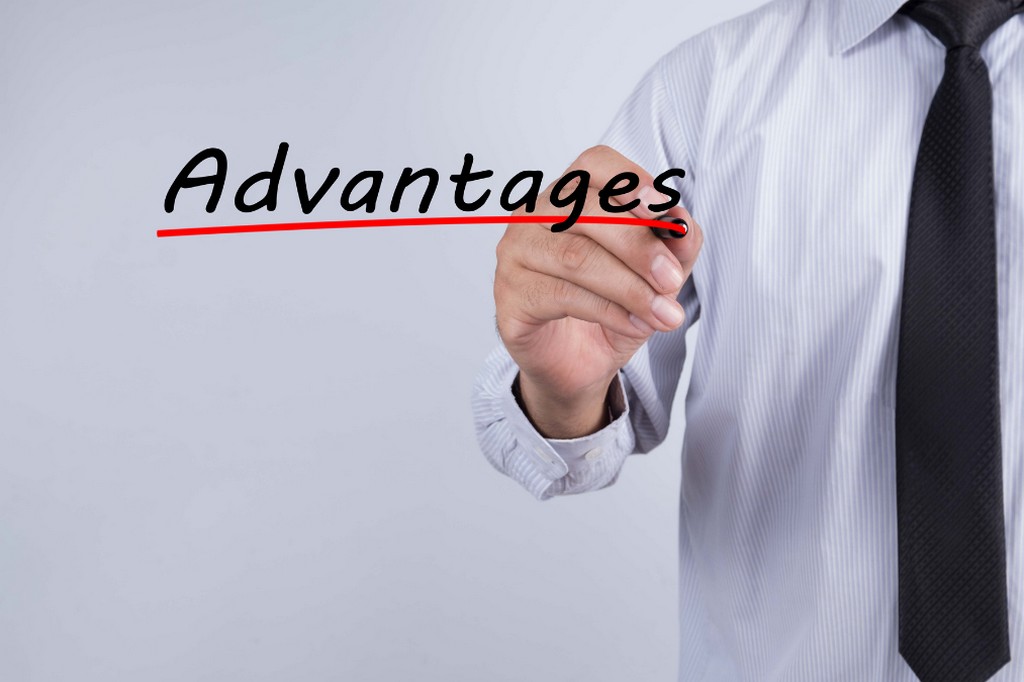 Spocket is a great platform for dropshipping, and here are some of the reasons why:
Wide Range of Products
Spocket has a vast network of suppliers who offer a wide range of high-quality products from various industries. Whether you are looking for fashion items, home decor, pet supplies, or anything else, you can find it on Spocket.
The platform has strict supplier selection criteria to ensure that only high-quality products are listed. Dropshippers can access items produced with high-quality materials, crafted with care, and designed to last. It helps to build customer trust and satisfaction, as customers are more likely to return to a store that offers high-quality products.
Another benefit of Spocket's focus on high-quality products is that it helps dropshippers stand out in a crowded market. With so many online sellers in the business, offering unique and high-quality products can help dropshippers differentiate themselves and attract customers. Spocket makes this possible by providing access to unique and innovative products not commonly found on other platforms. Moreover, Spocket's team vets suppliers to ensure they meet Spocket's standards for quality, reliability, and customer service. This ensures dropshippers can work with trustworthy suppliers committed to delivering exceptional products and services.
Spocket's commitment to high-quality products is a significant advantage for dropshippers looking to build successful businesses. With access to a vast network of top-quality suppliers and products, sellers can provide their customers with products that meet their expectations to build a quality and reliable brand.
Automated Order Fulfillment
Spocket's automated order fulfillment feature streamlines the entire order fulfillment process, making it faster and more efficient, which is a significant advantage for dropshippers. Once a dropshipper receives an order from a customer, Spocket sends the order directly to the supplier to eliminate the need to place orders with suppliers manually, which can be time-consuming and prone to errors.
With this feature, dropshippers can also track the status of their orders in real-time. They can see when suppliers ship the products and the expected time of arrival at the customer's location. And providing accurate, up-to-date information to customers improves customer satisfaction.
Another benefit of automated order fulfillment is that it enables dropshippers to fulfill orders faster and more efficiently, which leads to faster delivery times. And quicker delivery times improve customer satisfaction and encourages buyers to return in the future.
Overall, Spocket's automated order fulfillment feature is a game-changer. Eliminating manual order processing improves the speed and efficiency of order fulfillment. It helps dropshippers to grow their businesses and provide the best possible customer service.
Real-time Inventory Updates
Inventory updates are crucial for a dropshipping business. With Spocket's real-time inventory updates, dropshippers know the exact number of products in stock at any given time, which helps to avoid overselling or offering out-of-stock products. Real-time inventory updates can also help dropshippers to make informed decisions about which products to promote based on availability.
Ensuring that customers receive accurate information about product availability is also important. Customers are more likely to trust and return to a store that provides accurate information on product availability. This also helps build customer loyalty and trust.
Another benefit of real-time inventory updates is that they can help dropshippers make informed decisions about which suppliers to work with. If a supplier consistently has low inventory levels or struggles to provide accurate inventory updates, dropshippers may switch to another supplier. This helps dropshippers to maintain high levels of customer satisfaction by ensuring that products are always available when customers want them.
Finally, real-time inventory updates can help dropshippers to reduce the risk of stockouts or backorders. When a product is out of stock, Spocket's system will update the inventory automatically, allowing dropshippers to adjust their promotions or pricing accordingly. In return, this minimizes the impact of stockouts and reduces the risk of losing customers due to a lack of inventory.
As you can see, Spocket's real-time inventory updates feature is essential for dropshipping. It enables sellers to make informed decisions about which products to promote, which suppliers to work with, and how to manage their inventory levels effectively. And this helps merchants build customer trust and loyalty, which leads to increased sales and revenue.
Fast Shipping
Unless you offer free delivery, fast shipping is a must. And Spocket provides all the features to ensure that dropshippers can offer their customers fast and reliable shipping.
One of the key benefits of using Spocket is that most of its suppliers are from the US and Europe. This means that products can be shipped quickly and efficiently to customers in these regions, which covers 95% of your orders. Fast shipping times are an essential factor in customer satisfaction and retention. Don't forget that Spocket vets suppliers to ensure they offer fast and reliable shipping options. Many of Spocket's suppliers offer expedited shipping options, such as two-day shipping, which can help dropshippers meet customers' expectations and stand out in a competitive market.
In addition, Spocket provides multiple shipping integrations to help dropshippers streamline shipping processes and reduce shipping times. For example, it integrates with popular shipping providers such as USPS, UPS, and FedEx, enabling merchants to easily create and print shipping labels, track shipments, and manage shipping workflows – all within the Spocket platform.
Also, Spocket offers multiple tools to help dropshippers manage shipping and delivery most efficiently. For example, sellers can set up shipping rules based on order value, destination, or shipping method, to ensure that the most efficient shipping option is always selected. Dropshippers can also provide buyers with real-time shipping updates and tracking information to build customer trust and satisfaction.
By providing access to fast and reliable shipping options, Spocket helps dropshippers to meet their customers' expectations and build customer loyalty, which increases sales and revenue.
Customizable Branding
Branded dropshipping features are mandatory if sellers want to build their own unique brand, establish an image, and stand out in a crowded market. Spocket enables sellers to add their own branding to product packaging, invoices, and accompanying materials. All this helps to create a consistent and recognizable brand image across all touchpoints with buyers.
One of the main benefits of Spocket's customizable branding is that it enables dropshippers to create a seamless and professional customer experience. By adding their own branding to products, dropshippers can reinforce their brand identity and establish trust and familiarity with customers. In return, buyers' trust helps to increase customer loyalty and drive repeat business.
Even better, Spocket's customizable branding features are easy to use and don't require technical knowledge or skills. Users can upload their own logos or designs directly within the Spocket platform and apply them to products in a few clicks. Spocket makes it easy for dropshippers to create a professional-looking brand image without hiring a designer or branding services.
In addition, Spocket helps dropshippers to market their products more effectively. By adding their own branding to products, sellers can create a more personalized and engaging customer experience, which helps to increase the perceived value of their products and drive more sales.
Overall, Spocket's customizable branding features are powerful tools that help dropshippers to stand out. By creating a unique brand identity, sellers can improve customer loyalty and drive more sales and revenue.
Supportive Community
Spocket's supportive community is one of the key benefits of using the platform for dropshipping. This online community consists of like-minded entrepreneurs and professionals – dropshippers committed to helping each other succeed in eCommerce. There are several ways that dropshippers can benefit from this supportive community.
Firstly, the community provides valuable knowledge and expertise. Members can share their own experiences and insights into dropshipping, offer advice and tips, and answer questions. This can be particularly useful for new dropshippers who are just starting out and may not have a lot of experience in eCommerce. By tapping into the knowledge and expertise of the community, sellers can learn from the successes and failures of others to avoid common pitfalls.
Secondly, the community provides a sense of connection and belonging. Running an eCommerce business can be a lonely and isolating experience, especially for solo entrepreneurs. By joining Spocket's community, dropshippers can connect with others who share their passion for eCommerce business and build meaningful relationships and partnerships.
Thirdly, the community provides possibilities for collaboration and networking. Members can connect with fellow sellers to share resources, collaborate on projects, and unite as partnerships. This can be particularly useful for dropshippers looking to expand their businesses, research new product niches and reach new markets.
Finally, Spocket's community is backed by a team of dedicated support professionals who answer questions and provide guidance. Whether dropshippers face technical issues with the platform or need advice on optimizing their businesses, the support team is always available to help.
Overall, Spocket's supportive community is a valuable resource for sellers looking to grow their businesses and succeed in eCommerce and dropshipping. By tapping into the knowledge and expertise of the community, dropshippers can learn, connect, collaborate, and thrive.
Saves Time and Resources
When starting an eCommerce business, it is crucial to find and secure a reliable supplier. You need to research and vet potential suppliers to ensure they are trustworthy, offer quality products, and have efficient shipping methods. This process can take time as it involves reaching out to various suppliers, negotiating pricing and terms, and reviewing product samples.
Once you have found a provider, you need to test their reliability by placing a few orders and monitoring the shipping times and product quality. This process also takes time as it requires coordination with the supplier and can involve waiting for the products to arrive.
In addition to finding a reliable supplier, dropshippers also need to manage their inventory effectively. This involves monitoring product availability, tracking sales, and updating inventory levels as often as possible. To streamline this process, sellers can use dropshipping automation software like DSM Tool. Finding dropshipping automation software also takes time to research, connect and set up.
The Spocket dropshipping platform simplifies the whole process by providing a network of pre-vetted suppliers, offering automation tools for managing inventory and order fulfillment, and integrating with reliable carrier services. Spocket also provides dropshippers with pre-negotiated rates for products, shipping and delivery. You also don't have to pay for third-party dropshipping automation software.
Spocket Dropship Downsides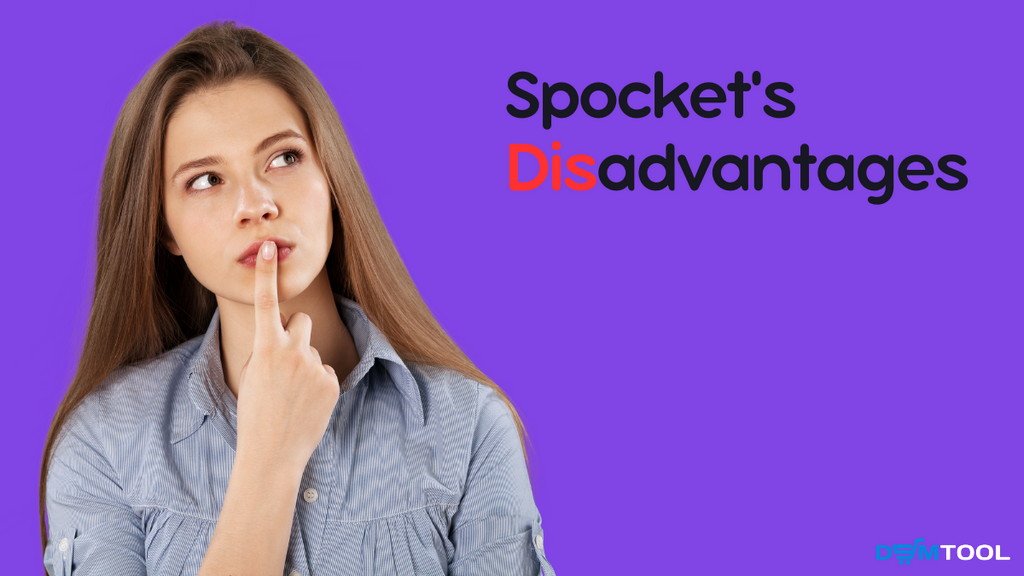 While Spocket offers many benefits for dropshippers, there are some potential downsides to using the platform you should be aware of:
Higher Product Prices
One of the potential downsides of using Spocket is that the platform's suppliers typically charge higher prices for their products compared to suppliers on other platforms. While the products offered are often of higher quality, this can make it more difficult for dropshippers to compete on price in a crowded market.
There are a few reasons why Spocket suppliers charge higher prices for their products. Firstly, Spocket focuses on working with high-quality suppliers of unique and innovative products. These providers charge higher pricing to reflect the value of their products and the effort they put into production and order fulfillment.
Secondly, Spocket works with suppliers from Europe, the United States, and Canada, where the costs of production and labor are higher than in other regions such as Asia. This leads to higher product prices from manufacturers to cover the increased costs of production.
Also, Spocket offers a wide range of features and services you can't find on other dropshipping platforms, such as real-time inventory updates, fast shipping, and branded invoicing. All these features come at a cost and may cause higher prices charged by Spocket's suppliers.
Limited Supplier Selection
Another potential downside of using Spocket for dropshipping is limited supplier selection. While Spocket offers a wide selection of products, the platform only works with a limited number of vetted suppliers. This can limit dropshippers' options and make it more difficult to find winning products that meet their needs.
The limited supplier selection on Spocket is due in part to the platform's focus on working with high-quality suppliers who offer unique and innovative products. While this can be an advantage for dropshippers looking to source high-quality products, it can limit their options if they require specific products or suppliers. Additionally, Spocket suppliers are typically located in the United States, Canada, and Europe, which can limit the types of products available on the platform. Suppliers in other regions, such as Asia, often provide vast numbers of products you can't find on Spocket.
Competition
Competition is one of the main disadvantages of Spocket dropshipping. Since Spocket is a very popular platform, many dropshippers use it to source products from the same limited number of suppliers. There may be a lot of competition for some products, which makes it difficult to stand out from the crowd.
Also, Spocket has a "bestsellers" feature that shows the most popular products on the platform. While this can be useful for identifying popular products to sell, it also means that many other dropshippers may be sourcing the same items. This might lead to a race to the bottom on price, as sellers try to undercut each other to attract and win customers.
To differentiate yourself from the competition, you may need to find unique products or niche markets that are not already saturated on Spocket. This requires extensive market and product research and testing to find products that sell well and have good profit margins, which can take time and effort.
Subscription Costs
Another disadvantage of using Spocket for dropshipping is the fees associated with the platform. Spocket charges a monthly subscription fee, as well as transaction fees for each sale you make through their platform. These fees can add up quickly, which can eat into your profits and make it difficult to run a profitable dropshipping business.
The monthly subscription fee for Spocket depends on the plan you choose, with the cheapest plan starting at $29.99 per month and the most expensive plan costing $299 per month. The higher plans offer additional features and benefits, such as access to more suppliers and product customization options, but also come with higher monthly costs. And to get all the best features like branded invoicing and supplier communication, you must subscribe to the Pro plan at least, which costs $49.99/month.
In addition to the monthly subscription cost, Spocket charges a transaction fee for each sale you make through their platform. Depending on your plan, the fee ranges from 1% to 5% of the total order value. While this fee may seem small at first, it will add up quickly as you keep making sales.
You must consider these fees when setting prices and determining your profit margins. Depending on the products you're selling and the prices you're charging, the fees associated with Spocket can make it difficult to compete with other dropshippers sourcing their products from other suppliers.
Dropshippers can partially mitigate the impact of these fees by selling high-ticket items that offer higher profit margins. This can compensate for the costs of Spocket dropshipping and make it easier to run a profitable business. Still, Spocket fees can be quite tangible for dropshipping beginners on a tight budget.
Spocket Dropshipping Reviews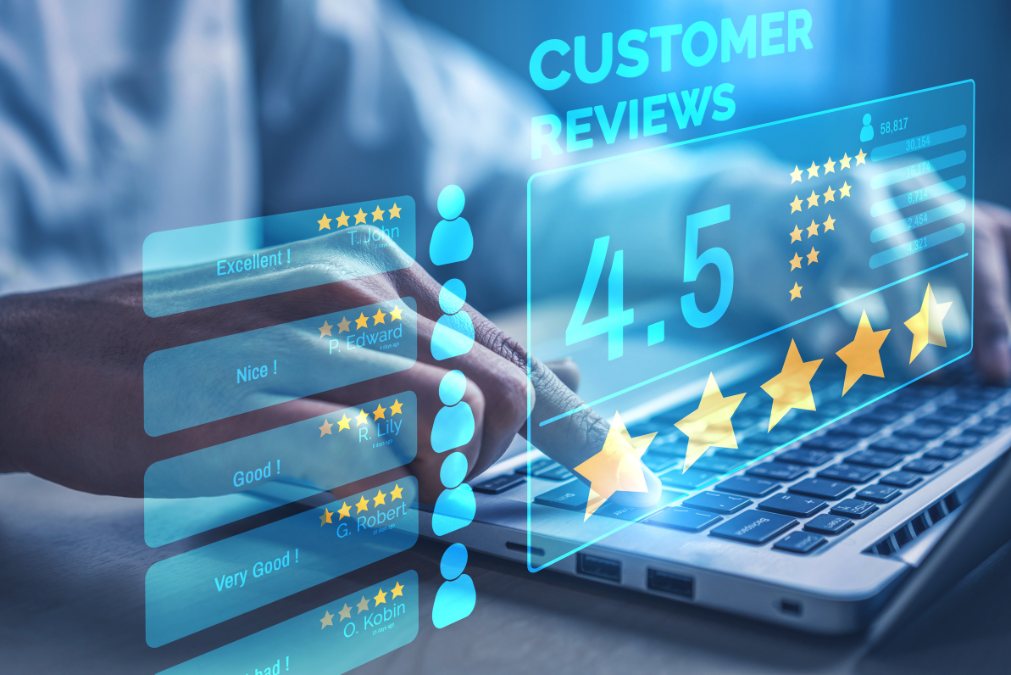 Spocket has generally positive reviews across various platforms. Here are some Spocket dropshipping reviews from different services:
Shopify App Store: Spocket has a rating of 4.7 out of 5 stars based on over 3,600 reviews.
WooCommerce: On the WooCommerce app store, Spocket has a 4.3-star rating based on over 40 reviews.
Trustpilot: Spocket has a rating of 4.6 out of 5 stars on Trustpilot based on almost 2,000 reviews.
Captera: On Capterra, Spocket has a rating of 3.8 stars out of 5 based on over 18 reviews.
G2: Spocket has a rating of 4.4 out of 5 stars on G2 based on over 60 reviews.
What Users Like:
Easy-to-use interface: Many customers praise Spocket for its user-friendly interface and easy navigation, making it easy to find and add products to their stores.
Quality products: Users also appreciate the high-quality products available on Spocket, with many reporting that their customers are satisfied with the products they receive.
Fast shipping times: Spocket's shipping times have also been a point of praise, with many users reporting that orders are fulfilled and shipped quickly.
Responsive customer support: Users praise Spocket's customer support team for being responsive and helpful in resolving any issues or concerns.
Common Complaints:
Pricing: Some users mentioned that Spocket's pricing is quite expensive, particularly for the higher-tier plans.
Limited product selection: While Spocket offers millions of products, some users mentioned that the product selection is limited in some niches or categories.
Import issues: A few customers reported issues with importing products to their store, particularly with variants and product descriptions not transferring accurately.
Shipping issues: While Spocket generally has fast shipping times, some users reported delays or issues with tracking information not updating.
It's worth noting that while there may be some negative reviews and experiences, Spocket has received overwhelmingly positive reviews and feedback from its customers.
Is Spocket Good For Dropshipping?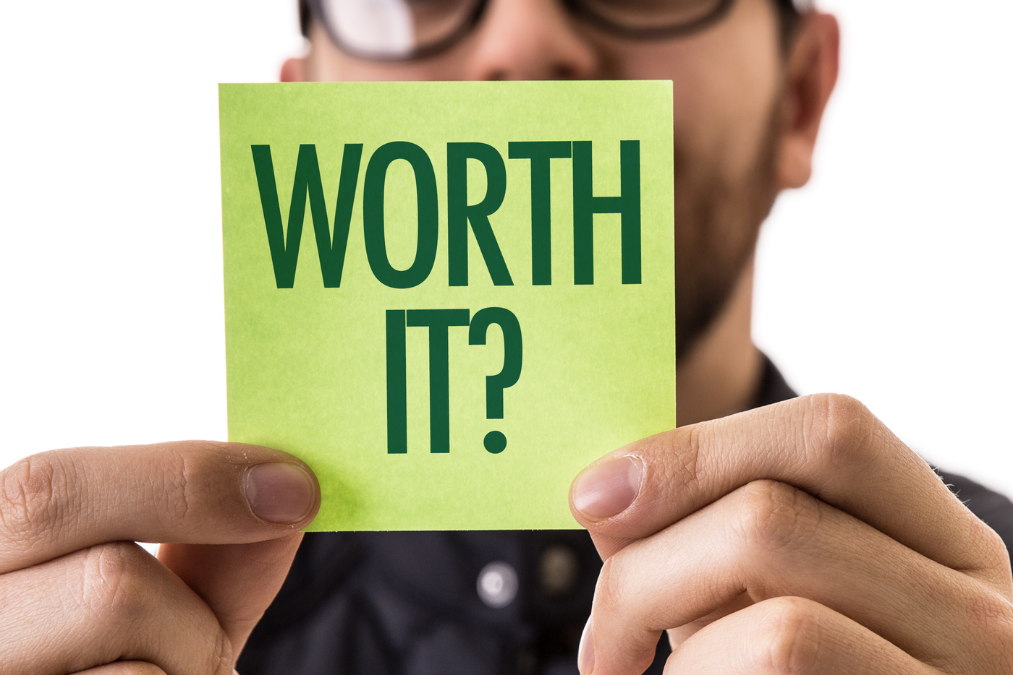 Yes, definitely – Spocket is good for dropshipping. It provides many features that are important for running a successful dropshipping business. The platform offers a wide range of products for sourcing, focusing on high-quality and unique items that are not widely available on most other platforms. It connects sellers with reliable suppliers, so they don't have to worry about order processing fulfillment. This gives dropshippers a competitive edge over other merchants and helps to stand out from the crowd.
Spocket has a user-friendly interface that makes managing orders and products easy. It provides multiple features to automate dropshipping processes, such as inventory management, automated order fulfillment, and real-time product syncing. Furthermore, Spocket has excellent customer support through various channels, including email and live chat. This is especially helpful when dropshippers face technical issues or have questions about the platform.
However, it's important to note that Spocket, like any other dropshipping platform, has its limitations and drawbacks. For example, while Spocket offers a wide range of products, some niches are less-represented than others. The main disadvantage is the pricing – it can be expensive for those on a tight budget.
Overall Spocket is an all-around solid dropshipping platform with a wide range of high-quality products, a user-friendly interface, and reliable customer support. However, one should carefully consider the pricing structure and limitations of the platform before deciding if it's the right fit for their business.
How To Start Spocket Dropshipping
Starting the Spocket dropship business is quite simple. It doesn't require technical knowledge or skills and is easy for both beginners and experienced sellers. Here are the general steps:
1. Sign Up For Spocket
No matter what e-commerce platform you want to dropship on, start by creating an account on Spocket. Go to Spocket's website and click on Get Started. Fill in your email address and password, or sign up with your Google or Facebook account.
You can start a trial for a plan of your choice right away or do it later. Just remember that on the free plan, you can't do anything except browse products and study the dashboard.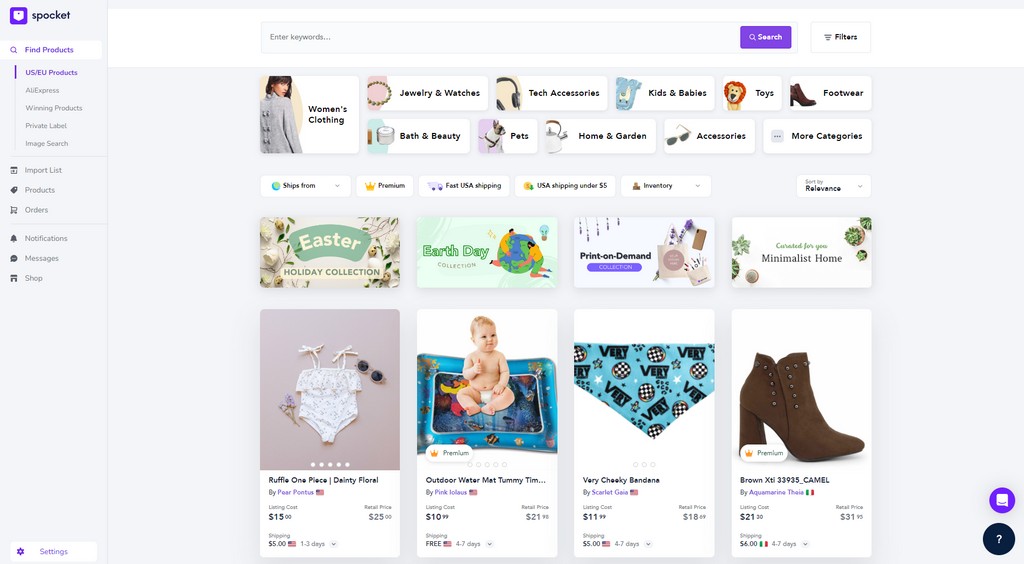 2. Connect Spocket To Your Store
Once you registered on Spocket and subscribed to a plan (or started a trial), you must connect Spocket to your Store. You can do this from Spocket's dashboard or your eCommerce platform.
To connect from Spocket's dashboard, click on Shop from the left panel. In the next window, select your platform, fill in your store URL if needed, and press Connect Store.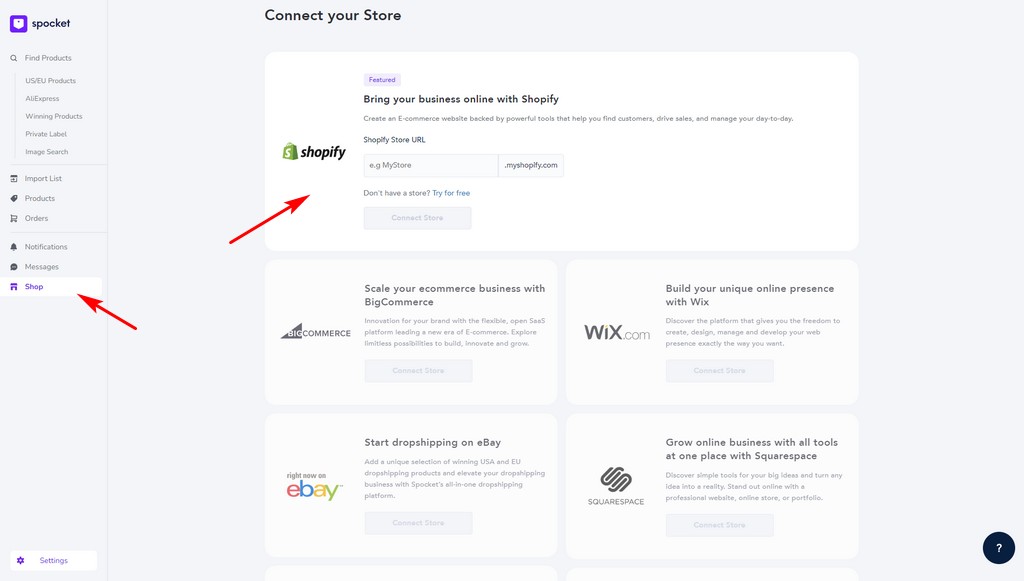 The other way is to connect from your eCommerce platform. For Shopify, go to Shopify App Store, type in "Spocket" into the search bar, and press Enter. From the results, click on Spocket ‑ US & EU Dropshipping. On the Spocket app's page, click Add app.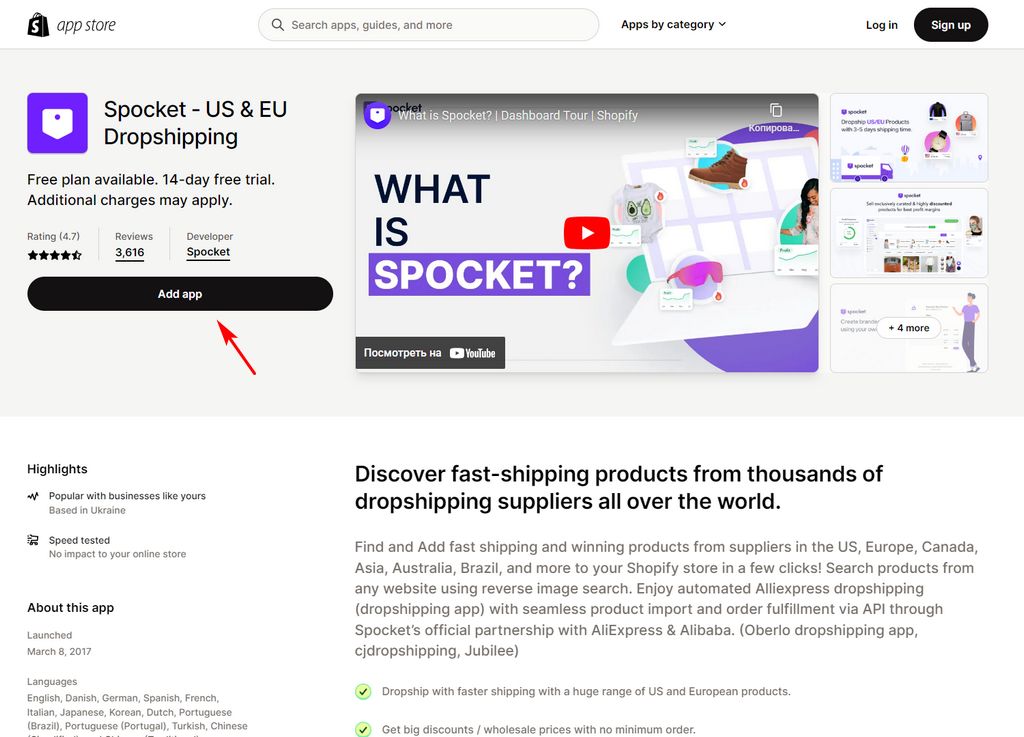 Thats it! You now successfully connected Spocket to your Shopify store. The process is similar for other eCommerce platforms. Simple!
3. Browse Spocket Products & Order Samples
It is time to find your winning Spocket products!
Choose Your Niche
Start by researching your target audience and their needs. If your product doesn't have a wow effect, it should solve consumers' problems. Look for gaps in the market that you can fill with your products. Use tools like Google Trends, Amazon Bestsellers, and social media platforms to research trends, and find demanding products and viral topics.
Ideally, choose a niche you are interested in and know about, like a hobby or something you have experience with. Knowledge about a niche you want to compete in will help to create engaging content and to connect with your target audience. Check out the competitors' websites and social media profiles to see what they sell and how promote their products. Look at what they are lacking to find ways to differentiate yourself from them. Use the best product research tools to find your winning items.
Browse Spocket Products
Now that you know what to look for, browse through the 5 Million+ Spocket products. I recommend not using the Winning Products tab because other dropshippers use it too. You can check it for ideas, but it is best to find your own winning products. Use Spocket filters to find the products most suitable for your business. For example, if your target audience is in the USA, filter your search to choose suppliers that ship from the United States with 1-3 days shipping. Also, you can narrow your searches with the free shipping filter. And if you have images of items you are looking for, try the Image Search feature. It finds trending products related to the uploaded image.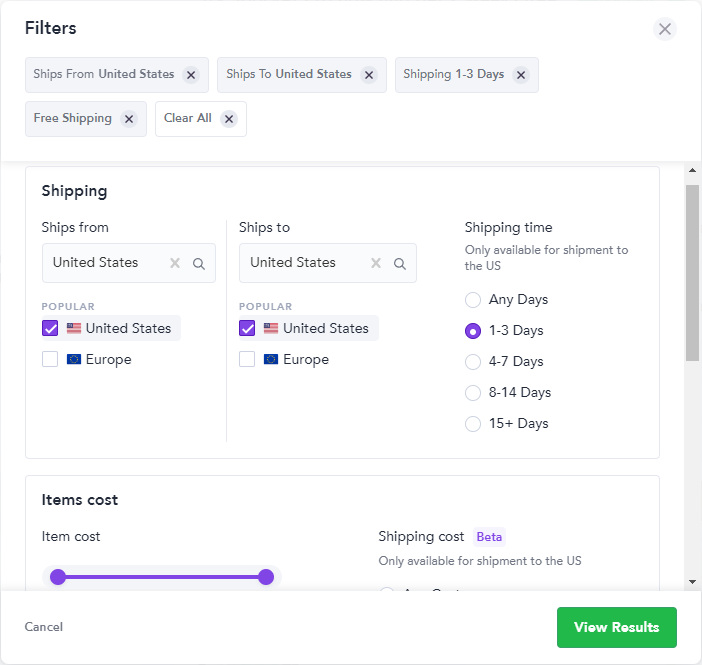 Order Samples
Once you've found your winning products, you should order samples. It is not mandatory but highly recommended. Order sampling allows you to test product quality, order processing & fulfillment, and shipping times. This helps to understand if it is worth sourcing a product and working with a supplier or if you should search for other options.
Ordering samples in Spocket is simple – every product has the Order Samples button. Click on the button, fill in your credit card and shipping details, and select the product variant with the number of samples you need.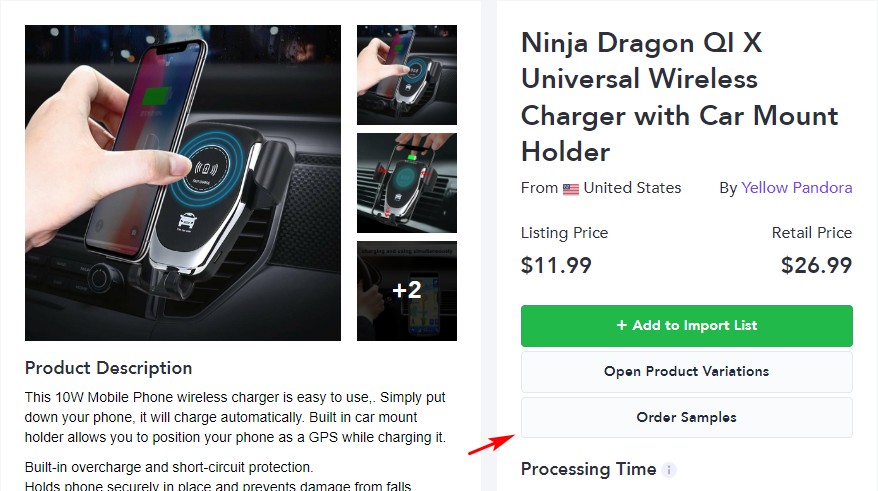 4. Add Spocket Products To Your Store
Now you are ready to add Spocket products to your dropshipping store, which is simple and takes just a few clicks.
Every product on Spocket has the + Add to Import List button. Click the button to add a product to your importing list.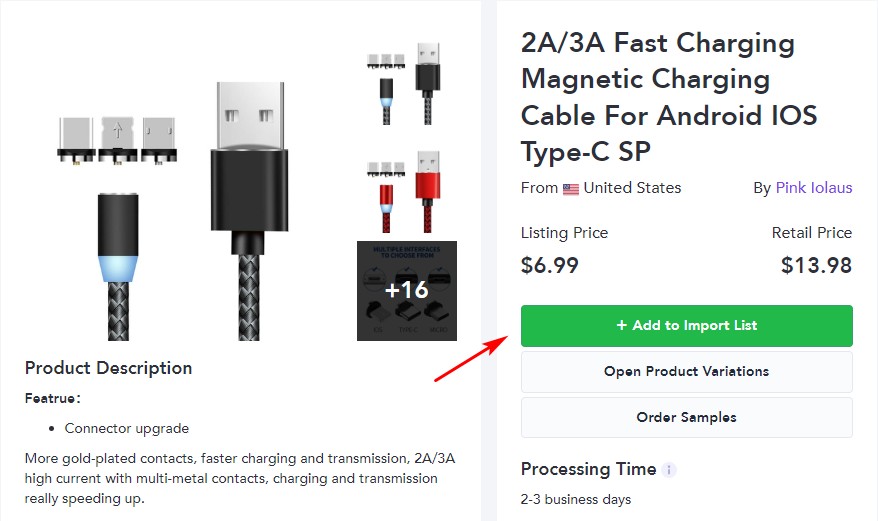 Once you have added all the products you want, go to the Import List that can be found on the left panel. From that page, you can push all the products to your store. Check product names, prices, etc., and press Push to Store. That's it!
5. Set Up Branded Invoicing
The Branded Invoicing feature enables you to personalize invoices, which helps to establish your brand name and build a trustworthy brand image. To enable it, go to Settings > Store, and scroll down to the Branded Invoicing area. Upload your brand logo, fill in the contact information, and toggle the Activate Branded Invoicing option.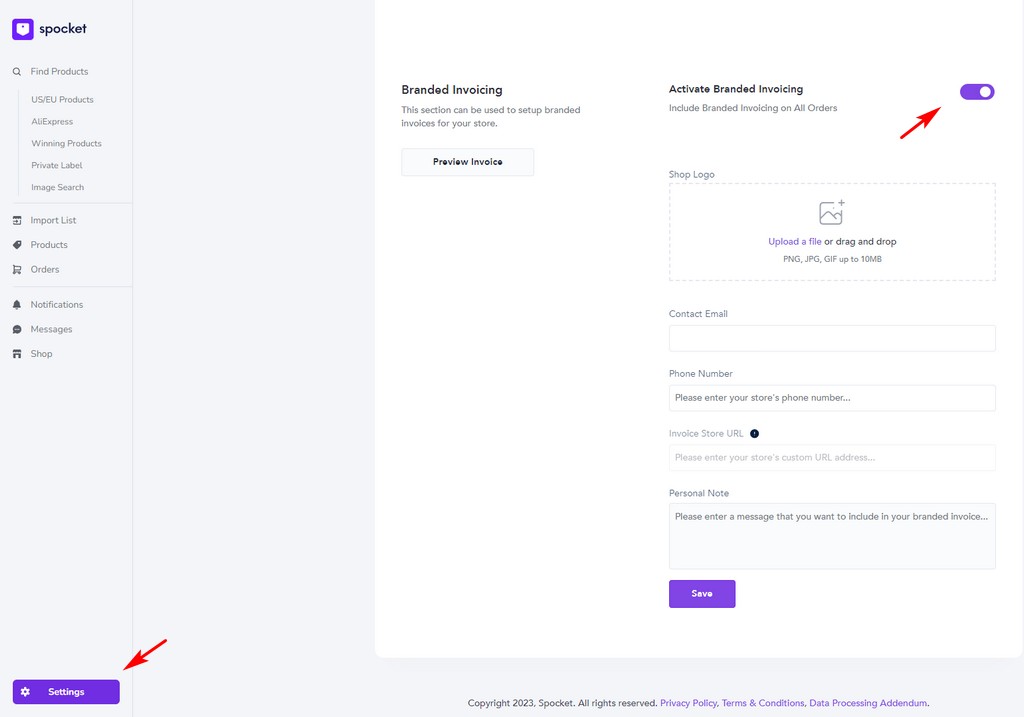 6. Start Selling
Now you leave everything on Spocket and enjoy your sales! Spocket suppliers will take care of the rest. With Spocket, order fulfillment is automated. If you want to check your orders, simply visit the Orders page accessed from the dashboard.
Spocket Dropshipping Review Verdict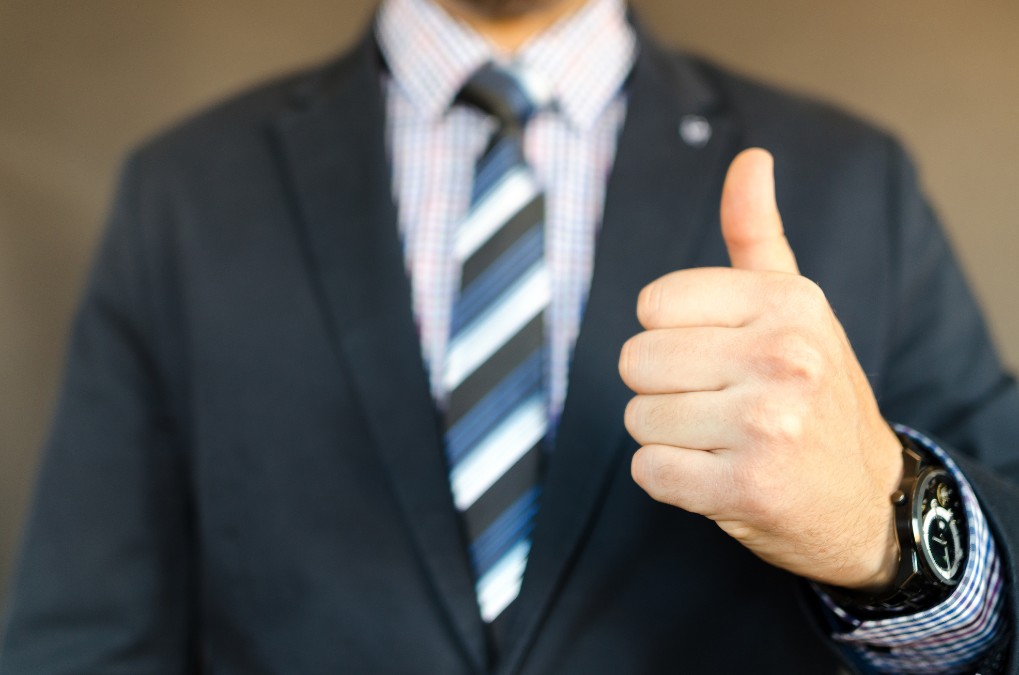 Is Spocket good for dropshipping? Yes, Spocket dropshipping platform is a solid all-around option for eCommerce sellers looking to streamline everything related to product sourcing, order fulfillment, and shipping. With its extensive catalog of high-quality products, user-friendly interface, and competitive pricing, Spocket is a comprehensive dropshipping solution for sellers of all levels.
While there may be some concerns about the pricing and limited selection of products in some categories, the platform's benefits far outweigh any potential drawbacks. Overall, Spocket is definitely worth considering for anyone looking to start or scale their dropshipping business.
Here are a few articles to help on your dropshipping journey:
Good luck!