13

min read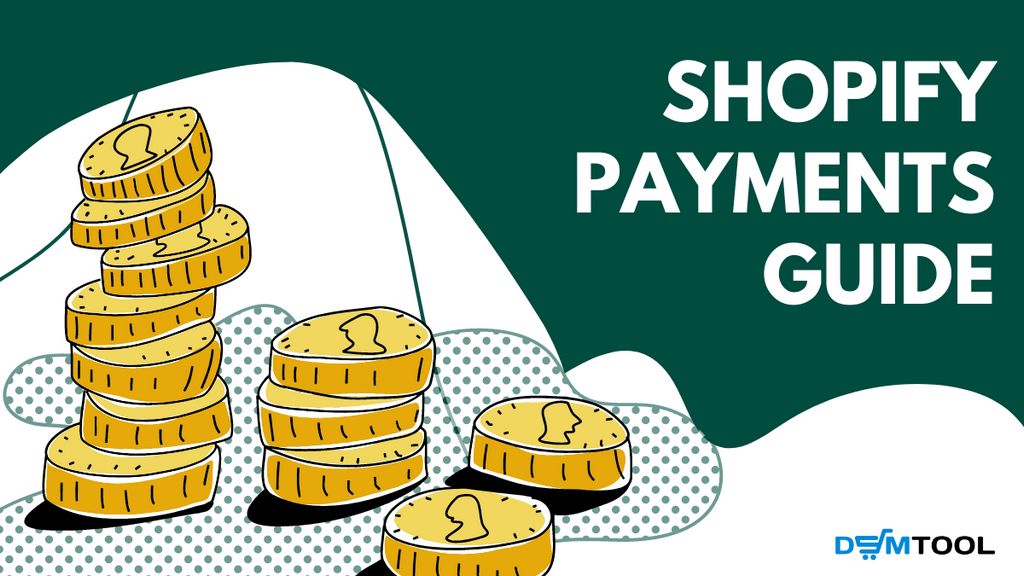 If you're already selling or planning to start to dropship on Shopify, you should know what Shopify payment methods are available on this eCommerce platform and how much they'll cost you.
When Shopify appeared more than a decade ago, it changed the world of eCommerce. Developed by two entrepreneurs who faced the struggles of creating a website, Shopify made eCommerce accessible for everyone. Almost anyone can run a web store today.
Before 2006, opening an online store required extensive knowledge (hosting, domain, URL, DNS, etc.) and financial resources (buying hosting, hiring a specialist to develop a website, and establishing an online shop). Shopify was a game changer: it allowed one to open an online shop in a few days instead of months, with less than $50 instead of thousands of dollars.
And Shopify didn't stop to grow. They continue updating their platform by adding new features and improving existing ones, making building eCommerce websites even better. Shopify Payments is one such improvement.
In this article, we will cover What Shopify payments are. You will learn How do you get paid on Shopify. We will show you Shopify payment processing fees and how to set up Shopify payments.
What is Shopify Payments? How Does Shopify Payment Gateway System Work?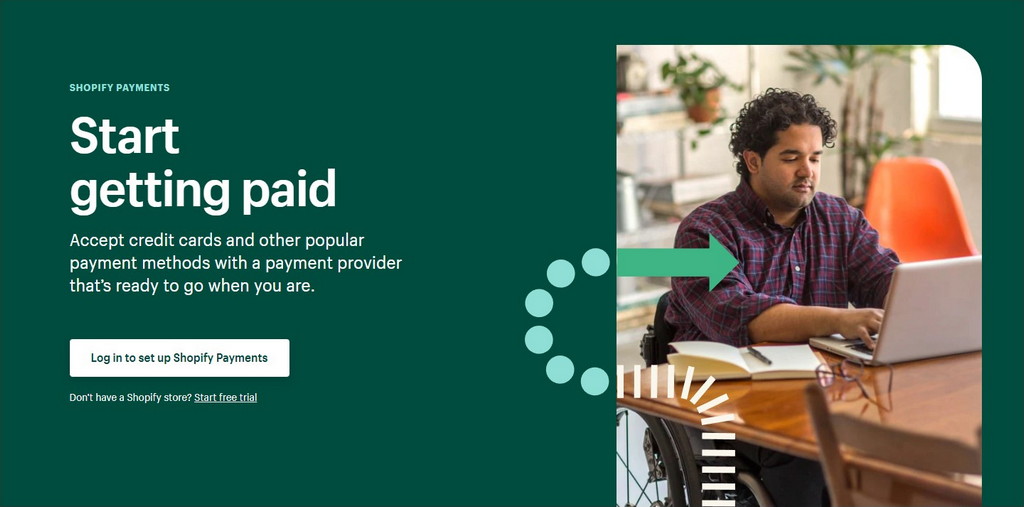 Shopify payments is an internal payment gateway by Shopify. Simple, if you know what a payment gateway is. If not, a payment gateway is a secured eCommerce service that processes credit card or direct payments for online stores and conventional brick-and-mortar stores. A payment gateway enables payment transactions by transferring information between payment portals (websites, mobile devices) and front-end processors (banks).
Here is a simplified explanation of how a payment gateway works. Once you set up a payment gateway on your e-commerce website, the process starts when a customer makes an order and provides credit card details. The payment gateway takes this information and verifies it with the associated bank or payment portal. After payment verification, the payment gateway sends the customer back to your site and notifies them about payment completion. After that, it transfers the payment to you. To complete the transaction, you send the product to the customer.
So, what is the purpose of Shopify payment processing? By integrating a payment gateway into their platform, Shopify undertook all the responsibilities of payment transfers. Customers are no longer redirected to third-party websites when paying in stores powered by Shopify. This means:
Faster payment processing.
Higher security.
Less fees (no midlemen).
And if, for any reason, you doubt the capabilities of Shopify to handle payment processing, do not. Its payment gateway is powered by Stripe – one of the most well-known and trusted payment processors. In essence, Shopify Payments is the same Stripe integrated into Shopify and focused on online sellers.
What Payment Methods Does Shopify Use?
With Shopify Payments, your customers can checkout with the following credit and debit cards:
Visa
American Express
MasterCard
Discover
Diners Club
Elo
JCB
Most payouts in the U.S. arrive in bank accounts within two working days. Shopify Payment system does not limit transaction volume and always sends funds on the same payout schedule as long as the payment is over $1.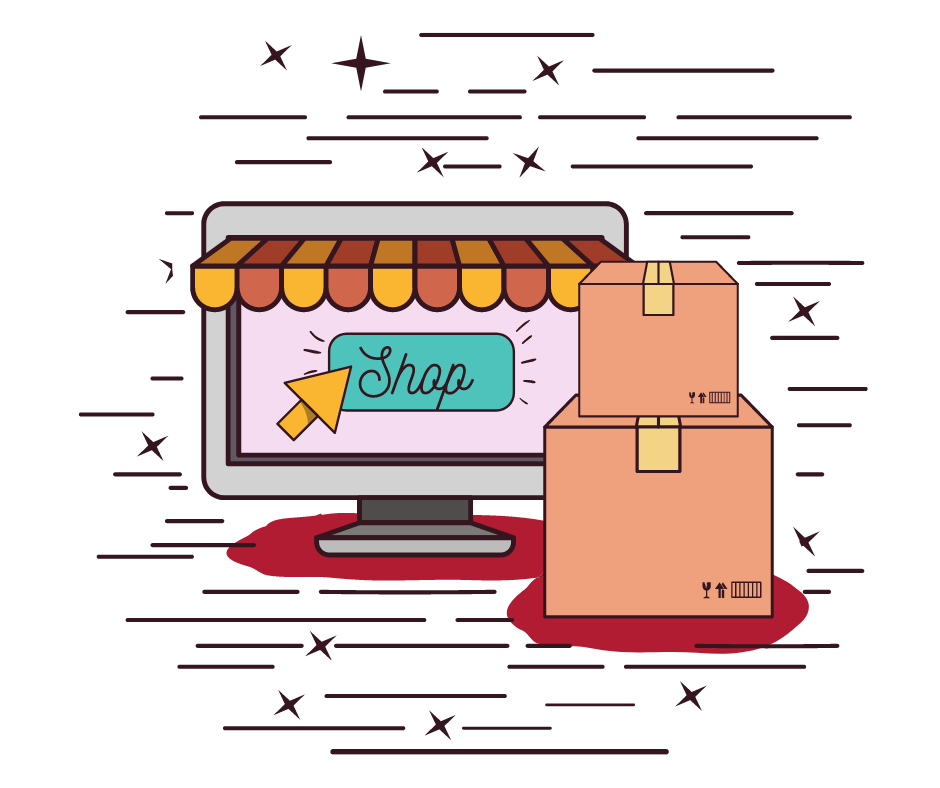 It's time…
Don't wait for success to come. Hire yourself and start your own dropshipping business
Pros and Cons of Shopify Payment Gateway
Shopify payment processing system relies on Stripe technology. But it is faster, easier to use, and provides a smoother overall experience for both sellers and customers. Nonetheless, it took the best from Stripe and was improved, this payment system still has its own flaws too. Let us take a look at its pros and cons.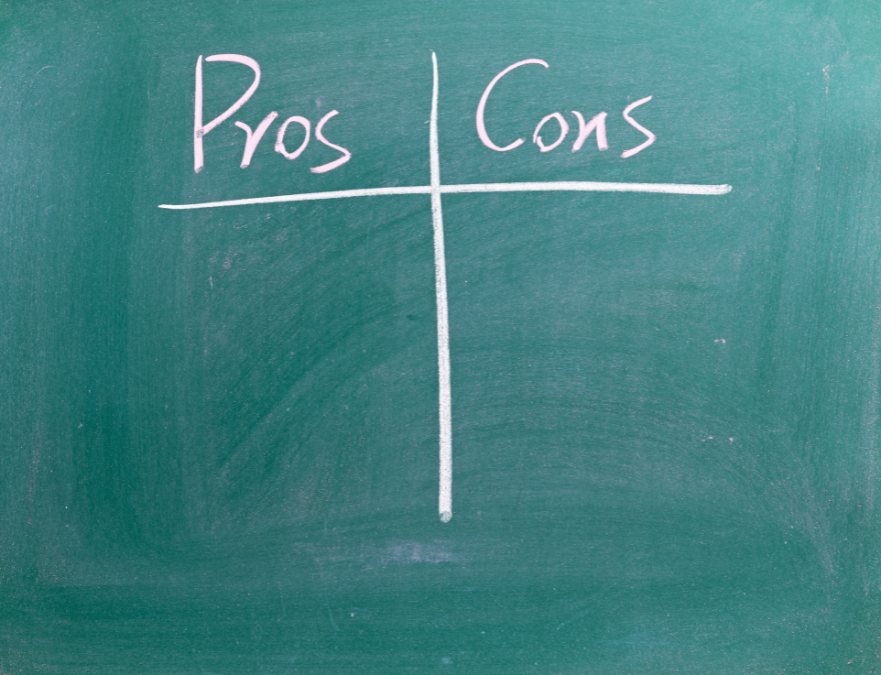 Benefits of Shopify Payment Gateway
Most of the perks result from the payment processor integration inside the Shopify platform. The main advantages of using Shopify Payments over third-party alternatives are:
1. Full integration
Shopify payment processing system fully integrates into the platform. Because of this, your customers don't have to leave your website during the payment process. It makes the whole procedure more streamlined and smooth. Aren't you annoyed when websites redirect you to other places to complete a purchase?
Another benefit of integration is the payment back-office. You can track all your orders and finances from the dashboard. It is super convenient to have all the payments with their corresponding orders in one place.
Shopify payment system also enables you to customize your checkout page. You can set multiple currencies and languages and enable extra features like accelerated checkout for returning customers.
2. Quick and easy setup
Because the Shopify payment processor integrates with the Shopify ecosystem, you no longer need to go through any third-party provider for merchant account approval. It is part of your store, so you set everything up right in one place. You can see everything to do with your store in one dashboard – no need for other integrations. Once you launch your store, it is super easy to start accepting and processing customer payments.
3. No transaction fees
Another noticeable advantage of the Shopify payment gateway is that there are no transaction fees. Payments through third-party processors incur transaction fees that can turn out even higher than the subscription Shopify charges you. Removing transaction fees results in substantial savings in the long run.
4. Multiple payment options
With Shopify Payments, you can have as many payment methods as you need, meaning your customers will have more checkout choices. This flexibility ensures that your customers can pay with a provider they like and are used to, which increases the chances of completing the sale.
5. Offline sales
Here is another noteworthy feature. The payment processor integrates with Shopify POS (Point of Sale). It unifies all your online and offline business data, allowing you to support both online and offline sales. Not many third-party processors support this feature. For example, Paypal does not have it.
Cons of Shopify Payment Processing
1. Limited availability
While you can open and run a Shopify store from any part of the world, only a store from a limited number of countries can use Shopify Payments. Supported countries include:
Australia
Austria
Belgium
Canada
Denmark
Finland
France
Germany
Hong Kong SAR
Ireland
Italy
Japan
Netherlands
New Zealand
Singapore
Spain
Sweden
United Kingdom
United States
Eventually, the list will expand. But it takes time for Shopify to ensure that the solution complies with the local requirements of each country.
2. Chargeback fees
A chargeback is a reversal of funds after a customer issues a dispute on a credit card transaction with their bank. It happens when a buyer believes there is an issue with an order or wants to cancel the order. When it happens, Shopify Payments charges the merchant a fee, varying by country. In the US, it is $15. If you win a dispute, which is quite rare, Shopify returns you the fees. Otherwise, say good buy to your money.
3. Account freeze
Shopify Payments will freeze your account if there is a chargeback or suspicious account activity. Usually, chargebacks resolve quickly, and you receive your money in the next payout. In case of suspicious account activity investigation or delays with a chargeback, your funds will remain on hold until Shopify resolves the situation. Sometimes, it takes months.
Shopify Payments Fees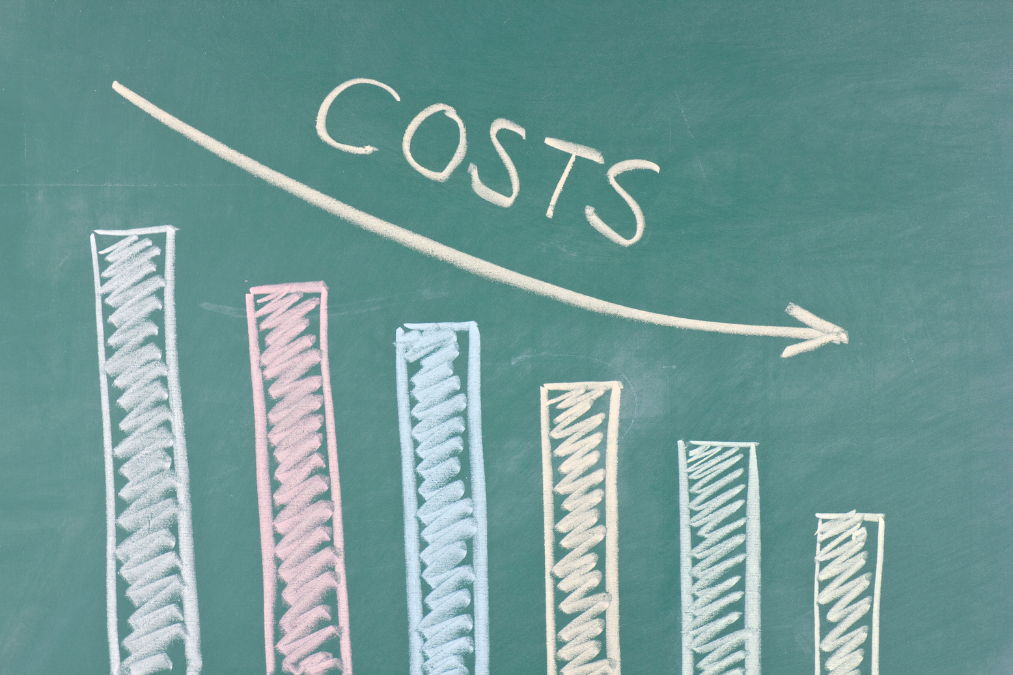 The Shopify payment processor charges fees based on your subscription type. The fees are less on higher plans.
| | | | |
| --- | --- | --- | --- |
| Monthly Plan | Monthly Cost | Online Payments | In-person Payments |
| Basic Shopify | $29 | 2.9% + 30¢ | 2.7% |
| Shopify | $79 | 2.6% + 30¢ | 2.5% |
| Advanced Shopify | $299 | 2.4% + 30¢ | 2.4% |
| Shopify Plus | $2,000 or quote-based | Quote-based | Quote-based |
There are no setup or cancellation costs. Shopify does not charge any additional monthly fees for using Shopify Payments. There are fees for using third-party payment processors, which depend on your monthly plan.
Shopify Payments Requirements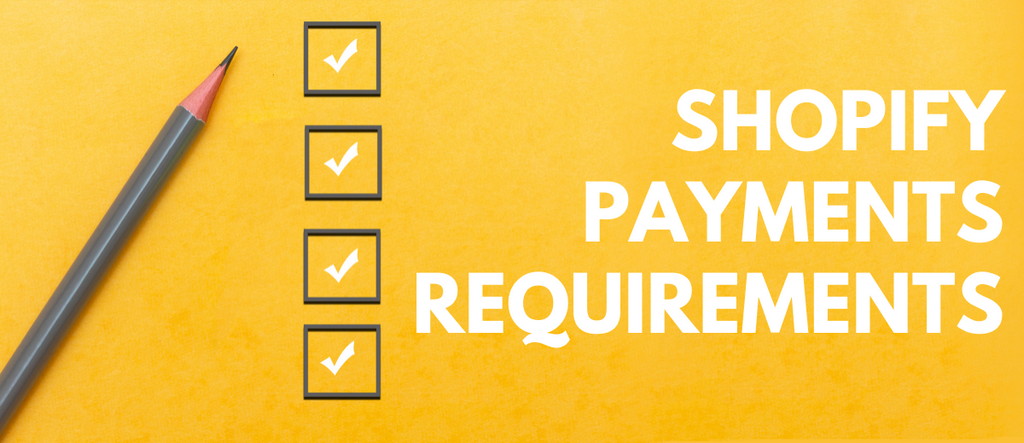 The country limitation is not the only one. There are also other requirements you should be aware of.
Shopify Payments requirements differ depending on the region. Usually, it requires information about the following:
The individual creating the Shopify Payments account.
The business associated with the Shopify Payments account.
The individuals who ultimately own or control the business, which includes the business owner or a senior executive with legal signing authority for the business.
Shopify Payments requires that your bank account meets the following criteria:
Your bank account needs to be a full checking account.
Your bank account must use your country and region's payout currency.
Your bank account should accept electronic money transfers.
For a business based in the US, the bank account must be with a physical US bank, accept USD as currency, and be eligible for Automated Clearing House (ACH) transfers.
Shopify payment gateway does not support virtual, flex-currency, and savings accounts. You cannot use services that mimic bank accounts. Shopify Payments also does not support checking accounts that allow only wire transactions.
Due to compliance with multiple laws and regulations, Shopify has a long list of prohibited products that you cannot sell:
Financial and professional services
Money and legal services
Virtual currency or stored value
IP Infringement, regulated or illegal products and services
Adult content and services
Counterfeit or unauthorized goods
Gambling
Intellectual property or proprietary rights infringement
Regulated or illegal products or services
Sanctions
Products or services that are otherwise prohibited by law or our financial partners
Aggregation
Drug paraphernalia
High-risk businesses
Multi-level marketing
Pseudo pharmaceuticals
Social media activity
Substances designed to mimic illegal drugs
Use of Shopify Payments in a manner inconsistent with its intended use or as expressly prohibited in the Processor Terms
Video game or virtual world credits
Unfair, predatory, or deceptive practices
Opportunities for investment or other services which offer high rewards
Mugshot publication or pay-to-remove websites
No-value-added services
Make sure you read Shopify terms. Otherwise, Shopify will terminate your account.
Shopify Payments vs Shopify Pay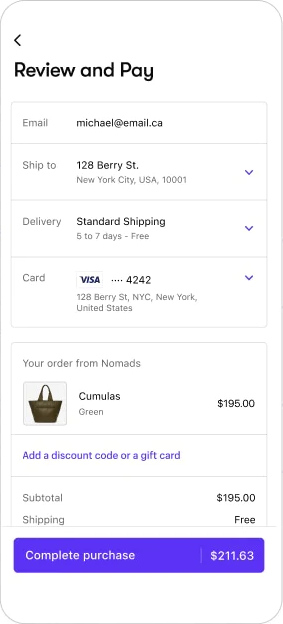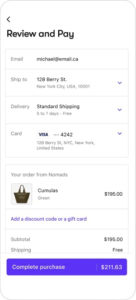 You might have seen mentions of Shop Pay, and there might be confusion with Shopify Payments. So what is the difference?
Shop Pay, formerly Shopify Pay, is accelerated checkout – the "Shop Pay" button customers see when purchasing from Shopify-powered stores. It is a convenient checkout that allows customers to save their billing information for faster checkout in future purchases.
Shop Pay is the frontend, and Shopify Payments is the backend processor. To use the Shop Pay button, you have to set up Shopify Payments first. Simply put, Shop Pay is the payment button customers use to call for Shopify Payments.
How to Set Up Shopify Payment Processing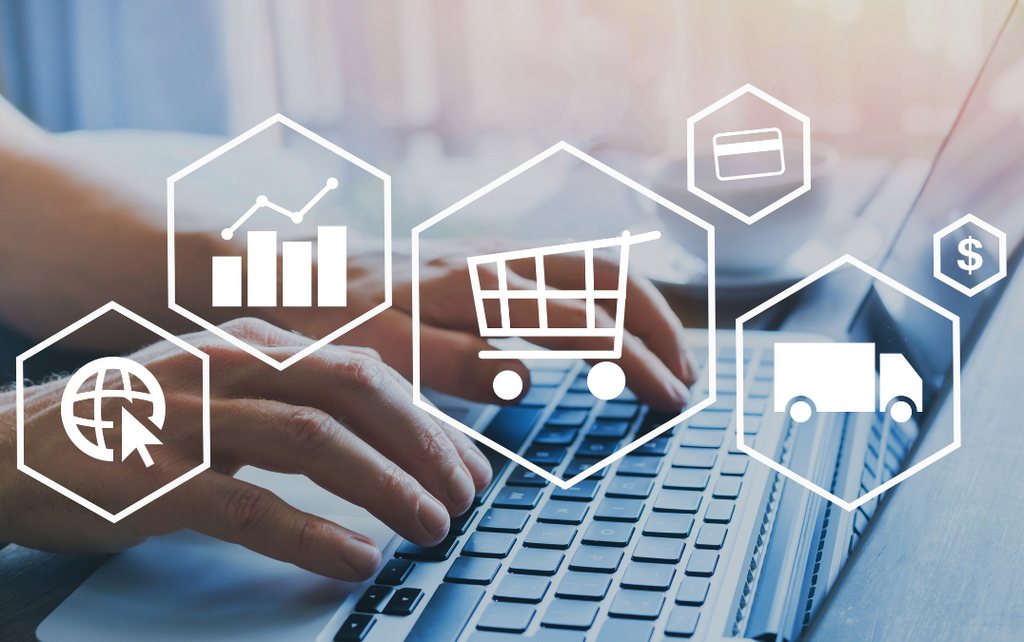 It is very simple and straightforward.
You can enable Shopify Payments from the Settings > Payments tab.
If you do not have a payment provider set up on your account, press Complete Account Setup first. If you already have another provider enabled, click Activate Shopify Payments from within the Shopify Payments section. Then click Activate Shopify Payments in the dialogue box. It will remove any other payment processors from your account.
Follow the on-screen instructions, and enter the details required about your store and bank. There might be additional information needed, depending on your region. Click Save to complete the setup process.
You can follow this video from Shopify to see available payment options and how to set them up.
Once Shopify Payments are set up, your customers can start making payments on your Shopify store.
Alternative Shopify Payment Methods
You cannot use Shopify Payments with other payment gateways. It is Shopify Payments or a third-party payment processor. However, some payment gateways allow use in conjunction with others. If you do not want to use Shopify payment processor for whatever reason, or if it is unavailable due to restrictions, third-party providers are your only option.
You must evaluate your requirements and decide whether you want an integrated or centralized payment system.
Here are the best Shopify alternative payment methods:
PayPal – PayPal is one of the most long-time established and well-known payment processors. Their customer base exceeds 220 million users from all over the world. Paypal offers a wide range of pricing options: they have both paid and free plans for Shopify store owners. PayPal charges 2.9% + $0.30 per transaction on the Basic plan. Large businesses might want to consider the Pro plan for $30/month.

Stripe – As I mention, Stripe is the system that powers Shopify Payments. It is very flexible and comes with a lot of features. The downside is that it is available only in 39 countries. Stripe charges the usual 2.9% + $0.30 per transaction. Larger-scale businesses can request customized quotes.

Authorize. net – Authorize.net is a secure payment processor that packs a variety of features for eCommerce. It supports different payment options and currencies and has reliable fraud protection. The platform supports other digital payment processors like Apple Pay. It charges the usual 2.9% + $0.30 fee per transaction, but you have to pay $49 for a setup.
Surely there are also other alternatives available. But these payment processors are among the most popular, secure, and feature-rich.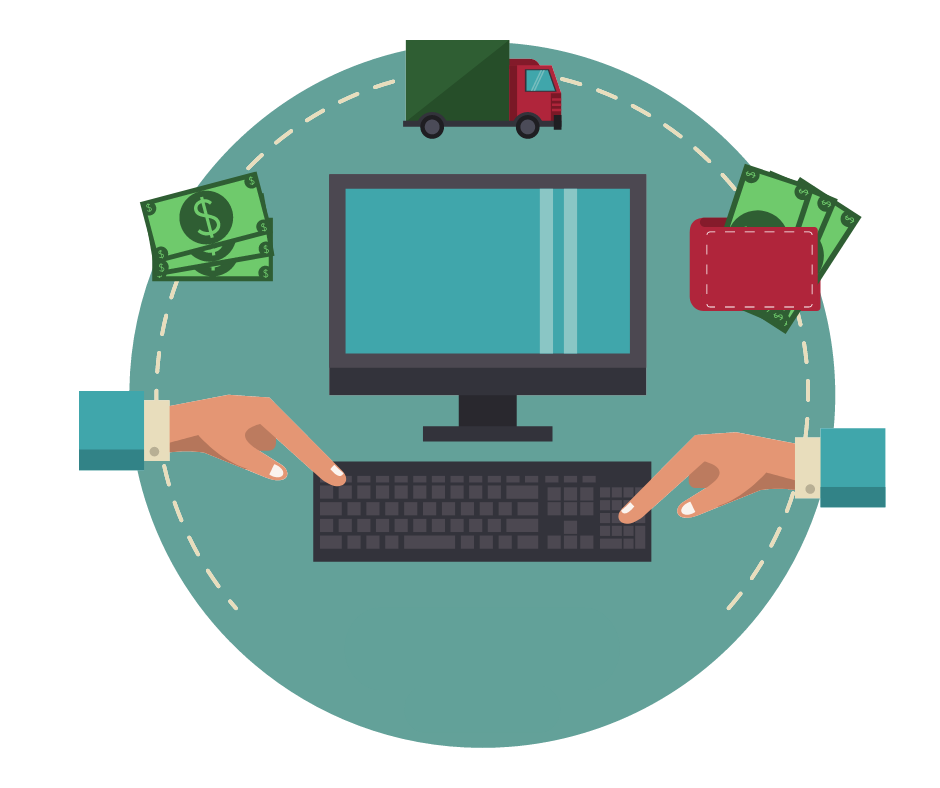 Not yet making money online?
Start your own dropshipping business. Sign up for a free trial of DSM Tool and we'll help you get started. Today is the day.
Conclusion
Shopify Payments is a great move from Shopify in an effort to make the selling experience smoother and more streamlined.
The platform took advantage of Stripe, an excellent payment processor, and improved it even further by making it more seller-oriented. It is convenient, efficient, and financially beneficial.
Shopify payment processor doesn't have significant downsides except for availability in a limited number of countries. It is a great all-around solution for both sellers and buyers.
Here are a few articles that should be helpful to Shopify sellers:
Good luck!