Mother's Day falls on the 8th of May in 2022. It means that it's the right time to prepare your eCommerce store for this holiday, to think about what to sell on Mother's Day, and prepare a gift for your mother?.
Apart from being a wonderful opportunity to thank your mother for everything and spend time together, Mother's Day is the 3rd largest retail holiday in the United States. It presents a good opportunity to increase sales with the help of the right marketing strategies and bestselling products.
In this post, you will find out:
Besides, we have prepared for your different holiday-related ideas of what to sell on Mother's day 2022:
Hurry up with preparations since the holiday is around the corner! ⌛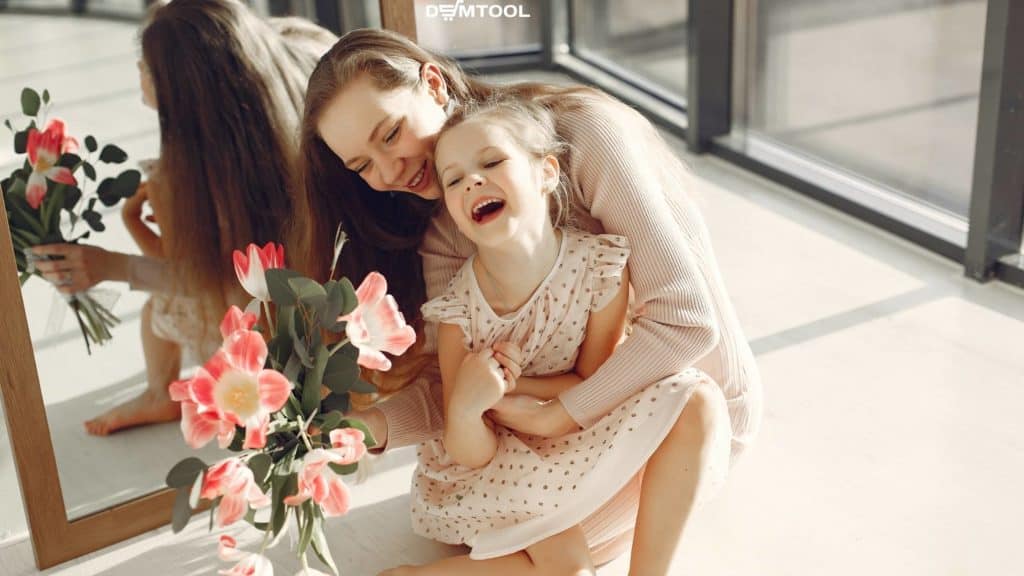 When is Mother's Day celebrated?
In 2022 Mother's Day falls on the 8th of May, it's the second Sunday of May, in the USA. This holiday is celebrated throughout 50 different countries. However, not all of them commemorate it on the same date.
Here are those countries that celebrate Mother's Day on the second Sunday of May: the USA, Australia, Austria, Belgium, Germany, Denmark, Finland, Italy, Switzerland, Turkey, Chile, Colombia, etc. Mexico and many parts of Latin America celebrate Mother's Day on May 10th of each year. Spain, Portugal, Romania, Hungary, and Lithuania celebrate on the first Sunday of May.
Why Should You Prepare Dropshipping Store for Mother's Day?
Did you know that Mother's Day is the 3rd largest retail holiday in the United States? After the winter holidays and back-to-school season, according to the National Retail Federation. In 2021, despite the coronavirus pandemic and quarantines, the average consumer spending on this holiday was 220$, and the total spending was about 28.09 billion U.S. dollars (2 billion $US more than in 2020)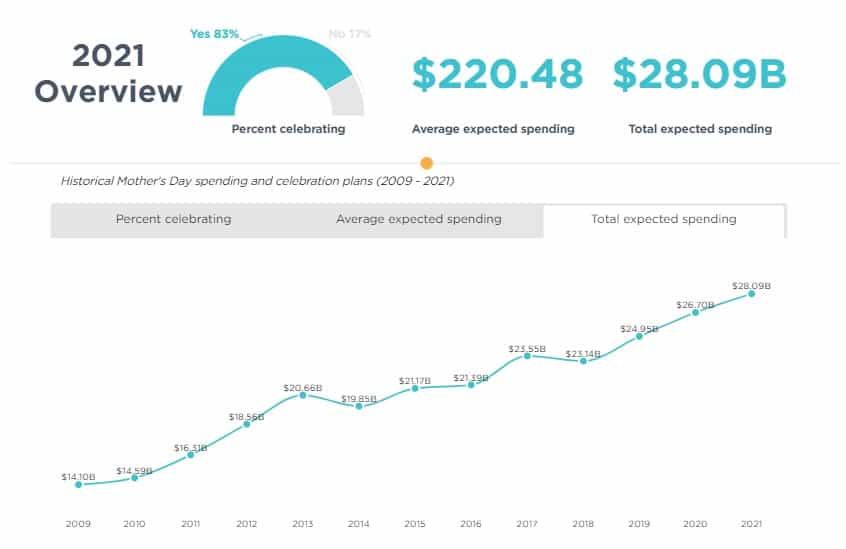 Despite the coronavirus crisis last year, the percentage celebrating Mother's Day grew in 2020 and in 2021. And it is expected to grow for Mother's Day 2022 as well.
Have a look at this informative infographic, prepared by Inspira, to get more data about the last year celebration and its influence on eCommerce:


What's a good Mother's Day gift in 2022?
First of all, let's not forget about the individual approach that usually buyers have in choosing good presents for moms. However, the marketers have investigated the trends about the products that were sold on Mother's Day in the previous years and presented us the following data:
Greeting cards are one of the most popular Mother's Day gifts that cover 72% of all customers.
Flowers. 68% of buyers purchase it for their moms and maternal figures.
Gift cards is the third most popular Mother's Day gift type that covers 47% of total buyers.
Special outing is a good Mother's Day gift with 49% of spending. Nonetheless, the coronavirus restrictions and obligatory social distancing hit such a possibility. Its number dropped drastically last year.
Clothing/Accessories. 40% of people picked them to present to their closest family members on this holiday.
Jewelry is a stable popular Mother's Day gift chosen by 35% of customers and it covers the highest expenses for the gifts.
Personal Service was considered as a good present by 25% of interviewees.
Gardening or housewares are useful Mother's Day gifts. 26% of spending belongs to this group of items.
Electronics is another idea for amazing presents for moms with 20% of total buyers.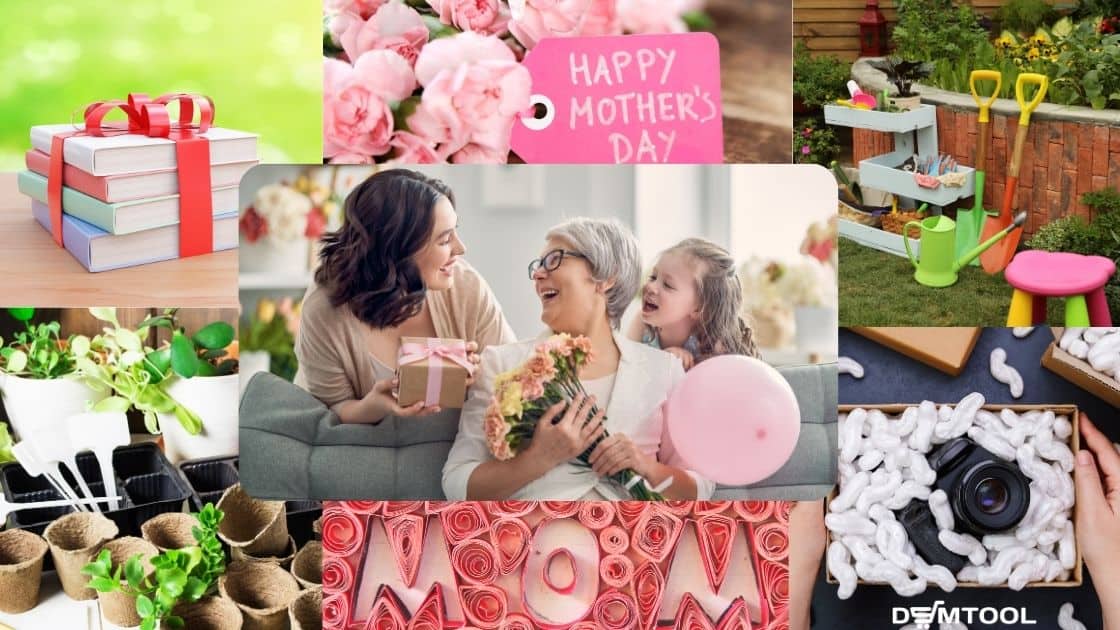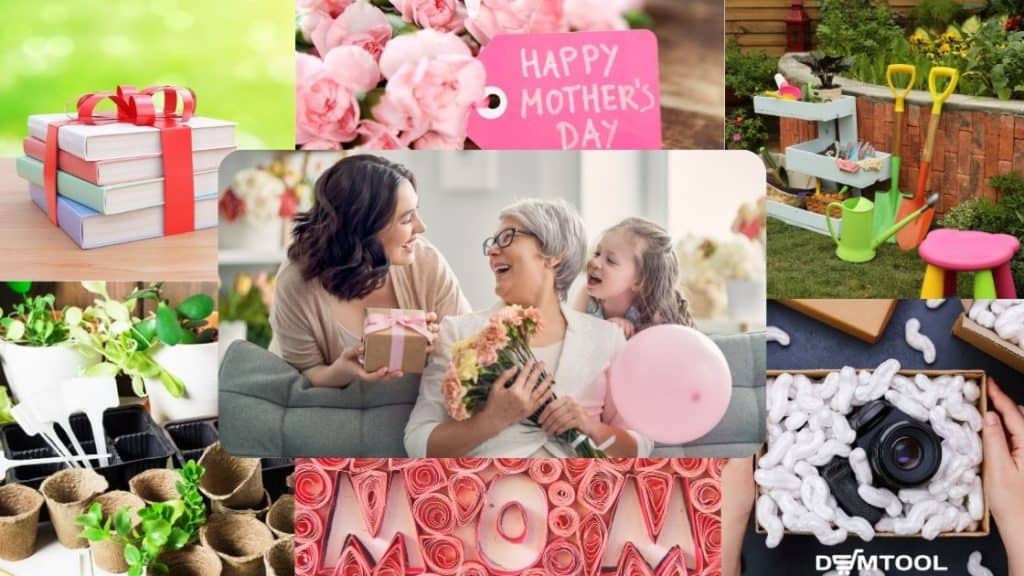 Here you can see how these types of top Mother's gifts were changing within the last years to have an idea about what to sell in 2022: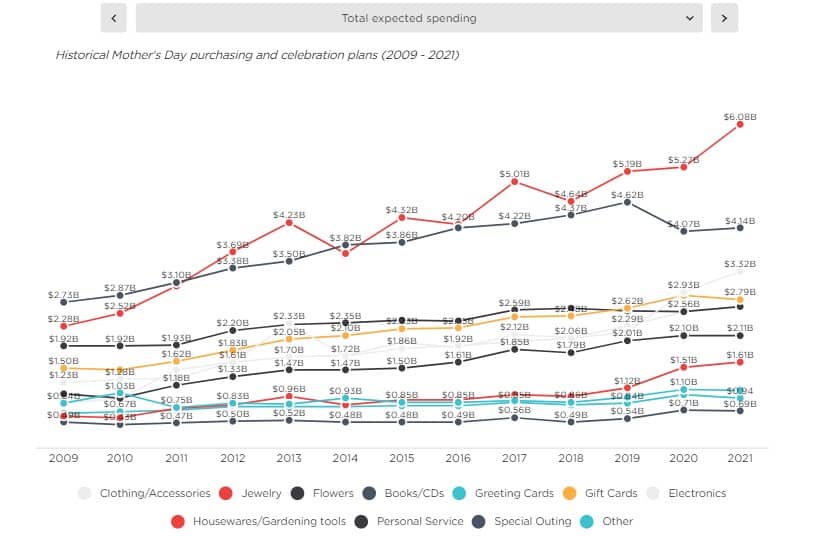 As you can see, the percent planning to present electronics, books, gardening items, or housewares grew more than 20% over last year. These categories are expected to grow in 2022 as well. Therefore, make sure to dropship a few items from these categories to increase the chances to get more sales on Mother's Day 2022.
Tip
Have you ever considered dropshipping books? Books are an incredibly popular product all over the world, which means your potential customer base is huge.
Another trendy gift that grew last year is purely virtual – subscriptions! It's good to know but hard to dropship. So let's check dropshipping product ideas for Mother's Day 2022.
Dropshipping Product Ideas for Mother's Day
As suggested by the name, Mother's Day is an annual holiday to honor mothers and motherhood. However, people tend to present gifts also to their stepmothers, wives, grandmothers, daughters, sisters, godmothers, and other relatives on this special day.
There are many ways to show appreciation and love to close family members. One of these ways is presenting a perfect Mother's Day gift. Therefore, you can make sure to have enough different dropshipping products in your eCommerce store in order not to hesitate on what to sell on Mother's Day 2022.
The Dropship Academy team has elaborated a list of the 40 best Mother's Day gifts in 2022 across different niches that aim to boost dropshipping sales. Check the list below to find various items: from bestselling gifts to affordable, practical, and useful Mother's Day gifts to sell in your online store.
⚠️Note: Nevertheless, make sure to double-check with your supplier the shipping time to deliver orders to your customers right in time, especially if you use Chinese dropshipping sources.
Well, let's see what dropshipping items are popular Mother's Day gifts this year:
Top Personal Care and Beauty gifts for Mothers in 2022
1. Facial Massage Roller + Gua Sha Stone
This face massage kit is quite trendy among women and sells well. Include it in your strategy for dropshipping on Mother's Day can be a good idea.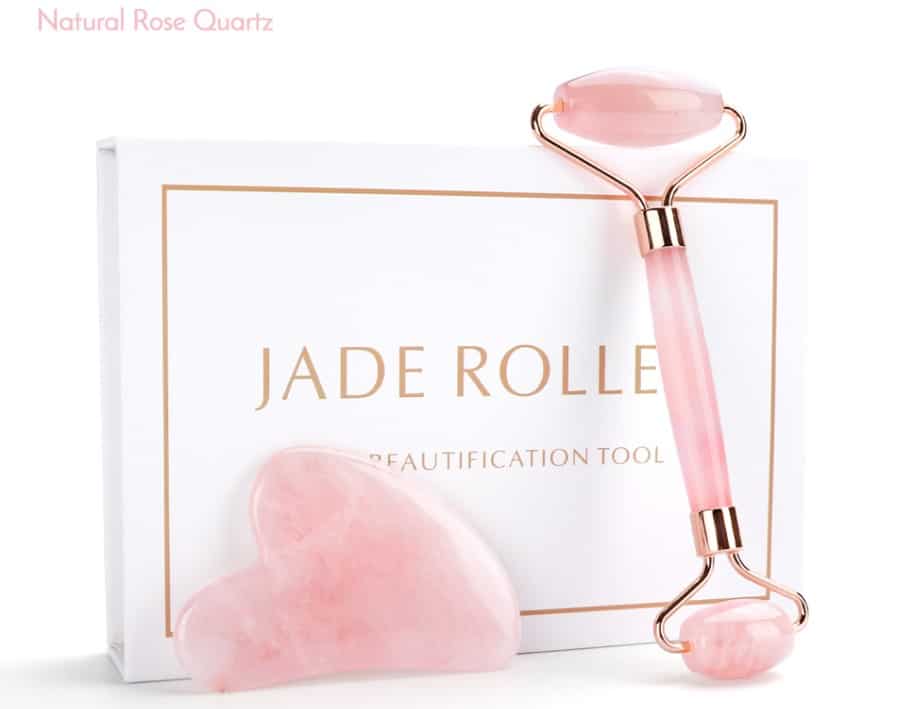 2. Makeup Mirror with LED Lights
This is a good Mother's Day gift which definitely would be practical and useful for women of different ages. Overall, all of us are using mirrors doing daily beauty rituals. A makeup mirror with LED Lights is a modern product that helps to see our beauty better. If you would like to add it to your dropshipping products for Mother's Day, the chances to get a sale being on the 1st search page are high: 156 potential sales per 1 listing.


3. Cordless Automatic Hair Curler Iron
This is one of the top beauty devices that creates glamorous curls easily in a matter of seconds. In addition, no extra skills are needed. So women of all ages can use this item.
4. Bath bombs gift set
Women like to relax after a busy day taking a bath or a long hot shower. A set of shower/bath bombs with pure essential oils and fragrances that creates small aromatherapy (right like in a spa) will catch the attention of buyers who look for a popular Mother's day gift across the beauty products category.

5. Dyson Airwrap Styler
This beauty dropshipping product became pretty popular recently. It can be one of your dropshipping products for Mother's Day. However, if you are an eBay seller, mind the VERO regulations.
6. Back Neck Shoulder Massager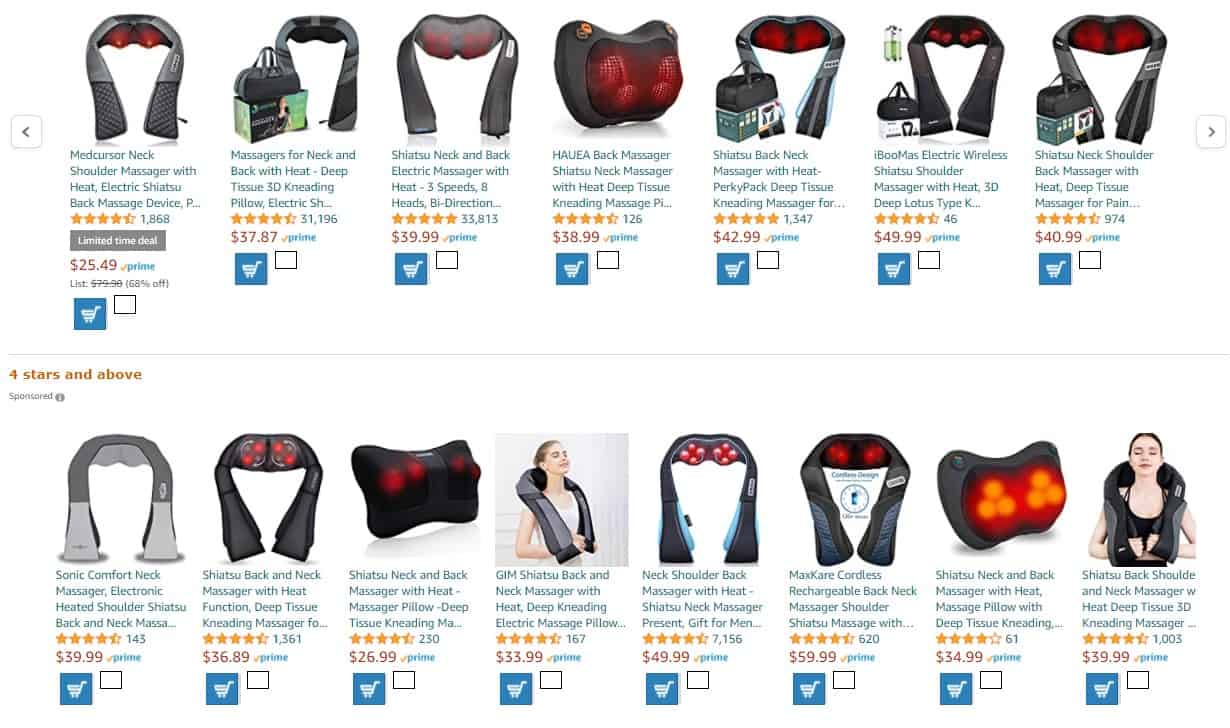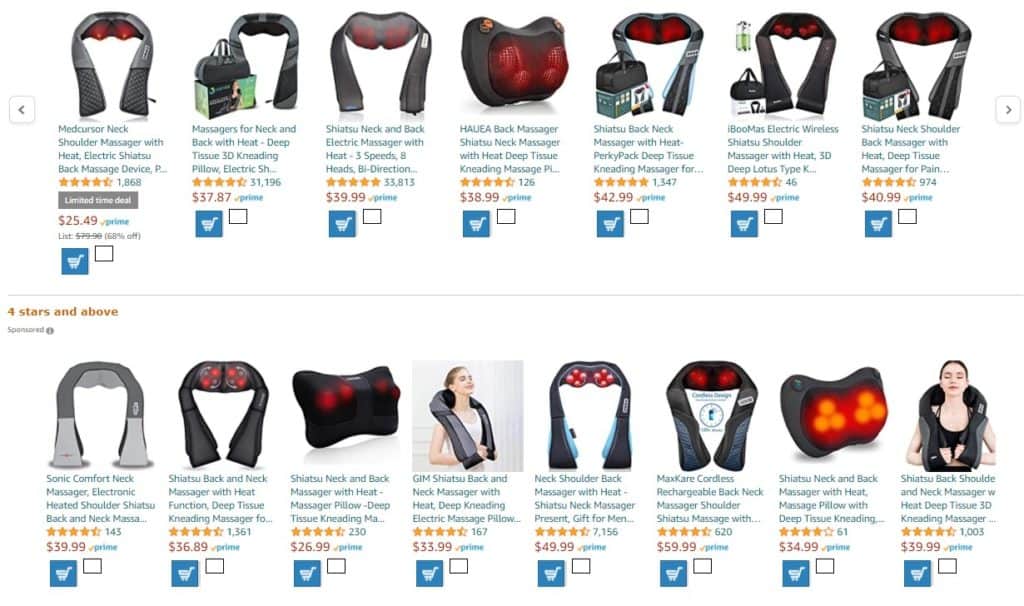 It can be a quite useful Mother's Day gift that helps to relieve stress and neck discomfort, which we basically experience daily. Besides, this dropshipping product has a good selling potential. In total, such massagers can bring 142 possible sales on eBay.


7. Orthopedic pillow
Health care products have become more and more popular since many people start to dedicate more time and effort to stay healthy and happy. Orthopedic pillows are one of the trendy personal care products that have many sales on eCommerce.
8. Scalp Massager Brush
Another beauty product that can serve as a good Mother's Day gift 2022.
9. Electric Heating Pad for Neck, Shoulders, Back Pain Relief
This is a trending health care product that our mothers and grandmothers can appreciate and use often to get back pain relief. By the way, it's a quite trending product for dropshipping. Currently is among Amazon bestsellers.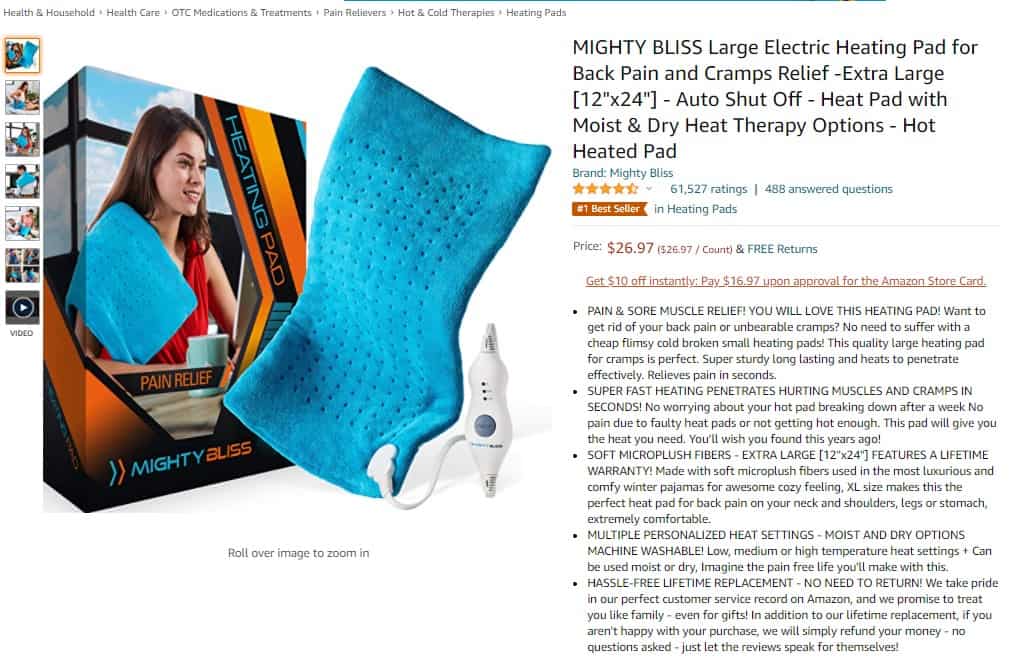 10. Aromatherapy Diffuser Set with Essential Oils
It's a bestselling dropshipping product in the Health and Personal Care category. It can be a good present for moms and other maternal figures that helps to create an own personal spa right at home. This gift will reduce stress, and all of us know that mothers have too much of it! In addition, the aromatherapy diffuser as a product to sell on Mother's Day gives a real potential to boost sales since 1 eBay listing with a strong eBay SEO has 228 possible sales.


11. Mother's Day Gift box
Mother's Day gift boxes are excellent eCommerce products you can sell online. You can make your own boxes with soap flowers, chocolates, cute postcards, soap, cups, etc. Or you can dropship the ready gift boxes from big retail suppliers like Amazon, Walmart, etc.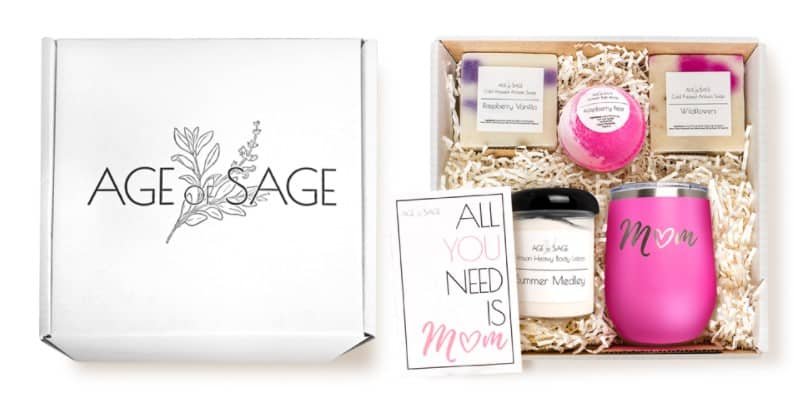 Best Mother's Day tech gifts to dropship
12. Bluetooth Tracker for everything
It is a nice and affordable Mother's Day gift. Mothers track many things in modern life. Since a big amount of the things they control, some of them can get lost… So a mini Bluetooth tracker that helps to find keys, dogs, bags, etc. is quite a handy present.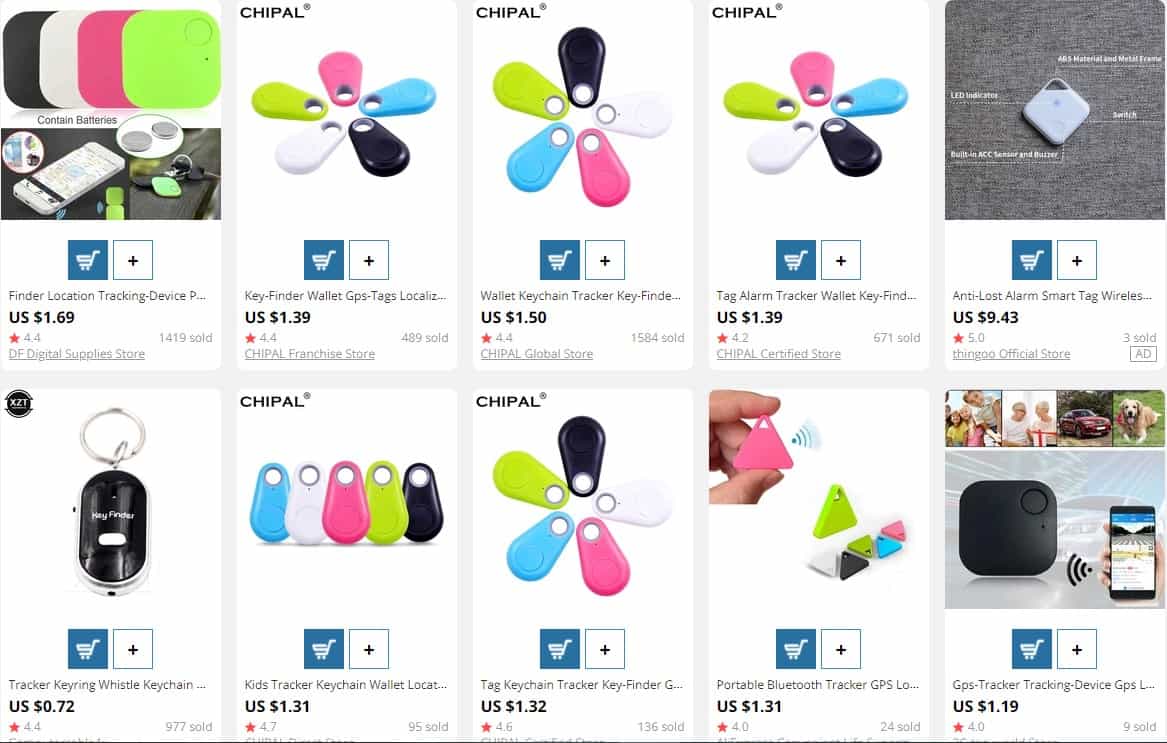 13. A stylish Wireless Charger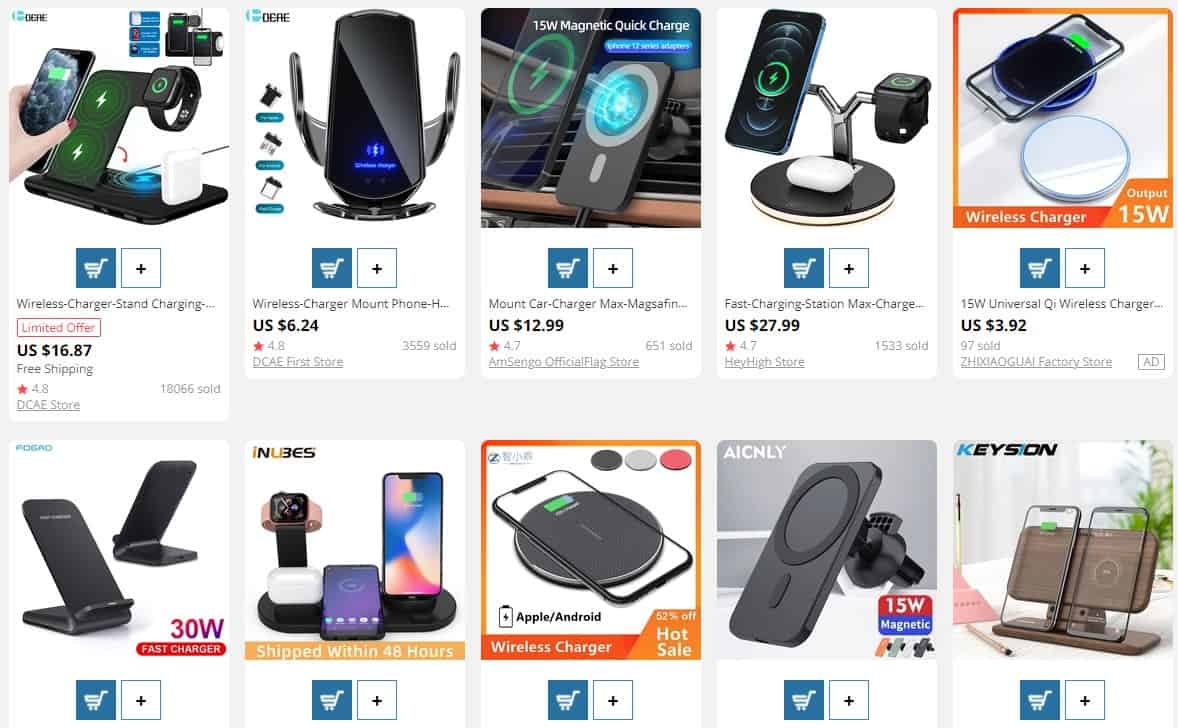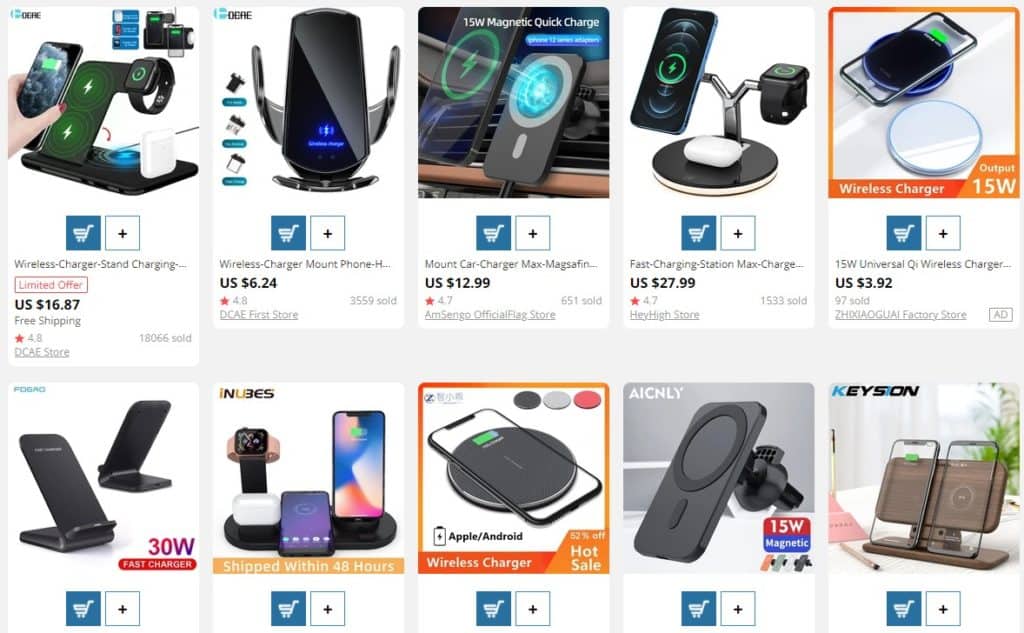 14. Streaming stick or display receiver to make TV smart
One can connect a smartphone, notebook or iPad to a TV, projector or monitor and whatever the videos watched on mobile devices will be mirrored onto the bigger screen, which is easier to watch and is suitable for sharing. This is a very useful Mother's Day gift that gains popularity but is not yet saturated on the market. Normally one such eBay product from the 1st search page brings 26 sales:


15. Smart Watch
Smart watches and items related to them are in demand and are among the products that are selling well. Besides, those remains being one of the top Mother's Day gifts.


16. Portable Mini Printer for her phone
Women like to collect memories, especially having enough photos with their beloved family members. A portable mini printer is one of the best Mother's Day tech gifts that will surprise moms and help them to collect as many as possible memories in a form of printed photos.
Looking at the statistics for the "portable thermal printer" keyword, one first eBay listing brings possible 47 sales to e-sellers.


17. Bluetooth speaker
It's one of the bestselling dropshipping products to sell on Mother's Day with the right marketing strategy.
18. Wireless Doorbell
A smart doorbell is one of the trending eBay products at the present time. In addition, it can be a good Mother's Day tech gift.
19. Portable noise machine for sleeping
It would be a useful device for mothers who need to travel with toddlers or have uncalm sleep. The noise machine usually offers a set with different soothing sounds including lullabies, white and natural sounds. There are not so many such items on the market. Therefore, you can sell it on Mother's Day as a gift idea suggestion.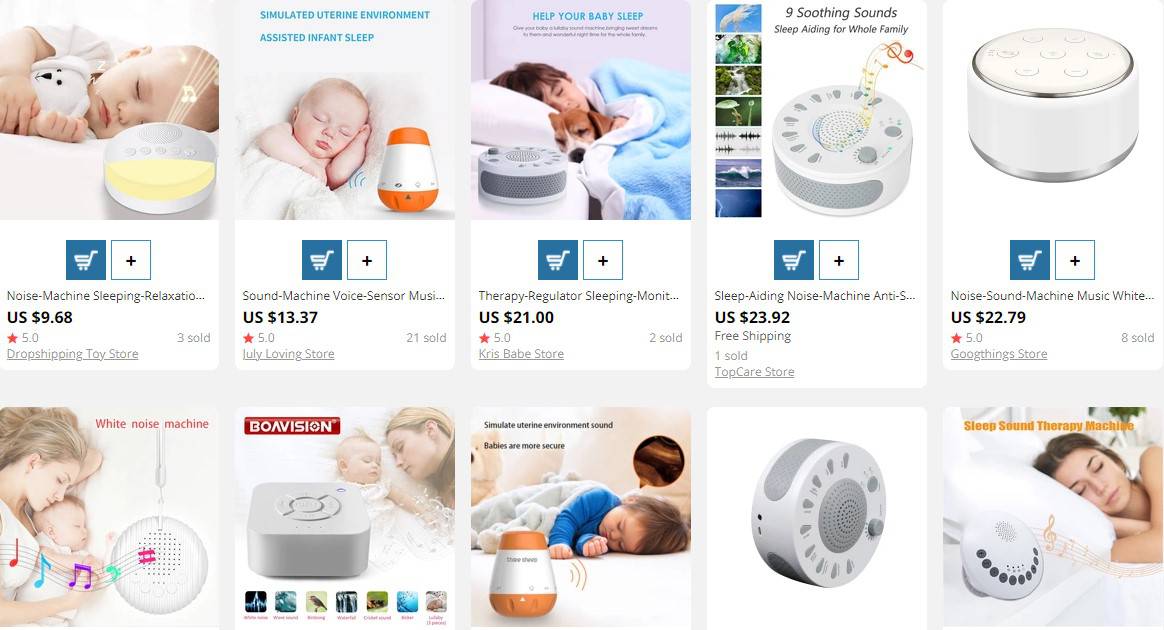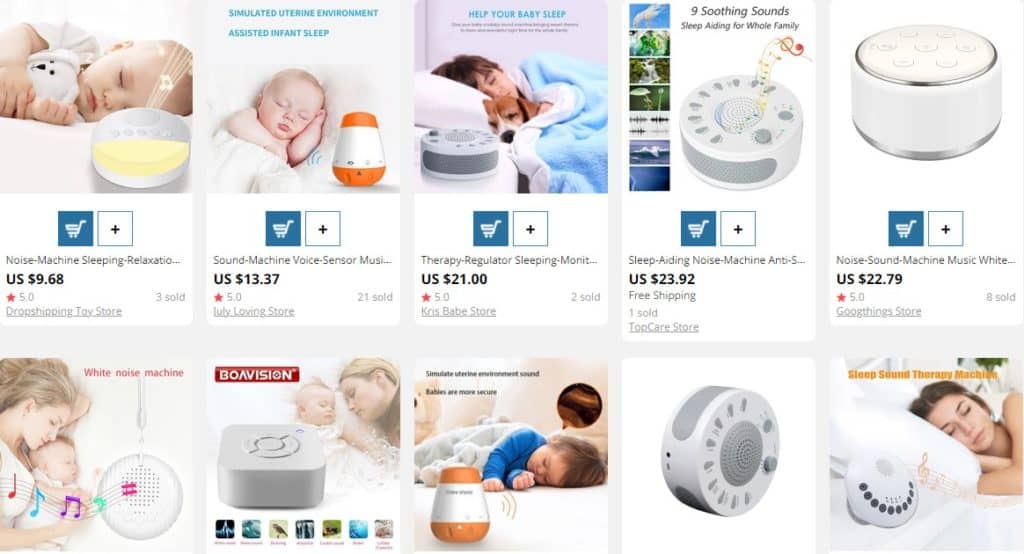 Top Ideas of Mother´s Day gifts for gardeners
Who would not want to eat fresh vegetables all year round? This useful Mother's Day gift for gardeners is a solution for those who don't have their own garden yet but always wanted to. Besides, such hydroponic air growing systems help plants grow 5x faster than growing in soil. Overall, eCommerce store owners can consider selling the whole seedling system kit or only some parts for them.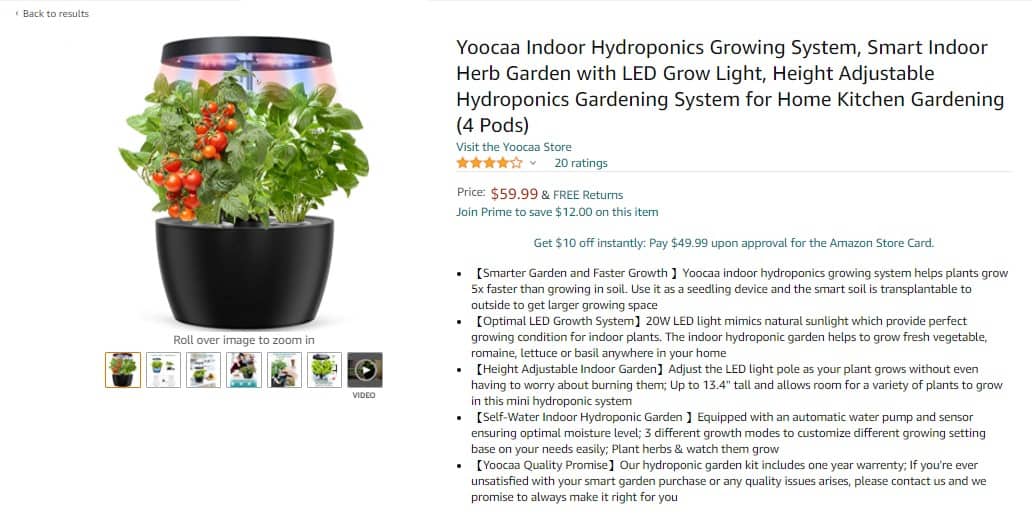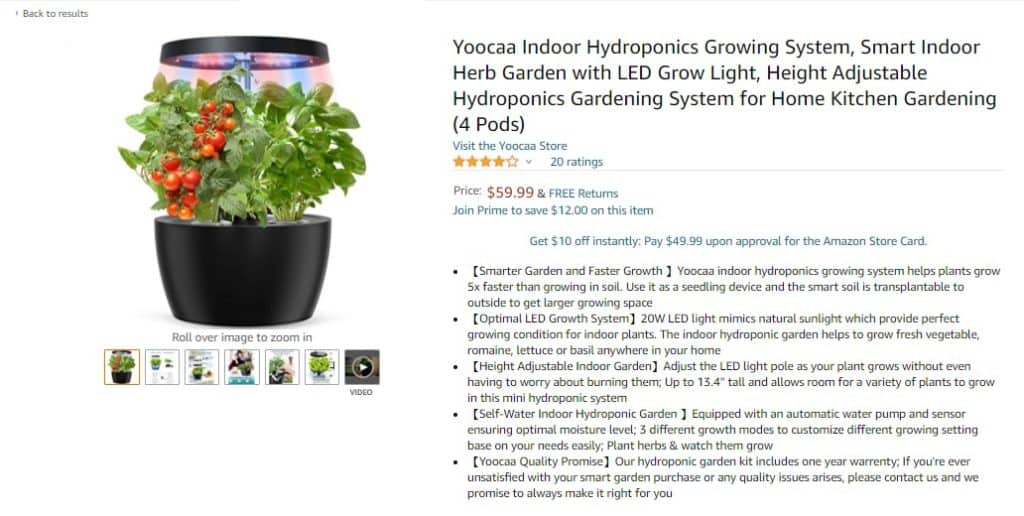 21. Solar light decorations
It's a modern and nice present for gardeners for dropshipping on Mother's Day and in general. It's an eBay trending product that has the potential to bring 515 sales being on the first pages of the search.


22. Hammock
Surely mothers, grandmothers and other maternal figures will appreciate the possibility to relax in their own garden or in nature during family meetings. This outdoor Mother's Day gift sells well and has a demand in the market. Mothers can especially like the macrame hammock chairs as a part of their outdoor or indoor decor.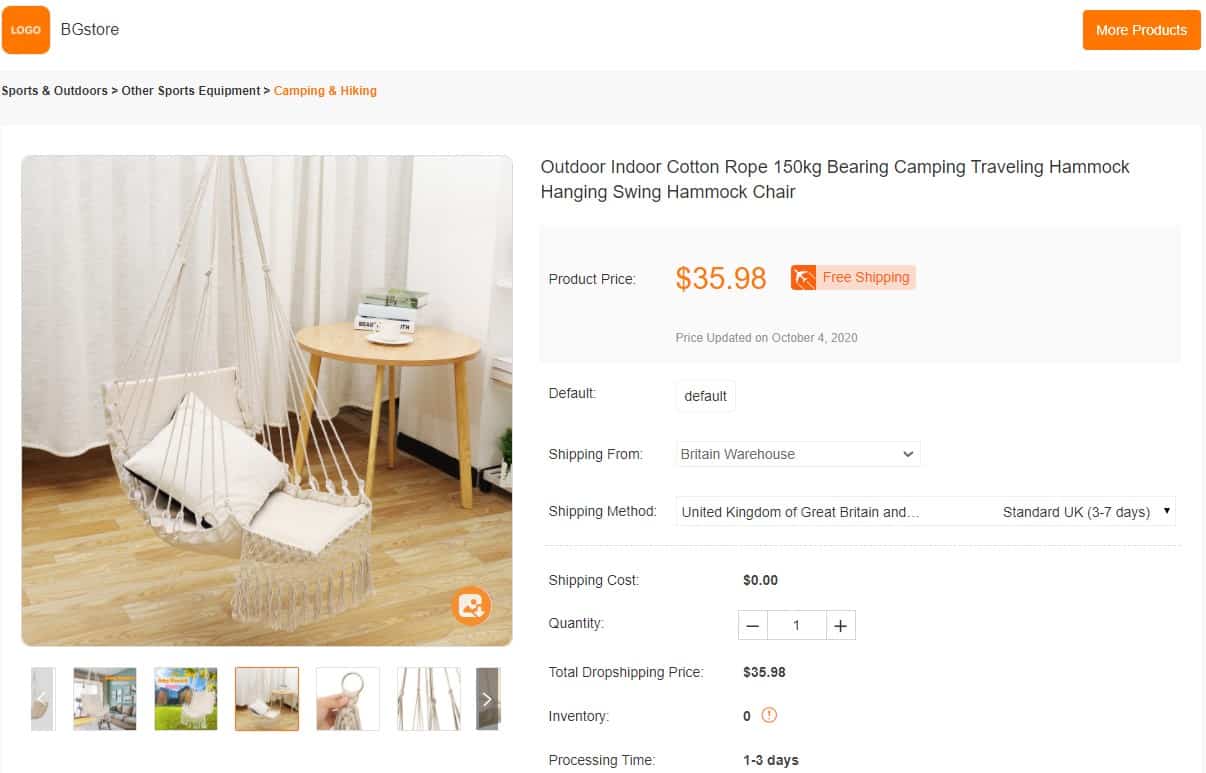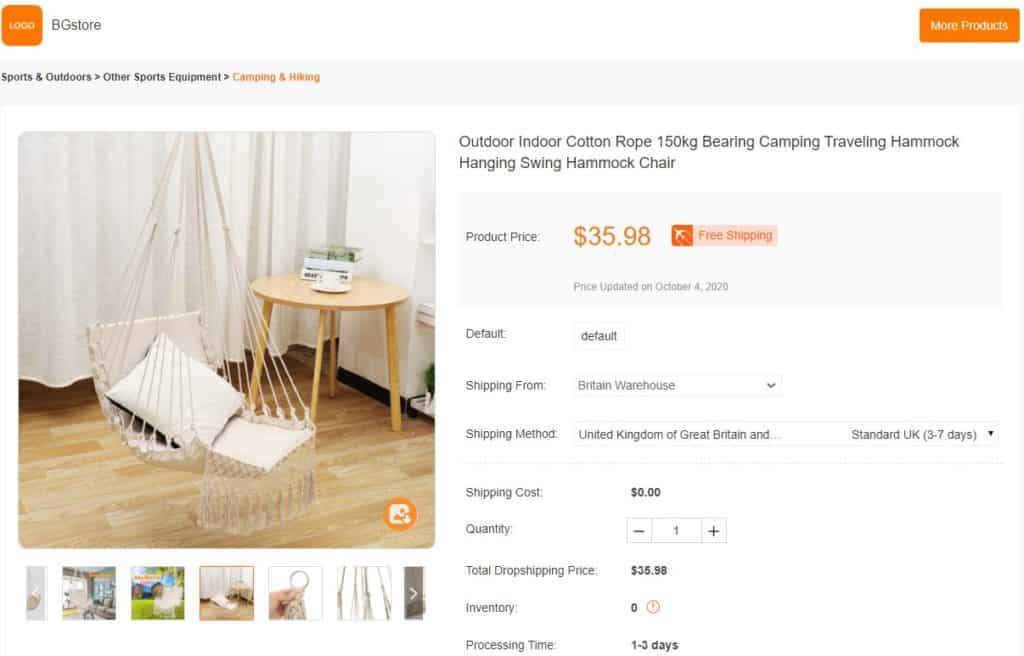 23. Stand-Up Weeding removal
It's a gardening dropshipping product that earns popularity (according to the analysis of sales). With the right marketing strategy, it can be sold during the holiday season as well.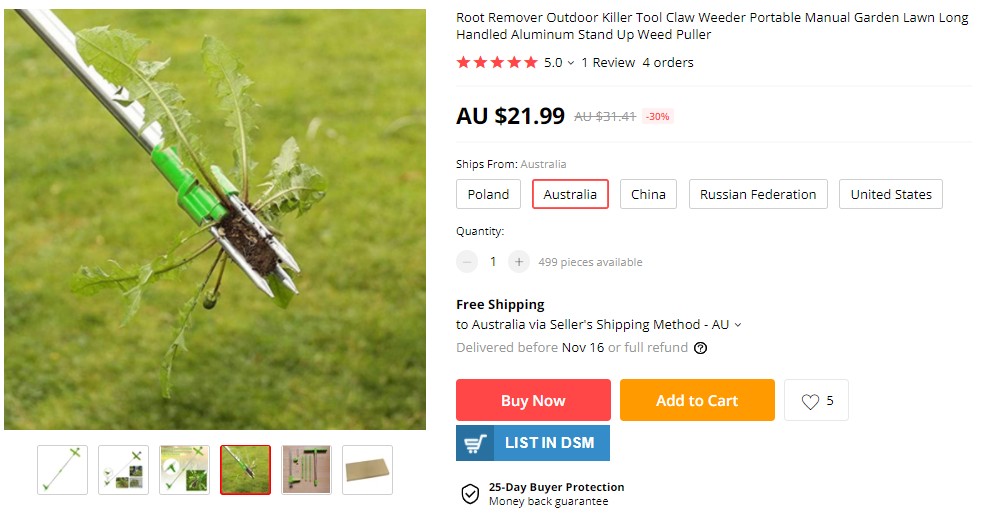 24. Solar Power Fountain
The solar birdbath fountain is one of the top eco-friendly products for dropshipping on Mother's Day. It's practical, modern and useful. The gardeners just love it!


25. Air Plant Hanger Macrame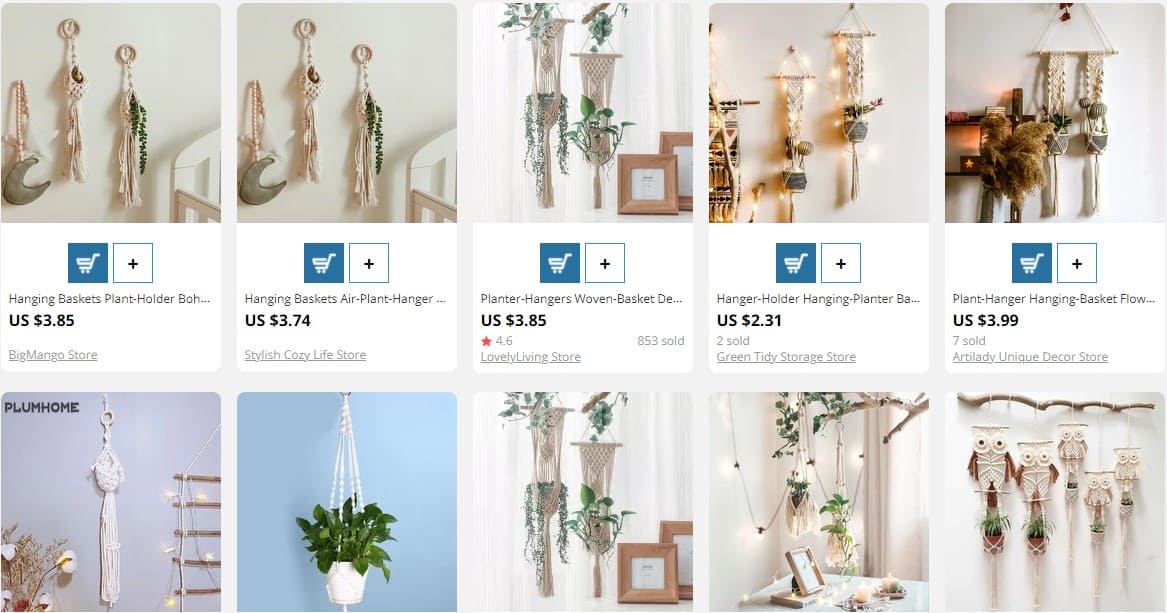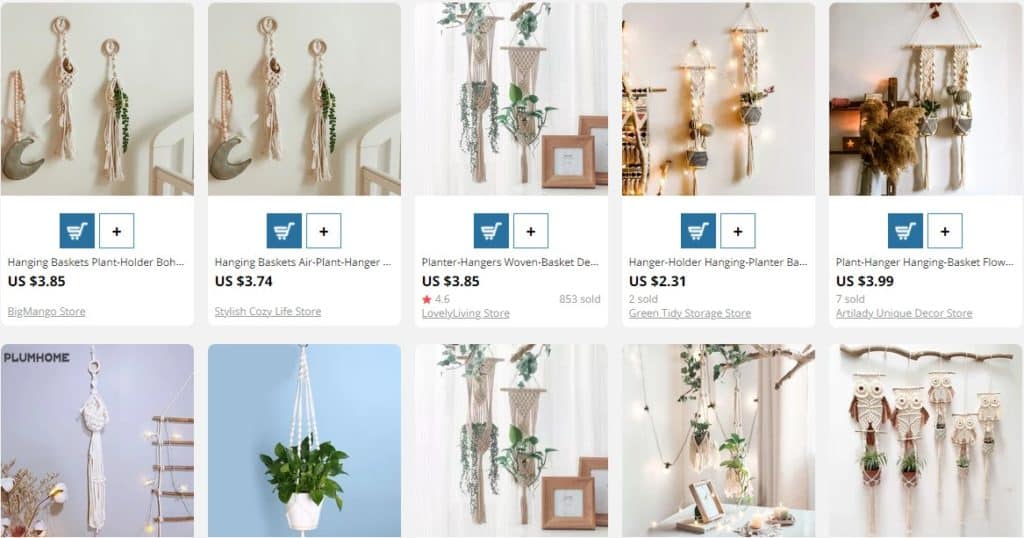 26. House Number Planter Box
It's an interesting gift idea for those who love plants. Additionally, it's absolutely not saturated on the market. Be one of the firsts sellers to sell it on your eCommerce shop.

Sell Personalized Mother's Day gift ideas
Personalized gifts are popular and attract the attention of buyers. The reason is easy: everybody wants to have unique experiences and gifts. Thereby, if you have such a possibility, add the personalized products to your dropshipping store as well.
Many dropshipping suppliers offer custom products for dropshipping (e.g. Etsy, Walmart, CjDropshipping, Wayfair, Aliexpress, etc.).
Hurry up! Time is running out! We prepared a list of some of the personalized Mother's day gift ideas to save your time in doing the product research.
27. Family matching outfits
It can be a unique present that the whole family would enjoy for years. T-shirts, hats, dresses, swimming suits, etc. There is plenty of variation and many choices for your buyers!
28. Personalized canvas as a special home decor gift
This is one of the personalized Mother's Day gift ideas that would highlight love and attention to mothers, grandmothers and other maternal figures in a very special way. Those who dropship personalized products can consider adding different canvas with family names, initials and words of appreciation.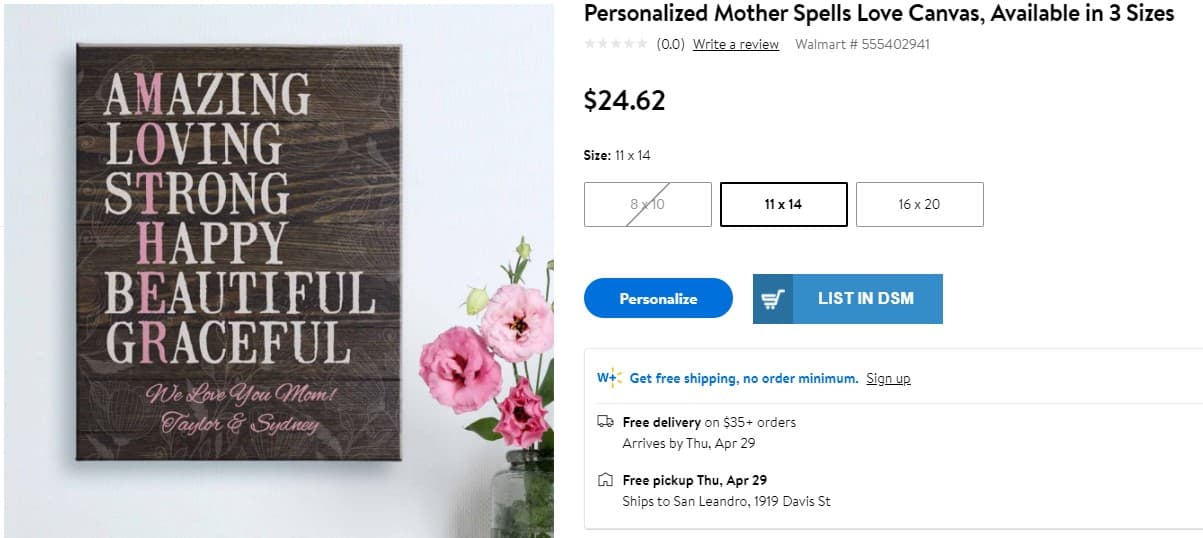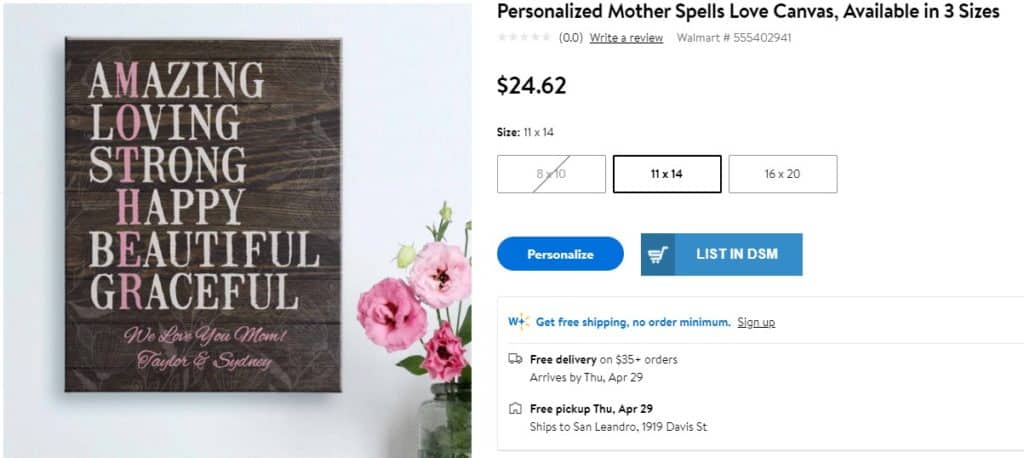 29. Custom photo wine label
Those who appreciate a bottle of good wine as a gift would definitely love a custom photo wine label on it. There are many different options, for example, on Etsy: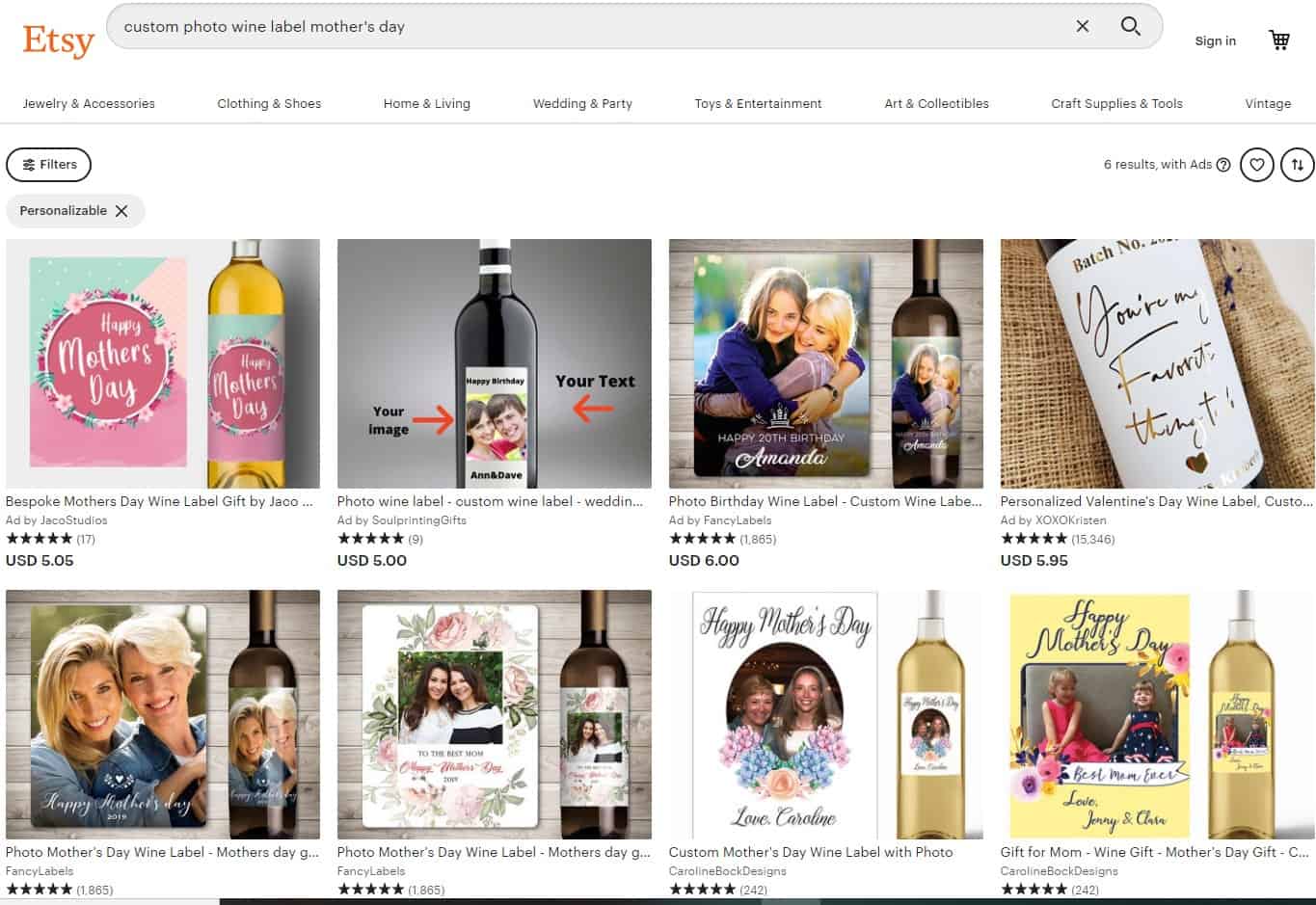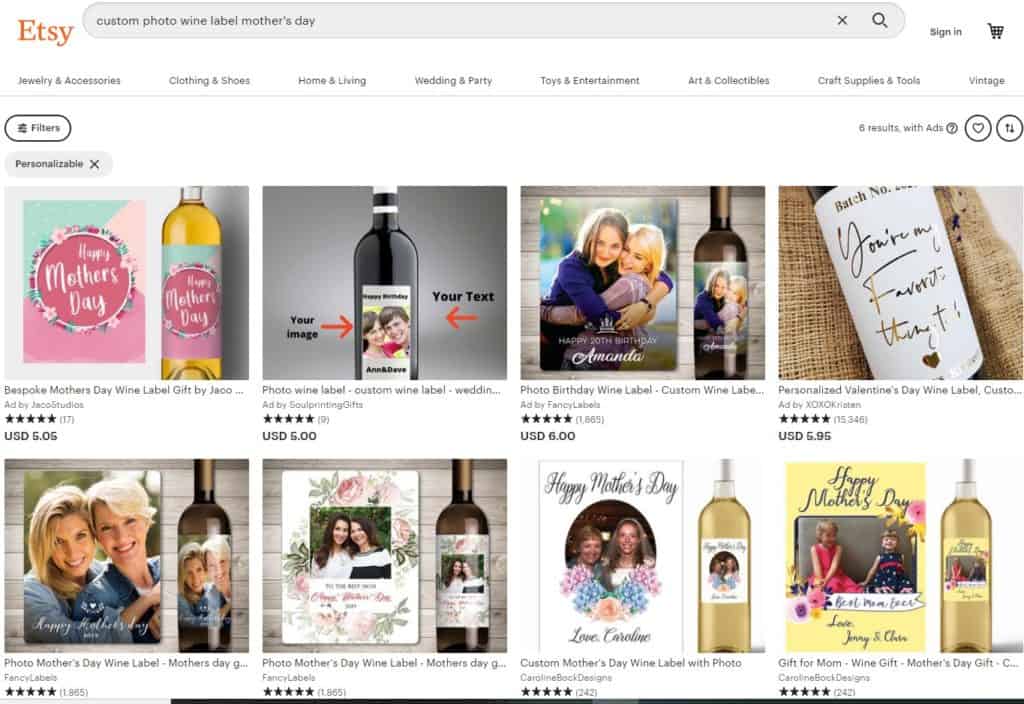 30. Personalized cutting board
The cooking lovers would appreciate such a personalized cutting board as a unique gift. It can be a nice present for mothers and grandmothers as well.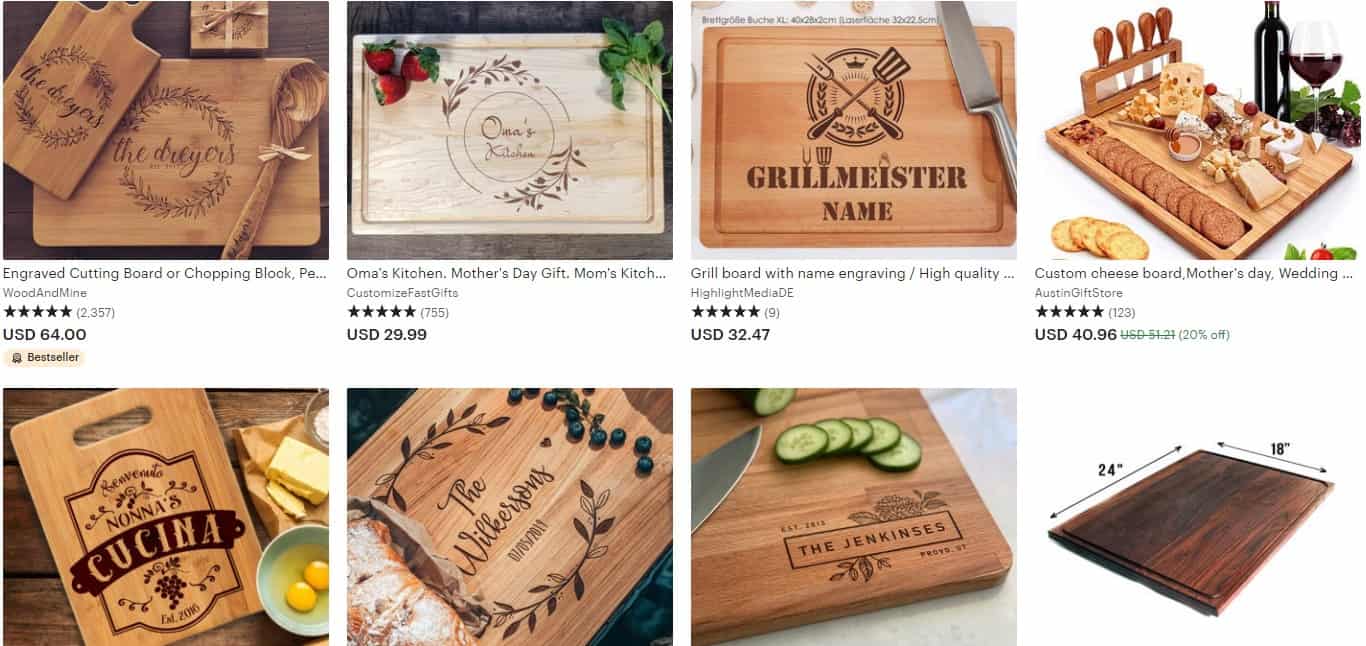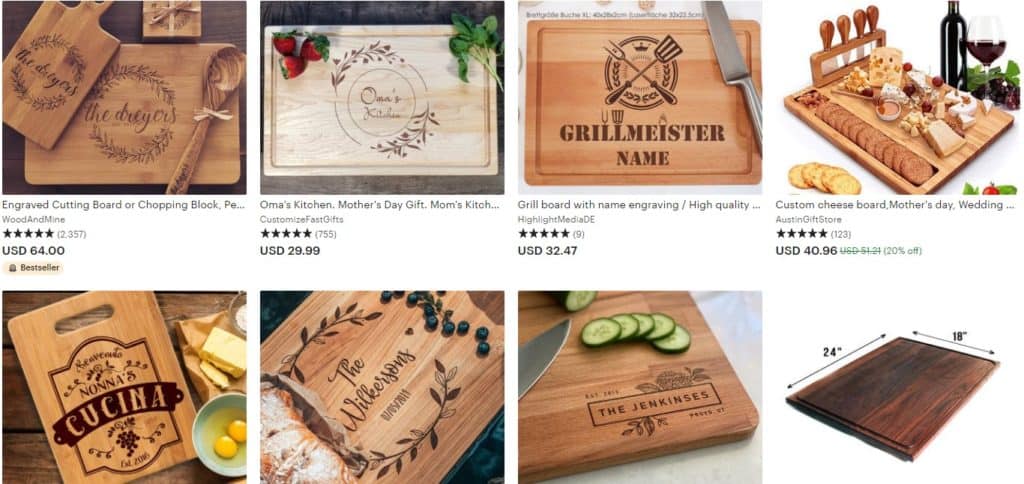 31. Personalized 3D LED Lamp
It's an amazing and unique Mother's Day gift that touches mothers' hearts. Customers pick a photo they want to see on the Lamp, and the suppliers provide them a ready product. Make sure to pick a reliable supplier before dropshipping custom products. A mistake in it can cost your shop a good rating and reputation.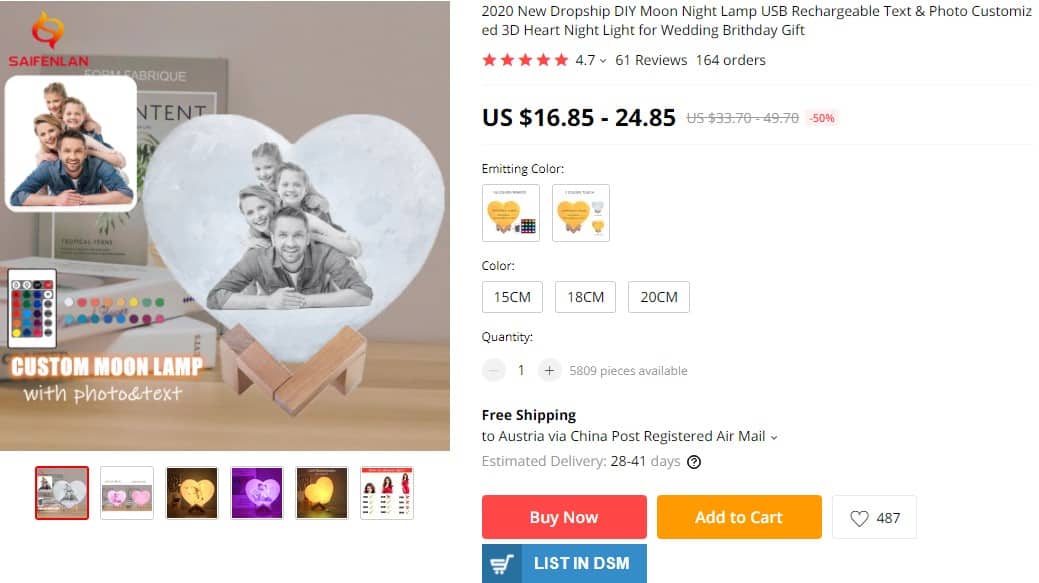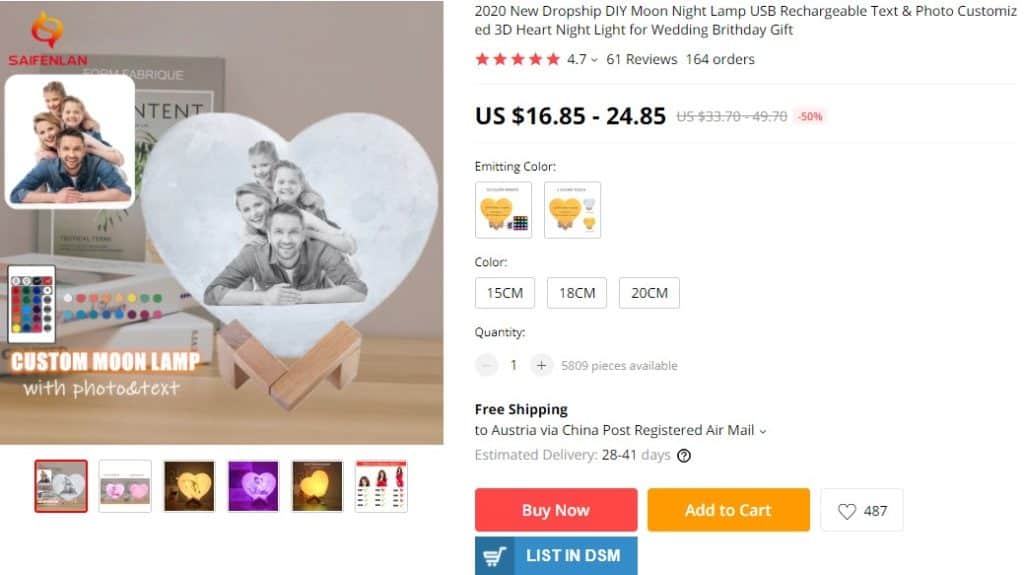 Other good Mother's Day gift ideas to sell online
32. Music Box
It's another good and affordable product for dropshipping on Mother's Day.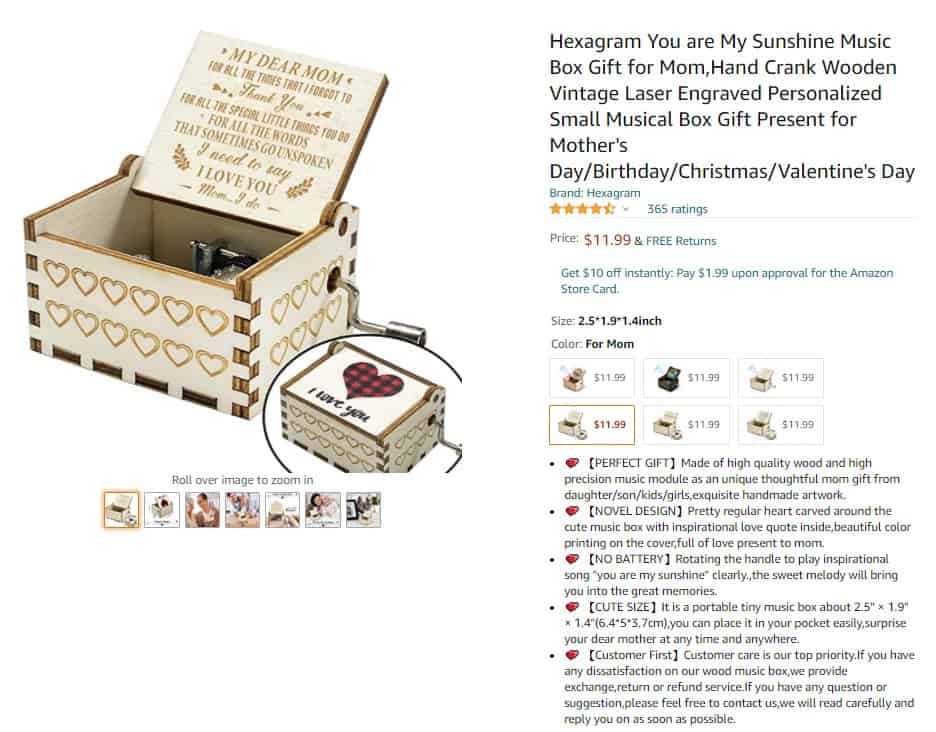 33. Jewelry
Jewelry is one of the popular Mother's Day gifts from year to year. Make sure to add several such dropshipping products to your e-shop before the holiday.
34. Wood Recipe Box with Cards
It's an amazing gift idea for those who adore cooking. Besides, it's quite practical.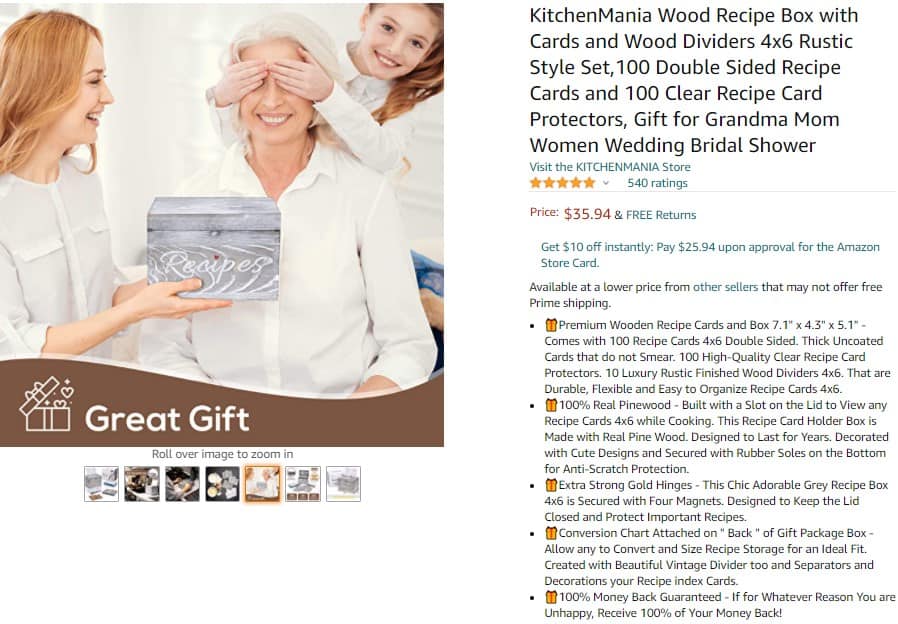 35. Laptop Cover
Laptop wool, soft, or leather cover is an affordable Mother's Day gift. Make sure to add the right keyword on the listing title to get potential buyers.
36. Jewelry organizer box
37. Family Tree
This is a good example of what to sell on Mother's Day. It shows a family appreciation and reminds us about our roots. There are wooden signs, photo frames, frames with family members Birthdays which eCommerce sellers can dropship during this holiday.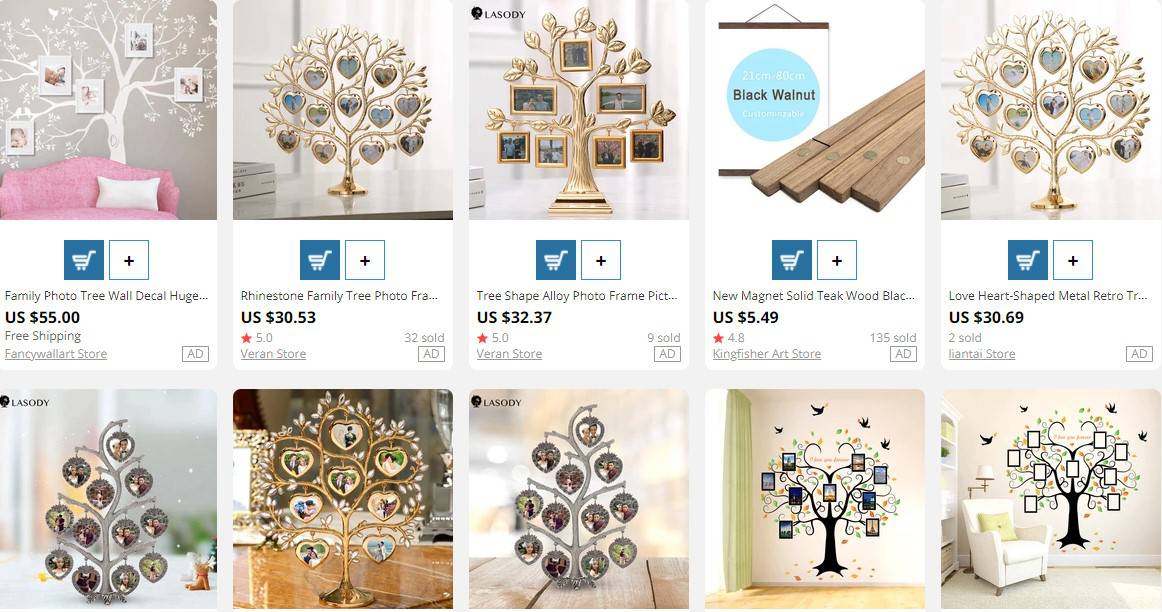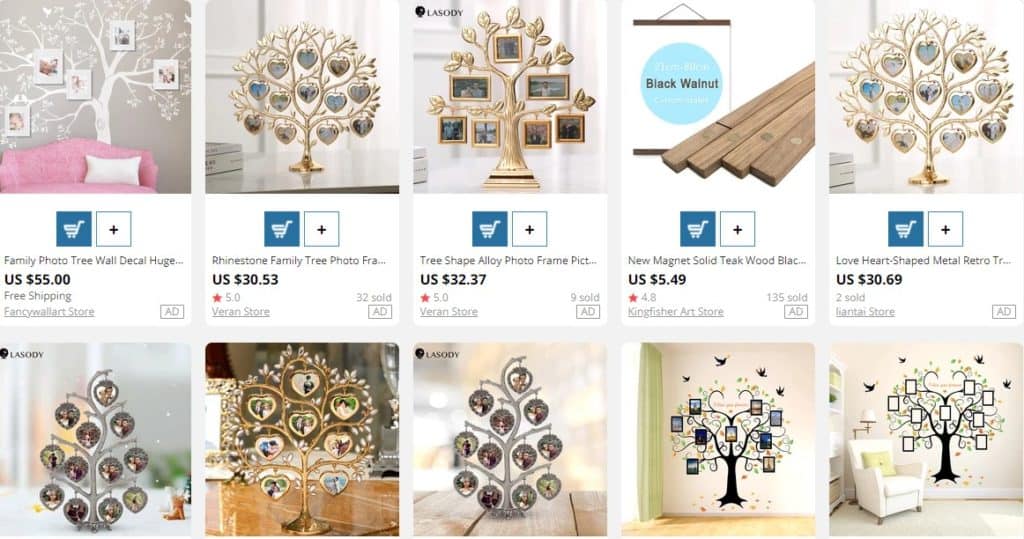 38. Portable lazy shoe lifter
I think grandmothers would appreciate such a creative Mother's Day gift. It's allows to put shoes on in the very easy way and helps to forget about the knees or back problems.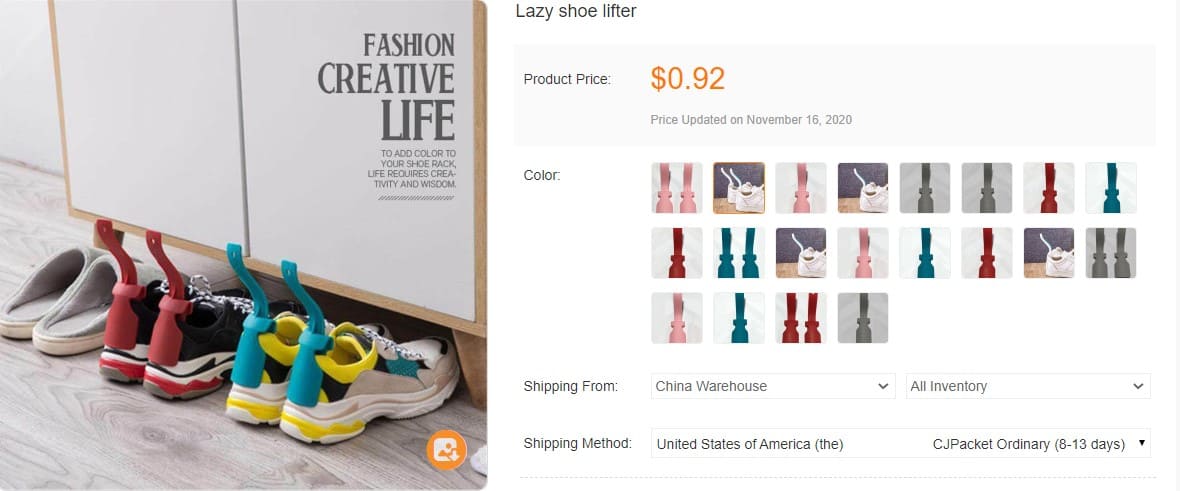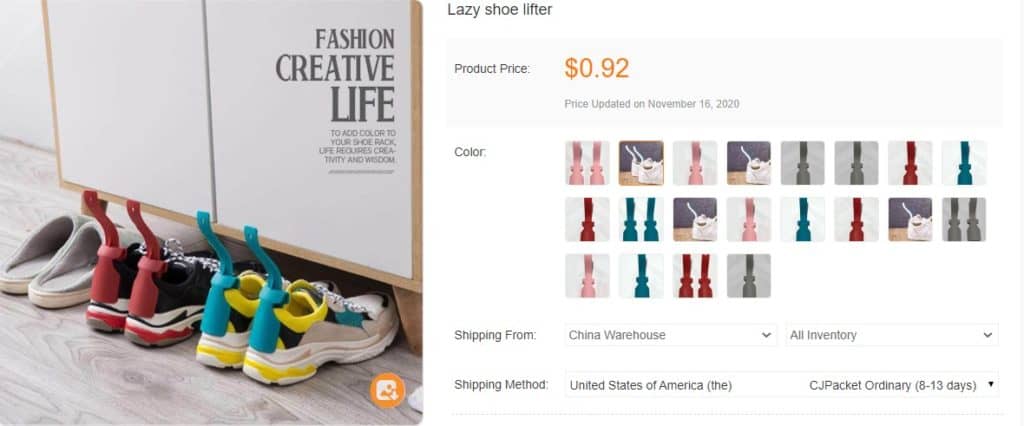 39. Sport Waist Belt for running
It's a popular sport product for dropshipping that can be a good gift, of course, for active women.
40. Portable book reading light
41. Outdoor umbrella stand with light and music
It's an outdoor umbrella stand with a chargeable bluetooth speaker and LED light. It can be an amazing Mother's Day gift since it will make any family outdoor party more live, bright and funny.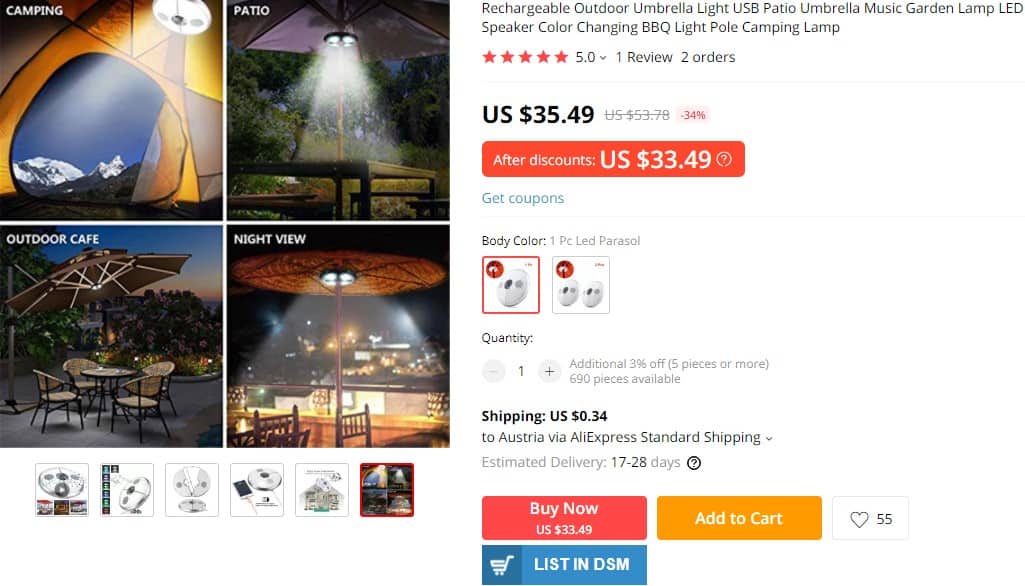 Final lines
Well, we presented you the Top 40 Mother's Day gift ideas for dropshipping on this holiday. We hope that the question of what to sell on Mother's Day 2022 is not a concern for you anymore. However, if our product list is still short, you can still check the special sections with gift ideas on your dropshipping suppliers' sites (some of them have such), our other "what to sell" articles, and videos to get more hot trending products for selling online.
Will you prepare your eCommerce store for this big retail holiday this year? Let us know in the comments below!
?Happy Mother's Day!?