16

min read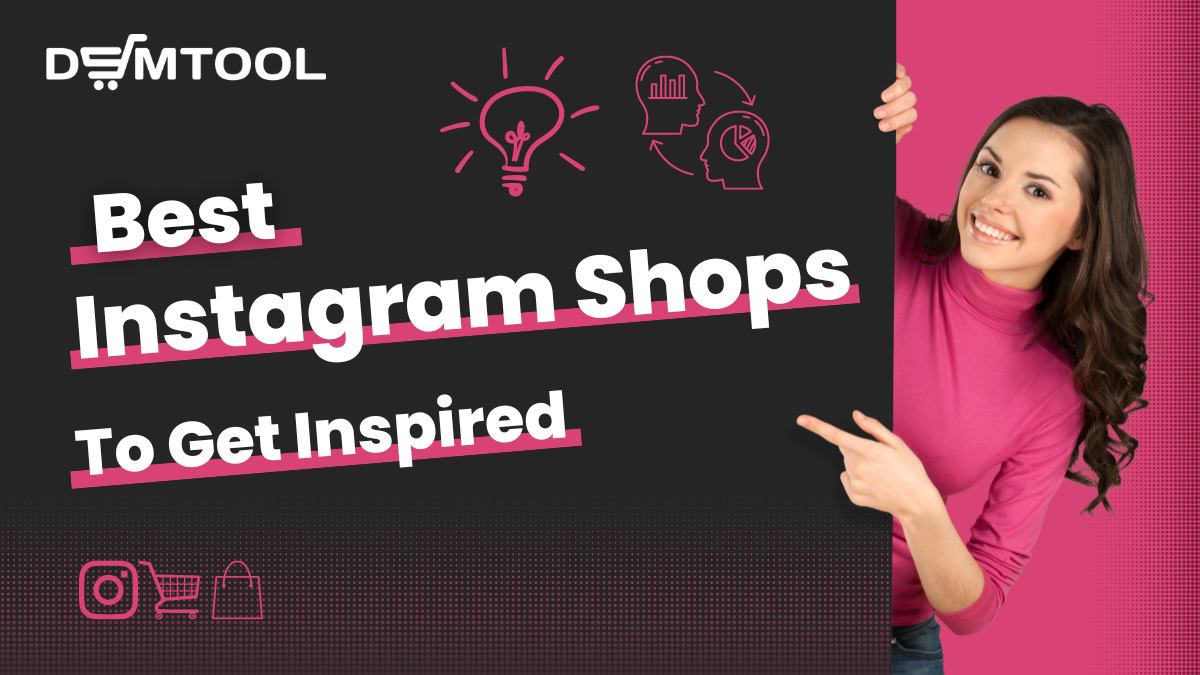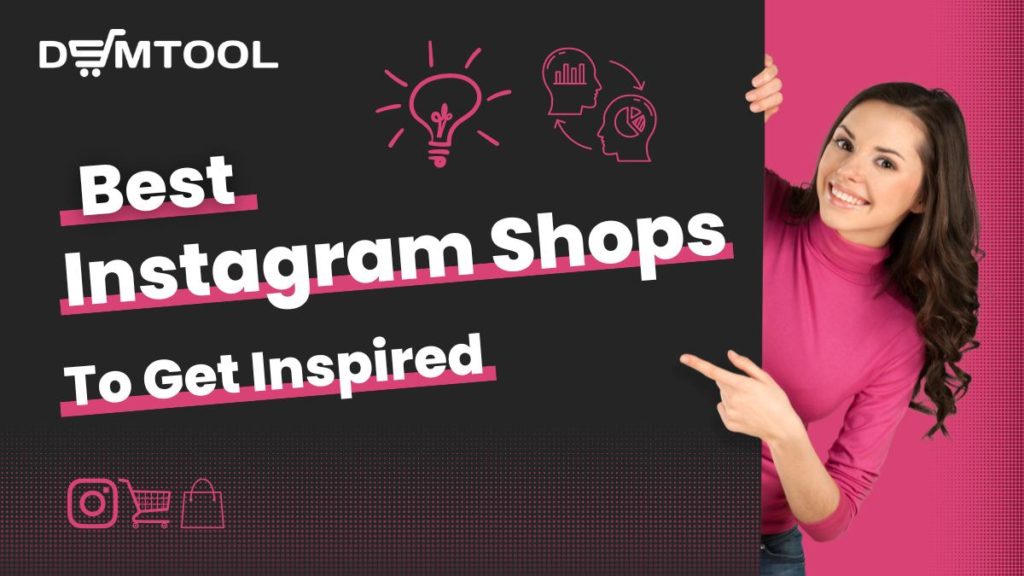 Looking for some examples of outstanding Instagram shops to learn from? You are in the right place!
It's well known that IG has become a great social commerce platform for multiple stores and it's all about reaching global leads and making your eCommerce store presence known. Millions of brands around the world are using the platform to share their stories and products with consumers in a visually engaging way. In case you are one of those who want to join and beat them, or you like aesthetics and creativity in everything you see and do – look no further.
We've put together a list of fabulous Instagram shops you need to check out right now! They're categorized according to niche, but to be honest, the list could be endless because there are so many online boutiques on IG that are pretty amazing in their own way.
Social commerce is on the rise and Instagram is one of the main players in the market. If you don't know about it yet, check out our What is Instagram Shopping? guide and learn how to earn with social media.
Now, let's open the world of the best Instagram shopping pages and accounts to get inspiration from!
20+ Best Trendy Instagram Shops:
Here are the best Instagram shops you should learn from:
1. Fashion Instagram friend ASOS (13.6M, fashion)
Asos started off as a small fashion startup in Manchester and quickly become one of the largest online fashion retailers in the UK and across the globe. They ship to over 140 countries and have become a must-visit online space for fashion-forward millennials (men and women, both.)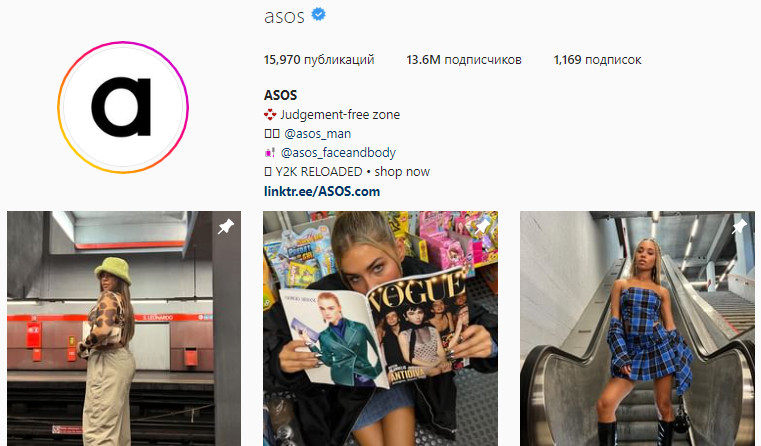 And their Instagram feed is a testament to their popularity in the digital fashion world!
2. Make-up Tutorial from fashion Instagram brand Glossier (2.6M, beauty)
The beauty brand Glossier was started in 2014 by former Vogue staffer, Emily Weiss. When Weiss says that the brand used Instagram to launch Glossier, she isn't kidding. Glossier's account had attracted 13,000 Instagram followers before any products were even launched on the brand's e-commerce site. They also posted over 125 Instagram photos prior to their launch in an effort to establish their brand identity and aesthetic, as well as generate some excitement over the upcoming products. And it worked!
What we also would like to highlight, is that it uses the platform to continuously measure feedback, even taking comments into consideration to shape and inform product launches. Thus, It's a very nice idea to be proactive with your social media strategy as much as Glossier is.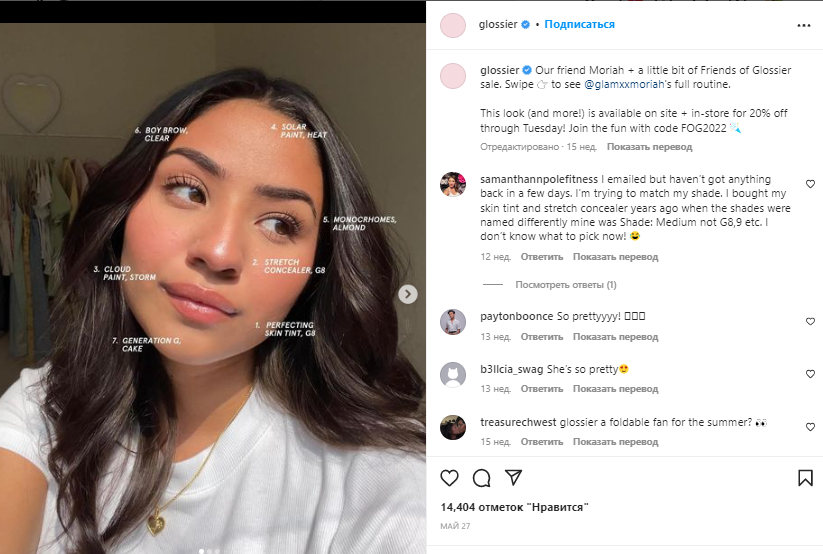 Tip
Cosmetics and beauty products are one of those niches where a lot of people spend money on products that they don't always need. So the quality inventory and competitive prices can ensure your success in this niche. Follow our Dropship Beauty Products: What to Sell Online guide to learn more.
3. Selling clothes on Instagram in style with Boohoo (12.9M, fashion)
Show what is going on behind the scenes.
Born in Manchester, and now spread all across the globe, this online retail outlet is a favorite amongst teens and young women. Boohoo offers super-affordable clothes and replicates the latest celebrity fashion trends without compromising on quality.
They've got it all. From fur gilets and bomber jackets to playsuits and peasant tops. EVERYTHING a twenty-something girl can ask or want for on her limited budget. Showing behind the scenes is another way to show you are not afraid to show more and in detail.
And their Instagram clothing shop is on point! Super trendy ?
4. Pretty Little Thing isn't little at all (18.6M, fashion)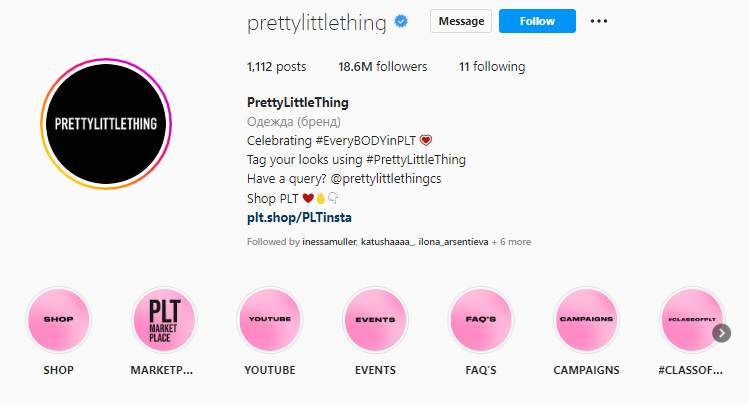 Pretty Little Thing is another super-popular online clothing store and fashion Instagram boutique that believes in affordable, fast-evolving fashion. This digital wardrobe and their popular Instagram feed are filled with bodycon suits, thigh-high boots, jumpsuits, leather pants, and the works to make you swoon.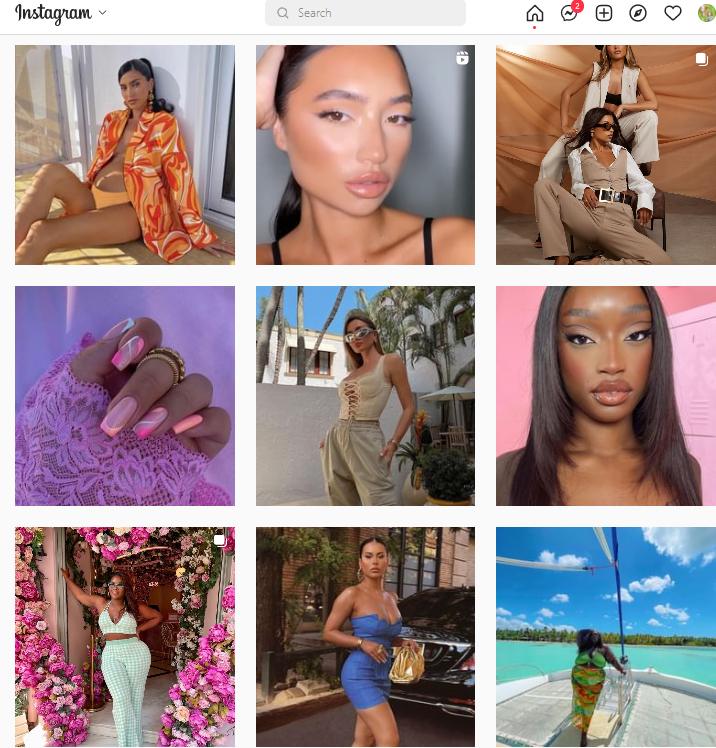 5. By/Rosie Jane is when popular IG boutiques care (37.1K, beauty and care)
Answer comments and DMs.
By/Rosie Jane knows that whether your customers are saying something good or negative about your products – you need to answer. Answering comments and dm's sends the message that your brand is active online, and there's a human being that they can reach out to make their shopping journey more comfortable.
Convince and Convert found that answering a social media complaint can increase customer advocacy by as much as 25%.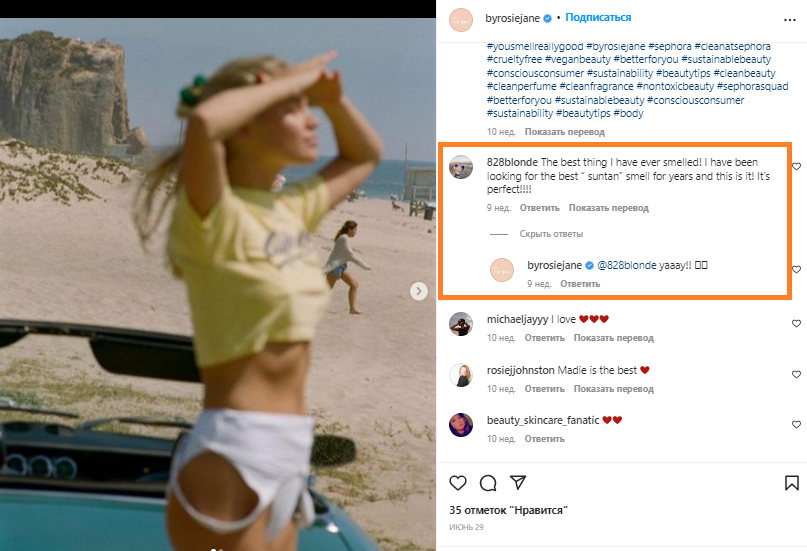 Tip
Natural and organic health and personal care products have grown in popularity over the past few years. Check our Top 30 Health Care Products to find your winning items.
6. Passion Planner's well-optimized Instagram Shop (426K, planners)
Adding links to your eCommerce store, creating a compelling bio, an easily recognizable display picture, and much more is another digital storefront of your store that customers engage with on their buyer's journey. Passion Planner does is perfectly letting their bio be laconic and full. If you're not sure their presentation is enough, take a look at fashion Instagram shops that you admire. What are they using or saying in their Instagram bio? What kind of images or hashtags do they have on their profile, and how can you emulate the same sense of professionalism on your eCommerce profile? Learn this moment.
Tip
Use Instagram managing and growing software like Flick to find viral hashtags and content.
7. Macy's is always up to date (2.2M, retailer)
Businesses should always be ready to make a change. Brands always have to ensure that their Instagram shops are up to date with the latest news and changes that will directly affect their customers and consumers' spending habits.
When the coronavirus hit the world, many brands and customers scramble to meet the new changes. Macy's is a brick-and-mortar and online store that took the initiative to go above and beyond.
8. Meowingtons Pet Shop Instagram (720K, pets)
Create content your followers love.
Create content that speaks about your brand's lifestyle, products and services, mission, or long-term goals. Here are a couple of different categories of content ideas Instagram shops can use to engage customers:
Behind-the-scenes images
Product images
Customer reviews
Social Contests or Giveaway
Sale or Promotion
UGC (User Generated Content)
Meowingtons's posts on IG transmit all those things and keep their audience close to the brand. It's better to check their page to see all the variety of content.
9. One of the best Instagram jewelry shops King Ice (517K, jewelry)
Always keep stories active!
Instagram stories are a great way to keep your Instagram account active. Around 62% of people say they have become more interested in a brand or product after seeing it in Stories. Not to mention, you can use hashtags, gifs, and more in your stories to appear on the discovery page where other followers and potential customers can find you.
King Ice offers uniquely designed collections of accessories and creates premium wearable art which they likely show everywhere and "stories" is one of the keys to success. Check this out:
10. Gunnerkennels hashtag mission (191K, pets)
Their hashtags are the holy grail of brand awareness, increasing followers, and boosting engagement. "#MansBestFriend deserves #MansBestKennel" is the most accurate statement they've created to represent their brand and to support dog owners! Gunnerkennels cares about the dog's comfort and safety, just go through any of their posts:
Hashtags are an effective growth strategy to boost the discoverability of Instagram shops. Using popular hashtags can help Instagram algorithms to categorize your content and guide potential customers to your accounts. As a result, your account will grow in the right way and connect you with like-minded people who share your ideas. Furthermore, they can help you appear in the Search & Explore tab, which has an exclusive "Shop" section.
11. CLUSE – Instagram Shop that creates a window through feed (816K, lifestyle)
CLUSE is a brand that transforms its virtual store's social media feed into a shopping window for its customers. CLUSE's Instagram shop serves as a model of smart social shopping combining elegant imagery and multiple examples of user-generated content which shows off their products with a personal touch.
Collective Brew's storefronts, which have collections, product pages with in-depth descriptions, and recommended products, in many ways duplicate the style of an e-commerce website.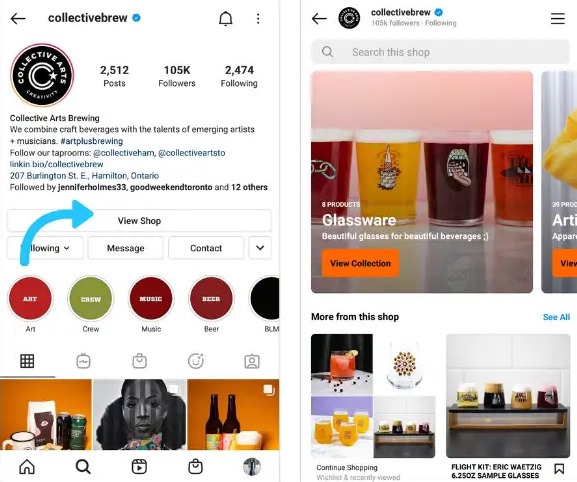 13. Sephora – an Instagram shop and a beauty chatroom (21M, beauty)
Sephora's IG page is just another world! They work for people and it's seen all over their posts, stories, videos, tutorials, entertainment recordings, blogs, and quizzes.
Letting people see that your brand is loved by known people, but is still affordable and isn't "only for gods" is another way to show you are killing stereotypes and connect people. Unite people from different spheres, different races, and ages. Start from something small, but grow big.
14. Milk Bar goes Live and recommends it to all Instagram boutiques (846K, food and bakery)
Milk Bar sells cakes, cookies, pies, and ice cream. Live videos, colorful product images, customer takeovers on Stories, and video tutorials are among the content formats Milk Bar leveraged to get in front of people during initial lockdowns when they spent more time on social media than ever. With over 800,000 followers today, Milk Bar's videos often get tens (and sometimes hundreds!) of thousands of views.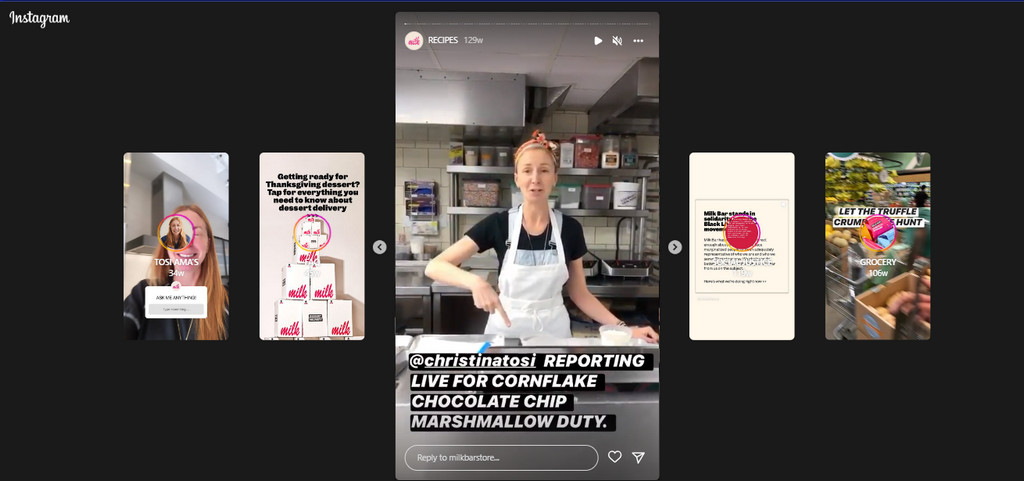 15. Influencers and celebrities are Instagram shops best friends – Miliboo Design (72K, design&furniture)
Instagram brings more into social commerce with its live shopping feature and Miliboo Design doesn't miss a chance to get benefit from it. An influencer Stéphane Plaza presented and tested new furnish things and decoration items of the Miliboo brand by hosting Instagram Live.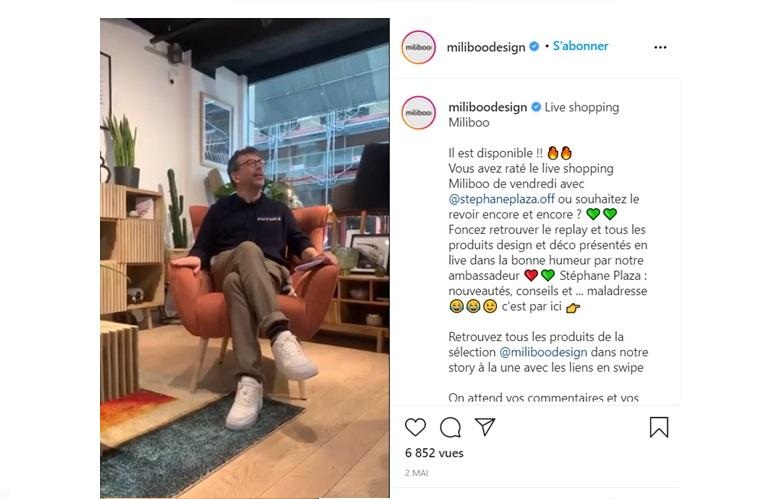 16. Grove Collaborative is one of those boutiques on Instagram that rely on trust (581K, eco products)
Grove Collaborative brand saves the planet and your wallet! But who says they can't get profit from that too? What's the key to gaining your audience's trust? Earning social proof.
This can be in the form of reviews or an influencer's post. In fact, consumers say user-generated posts are 76% more trustworthy than branded ads. Grove Collaborative brand knows that and here is an example of how it elevates a user-generated video with a reusable housekeeping things list among which we see their product information:
17. Stories.aesthetic.clinic – an example of aesthetic Instagram shops (30K, aesthetic)
The brand's name speaks for itself!
Stories.aesthetic.clinic is the third business opened by a talented Ukrainian girl who is considered to be a guru of aesthetic IG feed and reality. Beautiful images and videos which focus on details complete laconic posts of this recently made account.
We may start to think that an image is great when in reality, it's a hot mess. Everything has a shape, a form, and proportions. Follow more profiles to learn how to present the product or service.
18. Anthropologie´s shoppable posts (4.4M, lifestyle)
Instagram Shops: The Instagram shop contains the product catalog and collections. The shop creates a virtual shop front to showcase all the brand's products. Shoppable Feed Posts: The shoppable feed posts showcase the brand's product and travel lifestyle. The shoppable feed feature makes it easier for the brand's audience to shop from their feed post.
The brand maximizes its potential of tapping into the power of its engaged audience with shoppable posts, stories, business reels, and videos.
Anthropologie's Instagram shop uses the Collection feature to showcase the range of products. The product catalog and product detail pages are also used to showcase each product.
19. One of the best coffee shop Instagram accounts

Black Rifle Coffee (1.8M, coffee)
It's not just an Instagram shop, it´s history.
Black Rifle Coffee is a veteran-owned coffee company serving premium coffee to people who love America. By developing its product with the same focus that was necessary during the founder's military times, the company has accumulated a real brand with over 1.8 million followers on its Instagram account.
Remember where you come from. Black Rifle Coffee is owned and operated by veterans. But the great thing is that you would know this without them having to tell you. Everything about the company, its name, theme, and colors, is related to the military.
20. Miann&Co – Pure and clear Instagram shop that inspires (163K, baby clothes, eco-friendly)
Miann&Co is one of the best baby clothes shops on Instagram that inspires the world to wear plant-based fibers. Considered clothing, made with people and the planet in mind, they manage their IG page with calm, clear tones. Just look at this, isn't it the face of the birth and nature's gems? ☺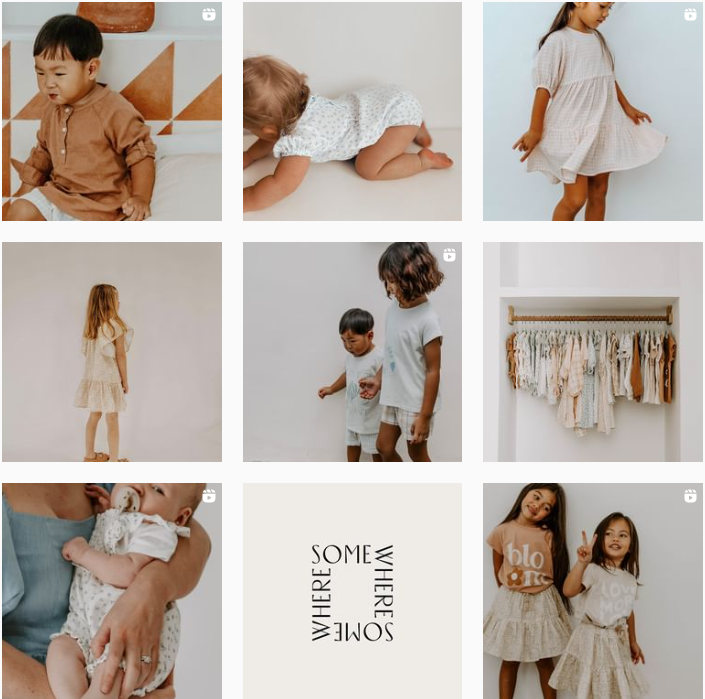 21. Flower shop Instagram

Floretflower! (1M, flowers)
Keep it natural.
Flower farmer, seed grower, and budding plant breeder Erin Benzakein has written 3 books: Cut Flower Garden, A Year in Flowers, and Discovering Dahlias. The very tender, personal, and professional Floretflower's account is one of those aesthetic Instagram shops that will make you fall in love with it at the first sight! Why? Because harmony and life live here.
CONCLUSION:
Instagram Shopping is here. It is working.
Popular IG boutiques know that your bio, your brand's story, Instagram features, hashtags, and being engaging are the keys to development (profit) and growth (brand awareness). By following these messages, you can create an Instagram Shop that others will be inspired by.
Here are some recommended articles about social commerce that might be useful:
What are some of your favorite Instagram Shops now?