29

min read
Thanks to improved technology, connectivity, and convenience, more eCommerce purchases than ever are being made on mobile and on social media platforms. Consumers are spending more time watching videos and scrolling through their social media feeds. Social feeds are quickly becoming the modern-day trip to the mall making shopping a full pleasure. Need some social commerce examples? Keep reading!
We have talked already about the latest trend in eCommerce – Social Commerce. In this article, we will walk you through different social commerce examples stores from different platforms to encourage you to give it a try.
What about the business owners? If you are an eCommerce brand, you've experienced difficulty in encouraging your target audience to visit your website. Even if you manage to influence a few of them, how often do they make purchases with you?
Let's find out what benefits your brand can get from the best social commerce platforms, such as Instagram, Facebook, Pinterest, TikTok, and others.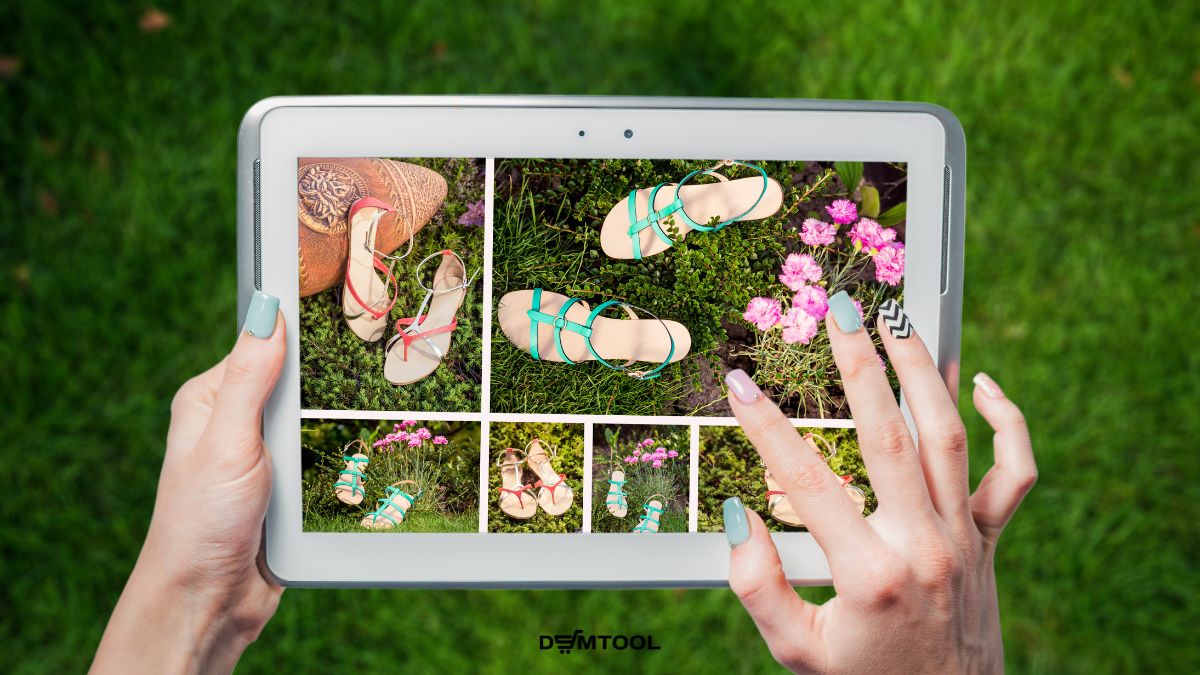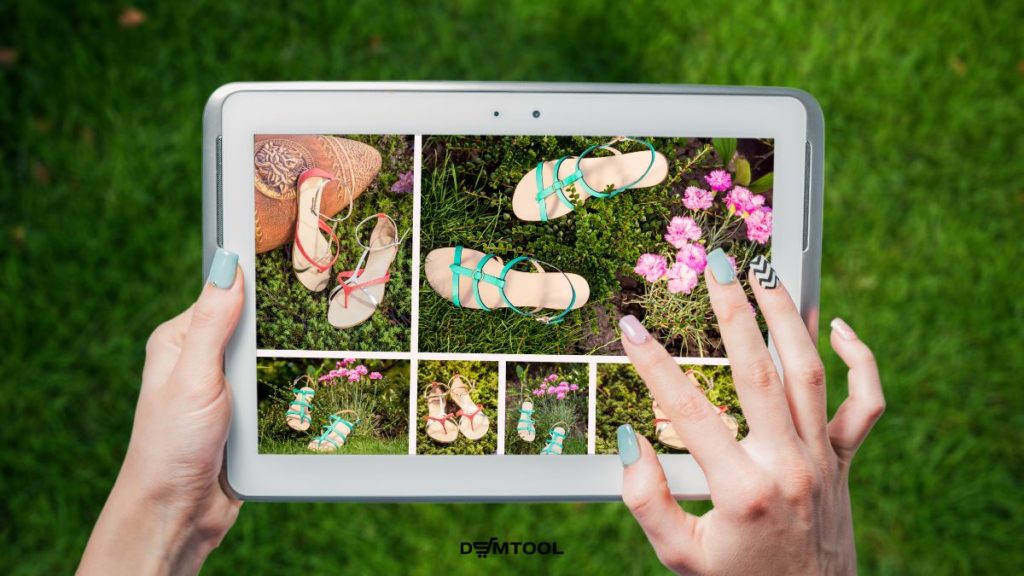 Social commerce is the strategy of marketing and selling your products through social media platforms. Instagram, Facebook, Pinterest, TikTok, and other social media platforms offer a unique set of features to put the list of products in front of potential customers during their social media scroll.
Each platform has been incorporated into the eCommerce experience to give shoppers real customer recommendations and provide customers with social proof on the way to purchase. People no longer have to leave the social media app to look up a brand or product on Google. Nowadays, customers get all the information and instructions they need inside the app to complete a transaction. Thus, sales through social media channels worldwide are expected to nearly triple by 2025 — it's an opportunity that's too good to miss.
Digital marketers now have more chances than ever to engage with new audiences in new directions thanks to the continued rise of social media popularity. Global social media usage increased from 4.2 billion people in January 2021 to 4.62 billion users in January 2022. The growth rate between 2021 and 2022 has remained above pre-pandemic levels and it's all worth knowing that. New platforms and technologies are helping to drive this upward trend.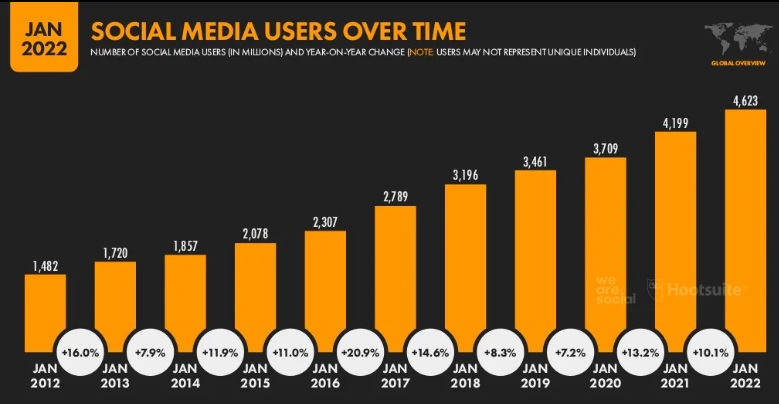 Just as shoppers want to share and show off their purchases, Social Commerce brands are expected to provide a personalized, back-and-forth experience for shoppers. Brands have a variety of alternative strategies they use in social commerce and the following essential features and functionalities are those which facilitate online purchases.
According to UPS, 87% of their shoppers say influencers have inspired them to make a purchase, and 34% of shoppers say that social media affects purchase decisions. Instagram reports that 70% of shopping enthusiasts use their platform for product discovery. This, combined with the 24.5% increase in mobile screen time over the past five years gives promise to social media storefronts that have the potential to convert customer interest directly into sales.
You can create a professional social media storefront using platforms like Instagram and Facebook. These storefronts, which have collections, product pages with in-depth descriptions and recommended products, in many ways can duplicate the style of an e-commerce website.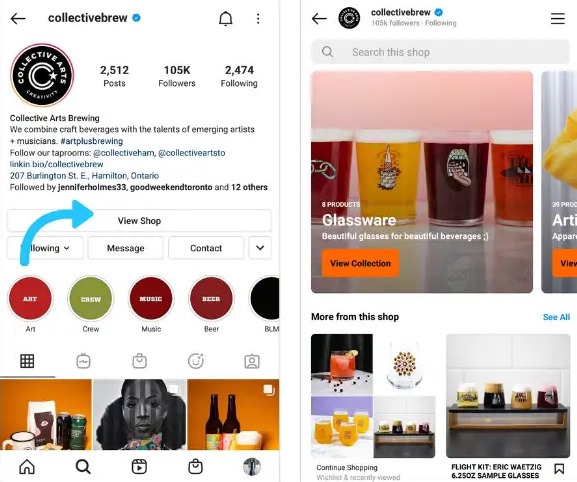 2. Shoppable Organic Posts
Businesses may generate shoppable posts on Facebook and Instagram in an organic way, allowing members of those social networks to make purchases on those specific websites. Snapchat has recently introduced a similar feature, though at the moment it's still in beta.
"Product Pins" is how Pinterest's social commerce features work. An individual e-commerce website will be visited by consumers once they click on a Product Pin.
All of these in-app purchase types have one thing in common: Businesses don't have to pay to use them. A certain number of the brand's followers will see a shoppable post or "Product Pin" in their news feeds when it is created. In other words, the posts will reach followers organically.

3. Shoppable Ads
Brands may use Facebook, Instagram, and Pinterest to target particular demographics with their content.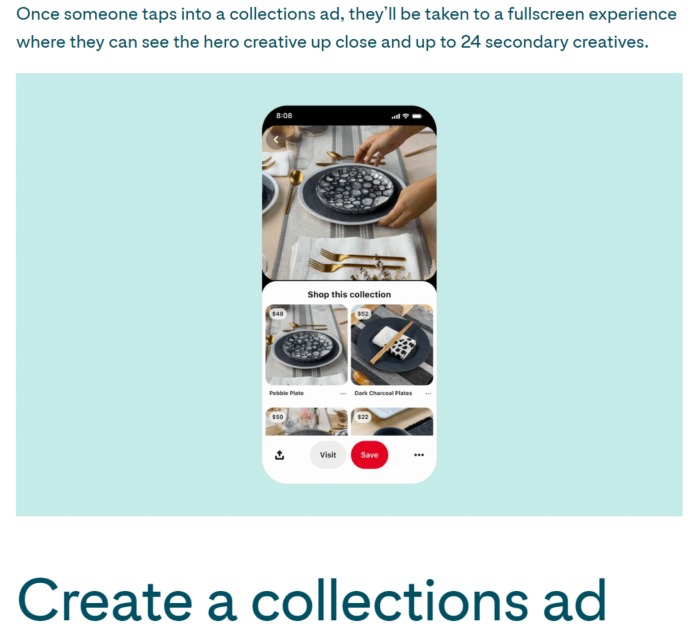 While such advertisements are expensive, they give online retailers the chance to advertise their goods to a specific demographic. As a result, effectively designed and carried out social media marketing campaigns can generate significant revenue for the businesses who run them.
4. Branded Influencer Content
The promoted product belongs to the business and not the influencer's profile or shop as you understand. Influencers often offer shoppable posts using product hashtags in their Instagram Stories or feed posts. Users are directed immediately to the in-app product page on the brand's profile when they tap on a product tag.
It creates a positive shopping experience for your clients who found you through their favorite influencer.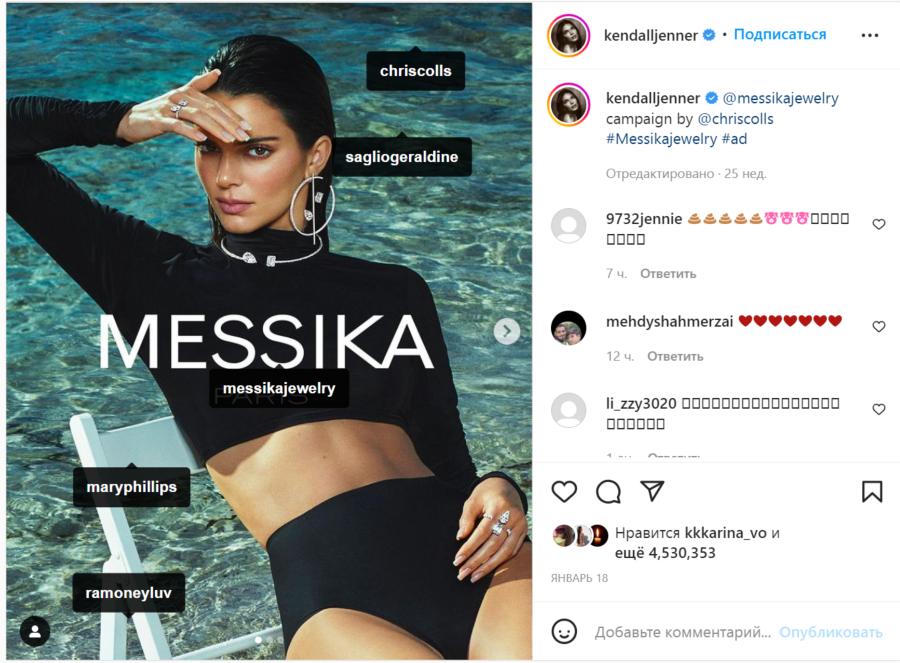 Tip
Use Instagram managing and growing software like Flick to find viral hashtags and content.
5. Live Shopping
Live shopping or Livestreams capture and hold shoppers' attention far more than a static image. Shoppable Video Content can convey both product-specific and higher-level brand messaging in an engaging viewing experience that can encourage an instant purchase. Retailers can drive sales growth through the integration of shoppable links from product imagery in brand videos and video ads, allowing consumers to purchase directly from the content.
6. User-generated content (UGC)
User-generated content (UGC) is a powerful way to merge organic posts by brands' customers with the capabilities of social platforms. The first method used by marketers is to highlight their customers' social media posts while tagging both the person and the product they are wearing/showing.
The second way is when the user-generated content is included in an e-commerce website. Brands search for posts that reference their goods and then add those pieces into a gallery on their website. Then, they associate the gallery's photographs with the goods that customers may immediately purchase.
Great social commerce examples come from Skinnydip London's Instagram gallery page: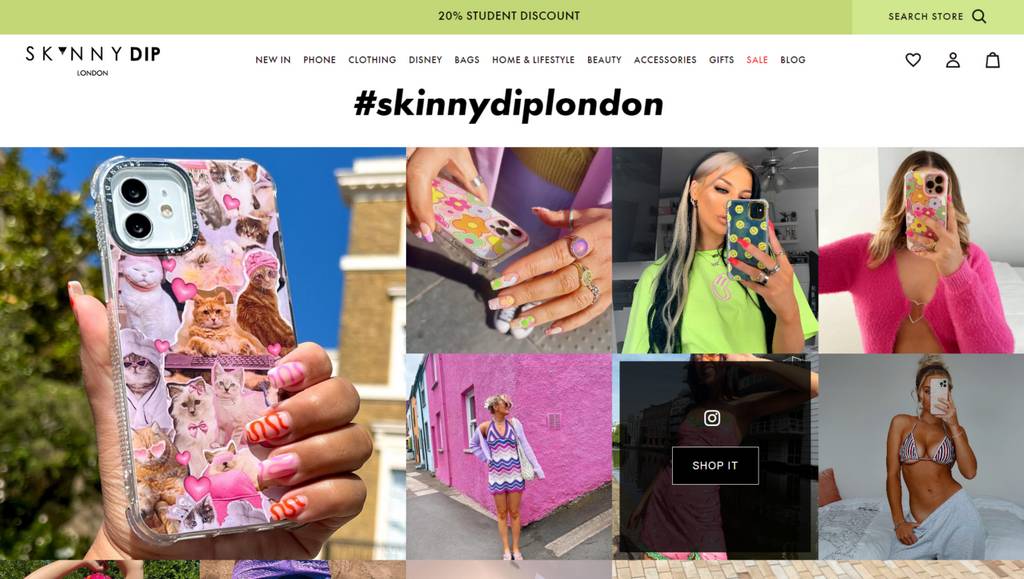 7. Giveaways and Sales
When done right, an e-commerce giveaway can help your brand pull in a ton of new leads, crank up your social media following, and generally increase your exposure. And because participants have the chance to win products, most are more than happy to comply with the requirements to enter.
8. User Shopping Lists and Wish Lists
On e-commerce websites, there is typically a wish list feature that allows users to create their own collections of items they want to buy. It makes sense to give users the option to have personalized collections on social media since they can buy things through it.
Facebook, Instagram, and Pinterest make it easy for users to save, revisit, and buy the products they like.
Tip
If you are running a business on Instagram but would like to improve your reels content, here are TOP 45+ Instagram Post Ideas for businesses to increase brand awareness, boost revenue, and promote exposure on the platform.
9. Messaging Capabilities from in-app Product Pages
In a physical store, customers can ask store assistants for help. On eCommerce websites, there's a live chat option that plays the role of that store assistant. On social media, it comes down to DMs—the option to message a brand directly.
The closer the messaging option is to the product or collection page, the smoother the experience will be for the users.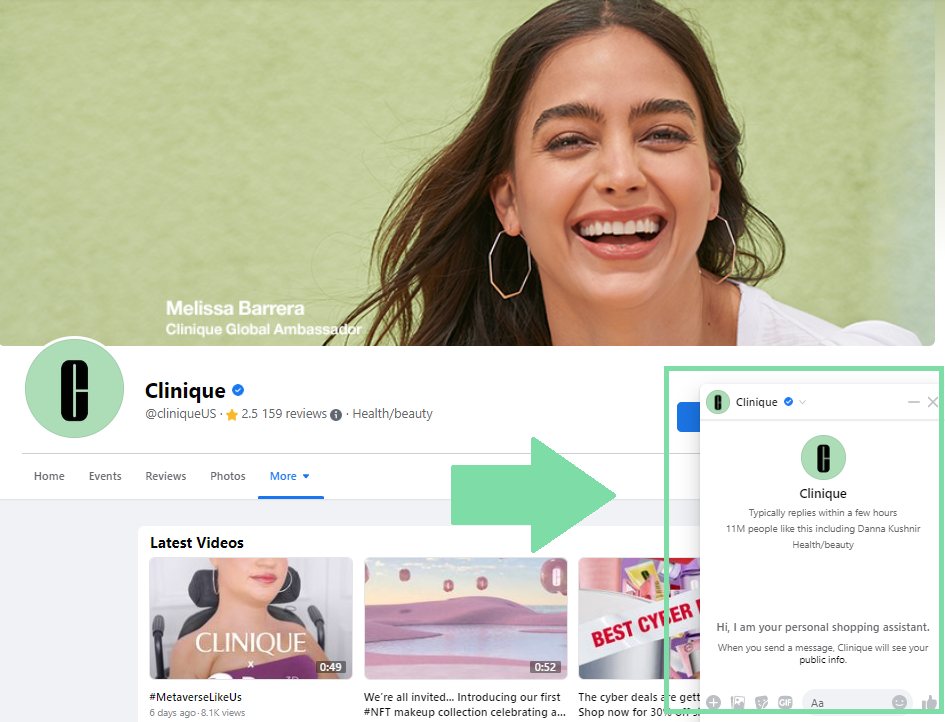 The best way to explore social commerce features and platforms is by diving into examples of companies that make the most of them. What are those best social commerce examples?
Check out the following 25 awesome examples of social selling to get some inspiration for creating your own brand or improving your marketing strategy for boosting the brand's sales.
1.

CLUSE

– Instagram Shop Example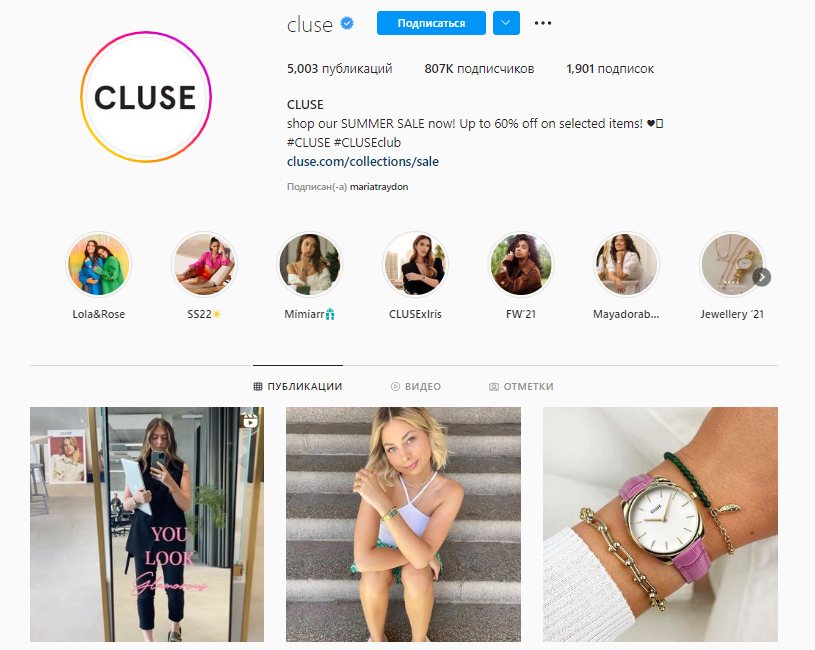 ClUSE is a brand that transforms its virtual store's social media feed into a shopping window to its customers. CLUSE's Instagram shop serves as a model of smart social shopping combining elegant imagery and multiple examples of user-generated content which shows off their products with a personal touch.
Turning visitors into customers on Instagram requires marketers to cover all their bases, from hashtags and UGC to links that funnel followers back to your social commere store. When every component of a social page functions comes together, it becomes a well-oiled sales engine.
Never underestimate the power of "free."
Melted Soapery uses frequent giveaways and sales to encourage engagement on their Instagram shop – followers are happy to tag, share and retweet if it means they could get something in return or way cheaper. There's probably no easier way to vastly improve visibility with minimal effort.
Either way, giveaways are also an excellent way to test hashtags and understand which types of products are most relevant to your target audience.
3. Best Choice Products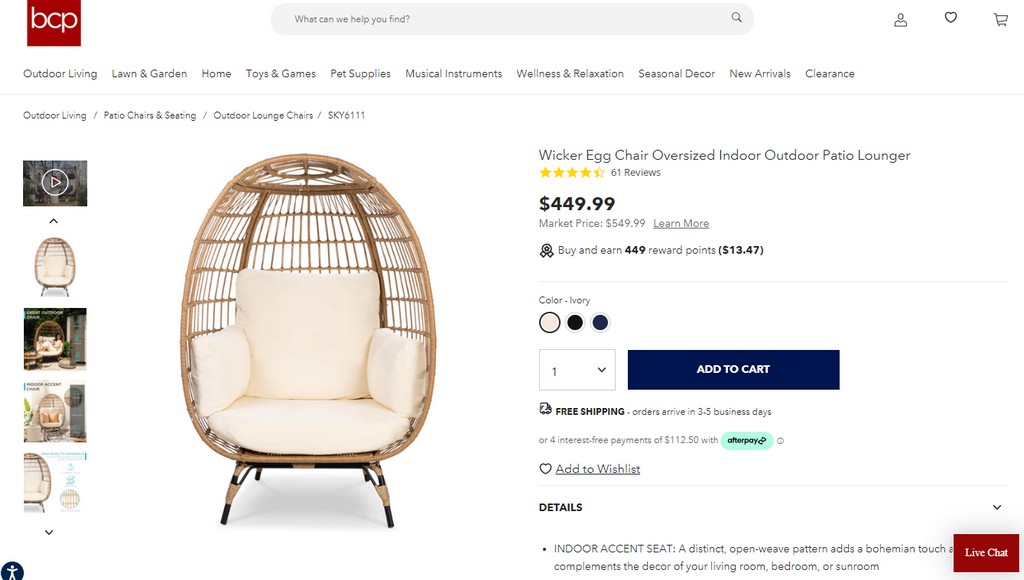 Not all aspects of social commerce are purely related to social media.
Remember: shopping represents a conversation. Brands should keep their ears open to the feedback of followers and customers alike. Doing so allows customers to essentially become more invested in the shopping experience.
Best Choice Products is a great example of a brand that utilizes social commerce successfully and the hidden value of fan feedback. For example, Best Choice Products puts their customer feedback front and center on each of its product pages.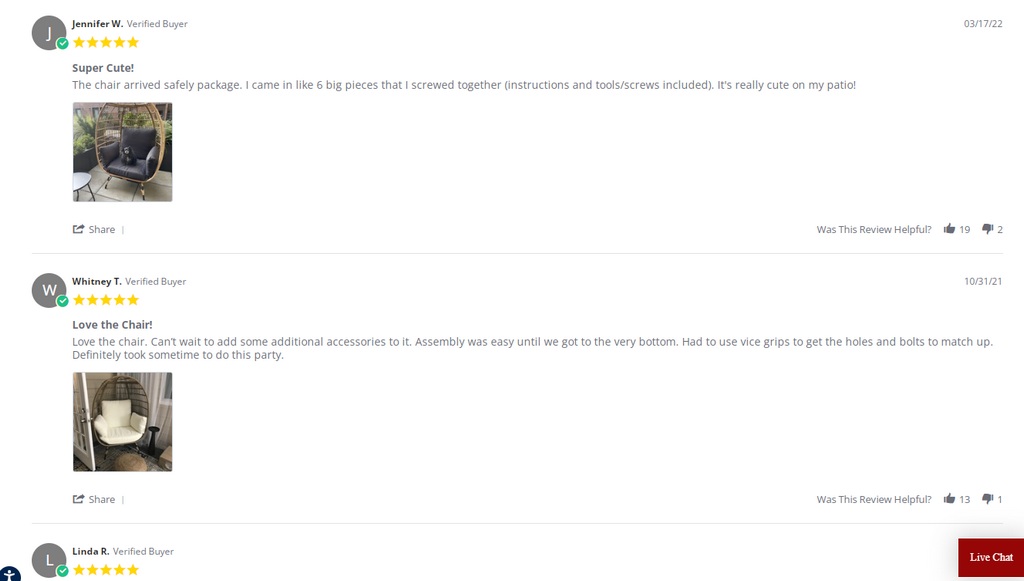 Given that 93% of consumers say online reviews have an impact on their purchase decision, there's certainly value in giving your customers a voice and encouraging them to leave a review of your product.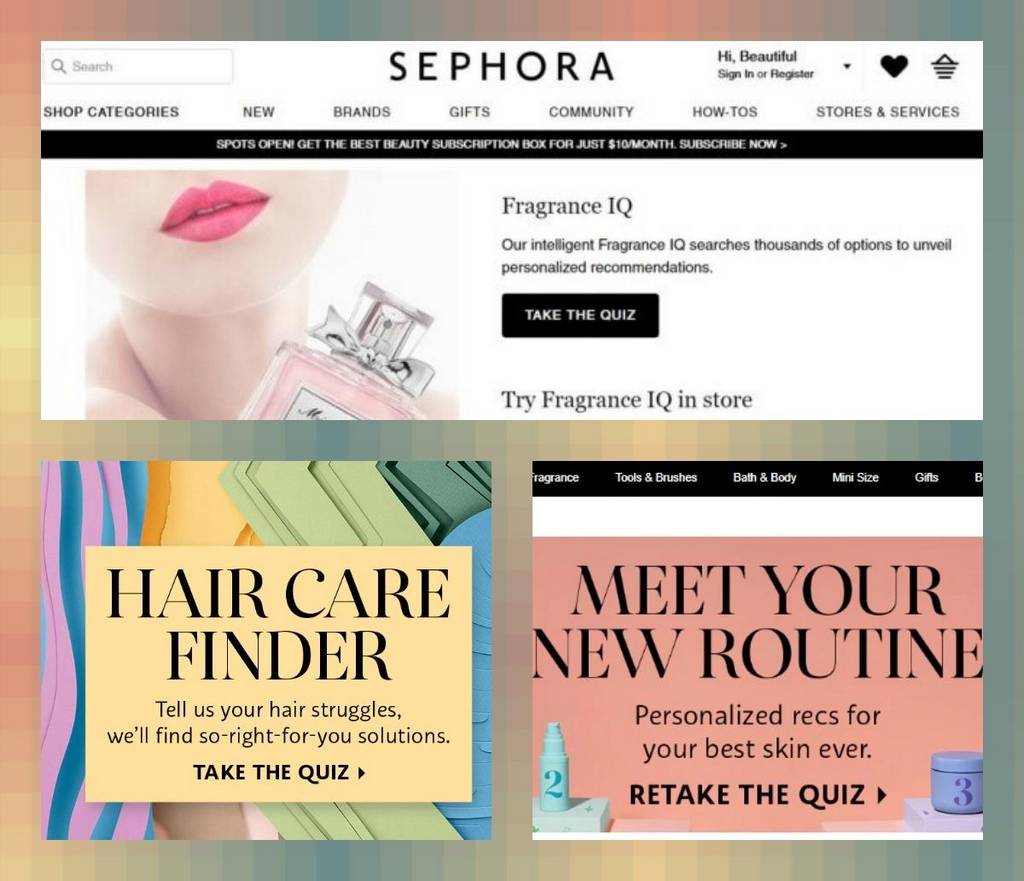 Sephora has a unique approach to social commerce – the company creates an experience, not just content. How?
Considering that 31% of eCommerce sales come as the result of recommendations, it's good to follow the same guidelines as in-store, where customers aim for a unique shopping experience. Sephora's "quizzes" is a prime example of personalized social commerce. The quiz covers a short series of questions to help determine the perfect product for the taker.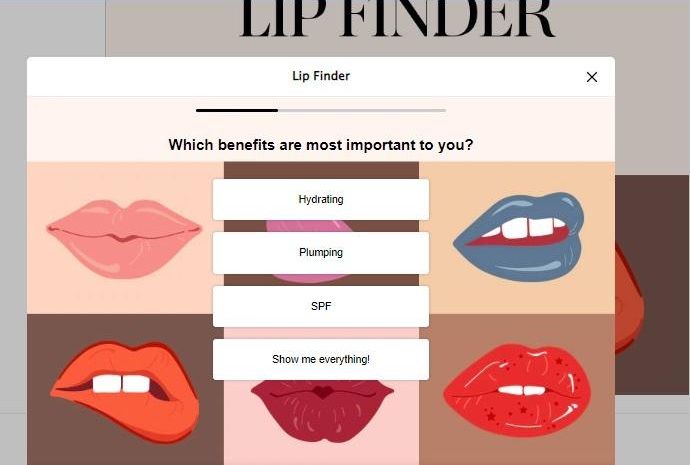 At the end of the quiz, the taker sees the products which are recommended based on the answers. Quizzes are more than just a playful way to keep shoppers on the page: they serve as tools to gather customer information and provide a personalized shopping experience.
5. Under Armour – Facebook shop example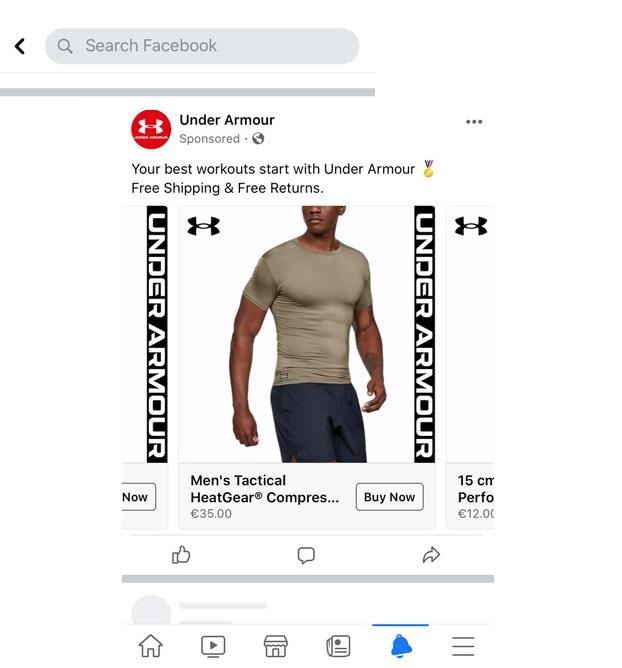 The Under Armour Facebook shop scores customers with social ads. With the help of Facebook's cross-border ad tools, Under Armour successfully strengthened its return on ad spend and reduced its number of campaigns by 4.5X. Under Armour continues to use the cross-border catalog, and between August 2019 – May 2020, has seen the following results:
2X increase in return on investment
35% decrease in cost per sale
35% increase in conversion rate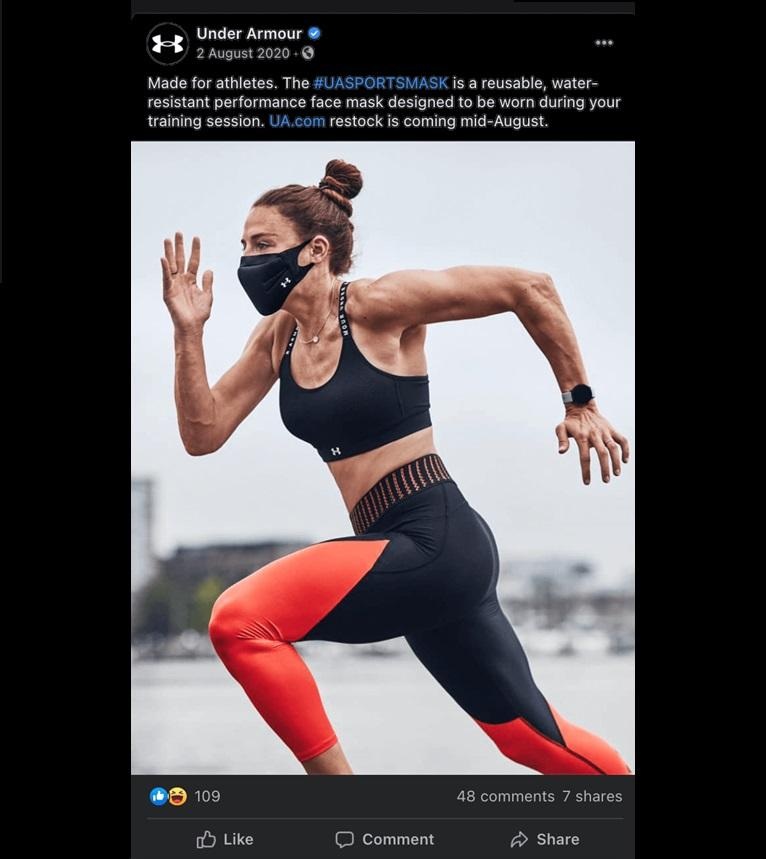 The common goal of anyone running social ads is simple: don't let your ads look like, well, ads. As a result, to increase traffic to their stores, fashion retailers frequently employ user-generated photographs on Facebook.
Don't neglect the importance of serving up offers and deals.
JetBlue is another example of how brands can use the power of social commerce by engaging users on Twitter with deals and discounts.
Bear in mind that 63% of people follow brands on social media for the sake of coupons and discounts. Although there are dangers in running deals too often, throwing out a steep discount every now and then is a great strategy to catch your followers' attention.
While your social feed shouldn't be 100% promotional, remember that deal-seekers deserve your attention too.
7.

Realbuzz

– Twitter shop
Contests and competitions are extremely powerful tools in the social commerce sphere.
Realbuzz uses Twitter to create a sense of competition and encourage interaction with its social content – it forces followers to spend more time engaged with the brand.
8. Away

– Instagram shop example
Away uses its Instagram shop to lead followers to its storefront, which is another example of how social commerce works. Not only does Away regularly leverage branded hashtags, but also points followers directly to the link in their bio. As shown with other well-known Instagram brands, the entire social media presence needs to be all together to encourage shoppers to check out what your storefront has to offer.
9. 100% PURE

– Pinterest shop example
100% PURE, a natural and organic cosmetics retailer, is an international powerhouse. The brand maximizes its Pinterest presence with a storefront packed with categorized products. Tapping on a product leads to product details, a button that takes visitors to 100% PURE's website, and an option to save the product to a Pinterest shopping list.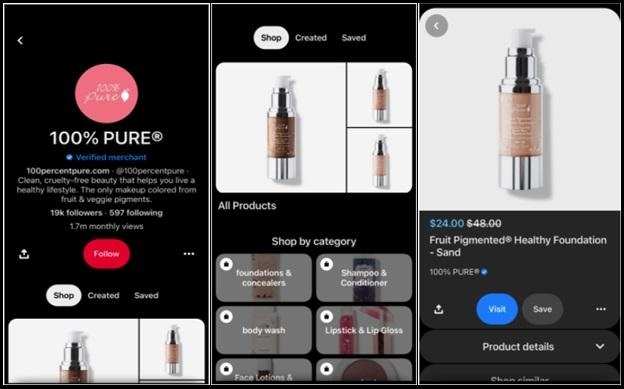 On top of that, 100% PURE leverages Pinterest ads to show promoted pins to users browsing through other beauty brands and cosmetics-focused pins.
In addition to Pinterest, 100% PURE is an Instagram force to be reckoned with. With over 260,000 followers, its photos, Reels, videos, and Guides make it easy for 100% PURE's followers to discover and buy products while they browse its Instagram feed.
10. Milk Bar

– TikTok Shop
Social commerce opens new sources to showcase your brand and business – Milk Bar shows how to use TikTok and engage with consumers in an unobtrusive way.
Milk Bar sells cakes, cookies, pies, and ice cream. Live videos, colorful product images, customer takeovers on Stories, and video tutorials are among the content formats Milk Bar leveraged to get in front of people during initial lockdowns when they spent more time on social media than ever. With over 800,000 followers today, Milk Bar's videos often get tens (and sometimes hundreds!) of thousands of views.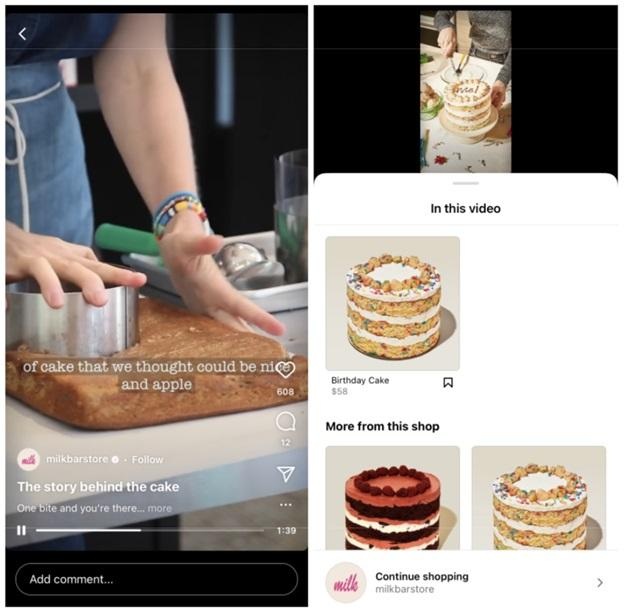 Milk Bar packed its TikTok profile with recipes and baking tips turned into colorful short-form videos. Many of them are sorted into playlists for easy binge-watching — a fun experience for more than 200,000 of Milk Bar's TikTok followers.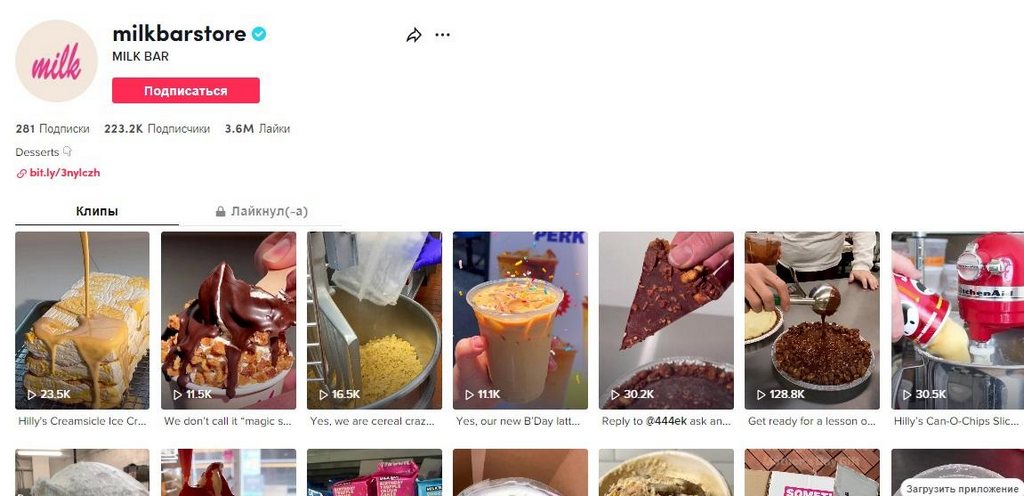 JUNO & Co. is a DTC beauty brand that uses TikTok as a social commerce platform to rocket sales x-times by showing how its innovative skin care products work. The brand has almost 200,000 TikTok followers and millions of video views on the platform which says it's quite a successful brand.
JUNO & Co. joined Shopify's pilot program for brands to sell their products on TikTok and it showed great results. "We saw an immediate response. Our sales on TikTok are 10 times what we've gained from Instagram and Facebook," Kyle Jiang, JUNO & CO.'s founder, told Inc. magazine.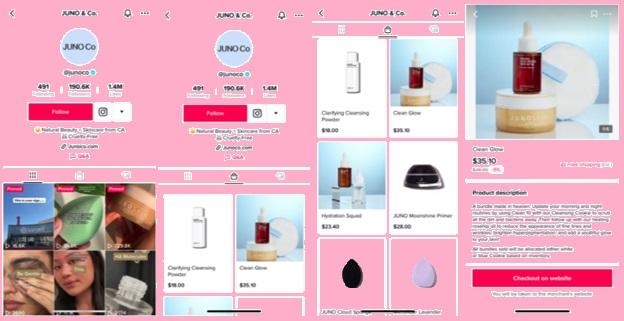 In 2020, 36.0% of US marketers used TikTok for influencer marketing, a 33% growth from the prior year. By 2025, 54.9% of marketers will take advantage of TikTok influencers, and 66.4% of influencer marketers will make use of the app, as TikTok continues to close the gap with Facebook for influencer marketing use. According to a Forbes report from the end of 2020, TikTok and Instagram were key factors in JUNO & Co.'s 300 percent year-over-year growth. Product how-tos, gift videos, premieres, and instructional videos are just a few of JUNO & Co. engaging list.
JUNO & Co. takes a softer, more fashionable tack on Instagram. Videos that are amusing, visually appealing, and occasionally a cross-posted TikTok video without any product tags are the main topics of feed posts.
Rothy's is a social commerce brand that knows how to vanish the feeling of the online world. Instagram (300K+ followers) and Pinterest (10M+ monthly views) are key factors in the brand's marketing stack. On its Instagram shop, Rothy's is focused on colorful lifestyle images showing how its products look/feel in everyday life. The majority of the posts have product tags, which takes followers straight to the product page on Instagram.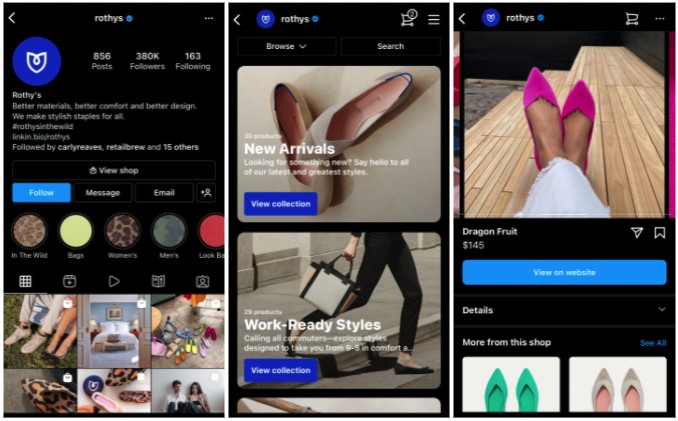 On its Pinterest store page, Rothy's visuals are more calm, polished, and editorialized — while still highlighting the brand's look and feel.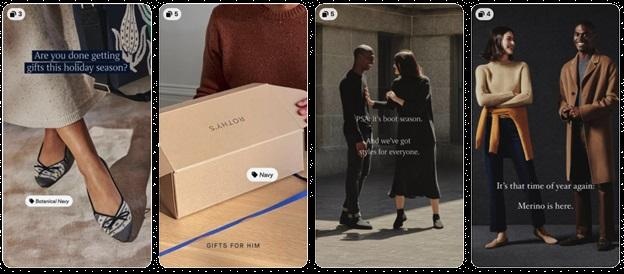 Shoppable Video really might be the next big thing in Social Commerce. Livestream shopping is an e-commerce marketing strategy that sees a host — often a celebrity or an influencer — promote products via a live video stream. If you are not sure how it fits your business, check out these social commerce examples from brands that are already leveraging the power of shoppable video streaming:
13. CAIA Cosmetics

– Livestream shopping
Swedish makeup brand CAIA Cosmetics is no stranger to the world of social commerce, taking its first foray into live streaming back in October 2019. The company knows that Livestream shopping can be a marketing booster – its first-ever live stream achieved a 5% conversion rate, exceeding the average performance of its website. That gave CAIA the confidence to make livestream shopping a regular part of its marketing mix. Live tutorials — hosted by CAIA founder Bianca Ingrosso — have an average viewing time of 11 minutes, with 60% of viewers hitting "like."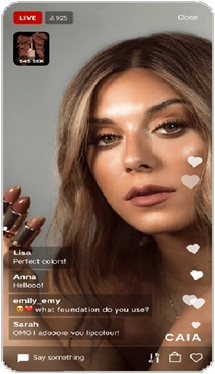 With the advent of livestream shopping, Facebook opened its Live Shopping doors to select brands.
Clinique is a social commerce brand that takes advantage of Facebook Live Shopping by hosting tutorials on skin care, moisturizing and more every Friday at 3 pm PST. For some time, they did a pause and now have continued livestreaming.
15. Themed & hosted events by JCPenney.
Creating a compelling livestream shopping experience involves choosing a theme for each "event" and then creating shoppable content around that theme. JCPenney takes things a step further by using the theme to define its choice of influencer collaborations too. A revolving cast of influencers hosts its JCPLive sessions, each of whom is an expert on the topic.
See live shopping as an extension of your existing social media and content strategy.
16. Xiaomi

– Twitch shop
Xiaomi demonstrated how brands can promote their business with Live Shopping on Twitch.
Once Xiaomi launched one of their latest smartphones, they arranged a giveaway on the Twitch platform, hosted by influencers Johann & Antho – and it received a huge response! The Xiaomi Twitch account has 20K subscribers at the moment.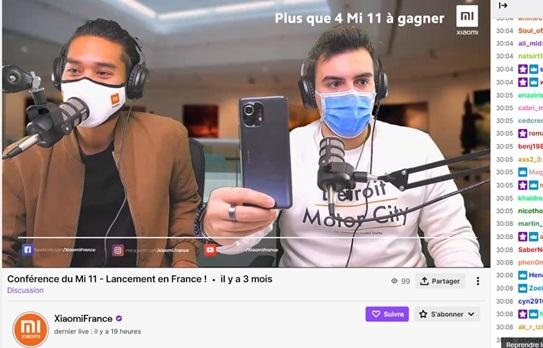 17. Batimat

– Youtube live shopping
Batimat is the international multi-specialism trade show for the construction industry. The company collaborated with a non-professional welder, but a real iron master Renaud Bauer (73K followers), and created a live shopping video on YouTube to introduce new tools following the Batimat exhibition.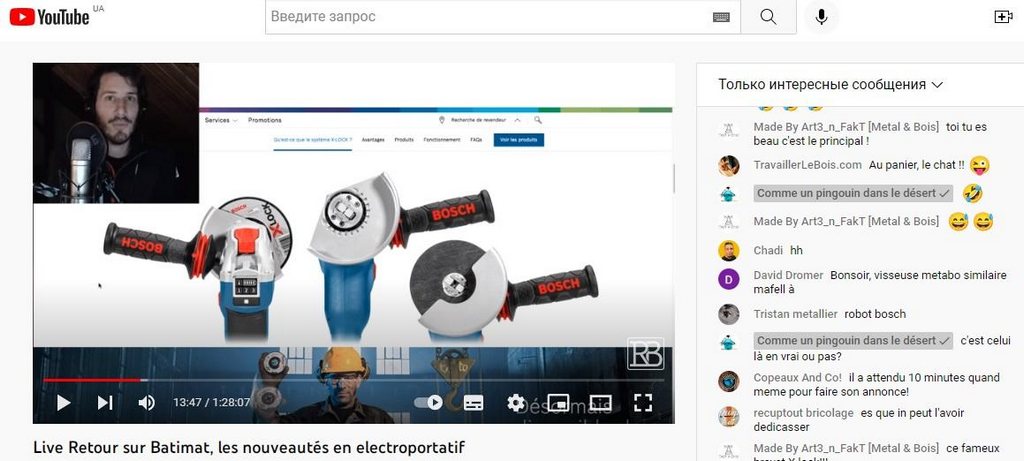 Amazon Live, and live video more broadly, will play a significant role in online shopping going forward. We see it already at scale in China, and marketers and influencers alike in the US have embraced the platform, of which Amazon is currently the kingmaker.
18. Amorepacific US

– Amazon Live Video Shopping
Amorepacific US company uses Amazon Live Video to show us the future of social commerce. The brand worked with several beauty influencers who could tap into their own following and introduce them to Amorepacific brands. Brian Lee, Head of Business Development at Amorepacific US, says that the content creators that we chose for the Amazon Live event have been trusted partners for a long time. "[They] knew our products well and could speak to the assortment from the heart."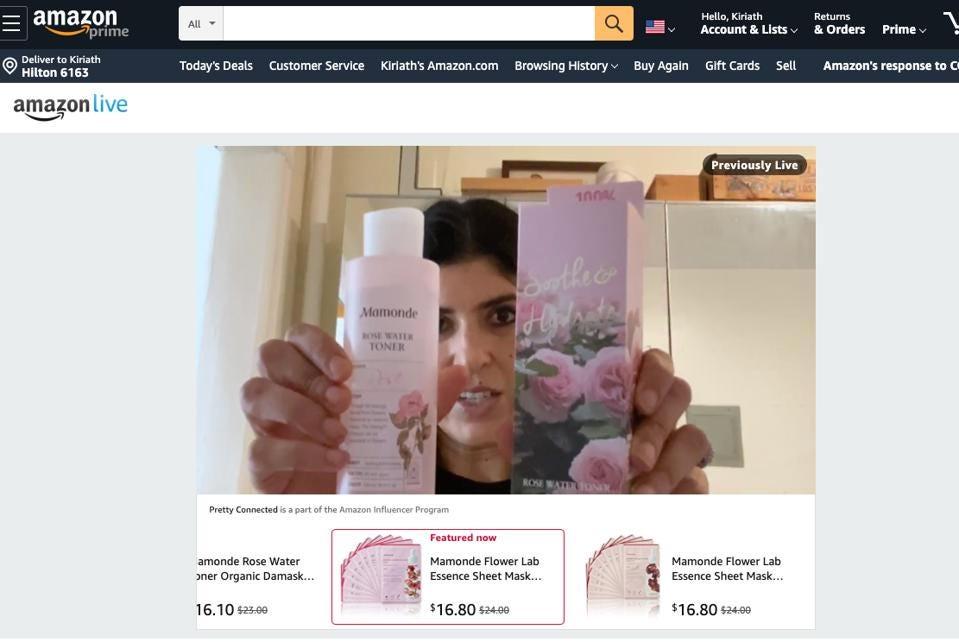 Screenshot of Amazon Live video featuring Beauty influencer Lara Eurdolian. Eurdolian is demonstrating products from Mamonde, a brand of Amorepacific US.
19. Miliboo

– Instagram Live
Instagram brings more into social commerce with its live shopping feature. An influencer Stéphane Plaza presented and tested new furnish things and decoration items of the Miliboo brand by hosting Instagram Live.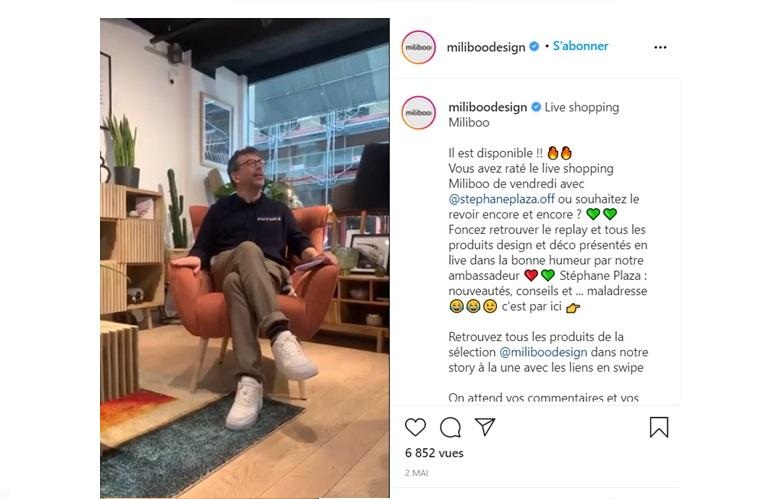 20. Gunnar Kennels

– Facebook Shop
Gunner Kennels makes ultra-tough dog kennels to keep our four-legged family members safe while in transit. This brand has a huge base of loyal customers already but they never stop improving their service and try to make the purchase experience as smooth as possible. Take a look at how Gunner Kennels Facebook shop highlighted their strength by incorporating an unexpected second item, an orthopedic dog bed, in this organic post. Thank you, Facebook, for allowing us to take more than one product from the Shop in an organic post. Looks super natural and convenient.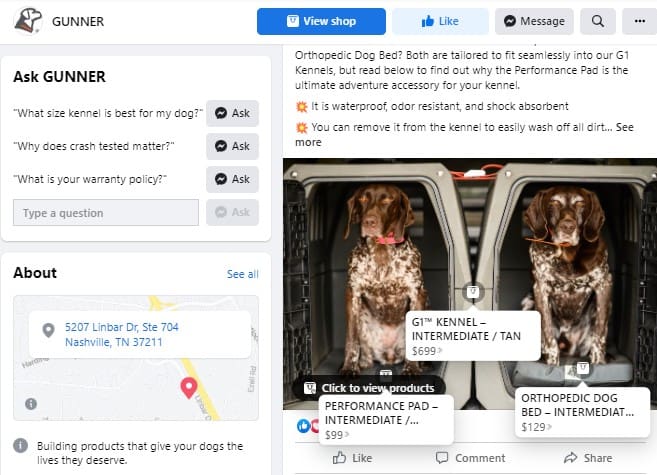 Also, notice the Shop tag in the original post. That tells visitors they can click and go to an image with more information. From there, the shopper can pick a product from the photo and save it, share it, or buy it from the Gunner Kennels website.
21. Ink Meets Paper
Our next social commerce shop has a lot of success on Facebook. Ink Meets Paper is a letterpress and paper-goods company that makes one-of-a-kind cards on an antique paper press.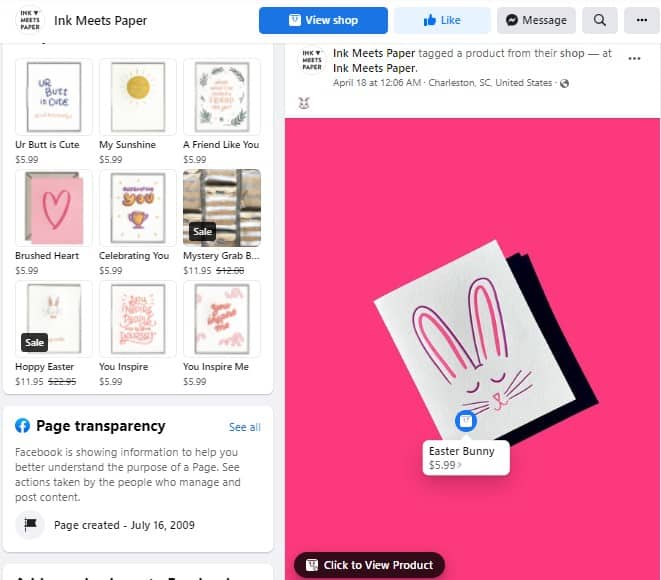 The business has done a couple of things to make it really easy for their customers to shop and buy. First, Ink Meets Paper used the button on the front of their Business Page to lead right to the Facebook Shop (many companies use that button to direct visitors to their website.). Then, the company incorporated Checkout, so a visitor can make a purchase without leaving the Facebook marketplace.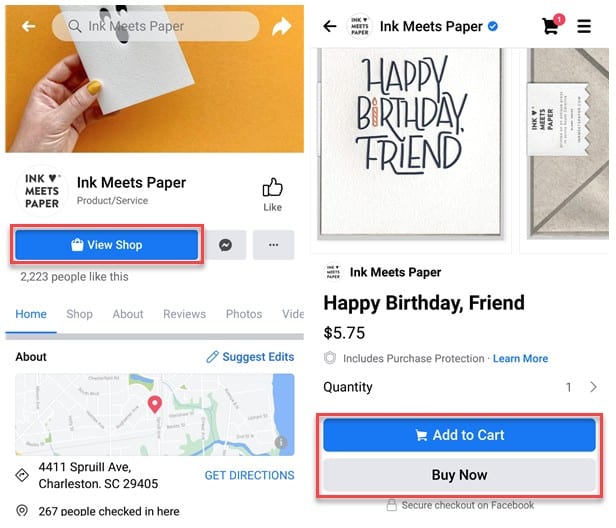 And since they've used Facebook's Checkout, Ink Meets Paper's customers won't have to fill out their details every time they make a purchase. That reduces all the friction from logging into different websites or filling out "guest checkout" details over and over again.
FASHIONNOVA – the fastest-growing women's apparel company thanks to their USP – influencer marketing. The likes of Cardi B, Kylie Jenner have added to their popularity by endorsing FASHIONNOVA products on social media platforms like Instagram and Twitch, thereby bringing them the flexibility of multi-channel eCommerce. This Shopify brand uses Facebook Shops and Buyable Pins to deliver a native off-site buying experience.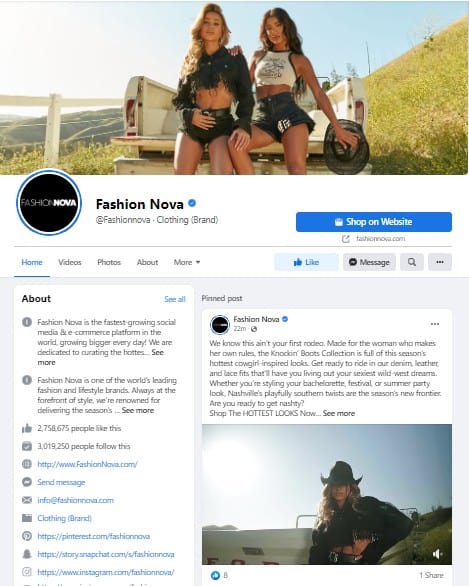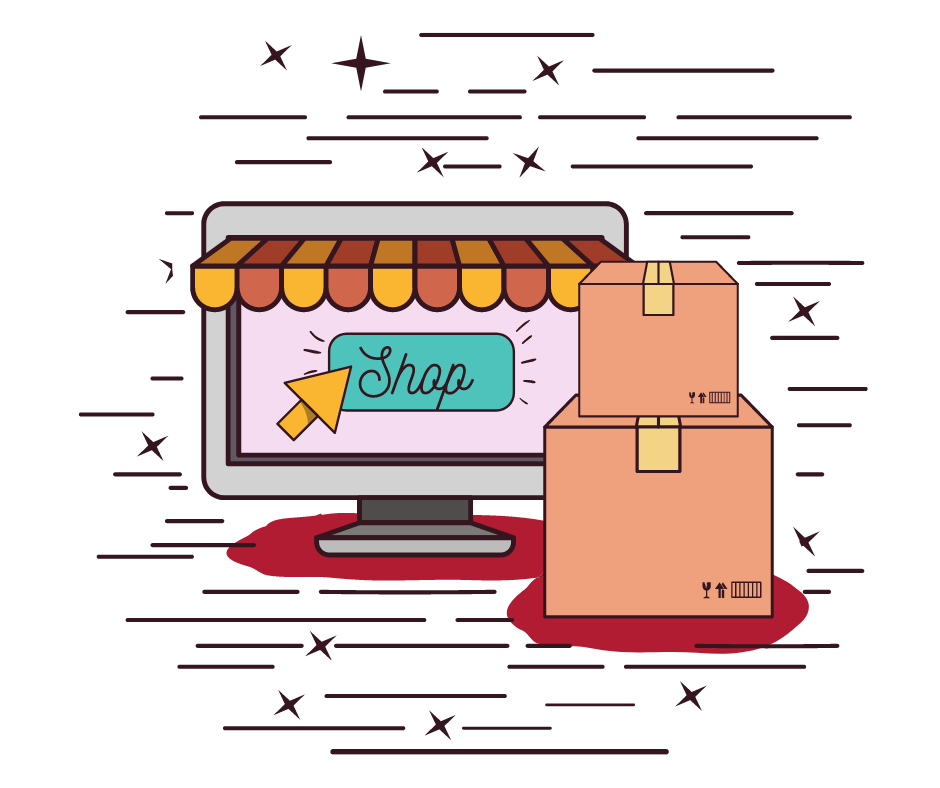 It's time…
Don't wait for success to come. Hire yourself and start your own dropshipping business
23. Grove Collaborative
Grove Collaborative brand saves the planet and your wallet! But who says they can't get profit from that too? What's the key to gaining your audience's trust? Earning social proof.
This can be in the form of reviews or an influencer's post. In fact, consumers say user-generated posts are 76% more trustworthy than branded ads. Grove Collaborative brand knows that and here is an example of how it elevates a user-generated video with a reusable housekeeping things list among which we see their product information:
Shoppable UGC (user-generated content) is the heart of Social Commerce!
River Island uses Pinterest's Buyable Pins to generate leads – their followers and potential customers can view and purchase all 'Products Pins' that are collected on the business' main page.
Pinterest's Buyable Pins let consumers buy directly from Pinterest Shop without leaving the app. Pinterest users are shoppers. According to statistics, they spend 2x more every month than users of other platforms. They're also 35% more likely to take a week or more to make a purchase decision – they like to take their time and browse and aren't in a rush to convert.
Pinterest users on the whole like to shop slowly but this is a positive thing for marketing. Slow shoppers make educated buying decisions and therefore are willing to spend more on their purchases. This makes it an important channel for brands to generate leads, drive sales and build brand awareness.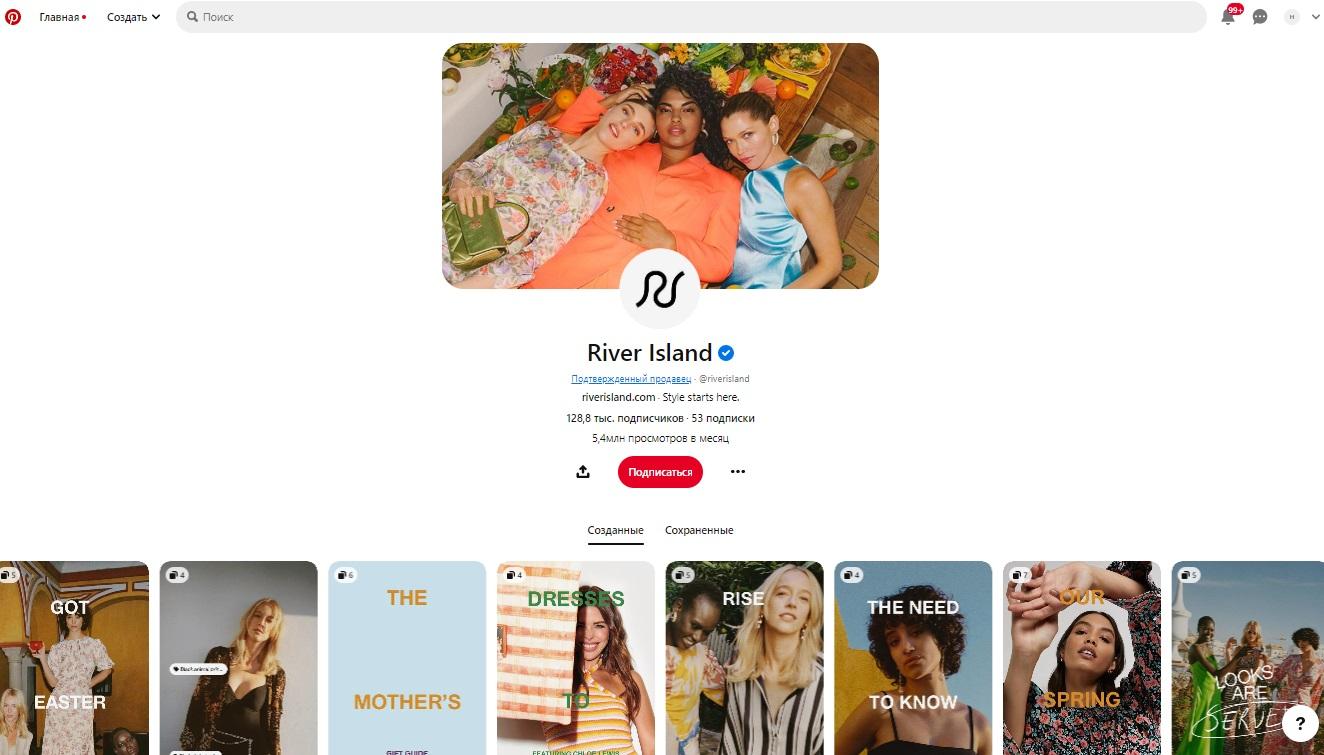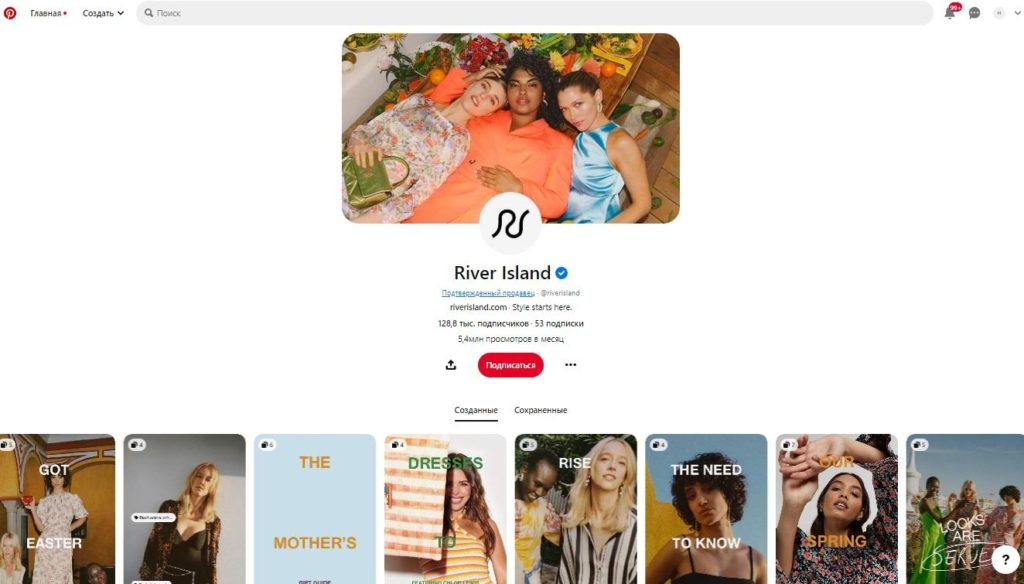 25. Best Buy

Shop on Twitter
Best Buy and other social commerce companies continue to link well-formatted product pages directly into their posts on Twitter. Clear, direct calls-to-action such as "Pick yours up today" encourage interested audiences to click through, learn more and review options for purchase. In this social commerce example, Best Buy also makes the most use possible of a Tweet's limited text. In just a few words, the brand offers significant savings for a high-quality product then doubles down with a promotional trade-in offer.
Conclusion
Social commerce takes advantage of social media popularity – there is a huge base of potential customers waiting to be tapped, and social storefronts provide a way for brands to turn casual followers into customers and drive conversions. Social media provides a space where people connect and engage with one another, and brands can take advantage of that to build relationships with their customers.
It's a new trend in eCommerce and will stay with us for a long time. Already now there are so many options for integrating social commerce into your brand's strategy, and each platform does things a little differently. After reviewing these social commerce examples, you've hopefully found a little clarity and inspiration on what would work best for your brand.
Good luck!