5

min read
Ranking of Ecommerce Industries – Statics
As online retailers, we are always looking at how online marketplaces are ranking including other businesses that share the same digital space. In online retail sales, it is apparent that Amazon is still taking the lead with 49.1% of all retail spend in the United States. They also ranked #53 in Forbes Global 2000.
Amazon is set to clear $258.22 billion in US retail sales in 2018, according to eMarketer's figures, which will work out to 49.1 percent of all online retail spend in the country, and 5 percent of all retail sales.
While there are various statistics showing up these days, Amazon never fails to show at the top, whether it be the largest companies in Gross Market Value or the top Fortune 500. And while Amazon has retained its reputation being on top of the list, a few players are also striving to maintain its brand and credibility. Among the companies that managed to stay on the top of the competition are as follows (see the image from eMarketer below):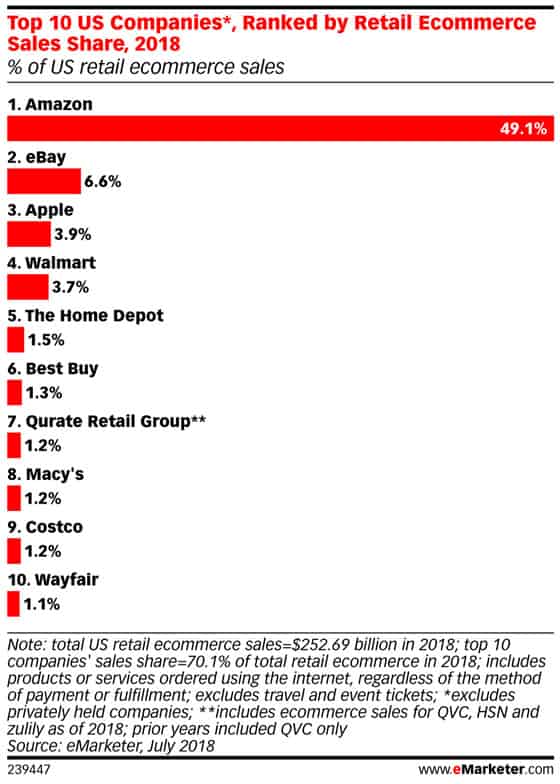 eMarketer, a Market research firm shows a big gap in retail eCommerce sales. The top players following Amazon put together adds up to 21.6% which is hardly half of Amazon's online retail sales. The top 10 key players put together shows a 70.8 % of the total online sales. On the other hand, this means that there's still room for small retailers and drop shippers to make some profit on the internet.
Amazon continues to show dominance in the online marketplace and seen in many figures and statistics. Consumer electronics and computer products take the biggest chunk for Amazon, followed by apparel and accessories that generated 15.4% of Amazon's business in mid of 2018.
The Most Popular Shopping Categories Online
While we already know that Amazon is the biggest and the most profitable company in the eCommerce industry, let's take a look at popular categories, where consumers are willing to spend their money online. Most recently, Statista released data showing the most popular shopping categories globally in the last 12 months of 2018.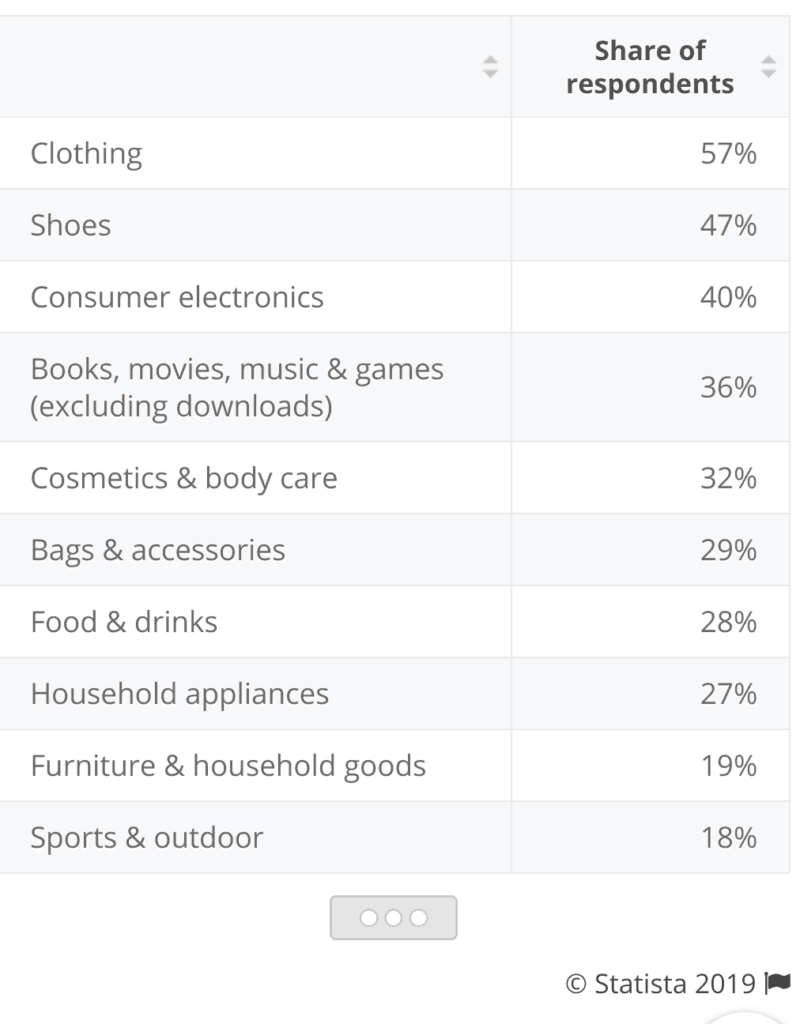 This data by Statista is not based solely on Amazon. This statistic ranks the most popular online shopping categories worldwide, sorted by share of internet users who have purchased products from selected categories online in the past 12 months. As of 2018, 57 percent of global internet users had purchased fashion-related products through the internet.
Clothing and Shoes
Data shows that Clothing and Shoes are Favored by many internet users with 57% respondents versus consumer electronics with 40% respondents. It's not surprising that the fashion industry, particularly clothing, and shoes surpassed consumer electronic items in 2018. Why not? Amazon alone shows a huge sales increase in the clothing sector.
The key players in online clothing retail include ASOS, Net-aPorter, Nasty Gal, Forever 21, H&M, Boohoo, Urban Outfitters, The Iconic, Uniqlo, and Misguided. These online clothing retail brands made their way to popularity and have somehow contributed to the growing revenue of the Fashion industry.
Consumer Electronics
Apple remains the top player in the technological arena and making it big even in online retail. It has been ranked as the 8th largest company in the world by Forbes Global 2000 and #4 in Fortune 500 companies. Samsung electronics takes #14 in the world's largest companies by Forbes Global 2000. Other top players in the tech industry (Information and Communication Technologies) are as Microsoft, Alphabet (Google), IBM, Facebook, and Oracle which made it to the top 10 of Forbes Global 2000.
Apple is definitely a trendsetter in the consumer electronics industry. iPhone has grown in revenue with the launch of iPhone X and still proves that music is an essential part in growing revenues. Apple Music is, in fact, the fastest growing section of the Apple services and it is expected to increase by 40% each year for the coming three years.
Samsung consumer electronics division has improved in the third quarter of 2018. The company owes this solid revenue growth from the robust sales of premium Smart TV products and mobile devices that continue to compete with new models being released by its competitors.
Books, Movies, Music, and Games
About 60% online shoppers purchase books, movies, music, and games online. Let's take a look at the top digital companies who somehow made it big in selling digital products.
In digital products sales such as books, movies, music, and games, Amazon took the top spot in 2018. The company's market cap struck $1 trillion on September 4, 2018, during the intraday trading. This event made Amazon the second American company to go beyond the $1 trillion thresholds next to Apple.
Netflix, a digital streaming company, ranked No. 2. Since Netflix expanded to international markets, the domestic streaming revenue of about $11.7 billion is just 43.5% of its revenues. Other companies that made it to the top 25 digital companies are Microsoft, Spotify, and Hewlett Packard Enterprise.
Fastest Growing Startups
Digital Commerce 360's Internet retailer looked into 72 newbies in the e-commerce industry. 10 among 72 retailers showed exemplary growth in their web sales. Most of them over 300% year over year.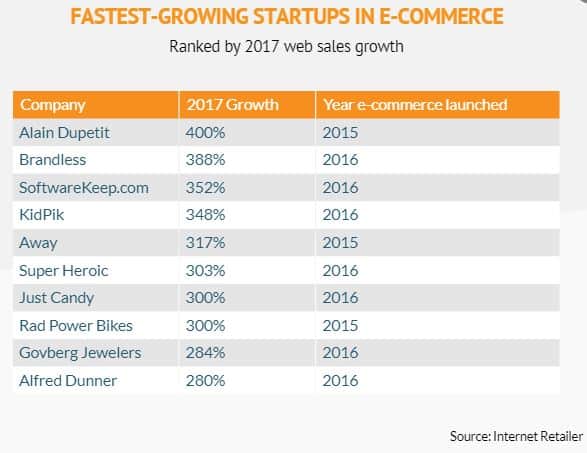 These are the results of an analysis of 72 newcomers to e-commerce, or companies that began selling online in 2015 or later. This includes scrappy stratups selling exclusively online and established brands and retail chains launching direct-to-consumer online sales. – Digital Commerce 360
While there are already big companies that's been competing in all areas of sales and marketing, we should take into account the fastest growing companies in the last three years. Inc.5000 lists the top 10 fastest growing companies in the United States in 2018 as follows (see graph):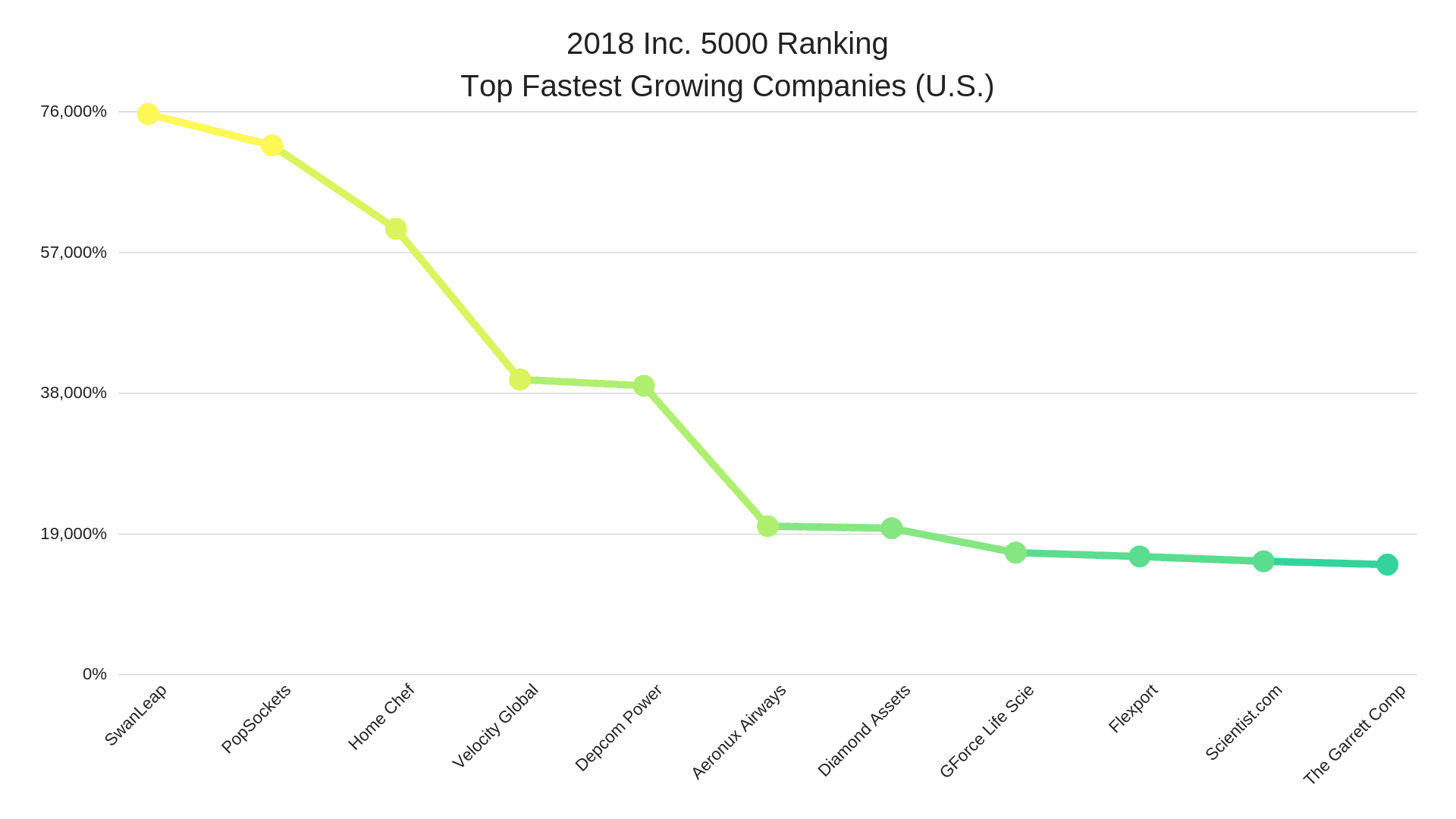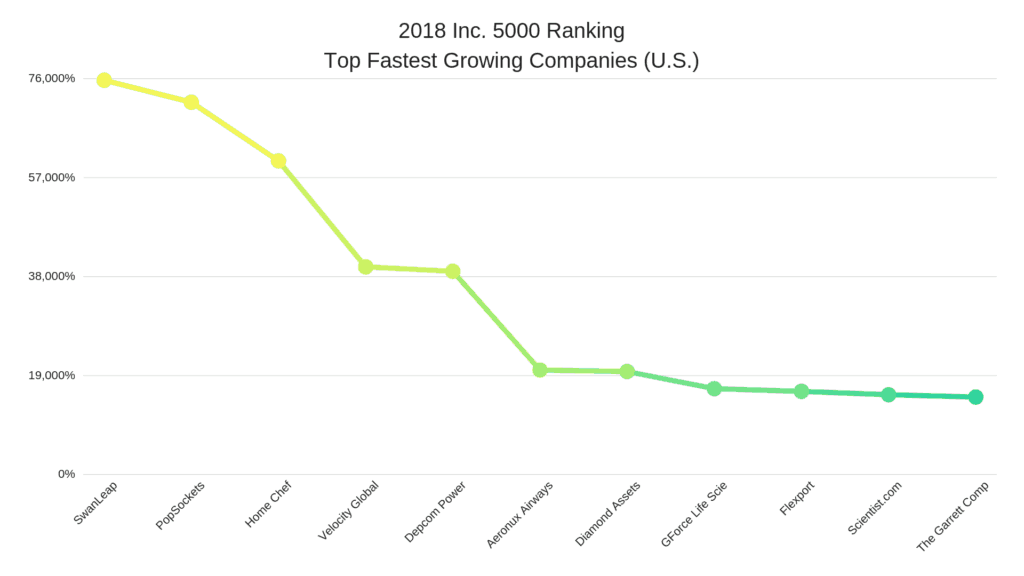 The 2018 Top Fast Growing Companies in The United States by INC. 5000
Summary
Amazon has maintained its lead in the eCommerce industry and has taken the largest chunk in total digital sales in the previous year.
Computers and electronics are still taking the lead in eCommerce retail sales. Despite the popularity of clothing and shoes, the global retail sales of computer electronics across online sales channels surpass the global retail sales of clothing and accessories. Nonetheless, the competition is tight as both categories are showing great sales in annual ROI.
The wearables industry takes on a large part of 2018 as well as the usage of smartphones, tablet, and laptops across all economic lines. The introduction and the growing use of AI and internet-of-things make it more appealing to consumers and are ready to spend cash on electronic items that make life a lot more easier.
Thinking about starting an eCommerce business yourself? Here is the Guide to Creating a Profitable Ecommerce Business From Scratch.