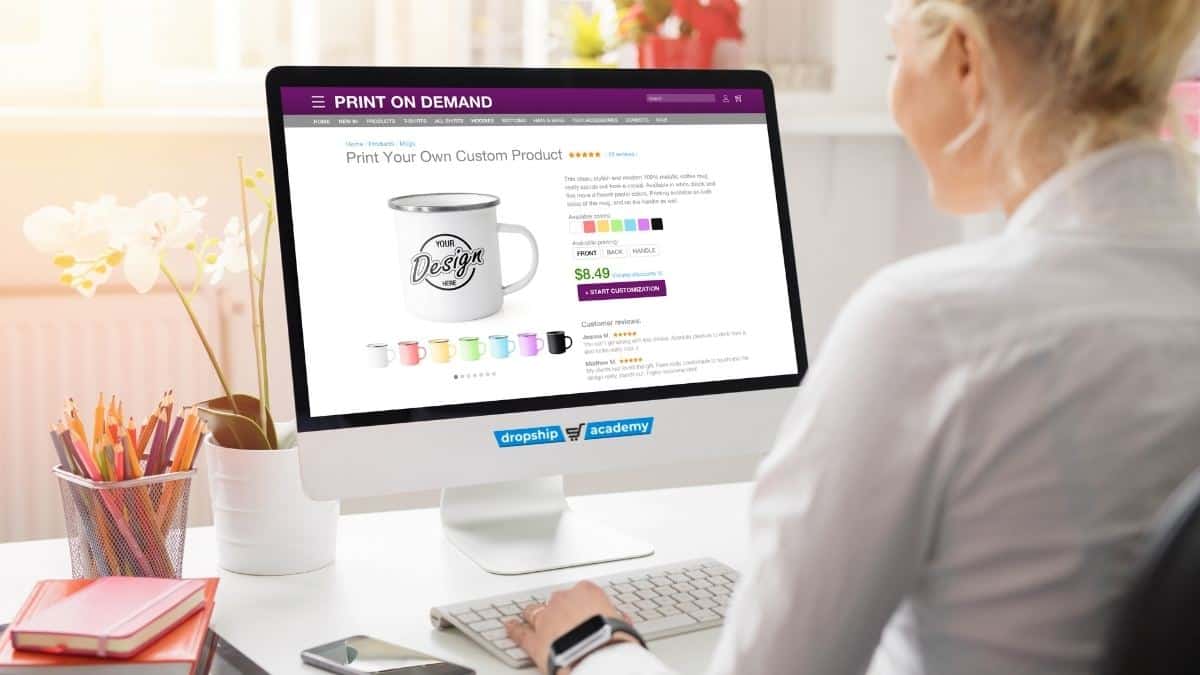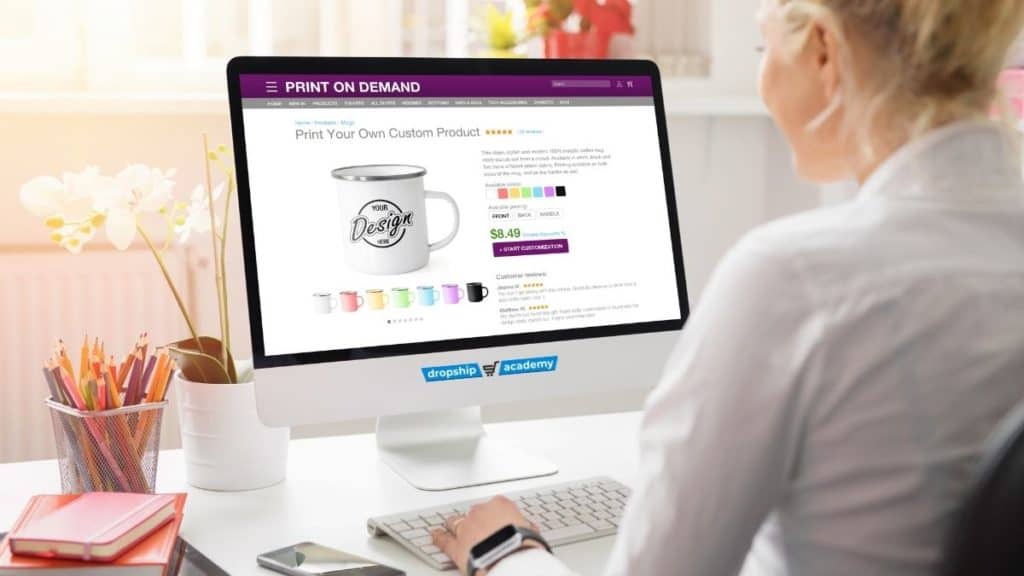 Are you an artist, designer, or just a creative person looking for a way to monetize your talent and hobbies? Or maybe you are a dropshipper trying to find a profitable niche or expand your business and build your own brand. In any case, a print-on-demand business might be a way to go. And if you need some inspiration, then check out these great print on demand stores and pod shop examples. These are the best print on demand sites you should take as examples.
Printing or creating a customized design for the same product, and selling it under your brand name is called Print on Demand (POD). This kind of business has been around for more than a decade with the one-off printing concept for custom designs being introduced by several early entrants of POD eCommerce.
Today, a large number of products like art, apparel, and gift items are available to print-on-demand sellers, with POD platforms becoming available to merchants who then have more channels on which to sell their wares. If you've finally decided to get into the POD business and set up your own print on demand products store, or you've run one for a while but haven't enjoyed much success, we're going to show you some profitable and successful Print on Demand store examples in this article, so you'll definitely enrich with a new idea.
Before we look closer into the list of the best print on demand sites that are successfully running their printing business, let's first make sure all know how Print on Demand actually works.
How Does Print On Demand Work?
POD services are best used when you want to test a business idea without inventory risks, monetize your current audience (especially for online influencers or celebrities), create original niche products, or print one-off items easily. They allow you to automatically send your orders to a company that will print a package and ship the order for you.
The main process gets this form: create, sell, print and ship. All done for you.
The store accepts orders for specific products via this type of fulfillment service. If you sell a custom t-shirt online, the job is handed over to a third-party provider who prints and packages the product, then it goes into shipping mode and into the customer's hands.
An eCommerce company manages the beginning of the transaction in this type of fulfillment services setup. Following the initial sale, the print-on-demand business manages the rest. The best part about it is that the whole process is largely hands-off, so you're mainly focused on marketing and design work only.
Tip
Print-on-demand is a great way for artists to monetize their talents or existing businesses to explore new product opportunities without serious risks. Learn more in our Shopify Print On Demand Drop Shipping Guide.
Now we are ready to gift you some inspiration to start your own POD shop or spruce up your existing one, check out our list of the 17 best POD stores you can get ideas from.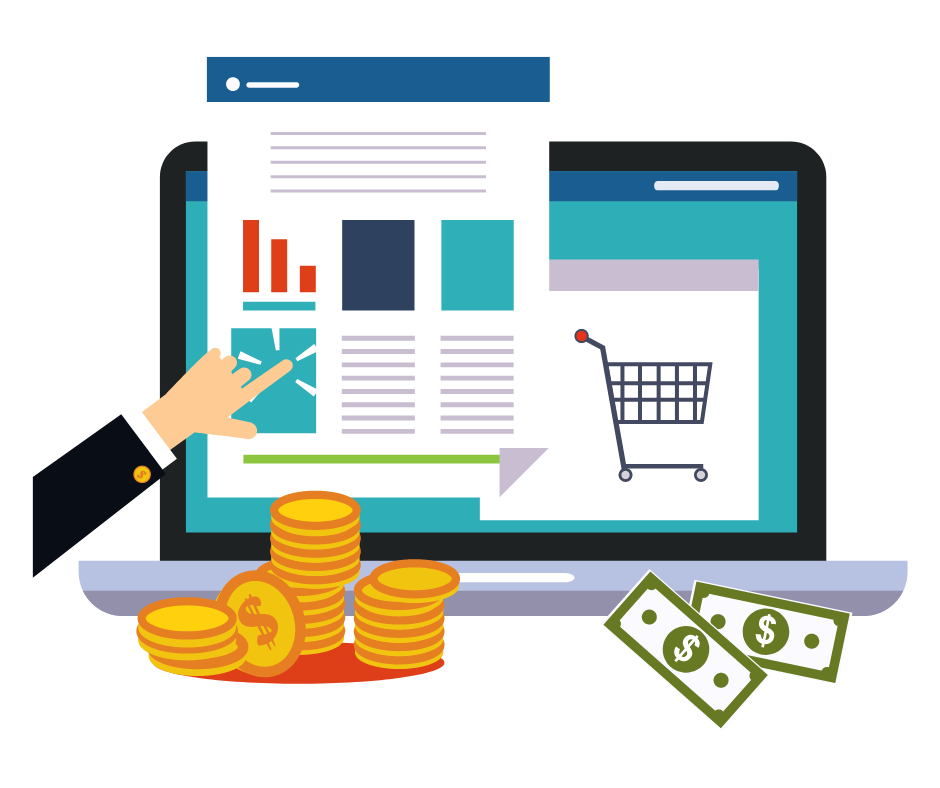 Don't wait for the profits, make them!
Start a profitable dropshipping business with DSM Tool. Get a free course and a free trial of the software.
17 Best Print On Demand Sites
Nothing beats learning from other successful sellers and this is true for POD businesses as well. Let's get started!
1. WimlyMugs – Top Print On Demand Shop
WimlyMugs is an Etsy store that sells mugs, but not just ordinary mugs. They specialize in mugs with a horoscope and the possibility of adding your name.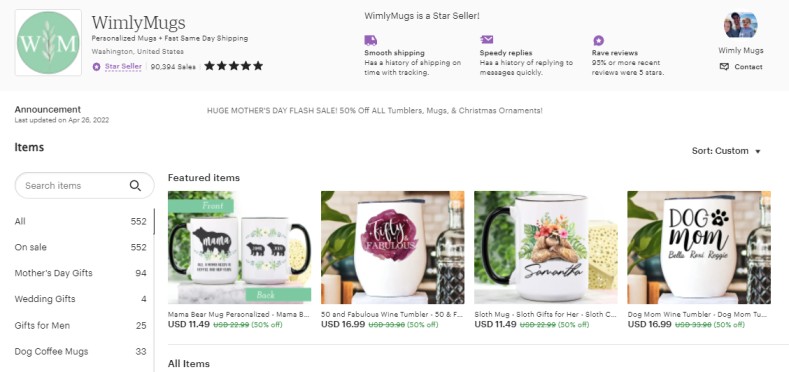 This store's success can be attributed to a variety of factors. But it's their offer to personalize their items that really has jumped out to us.
When something is done specifically for you, it is admired even more. That is why people get obsessed with horoscope readings and why the industry is worth billions of dollars. So, no wonder this store has made over $100,000 in sales when you combine a horoscope reading with a cute, personalized mug.
Tip
Allow your customers to customize their own products in your store wherever you decide would be possible. Many individuals purchase this as a charming present for themselves or their horoscope-obsessed pals.
2. HexAppealClothing – Successful Print On Demand Shop
Many print-on-demand shops specialize in selling t-shirts. T-shirts are undeniably profitable, but focusing on one type of product limits the number of prospective customers you can reach. And how much money you may possibly make.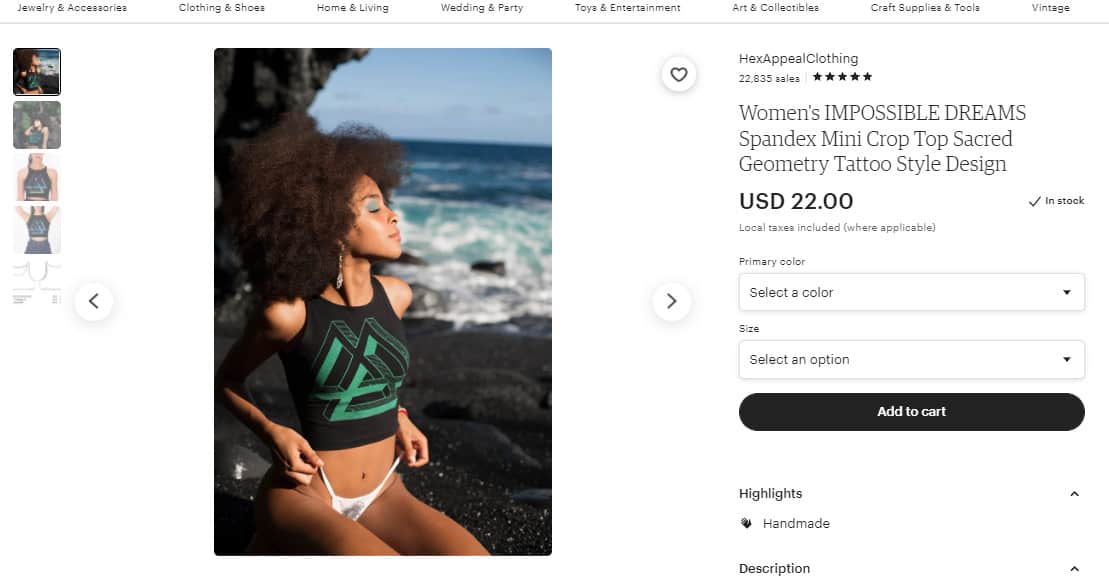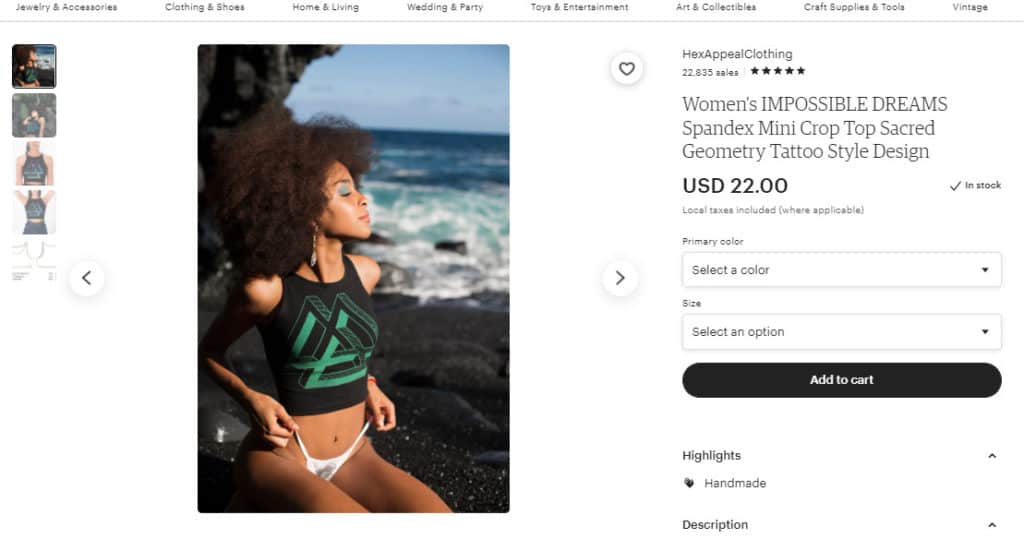 HexAppealClothing is well aware of the situation. They feature items such as leggings and sports bras in addition to the standard t-shirt. Which have also proven to be profitable.
If you sell things that can be easily bought at the local mall, it would be difficult to make any sales.
Tip
Being distinct as a small clothes company is crucial.
3. Sharpshirter – Top Print On Demand Shop Example
This Shopify print-on-demand store sells a range of arty designs that are printed onto household items and their approximate $500K Revenue proves that these types of custom products are in huge demand.
Most designers typically choose to sell their art on a canvas. But Sharpshirter's learnt, that being unique gets rewarded and has taken a completely different route.
Instead, they've applied their artwork to household accessories that people use every day: shower curtains and bath mats as an example!
They are going against the grain, you can also place artwork onto pillows, aprons, towels, and even bean bags! It's up to you to decide!
Tip
Make daily products become extraordinary. Simplicity is beauty.
4. TAMGA Designs – One Of The Best Print On Demand Stores
Eric and Yana Dales have created this Shopify print on demand store with a desire to create a sustainable movement in the fashion niche, and build a company that's conscious of people, fashion, and style.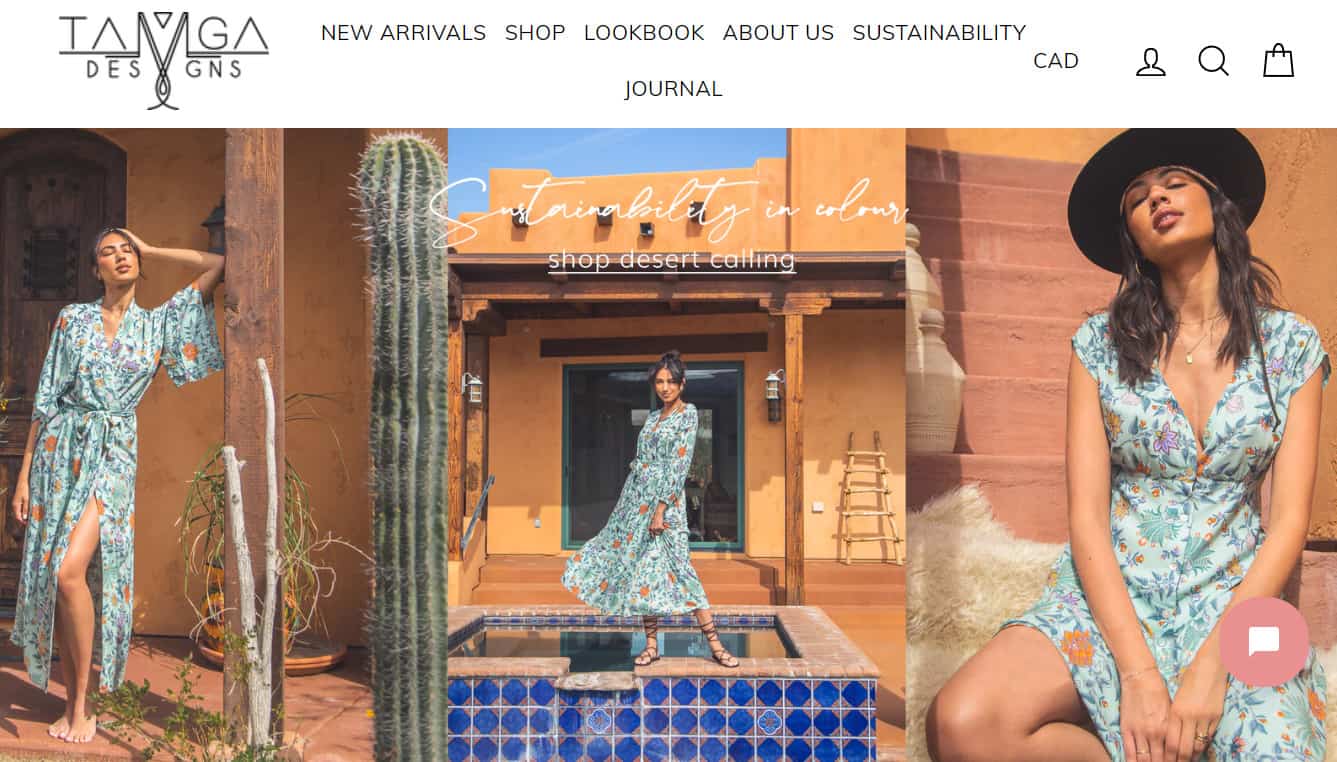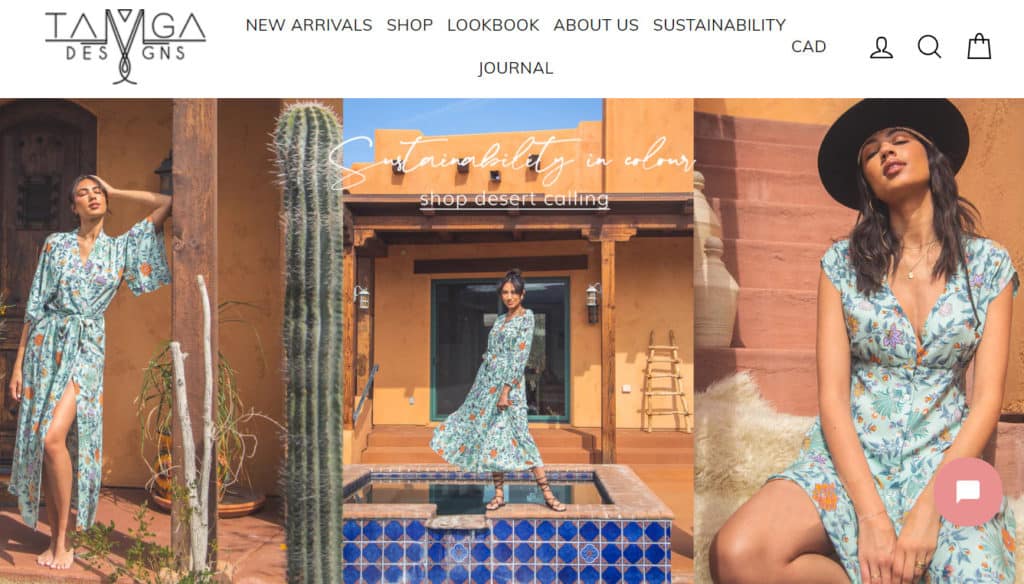 They were in Bangladesh when both saw what the bigger players in the fashion industry were doing, draining the environment and social fabric from the labor conditions and fast use of unsustainable raw materials, and decided to create their own fashion company that CARES.
TAMGA Designs' production partner produces fabric from sustainably grown beech wood and eucalyptus trees to create low-impact dye-colored pieces.
Be smart about building and producing your branded products. Care about your customers, care about the world.
Tip
If you are selling in this niche, the next Shopify clothing stores are also good to find inspiration and ideas for developing your eCommerce store.
5. Iconspeak – Unique Print On Demand Shop
This print on demand Shopify store is also run by a couple, Georg and Florian, who wanted to launch a good product and have fun with it, but after experiencing viral phenomenal growth, they got into serious business.
They were able to service up to seven orders per minute after a media report sparked their tremendous popularity.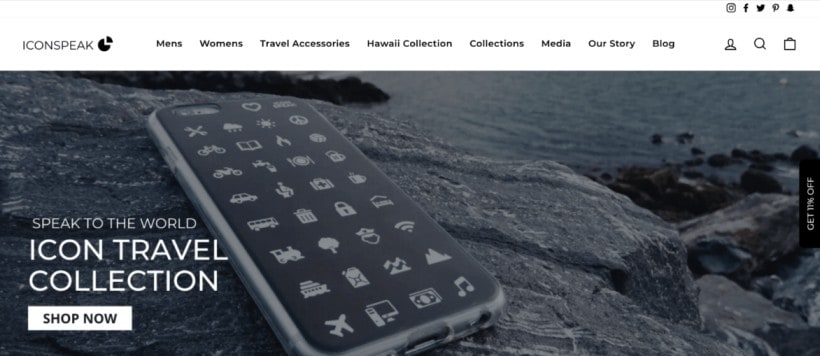 6. Classic Dad – Another Great Shopify Print On Demand Store
This POD Shopify store began as a fun social media page dedicated to dad memes and jokes, but after establishing a loyal following on Facebook and Instagram, it quickly grew into a POD business. Followers started requesting merchandise, so the team behind it began seeking for merchandise partners.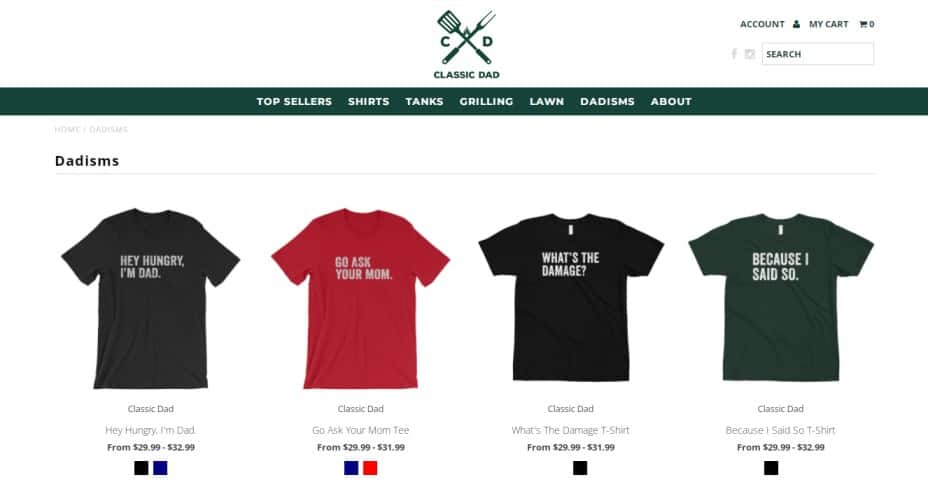 They set up a POD fulfillment service through an app on Shopify and this helped the brand succeed, with the very first sale coming from a Shopify feature.
Classic Dad sells a variety of custom products including hats, t-shirts, mugs, and aprons, plus clothing tailored to first-time or older dads, who have different tastes, sizes, and preferences.
7. Black Fathers Exist – Inspiring POD Shop
A single father made Black Fathers Exist by the name of Charles. He was seeing stereotypical jokes that African American communities don't have father figures due to the lack of responsibilities. Charles knew this was an unfair mindset and decided to bring it to the world so that his culture could be supportive and responsible adults to their children.
That's why they have apparel designs to showcase they are good fathers and can be an example.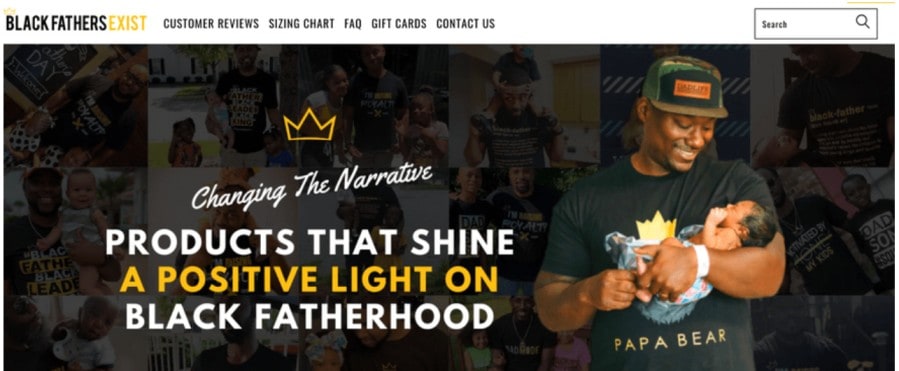 At the moment the store is on pause, but we hope to see it back. It is not a problem for us, as we collected here the stores with IDEAS, MOTIVATION and DREAMS. So, while it is on pause, maybe it's your chance to start? Talking about what irritates you in your profession, culture can also send a powerful message to your customers. Do others share your feelings? Now you can show your consumers what it may look like, making them support your message.
Tip
Destroy the stereotypes and carry your mission to the world.
8. iLikeMaps – Top Shopify Print On Demand Store
Olivier Gratton-Gagne, the founder of iLikeMaps, started his Shopify store in 2012. It was simply a pastime for Gagne at the time, and he was drawing map posters and developing his website, so he didn't expect it to turn into a full-time job.
With the growth of his customer base and the development of new sales channels, Gagne decided to get more from his hobby and started working on a Shopify store business, though he also runs one on Etsy.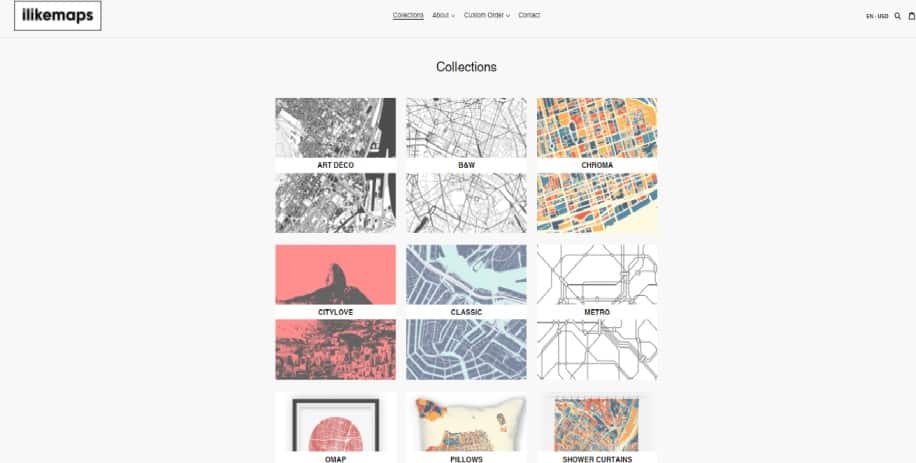 The site and the business infrastructure are custom-coded and run on the Shopify platform. Plus, he has a large retail network that sells his custom products in physical stores.
Tip
The best job is a hobby that brings you pleasure. Consider it while thinking about opening a POD store, maybe there is something that you love doing and it would perfectly fit the printing industry as well.
9. Halcyon Apparel POD Shop
Ryan Ross, who launched his own clothes and lifestyle company, created this Shopify POD store.
To handle his e-company, he used Shopify, Bella + Canvas, and a POD service. He purchased high-quality clothes to print on and picked Shopify as his order fulfillment platform.
This was definitely a win scenario for Ryan because it provided clients with a smooth purchase experience while it's also simple to use for him.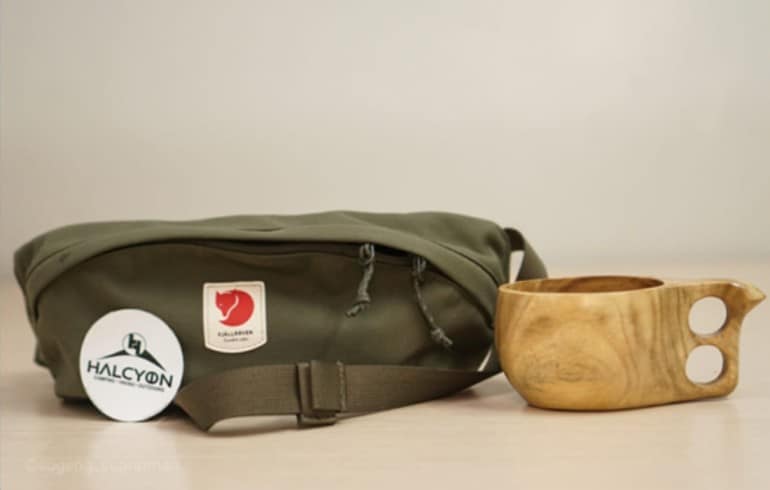 Now it is one of the best print on demand store examples you can get inspired!
Tip
Use as many ways of facilitating the customers' experience as possible and you will bring happiness to their and your lives. New technologies are a fire.
10. Print Prohibition – Top POD Shop
Print Prohibition is more than just a POD Shopify store, it's also a design company. Many people couldn't find what to print while they were looking on the internet, so instead of looking, they decided to develop it themselves.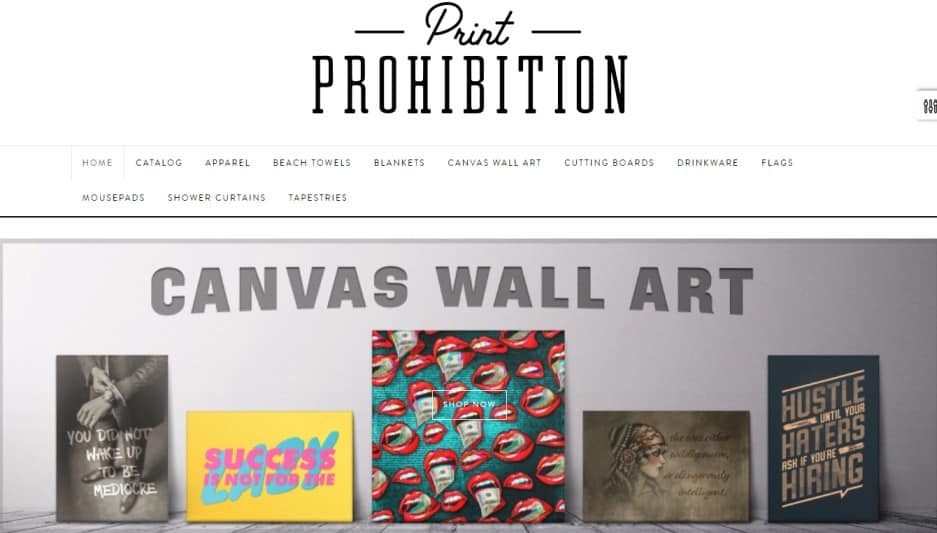 Customers adore them because they produce and sell fantastic clothes and personal custom products with a sense of humor and flair.
Tip
An individual approach has always been and will be highly valued. Let your customers enjoy originality, not copy.
11. PassionFruit – One Of The POD Stores Thay Inspire
PassionFruit's simple yet powerful story is about using apparel and accessories to exhibit pride all year long. They also give back to the communities that have influenced their work.
They are created by and for the LGBTQ community, giving their products a personal and compassionate touch. They also like sharing their customer's items on their Instagram account for fun promotions.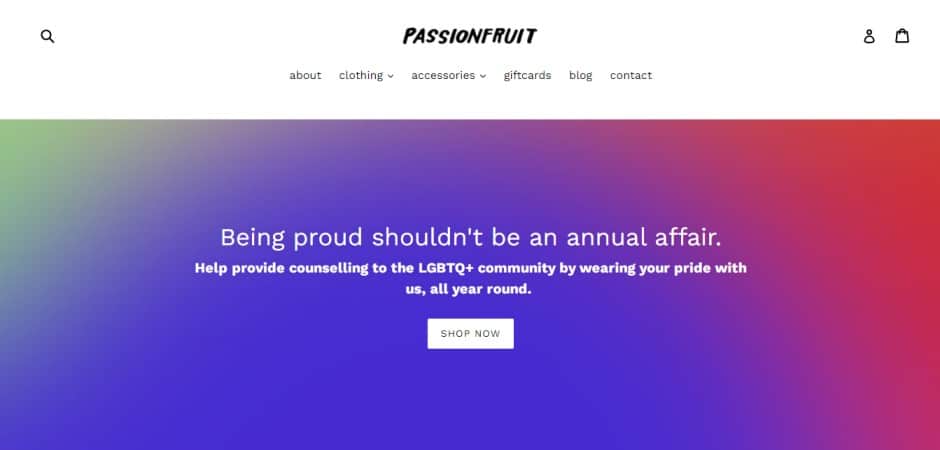 Have you noticed that people are more likely to buy from people rather than impersonal corporations, so PassionFruit's done a brilliant thing: they've created a blog whose postings are effective because they are about people.
This top print on demand site even promotes other stores and companies in the same field, rather than being afraid of competition, they want everyone to succeed!
Tip
Make competitors your friends by emphasizing that your brand values ​​people and humanity.
12. The Feminist Vibe – Among POD Stores That Speak UP
The Feminist Vibe is a wonderful Shopify POD store example that combines shopping and social mission. It's dedicated to "empowering feminists who speak up for what they believe in and express their powerful message in a caring manner." The way they convey their message through brilliant design and snappy content is what makes them successful.
The homepage of the Feminist Vibe is also visually appealing. The first thing you see is a dramatic scene of women modeling the brand's feminist clothing, complete with an obvious CTA button asking buyers to check out their "Summer Collection."
The Feminist Vibe's Shopify store showcases several five-star reviews from satisfied influencers because they know that people want to see what others think about them.
Tip
Speak up for what you believe via your unique or acquired ideas transmitted onto the print.
13. Canvas Freaks POD Shop That Stands Out
Multi-colored product lists and a design language that can only be defined as loud give Canvas Freaks frenzied, fevered energy.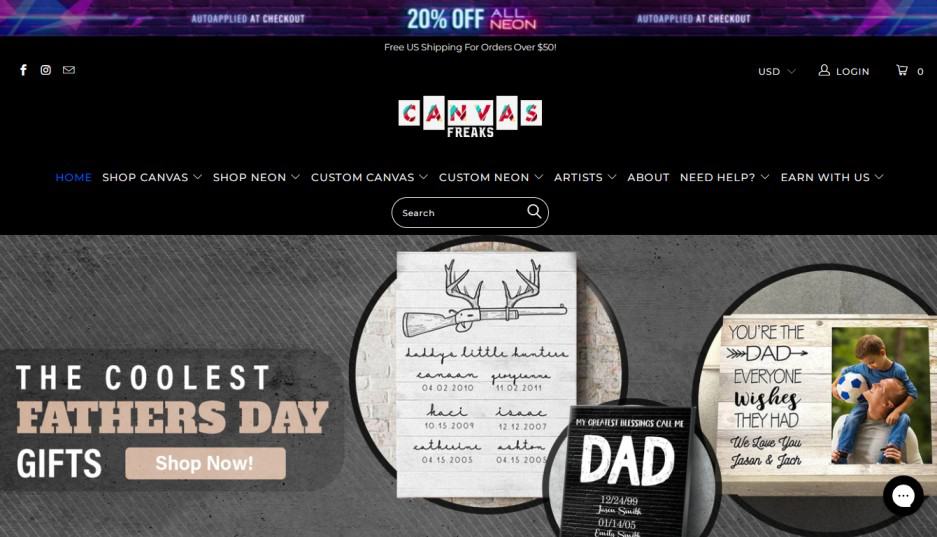 Canvas Freaks, like The Feminist Vibe, is no stranger to enlisting the support of influencers (also known as "brand ambassadors"). Artists and influencers are invited to participate, which is the type of mutualistic, symbiotic connection that all companies should be adopted in 2023.
14. IKONICK – An Iconic POD Shop Example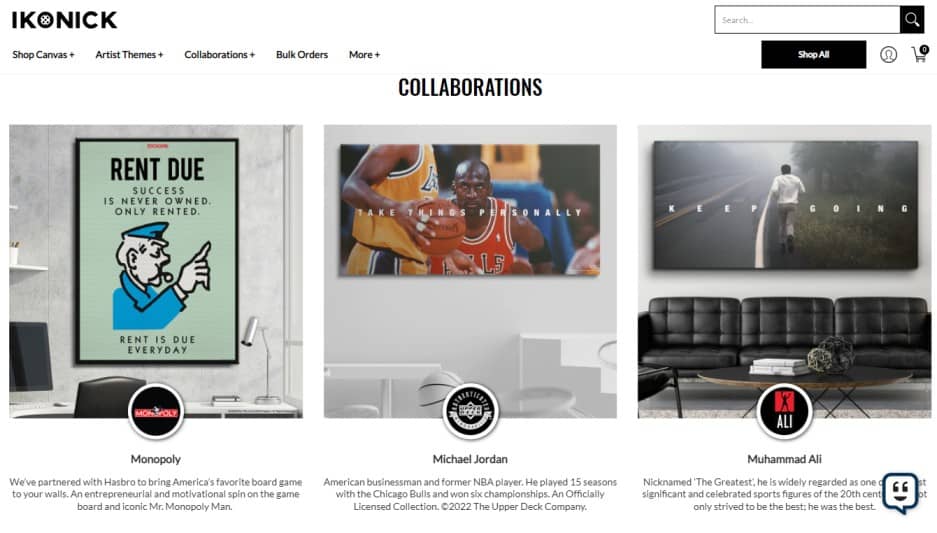 IKONICK, a top Shopify pod shop, specialized in motivational prints like Muhammad Ali and the Monopoly Man quotes. IKONICK's site itself gives plenty of motivation for any new Shopify entrepreneur interested in trying out a similar business concept.
In addition to powerful prints, the IKONICK site has a CTA button "Shop Now" to make their customers not only watch. The "Our Fans" section has photos of genuine customers posing with the brand's prints, demonstrating the power of social proof, by the way.
IKONICK features a small live chat pop-up for anyone who needs help. Users may choose from a variety of pre-made shipping, price, and return guidelines, or they can talk with a support representative in real-time.
Tip
Share with others what makes you do well in your business, what inspires you or what increases your productivity.
15. Circle Square Diamond – Modern Artwork POD Shop
Their site has a clean, minimalist aesthetic, with a modest text overlay that never overpowers the artwork pieces. A chequerboard design contrasts the visual with the verbal in Circle Square Diamond. They know that words shouldn't hide the masterpiece, so the Circle Square Diamond website visualizes design and word message in a dynamic dance, creating an attractive aesthetic.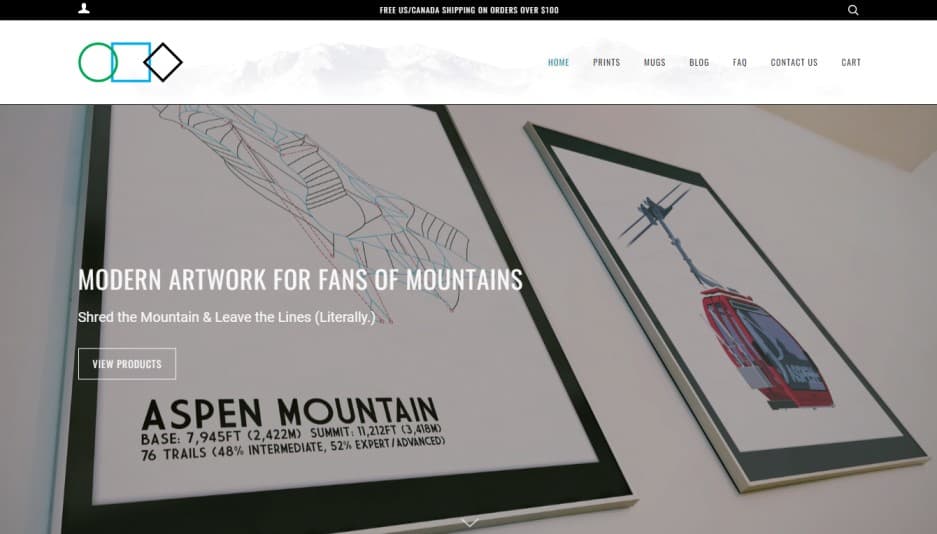 This POD store called "Circle Square Diamond" creates art inspired by mountains and ski resorts. According to their words, it specializes in "minimalist…contemporary artwork," thus the brand's equally modern, minimal website should come as no surprise.
Circle Square Diamond also has a blog, unlike many of the other print-on-demand companies from our list. There, the company informs consumers about holiday deadlines and nearby ski regions, as well as any latest COVID-19 modifications. And, as Circle Square Diamond knows, blogs are beneficial to businesses since they help to develop a brand and may boost organic search engine results.
Tip
Aesthetics is the pleasure we derive from perceiving an object or experience through our senses. Think about adding some visual elegance to your dropshipping store and if you have forces – create a blog to give organic rankings in search engines a push
16. House of Chingasos – One Of the POD Stores That Help To Express Yourself
Represented by Latino culture, House of Chingasos is a fun and playful brand. They eat, sleep, and breathe with comedy, and they want to share it with everyone.
You'll see an energetic design that includes a play on words on huge images. There's a lot of fun to be had, and it all adds up to a great experience.
Their collections are well organized and sorting this way helps to guide their customers faster as they have an enormous number of prints and designs.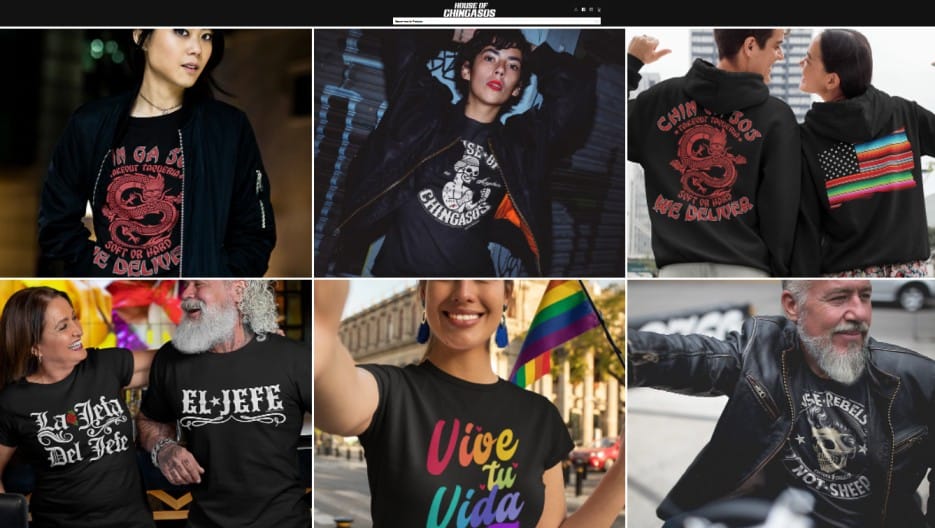 Tip
Humor is about finding a method to express yourself based on current events or cultures.
17. The Happy Givers – Top Print On Demand Shop
Pastor Carlos Rodriguez, the POD store's creator, benefits from increased sales and a successful brand that has the support of the community. Rodriguez' store's tale began with setbacks, as most of the ideas he thought would work – failed, but he persisted.
The Happy Givers' aim isn't only about making money; it's also about feeding and educating the poor and improving communities all over the world.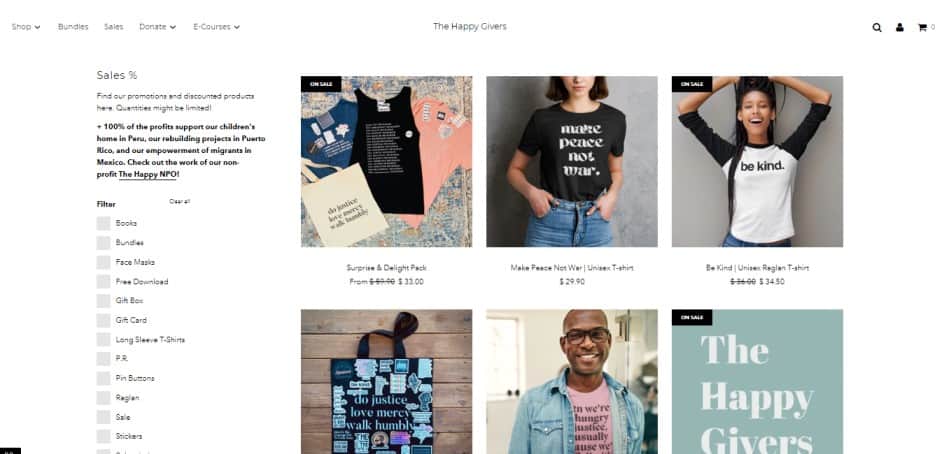 When he teamed up with some skilled specialists and partners, he was able to create a do-good eCommerce site that enabled him to develop and grow an empire.
Tip
Don't be afraid of asking for help. Use others' knowledge or experience to start, lead or boost your print-on-demand business. It's not embarrassing, it's smart.
So different, but so cool stories and print on demand shop examples that will definitely touch your mind and soul. Let's go over now how you can find more print on demand stores:
How To Find Successful Print On Demand Stores?
One of the easiest ways to find successful print on demand stores is to look into other POD communities. You can find them on social media platforms. Facebook groups can help you connect with like-minded folks who can share what's working for them. There are numerous communities that are eager to share their success stories and assist those who are just getting started.

Another option is to look for the best designs on sites like Redbubble and Society 6.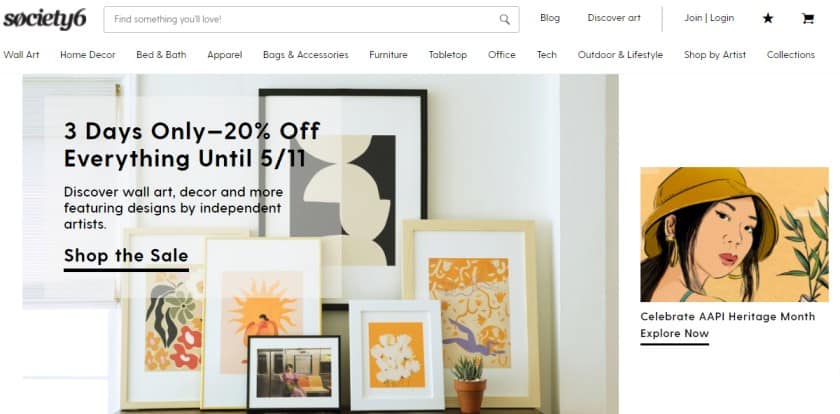 However, the first goods you see are almost always are presented by successful account users, you can look at their profiles and other designs to discover what they're good at.
3. Finally, peruse your POD supplier's blog to discover what success stories their customers have shared with others. To help you with this step we have gathered the examples of the best print on demand companies: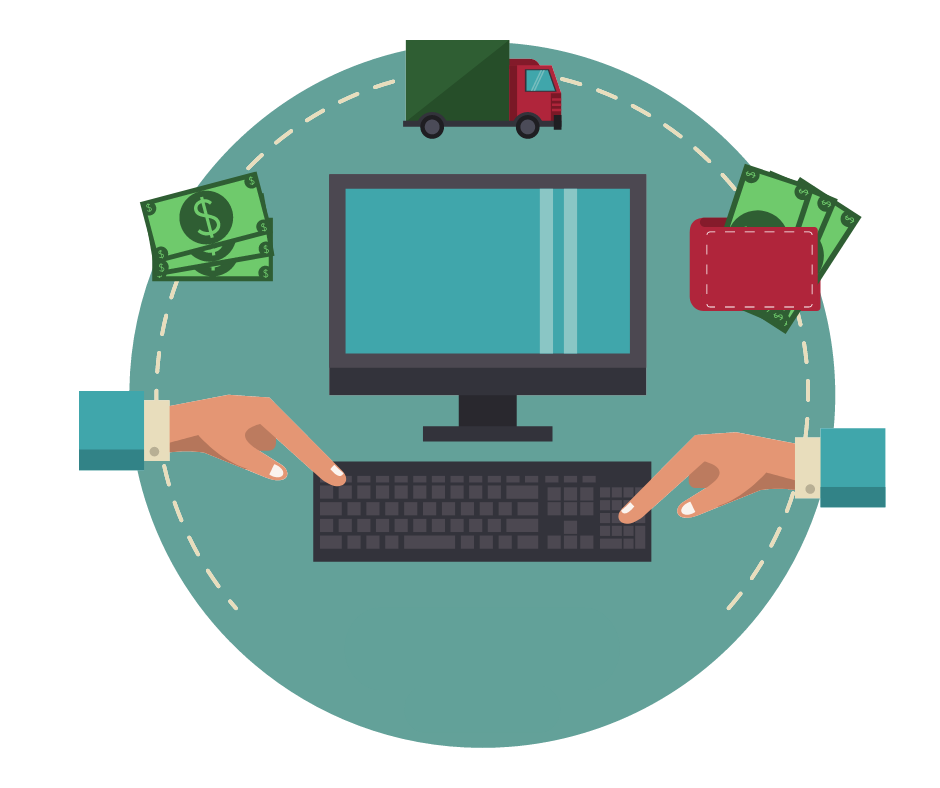 Not yet making money online?
Start your own dropshipping business. Sign up for a free trial of DSM Tool and we'll help you get started. Today is the day.
1. Printful
Printful is one of the most popular on-demand printing and fulfillment companies that helps people turn their ideas into brands and products.
Product catalog:
T-shirts
Sweatpants, leggings, and joggers
Tote bags and backpacks
Mugs
Phone cases
Bean bag chairs
Framed posters
Prints
2. SPOD
Product catalog:
Classic t-shirts
Premium organic t-shirts
Adjustable aprons
Baseball caps
Women's longer-length fitted tank top
Camper mugs
7-inch crew socks
3. Printify
Probably the main competitor of Printful, Prinitify print-on-demand service offers some unique items like jewelry and clocks on top of the usual POD product selection.
Product catalog:
T-shirts
Hoodies
Backpacks
Canvas wraps and framed prints
Fridge magnets
Stickers
Swimwear
Skirts
Blankets
Sneakers
High heels
4. Apliiq
Product catalog:
Pocket tees (designs on the chest pocket)
Premium joggers
Hoodies with print on interior lining
Kangaroo hoodies
Premium snapback hat
Denim jackets
Eco-friendly clothing
5. Teelaunch
Product catalog:
T-shirts
3-piece canvas sets
Color-changing mugs
Monogram handbags
Balloons
Penryn backpacks
Running shoes
Bluetooth speakers
Dog bowls
Jewelry
iPhone cases
Phone chargers
Journals
6. CustomCat
Product catalog:
T-shirts
Sweatpants
Laptop sleeves
Pet accessories
Jewelry
Drinkware
Windbreaker jackets and pants
Jerseys
7. Lulu
Product catalog:
Novels
Photobooks
Cookbooks
Journals
Artbooks
Workbooks
Novelty coffee-table books
Textbooks
Poetry books
Calendars
Comic books
Magazines
Tip
Lulu is also one of the best suppliers for book dropshipping. Books are an incredibly popular product all over the world, which means your potential customer base is huge.
8. T-Pop
Product catalog:
T-shirts
Hoodie dress
Aluminum bottle
Tank tops
Tote bags
Sweatshirts
Metal and ceramic mugs
Cushion and cushion covers
Baby bibs and onesies
9. JetPrint
Product catalog:
Genuine leather strap watches
Steel strap watches
Magnetic steel strap watches
Perpetual calendar watches
Hard phone cases
T-shirts
Wall tapestries
10. AOP+
Product catalog:
T-shirts
Mugs
Throw pillows
Leggings
Organic tote bags
Hard phone cases
Hoodie dresses
Flip flops
Doormats
Flags
These best print on demand sites are free to start with and require you to pay only for the cost of the product and shipping after someone has placed an order on your POD product. Cool, isn't it? Find out more POD companies in our Best Print On Demand Companies In 2023 guide.
Conclusion
Learning from the best print on demand sites can be the best way to fast-track your success. As you can see the above 17 successful print-on-demand stores are all wildly different. But there's one thing that all of these stores have in common: they're some of the internet's greatest print-on-demand Shopify stores. These best print on demand sites all provide simplicity, seamlessness, and a terrifyingly wonderful customer experience, probably why they're all so popular nowadays. What worked for them may easily work for you, too. Give it a try!
Here are articles related to print-on-demand business that you should check out:
Good luck!