This article will help you find eBay dropshipping suppliers you can source products that will be shipped to your customers during coronavirus. We see many reports of lack of supply of products on websites such as Amazon that are promised to be delivered not earlier than a month forward… If you are interested in what to sell check out what to sell online during and following the Coronavirus crisis.
This article is meant to help you in case your current suppliers are unavailable or you just want to take part in the growth of online shopping while using the best dropshipping suppliers available at the moment. There is no doubt these days that starting an online business is a good idea, and using dropshipping as a business model both a great starting point if you know how to find dropshipping suppliers.
After reading this article you will know:
What to expect from your dropshipping suppliers during the Coronavirus outbreak
How to set up your eBay store and DSM Tool account according to the changes
What are the drop shipping suppliers websites you can use to source products for your eBay store using DSM Tool
The DSM Tool team and I want to take a moment to remind you all to #stayhome while safety is the main concern of all of us. We ourselves all work from home these days and will continue serving you as best as we can.

Dropshipping Suppliers Delays Shipping During Outbreaks
It doesn't matter which suppliers you're planning to use for product sourcing for your store, either way, you should expect delays in shipping times. The delays can occur in any of the shipping stages from processing to delivery, it is not necessarily related to the website or supplier themselves.
Processing orders these days depends mostly on where the products and the buyers are located. We witness manufacturers that might be closed therefore are not restocking fulfillment centers with stocks. Not only that but also from time to time fulfillment centers being shut down making it impossible to purchase products from websites like Amazon for specific zip codes areas.
Even in countries like China where lockdowns have been partially removed there are claims that half of the logistics system is still shut down. Generally speaking Chinese suppliers we've been talking to directly have been reporting that they are back in business, but it is recommended to work with a sense of caution, no matter where you source products from. Therefore, you can pay more attention to the local source, e.g. US dropshipping suppliers.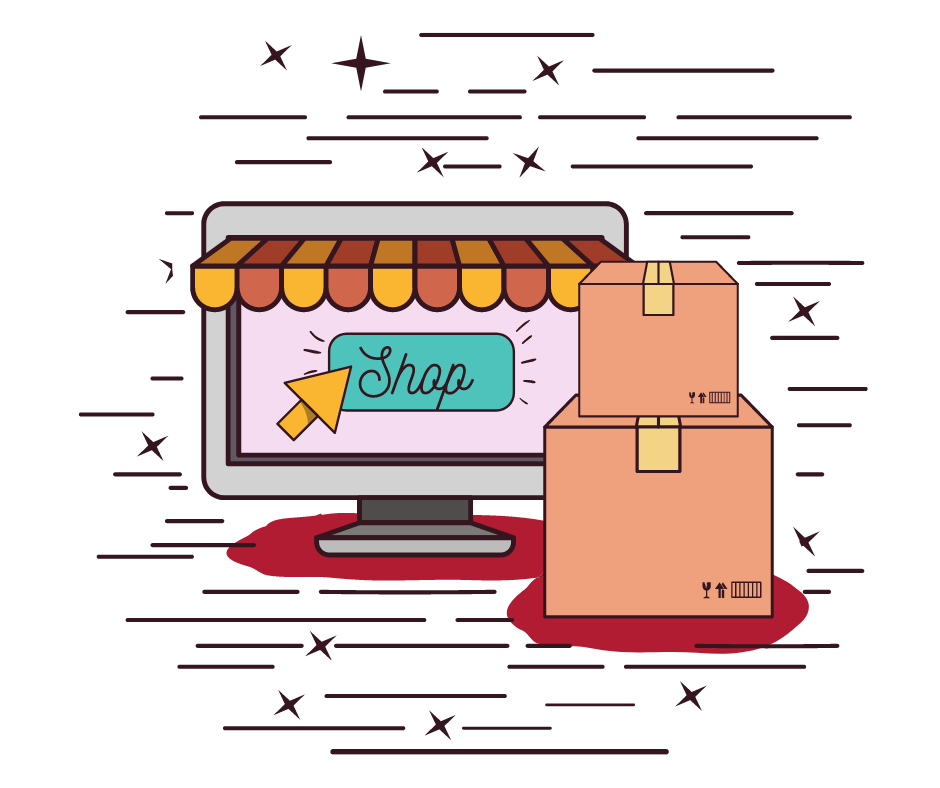 It's time…
Don't wait for success to come. Hire yourself and start your own dropshipping business
When eBay Dropshipping Suppliers Cancel Orders, Consider Contacting Them
When you are dropshipping from a retailer (for example Wayfair or Argos) the products are processed by the retailer itself which during these crazy days might actually be among the most reliable ways to ensure the products get to your customers. But even with retailers like Lowe's we got reports from dropshippers saying they are canceling orders after they've been paid for (which also means that no software can detect the product is actually out of stock).
The only solution in mind is to adopt the best-practice of monitoring these suppliers with every new product that is being sold for the first time. If the order gets canceled, remove the product from your eBay store and try to contact the supplier/retailer by email or even by phone to have the order processed.
When you dropship from a marketplace (for example AliExpress or Etsy) the products are being processed by the sellers who operate a store in the marketplace, just like you operate your own eBay store. Therefore in case of them not fulfilling any of your orders you might want to try contacting these store operators directly while removing the listing from your store.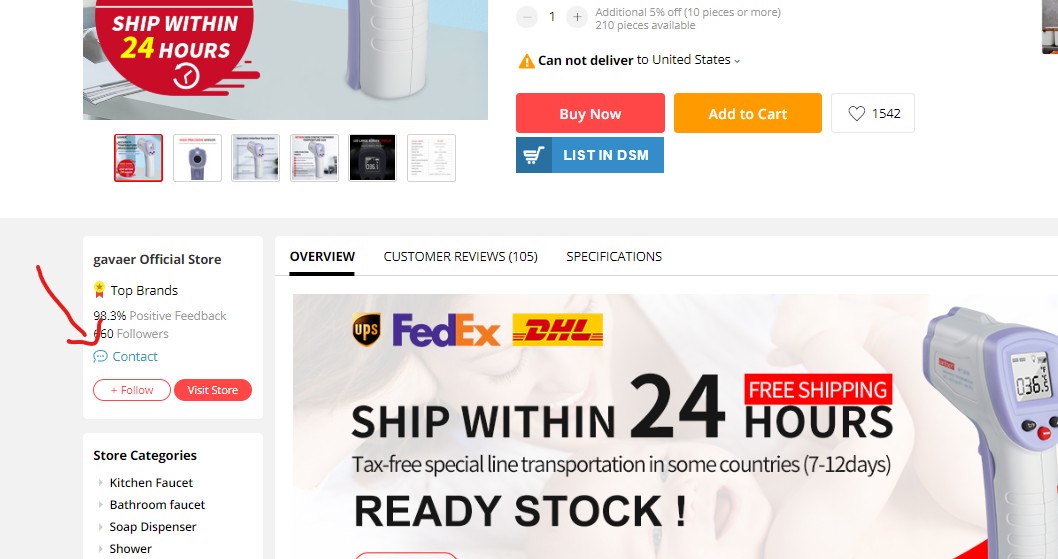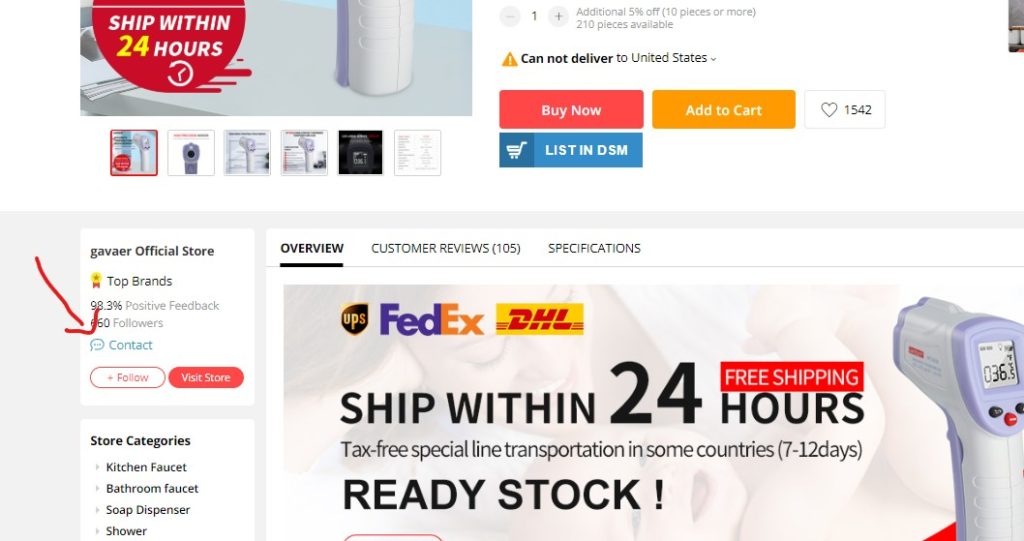 Check out the complete guide on how to dropship on eBay from AliExpress to find out all peculiarities you need to consider in working with this source.
Setup Your eBay and DSM Tool Accounts According to the Changes
Luckily for all of us, eBay is backing up sellers on its platform during these days. Every 20th of the month, eBay evaluates sellers and gives them one of the three seller rankings (below standard, above average and top-rated seller). Actually, there is another seller ranking called Top Rated Plus but it is not relevant for most dropshippers.
Luckily, eBay already announced that seller ranks will not be affected until June 20th due to late shipments or late handling of products. Having that said, I suggest you not try to use Covid-19 as a cover just to cancel orders massively. In 2017 eBay started targeting drop shipping sellers who used to cancel orders claiming "their warehouse was set on fire" (or got flooded, whatever excuse you prefer). These sellers usually then got banned from selling on eBay permanently.


If you want to stay on the safe side what you want to do is set the handling time in your eBay business policies to a slightly longer period of time than it is right now. This way, if your seller ranking will eventually get hurt you could contact eBay and show you did try to adapt to the changes by
How to Start Dropshipping From New Websites and Suppliers
Regardless of the current situation around the world, if you are only sourcing products from one website at the moment (let's say Amazon or AliExpress) you are missing out on millions of opportunities. DSM Tool is specifically built for working with multiple dropshipping suppliers for product sourcing all at once.
After you choose what products to source from a new website all you need to do is technically set it up which is quite simple if you have the courage to learn how to work with a new website. And as you know, going through the pandemic and out of the financial crisis is going to take courage from all of us.
You have a chance to win your buyers heart
It is now more than ever important to communicate the situation with your buyers. It is recommended to massage your buyers right after you sold them your goods letting them know about the situation.
You can manually send a message to your buyers through the Sales & Orders page in DSM Tool as you process the order, here is a text I wrote as an example. Feel free to make edits to it or write one of your own.
Hello and thank you for purchasing from Mystore.

Especially at these times the team and I hope you are safe and well and we would like to remind you to #stayhome for the safety of your loved ones and yourself.

At the moment we are experiencing unexpected delays in fulfilment, depending on the location of the item, your address and the authorities orders. We will do our best to keep you informed with your package delivery date and we hope to be able to process your order as soon as possible.

Thank you for understanding and all the best,
Myname, MyStore
You can also automate the messages sending process using the automated messages feature which will save you time and make sure you won't miss any customer.
Dropshipping Suppliers Websites You Can Use to Source Products for Your eBay Store
In order to help you source products that will be shipped to your customers these days, we've created a list of eBay dropshipping suppliers websites you can source products from during these days using DSM Tool. We update and add more information over time so make sure to come back and check the list more than once.
It is also recommended to read how to start dropshipping from a new supplier in order to make sure you set up each new supplier website correctly for your store.
Dropshipping From AliExpres to eBay
AliExress is a huge marketplace and most of the products on it (not all) are located in China. During January-February AliExpress sellers showed signs of inability to fulfill orders. The recommendation then was to choose products that are sold on AliExpress but are located in the U.S. Since then, it seems like China is slowly going back to normal as Chinese fulfillment centers report they are ready to process orders.
Specifically with AliExpress these times more than ever you should stick to suppliers that are able to provide you with tracking numbers. Look for stores that ship using the ePacket delivery option, these should not only arrive faster but also generally count as more reliable. These days reliability might be worth more than a lower price.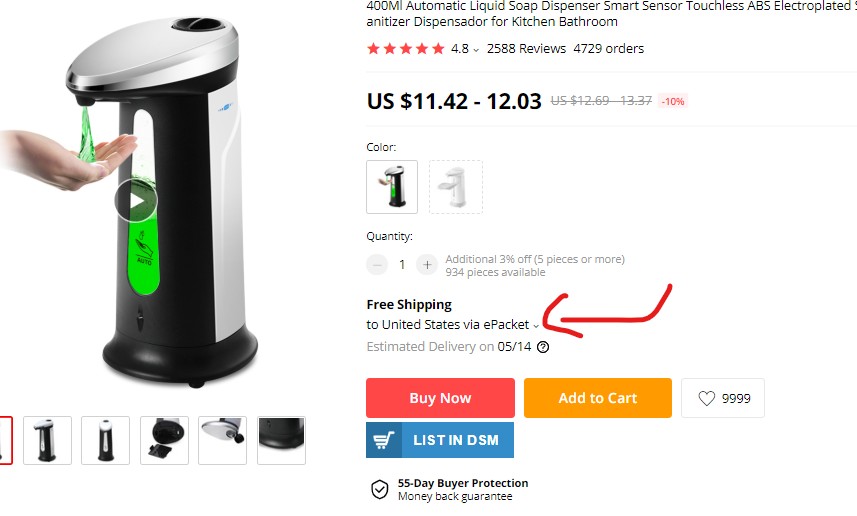 Tip
The Dropshipping from AliExpress guide goes over all steps of how to start to work with this supplier + includes a lot of useful tips from dropshipping experts.
Dropshipping From Amazon to eBay
The most common current phenomenon on Amazon is the late fulfillment dates that are applied to many products. For example, the screenshot below was taken on April 7th, 2020, and as you can see some products are expected to be delivered on May 5th, almost a month from that day.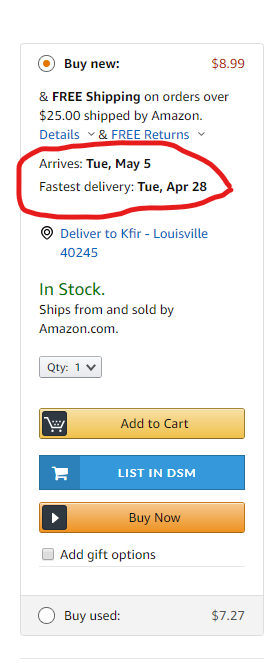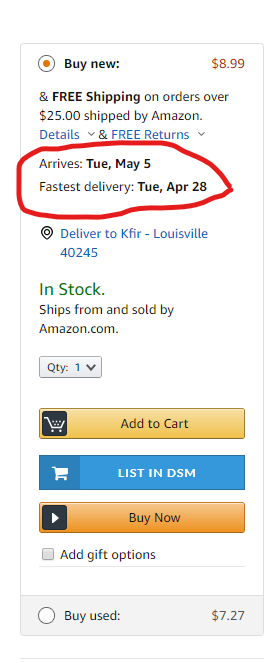 There two things to do if you are dropshipping from Amazon to eBay. First, you can adjust your DSM Tool account monitor settings for Amazon. You can set the maximum date of expected delivery to 30 days, which should cause those products not to be set out of stock.
Second, once you make a sale, go to Amazon orders page, locate your order and look for a button saying "Change Shipping Speed". Surprisingly, some of the orders would then offer a faster shipping time. All you have to do is to confirm the faster shipping time and let your customers know you just managed to get the order to them faster.
Dropshipping from Etsy to eBay
Etsy is a marketplace for small sellers, most of which are selling their own handcrafts or products from their small factory. For example, Etsy is potentially the best website from which you can source hand-made face masks with beautiful designs. If you choose to do that read first the Etsy Coronavirus guidelines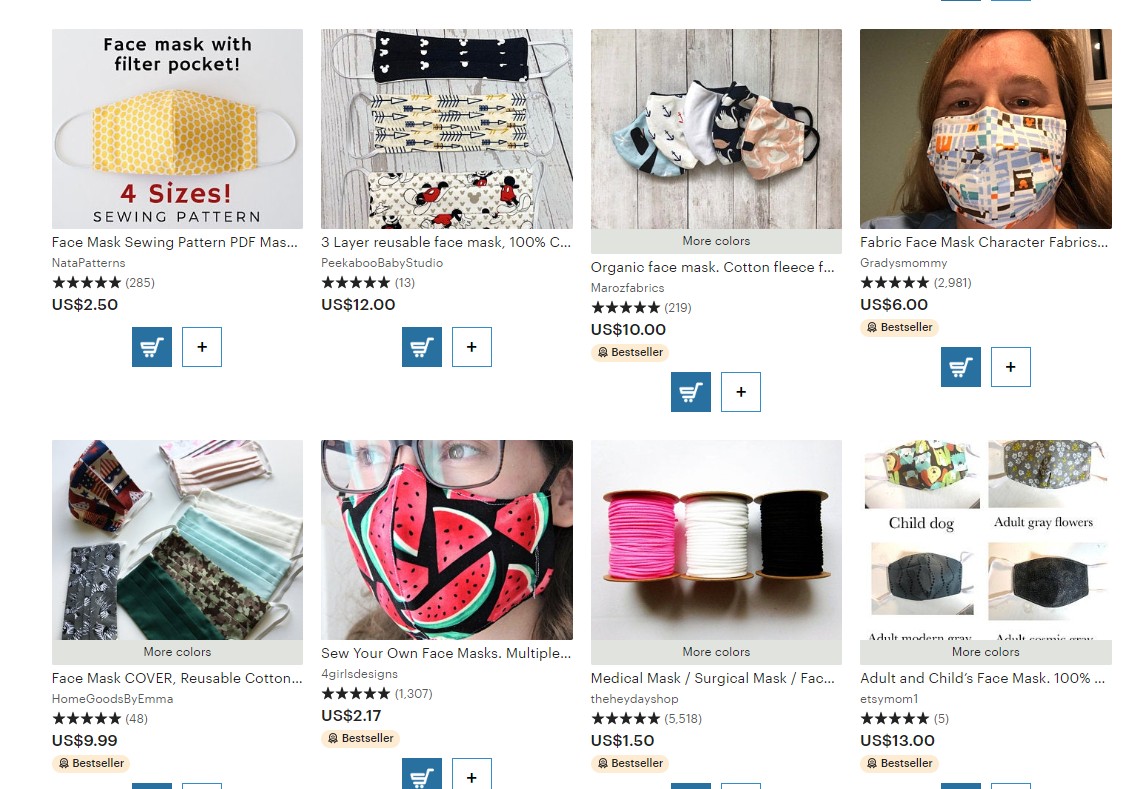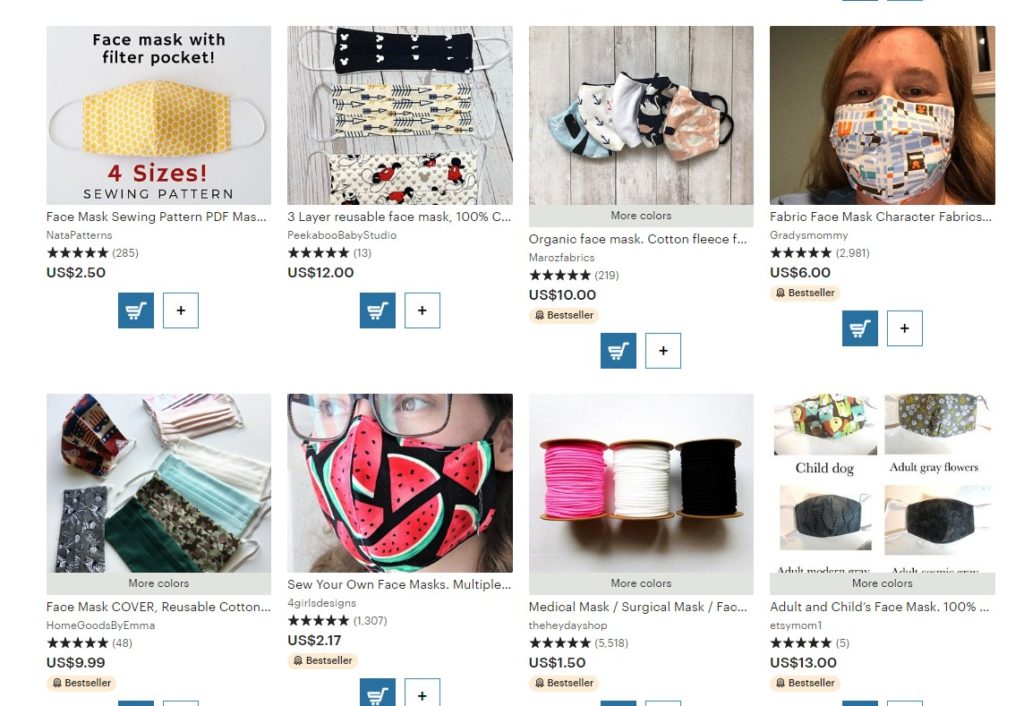 Due to the nature of business in Etsy, you should expect delays in deliveries of products shipped by small sellers as they themselves might be in quarantine or the post offices near them might get shut down.
Having that said, I believe most stores on Etsy would process orders as usual. For example, there seems to be a growing trend of Coronavirus merchandise which might be interesting for dropshipping sellers to join.
Dropshipping from Banggood to eBay
Banggood is a marketplace that is mostly shipping products from China. At the moment we could not find any broad issues related to Banggood, most likely due to the fact that like AliExpress it ia working with multiple factories all over China.
A technique that was used by dropshipping sellers before the Coronavirus hot Europe and USA was to only dropship from suppliers that store their products in warehouses in the US or Europe (Russia, for example). While this recommendation was relevant prior to the Coronavirus hitting the shores of Europe and North America, it might not be as relevant at the moment.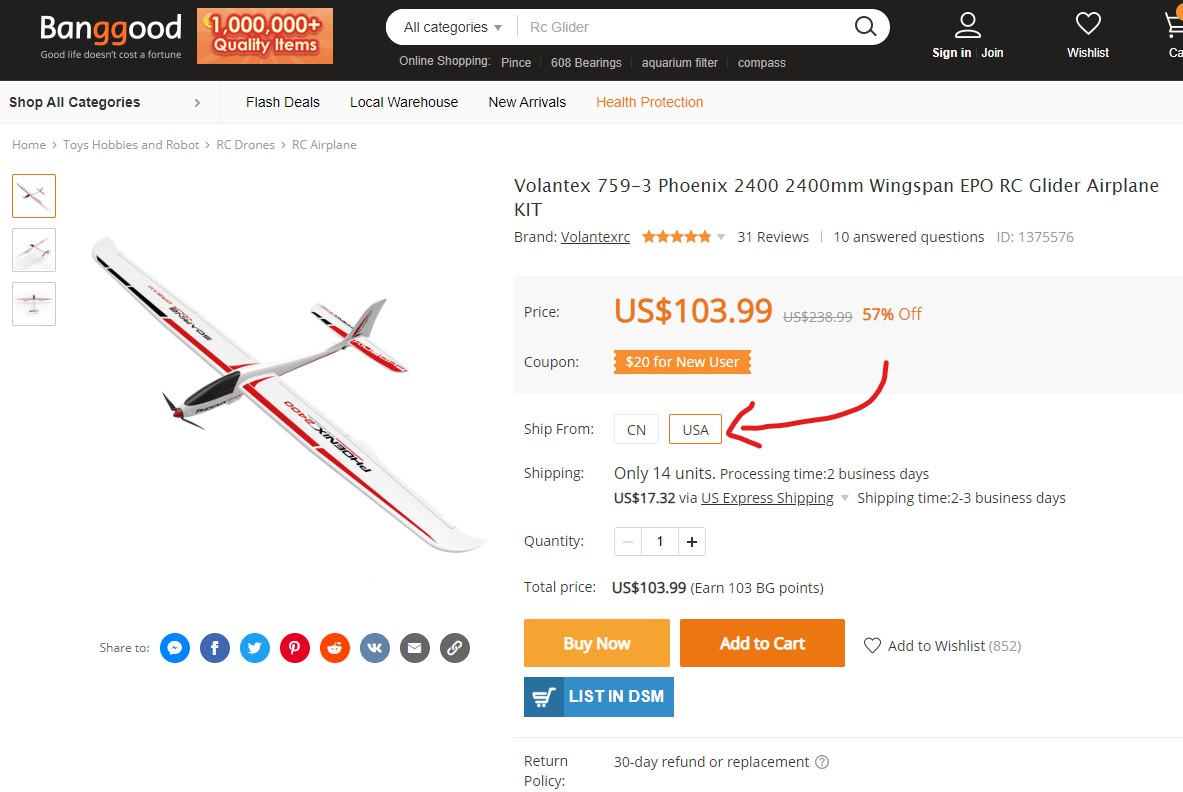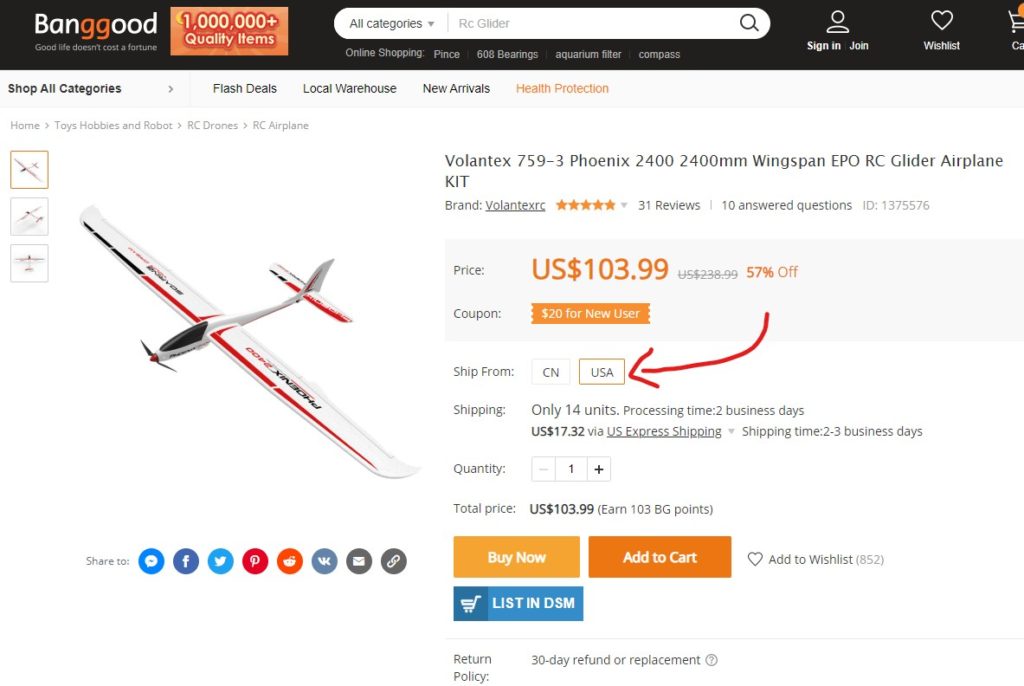 When our team at DSM reached out to sellers on AliExpress and Banggood they were explaining to us that the reason for delays in the fulfillment of some of the products is that they appear in stock on the marketplace while effectively they are in transit. What they meant by it is that the products might be stuck in customers or anywhere else on the way to the warehouse.
These products will slowly get released and eventually get fulfilled. Therefore, it is important that if any of your orders get delayed you inform your customers about it. Remember – eBay will not punish you for delays in fulfillment until June 20.
ChinaBrands and Banggood are both owned by Globalegrow, it is a big Chinese corporation and it is believed to be a reliable supplier for dropshipping. In terms of Coronavirus updates regarding GearBest or Chinabrands we found that while the question of ability to fulfill orders isn't answered by anyone there, the GearBest community forums have an entire topic dedicated to dealing with the Coronavirus
Due to it being a reliable supplier we estimate that even with delays in delivery it is still possible to try to dropship products from ChinaBrands and Gearbest, where generally speaking it is better to source them from ChinaBrands which is specifically oriented for dropshipping sellers.
Dropshipping From Overstock to eBay
Overstock is actually one of the most interesting websites to use for dropshipping these days if you want to make sure the products you sell will be shipped on time and no out-of-stock issues will come up. This is not just me saying, Overstock themselves claim they are logistically ready for the pandemic side effects.
Moreover, Overstock is focused on home and office furniture, on top of many other home-related products. This makes them an interesting and relevant website to use as a source for your eBay dropshipping store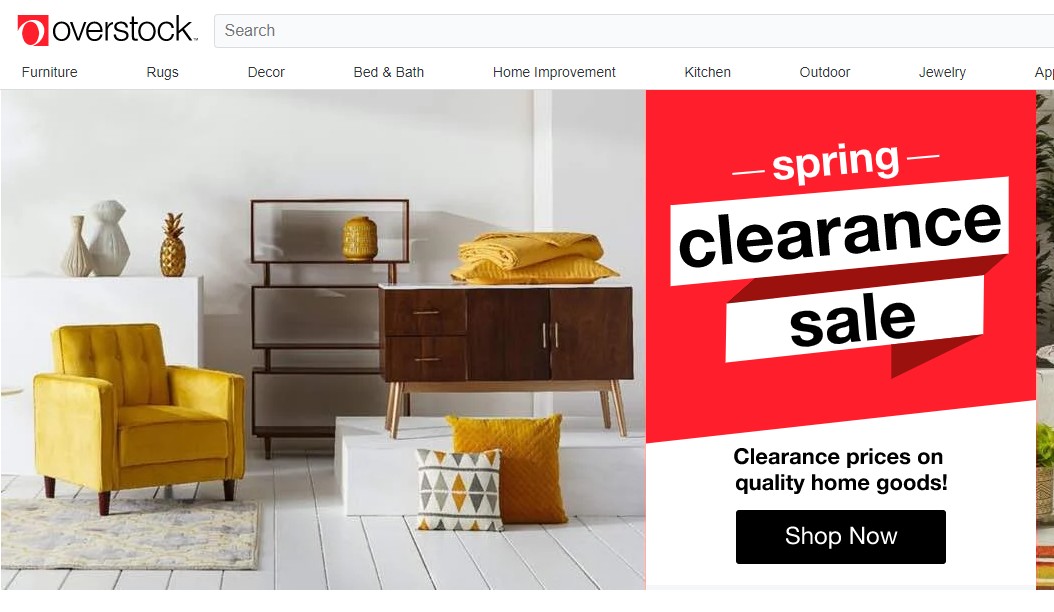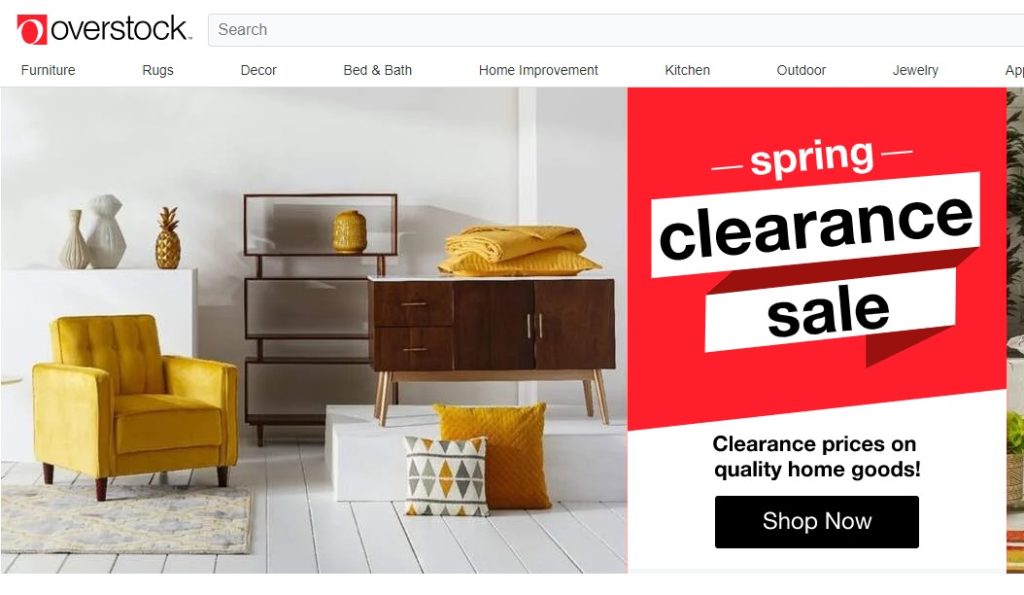 Dropshipping From Walmart to eBay
Walmart is the biggest offline retailer in the U.S. It is also one of the biggest online retailers and a commonly used source for eBay dropshipping. Walmart launched an entire website section dedicated to explaining how they are dealing with the Covid-19 effects. Yet, it doesn't offer any information about their online delivery options.
As of the day of writing this article, there were no known cases or issues related to dropshipping from Walmart, and similar to other U.S based retailers their ability to fulfill orders depends on the location of the products and the delivery destinations that might be under lockdown. As well, Walmart is already dealing with casualties within its staff which might cause in reaction staff members not to attend their workplace, causing more logistic issues for online deliveries.
Dropshipping From DHGate to eBay
DHGate could be used by dropshipping sellers who wish to sell bulks of products all at once. The pros of using it nowadays are that you might be able to dropship trending products in bulks at lower prices. Small local businesses are the potential customers for that.
The way it works is that on the DHGate website you can see the price dropping as the number of items you order goes up. You can also try to negotiate the price via chat (especially these days, you can try your luck taking advantage of the situation to lower prices).
But the most important part is that If you find something you want to source, you anyway should first contact the supplier – this way you can make sure to get ahead the handling and shipping times estimations from them.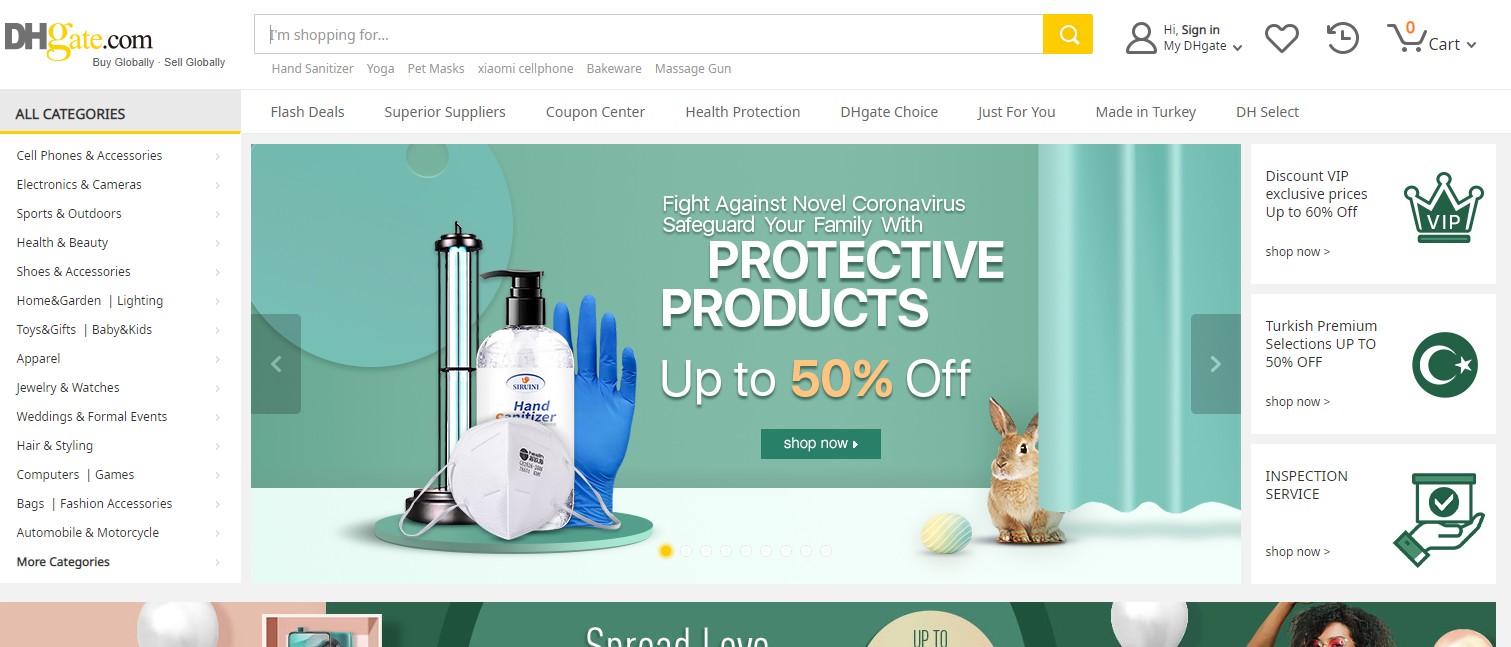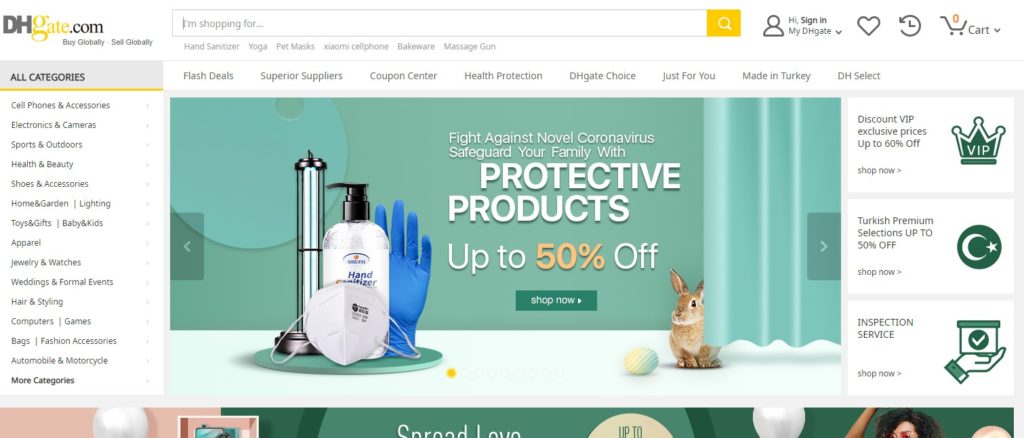 Dropshipping from Costco to eBay
Dropshipping from Costco is in general an interesting method. Costco is built on a membership-only business model. The way it works is that as a member you pay a membership subscription fee. In return, you can browse products from one of Costco's 795 facilities (according to Wikipedia) which are offered at wholesale prices. This way Costco profits from your membership fee, instead of taking a margin on top of the wholesale price.
Just like Walmart and other stores, Costco's announcement regarding its activity during the Coronavirus outbreak is mainly focused on the offline retail stores. There is no evidence of changes to the online delivery system which seem to function depending on the restrictions in specific locations
Dropshipping From Costway to eBay
Costway is a dropshipping-friendly supplier to use for your store with over 8000 privately branded products (meaning no VeRO violations for eBay sellers). It is also offering discounts for resellers through their dropshipping program you can apply to as a DSM Tool customer.
It is even more interesting to dropship from Costway these days as it is focused on the niche of home improvement, making it highly relevant these days. Like their slogan says: "Where there is Costway, there is home."
At the moment, there are no official announcements from Costway about changes in their ability to fulfill orders. Actually, their website's biggest promotion is free delivery on all items. We have contacted Costway's team and awaiting their response, this article will be updated as soon as we have any news

Dropshipping From Lowe's to eBay
Lowe's Home Improvement. That's what Lowe's website title says when you search for it on Google. It's like there is nothing else to say regarding whether it's a good time or not to use it as a sourcing website for dropshipping.
While Lowe's offline stores take measurements to create a social distance environment for its shoppers it seemed its online stores should be operating as usual, maybe except on Easter, but that is not the situation with Lowes
In the video below Marc Agustine from No BS Dropshipping is reporting that while most retailers are operating OK during these times websites like Lowes are accepting orders they might later cancel or ship late.
Dropshipping from Target to eBay
Target is the 8'th largest retailer in the U.S, the variety of products they offer is huge and via their online stores, they also offer same-day delivery for it's $99/year "Shipt" members. Well, don't expect a same-day delivery during these days as the Target announces that putting the health of its staff and customers as top priority items might be missing from deliveries, and delays might be expected.
Dropshipping from Target is generally an interesting way to vary the products available in your store. Target announced their measurements for taking care of their staff during the pandemic, which means we should expect the online service to operate. Maybe with delays – but still we expect it to operate.
Dropshipping From Argos to eBay
If you are dropshipping to the UK market then you should probably consider adding Argos as a product sourcing website. It offers over 60,000 different products and by sourcing from it you are actually going to compete with it since Argos have their own eBay store. You might wonder – why then to compete with them?
Not all of Argos products are available on their eBay store when an organization that size is managing an online activity in many cases they might not offer the same products on the same sales channels (what's on their own website might not appear on their eBay store). The reason is that on eBay as a store owner you pay fees such as sales and insertion fees that make it less profitable for you to sell specific products.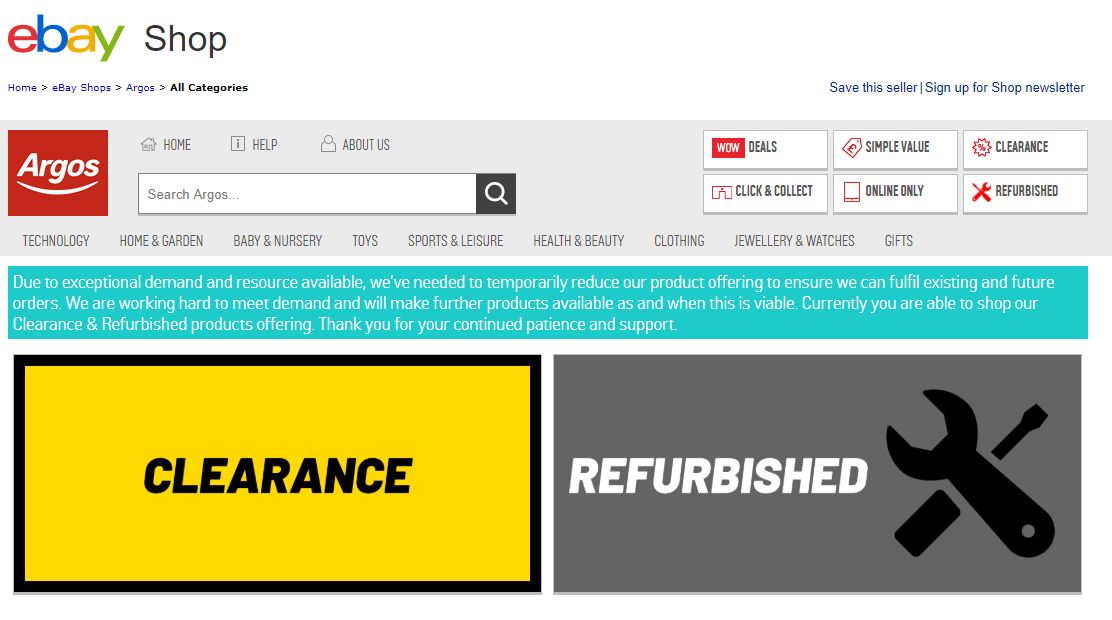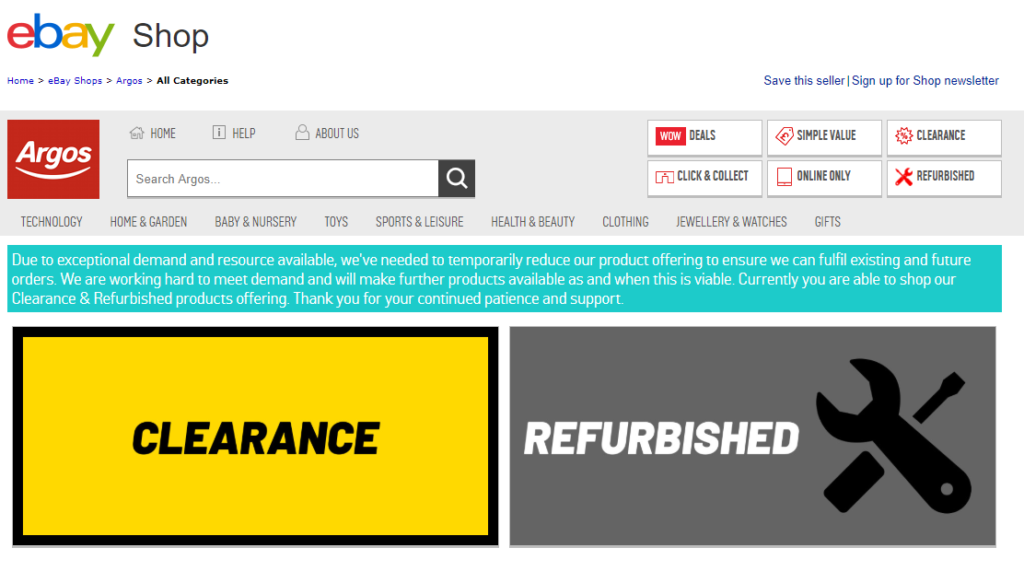 This is where you as dropshippers comes into the picture, by optimizing the product title, specs, images, description, etc. you increase the chance of an item to be sold, and you can earn your part in the process. Pretty cool, right?
In terms of the current pandemic, in their Coronavirus service impact update, Argos encourages their customers to shop online as usual meaning they plan to operate their online side of the business normally.
Dropshipping From Sears/Kmart to eBay
Both Kmart and Sears are merged into one corporation called Sears Holdings. Until 2017 both websites were among the favorite suppliers to use for eBay dropshipping after Amazon, Walmart, and AliExpress. Unfortunately, at the moment both websites provide poor scanning results making it hard to sync stock and price changes.
Due to the hard time to sync changes from both Sears and Kmart even in usual times, we consider dropshipping from them as more dangerous to your eBay accounts. I do recommend doing that unless it's a specific product you are certain in its price and stock levels, or you're dropshipping on your own Shopify store where there is less of a risk to lose your account.
Dropshipping From Bed Bath & Beyond to eBay
Bed Bath and Beyond are selling literally what its named for, which is making it an interesting website to be used for dropshipping these days. Unlike other retail chains BB&B stores are usually smaller, located in city centers (not only, but mostly). Therefore, they closed all of their stores completely during these days and until further notice.
Currently, they only operate online which means that all of its staff members are focused on processing online orders, making it an interesting website to dropship from. If you already dropshipping from BB&B consider using their annual membership card in order to reduce your purchase prices, it costs $29 a year.
How To Find Dropshipping Suppliers
If you are learning how to start dropshipping then what you should probably consider in terms of which suppliers to work with is their reliability. For example, US dropshipping suppliers tend to be more reliable than Chinese ones. You can read about the potential supplier shipping, returns, and cancellation policies to better understand if they fit you or not.
Which are the best dropshipping suppliers? It really depends on what parameter, sometimes you might find a very reliable supplier with a line of products that aren't necessarily trending. Such a supplier might be considered less good than a less reliable supplier with more faculties but with hot products for your dropshipping store.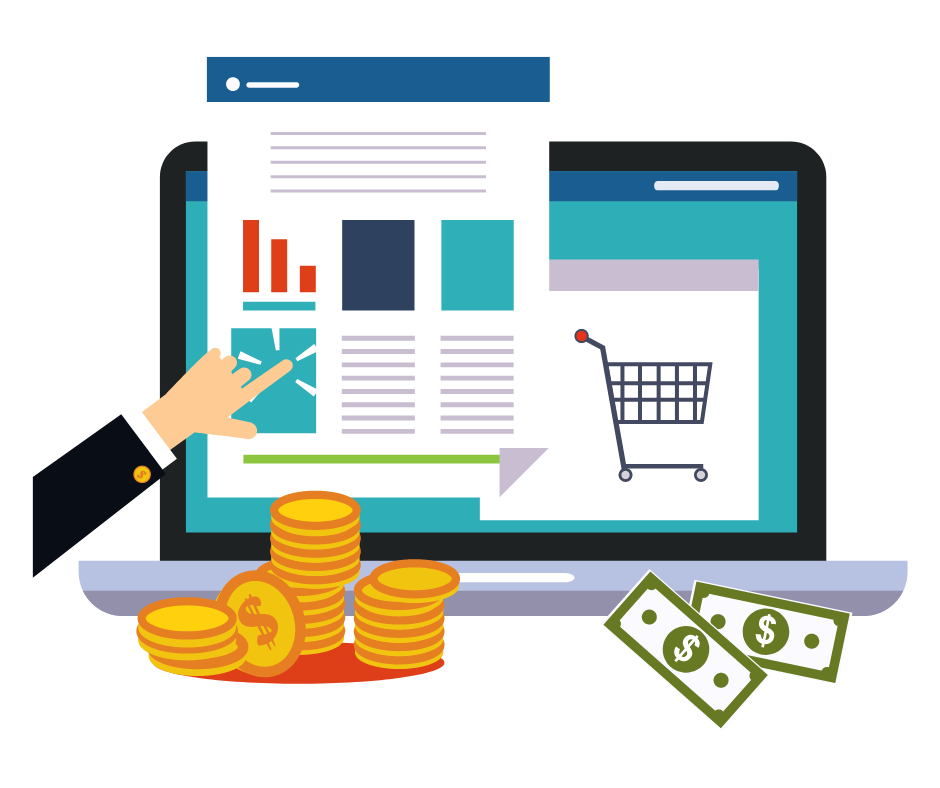 Don't wait for the profits, make them!
Start a profitable dropshipping business with DSM Tool. Get a free course and a free trial of the software.
Some dropshipping suppliers directories cost money to access, for example, SaleHoo. These directories offer you access to wholesale suppliers, which then also requires you to establish a relationship with them, quite a hustle.
If you are looking for free dropshipping suppliers then dropshipping from marketplaces and retailers such as the ones mentioned in this article might be the answer for you. Having said that, dropshipping from such websites should be done carefully as it stands against the eBay dropshipping policy which was released in policy 2019.
Dropship Products From 50+ Websites
If you are planning to drive success into your dropshipping business you should probably consider sourcing products not only from the big popular websites like Ali Express and Amazon. There are over 50+ websites you can use to source products from to your eBay dropshipping store, and the full list is available at the DSM Tool homepage.