9

min read
Already heard about eBay drop shipping policy?
Dropshippers around the world are reporting getting emails with the title "Your Top Rated Seller status will be removed: Selling practices policy". The email mentions that eBay has collected evidence that the seller account was selling items purchased from another online retailer or marketplace which is a violation of eBay's selling practices.
Let's see if it is allowed to dropship on the eBay marketplace. Is it dropshipping allowed on eBay in general?
Will eBay close the door for the drop shipping community? We have decided to further investigate the phenomena. I also invite you to read the second article in this series which is further investigating the legal aspects of dropshipping and how to work with the eBay dropshipping policy in 2022.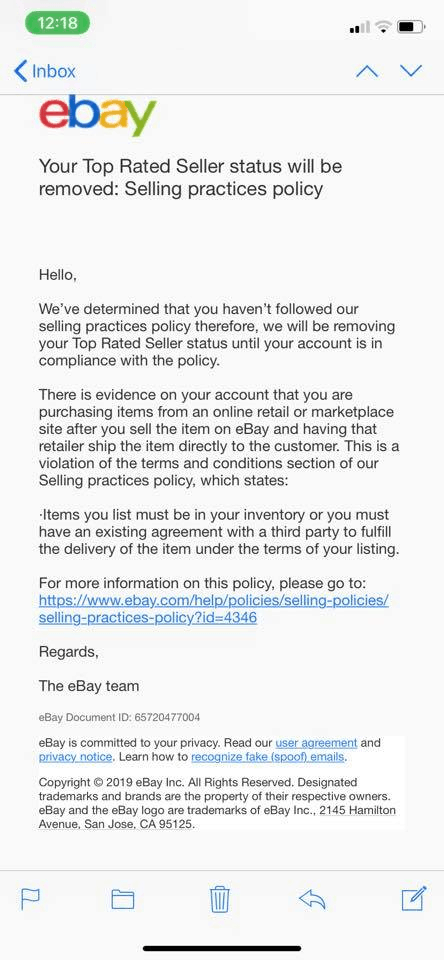 Is Dropshipping Allowed On eBay
In order to further understand eBay's selling practices policy related to drop shipping, we reached the page about eBay drop shipping policy. It refers more specifically to the practice of drop shipping on eBay and not how to sell on eBay in general.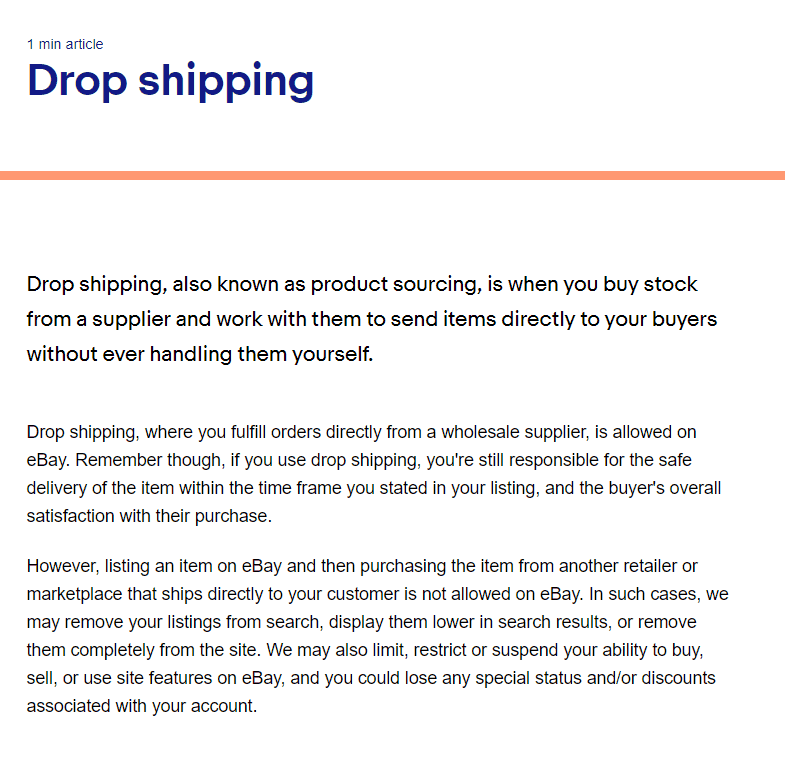 The policy states that if you list products on eBay sourcing from another retailer or marketplace is a violation of eBay's terms of service. According to the statement, this might lead to a variety of sanctions, from lower display in the search results, restrictions or even a suspension of your seller account.
How Dangerous is the eBay Drop Shipping Policy to Your Account
Let's try to analyze the thoughts behind the decision of eBay to publish such a message to the sellers' community.
Why is Dropshipping Good for eBay?
On the one hand, drop shipping, no matter where it is sourced from, is great for eBay. It brings diversity to eBay's product catalog with new products that otherwise eBay buyers couldn't purchase on eBay. It increases eBay's gross profit directly due to the fact you sell the items at a premium price which eBay gets a fee from and it brings more sellers to list more items that pay more seller fees.
Why is Dropshipping Risky for eBay?
On the other hand, and that is exactly the reason for eBay's announcement, it is a risky game. When a drop shipping seller is not able to fulfill its order, he would tend to try to get away from the potential damage by asking the customer to cancel their orders. Moreover, dropshippers are looking for ways to get to the first place in eBay's search results with their keywords using various methods that are against eBay's policies, and sometimes eBay can consider it as a fraud.
Last, there is the buyer him/herself – which absurdly was not yet part of the discussion. Would you go back to an online store after purchasing anything for yourself or your friend if the store doesn't fulfill the order at all? Wrong ("similar") item sent to you? Or the item didn't fit the description? Probably not, and that is exactly what eBay is trying to prevent.
We tend to forget that the buyer that purchases from us, is likely to purchase more from other sellers as well, and eBay as the middleman has to put the buyer's needs always as the top priority. The customer, as you know, is always right.
As an online entrepreneur myself, I have an important message to all of us. If we, the drop shipping community, think that we can manipulate eBay's buyers with false actions in order or provide them with bad user experience then we have nothing else to expect but such a move from eBay.
But does that mean that drop shipping is dead? I don't think so.
What Can I Do to Keep My eBay Account Safe
Let's go back to eBay's drop shipping policy page and consider the email they have been sending out to sellers about top-rated ranking removal. If eBay knows that those sellers are practicing drop shipping from other retailers, and it is a violation of their selling practices policies, why did they not suspend those accounts completely?
Here comes the most important part about eBay's policy – the word MAY. eBay may or may not suspend your account, may or may not rank you lower in the search results etc. To me, it seems like eBay is trying to send a message to the drop shipping community, and it is asking us to take care of the end buyer and put his needs in front of ours.
Those of us who will help eBay improving the buyers' experience may enjoy the benefit of being ranked high in one of the top-selling platforms in the world. Those who won't stand in the requirements will probably suffer the consequences.
Best Practices For You to Maintain a Good Seller Reputation
Here are some of the best practices I have collected that may help you maintain a great experience for your buyers:
Find the best products for dropshipping, Don't spam eBay For many years one of the most popular techniques of dropshipping on eBay was to list tons and tons of products and just hope that some of them would sell. Doing it today is only possible using illegal methods such as building networks of stealth accounts with fake identities. You can spot people who do that when they talk about how they own multiple eBay stores (you don't need 30+ stores as a small dropshipping business, even big companies like Overstock only have one eBay account). Learn how to perform good market research, find winning products, and do not spam eBay otherwise you will get suspended.
Make sure you fulfill your orders in time. "Handling days" is one of the parameters in your eBay business policies. In short, it is the number of days from the moment you sold the item until you update the tracking information for it. Try to make sure you update the tracking information on time, even if you don't fulfill 100% of your orders on time or eBay doesn't accept some of the tracking info (like AMZL as a carrier). What's critical is to make sure you fulfill enough of your orders on time, and that you add the tracking info even to those which don't count. This is less about becoming a top-rated seller and more about actually keeping your buyers updated on time.
Avoid VeRO violations.  The most mentioned dropshipping tip from experts is to try to avoid listing VeRO items. Make yourself familiar with how to handle VeRO using DSM Tool and check out our latest feature news where we announce a new VeRO scanner:
Go over your item's descriptions. DSM Tool has both a Rapid Lister and a Bulk Lister, and what is important is to control its usage. In some cases, the lister can grab the corrupted information from the source website. Sometimes it is the seller you drop ship from is the one to blame because he made a mistake writing the wrong title or description. Or it is the website you're sourcing from that might be causing the problem by presenting auto-generated irrelevant information. In any case, it is your responsibility as an eBay seller to make sure the description YOU provide is correct.
I highly recommend to set up your eBay item description by source via the template settings.
Can't fulfill the order? Make sure the customer stays happy! It can happen that the item you sold is either priced differently or out of stock when you get to buy it. If the price difference is something you can take – take it, if it is out of stock, look for it somewhere else and fulfill it. Can't fulfill it? Try offering your customer compensation, it doesn't have to be something big, even $2 or $5 will show your customer that you care about them. It might be counter-intuitive, why would you give up your income to keep the buyers happy? Think of your business for the long run, a short loss can be worth the while in the future as your business grows and is far better than getting your account suspended completely.
Stop other eBay policy violations It is out there, loud and clear, eBay wrote that drop shipping from a retailer is against their terms of service, but we all agree that you can still do it (even eBay themselves). All the problems begin when you start stacking more and more violations. Using the default specifics features wrongfully is one example. Nevertheless, we are getting constant requests for some features. For instance, "duplicate the same image 12 times with different names". Or even worse "change an existing item that was sold before and is currently under-performing with another, new item". The latter is one might say is a complete fraud and not only a violation of the terms of service. Each such action is an increase of risk to an eBay account and once again represents short-term thinking instead of a long-term perspective.
Avoid eBay Suspensions, Use A Dropshipping Software
In recent years our goal in DSM Tool is similar to eBay's, our focus is all on your buyer's experience. The VeRO scanner may help you prevent VeRO strikes. The Auto Order may help you ensure order fulfillment on time. The new messages center layout can help you chat with your customers easily, providing them with top-level service. We add the new suppliers on a weekly base and customized settings per source can be easily set up.
We wish to set an example, the center of your business is your end buyers, and the center of our business is you. What are your tips for enhancing the buyers' experience on eBay? Share them in the comments below and help the dropshipping community thrive!