It's February already and there's a lot to expect this month. It's not just the Chinese New Year when almost everyone is preparing for the three-week-long Chinese Holidays. There's one more thing that people are preparing for (particularly for those who are in love, who are young, and those who are young at heart). It's Valentine's Day! And most drop shippers will take much pain to analyze the items they can sell this Valentine's. However, let's proceed with it step-by-step 🙂
Even though only 52 percent of Americans are going to celebrate Valentine's Day according to the National Retail Federation (NRF), it is still a lucrative occasion for the U.S. economy. –

Forbes
Your February revenue is all about the Valentine´s Day sales
Believe it or not but February brings people to spend and they are ready for it. Valentine´s Day is the biggest retail holiday in the eCommerce holiday calendar for February.
The month is an opportunity to start generating growth after January, which is characterized by a drop in sales volume. It's time to bring back the activity to your store, become more active on social media (work on generating organic growth there as well) and bring them sales.
Love can move mountains and indeed love can boost your sales this month of hearts. Here are some cold facts.
The Valentine's Day revenue was influenced the most by COVID-19. Unfortunately, it brought a negative impact. In the US, overall Valentine's Day spending decreased from $27.4 billion in 2020 to $21.8 billion in 2021, with consumers spending an average of $164.76 per person in 2021 compared to $196.31 in 2020.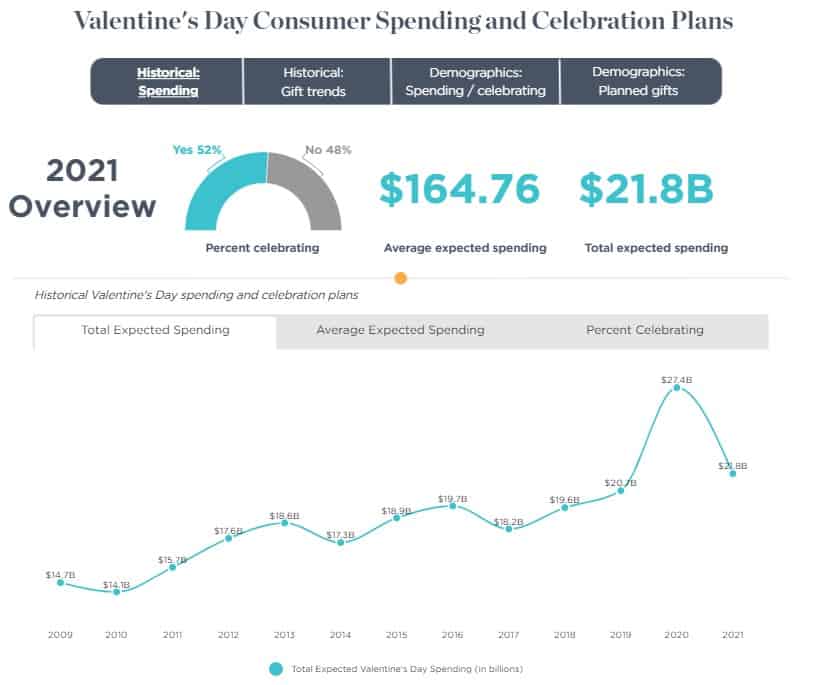 However, it boosted the online shopping on this day! 38% of all Valentine's Day gifts were purchased online in 2021. For comparison, in the previous years, this number was 32%.
Taking this tendency into the account, Saint Valentines 2022 presents an opportunity to the eCommerce sellers to boost sales. Of course, with the right strategy and best selling items for Valentine´s Day!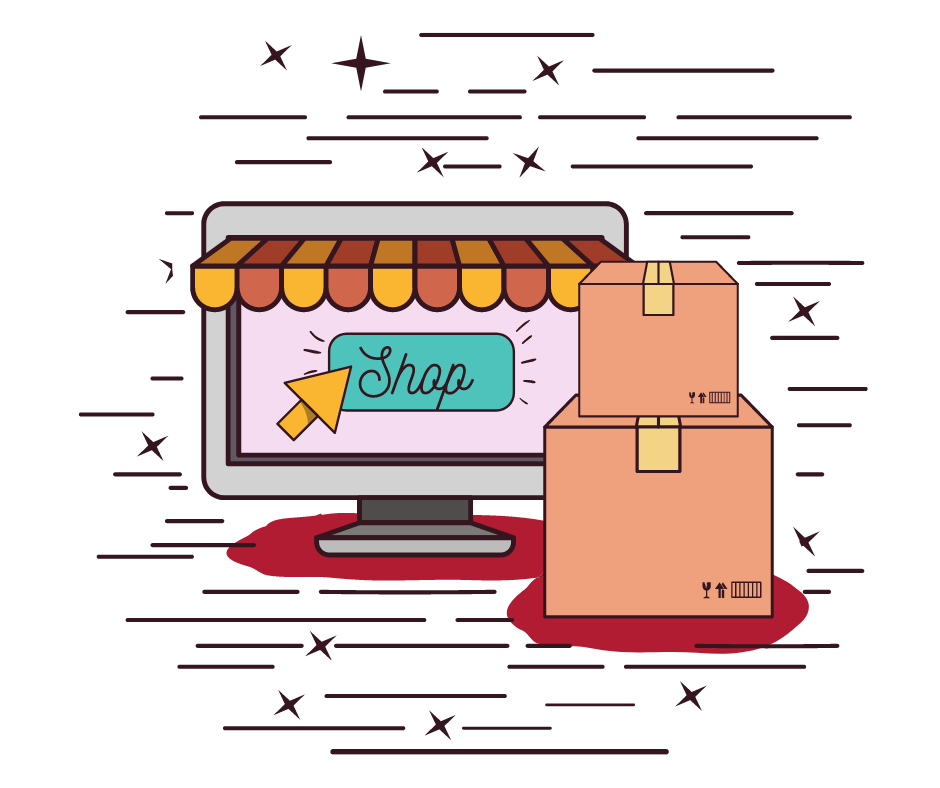 It's time…
Don't wait for success to come. Hire yourself and start your own dropshipping business
The Most Popular Valentine's Day Gift As Per Record
So what should you sell on Valentine's day? Let's take a look at the most popular Valentine's Day gifts in the United States that you should consider selling in your store.
Statista came up with an infographic that features the most popular gifts and San Valentines's Day spending. This information will help to decide what to sell on Valentine's Day in 2022: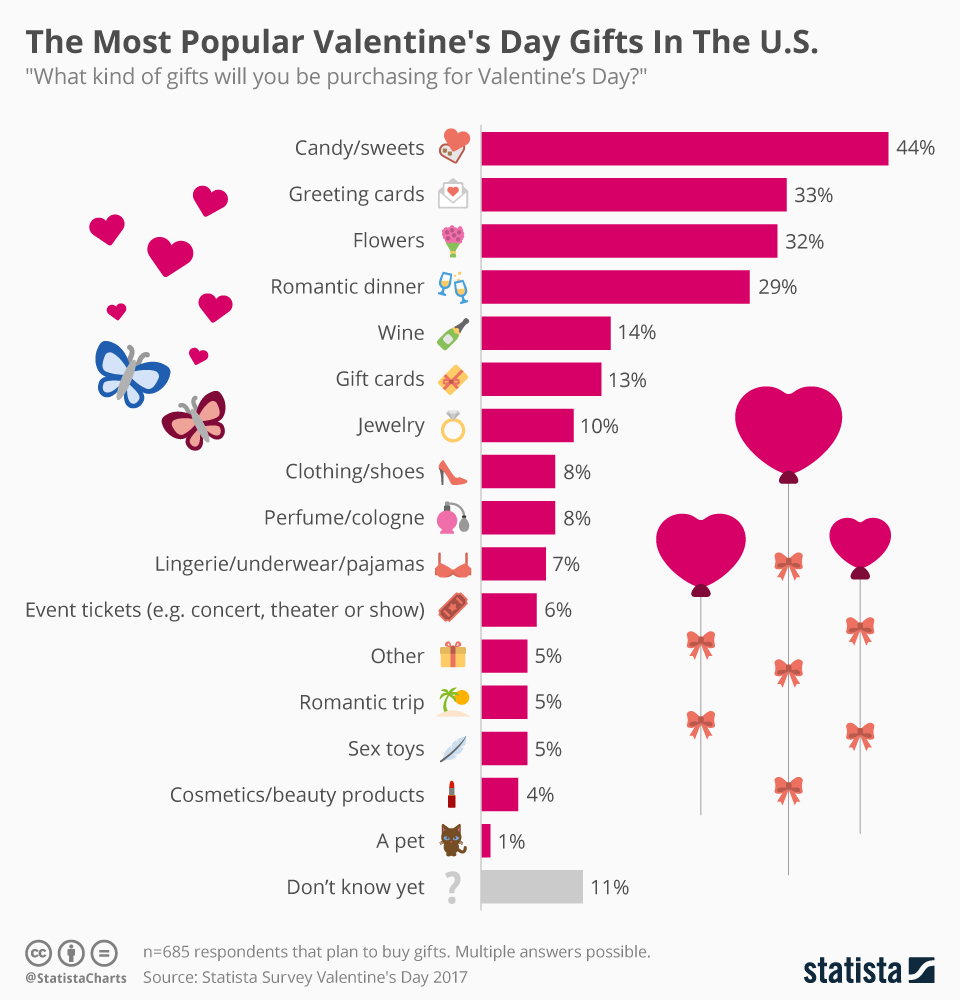 Top Spending on Valentine's Gifts in 2021
The National Retail Federation (NRF) has prepared the key consumer spending trends for Valentine's day in 2021. Based on their research, the top spending categories on Valentine's Day were:
Jewelry ($4.1 billion of all spendings) tops the list of the most spent by category on for Valentine's day gifts.
an evening out ($2.8 billion),
flowers ($2.0 billion),
clothing ($2.7 billion),
candy ($2.0 billion).
Despite the popularity of candy, Jewelry takes the lead due to the difference in its price where one piece of jewelry could be equivalent to 10 (or more) candies.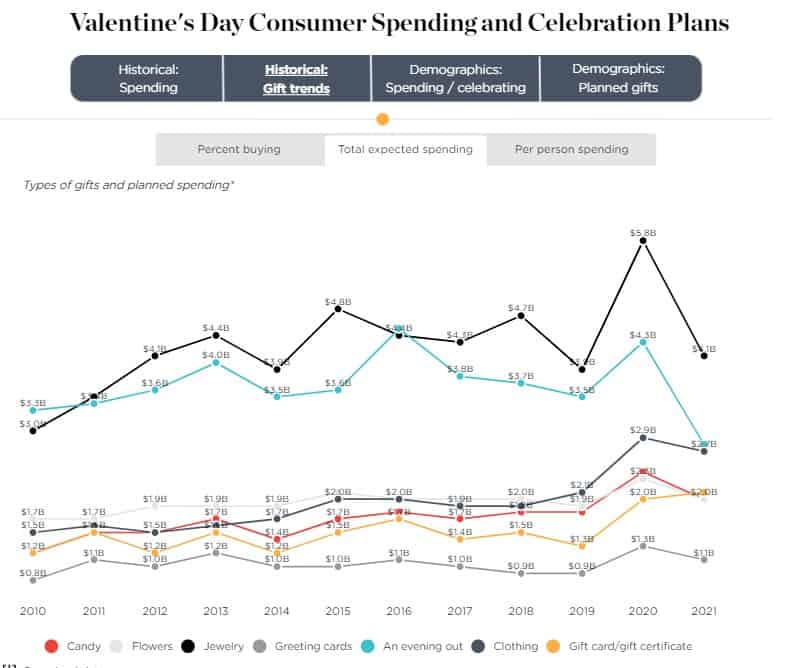 What are the other Valentine Ideas to sell or to dropship in your eCommerce store?
You would be surprised! Only 52% of people buy a present for their "special" person for this holiday. According to giftideasunwrapped, the rest spent money on their family members, friends, their children's classmates ad teachers, coworkers, and even pets.
Since 2010, spend on Valentine's Day gifts for friends has nearly tripled, from $737 million to $2.1 billion (NRF, February 2020). Retailers used it to include more products for "casual or non romantic gift giving". Follow this tendency too!
For example, 27% of people said they would buy a gift for Valentine's day for their pets (for a total of 1.7 billion) – That are great news! Even if you have a pet niche store, you still have chances to get sales on Valentine's Day!
Tip
On top of the most selling Valentine's Day products, you need to have something in your eCommerce store for almost everyone. And if you come up with the right message, effective title, and marketing technique, you can sell almost anything!

So start to prepare for this big retail holiday beforehand.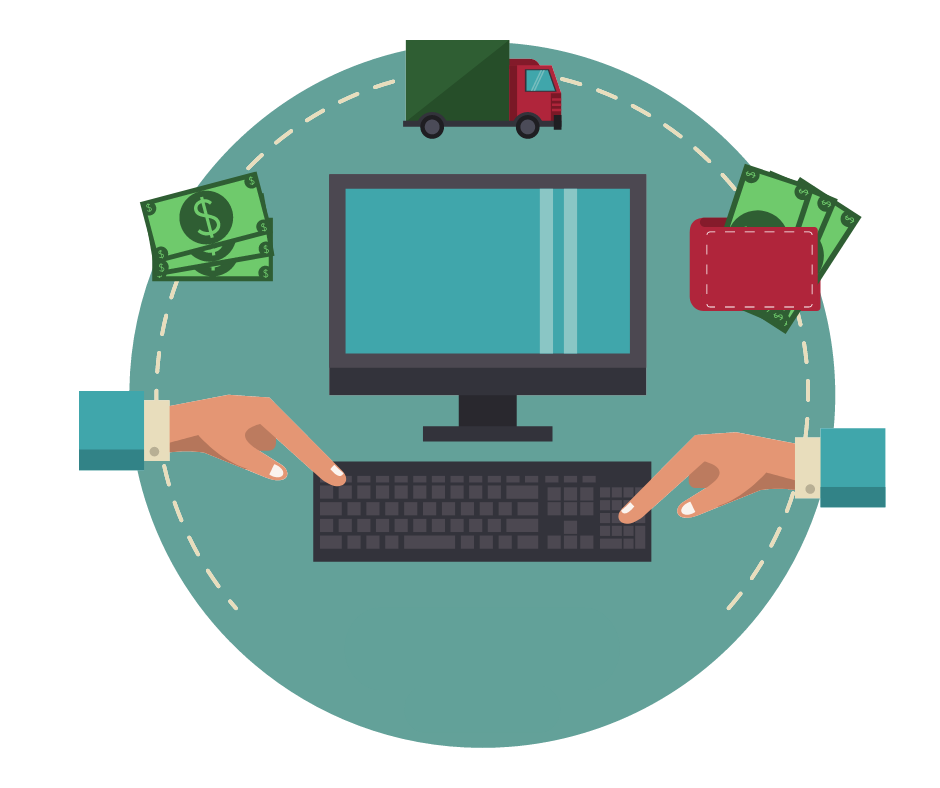 Not yet making money online?
Start your own dropshipping business. Sign up for a free trial of DSM Tool and we'll help you get started. Today is the day.
Top Valentine Ideas to Sell Online and Dropship
1. Candies and Chocolates. Yes, you can dropship candies and chocolates. In fact, there are several dropship suppliers in this category. Wholesale Discounters is among a few of those who provide a great list of chocolate and confectionary dropshippers. In fact, Google is a great place to look for the best suppliers in chocolate and confectionary items.
2. Greeting cards. There are many greeting cards resources that you can sell online. With Print-on-demand systems high on the rise, you can find a reliable source to send out great artistic greeting cards (even greeting card designs you created by yourself). Wondering where to start?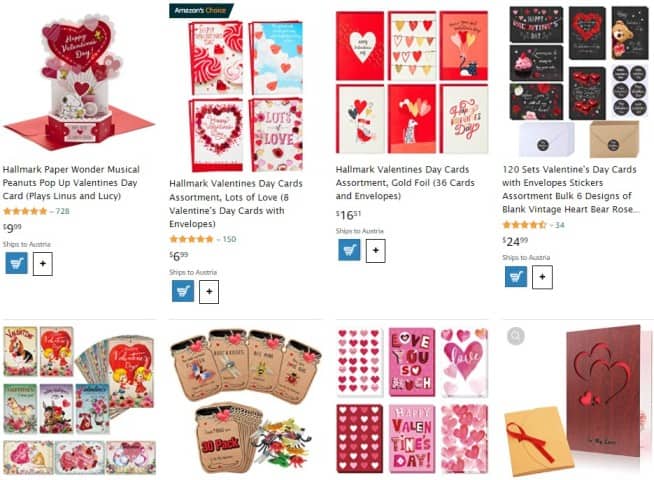 3. Flowers. What's Valentines' day without flowers? There are a number of people ordering flowers to be delivered right at their preferred address. And yes it's like dropshipping for flowers and you too can jump in and offer flowers for sale, readily delivered to the customer's preferred address. You'll probably be surprised that Alibaba offers fresh flower dropshipping. Besides, soap roses look pretty natural and were quite demanding during last years. Plus, they are great for making gift boxes or corporate gift hampers.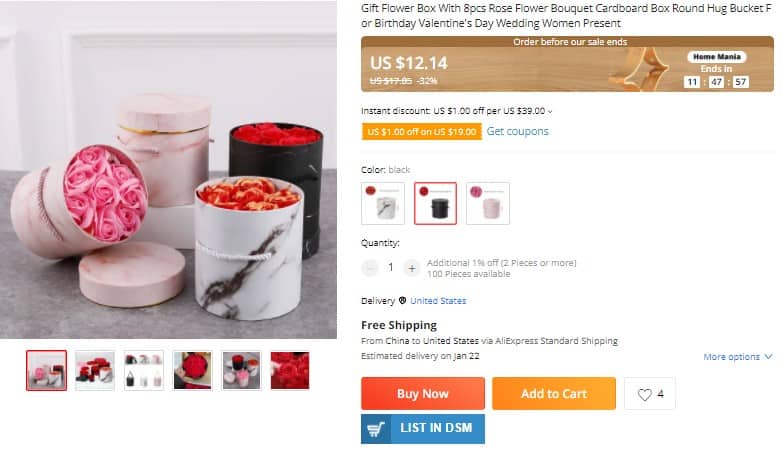 4. Jewelry. Many men are making Valentine's day extra special for their loved ones. And yes, jewelry gifts are on the rise this month. So go ahead and add some jewelry to your online retail store. Wondering where to get jewelry suppliers for your online dropshipping business? Research has its perks and here's a good place to start – Dropship Jewelry for your Online Store.

5. Gift Cards. Coming up with an idea of what to give someone on Valentine's day with such a wide range of options to choose from can be really confusing. Thus, many people opt to give gift cards. According to Innowavemarketing gift cards ranks as the #1 choice that people want as a gift. It's a wise choice for dropshippers too. Gift cards are definitely a great add-on to your store.
6. Valentine's Day Inflatables
Along with Valentine's gifts sell also the decorations for the holiday. They can be used for the date and for the party. Besides, you can sell different varieties to increase chances to get sales.

7. Sell Valentine's Day gift boxes.
Offer different gift sets for him and for her. It can be a Valentine Care package with sweets, hearts, or a spa gift box for her, a gift set with romantic decorations for a special night, etc. By the way, you can continue selling it after the holiday as an anniversary gift.

8. Customized Led Lamp. It's an idea for a unique Valentine's Day gift for her or for him. Customers can provide you with a photo and your suppliers make an unforgettable present. Yes, that's very nice and can trigger your customers. But take into account that your suppliers should be really good at it and super reliable.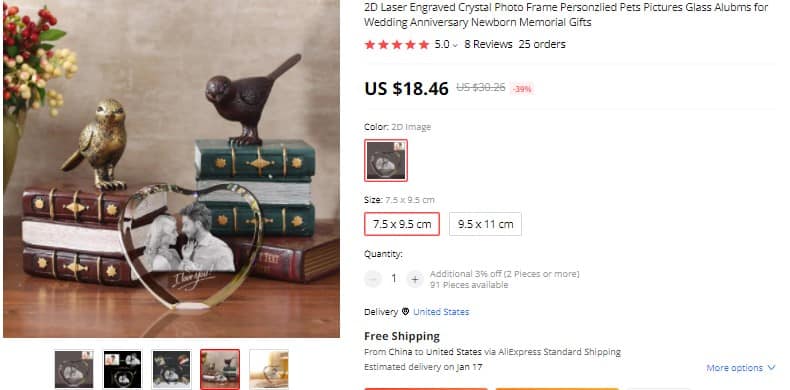 In addition, you can sell online different led lamps in the form of hearts, the "love" word, etc.
9. Artificial Rose Petals.
It's another Valentine's day dropshipping idea. People would want to present a romantic unique moment for their beloved. The rose petals are perfect for that! Add different to your store as well.

10. Valentine's Day Candles. Another essential product to sell on Valentine's Day will help to create a perfect romantic dinner. You can even sell it in bundles with inflatables, rose petals, or soap roses. Make sure to add different types: real or led candles, with the heart form, red and other colors.

11. Romantic games for couples.
It's another product to sell on Valentines. It can be games to reconnect or to spice the evening. Offer different options in your online store and make sure to add Valentine's Day in their title, so shoppers will find them easier in your store.

12. Lingerie.
Especially if you have an eCommerce clothing store, offer more lingerie before this big retail holiday. For her and for him.
13. Valentine's Day related products for pets
Right. You don't need to restrict the products of your eCommerce store only with the gifts for her or for him. Try to target other shoppers as well. For example, pet owners. Offer them the Valentine's Day pet costumes, bandanas, heart strapped rope, headbands, etc. Besides, The NRF notes that more than one in four people (27%) will treat their pets to a Valentine's Day gift this year.


14. Products to treat yourself.
Encourage your customers to show themselves some love and present themselves a well-deserved treat. You can offer different custom products, your most selling items, red lipsticks, nice dresses, health-care items, beauty products, etc. in a frame of such a marketing campaign. Make sure to announce it in your newsletter or social media, and prepare nice banners.
15. Tech gifts for him.
Except for adding a range of tech gifts and gaming products in your e-store.
Consider creating Valentine's gift guide across different categories. For example, "For Him", "For Her", Tech Gifts, Beauty gifts, Gifts under $25, $50, $100, etc. It can be in your eCommerce blog or as a landing page on your website. Such gift guides usually help customers to decide on what to buy for Valentine's day, pick faster, and stay longer in your online or dropshipping store. You can get inspiration on the sites of big retailers already in January or earlier.
Final Lines
The bottom line is that people are ready to spend on Valentine's day. And it's among the most lucrative times of the year. As a dropshipper or eCommerce store owner, you should prepare your online store beforehand. Add as many as possible different Valentine's Day gift items, optimize your old listings so that will sell during this holiday too. Announce it in your social networks in advance and make sure your supplier will be available at this time of the month to process your orders.
Happy Selling!