31

min read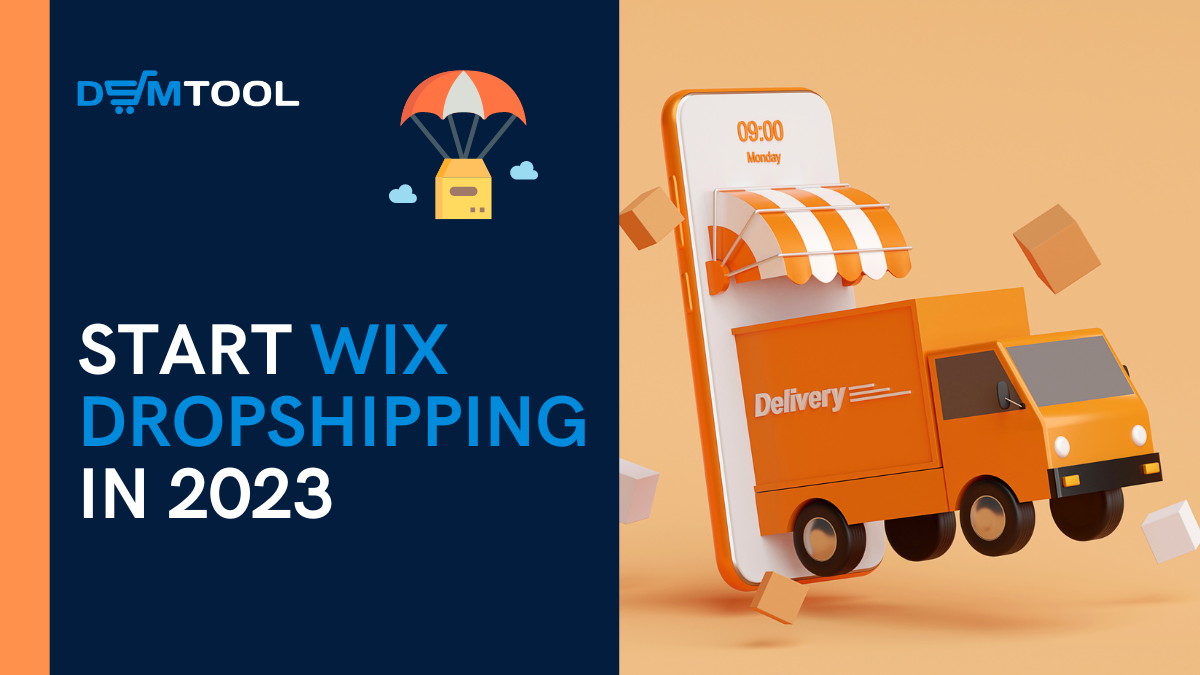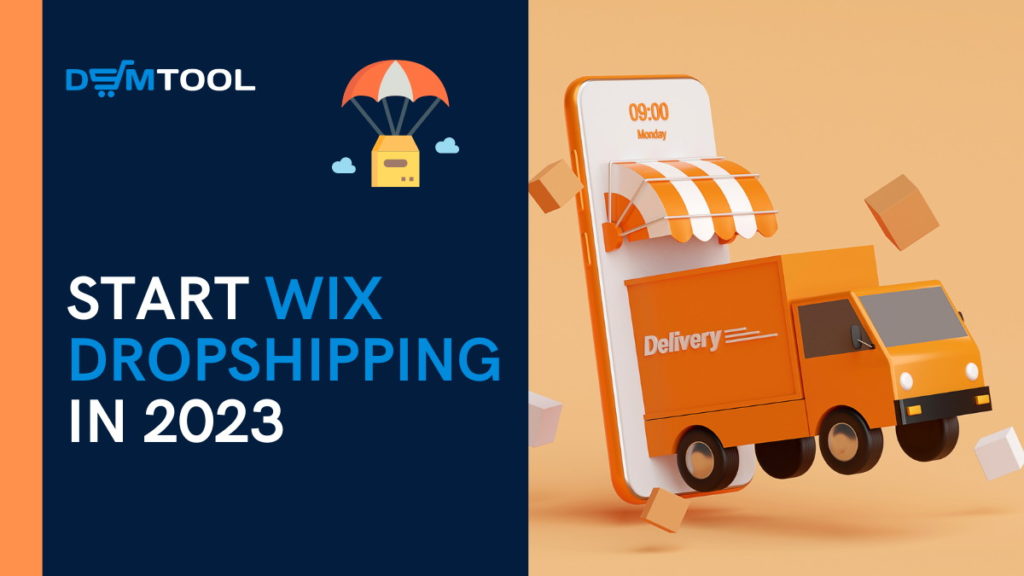 Why should you start Wix dropshipping? With Wix for eCommerce, anyone can easily set up an attractive, professional-looking online store and start making money. Dropshipping with Wix is an excellent way to enter the world of e-commerce without worrying about product inventory, warehousing your items, or shipping and delivery.
Of course, in practice, everything is not as simple as it seems, but every business requires hard work. Still, when approached correctly, when using the best tools and services, it is easier to achieve success. Wix helps dropshippers by covering all their website-building needs, providing powerful eCommerce features and tools for growth to establish a long-lasting successful business. As Wix states, anything is possible with the right website builder.
In this guide about dropshipping on Wix, you will learn the following:
What is Wix for eCommerce?
How much does Wix eCommerce cost?
Can you dropship on Wix?
Wix pros and cons for dropshipping.
How to start dropshipping with Wix for eCommerce?
And most importantly, is Wix good for dropshipping?
If you don't know what dropshipping is or want to learn more, check out our What is dropshipping? guide.
What Is Wix for eCommerce?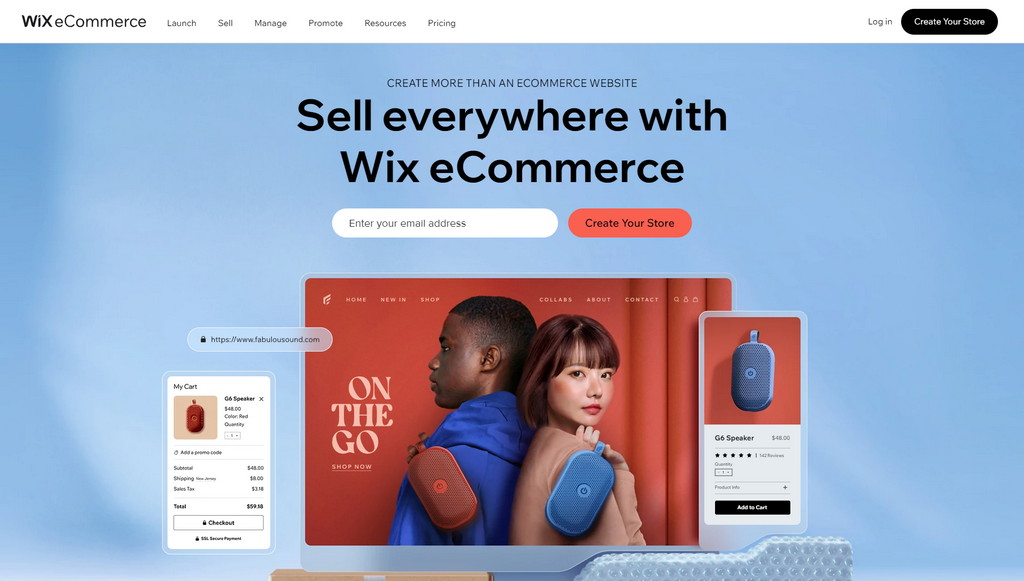 Founded in 2006, Wix is a cloud-based website builder platform developed by Avishai Abrahami, Nadav Abrahami, and Giora Kaplan. They had the vision to create a website builder that was easy to use and accessible to everyone. And they made this vision come true – with Wix, users can design and build professional-looking websites without extensive technical knowledge and coding skills.
Its drag-and-drop interface and customizable templates allow users to create beautiful and functional websites for different purposes, like business, blogging, eCommerce, or dropshipping. Because of this, the platform has become increasingly popular in recent years.
The founders of Wix realized that building a decent website from scratch is a complex process that requires technical knowledge and skills. And not many people have such expertise. So, they developed a website constructor with a drag-and-drop interface to allow users easily design, create and customize their websites. While no longer unique, this drag-and-drop interface is Wix's standout feature, which makes it possible for users to build websites visually – without coding.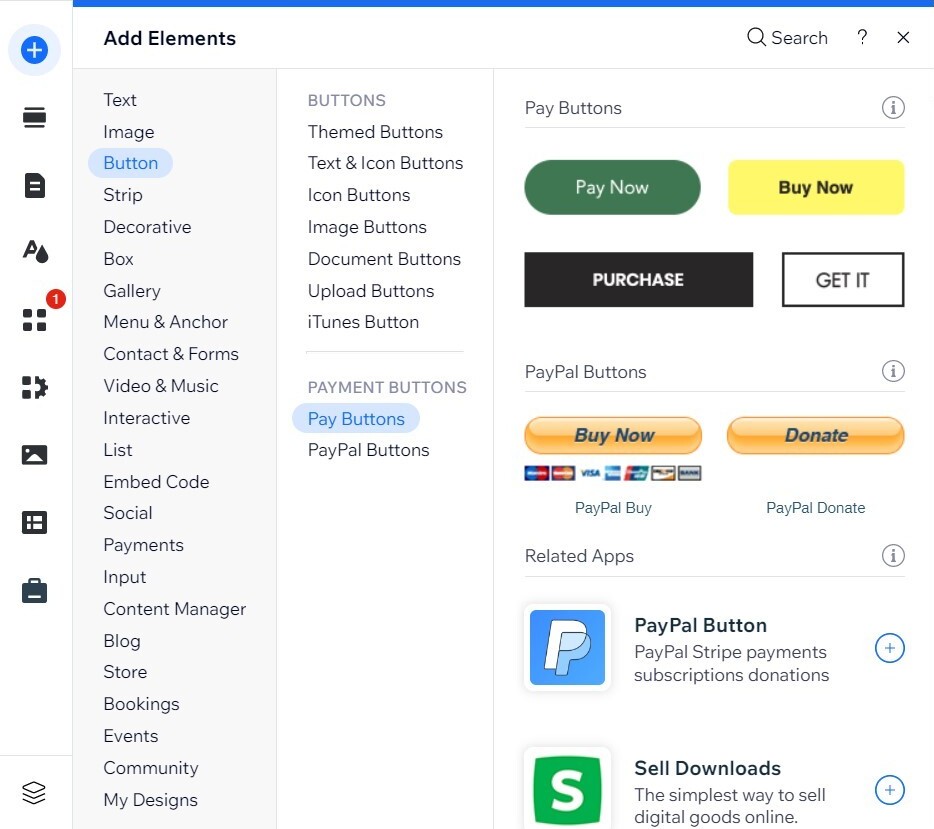 They also created pre-made designs and layouts so users can choose templates from a catalog and customize them according to their requirements. Moreover, Wix's simple, intuitive interface enables users to create and customize websites with just a few clicks.
The platform provides tools and features for users to create websites for different purposes, including eCommerce stores, blogs, portfolios, etc. This attracts individuals and small businesses who want to create a website quickly and easily, And, most importantly, without worrying about the technical details and coding.
In addition to its built-in features, Wix also has a range of third-party apps and integrations that enable users to extend the existing functionality of their websites or incorporate new features. There are apps for social media integration, marketing automation, and e-commerce tools.
How Much Does Wix eCommerce Cost?
Wix offers three eCommerce plans for small and medium-sized businesses that want to sell products and services online: Business Basic, Business Unlimited, and Business VIP.
The Business Basic plan is the most affordable option, which costs $17 per month. It includes such eCommerce features as the ability to accept online payments, unlimited bandwidth, up to 20 GB of storage, and 5 video hours (showcase & stream videos online). However, it does not include access to more advanced features like the ability to sell on marketplaces like Amazon or eBay or automated taxes calculation.
The Business Unlimited plan, which costs $25 per month, offers more advanced features such as the ability to offer subscriptions and memberships, automated sales tax calculations, and allows selling on marketplaces like Amazon and eBay. This plan includes all the features of the Business Basic plan, plus higher storage space and video hours limits. On top of the more advanced eCommerce features, it provides access to Modalyst (250 products) and KudoBuzz (1000 reviews).
Finally, the Business VIP plan, starting at $35 per month when billed annually, is the most advanced plan offered by Wix eCommerce. It includes all the features of the Business Unlimited plan, plus priority support, unlimited hours of video, customized reports, unlimited products from Modalyst, 3000 reviews from KudoBuzz, and access to a loyalty program by Smile.io.
All the Wix eCommerce plans are commission-free, meaning sellers do not have to pay a percentage of their sales to Wix, which is a considerable advantage.
As you can see, Wix eCommerce plans are quite affordable. For comparison, Shopify and BigCommerce both charge $39 per month for the cheapest plan with basic features, while Wix offers the full suite of features for $35 per month. Additionally, with Wix, you also get access to Modalyst, KudoBuzz, and Smile.io.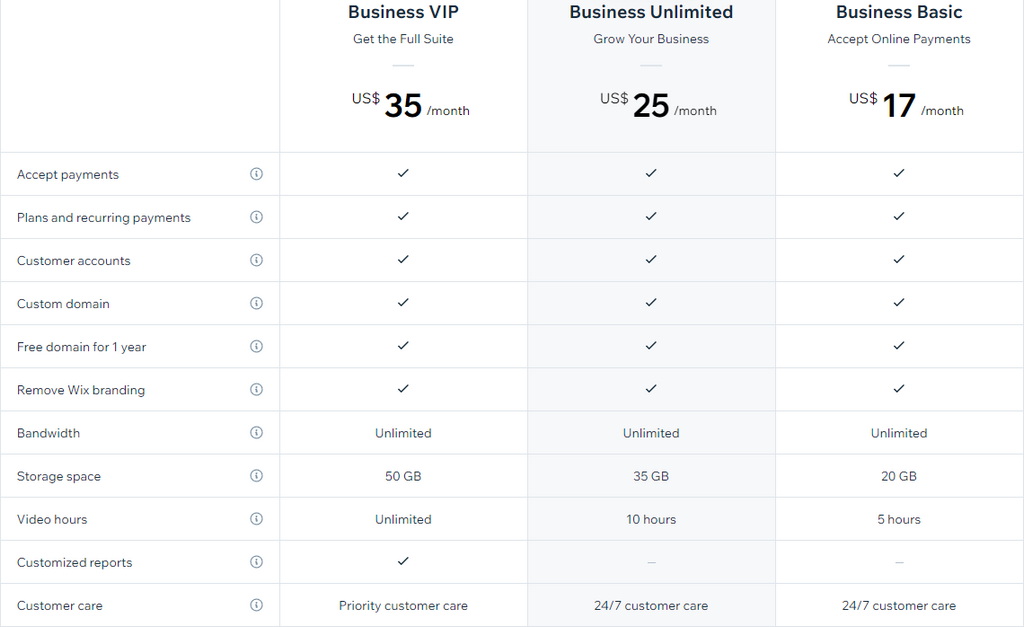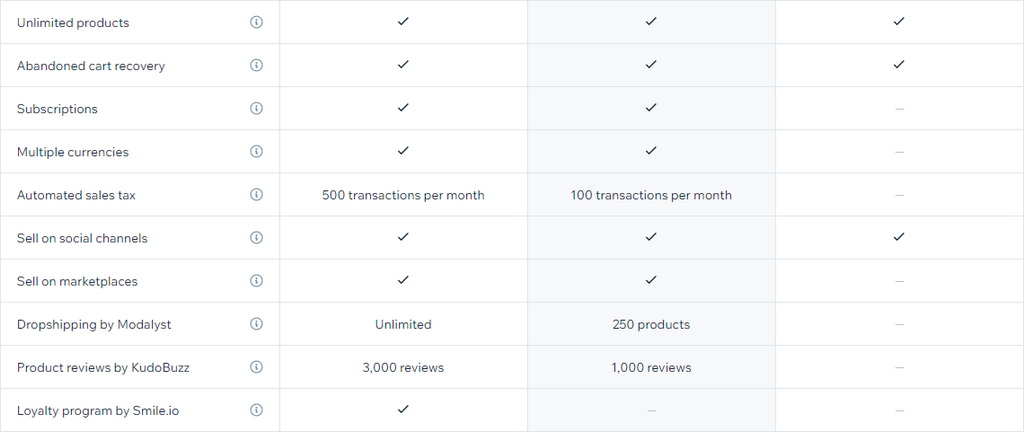 Wix Pros And Cons For Dropshipping
To determine if Wix eCommerce is good for dropshipping, let's look at the benefits and potential downsides for sellers.
Dropshipping Wix Benefits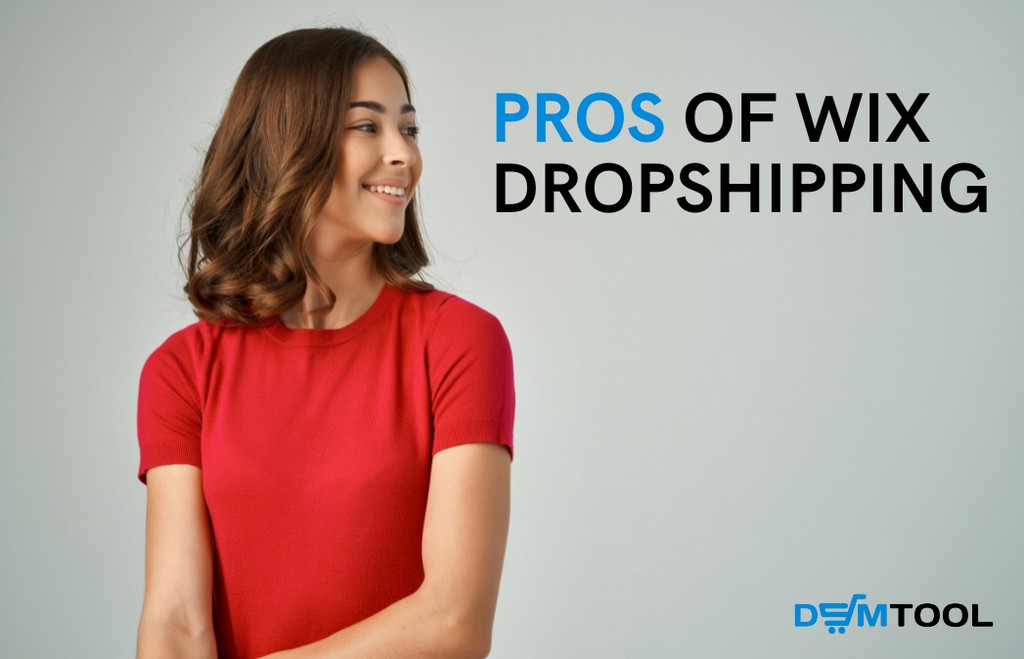 Wix benefits make it a viable choice for dropshippers and sellers who want to start an e-commerce business without the hassle of managing product inventory and shipping. Here are some Wix benefits for dropshipping:
Easy To Use
Wix is a website constructor designed to be user-friendly and easy to use by people with little to no experience in web development or coding. Its drag-and-drop interface is the key reason Wix is so easy to use – it allows users to add and edit their website's content by simply dragging and dropping elements onto the page. Wix's user-friendly dashboard enables dropshippers to manage their websites, products, and orders from one place. All this makes it easy for sellers to keep track of their sales and manage inventories.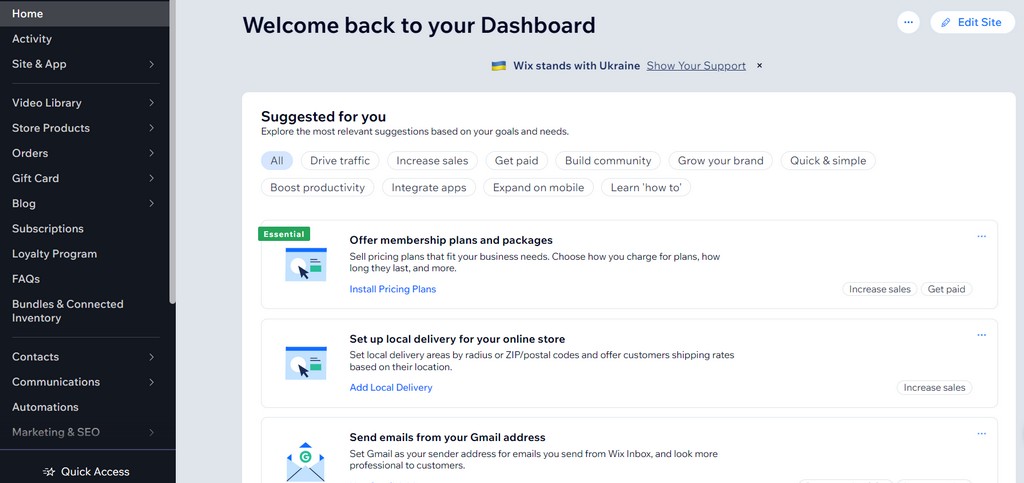 Wix also offers different templates created specifically for eCommerce. These pre-built templates come with many features that sellers and dropshippers need, such as product pages, shopping carts, and checkout pages. All you need to do is to customize the template to fit your business brand and product offerings.
Exceptional customer support is another reason Wix is so easy to use. The platform provides a range of support options, including a knowledge base with articles and video tutorials and a community forum. If you require help, the customer support team is available 24/7 to answer all your questions or help with technical issues users can encounter.
Overall, an easy-to-use interface, pre-built templates, and a user-friendly dashboard make Wix eCommerce a perfect choice for sellers who want to create attractive, professional-looking dropshipping stores without any technical skills and expertise or having to hire a developer.
Free Pre-built eCommerce Templates
Wix provides a vast selection of pre-built templates designed for dropshipping businesses specifically. These templates are professionally designed and optimized for eCommerce and serve as a functional base for building a dropshipping store.
The templates come in various styles and layouts, allowing dropshippers to choose a design that best suits their brand and products. Each template includes pre-installed features such as payment gateways, shipping options, and inventory management. This saves sellers time and effort during the store setup process.
Moreover, these templates are fully customizable, enabling dropshippers to modify them to their specific requirements. Users can customize the layout, colors, fonts, and other design elements visually, using the drag-and-drop editor. They can also add new pages, sections, and apps to their store to enhance its functionality.
On top of that, Wix's templates are responsive, which means they look great on all devices, including desktops, tablets, and smartphones. This is crucial for dropshipping to provide a seamless user experience and ensure buyers can easily browse your store and make purchases on any device. And the best part is that unlike its competitors Shopify and BigCommerce, Wix offers all its templates for free. However, you must be on an eCommerce plan to access all the features included in Wix's eCommerce templates.
Wix dropshipping templates provide sellers with a simple yet efficient way of building attractive and functional online stores without technical expertise or design skills.
Integration With Dropshipping Suppliers
Wix's integration with dropshipping suppliers is a considerable advantage for sellers that want to streamline their product sourcing and order fulfillment processes. By connecting with popular dropshipping suppliers such as Spocket, Modalyst, and Printful, businesses can access a wide range of products without maintaining their own inventory or handling shipping.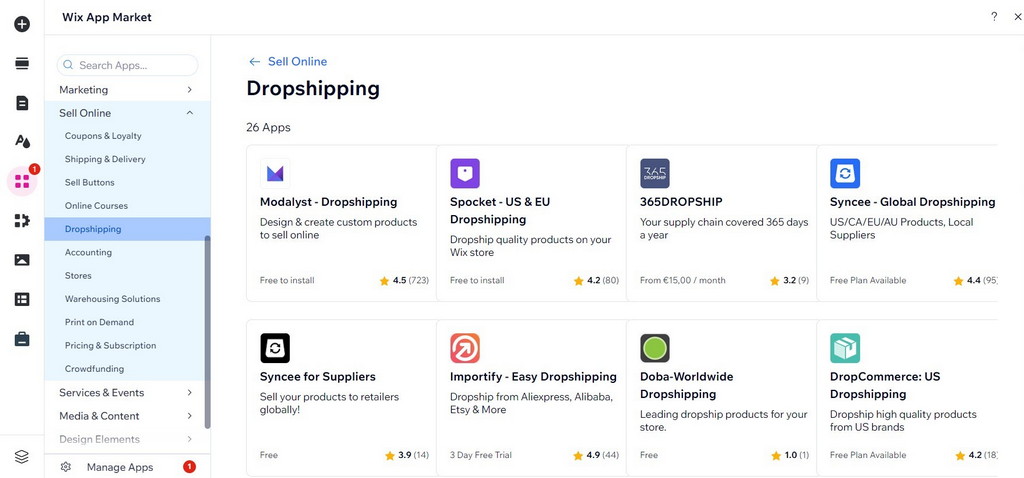 The integration process is straightforward and can be completed within the Wix dashboard. Once connected, dropshippers can easily browse and select products from the supplier's catalog and add them to their store. Users can also set up automatic price and inventory updates to ensure their stores always reflects the most up-to-date information.
One of the major benefits of Wix's integration with dropshipping suppliers is automatic order fulfillment. When a buyer purchases in the dropshipping store, the supplier automatically receives the order details, fulfills it, and ships the product directly to the buyer on behalf of the business. This eliminates the need for sellers to manage their inventories, order fulfillment, and shipping, saving time and effort.
Moreover, Wix's integration with dropshipping suppliers enables businesses to offer customers a wider range of products without investing in inventory upfront. They can also easily add new products and remove the ones not selling well, helping them to stay competitive and adapt to changing market demands.
Built-in SEO And Marketing Tools
eCommerce SEO is essential for online stores, and Wix provides all the necessary SEO tools to help its users improve their website's visibility in search engines like Google and Bing. Sellers can optimize their website's on-page SEO elements such as meta tags, headings, alt tags, and content. These elements help crawlers better understand a website's structure and content, what the website is about, and what keywords it should rank for in search engine result pages (SERPs).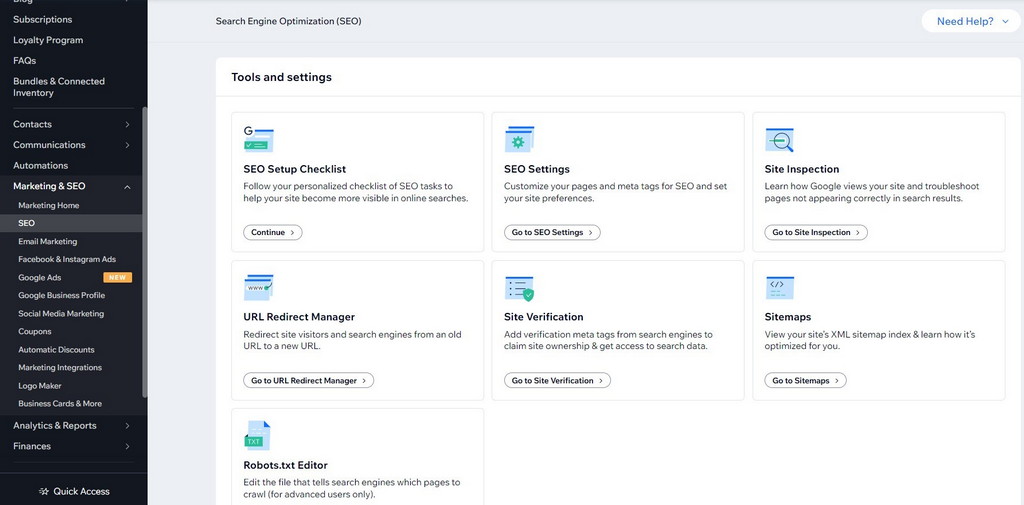 Wix also provides other popular SEO tools like a keyword research tool, sitemap generation, and Google Analytics integration. With the keyword research tool, sellers can identify relevant keywords and phrases they can target in their product pages and content. Sitemap generation is needed for search engines to better crawl and index all of the website's pages, where Google Analytics integration provides helpful insights into the website's performance and other important metrics.
There are multiple built-in SEO and marketing tools that you can use all from the same platform. Create and send newsletters from the free Wix email marketing tool, and get information on the conversion they brought you.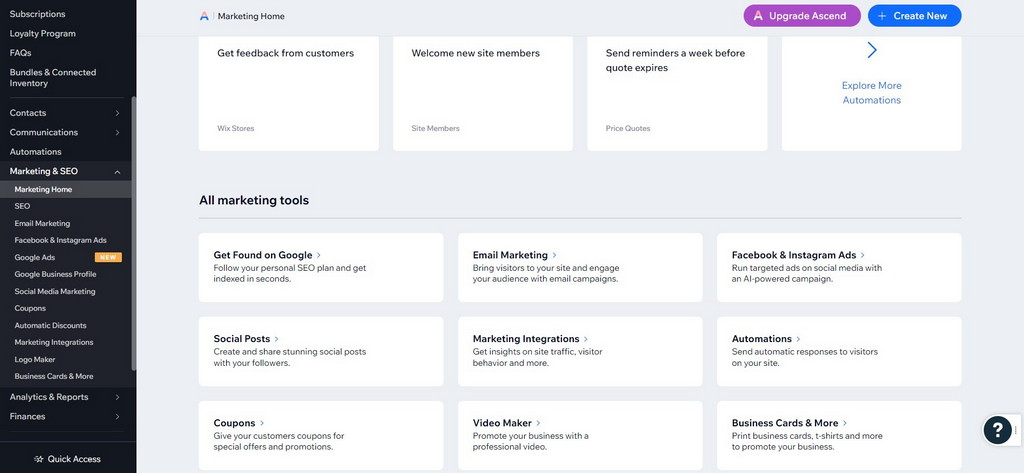 Also together with the free included tools, you can get paid plugins with extra features: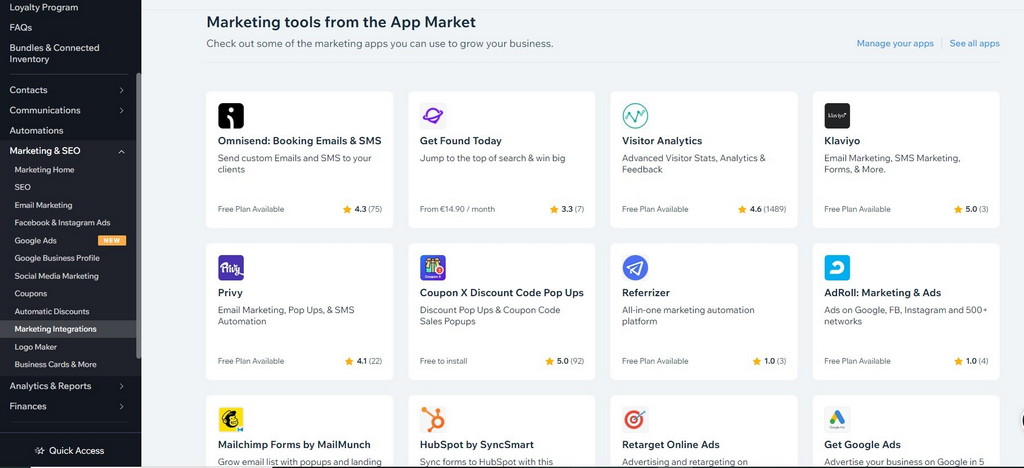 You have the possibility to connect the Wix platform with your site Google Console and Google Analytics for better tracking results. Besides, Wix has its own report tools where you can see and track the traffic your shop gets, sales per product, per date, etc. Recently they added the possibility to create a Google Ad directly from the Wix dashboard.
Additionally, Wix stores have an SEO-friendly URL structure and responsive design, which also help search engines crawl and index product pages, further boosting their ranking in SERPs.
Overall, Wix's built-in SEO tools provide sellers with a comprehensive set of tools to optimize their stores for search engines, helping them attract potential customers to their stores. eCommerce SEO is especially important for dropshipping businesses to stand out from the competitors, boost organic traffic and drive more sales.
Multi-channel Dropshipping
Multi-channel selling is a powerful eCommerce strategy that allows dropshipping businesses to increase their sales by covering a wider audience. Wix eCommerce offers several features that make multi-channel selling easy and accessible for sellers, including social media integration, marketplace integration, and point of sale (POS) integration.
Wix allows dropshippers to connect their online store to social commerce platforms and sell products directly on these channels. With the correct approach, social media can drive traffic to online stores and increase brand awareness.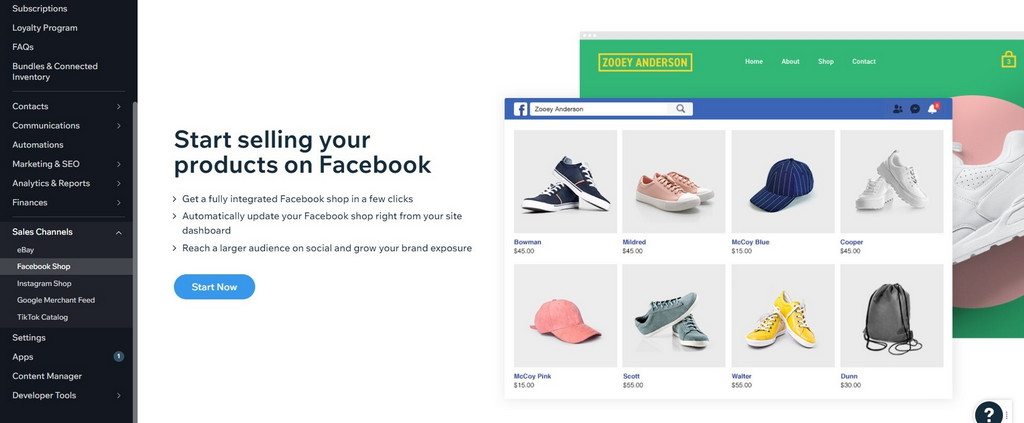 Additional sales channels like Facebook Marketplace, Instagram Shopping, and other social commerce platforms help sellers expand their reach and attract new audiences to increase their sales.
Wix also enables sellers to integrate their online stores with popular eCommerce marketplaces like Amazon, eBay, and Etsy. This allows dropshippers to reach new audiences by tapping into the existing customer base of these marketplaces. And this customer base is huge, with only Amazon having over 200 million active monthly users.
Wix offers POS integration with leading payment providers such as Square and PayPal, allowing dropshippers to sell products in physical locations such as retail stores and pop-up shops. With POS integration, eCommerce businesses can provide a seamless customer experience for their clients, whether they are shopping online or in person.
Secure and Reliable
One of the major advantages of Wix dropshipping is that it provides secure and reliable hosting for online stores. Wix takes care of all the technical aspects of website hosting, such as server maintenance, software updates, and security, so sellers can focus on running their stores and marketing efforts.
With Wix, sellers can be confident that their online stores are protected from cyber threats such as hacking and malware. The platform provides reliable uptime and ensures that stores will be available to customers 24/7, without downtime or interruptions. This is especially important during busy shopping seasons when interruption leads to losing sales and profits.
Additionally, Wix's secure and reliable hosting service is crucial for dropshipping businesses as it ensures that their customers' data, such as personal information and payment details, are kept safe. Secure hosting also helps build trust with customers and protect the business's reputation.
Ascend by Wix
Ascend by Wix is a suite of marketing and business tools designed to help sellers grow their online businesses. The suite includes tools and features that dropshippers can use to automate marketing campaigns, streamline customer interactions, and manage their eCommerce operations more effectively.
One of the key features of Wix Ascend is its email marketing tool. With customizable templates and automation features, it enables businesses to create and send professional-looking emails to their customers. Dropshippers can use this tool to send promotional emails, newsletters, etc., and to track the performance of their email campaigns using analytics tools.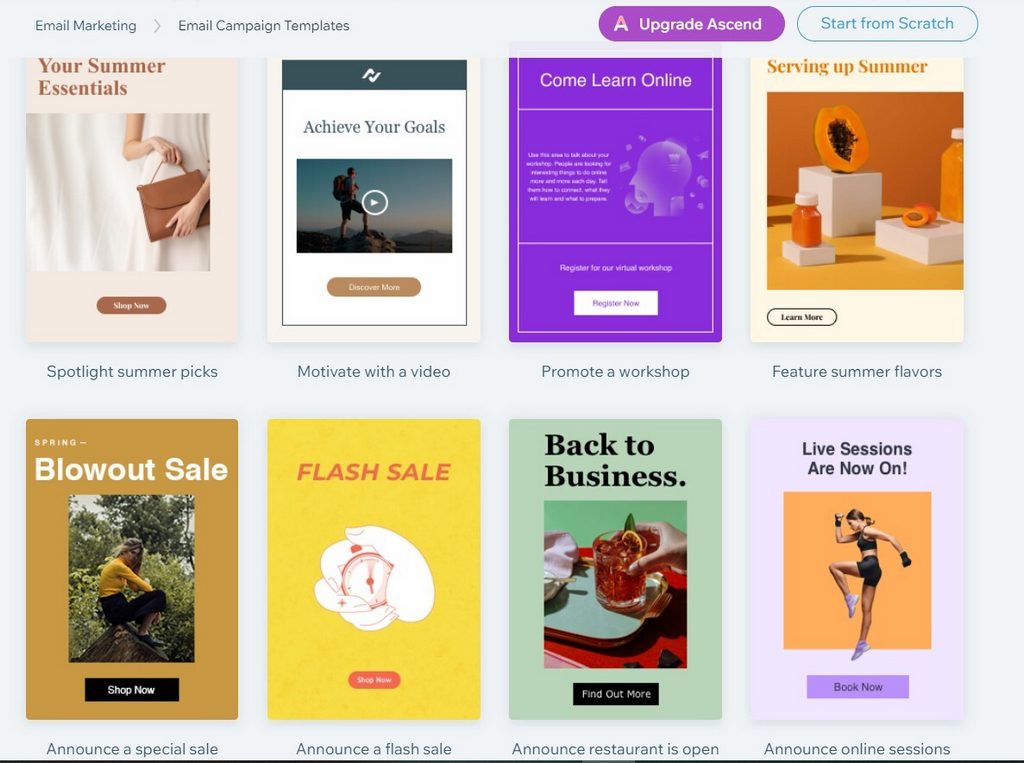 Wix's Ascend suit also includes a range of customer relationship management (CRM) tools. By implementing an eCommerce CRM strategy for tracking customer interactions, managing leads, and automating follow-up tasks, businesses can manage their customer interactions more effectively. This can help dropshippers to provide better customer service and support and to build stronger relationships with their customers over time.
In addition to its marketing and eCommerce CRM tools, Wix Ascend also provides features to help businesses manage their operations more effectively. This includes instruments for managing invoices, tracking expenses, and managing team members. By streamlining these tasks, dropshippers can save time and focus on making sales and growing their dropshipping business.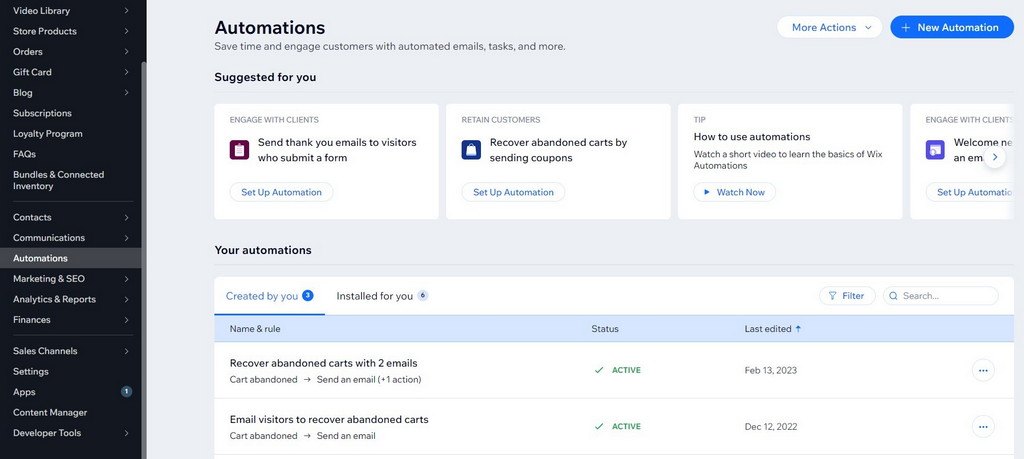 Overall, Ascend by Wix is a powerful suite of tools and instruments that can help dropshipping businesses grow and succeed online. By utilizing these features and tools, online sellers can streamline their dropshipping operations, automate marketing campaigns, and build stronger customer relationships.
Wix + Modalyst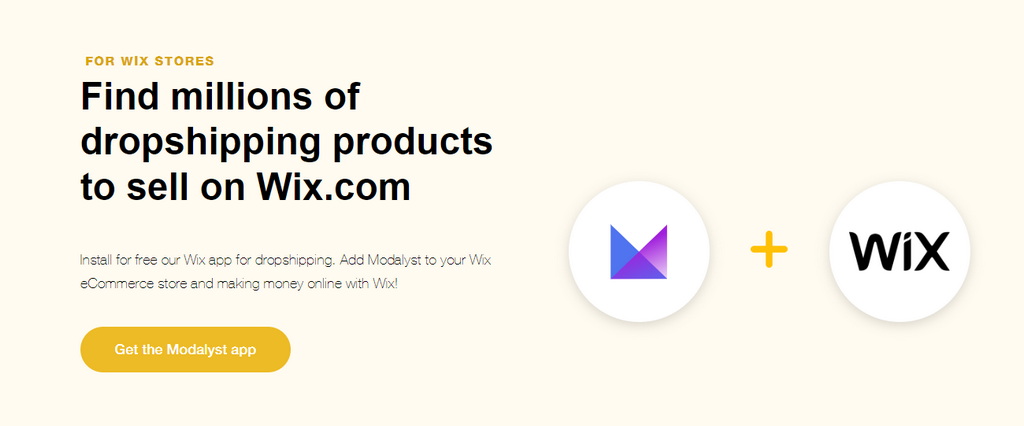 Yes, I already wrote about integration with dropshipping suppliers, but Modalyst + Wix integration is unique. Wix has acquired Modalyst, a dropshipping platform that allows its users easily find and source products from various suppliers worldwide. With Modalyst, Wix users can quickly add products to their online store without the hassle of managing inventory, shipping, or packaging.
One of the main advantages of using Modalyst is the platform's wide range of high-quality products and suppliers. Modalyst curates a selection of products from the best suppliers around the world, helping dropshippers find unique and trending items to add to their stores. Additionally, the platform provides users with automatic inventory updates and real-time shipping rates to ensure their stores always have accurate product information and pricing.
Another benefit of using Modalyst with Wix for eCommerce is the platform's built-in product customization and branding tools. Dropshippers can add their own branding and even customize packaging and shipping materials to give their store a more professional look and feel.
Surely you can integrate Modalyst with Shopify and other platforms to get the same benefits. Yes, but Wix for eCommerce includes free access to Modalyst in its Business Unlimited and Business VIP plans, which is a huge advantage.
Cons Of Wix Dropshipping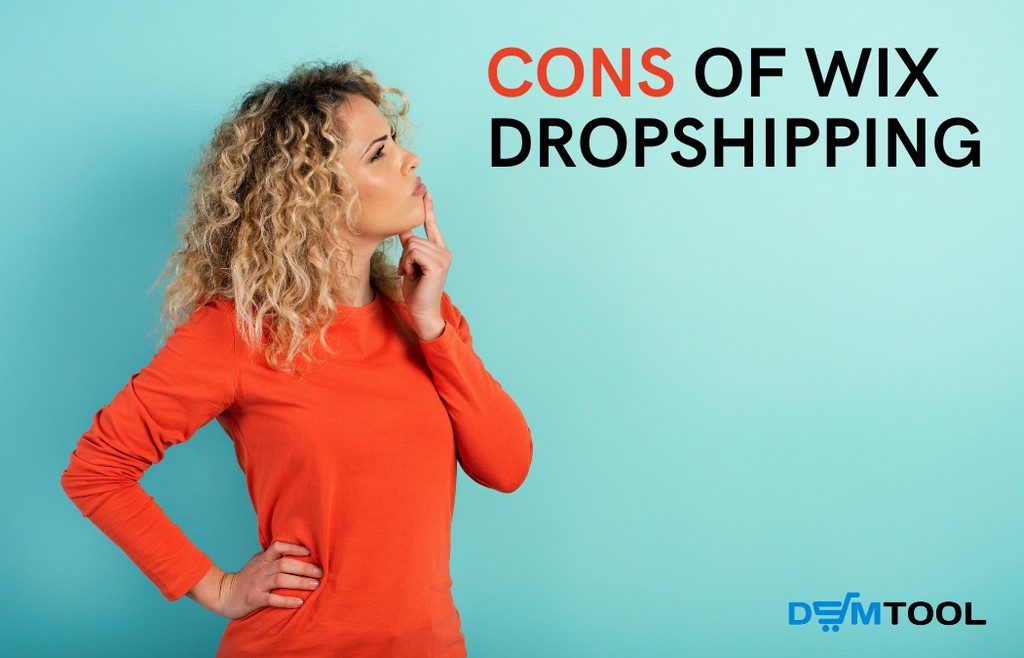 While Wix is a popular and powerful website builder, no eCommerce platform is perfect. Some cons are subjective and are more the platform's distinctive features rather than actual disadvantages. But here are the three potential drawbacks to consider before starting dropshipping with Wix:
You Can't Switch Templates
One of the main drawbacks of Wix eCommerce for dropshipping is that it does not allow users to switch templates after going live. Once you have selected a template and built your store around it, you cannot change its template without starting anew.
This limitation can be a great inconvenience for dropshippers who want to update the look and feel of their store or improve its functionality. It can also be frustrating for sellers who realize they picked a template that does not fit their business needs. In such cases, dropshippers may need to rebuild their entire store around a new template, which can be time-consuming and costly.
So it is crucial for dropshippers to carefully consider the template before committing to it. Choose a flexible template with all the necessary eCommerce features to accommodate your business needs. Ensure the template aligns with your brand identity and conveys the right message to your customers.
Can't Checkout With Multi-Currency
Another significant drawback of Wix eCommerce for dropshipping is its inability to process multi-currency checkouts. Your customers from different countries who use their national currencies will have to manually convert the product prices to their local currency, which can be a frustrating experience. As a result, this may lead to a loss of potential sales.
Because checkout is essential for eCommerce, this limitation can pose a significant challenge for dropshippers who want to expand their business internationally. You must provide customers with a seamless and enjoyable shopping experience, so the ability to pay in local currency is crucial in today's global economy. Without multi-currency support, dropshippers may miss out on potential sales from international customers who are discouraged by the extra step of currency conversion.
While you can address this limitation with third-party apps and workarounds, they may be less reliable and secure as a built-in multi-currency checkout feature. Thus, this limitation remains a significant drawback for dropshippers who want to expand their business globally.
Wix Sites Are Not Transferable
One major drawback of Wix for dropshipping is that the site is not transferable. If you want to switch to a different platform or sell your store, you simply cannot transfer it to a new owner or platform. Instead, you would have to completely rebuild your online store on a new platform or website builder, which takes time and money. Potential buyers may also hesitate to buy a website built on Wix because of the inability to transfer the site to a new owner.
Also, changing the email address associated with a Wix account or transferring ownership can be a complicated process that requires contacting Wix customer support. This can lead to delays and cause frustration for dropshippers who need to make these changes quickly and efficiently.
These are the major drawbacks of starting dropshipping with Wix eCommerce. Some might say that Wix also has fewer extensions compared to Shopify, for example. But I doubt you need all those 7000+ apps available on Shopify App Store. Wix has over 300 plugins, with all the popular solutions like Spocket or Printful present.
Can You Dropship On Wix?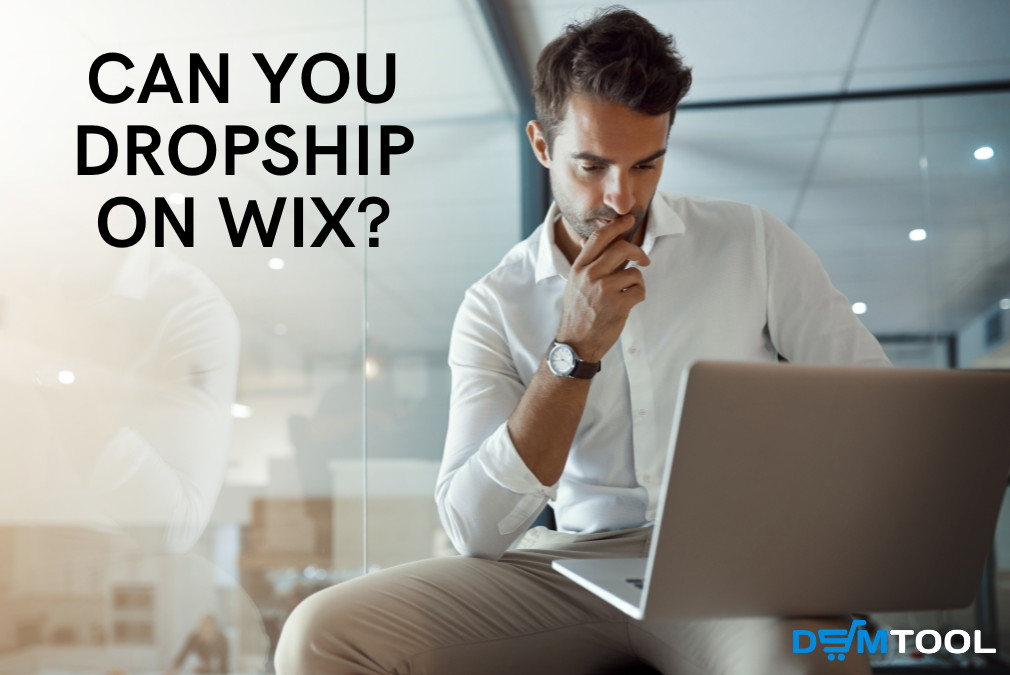 Wix eCommerce is a viable alternative for dropshipping to popular solutions like Shopify or BigCommerce. While each platform has its own strengths and weaknesses, Wix eCommerce stands out in a few areas that make it great.
One major advantage of Wix eCommerce is its drag-and-drop website builder. It makes designing and customizing online stores simple and enjoyable. This is a significant advantage for dropshippers without technical skills and knowledge.
Another advantage of Wix dropshipping is its affordability. While other platforms offer multiple pricing plans, Wix for eCommerce is more affordable. For example, Wix's basic eCommerce plan starts at $17 per month, while Shopify and BigCommerce charge $39 per month for a similar. Dropshipping might be a low-margin business, so affordability can make a significant difference for dropshippers looking to keep their costs low.
In terms of SEO, Wix for eCommerce is also a good option. Over the past few years, Wix has improved its eCommerce SEO capabilities greatly and now offers advanced features like customizable meta tags, sitemaps, and URL structure. This makes it easier for dropshippers to optimize their websites for search engines and drive organic traffic to their online stores.
One unique advantage of Wix eCommerce is its integration with the Modalyst dropshipping platform that connects users with a network of suppliers. This integration allows dropshippers to easily source products and list them in their online stores without dealing with inventory management or shipping. While other eCommerce platforms offer their own dropshipping solutions, the integration with Modalyst sets Wix for eCommerce apart.
Is Wix eCommerce is good for dropshipping in 2023? Yes. Wix dropshipping is a great option for sellers looking for a powerful, feature-rich eCommerce platform that is easy to use and affordable. While it lacks some of the more advanced eCommerce features of Shopify or BigCommerce, it offers significant advantages making it worth considering for starting dropshipping.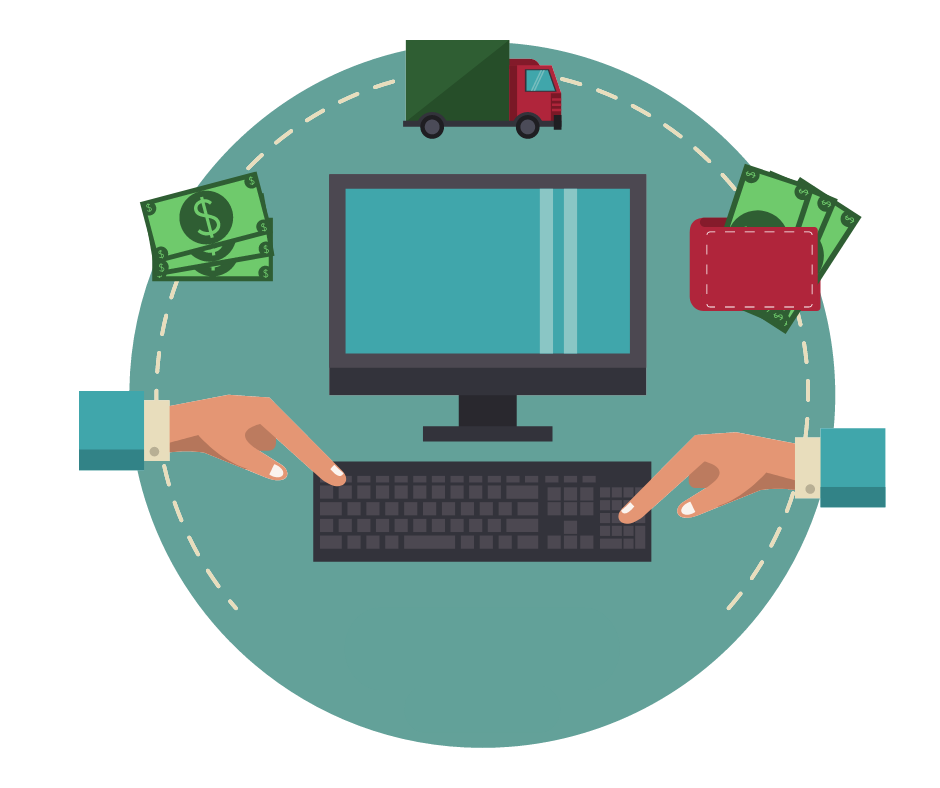 Not yet making money online?
Start your own dropshipping business. Sign up for a free trial of DSM Tool and we'll help you get started. Today is the day.
How To Start Dropshipping With Wix for eCommerce?
Here are the general steps to start dropshipping with Wix eCommerce you can follow as a guideline:
1. Choose Your Niche
Your first step should be considering your niche and what products to sell if you haven't decided already. You can do this step later, but I highly recommend you do it now and use it as a guideline when choosing your store type and template. Remember that you can't change a template once your store is live, so consider the niche you want to sell and how your store should look to avoid re-designing it anew.
If you are not sure how and where to start, follow our How To Find Dropshipping Products: Best Product Research Tools guide for ideas. There you will find free and paid tools that can help you find your winning products.
You can also get ideas of what products to sell from our article 550+ Best Dropshipping Products in Popular Niches to Sell Online, but remember that dropshipping business follows trends, and trends change all the time. Also, other sellers use such guides too, so you better conduct your own dropshipping research.
2. Sign Up For Wix eCommerce
Go to the Wix homepage and click on the Get Started button. In the next window, fill in your email and password, and press Sign Up. You can also continue with your Google or Facebook accounts.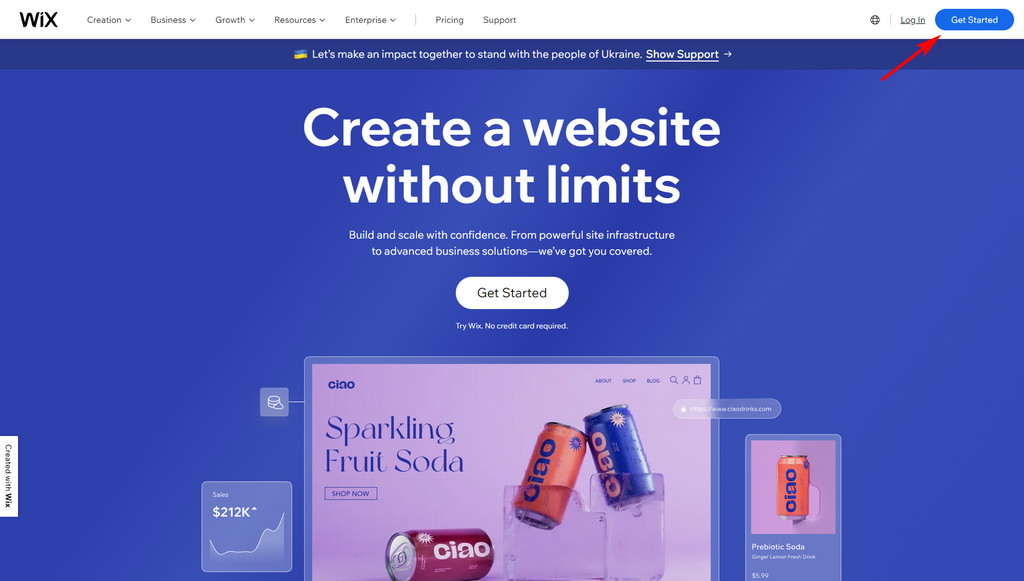 Follow Wix's setup wizard and choose what kind of website you want, what are your goals for this website, and what elements you want it to have, like Chat, Blog, Video, etc.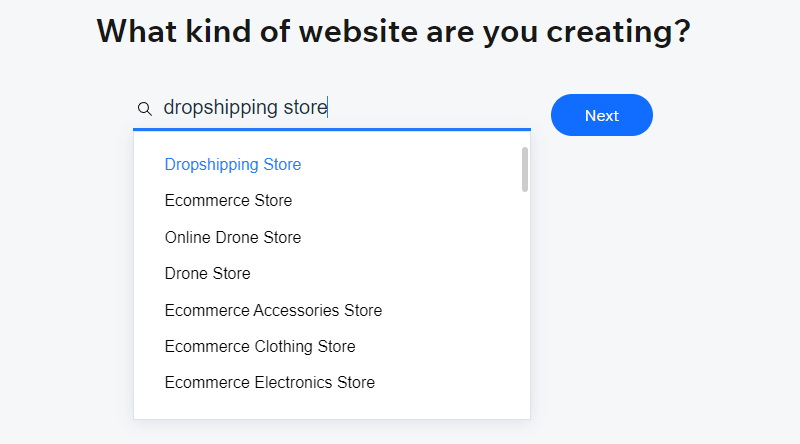 You can skip this part if you are not sure yet. Once you've made it past the wizard, you will get to your dashboard.
Now is the right time to subscribe to one of the Wix eCommerce plans. I recommend you go with the Business Unlimited plan. It provides all the eCommerce features you need, plus you get free access to Modalyst.
3. Pick An eCommerce Template And Customize Your Site
If you haven't decided what products to sell yet, do it now to get an idea of what theme to choose. There are a few ways you can navigate to Wix templates. The easiest is just to type "theme" in the search bar in your dashboard and click on Website Templates.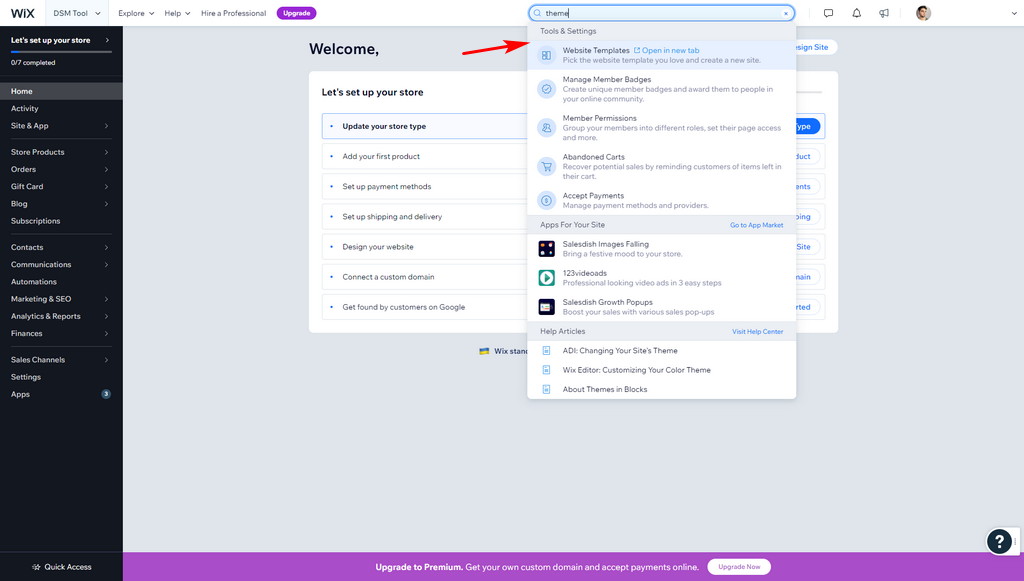 Wix provides over 800 free designer-made website templates to choose from. You can browse through available Store categories or use the search bar to find themes related to your niche. Wix even has templates for CBD dropshipping, which is not common.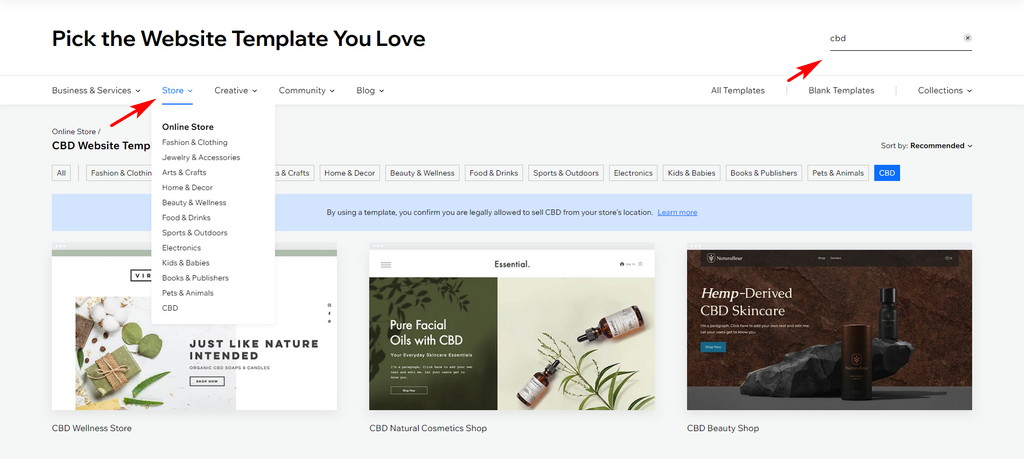 After choosing what template to use, customize it to fit your brand and needs. Wix provides a drag-and-drop website builder, which makes it really easy to add and arrange images, text, and videos. There are over 1000 design features you can edit. Adjust the color scheme, fonts, and other design elements to make your site visually appealing.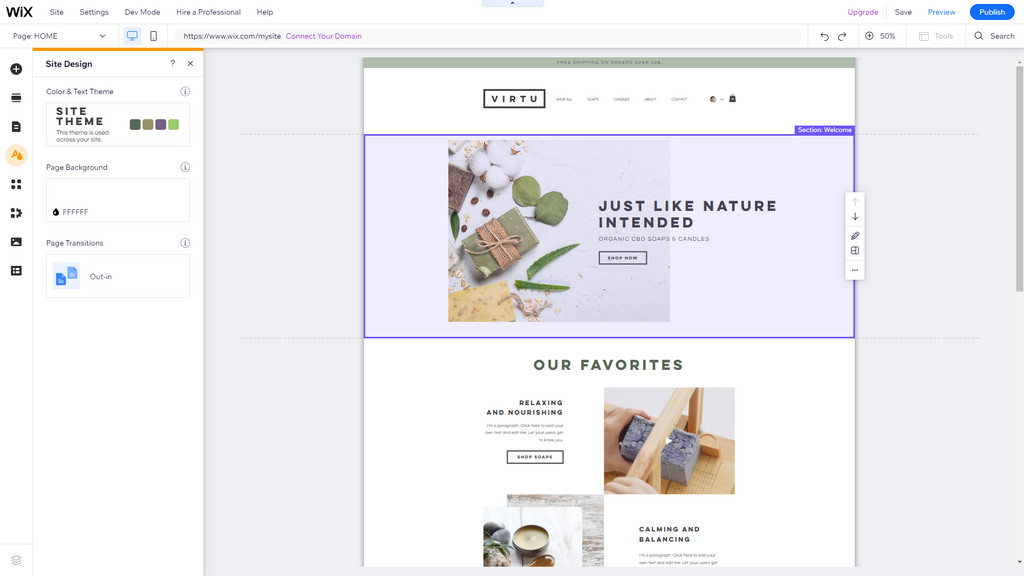 4. Connect Modalyst
To start Wix dropshipping, you need to integrate your online store with one of the popular dropshipping platforms. Of course, you can source products from dropshipping suppliers of your choosing and import products manually, but I won't recommend this for beginners. Beginners should start with one of the popular dropshipping platforms like Spocket, Modalyst, Printful, etc. And because Wix integrates Modalyst for free, we will go with this option.
Go to Wix App Market, find the Modalyst app page, and press the Add to Site button.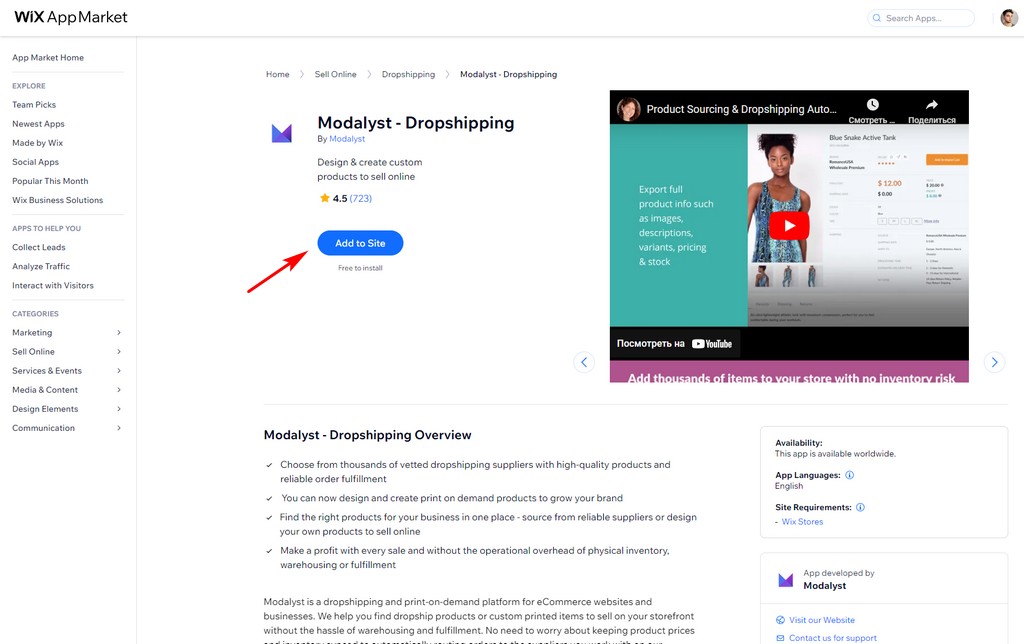 After installation, you must create a Modalyst account and connect it to your Wix store. You will also need to set your shipping and pricing rules, which you can adjust later.

If you prefer another dropshipping platform over Modalyst, you can integrate it the same way.
5. Import Products To Your Store
After you have integrated Wix with Modalyst, it is time to import your products. You can easily find products that fit your business niche by using the category, gender, price, and other filters.
Once you find products you want to sell, you can add them to your Import List. This can be done either by hovering over the product image and clicking on Add to Import List or by pressing the same button from a product page.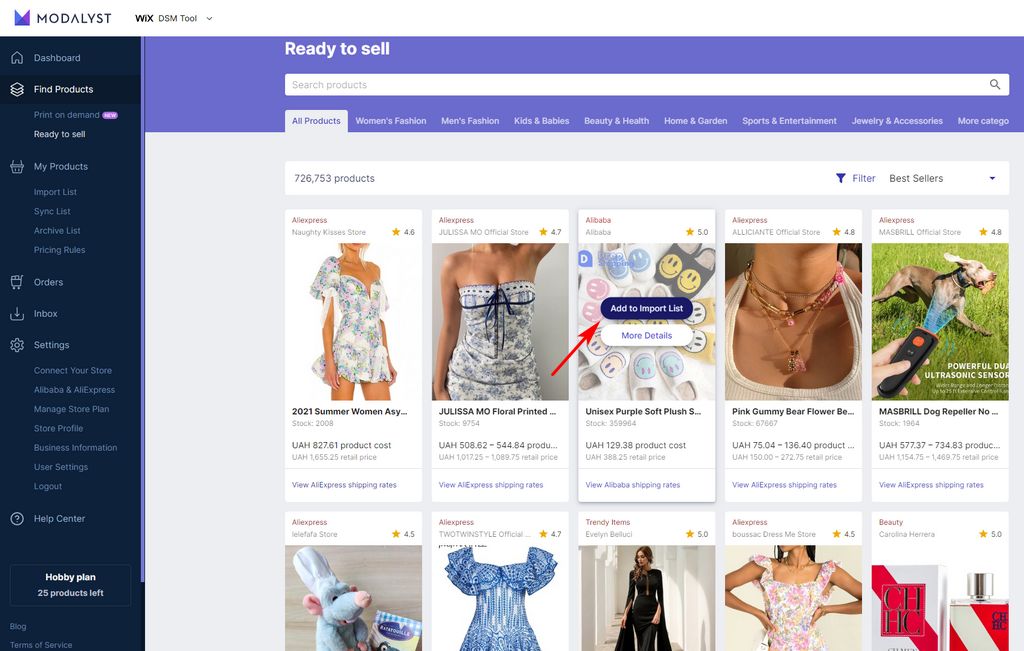 Before pushing products from Importing List to your dropshipping store, you should order samples to test product quality, fulfillment speed, and shipping time to see if a product and supplier meet your expectations. If you are satisfied with the services, you can push the products to your store.
You can add products to your store from the Importing List. From there, you can edit product details like title, collection, description, variations, etc. While Modalyst provides product descriptions and high-quality images for your use, it is best to write your own product descriptions to stand out from the competition. Once everything is ready, press the Add to Store button. You can list each item separately or push multiple products at once.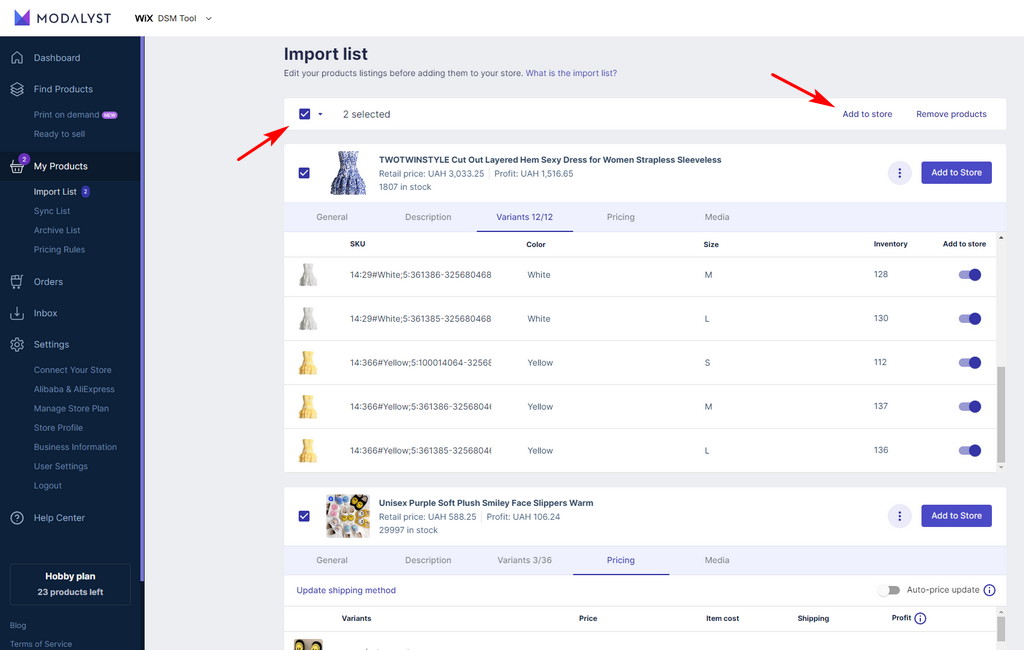 6. Finish Setting Up The Store
Before going live, make sure your store is all setup. If you haven't done it already, connect your domain if you have one, or choose a custom domain name. All Wix eCommerce plans include a free domain for one year.
Select your payment methods and connect to a preferred payment provider. Wix integrates over 40 different payment options and accepts debit/credit card payments from all major brands: Visa, Mastercard, American Express, Discover, Diners, CUP, JCB, and Maestro. You can only use one provider for debit/credit card payments. If you want your customers to choose how they pay at checkout, add an alternative payment method like PayPal.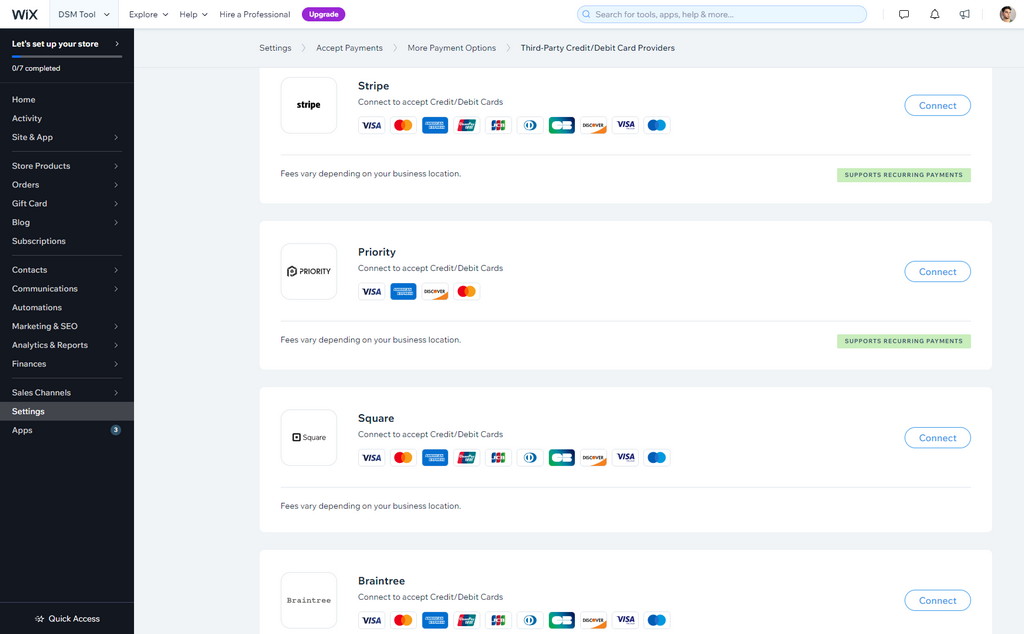 You also have to set up the regions you ship to and your shipping rates.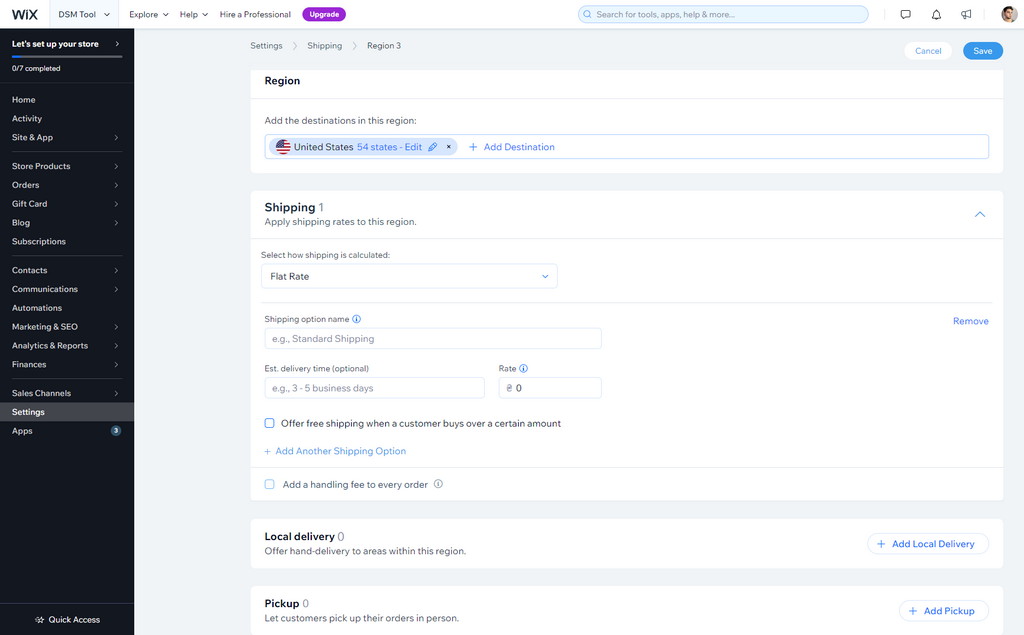 7. Start Selling
Once your website is all set up, you can launch your store and start making sales. You do not have to worry about inventory management or shipping, as Modalyst will handle those tasks for you. When a buyer makes a purchase, your supplier will receive the order and ship the product directly to your customer. Your job is to promote your dropshipping store, attract customers and make sales, while Modalyst handles the hard work.
Oversee orders from your dashboard. Wix provides an intuitive dashboard where you can manage all your dropshipping orders, keep track of the fulfillment status of each order, and send automated order confirmation, shipping, and thank you emails to your customers. You can monitor the success of your dropshipping business by tracking your sales, revenue, and other key performance indicators provided by Wix.
Is Wix Good For Dropshipping?
Yes. Dropshipping with Wix for eCommerce can be a good option for entrepreneurs looking to start an online business. Wix is a user-friendly platform with diverse templates and customization options for any eCommerce business. Integrating with Modalyst allows dropshippers to access a wide range of products and suppliers without worrying about inventory management or shipping.
Compared to other popular eCommerce platforms like Shopify and BigCommerce, Wix eCommerce plans offer a more affordable pricing structure with access to similar powerful features. However, Wix for eCommerce has some limitations, such as the inability to checkout with multi-currency and the site not being transferable. Also, don't forget that Shopify and BigCommerce were designed for eCommerce stores, while Wix is an all-around website builder. Shopify and BigCommerce are better choices for large-scale businesses, but for small and medium businesses, Wix is just as good.
In summary, dropshipping with Wix for eCommerce can be a great choice for sellers prioritizing ease of use and affordability. It may not be the best option for businesses that require more advanced features or have more complex eCommerce needs. Carefully evaluate your options and choose the eCommerce platform that best suits your goals and business requirements.