10

min read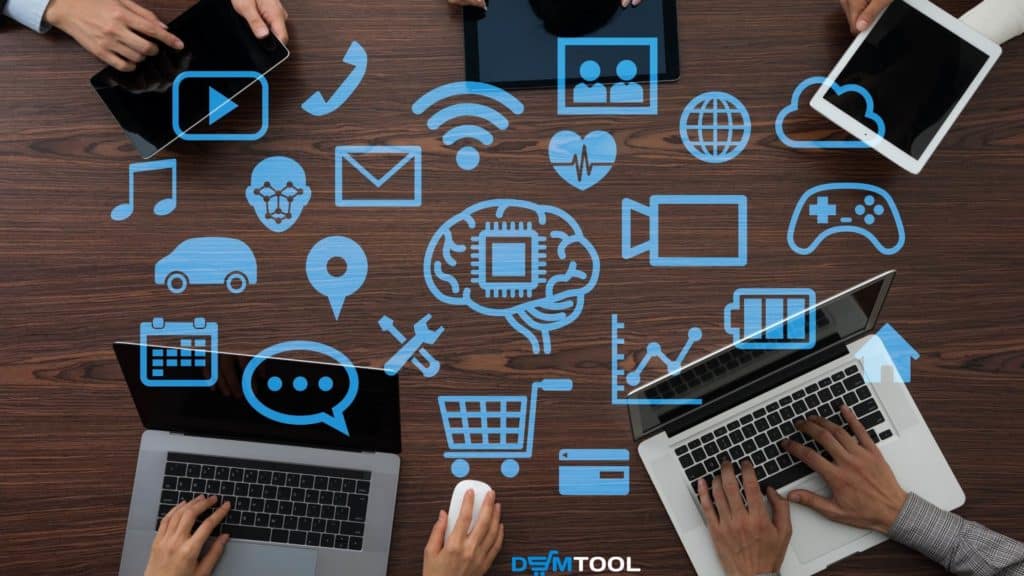 Each day, the eCommerce market becomes more competitive than ever. There is an ever-stiffening struggle to get leads, convert them into customers, and maximize sales. In this race to gain leverage in the market, CRM tools for eCommerce have emerged as the most important weapons.
It is a testament to their popularity that today, CRM has the largest software market share in terms of revenues. By 2025, the net worth of CRM is expected to reach $80 billion by 2025. But with the plethora of eCommerce CRM tools available in the market, which ones are the right choices? Here are the top picks.
Need For CRM Tools For eCommerce
In business, every investment needs ample justifications. CRM tools are comprehensive and offer a host of features, but how exactly do they benefit B2C companies?
Let's take a look at why to use a CRM Solution:
Improved customer experience: eCommerce CRM tools help to improve CX in more ways than one. It automates the collection and dissipation of information like order status, shipment tracking, and inventory status, thus keeping the customers informed. Through omni-retail channels, it also transfers customer details to retailers, allowing them to serve customers better. 
Better marketing: Customer data is collected and stored in a shared database, allowing the marketing department to access and leverage it. This allows them to formulate informed and personalized marketing strategies. In addition of the fact, it helps to get new leads.
Improved inventory management: With CRM, inventory management is largely automated, and scenarios like "out of stock" could be avoided before they occur. CRM tools for eCommerce also help in forecasting, thus predicting future demand and its proportional impact on inventory.
After-sales service: Customer management after making a sale is often neglected in most eCommerce businesses, but CRM helps to solve this. The tool largely automates customer management and solves issues like returns/refunds, product education, etc. more efficiently. It can also automate the process of retaining customers in the long run.
Enhances sales performance: With CRM, the sales department is equipped with customer details like past purchase history, search history on the site, the correlation between purchased products, etc. This allows the sales team to upsell and cross-sell more efficiently.
Eliminate human error: The element of human error continues to be a source of monetary losses for businesses. With CRM, this problem is remedied. As more actions are automated, things like typos and wrong data entry are no longer an issue.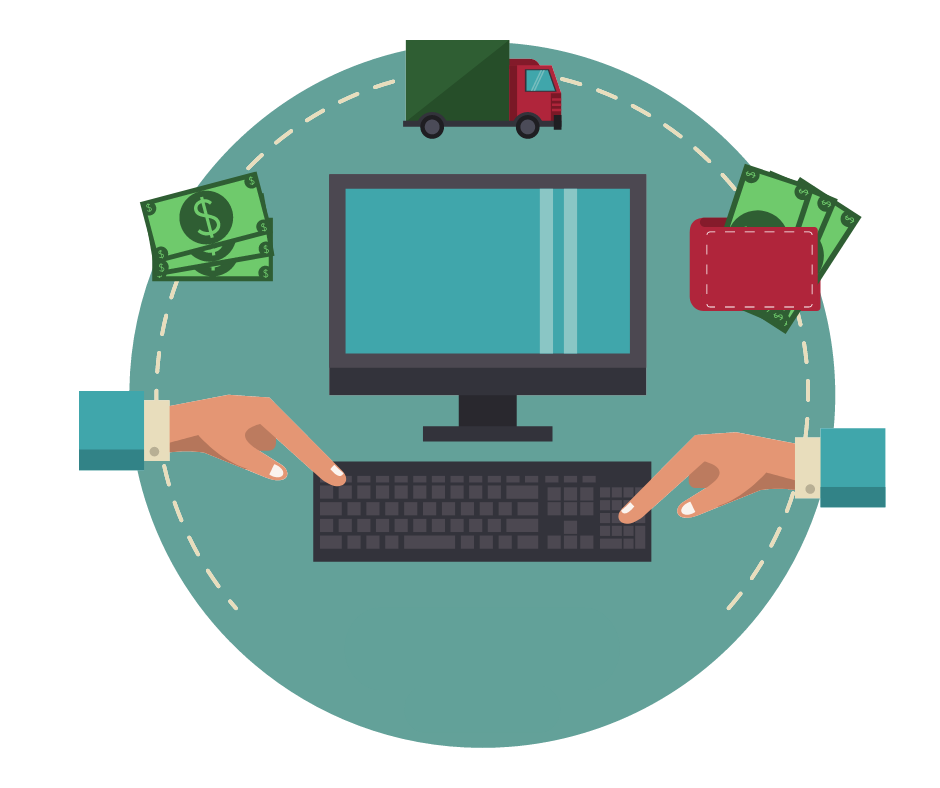 Not yet making money online?
Start your own dropshipping business. Sign up for a free trial of DSM Tool and we'll help you get started. Today is the day.
The 5 Best CRM Tools For eCommerce
Now, let's take a look at five of the best CRM Software for eCommerce businesses right now.
1. HubSpot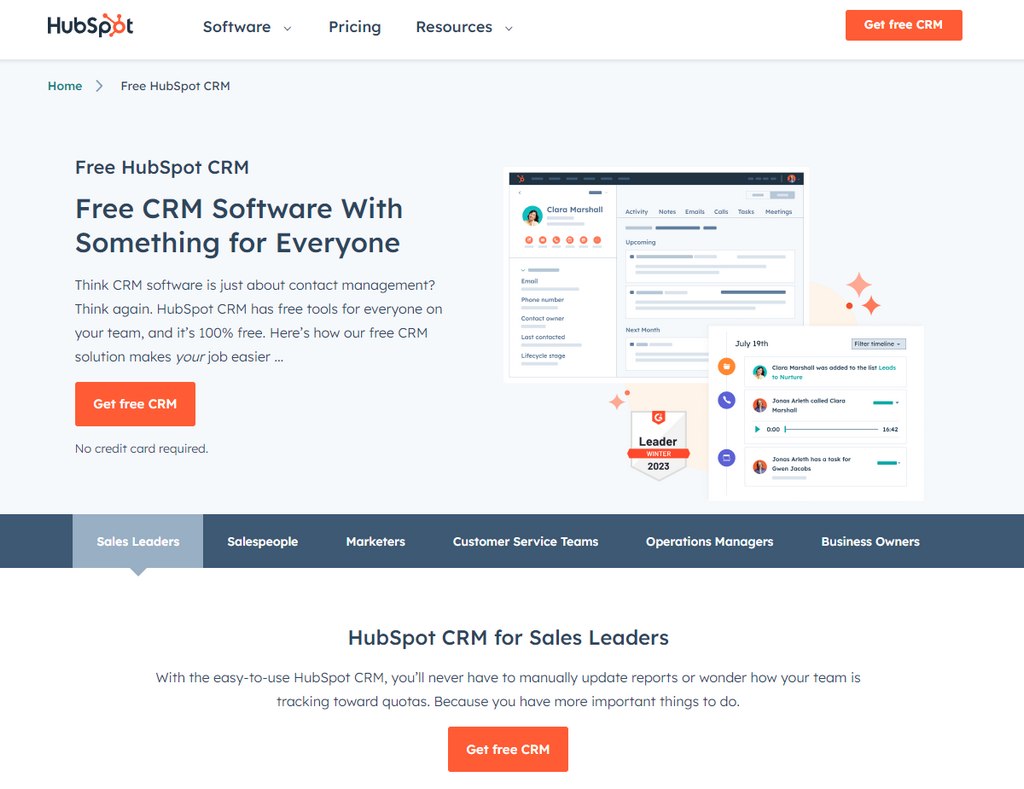 HubSpot is one of the most trusted names when it comes to digital marketing. Its CRM tool offers similar reliability coupled with a range of features. HubSpot is unique due to its App ecosystem, which offers complimentary plugins to add even more features to the app. Some of these include email marketing, event organization, social media management, and lead generation.
HubSpot uses a common database for storing all data, allowing for seamless integration between sales and marketing departments. Sales leadership can also track the performance of their employees, including closed deals and open cases. Other sales & marketing tools include pipeline management, contact management, converting visitors to leads, and sending personalized emails.
HubSpot CRM is free of individual sales agents, making it a great tool for employees wanting to increase their sales with the tool. If teams or small businesses want to use the tool, they will have to buy the HubSpot Sales Pro plan, which comes with additional features like calling and recording potential customers.
Pros:
One of the rare eCommerce CRM tools that are completely free. The pro plan also has a free trial.
Allows comprehensive management of various aspects of sales and marketing.
Cons:
The Pro plan can be considered expensive, especially for teams and small businesses.
The features in the free version are limited and not suitable for medium or large businesses.
2. Kommo (formerly amoCRM)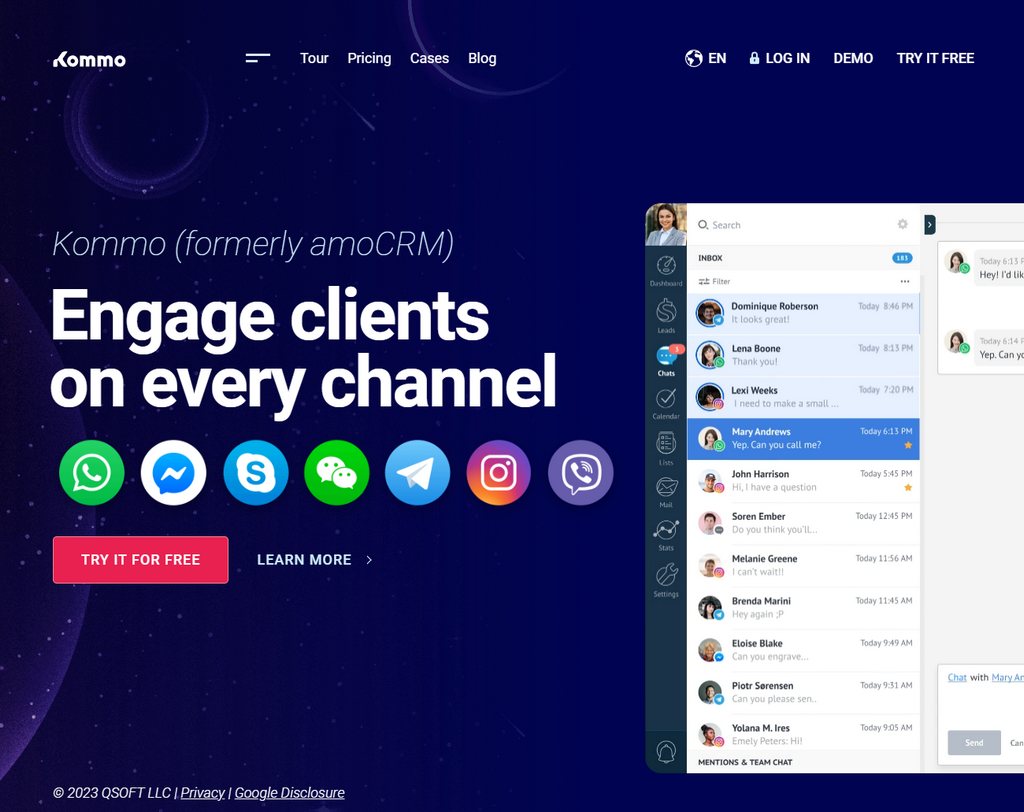 Instant messaging services have become the primary form of communication among users today. Kommo helps businesses to tap into that potential for generating leads and driving sales. The CRM tool is versatile par excellence and allows you to connect with customers via a variety of mediums – text, video, or SMS – irrespective of the underlying platform.
Kommo comes with a built-in chatbot that helps in automating customer communications. The tool also allows businesses to build and customize their chatbots through an intuitive interface. amoCRM comes with a vast array of third-party integrations including (but not limited to) Facebook, Gmail, WhatsApp, Telegram, WeChat, Viber, Dropbox, MailChimp, and WordPress. It also offers other essential CRM functionality like customer analytics, lead
Pros:
Excellent use of instant messaging services for generating leads and sales.
A huge number of third-party integrations.
Intuitive and customizable chatbot
Cons:
A complicated interface that might not be beginner-friendly.
Difficulty in importing/exporting client data. 
3. Salesforce CRM Tools For eCommerce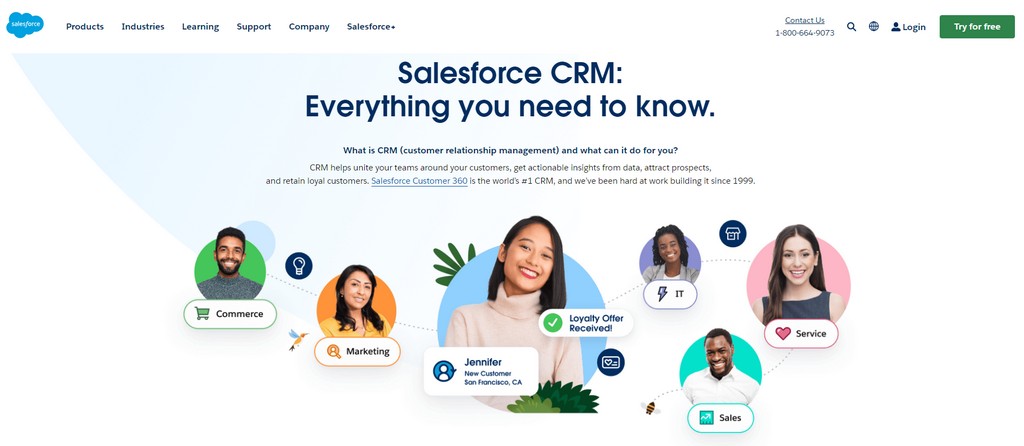 As far as CRM tools for eCommerce go, Salesforce is an absolute giant. The company held almost 20 percent CRM market share in 2019, so it is no wonder it lands a spot on this list. Salesforce is a market leader in creating customer-oriented solutions for businesses. The cloud-based tool is easy to install as it does not need on-site resources but offers full functionality to the user.
The biggest USP of Salesforce is the ease of using the tool, which is both intuitive and user-friendly. Despite this, it offers a vast array of features like sales forecasting, document manager, contract management, email marketing, and quotes management. The tool also supports a good amount of third-party integrations like Slack, Quickbooks, DocuSign, and MailChimp. For B2B businesses, Salesforce offers Pardot, native integration for marketing automation solutions.
Pros:
Being cloud-based, it is easy to install and access from any location.
Offers great scalability and is suitable for all business sizes.
Offers great customizations without any restrictions over adding or removing features.
Easy communication among team members and in-depth tracking.
Cons:
The tool has a long learning curve due to its vast features and is not beginner-friendly.
One of the costliest CRM tools, with many in-tool purchases.
Users have no control over downtimes and system upgrades.
4. SendinBlue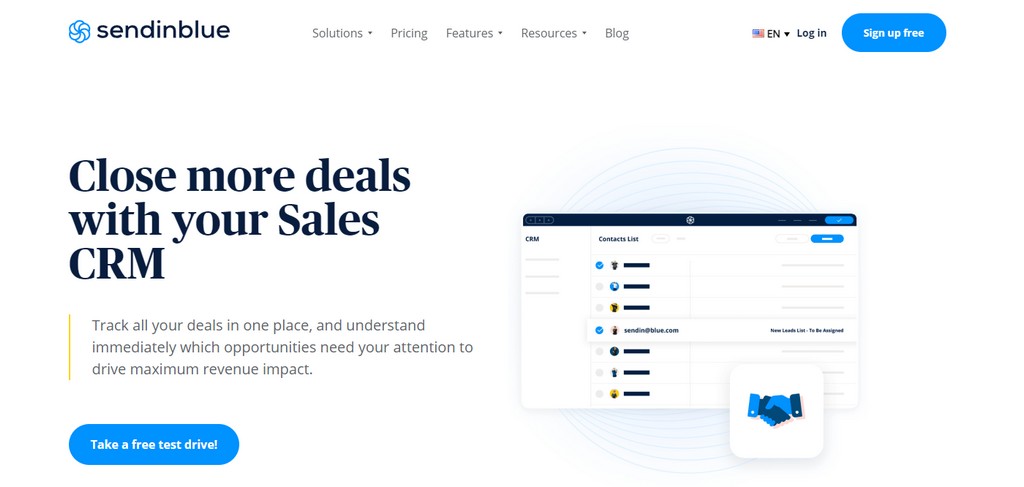 SendinBlue is a compact CRM toolkit aimed at small and medium businesses. The tool allows you to automate entire marketing campaigns and track real-time conversions. Other features include email marketing, SMS marketing, segmentation, and live chat. It also stores the contact details and basic information of both customers and leads.
SendinBlue supports a decent number of integrations like Slack, Google Sheets, MS Excel, Magento, WordPress, MailChimp, and Typeform. One of the key attractions of the tool is its price. A free version exists that allows users to send up to 300 emails per day. The premium plans gradually offer more features for larger businesses. The price point makes it a great choice for startups and small businesses.
Pros:
The bulk email feature makes it a great asset for email marketing.
Offers advanced tracking and analytics on customer data.
The configuration of the tool is easy and could be installed without hassle.
The price is very affordable, while the free version is great for startups.
Cons:
Crucial interface elements, like reporting and dashboard, are unorganized and complicated.
Lack of intuitive explanation of features within the tool.
Frequent lags and bugs in the free version of the tool.
5. Pipedrive CRM Tools For eCommerce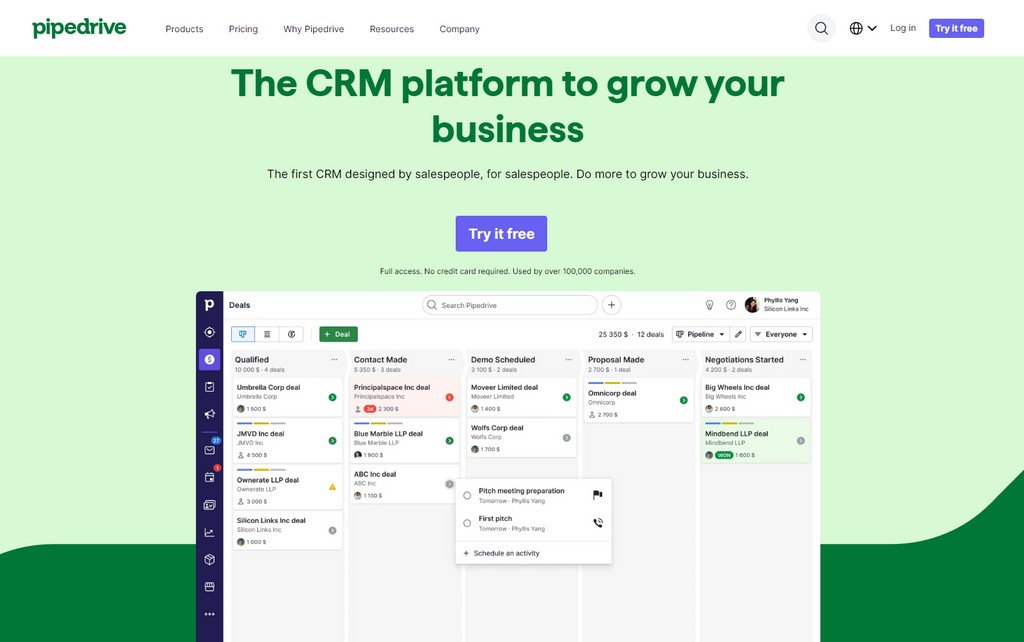 Pipedrive has emerged as a popular choice for eCommerce businesses that wish to cover all bases without investing much. The most appealing prospect of Pipedrive is its ease of use. The interface is simple and intuitive, making it a great pick for users who have no prior experience with CRM. Both beginner and experienced users can use the tool with equal efficiency. The tool has a premium plan per user, though it comes with a free trial.
Pipedrive boasts an impressive slew of features. These include email marketing, task management, customer contract management, managing quotes, and order, as well as product & price management. It also offers additional features like lead scoring and a calendar system. With deal management, the leadership can easily track the team's progress. Pipedrive is also commendable for a large number of supported third-party integrations like Slack, Zapier, JustCall, CloudTalk, Zoom, Outfunnel, and Socket.
Pros:
Simple and user-friendly interface that could be used by anyone.
Visualizations to view pipelines and analytics.
Responsive and helpful customer support.
Cons:
Data analytics does not have the necessary depth.
Lack of bulk mailing features; users can only send 1 mail at a time.
Not scalable for large companies.
Of course, there are more solutions in the market, like Zoho CRM, Capsule, Metrilo, and others. You can check websites like findmycrm.com to find popular CRM tools for eCommerce and decide which one is the best for you.
Tip
It is not enough just to use the best eCommerce CRM tools; you need a strategy. Find out more in our guide eCommerce CRM Strategy: 7 Ways To Boost Customer Engagement.
Conclusion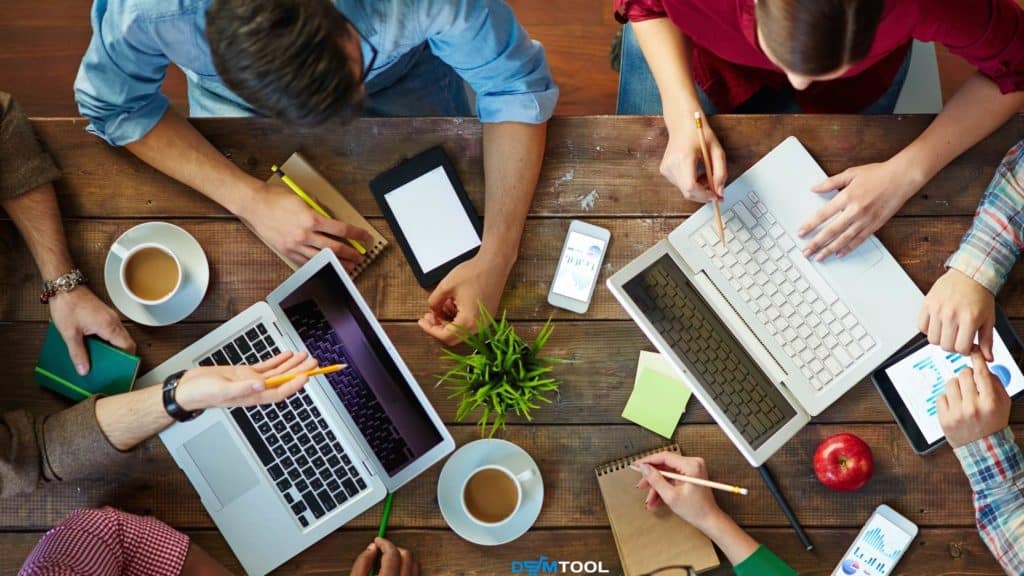 eCommerce CRM tools could prove to be the biggest asset for any kind of business. A good tool does good, a better tool, is even better. Hopefully, the above analysis of the best CRM tools for eCommerce will prove to be beneficial to businesses in choosing the right ones for them.
About the author:
Karan Singh is a writer and journalist with over 4 years in the industry. He has covered an array of niches like health, lifestyle, tech, and fintech. He currently works with amoCRM.