2

min read
If you have a dropshipping business, it is important to gain the trust of your customers as well as potential customers who are visiting your store. Setting up a trusted e-commerce payment gateway is one crucial way to win your customer's trust and confidence.
According to a research on conversion rates in e-commerce that was held by ACI, offering the three best payment methods according to the country in which you sell your goods improves the store's conversion rate by 30%!
On another article talking about the badges that can help raise your conversion rates, I have found that out of the estimated 55%-75% shopping cart abandonment, about 17% of those who did not complete the checkout said it was because they had concerns about the payment security.
The key to taking payments online is to have a secure system that doesn't compromise your customer's information. When you take payments online, the customer has to send personal information, credit card information, and other bank information.
This information is very sensitive knowing that when it falls into the wrong hands, it could put your business and your customer at risk. Your job as the dropshipping store owner is to ensure that this doesn't happen. One way to take care of this responsibility is to use the right payment gateway.
What is a Payment Gateway?
A payment gateway is a secured e-commerce service that functions to process credit card payments for online stores and conventional brick and mortar stores. Payment gateways assist in these financial transactions by transporting key details between payment portals like websites or web-enabled mobile devices and the front-end processor (banks).
Payment gateways accomplish an important role in the e-commerce transaction procedure by authorizing the settlement payment between seller and buyer.
How Payment Gateway Works?
Here is an illustration of how a payment gateway works. Once a payment gateway is set up on your e-commerce website, the whole process starts when a customer makes an order and fulfills the credit card details required. The payment gateway takes this information and verifies it with the associated bank or payment portal. Once payment had been verified, the payment gateway sends the customer back to your site and sends a message to the customer that the payment has been completed, then sends the payment to you. To complete the transaction, you send the product to the customer.
The infographic below outlines the top dropshipping payment gateways you can use for your dropshipping store.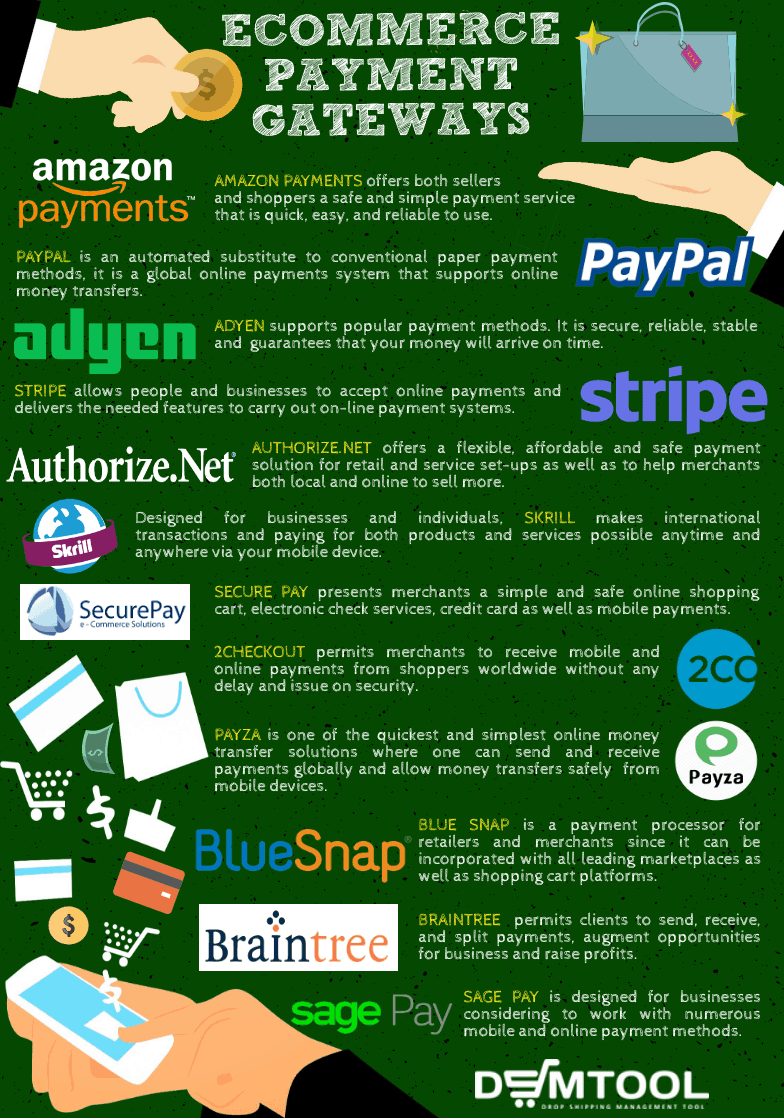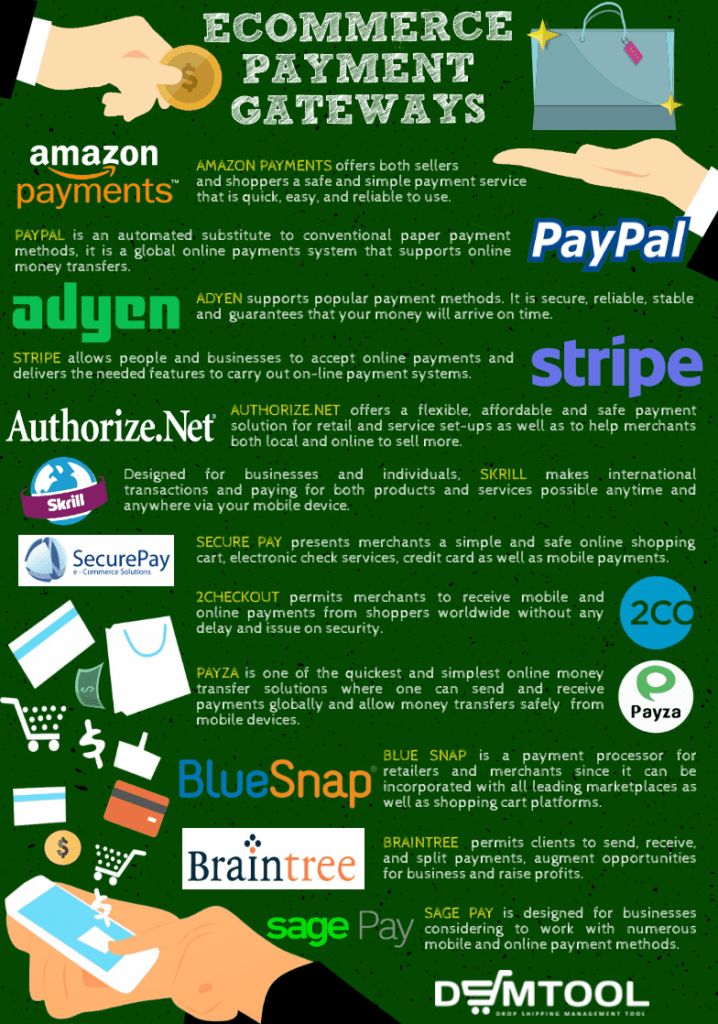 While payment portals make it easy for you to get paid, it also makes it easy for you to pay your suppliers without compromising your personal or bank details.