8

min read
International postal services, courier services, and shipping services play a huge role in the continuous success of the e-commerce industry. Without these services, the transfer of products from seller to buyer is close to impossible. Let's first define the difference between postal and courier services. The term "postal service" and "courier service" are often being interchanged. Nonetheless, both services have some key differences.
Postal services are serviced by the government of a country like USPS or Royal Mail. They provide services to deliver letters and parcels following a universal service mandate. They have international agreements to deliver and receive posts from other foreign countries. Although they generally offer improved services such as secured delivery, the basic service fees are managed and relatively minimal.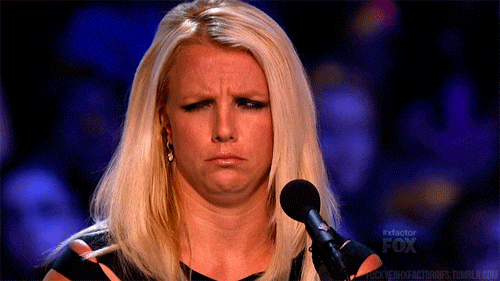 Courier companies are privately owned like ePacket, DHL, FedEx, DX Delivery (one of the world's biggest courier companies), and others and others, which are experienced delivery route planners. A sizeable portion of their business is normally the next working day to two-working days delivery. The fees are generally above postal services fees. The focus of courier business is centered on parcel and packets and work with both Business to Consumer (B2C) and Business to Business (B2B) deliveries.
In this post, we are going to discuss the top postal services across the world according to the Integrated Index for Postal Development as introduced and developed by the Universal Postal Union.
Integrated Index for Postal Development (2IPD)
The list of top performers in the chart below are measured via the Integrated Index for Postal Development (2IPD) developed by Universal Postal Union, a specialized unit of the United Nations that functions to coordinate postal guidelines among member nations and the global postal system. It measures the functionality of nations throughout four key measurements of postal improvement: reliability, reach, relevance and resilience.
The 2IPD utilizes three major types of data to measure overall performance
Postal big data which largely computes indicators linked to connectivity, quality service, transactions, and volumes.
Statistics are used to measure revenue streams and scale economies.
Surveys are used for qualitative factors which are inclusiveness and integration.
The 2IPD is a distinct tool for many sectors in the community in order to fully grasp the function that postal services could impart in the age of e-commerce.
Top 10 Performers in Postal Services in The World
For the production of the 2018 global ranking, 173 postal services from various countries were evaluated using 2017 full-year data. The results show Switzerland topping the list, followed by Netherlands and Japan to form the top three performers of the year. The top performers have shown a consistent balanced performance on all four aspects of the 2IPD. They have managed to create an atmosphere centering on reliability, reach, relevance and resilience in their postal services.
The graph below shows the top 10 countries that demonstrated exemplary postal services based on their 2IPD scores.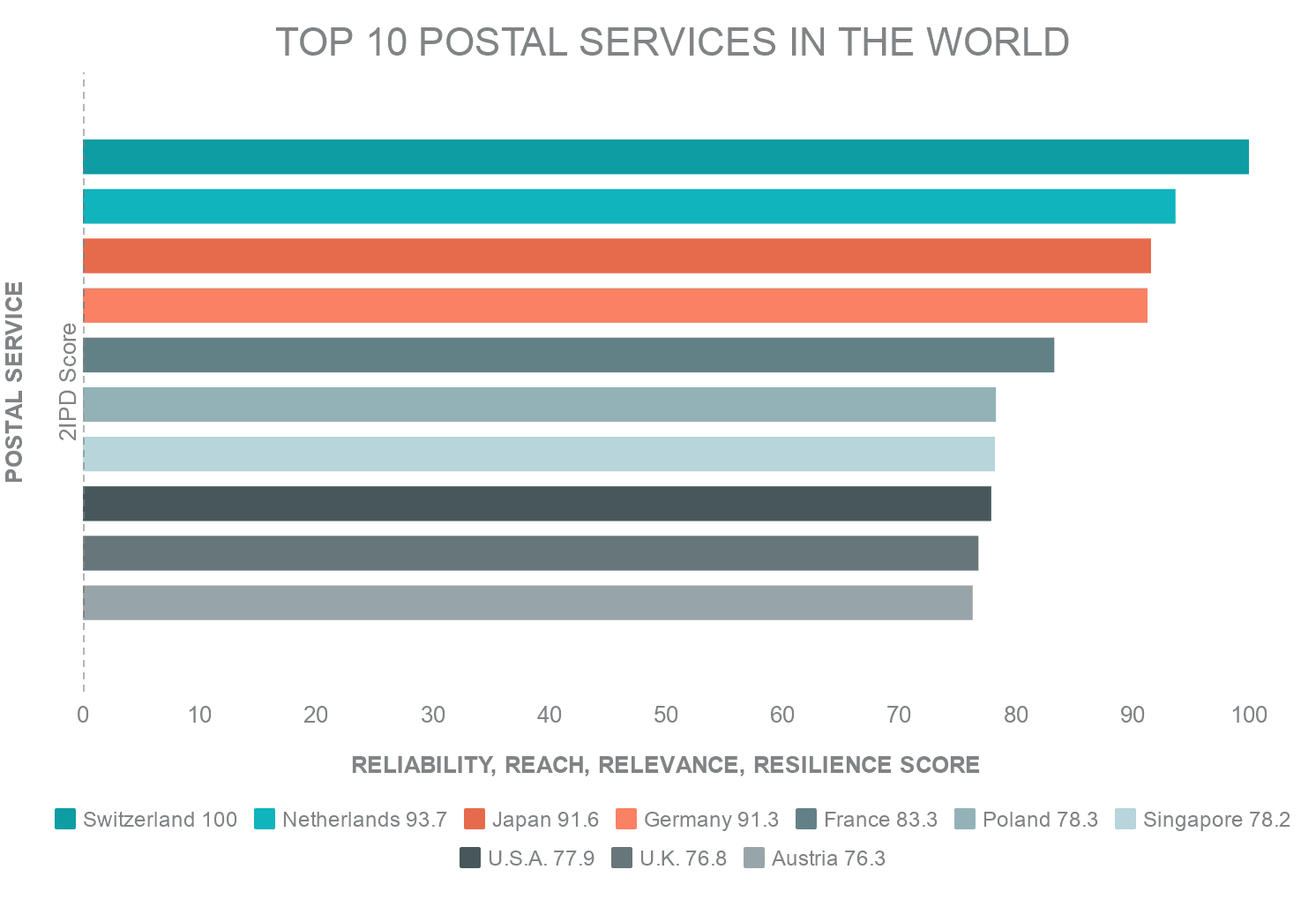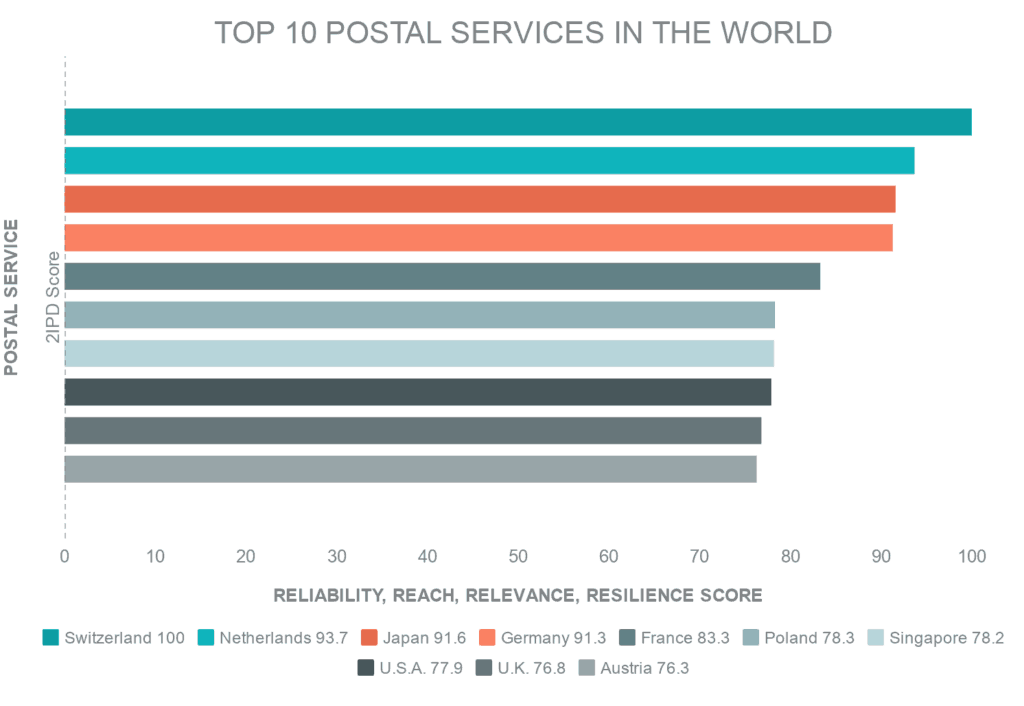 Swiss Post (Switzerland) ranks first for the second time achieving the most balanced performance in reliability, relevance, reach, and resiliency. It has attained ratings of 100 in the account of a substantial volume per capita along with a diversified portfolio throughout all postal sectors. While it is short of the highest rating for reliability, the caliber of its delivery services holds an impressive rating of 93.9.
Swiss Post values its reputation as a world-leading postal company for reliability, speed and security. The average time for a letter from Switzerland to reach a European destination is 2.1 days. Each year over 97% of letters and a similar percentage of parcels arrive on time. – Expat Focus
The Post NL (Netherlands) has improved greatly that it has moved up in the rankings by two places from the previous year. The national post in the Netherlands had been showing a truly stable and balanced performance with a 2IPD score of 93.7 and gaining 83 in all sub-indices. The speed of delivery and volumes it produced with international partners makes it among the most reliable and reachable posts worldwide.
Japan Post (Japan) has maintained its ranking in third place. There was a significant drop in their reliability score from 96.8 to 84.2, nonetheless, Japan's postal service still outperforms its regional peers (China, Thailand, Singapore) when it comes to the quality of service. Their services, specifically their financial services are high in demand, which scored 100 in relevance.
Deutsche Post DHL (Germany) with a score of 91.3, ranked 4th worldwide went through significant changes since it was privatized in 1994. With its DHL International arm, Deutsche Post delivers about 59 million posts every single working day in Germany. It is by far Europe's largest postal company. The German parcel market reached a volume of about €10.8 billion in the year 2017 from €10.1 billion in 2016 and been successful in growing market share to 45.4 % from 45.1 %.
La Poste (France) scored 83.3 and ranked 5th worldwide. The La Poste is among the few public services in the country that receives high compliments from the general public mainly because of the quality service they provide. With a responsive postman that wins the heart of many people, they also have a great number of post office counters spread throughout most villages within the country. France is among the countries with the highest range of post-boxes in the world.
Poczta Polska (The Polish Post, Poland) is 6th worldwide with a score of 78.3. They have an exceptional reach with 183 productive country locations at export. In the past years, Poland has also documented a boost in letter-mail traffic, therefore improving its resilience score, up from 78.1 to 92.09.
The Singapore Post (Singapore) surpassed China and Thailand (Regional Champions in the Asia Pacific) in achievement. They have scored of 78.2 and ranked 7th worldwide. This is in an account for its balanced performance throughout the four aspects of postal growth. Its biggest strength is based on a smart mix of exceptional reliability at 99.8 (third highest in reliability score in the world) and a reach score at 85.1.
The USPS (United States of America) scored 77.9, ranked 8th worldwide. USPS exhibits outstanding performance in resilience. In a progressively more digital era, USPS continues to be part of the top servicing postal services in the world. Their primary function is to deliver secure, reliable and affordable services in mail and packages. The USPS delivers to over 157 million addresses in the U.S. and its territories.
The Royal Mail (United Kingdom) is 9th worldwide with a score of 76.8 in 2IPD. Royal Mail is a postal and delivery service in the UK. It has major operations in Europe. The company was originally established in 1513 and went through privatization after it sold stocks to the public. In 2015, the government sold its 30% stock in 2015 that officially privatized postal service in the UK. The Royal Mail customer satisfaction score for 2017-2018 is a whopping 88%.
The Austrian Post AG (Austria) ranks 10th with a 2IPD score of 76.3. The Austrian Post the primary postal services in Austria. Its major business includes the delivery and transport of letters, parcels, direct mail items, and print media. The network of the Austrian Post is among the biggest in the country, providing high-quality postal services in addition to banking and telecommunications throughout Austria.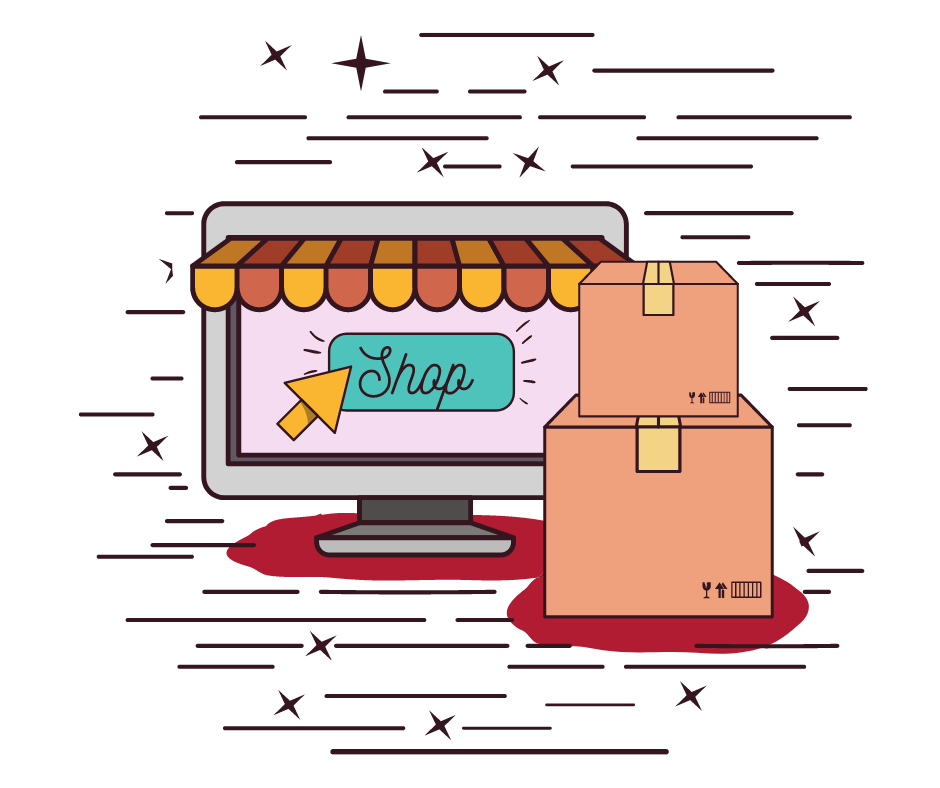 It's time…
Don't wait for success to come. Hire yourself and start your own dropshipping business
Two Top-Notch Courier Companies In The World
In 2018, Forbes Global 2000, FedEx Corp., and UPS Inc. are leading the list of largest transportation companies. These two biggest courier companies had also been mentioned by Transport Topics and had been included in their top 50 largest global freight carriers and couriers.
Three U.S. firms, United Parcel Service UPS, FedEx, and Union Pacific top the 2018 Forbes Global 2000 transportation ranking. — The FORBES Global 2000

FedEx Corp.
When it comes to delivery services, whether it is one of the biggest courier companies or a small one, many people trust FedEx (Federal Express). The company is among the global couriers that have expanded throughout the world, hiring efficient workers and providing quality service. It is was founded in 1971 and now among the top companies in the world in terms of service and revenue.
UPS Inc.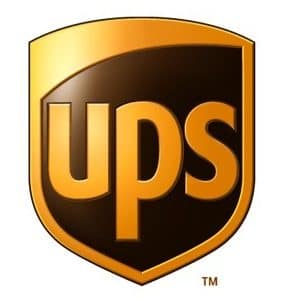 The UPS (United Parcel Service) is an American company founded in 1907 and based in Sandy Springs, Georgia. Their delivery is about 15 million packages every single day and they have about 6.1 million proud customers. The company has expanded to more than 250 countries and is considered among the most trusted and reliable courier services in the world.
This list is also Deutsche Post DHL. It is among the biggest courier services. It has recently been privatized and also made its way to Forbes Global 2000 as among the world's best employers.
For beginners in the e-commerce industry, choosing a postal or courier service is not easy. Naturally, shipping costs are a major concern. But with the right choice of shipping and delivery service, you can make your e-commerce business happen with fewer worries. What other shipping companies have you experienced that we have not mentioned? Let us know in the comments below.