14

min read
Anyone who is in the drop shipping business is always looking for techniques to improve their revenue. While there are many opportunities that allow drop shippers to earn extra money from their business, many dropshippers also look for the best cashback websites.
In this post, we are going to cover the cashback shopping sites and how dropshippers can earn extra money with the help of these websites.
However, before getting to the list of cashback websites, it is important to understand first what is cashback?
What is cashback? How does it work?
Cashback or cash back shopping is a program that gives you money back on almost every purchase you make on your normal daily shopping.
"Cash-back shopping allows consumers to save money on nearly everything they buy online, regardless of whether a particular store is holding a sale. The savings come from cash-back portals, which have affiliate relationships with all of the stores listed on their sites." – Roger Ma, Forbes.com
Jack Pitman is an experienced eBay seller. He makes use of the drop shipping methodology. In his video regarding cash backs, he cites an example to further explain what is cashback and how cash-backs work.
"You are a potential customer to Walmart.com. Normally you would just go to Walmart.com and then you would buy something. The way cashback works is that instead of going to Walmart.com, you go to a cashback website, and then the cashback website goes to walmart.com. And is like 'hey here is a customer from me, give me a percentage of what they buy'… And then Walmart sends a percentage to the cashback website, and then the cashback website sends a percentage to you."
Defining cashback websites
From Jack Pitman's example, we can derive what cashback websites are. These websites have a list of retailers that they are affiliated or connected with like Walmart, Amazon, or eBay. As you shop through cashback websites and make a purchase from the retailer of your choice, you are entitled to a cash return. These retailers pay cashback websites a certain percentage for sending customers to them. In return, the cashback website shares the percentage received to the customer who made a purchase.
How to find cashback websites
First of all, you can check the list of the cashback shopping websites we prepared for you below. There one can find different sites for getting cashback from online shopping. That would be an additional help to increase dropshipping profits.
Secondly, it's always recommendable to check if a cashback shopping site supports the eCommerce platform or e-store you use. In case it isn't, search for another alternative in Google. But do a Google search using these search terms: Retailer name + cashback websites. Example: Walmart cashback websites (as shown in the screenshot below).

Google will give you a whole bunch of results. Naturally, you will want to check the first one. In this example, we checked on the top result from cashbackholic.com.

Cashbackholic provides a list of cashback websites affiliated with Walmart. You don't need to search individually for cashback websites because it is all provided to you in one place.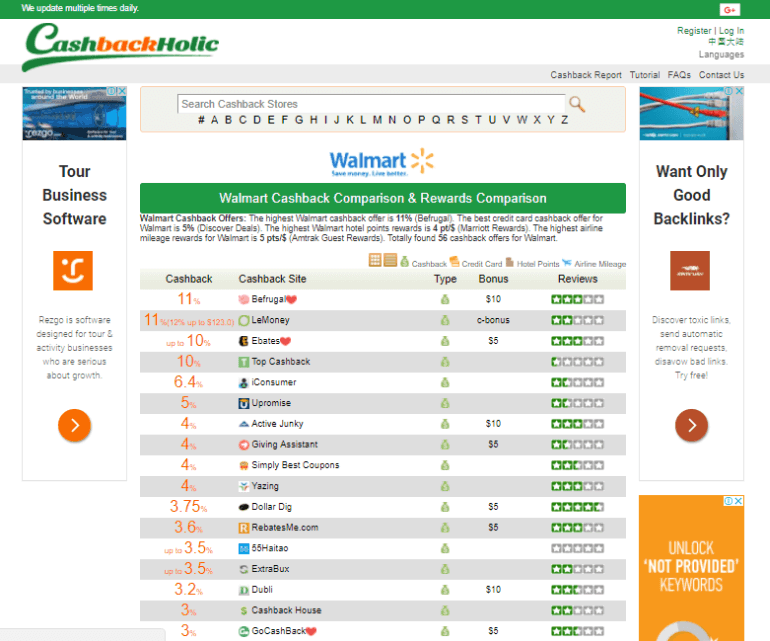 Tip: Do not pay attention to reviews. While reviews are good for other matters, it is not good in the case of cash backs. The cashback arena is saturated with people who "count their chickens before they hatch", they expect too much without further understanding the way the program works. The best thing to do is to get the opinion of those who have tried them already.
We asked Jack Pitman about his preferred cashback shopping sites on which he is earning from cash backs. His favorite cashback websites are Upromise and TopCashback which shows 1.5 stars at cashbackholic.com. Regardless, these websites have paid Jack a total of $4,000 already despite the low score in reviews.
Here are some great cashback shopping sites with special benefits to you, our readers!
Best cashback shopping sites
1. Rakuten (Formerly Ebates)
Follow this link to receive a $10 bonus.
Rakuten (formerly Ebates) is one of the most popular cashback shopping sites. It offers a huge selection of stores to choose from, including the most well-known e-shops and companies. There you can find hot deals, extra sales, promo codes for 2,500 stores that allow increasing the savings. In addition, it's worth mentioning that it's possible to get a payout once in 3 months in Rakuten. It has a Chrome extension that can be one of the handy dropshipping tools for you.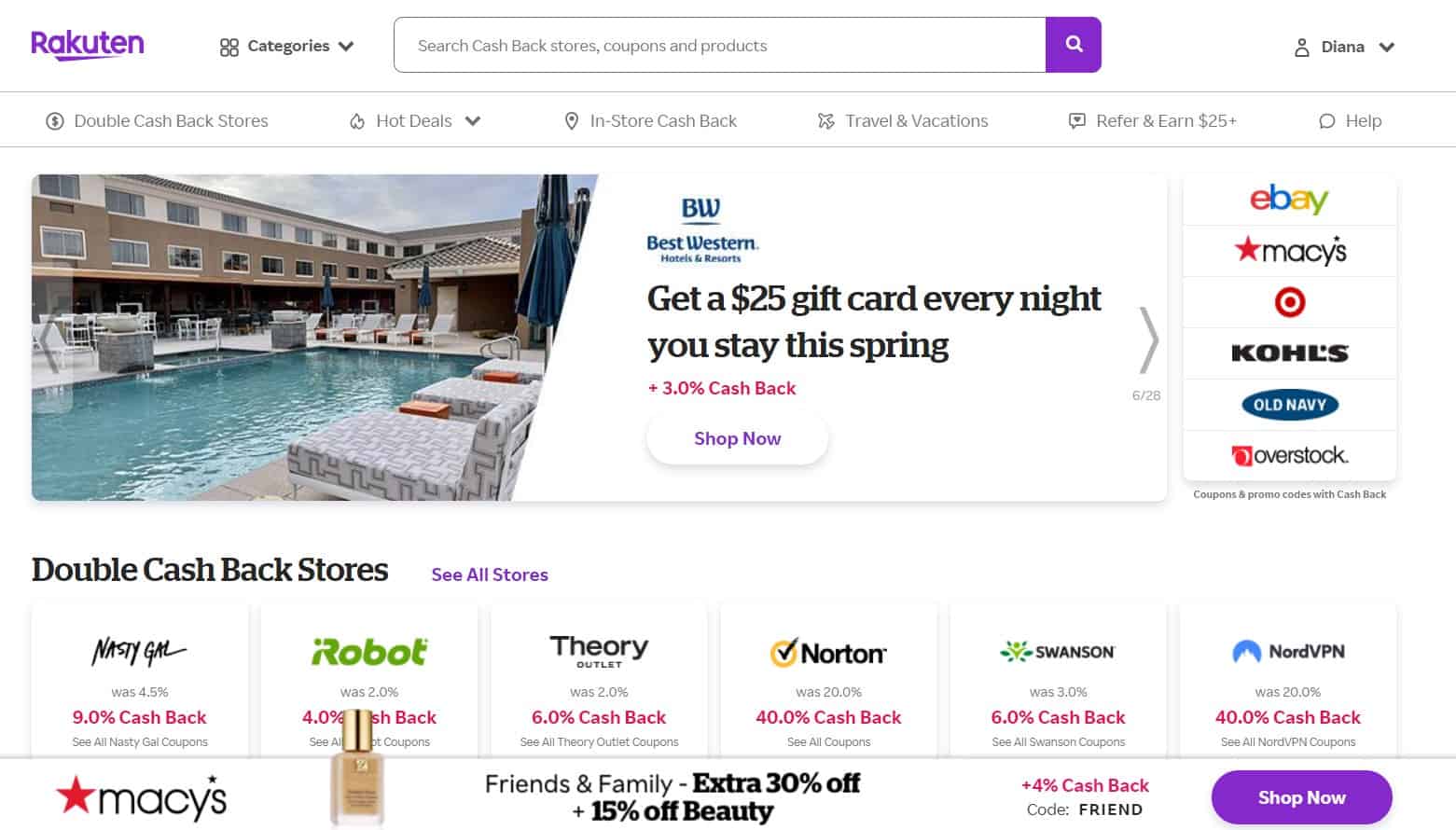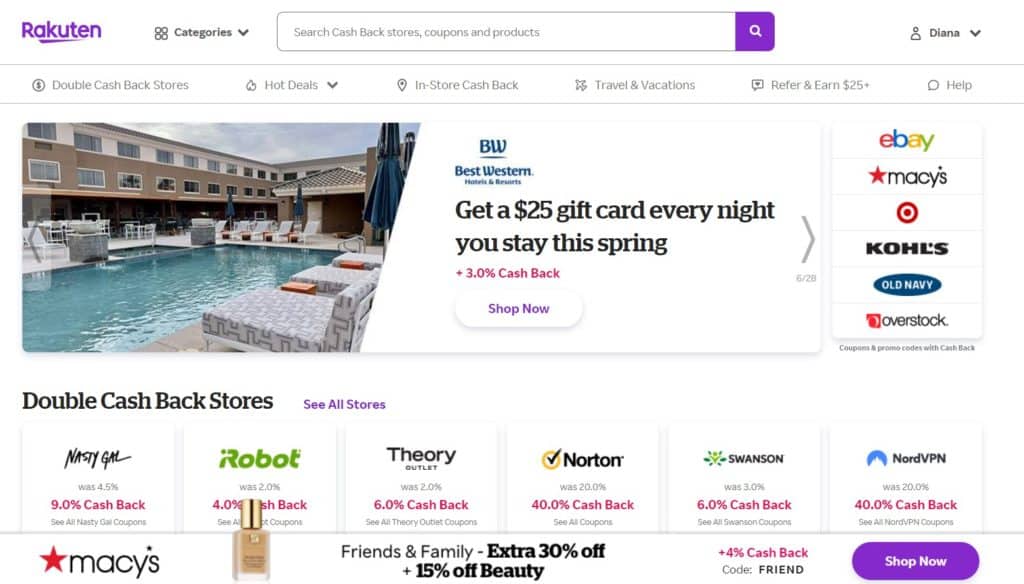 Follow this link to receive a $10 bonus.
Be Frugal also offers a bunch of deals and cashback opportunities for 5000 stores. Amazon, eBay, Walmart, Homedepot, Macy's, Sears are also on its list. Additionally, BeFrugal also has different deals, tools to help you save printable coupons. Besides, it also has a browser extension that helps you not to miss any cashback opportunity. It's possible to cash out your cashback earnings on PayPal, Check, or Direct Deposit.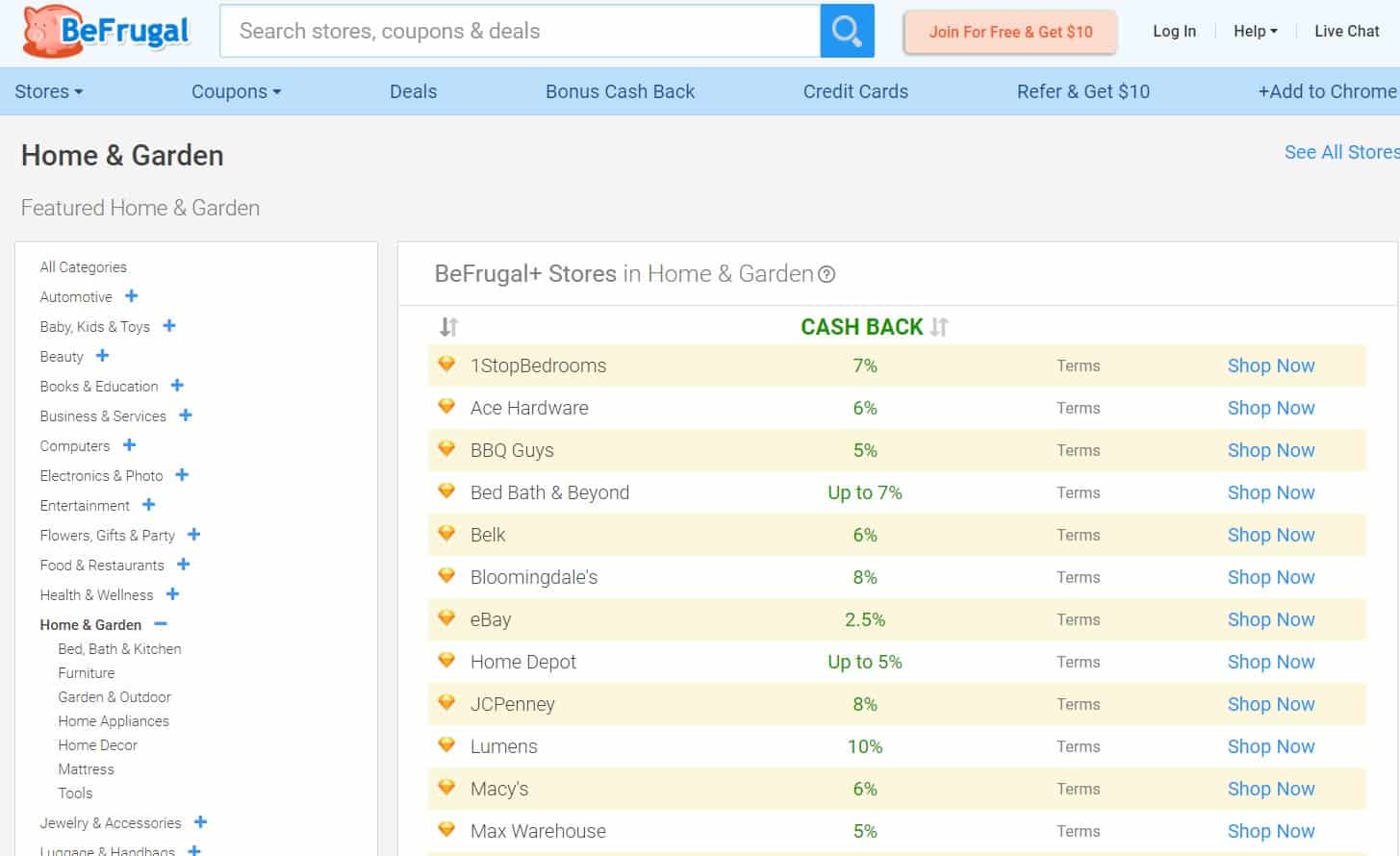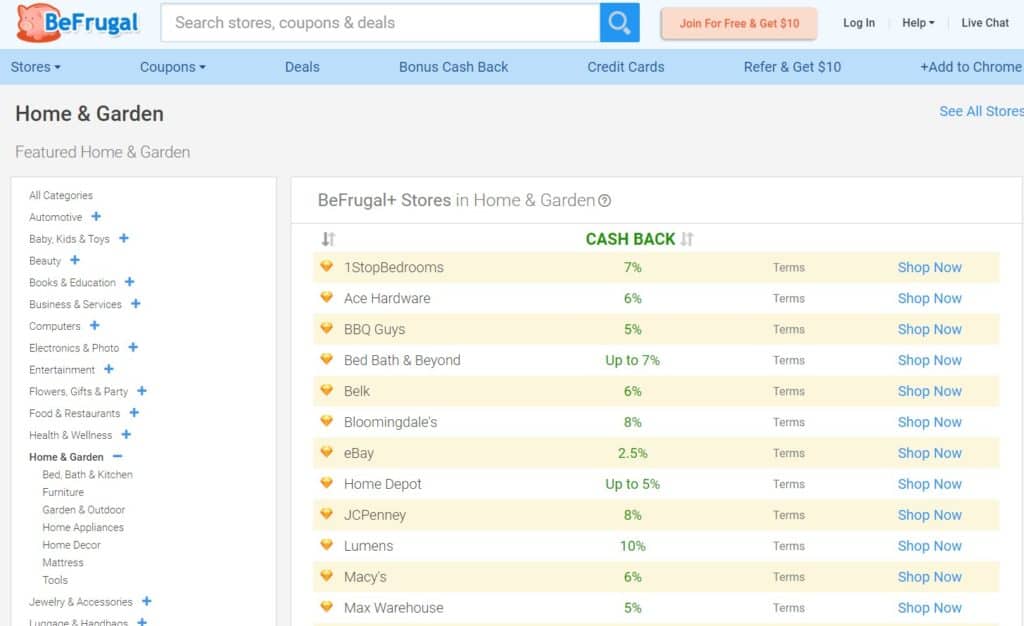 Follow this link to receive a $5 bonus.
Giving Assistant allows you to earn cashback and find the latest coupon codes from over 3,000 brands. In addition, it gives an opportunity to leave an impact by choosing from over 1.7 million charitable organizations to donate some of your cash back earnings. Otherwise, there is an option to cash out your rewards. Giving Assistant also has its own browser extension you can use on different shopping sites.


Follow this link to receive a £5 bonus.
Quidco is a popular UK cashback shopping site with plenty of deals and offers. It's available for free and partners with hundreds of known stores. It's possible to cash out cashback earnings in the form of bank withdrawal, PayPal, or vouchers. Overall, it gives cashback rewards from online and in-store purchases. Quidco mobile app and browser extension are available to help you to save money.
5. Mr. Rebates
It's similar to the previous cash back shopping site which is partnered with 2,500 different online stores, you can shop from. Similarly, Mr. Rebates also offers various discounts and coupons for the most popular stores. They also constantly add new partners. Additionally, it has a mobile app and browser extension that eases the work. You can cash out rewards through PayPal or via paper check in the mail once you got 10$ there. Their referral program allows earning 20% of your friends' cashback rewards.
This cashback site helps to make savings for college. Basically, it works on the cash back model. But Upromise also offers rewards for using your credit card at different kinds of offline places, like gas stations, grocery stores, restaurants, etc. Nevertheless, they partner with different online shopping sites like Kohls.com, Macy's Sears.com, Homedepot, etc. The site has an option to connect your family members to the saving program in order to receive a cashback of their in-store and online purchases as well.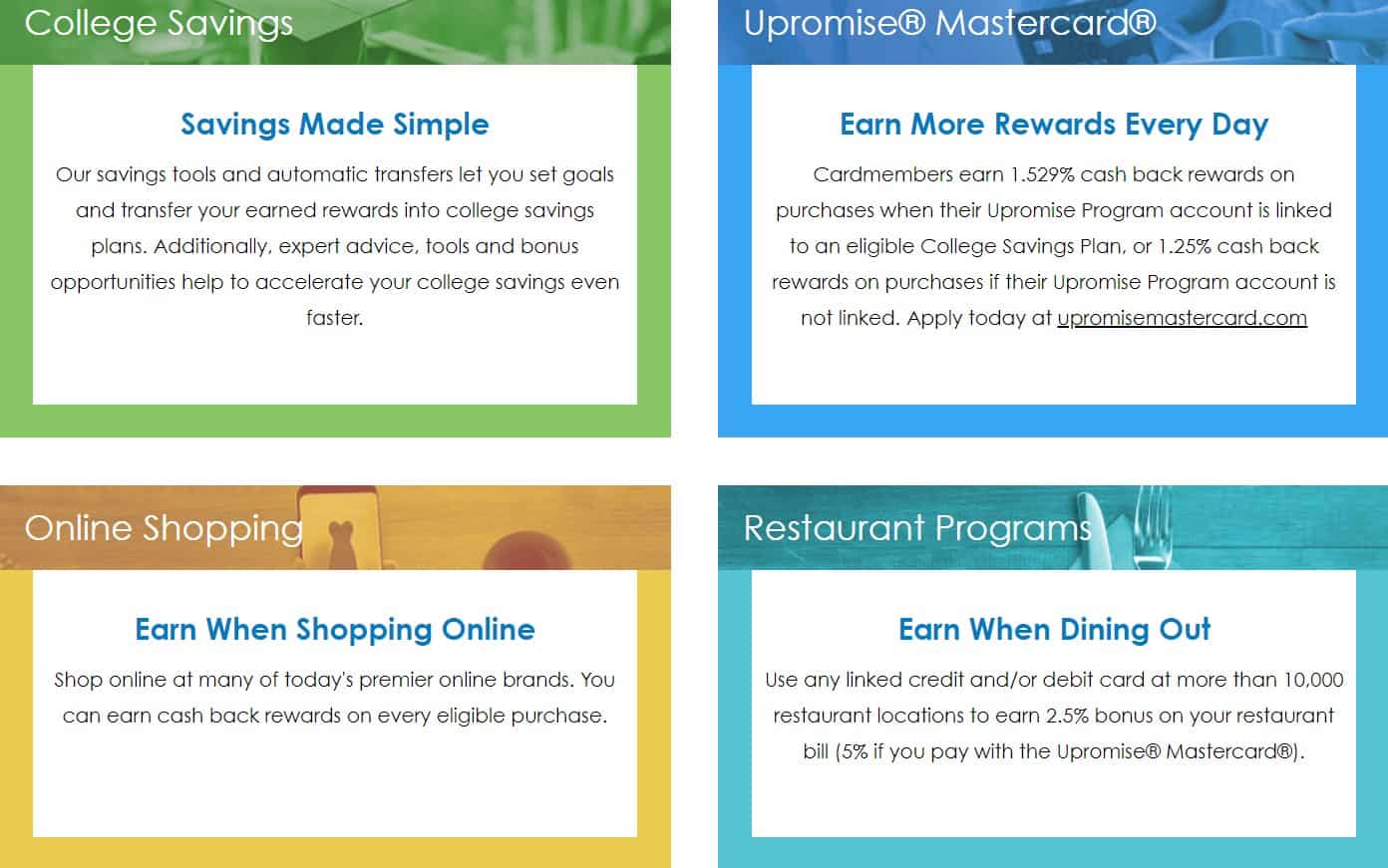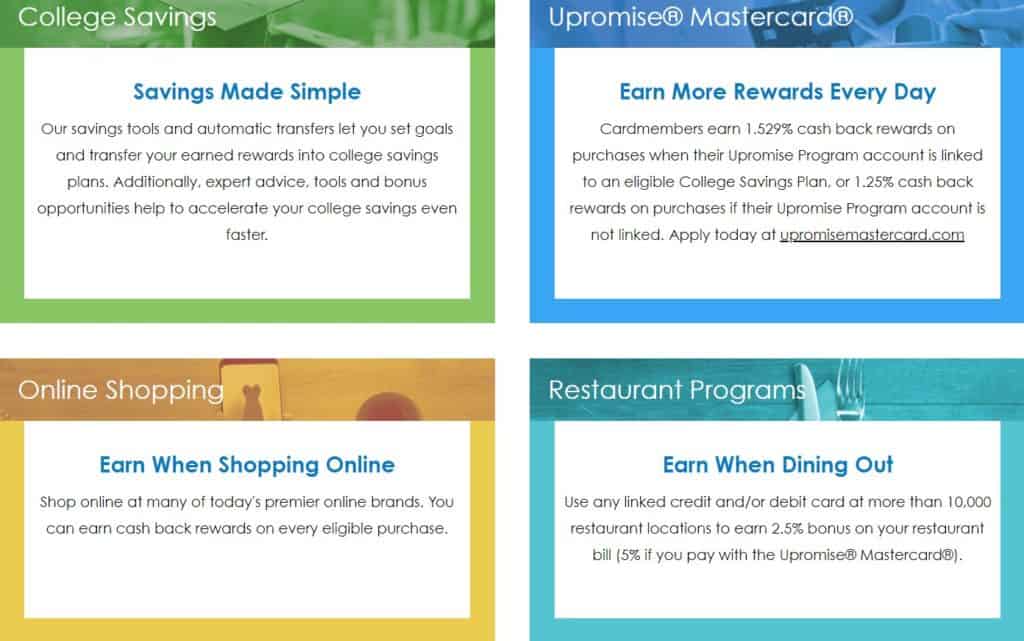 TopCashback is one of the most popular cashback websites for shopping in the USA, UK and India with over 20 million of users globally. It has cashback deals for over 3500 e-stores in the USA, including Walmart, Groupon, eBay, etc., and 4300 online shops in the UK, including Argos and Tesco. It also offers various discount coupon codes and cashback rewards from in-store purchases (in the USA and UK).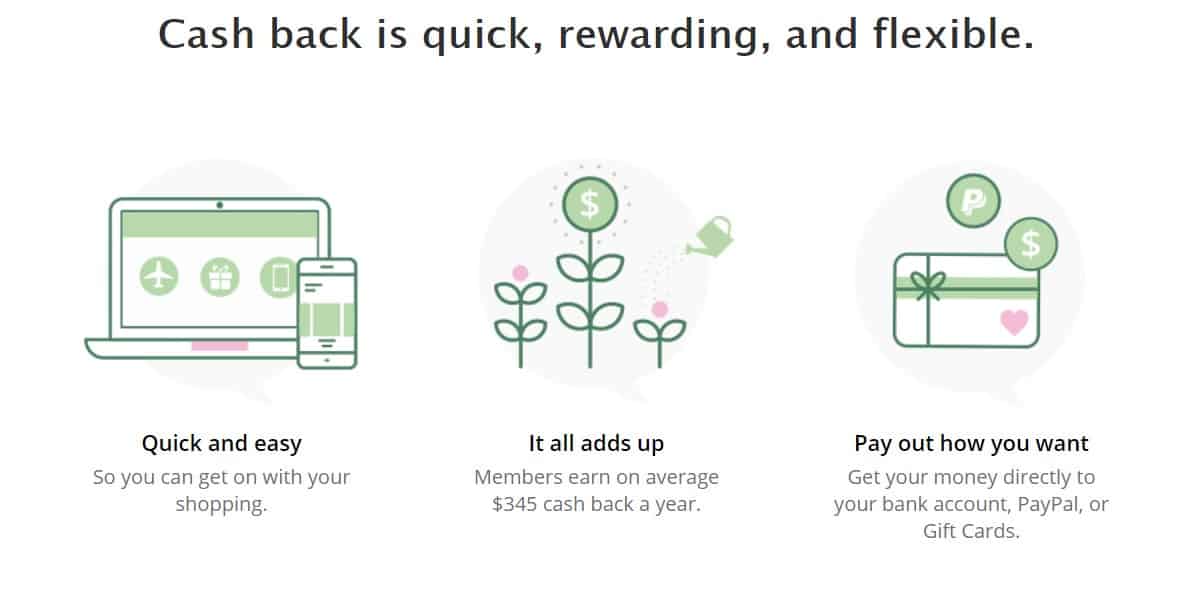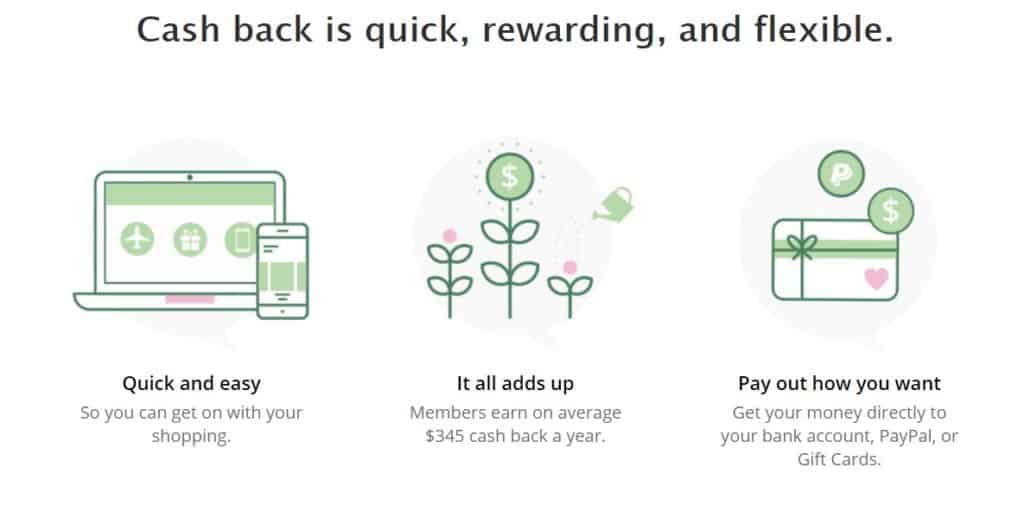 Admitad also provides cashback for dropshippers. They do not charge for their service, so you can start for free. One of the great features of this service is automization of getting cashback, since they cooperate with top fulfillment services, such as Oberlo, Dsers, Dropified, and others. And they work with top cashback-providing suppliers, such as AliExpress, CJDropshipping, Banggood, Alibaba, DHgate, and more. Clear instructions and competent support will help to start receiving cashback in dropshipping easily. 
How can drop shippers earn extra money from cashback websites?
Hey, be happy! You can actually earn from cashback websites while managing your dropshipping business. Read on!
At this point, if you do drop shipping, you may already have an idea of how to earn extra money through cashback websites. Nonetheless, if you are new to drop shipping here is how you can earn more while selling online.
The dropshipping module allows you to resell items that are owned by a manufacturer or items that are sourced from other e-commerce sites. You resell these items by listing and promoting these on your online store on eBay, Shopify, Amazon, etc. Once you have an order, you get the item from your source through cashback websites. By doing this, you will earn two ways.
Make orders through cashback websites
Let's say that you are sourcing exercise bikes from Walmart to resell in your Shopify or eBay dropshipping store. When you have an order on one of these bikes, you earn extra by using cashback shopping sites to purchase the item from Walmart. Let's say your choice of cashback website affiliated with Walmart is TopCashback.com. So here are the steps you can make assuming that you already joined TopCashback.
Login to your TopCashback account.
Choose Walmart.com
Walmart.com will open in a new tab.
Make a purchase of your customer's choice of bikes.
Then check out by using your choice of payment.
You will receive an email from TopCashback telling you that your purchase is pending in your account.
You will earn two ways from cashback websites with your drop shipping business
You earn a certain markup from selling through your dropshipping business.
You earn a certain percentage when you make a purchase through the cashback website.
Best practices every dropshipper should know when using cashback websites
Use a website like cashbackholic. Websites like this will provide a list of cashback websites to explore and use instead of relying on one specific cashback site.
Your cart has to be empty. Make sure that your cart in the retailers' website is empty when you start making a purchase through cashback websites. That helps cashback work best.
No Ad Blocker in your browser. Adblock basically blocks cookies. We don't want that to happen because cash backs communicate with retailers through cookies.
Clear Cookies. Clearing cookies have something to do with making sure your cashback is being tracked properly. Before making a transaction on the retailers' website, it is recommended to clear all cookies related to the website. So if you're going to shop at Walmart, then go to your browser settings and clear all walmart.com related cookies. Do the same for the cashback website.
Check out the video below on how to clear cookies for specific websites.
Note: You don't have to clear your cookies every time. If you have cleared your cookies before your first transaction, then you don't have to clear them on the next.
Clearing cookies will fix most cash back issues unless it has something to do with the website that is out of your control or handle.
Cashback Variances: Not all cashback shopping sites are the same
Retailers determine the cashback you receive. There's a common misconception that cashback websites determine the cashback rewards you receive when in reality it is the retailer who either honors or refuses the cashback transaction.
Percentages you receive. There are variances in cash backs. Depending on the retailer and the cashback website, it might give you everything out of the percentage, or just a very small amount.
Seasonal fluctuations in percentages. There are cashback websites that pass on the seasonal fluctuations from the retailers' side. One good example is TopCashback, their percentages can change from 3%-4% to as high as 10% depending on the season.
Giftcards. The use of gift cards can sometimes cause complications with cashback. Gift cards allow you to purchase items on the retailers' site using the credits you have on the gift card. These cards allow you some kind of savings and discount of some sort. Nonetheless, there are some retailers who don't allow you to get cash backs with purchases you made with gift cards.
Cash backs take up to 90 days
It can take up to 90 days to get that percentage back. The cash back will show up in your account as "Pending" or "Outstanding". It will remain in the pending status for about 90 days, depending on the situation.
"The confusion here is that some websites talk about weekly and monthly payouts. That does not mean that you get your cash back in a week but rather it means that once you have accrued eligible cashback, from pending to approved, then they can pay that out every week or every month. "
Money on "Pending" Status. Do not expect money on "pending" status to be your exact payout. Money on pending status means that the retailer has not yet given the cashback website the percentage in the sale.
Return Period. The retailer does not automatically transfer the percentage not until the return period has passed. This is to make sure that there are no issues with the transaction. After the return period, the retailer will either approve or decline the transaction. Any money on pending status can be declined so it is not yet sure money.
Cashback Stacking – Does it work?
Some people think that cashback stacking actually works. In reality, it doesn't work at all. Let's find out why.
Cashback stacking is when you try to get multiple cashback websites to claim the same order. Let's go back to the example of purchasing an exercise bike. So when purchasing the item, you enter multiple cashback websites like TopCashback, Giving Assistant, Upromise, and etc to make the same exact order of exercise bike.
At first, it will seem to look like it is working because the cashback websites will take notice of the transaction and let it through. However, when it comes time for the retailer to approve the claim for cashback, it will only approve one of the many transactions you have made and quite possibly, even none.
The cashback stacking process or technique is not in any way legal and therefore it is NOT recommended for drop shippers doing their business in good faith. So if you want to do your business right, do not try the cashback stacking system.
Conclusion
For everything that's been discussed in this post, we owe it all to Jack Pitman who graciously shared his knowledge and expertise in cashback shopping.
We hope that you, as a dropshipper, will use this knowledge to your advantage and will get more earnings for your already profitable business.
What is your favourite cashback shopping site? Let us know in comments below.
Happy Selling!