15

min read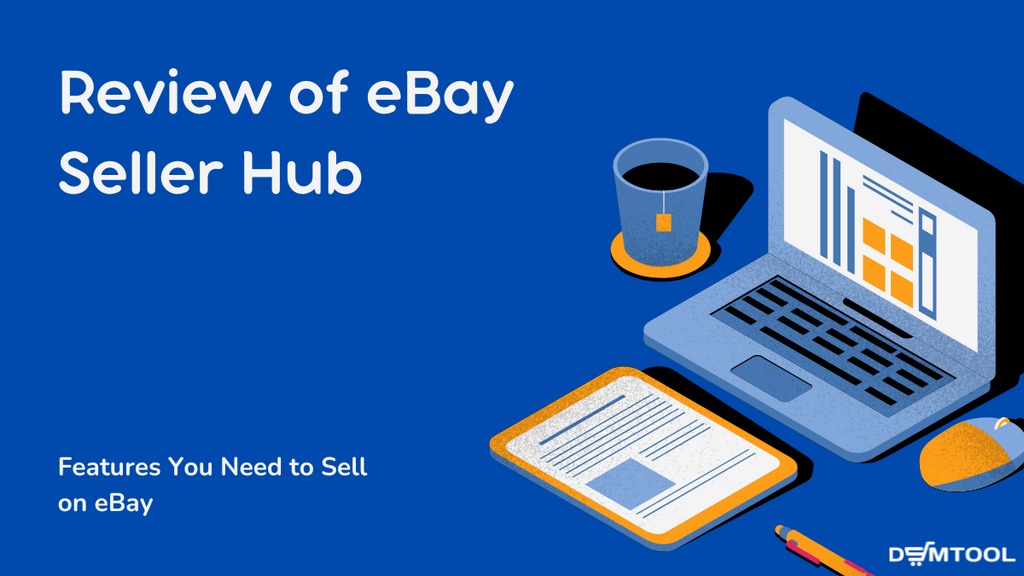 eBay, one of the biggest marketplaces in the world, offers everything the eBay sellers need for running and growing business within its dashboard – the eBay Seller Hub.
If you sell or dropship on eBay, you need to know and understand how to navigate the hub's features and tools, as it is crucial for your business.
In this post, we will show you all the features and tools from the eBay seller dashboard, which every eBay seller must know, and teach you how to get the best out of them.
What is eBay Seller Hub?
The eBay Sellers Hub is the store management dashboard for eBay sellers. It is built of a combination of listing and order tools along with collected and analyzed sales data. Simply saying, it is a professional dashboard for eBay sellers that brings all they need to access into one place. It doesn't only simplify the process of running a selling account, but also puts in the necessary features, marketing guidances, and analytics insights that can help to grow the business.
Further, we will make an overview of all features the sellers can access from the Seller Hub.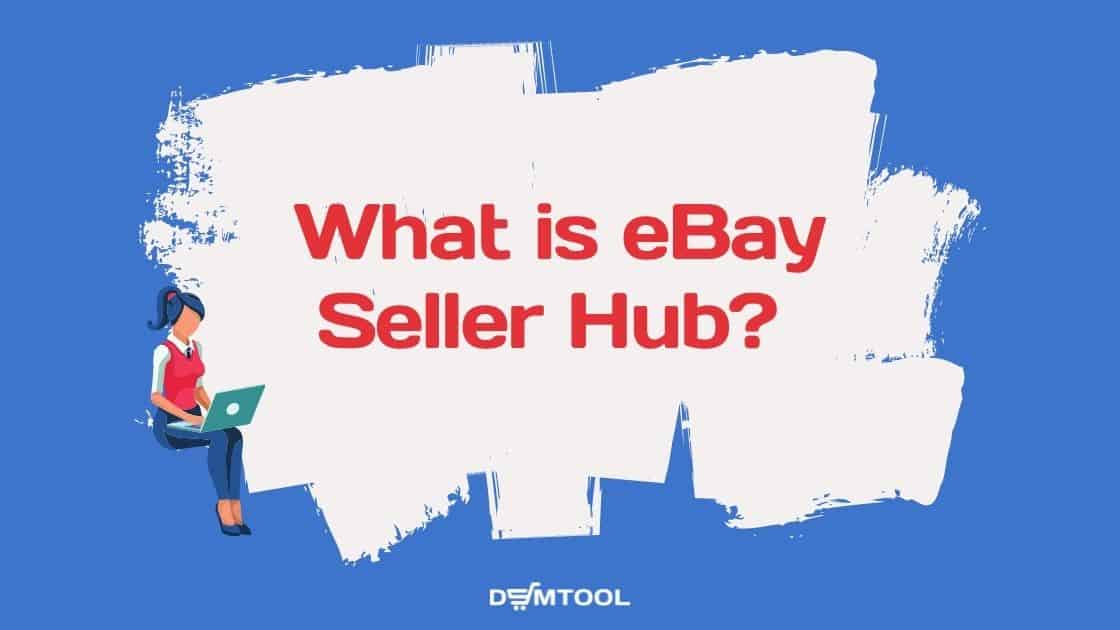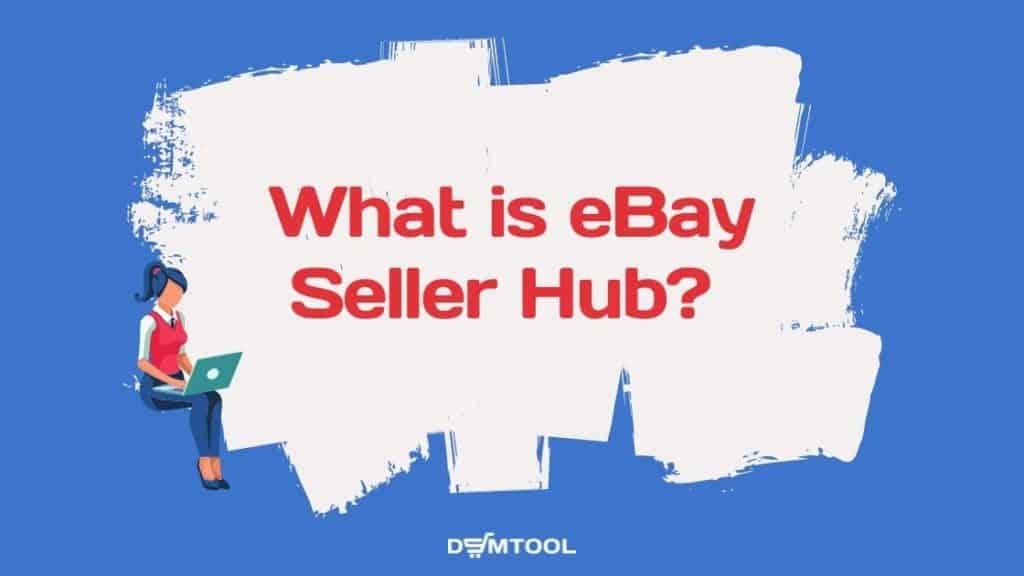 Is the Seller Hub on eBay free?
Yes, this eBay seller dashboard that includes listing, sales, and order management along with detailed selling statistics is free to use. Different eBay subscriptions include it already, hence the sellers pay only their eBay store fees.
While the eBay sellers hub as a dashboard is completely free, some of the features you can access through it aren't. For example, the Terapeak market research tool is available only with an eBay store subscription.
As of the year 2022, we don't expect the seller hub itself to become a paid-only feature on eBay. The eCommerce marketplace giant built it to be the performance dashboard for its sellers and better seller performance translates directly into more sales and therefore more selling fees for eBay to collect.
Where is Seller Hub on eBay?
Opt-In to the seller hub feature
On eBay's homepage hover the My eBay in the top menu
Click on Selling
If you are a registered eBay seller, you can access your account information in eBay Seller Hub by going to the top right-hand corner, clicking on My eBay and choosing Selling from the drop-down menu, or by clicking on the Sell button: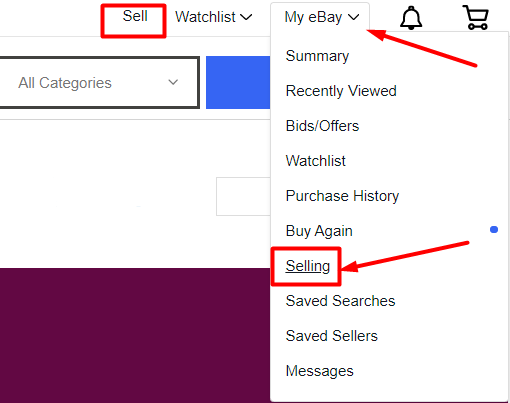 You can also access it directly by clicking on the Seller Hub link, and I suggest you do bookmark it in your browser.
When the eBay seller dashboard loads up, the following sections appear in the horizontal easy-to-use menu:
Each of the sections is expandable. You need to hover over the tab's title to see the drop-down menu with offered options.
The only question is – how to use the maximum of the eBay sellers hub to benefit your eCommerce business?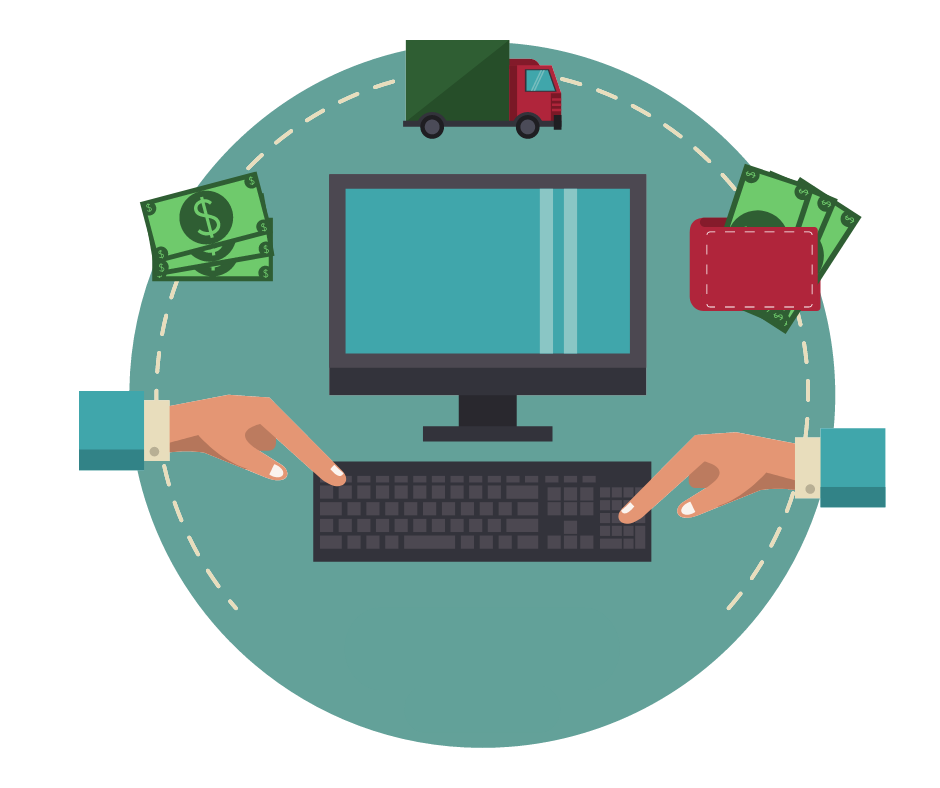 Not yet making money online?
Start your own dropshipping business. Sign up for a free trial of DSM Tool and we'll help you get started. Today is the day.
Overview of the eBay Seller Hub Dashboard
The

Overview Tab
The 1st tab, Overview, is the main page of the eBay Seller Dashboard. It provides immediate access to a big variety of vital handy features and almost all of the rest of Seller Hub sections. We will guide you through them one by one.


Tasks
Here eBay draws sellers' attention to all kinds of unread messages or not yet done important actions, for instance, not printed labels are orders that customers paid for and are waiting to be fulfilled by you (or by your dropshipping supplier, in case you are dropshipping). Besides, you will be notified here about the buyer's negative feedback, or you can also get here a suggestion to add some missed specifications in one of the listings.
PRO TIP
it is highly recommended that eBay sellers check this section on a daily basis. You already know that one of the keys to having a successful store is to provide amazing customer support that involves working with the orders and their tracking numbers right in time, especially if you dropship on eBay and need to purchase the product from your supplier firstly. As a consequence, try to react fast to the messages you get in the Tasks sub-section in My eBay selling overview.
Sales
Next to the Task subsection, you will see your Sales statistics that show the results of your work for different lengths of time: this day, last week, month, and 3 months.
Orders
It's an amazingly helpful eBay Hub section because it allows you to follow everything that is going on around your orders, including such data:
Awaiting shipment
All open returns/replacements
Open cancellations
Awaiting payment
Orders eligible for combined shipping
Shipped and waiting for your feedback
Eligible for unpaid item cases
Orders not yet received
International orders
Orders eligible for FVF credit
You can click through it and access the tab Orders with more information for checking.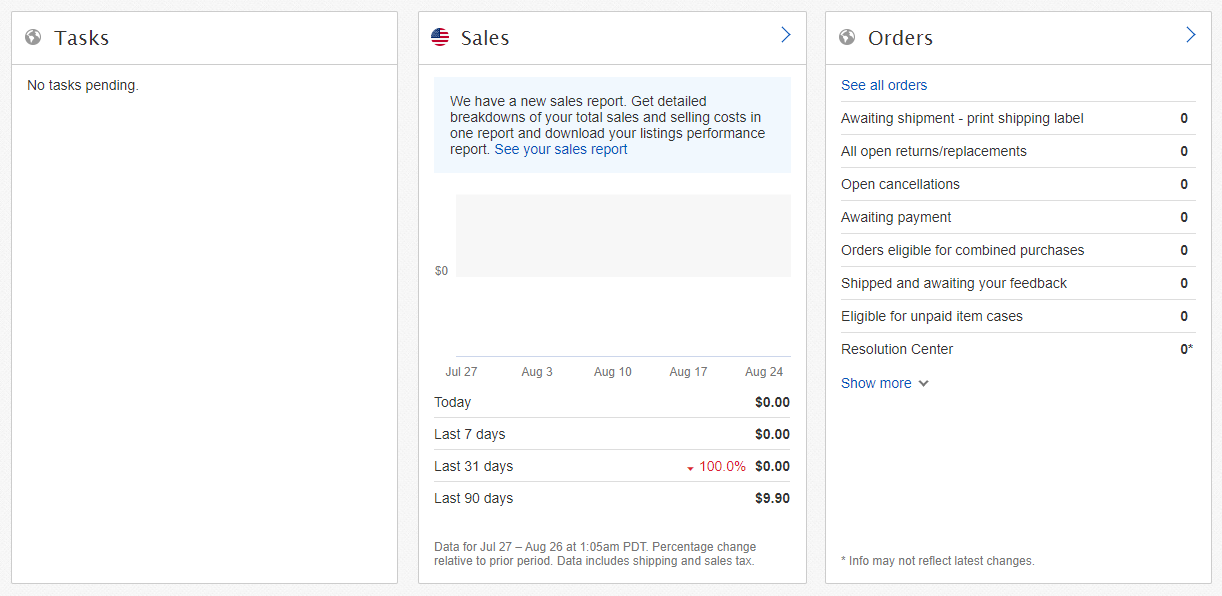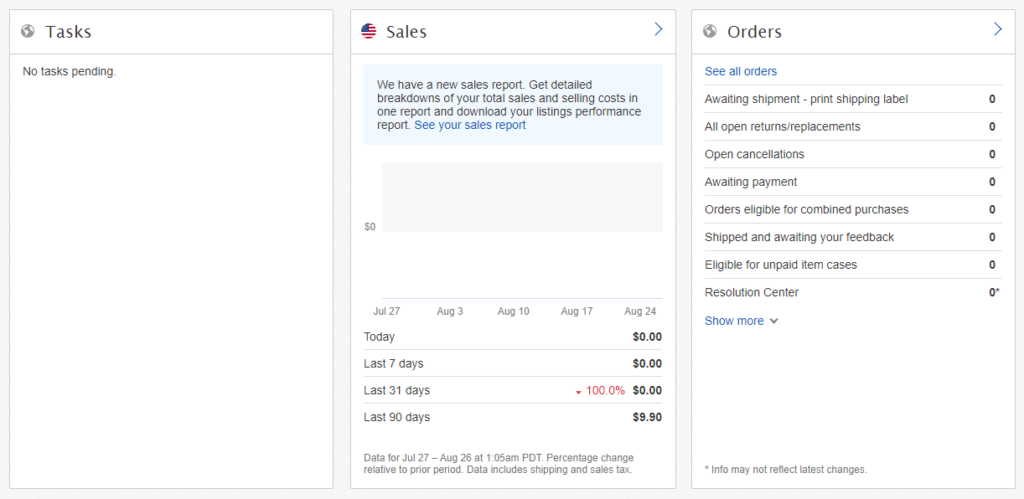 Account Summary
Here is this place, where the eBay store owners can check their current balance, how much they've already paid to eBay, and how much they owe.
Sales (last 31 days)
Scrolling a bit down, you have another subsection called Sales (last 31 days). There eBay allows you to see how your selling account is doing in comparison to the rest of the market.
That's also a great eBay Hub feature because you can trace not only your success within the specific category but also the growth or decline in sales of your competitors, as a result, if the others made more sales then you and the market was still growing, you would definitely know that you need to make the listing optimization to catch your competitors up.
Research
In this subpart, the owners of the Basic, Premium, Anchor, or Enterprise eBay Store can start to use the Terapeak Research tool gratis for gathering information about what to sell, when, and how. The rest of the sellers can get access to this kind of research additionally paying for it.


PRO TIP
Learn how to search for products to sell, eBay trends, and get insights for your listing optimization with this eBay research tool in the article about Terapeak.
Listings
Over this sub-section, eBay sellers can see the complete information about their inventory and even add a new product for selling: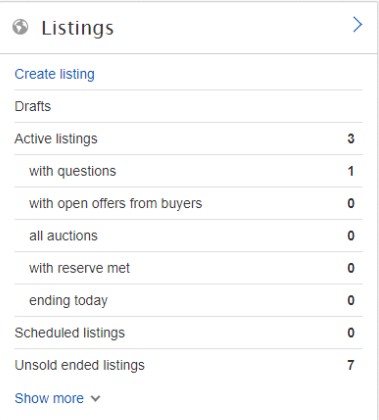 This section is also available for clicking through. You can click on it to go to the 3rd tab of eBay hub – Listings.
Traffic
This phenomenal eBay Seller Hub Traffic report can show the sellers different kinds of analytics for their e-shop, for example, the number of impressions their listings are getting, click-through rate, listing page views, and the sales conversion rate. The individual listing-to-listing marketing summary is very convenient so far.
Getting traffic from eBay is the main goal of every seller, the concept of eBay dropshipping is relying partially on generating traffic from eBay using search engine optimization techniques, it's also known as eBay SEO.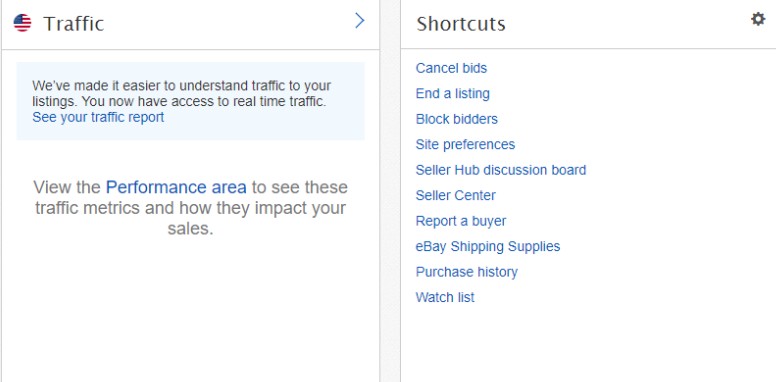 If you will click through it, you will get to the Performance tab of My eBay Seller Hub.
PRO TIP
Consider optimizing or replacing the listings with the lowest number of views and click-through rate.
Shortcuts
Here eBay gathered all the regularly used links in one place:
Cancel bids
End listing early
Block bidders
Site preferences
Seller Hub discussion board
Seller Center
Report a buyer
Selling tools
This sub-section presents you with plenty of powerful tools for managing your eBay selling account, including promoted listings, the possibility to control the 3rd party applications, or export your sales history into a file.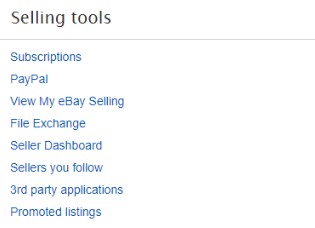 Seller Level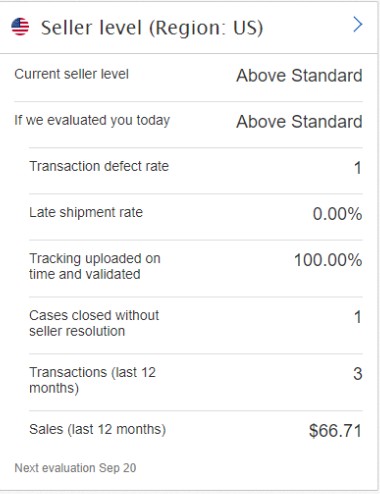 In this subsection, eBay sellers can track their seller's status. There are 3 possible levels: Low standard, Above standard, and Top-rated standard. You can also check here your next month's seller level in the "If we evaluated you today" line.
Here you can also see what criteria influence your seller status, in the eye of eBay and your buyers.
In case you are an eBay dropshipper, take into account that the top-rated seller rank is out of reach as long as you do not comply with the eBay dropshipping policy. But don't worry, you have enough tools to generate just enough traffic and sales to run a profitable dropshipping business.
PRO TIP
In case you've noticed that your level dropped, you need to step it up: for example, close the cases, ask for new positive reviews, make sure all the trackings were updated, communicate with your buyers, etc. There would still be a chance to change it! Take into account that eBay reviews the sellers' status every 20th day of the month.
Additionally, you can see there a number of the transactions you already got and your sales turnover.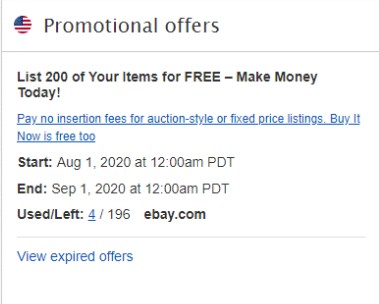 Promotional offers
The necessary information about managing your store with the available promotions for you and the ones you are already using is displayed here.
Monthly limits
Here eBay sellers will find their account-based limit. There are the monitory limits ($) and the quantity limits (number of items) which you can request to increase once per month.
Feedback
It's a place where dropshippers and sellers can control the reviews their eBay stores got.
Selling announcements
In this section, eBay notifies their sellers about all their updates.


Above all, the eBay dropshippers can know for certain that they would not miss any important message or data because it is not only indicated in the Overview Section of the Seller Hub but it's also reiterated here :

Every seller can customize them according to their preferences. If you don't want to see some of the options in this eBay dashboard, you can click on the button Customize in the upper right and remove those parts that you prefer to hide.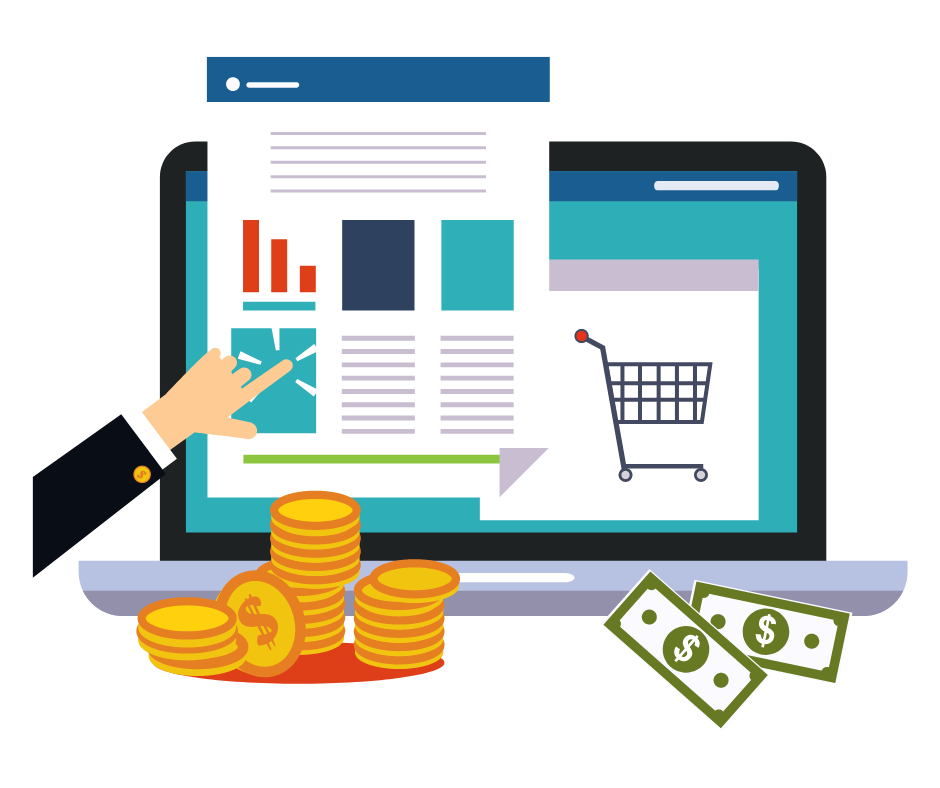 Don't wait for the profits, make them!
Start a profitable dropshipping business with DSM Tool. Get a free course and a free trial of the software.
The

Orders Tab
The next tab of the eBay seller dashboard is Orders. We have mentioned that the general view for the orders is available on the Overview tab, but this tab opens a more detailed section where the sellers can find complex information about all orders including those that are awaiting payment or shipping. Already shipped orders also appear here. Moreover, the sellers can access the cancellation, returns, cases, and shipping labels from this section as well.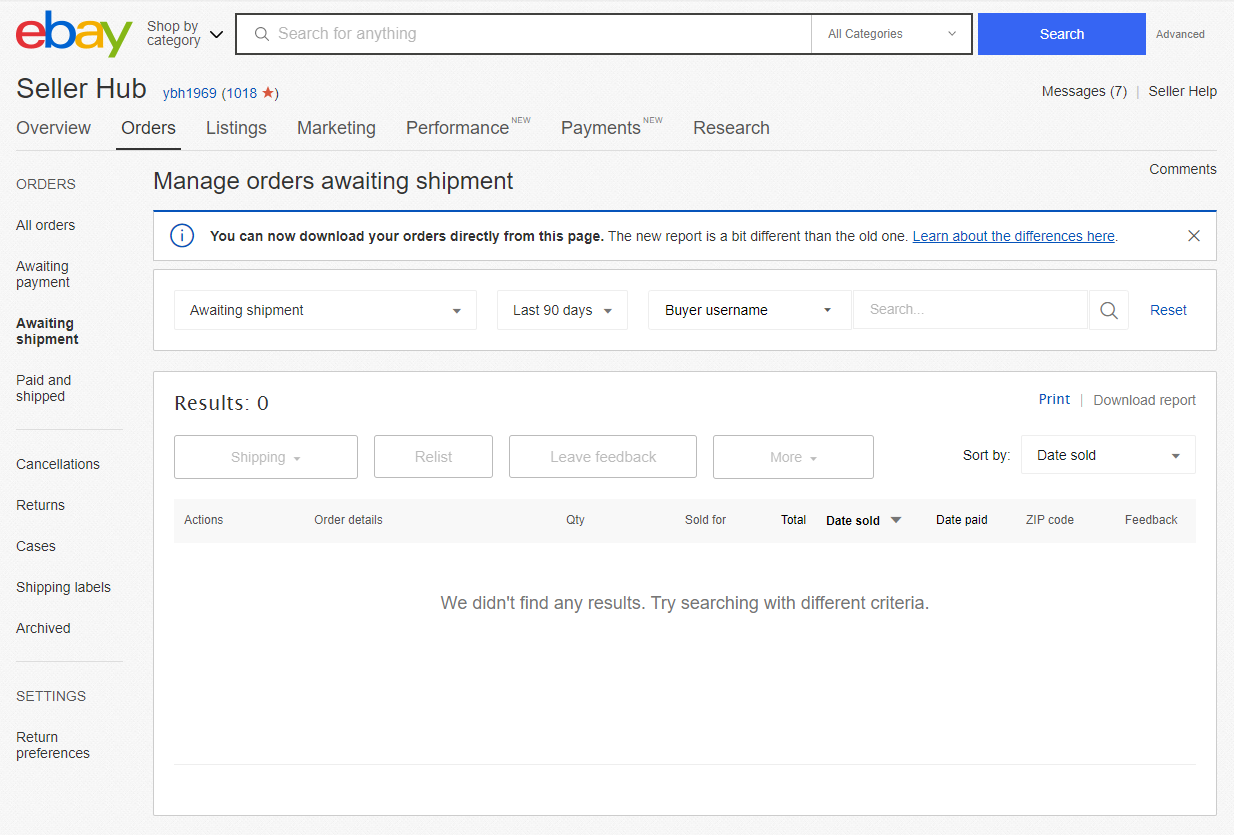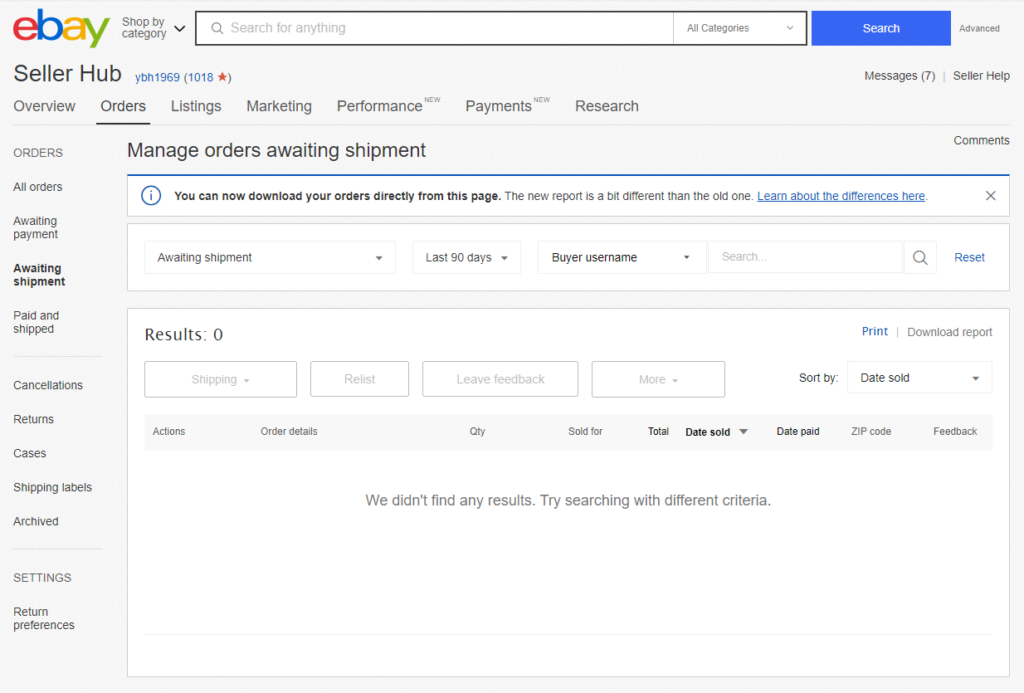 The

Listings Tab
Similarly, this section for managing the selling got its general data shown in the Overview section as well. However, this Seller Hub Listings tab brings a thorough overview of all listings in your account and also offers access to the settings related to them (for example, listing templates, business policies, and item locations).
You can also create a new listing right from here, edit the old one, add the promotion, and check your ended inventory. Moreover, the sellers can see eBay notifications about suggested listing optimization.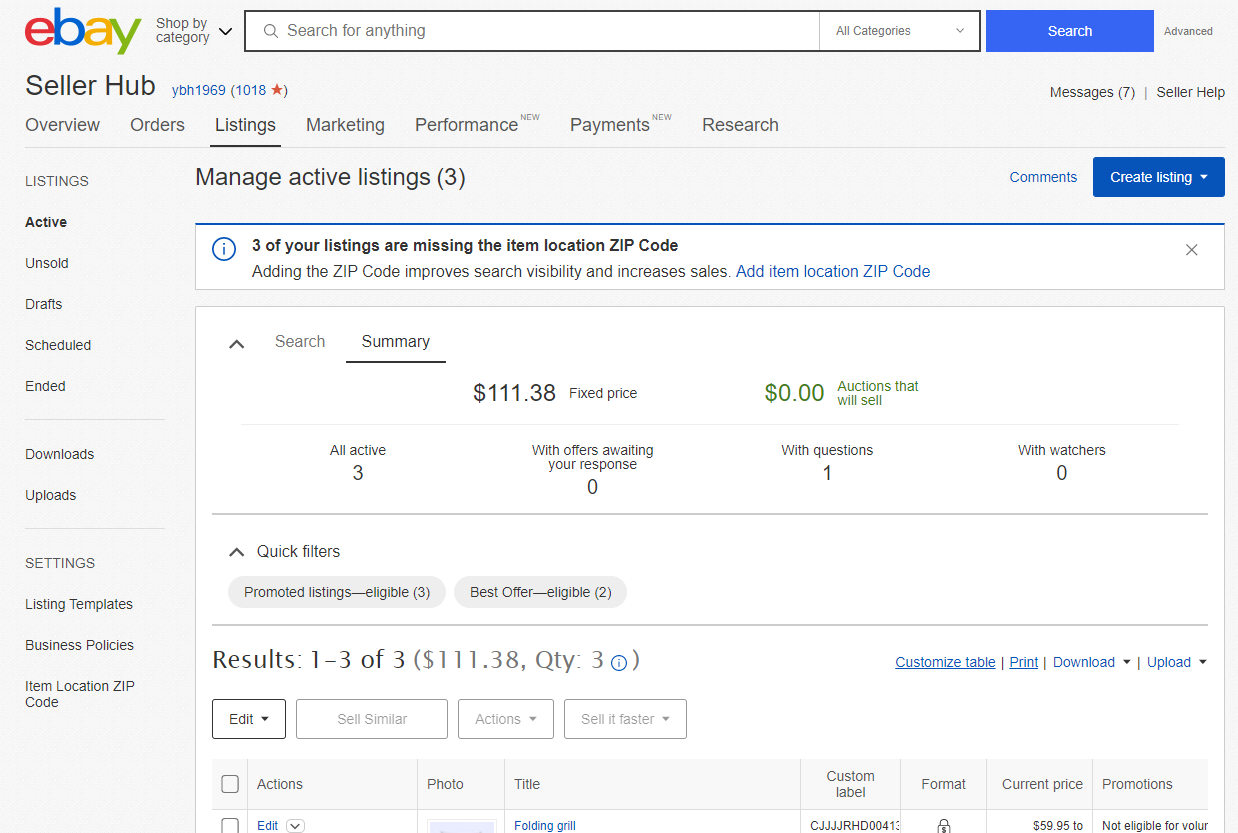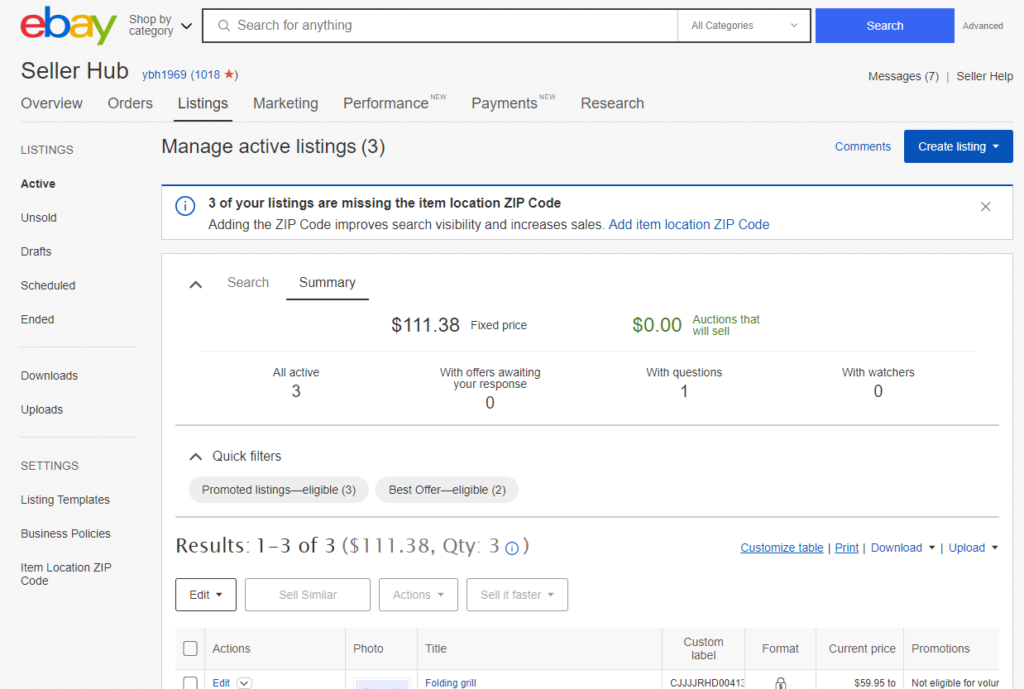 Recommendation for eBay sellers
Learn more about eBay listing optimization and different eBay SEO hacks in the complete guide to eBay SEO.
The

Marketing Tab
From the Marketing tab on eBay Seller Hub, eBay entrepreneurs can manage all their marketing store activities involving branding (store name, link, logo, store categories, vacation mode) and advertising. Besides, it is possible to launch/track the sales, promotions, and offers for the inventory from this section.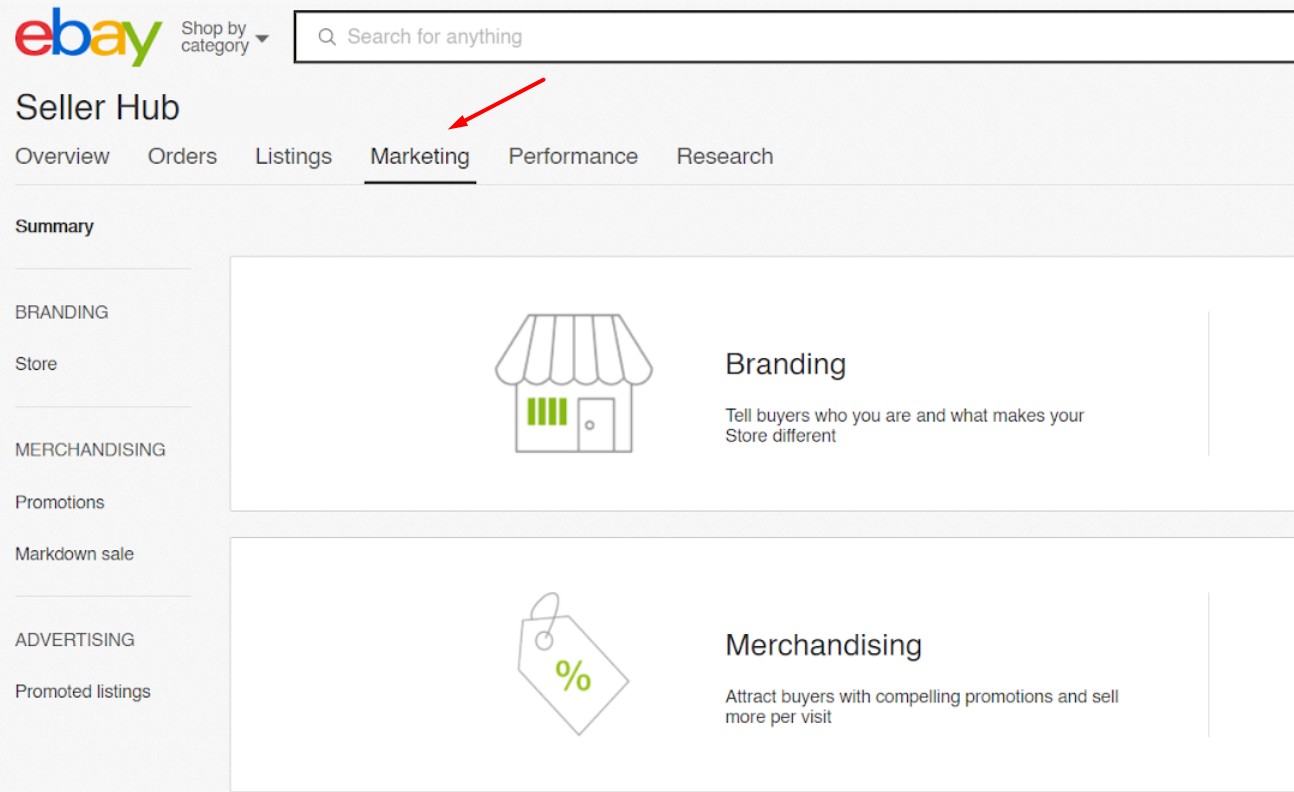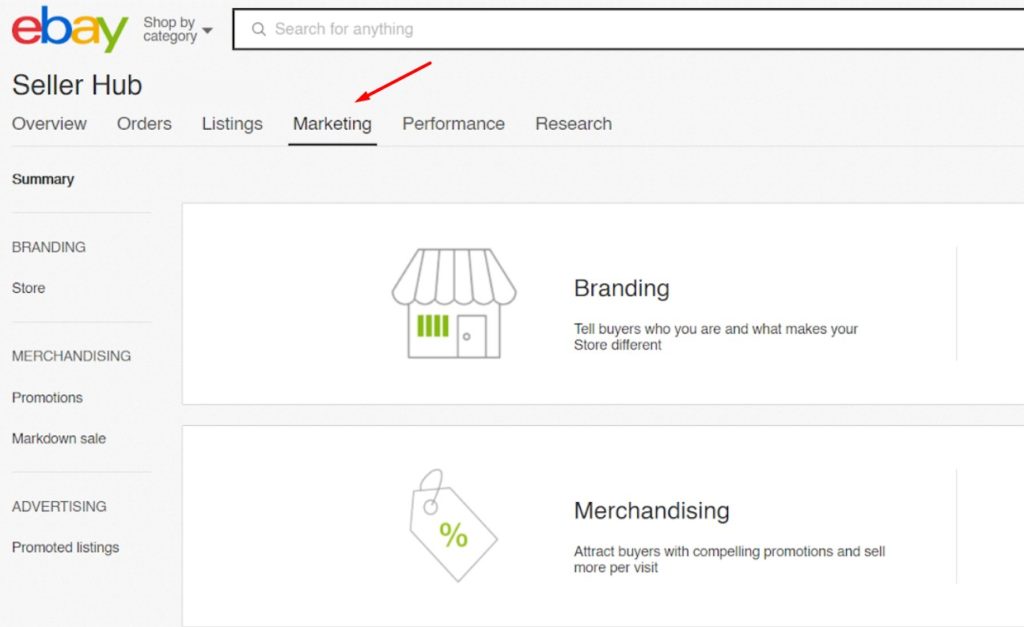 The

Performance Tab
The performance in eBay Seller Hub provides sellers access to various seller levels, metrics, and costs. It displays the data mentioned in the general Overview tab in the sub-parts Traffic, Sales, and Sales (last 31 days) along with the data about selling costs and breakdown and sales countries statistics. Plus, it shows also the best performing listings, daily product trends and traffic, and views analysis.
Therefore, you have powerful tools to enhance your inventory and store.
eBay Payments
eBay managed payments are their new one-in-one system for processing payments. In the Payments section of the eBay Seller Dashboard, the sellers are able to track their registration progress.
Recommendation
If you would like to get complete information about eBay's new payment system, we invite you to read our eBay managed payments guide.
The

Research Tab
You probably have already guessed that this tab in broad terms appears on the Overview Seller Hub page. Right!
The sellers, who have access to Terapeak Research, in the eBay Seller Hub Research tab, get comprehensive reports about how products and categories are performing throughout all eBay marketplaces and which techniques of attracting buyers are really worthwhile.
Additionally, Terapeak eBay Research can help you to find the trending niches to focus on. This is how you can make research on it:
Apart from Terapeak Research, the Seller Hub Research section offers such components:
Summary
To sum it up, the eBay Seller Hub is an easy-to-use free dashboard that puts selling and orders management tools along with marketing guidance and analytics insights all in one place. Using all those eBay tools and recommendations, that show up in the different sections of the hub, would be enough to run the store smoothly together with strengthening the business.
Do you use it? Let us know in the comments below!