11

min read
Home security products for dropshipping are our next niche to dive into. You will learn why you should dropship security products and show how to sell security items.
Fortunately, modern home security items have improved greatly as well and the home security niche is more versatile than ever. From digital security cameras to remote-controlled insurance, many cyber security products are automated and you can control them through an app or the phone. Who could ever imagine it would be so easy!
Thanks to the diversity of the security systems and the big interest of the preoccupied clients, online sellers source and dropship home security products at wholesale prices. It successfully satisfies the customers' needs in the home security field.
So as to confirm the high demand, let's do a quick review of the home security systems market.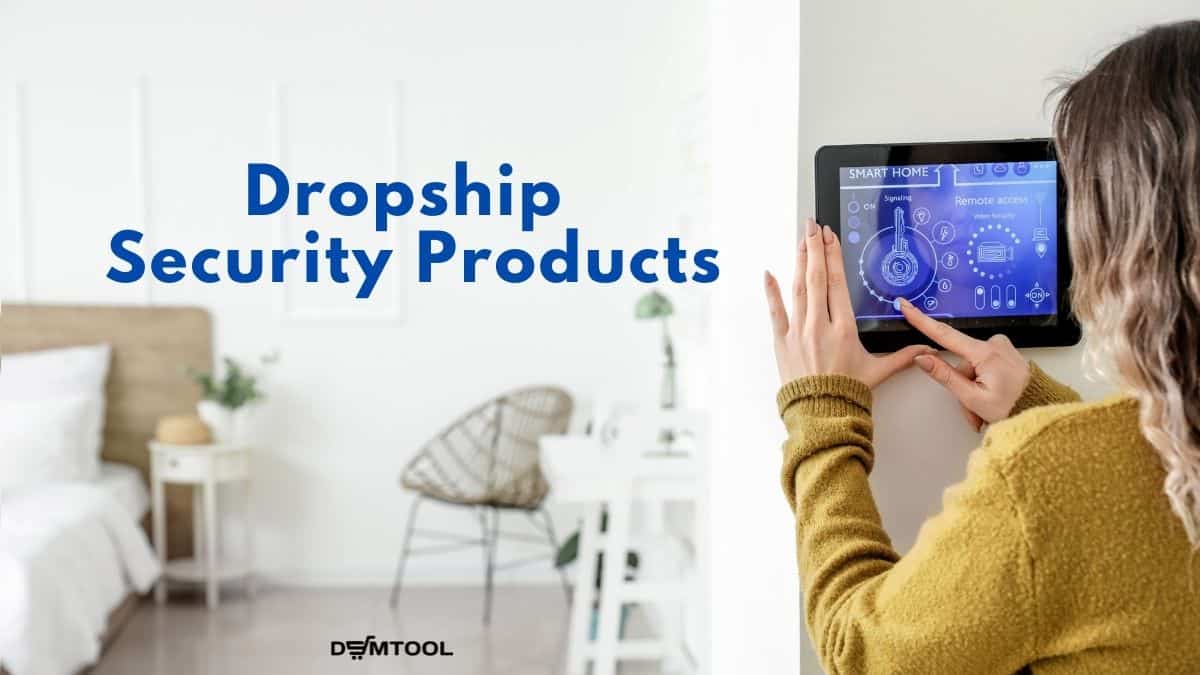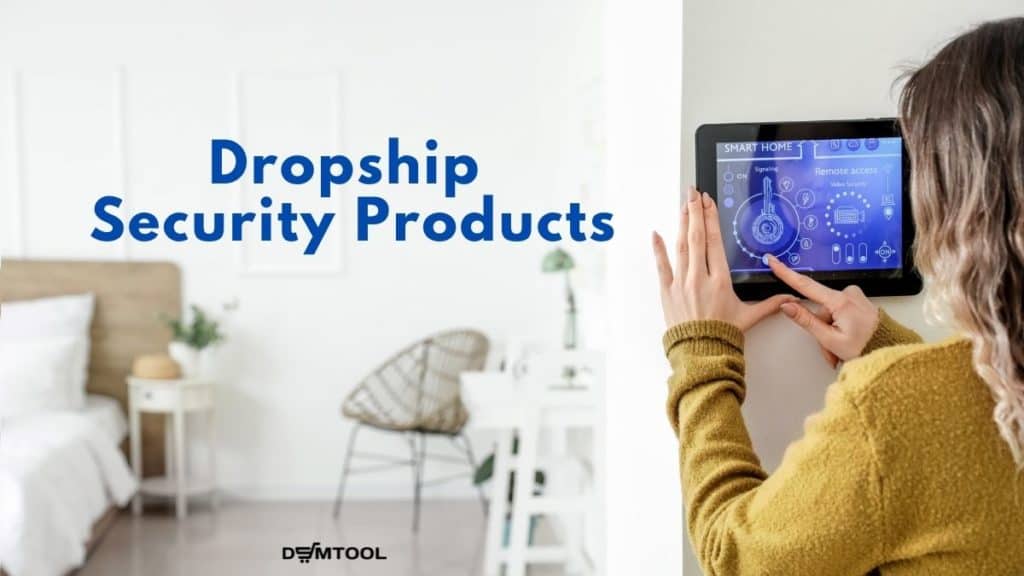 Why Dropship Security Products? Security Items Market And Global Forecast
The global home security systems market size was valued at USD 53.6 billion in 2020 and is expected to reach USD 78.9 billion by 2025, at a compound annual growth rate of 8.0% during the forecast period. For example, it's almost double higher annual growth for the beauty products niche.
The growth of the home security systems market is driven by multiple factors. Growing awareness regarding home security systems, wireless technologies, and increasing adoption of IP cameras for video surveillance amid the COVID-19 crisis are some of them.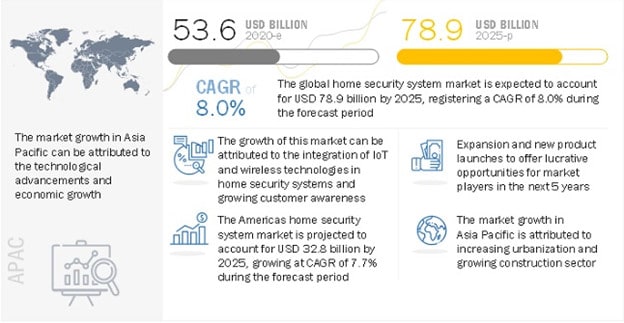 Analyzing Google Trends for the last 12 months we see that home security items and control systems keep being a popular search query. It proves that they worthily have been among the most popular smart home technologies. And, based on current projections, its demand will only continue to expand.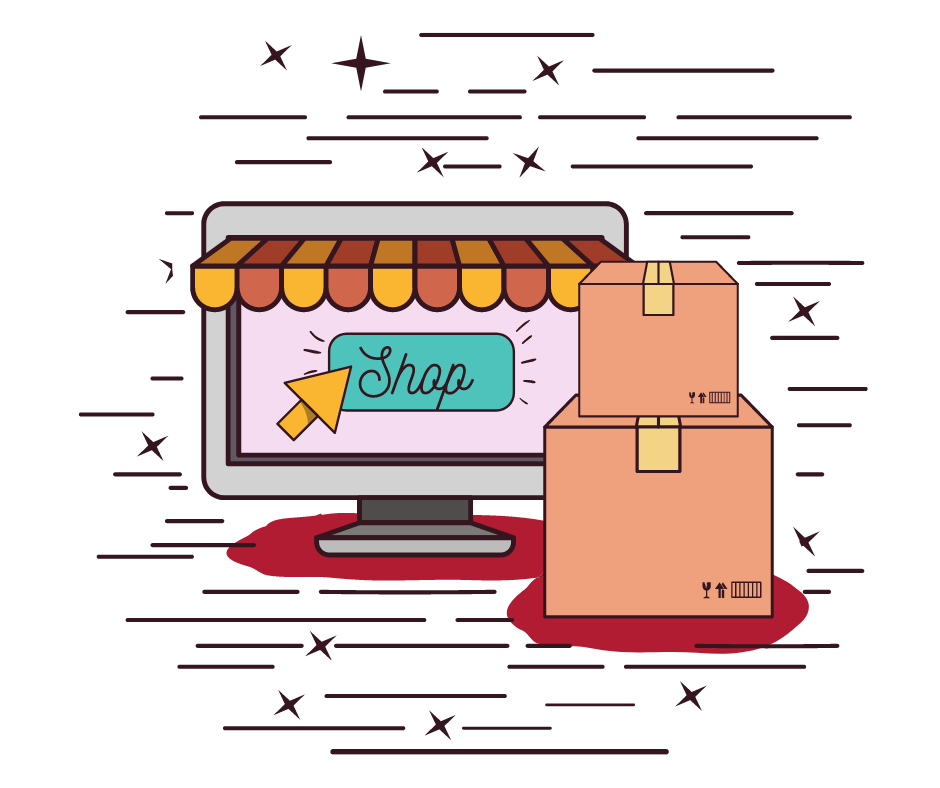 It's time…
Don't wait for success to come. Hire yourself and start your own dropshipping business
Where to Dropship Security Products
You can consider home security products to dropship in your general eBay store, or to create a Shopify niche-store: security products online store. In dropshipping security products and home security items, there is a variety of sub-categories or sub-niches. In general, the global home security systems market is categorized based on systems, services, security, and geography:
By Systems:
Fire Protection Systems
Video Surveillance Systems
Access Control Systems
Entrance Control Systems
Intruder Alarm Systems
By Services:
Security System Integration Services
Remote Monitoring Services
Fire Protection Services
Video Surveillance Services
Access Control Services
By Security:
Professionally-Installed and Monitored
Self-Installed and Professionally Monitored
Do-It-Yourself (DIY)
Geographic Analysis
Basically, it shows you the variety of products for dropshipping security items and ideas for niche-based e-shops. But let's see where you can sell home security products.
According to Google Trends Analysis, most of the search queries come from the United States, Canada, and Australia.

It's no wonder, as according to International Statistics on Crime and Criminal Justice robbery/housebreaking was most common in the Americas and in Southern Africa. East and Central & West Europe, North Africa, and Oceania despite being on the global average level still are interested in home safety.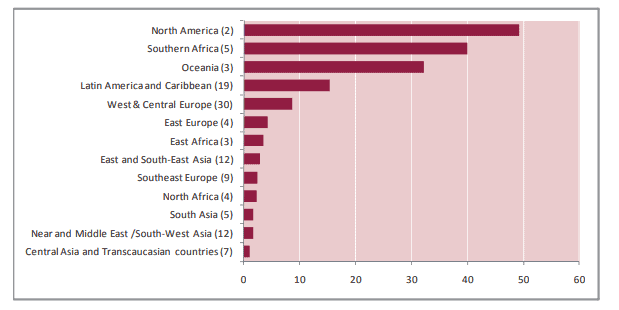 Domestic burglary is not distinguished from total burglary. According to the European Sourcebook, the housebreaking rate is highest in the region of Oceania (especially in Australia and New Zealand). While North America, Canada, and the USA, as well as South Africa, Swaziland, and Zimbabwe in Southern Africa, have high rates.
The highest robbery rates in West & Central Europe have Denmark, Austria, England & Wales, and Sweden. Israel belongs to the region of the Near and Middle East /South-West Asia, and it has a high burglary rate as well.
To summarize the mentioned information: no European or North American countries belong to the low crime category. As you have decided to dropship home security products, housebreaking statistics are an important safety indicator! It will help you to choose the appropriate market direction.
That's why I recommend you sell home security items in the USA, UK, Canada, and Australia eCommerce markets.
How to Sell Security Items
Dropshipping cyber security products and services with just a few clicks gives you the desired profit and your buyer peace of mind. The customer who purchases the security item from your e-store gets access to the most important information about a home from the palm of his hand. The XXI century is just incredible thanks to multiple security solutions!
But just like any other business, without proper planning, you cannot just go about selling security items. To make it work, first of all, you have to choose the best dropshipping suppliers for security products. No worries, we have already done it for you, so here is the list:
Dhgate (Electronics & General Merchandise)
Cutting Edge Supply (Security, Safety, & Spy Products)
Gearbest (Electronics & General Merchandise)
Home Depot (Electronics & General Merchandise)
Ali Express (Electronics & General Merchandise)
Safety Technology (Security & Safety Products)
Amazon (Electronics & General Merchandise)
DealeXtreme (Electronics & General Merchandise)
Banggood (Electronics & General Merchandise)
GogoMall (Electronics & General Merchandise)
These are the most popular dropship suppliers where you could find the best-selling home security products to dropship in the e-store. As you understand the second step is to find those perfect home security items for dropshipping.
Here, we have come up with the top 10 home security items.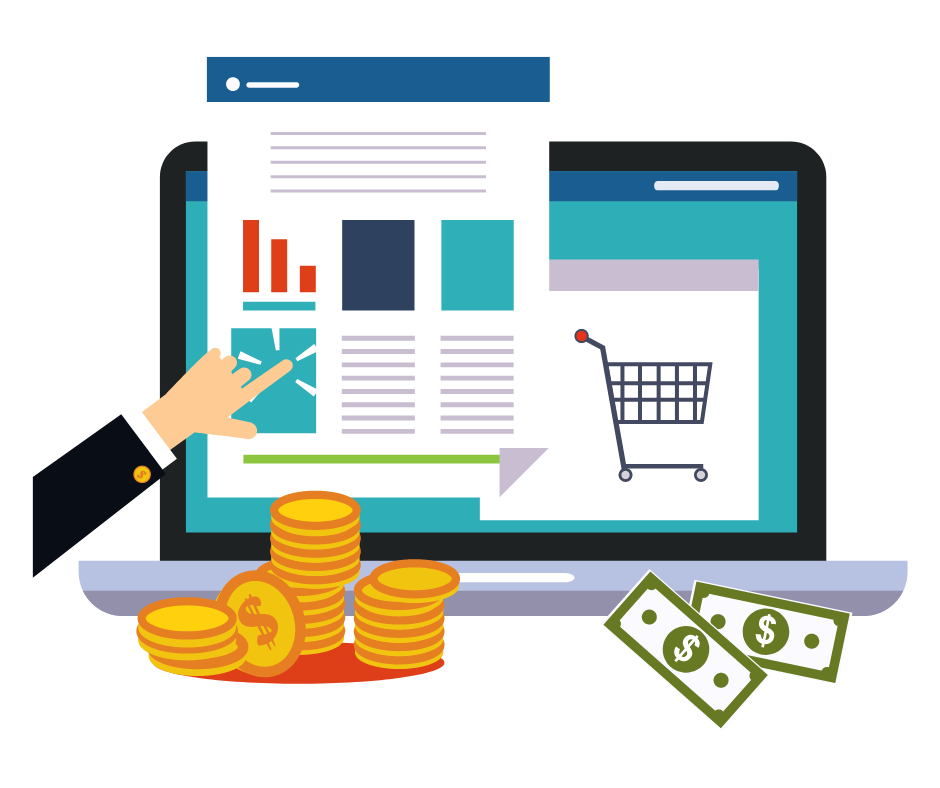 Don't wait for the profits, make them!
Start a profitable dropshipping business with DSM Tool. Get a free course and a free trial of the software.
Top 10 Home Security Products to Dropship
1. Dropshipping Security Cameras
Security cameras are one of the top-selling home security products for dropshipping. You might even have an entire store dedicated to dropshipping security cameras ranging from wired to wireless, local storage to cloud backup. You can also sell security cameras for specialized purposes, such as home security, commercial monitoring, and outdoor security. Home Depot security cameras and home security cameras Amazon offers are extremely popular, by the way.


2. Surveillance Systems and Gears to Sell Online
Consider offering whole surveillance systems, which include monitors, wires, hard disks, and other components. There are also plenty of other dropshipping-friendly security devices to sell, such as camera holders, LED sensors, and other accessories.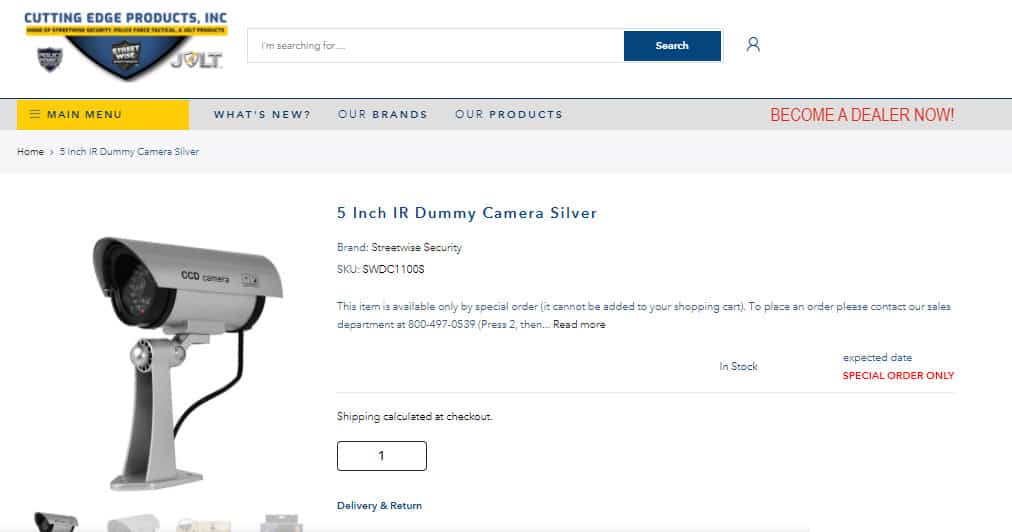 3. Security Alarms/Sensors To Dropship Security Products
While there are many possibilities in the security products market, the security alarm/sensor that you intend to sell must be unique. Consider selling security solutions with high UV sensitivity sensors to use in the dark, for example. You can also sell solar lights with motion sensors/motion detectors in your e-store, which would be a special product for your buyers.

4. Smart Door Locks for Smart Home Dropshipping
Some home security items also fit the smart home dropshipping niche. Smart electronic door locks are one of these items. The majority of these smart door locks have many security layers and are protected with passwords. A couple of them can even link to your WiFi, allowing you to control them remotely from your smartphone.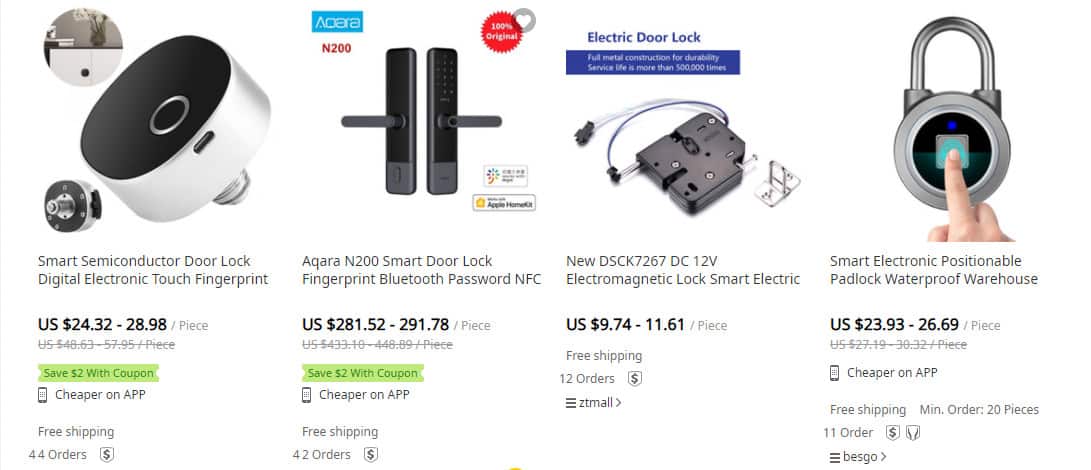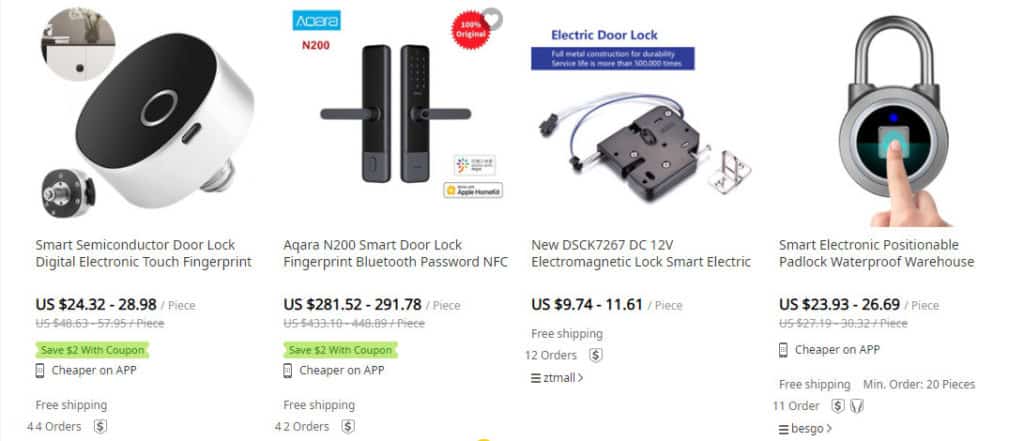 5. Smart Padlocks As Home Security Products to Dropship
If you're looking to dropship high-value security products, smart padlocks are a good option. These padlocks are portable and can be used to secure any door or gate.
Additionally, if you wish to sell a must-have item, you can sell high-tech fingerprint sensor padlocks, so the robbers have to visit cyber attack courses first! You will agree that cyber threats are not common, fortunately 🙂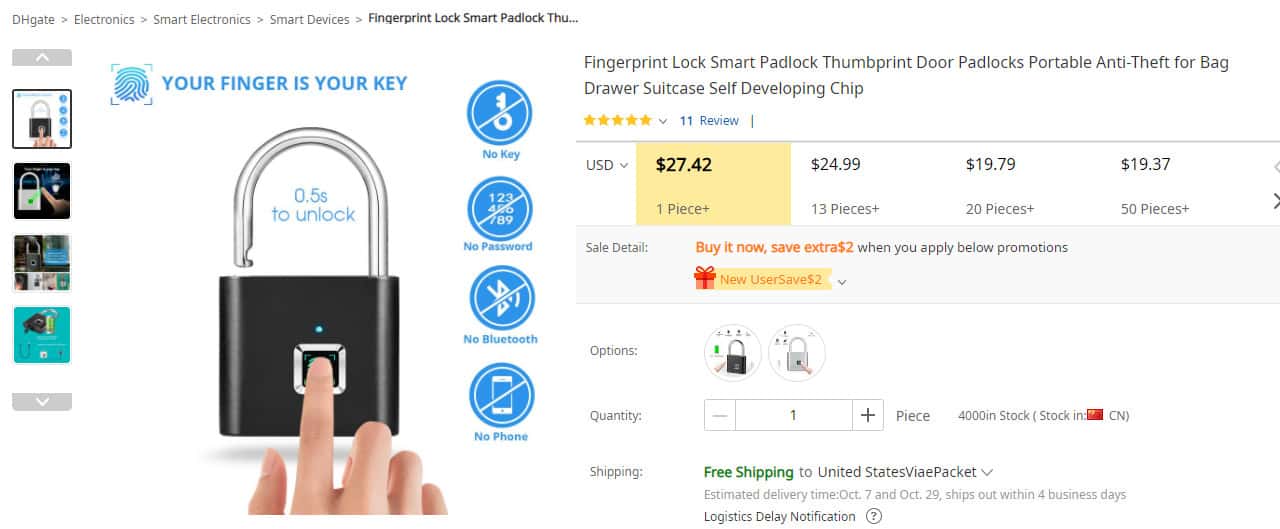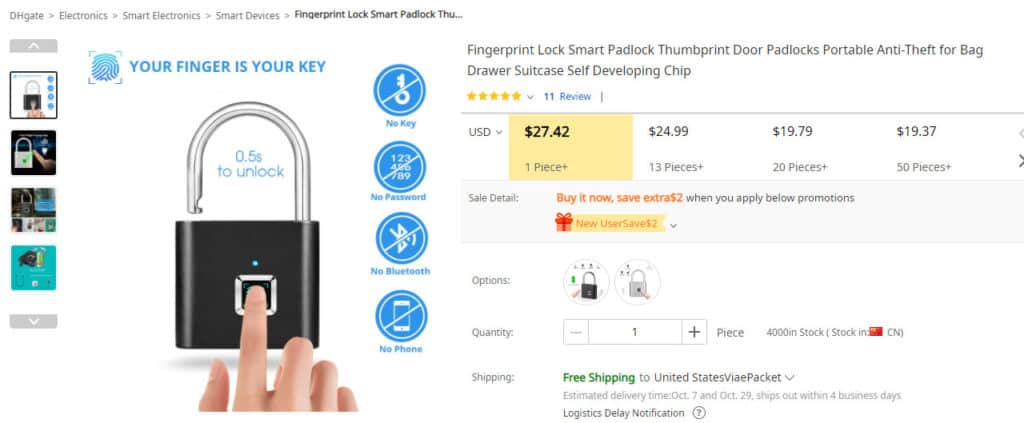 6. Dropship Baby Monitors
Baby monitors are one of the evergreen dropshipping baby products that will never go out of demand. These home security devices can be marketed to new parents who wish to establish a safe environment for their children or keep an eye on them.
Consider dropshipping home security items to provide your buyers additional value: sell night-vision baby monitors and smart monitors that can be connected to smartphones.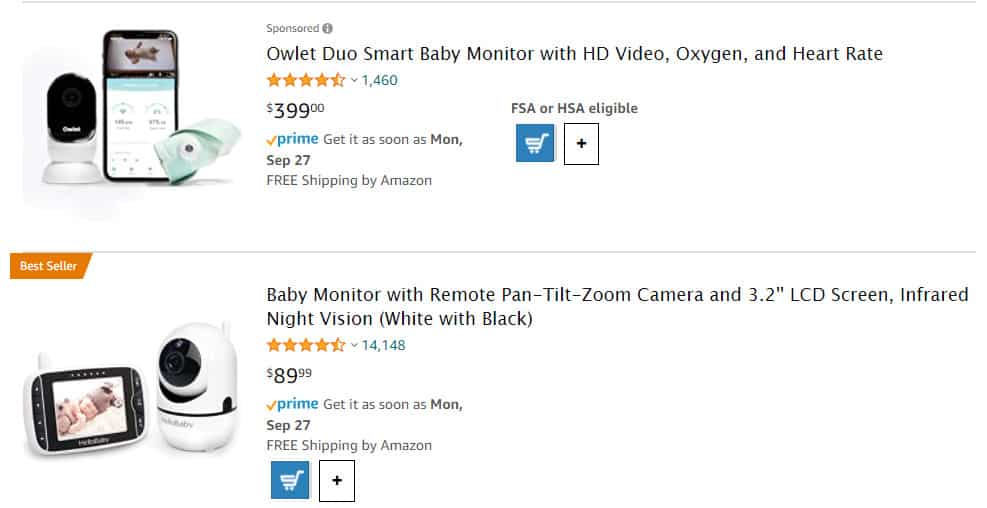 7. Sliding Window Security Locks
This would be an excellent choice for anyone looking to dropship low-cost security equipment. Many individuals install security locks on their sliding windows, and these items can easily suit their needs.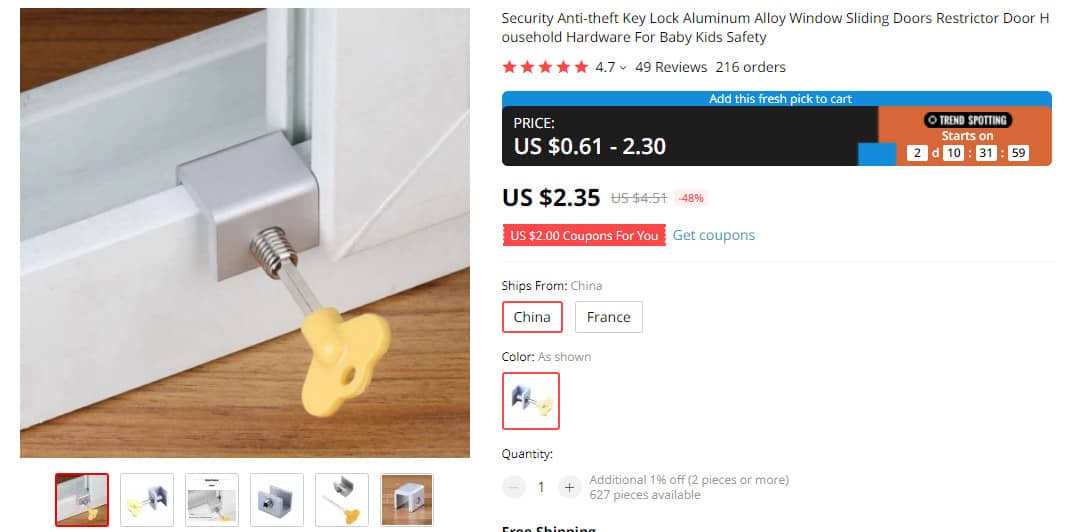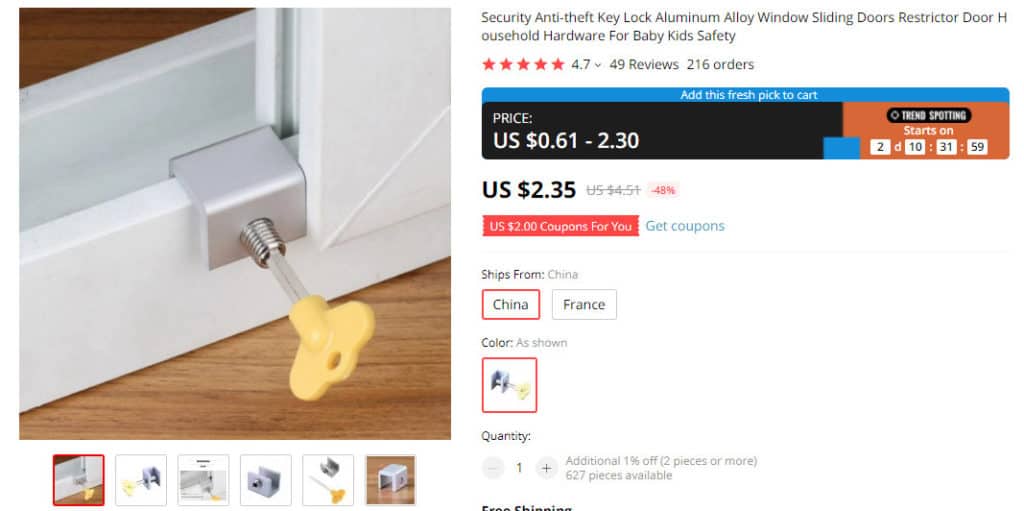 8. Smart Doorbells as Home Security Items
Smart doorbells have become one of the most important security products during the pandemic. Customers nowadays are looking for smart doorbells that may be linked to their smartphones.
You can also sell doorbells with built-in cameras. It allows your clients to see from the inside who is at the door. Won't be interested only those who replaced a window door 🙂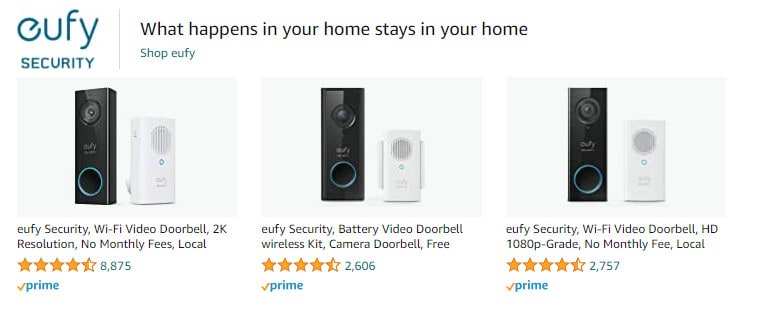 9. Wireless Doorbells to Sell Online
This is another popular home security utility that would make your consumers' life safer. Wireless doorbells are among the greatest alternatives for dropshipping security devices that are beginner-friendly and economical.
The bell and the main hub (with integrated speakers) are the two components of a wireless doorbell. These gadgets can be used in healthcare as well as doorbells (for taking care of elder age groups of people and patients).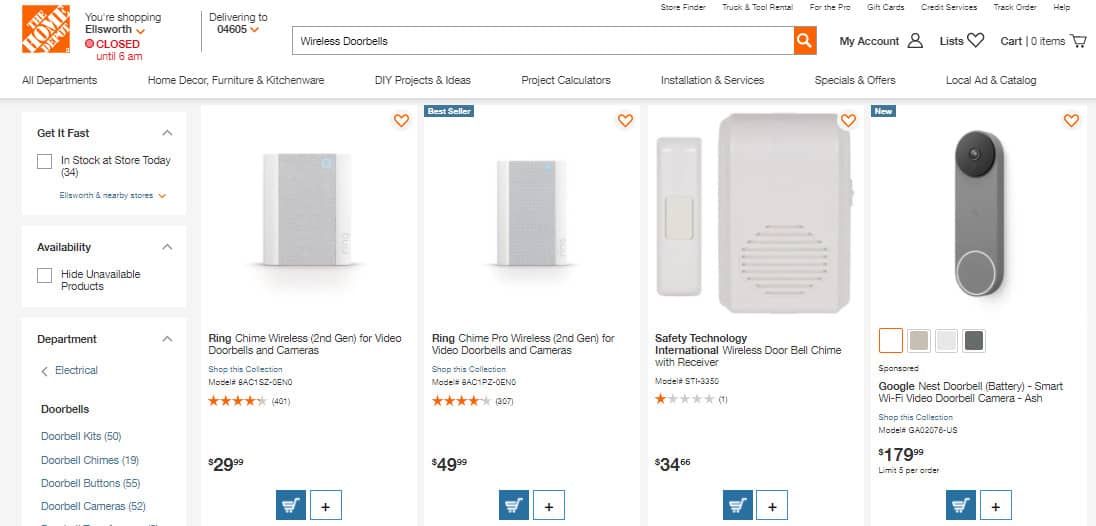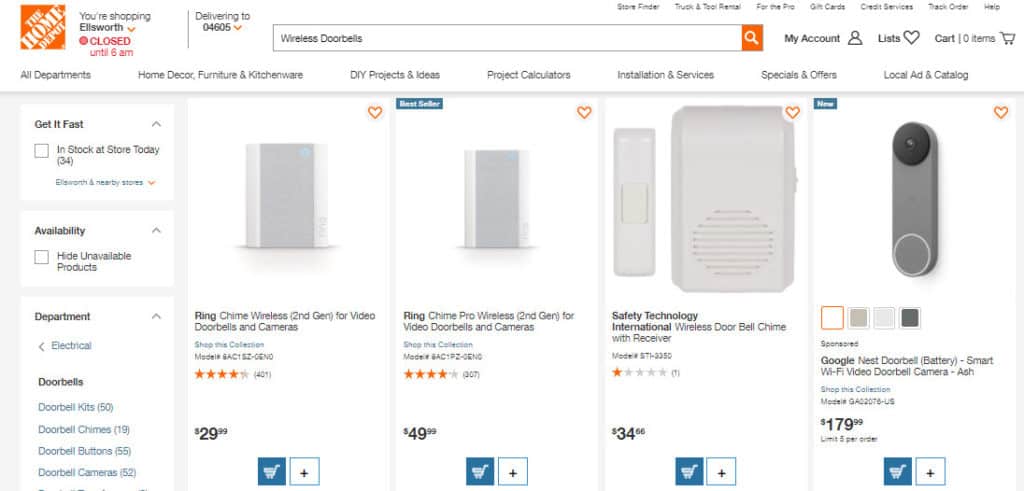 10. Emergency or Self Defense Alarms
Finally, you can sell online self-defense items if you want to dropship security products that will make your consumers feel safe. There are a variety of personal emergency alarms available that may be activated with a simple click.
Because these goods are so lightweight, your clients may keep them in their pockets and use them in time of an emergency. You can also add a big number of these emergency alerts to your store if you wish to satisfy every customer's interest.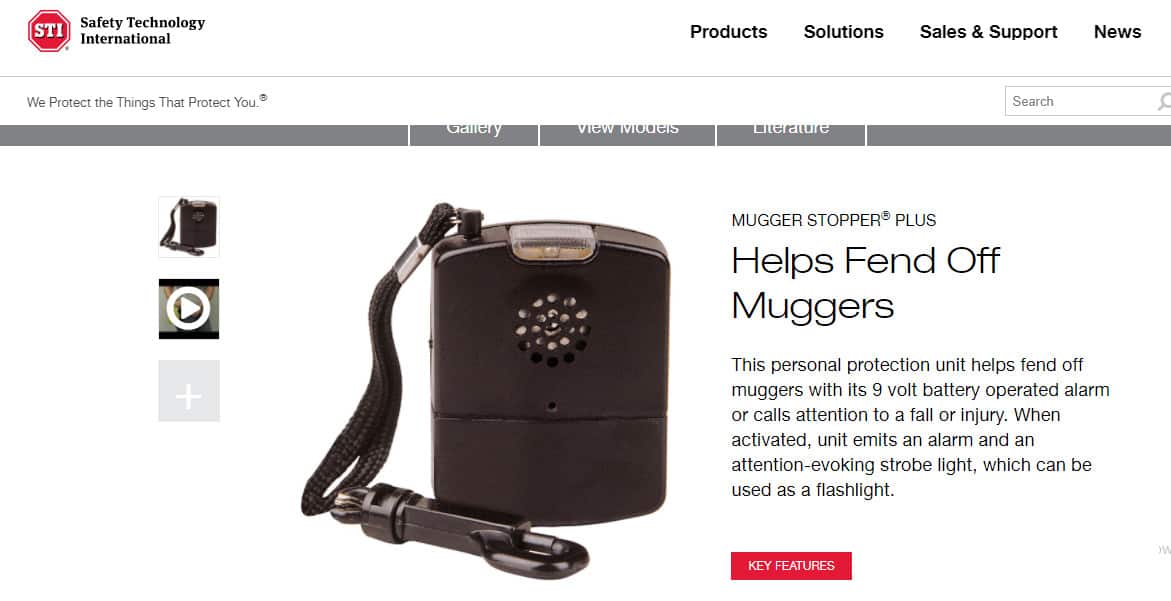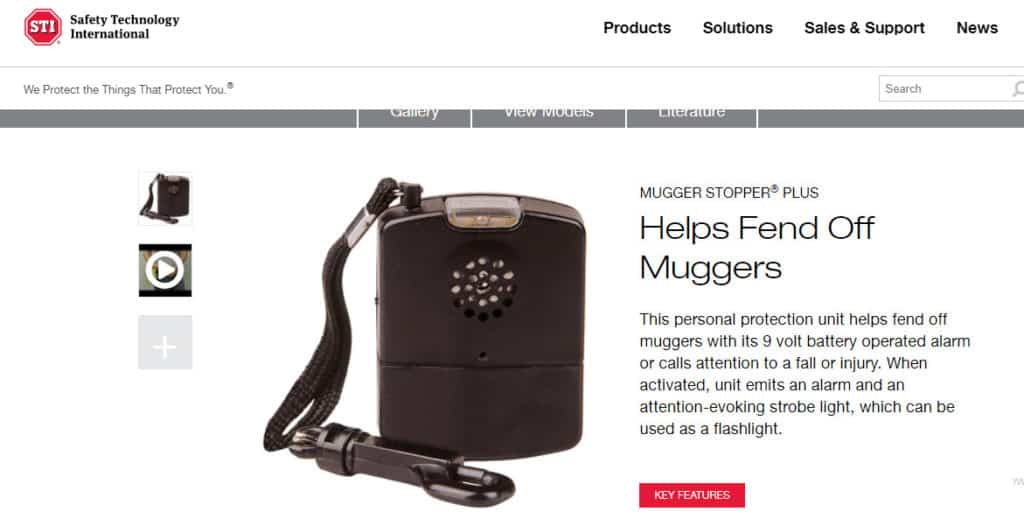 Conclusion
The home security niche is in high demand now and has great prospects in the next few years. There are numerous options for dropshipping security products in your store. You are free to do your own research through all the variety of cyber security products to sell online. Follow the range from door locks to surveillance cameras and expand the existing list of home security products shown in this article.
You have a chance to be among those who will benefit from it!
Good luck!