Facebook Marketplace was first introduced back in 2016. And it has been becoming more relevant throughout these past years. eCommerce sellers are discovering an untapped market such as Facebook and using it to increase their online profits. And we will guide you in this post and teach you how to sell products on Facebook marketplace step by step.
Currently, the Facebook marketplace counts 250 million active stores worldwide. It has more than a billion active users who navigate through the social networking of this social platform. A lot of businesses have a presence on the website through official pages, community groups — and so much more.
However, there's more than that. If you've ever been on Craiglist which is an advertising website where users can sell their personal products, re-purchased items, services, etc. Facebook has something very similar.
The social media marketplace is very popular among Facebook users. Lots of people go there to buy things they need such as household items, gardening tools, car parts, etc. So this is a great opportunity for online sellers to participate in this highly active market and also sell or dropship on Facebook.
So now, when you understand that Facebook has such a big potential when it comes to market activity. It's time for retailers, online sellers & dropshippers to learn how to properly set up a Facebook store and how to sell on Facebook Marketplace, stepping into social commerce.
— Let's dive into it!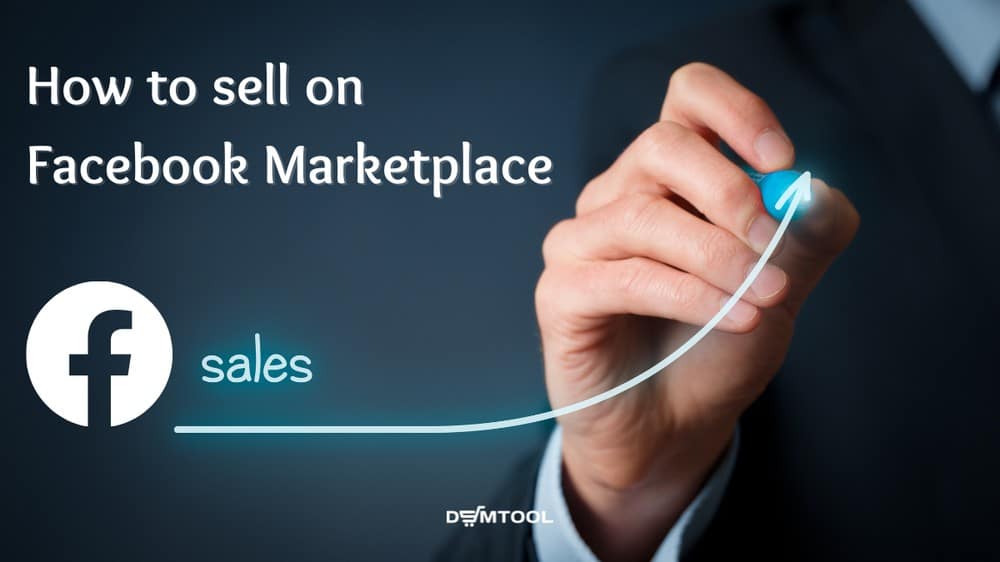 Requirements to Become A Facebook Seller
Here's a list of requirements you'll need to present when you decide to start to sell products on the Facebook marketplace:
US Citizenship: Facebook will confirm American citizenship through the seller's Social Security Number (SSN). Although at first, you'll be able to sell with this verification, once you hit the $500 sales benchmark, Facebook will require SSN verification.
Tip
For non-US sellers, Facebook places a limit on international sellers. This means that a Facebook seller is able to list products in a single location compared to the shipping options available to US sellers.
Business category and type.
A business address in the US.
US bank account details for collecting payouts.
A State Tax Registration Number for every state where the business operates, for tax purposes.
A Federal Tax Identification Number that matches the business representative's name for financial reporting.
Shipping options, return policy, and a customer service email to set up customer service.
It's important to highlight that sellers of the Facebook marketplace are obliged to offer a 2-3 days shipping time frame. That's why if you are using a dropshipping business model, you need to choose carefully your third-party suppliers.
You can find more in our Facebook Marketplace Shipping in 2023 guide.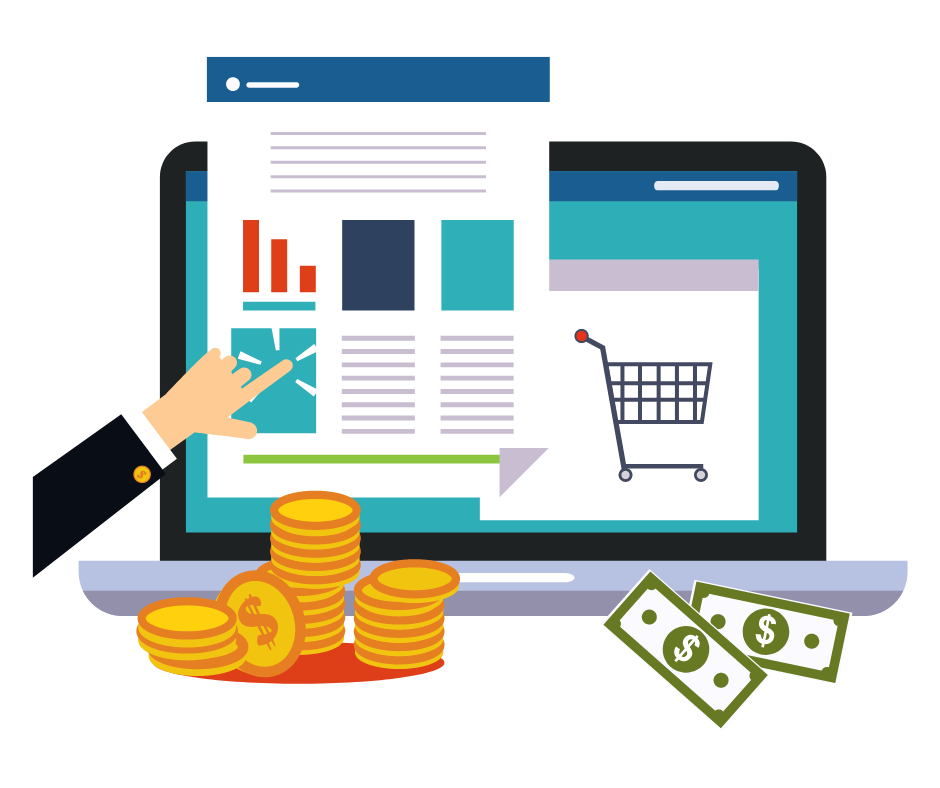 Don't wait for the profits, make them!
Start a profitable dropshipping business with DSM Tool. Get a free course and a free trial of the software.
Facebook Shops & Marketplace:
Facebook shops are a great way for businesses to display their physical and eCommerce products, offer pricing deals and overall engage with their customers. You could consider opening an official Facebook shop in order to showcase your product listings to Facebook users as well.
— Just like selling on eBay, you create an online store where you place your business, shipping & payment policies.
You can choose the products you'd like to feature from your catalog and then customize the look and feel of your shop with a cover image and accent colors that showcase your brand.
The cool thing about selling on Facebook Marketplace is that when it comes to organic reach, it is so simple to work around their SEO in order to be discovered. Users can find Facebook Shops on a business' Facebook Page or Instagram profile, or discover them through stories or ads.
— From there, the potential customers will scroll through your catalog and eventually purchase from you.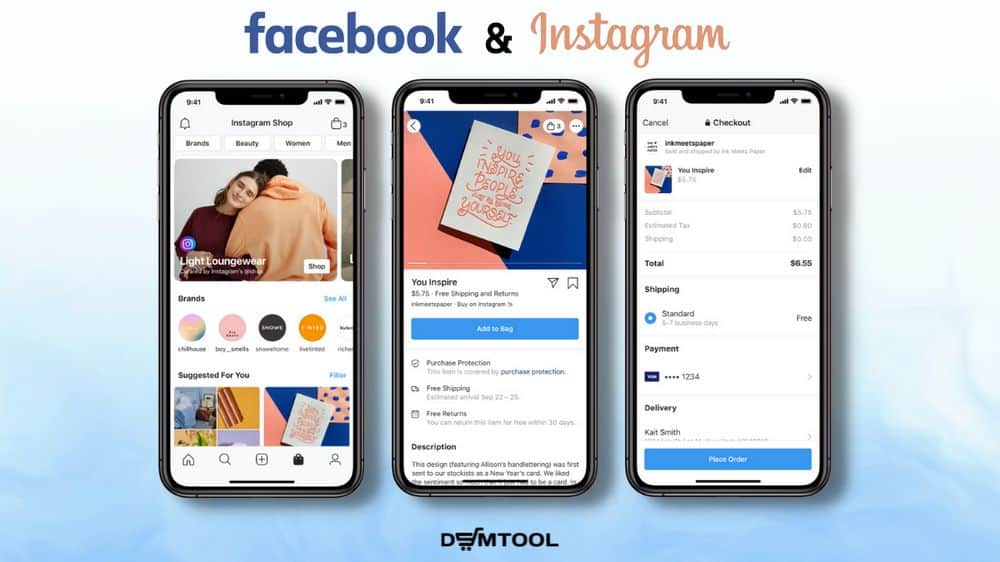 Buyers can reach out to you in case they want further information through Facebook Messenger in which you can set up an auto-message reply and get back to them whenever you can.
Since the Facebook corporation bought the rights of Instagram and Whatsapp, this means that your online store will have a presence on those two social media platforms making the whole purchasing process for clients a better experience.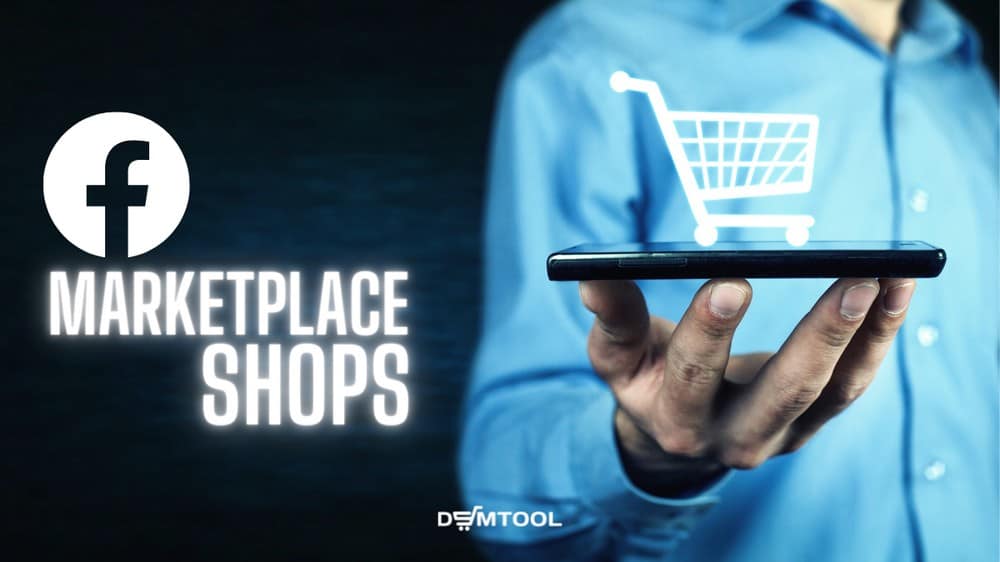 In order to create your own Facebook shop, you first need to create an "Official" Facebook page of your business. For example, if you dedicate your business to selling Household items, Home Decor & Garden Tools. Then open a page where you can showcase these products, write about the nature of your business (what you sell) and how you handle orders.
Next, either connect your eCommerce platform to Facebook or build your Facebook Shop manually. Here is how you can create your store on Facebook Marketplace from zero.
How to set up a Facebook Shop
Let's go through the whole process of creating a Facebook Shop:
Create a Facebook page for your Business and/or store: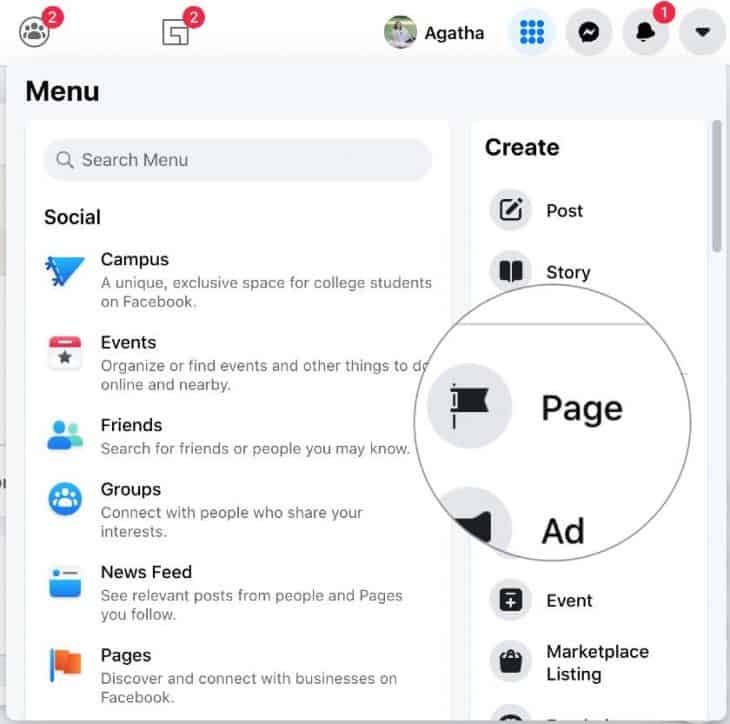 Pro tip:
Be sure to at least post 2times per day on your Facebook page in order to maintain some content flow on your page. Post pictures and/or information about the products you are selling on Facebook. It'll certainly help you with the traffic you'll be reaching organically.
Another great thing about a Facebook page is that it offers a wide variety of budget-friendly advertising tools you can use and invest in in order to further scale your business.
— In short, it's a great way to professionally promote and manage your business.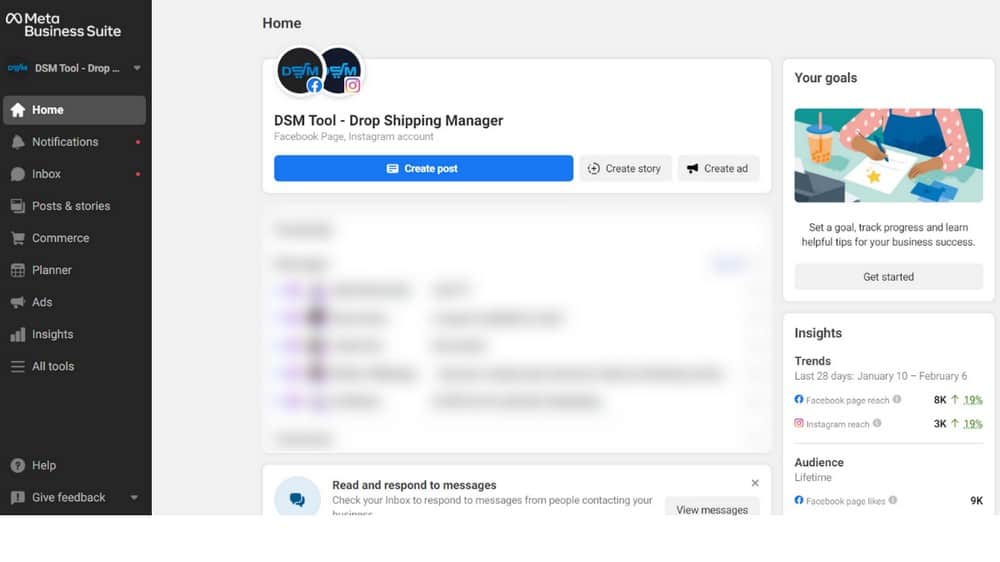 2. Add products to your Facebook store.
You'll need to add your product inventory to your Facebook store. Further in this article, we will be explaining how to properly do Product Research in order to choose demanding products to sell on Facebook Marketplace.
You need to make sure that your inventory catalog will comply with Facebook's merchant agreement and commerce policies.
There are several ways to add products to your catalog, the method you choose will depend upon several factors — such as inventory size. For example.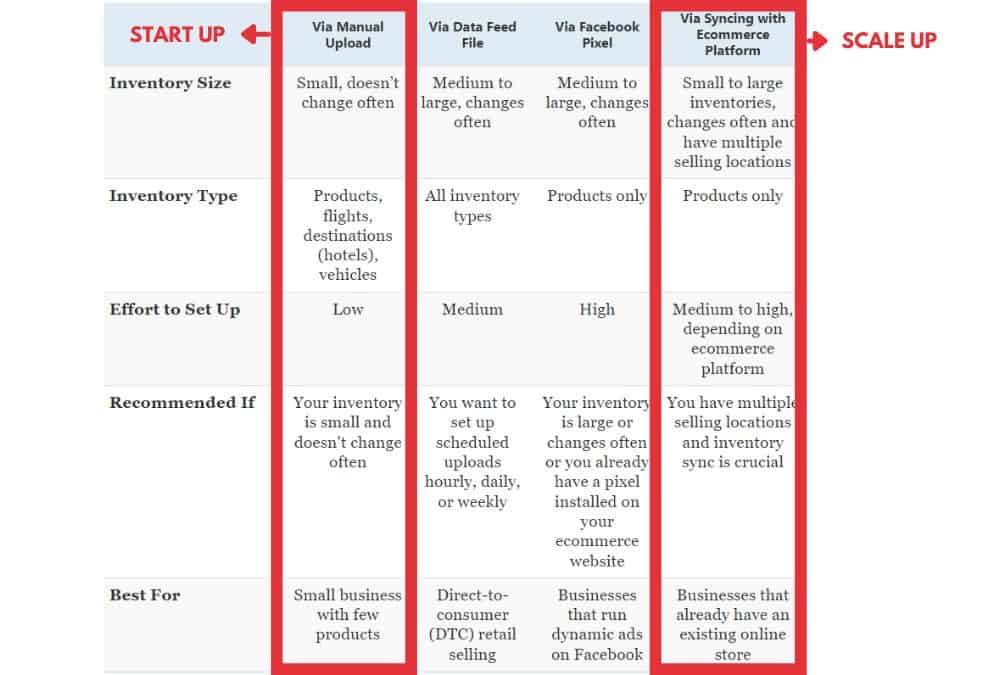 As you can see in the image above, if you're starting selling on Facebook marketplace, it is best to start uploading your inventory manually. As you grow, you can move forward to synchronizing with an eCommerce platform.
How to create a new Facebook listing manually
First, from your Feed, click Marketplace in the left menu.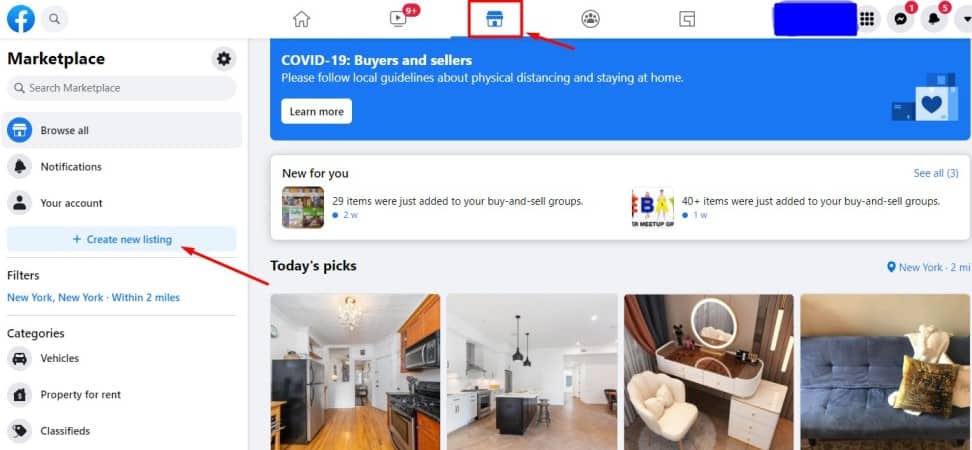 2. Click on the + Create new listing, then click Item for sale: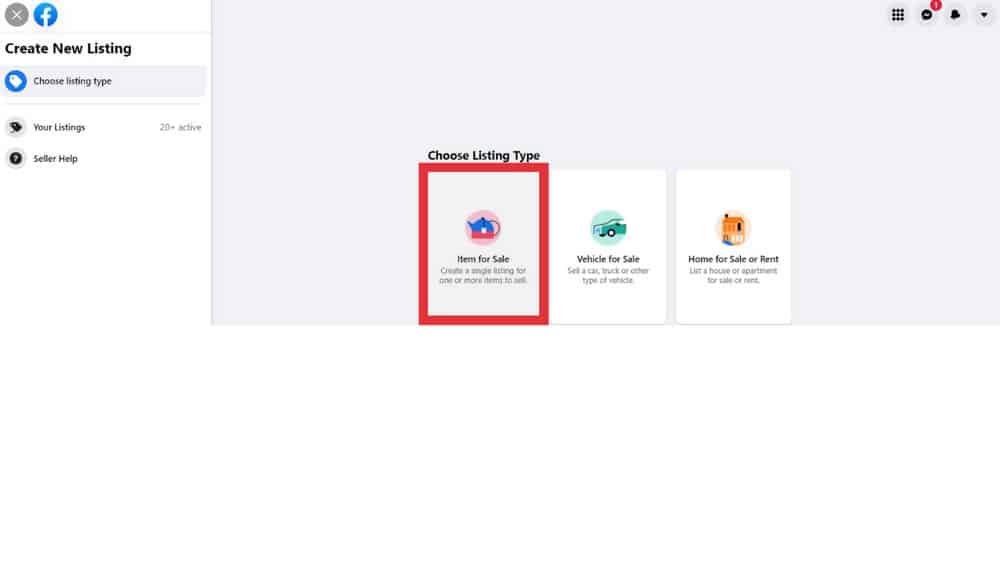 3. Click Add photos to upload a photo of your item from your computer. Then, enter all the info about your item (the more product details, the better).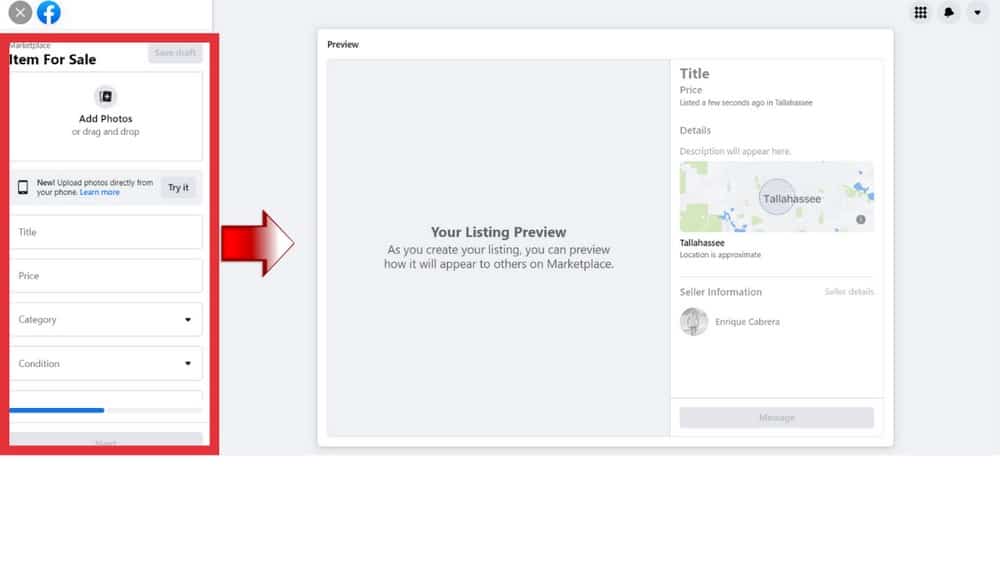 4. Add product title, choose the Facebook product category, and location. Also, you get a listing preview where you can verify if a new listing looks right.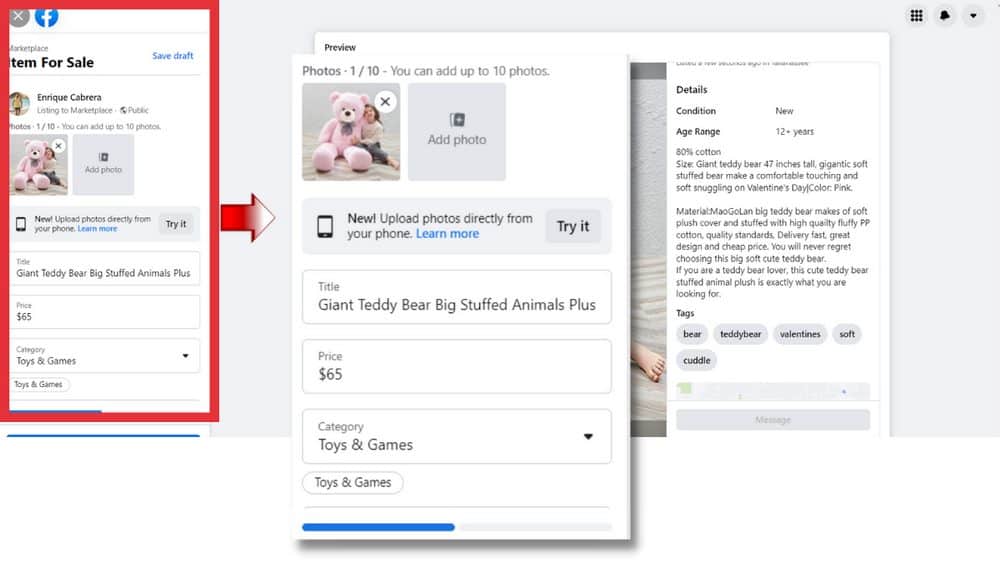 5. Click Next. If Next is greyed out, make sure that you've entered the information that's required.
6. Click on Publish to post your Facebook Marketplace listing.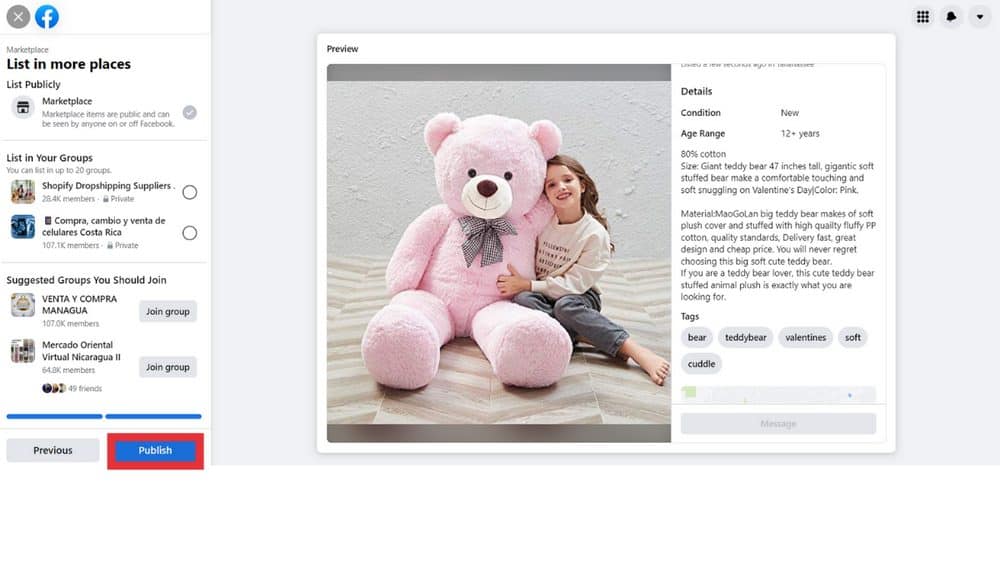 That's it your listing is published on the fb marketplace. Be attentive and don't miss messages from your potential customers!
Another way of adding products to your Facebook store is by using the data feed (spreadsheet file). You can use it to upload items in bulk. You can upload a file once or set up scheduled uploads to happen on a regular basis. Facebook supports CSV, TSV and XML file formats as well as Google Sheets.
In addition, you also have an option to upload inventory to your Facebook store from third-party suppliers through the DSM Tool — which is best recommended. We're currently working on developing a program for selling on Facebook Marketplace which will be dropped very soon.
First of all, Commerce Manager is a platform to manage your catalog and sales on Facebook and Instagram.
Here, you'll be able to create your own Facebook shop. It's a great tool that the platform offers to sellers that guides them into creating a beautiful store to attract potential customers.
In addition, when you set up a Facebook shop, you can choose where you want customers to complete their purchases:
On your website.
Directly on Facebook or Instagram with checkout.
With a direct message.
— And it's so easy to create. Just follow the instructions given!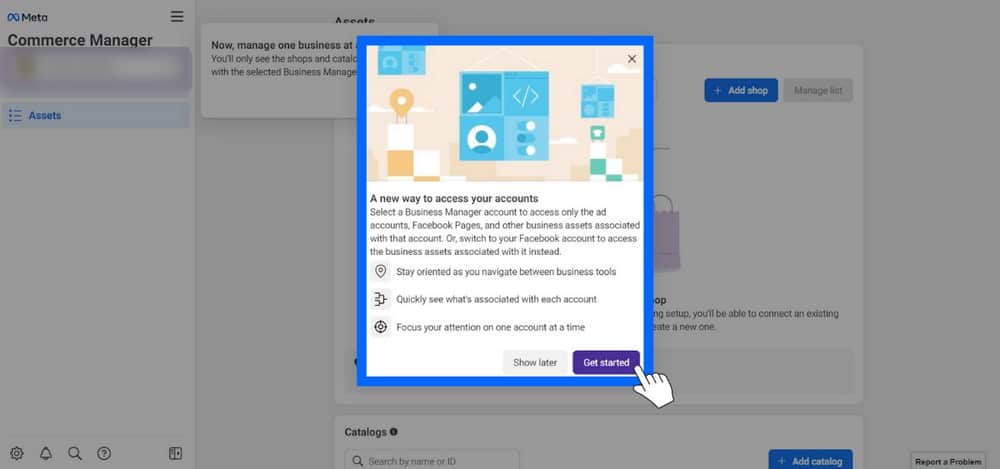 The Commerce Manager is also a place where you will be able:
View payouts, manage finances, fulfill orders, and process returns.
Offer Purchase Protection to your customers.
Use Inbox to respond to customer messages.
Review your delivery and customer service performance.
Basically, it will be your Facebook Seller Hub for F-Commerce.
So remember this place and let's move to the next step.
4. Add your Facebook shop:
Remember that we initially created an official Facebook page for our eCommerce business? Well, here's where you will connect to your store and you'll also connect your third parties including dropshipoping tools.
— If you have an existing Shopify store, you'll be able to connect it here as well.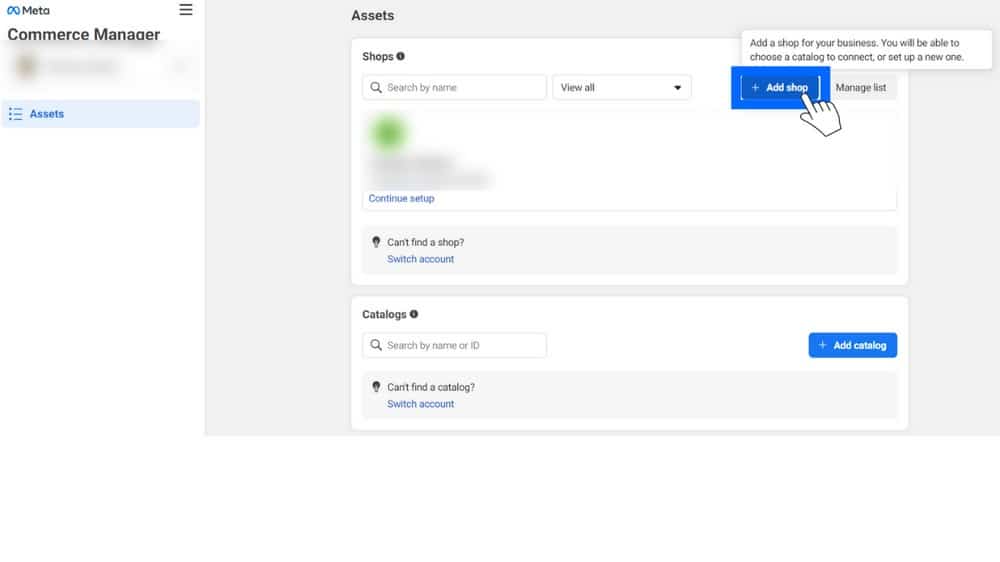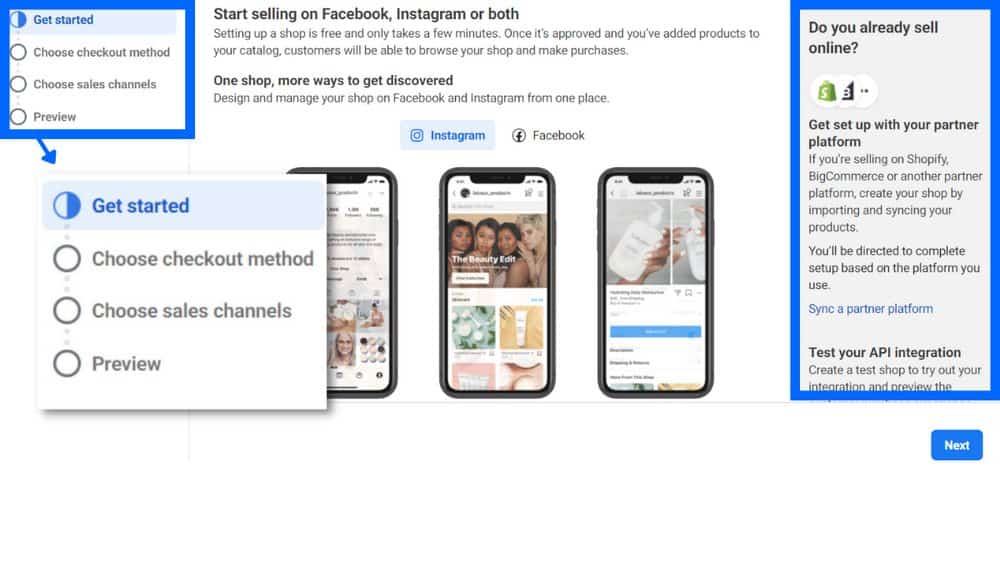 You can choose any sales channel you may have whether it's a Shopify store or a Dropshipping program where you'll be able to easily manage your online store. Furthermore, you can choose any checkout method.
The cool thing about Facebook Marketplace is that you can also connect your store directly to an Instagram account. You can have a higher online presence and reach more potential customers with Instagram shops.
Tip
If you want to make your shop visible on Instagram, you'll also need an Instagram business account. Your Facebook Business Manager must own the Instagram business account and the Page that it's connected to.
When it comes to the checkout method, you can choose to lead the client directly to your Facebook Messenger or to a landing page.
Tip
It's important to note that you would need to be a US citizen if you want to choose the feature of Facebook or Instagram direct checkout.
Once you've created a Facebook store, you can use its Commerce Manager to:
Manage and customize your shop and featured collections
Get insights about customers and popular items
5. Connect your existing Facebook page:
Simply connect your official Facebook page to the Commerce Manager and finish the setup steps.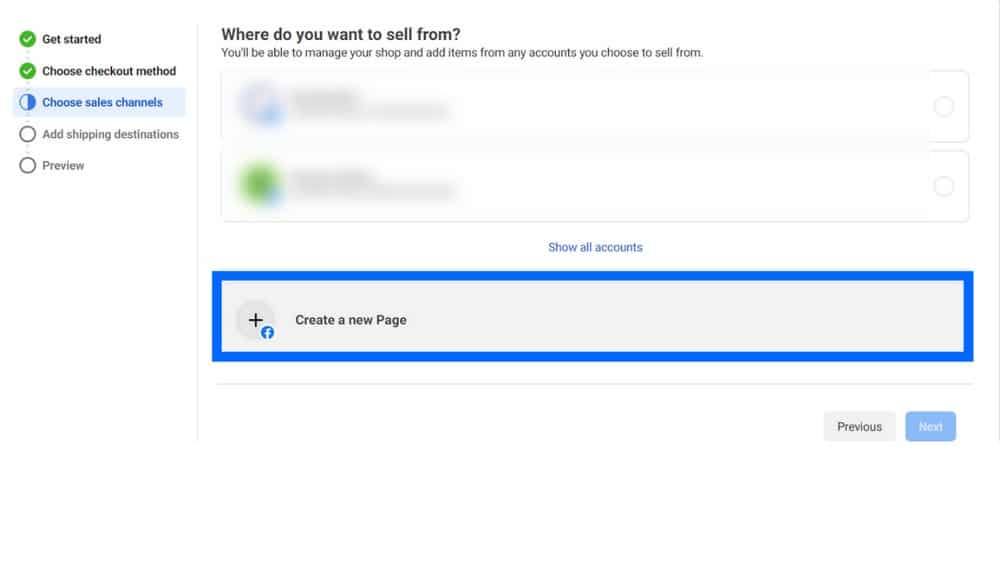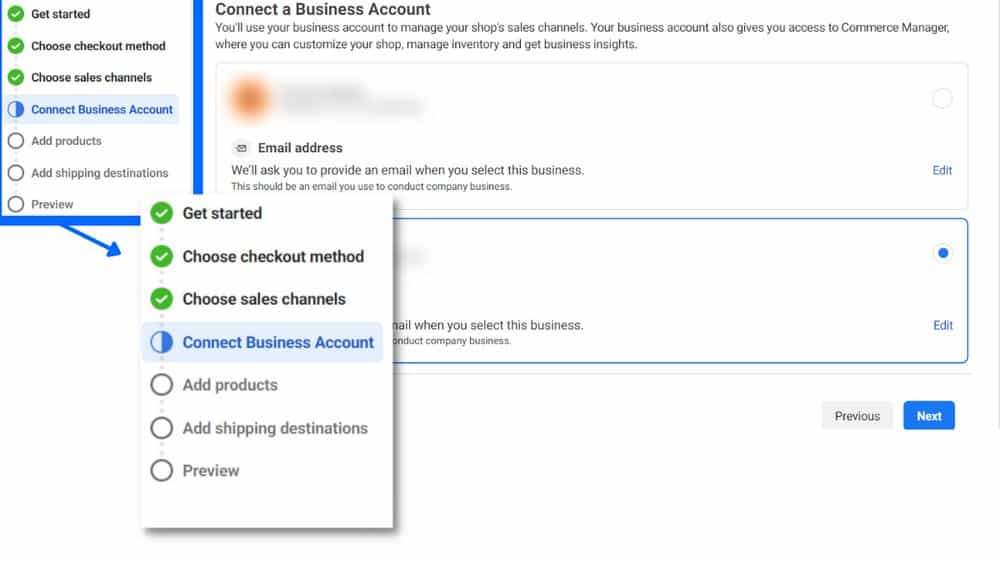 And that's it! Facebook marketplace similar to its competitors eBay, Shopify, Walmart, etc. charges selling fees. Let's check what Facebook Selling Fees are.
Facebook Selling Fees
Just like any other marketplace, you'll encounter selling fees you would need to take care of. Facebook Marketplace is no different. Whenever you make a sale, Facebook will deduct a fee directly from the payout automatically. The selling fee is 5% or a flat fee of $0.40 for products sold for less than $8.
Think of it this way, if you sell a doll for $10 or more, the selling fee that will be applied will be 0.50. If you sell the doll for less than $8, the fee deducted will be 0.40 — the rest is yours to keep.
This will include the following:
Taxes.
The cost of payment processing.
Applies to all checkout transactions for all product categories on Facebook and Instagram.
Helps fund other programs for a good buying and selling experience.
— You can learn more about Facebook Selling Fees here.
If a customer files a chargeback, Facebook will place a hold on the transaction amount until the chargeback has been resolved.
All Facebook fees will appear in your financial reports.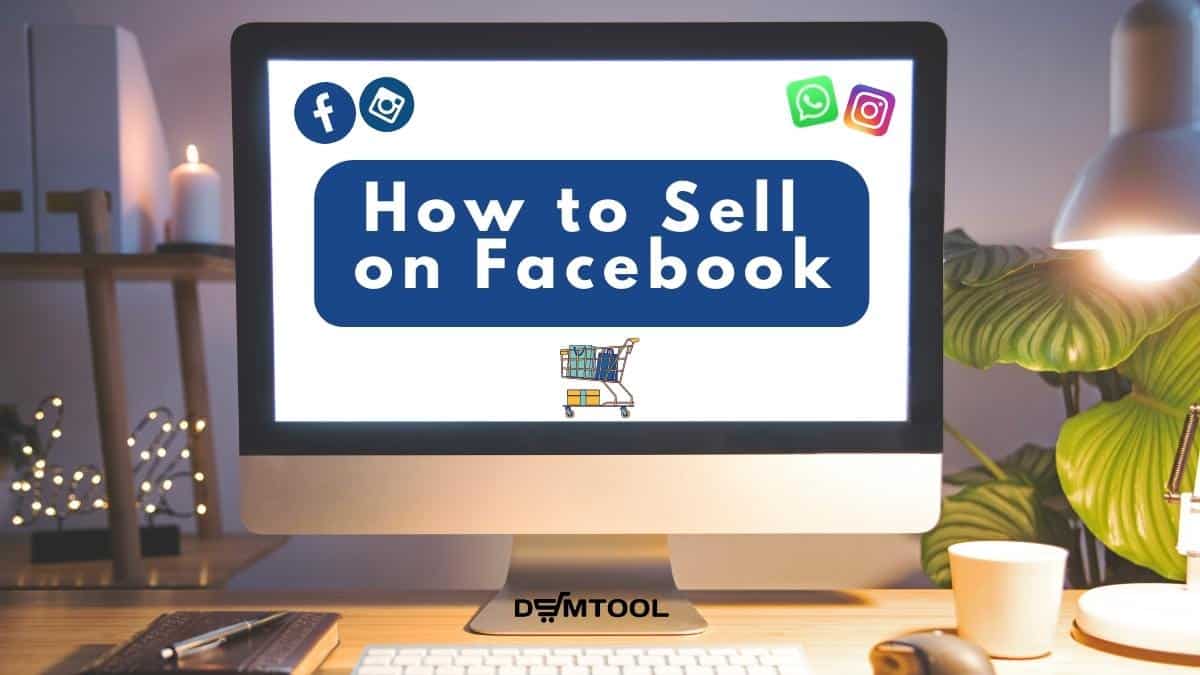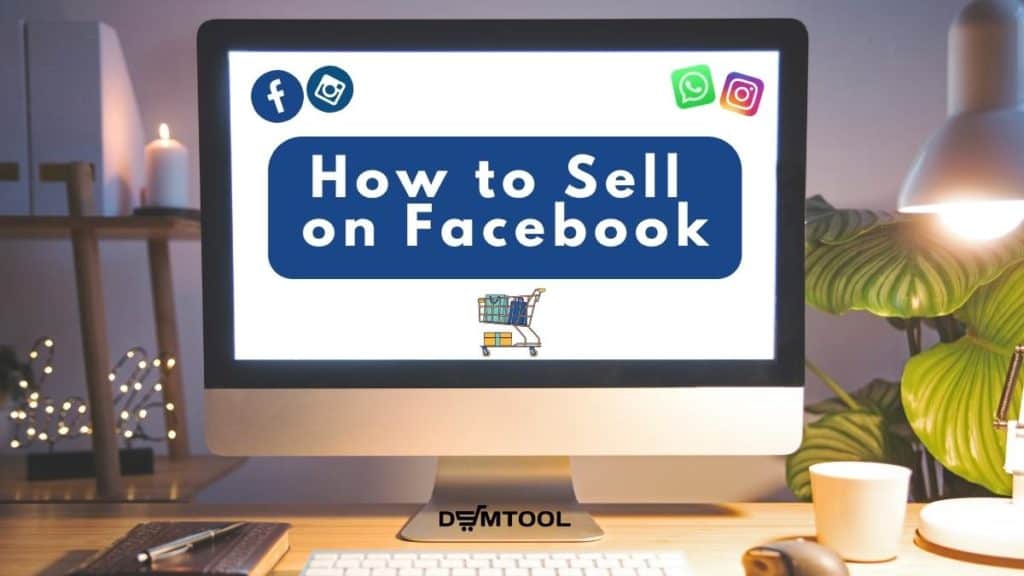 Product catalogue for your Facebook store
A catalog is a container that holds information about all your Facebook items that you want to advertise or sell across the Facebook marketplace and Instagram. You can create catalogs for different types of inventory, such as products (eCommerce), hotels, flights, destinations, home listings or vehicles.
The platform where you can create and manage your catalogs is Commerce Manager (which you have met already to create your Facebook shop).
So all your Facebook listings will be in a catalog in your Facebook Seller hub (+Commerce manager).
Once you have create a catalog for your products on Facebook, you can:
Add and manage information about your items, such as titles, images, descriptions, prices, variants, and more. Upload items one by one or in bulk.

Create sets (for ads) or collections (for shops), which are sub-groups of items within your catalog that you want to feature to customers. That's a pretty cool feature!

Assign permissions so that your virtual assistants or partner businesses can work on your catalog.

Upload country and language information so customers automatically see the correct item information and prices for their country or language in your ads or shop.
Tip
Facebook recommends (and allows) to have only 1 products catalog where you can create sub-groups (sets or collections). Even if you are opening multiple Facebook stores.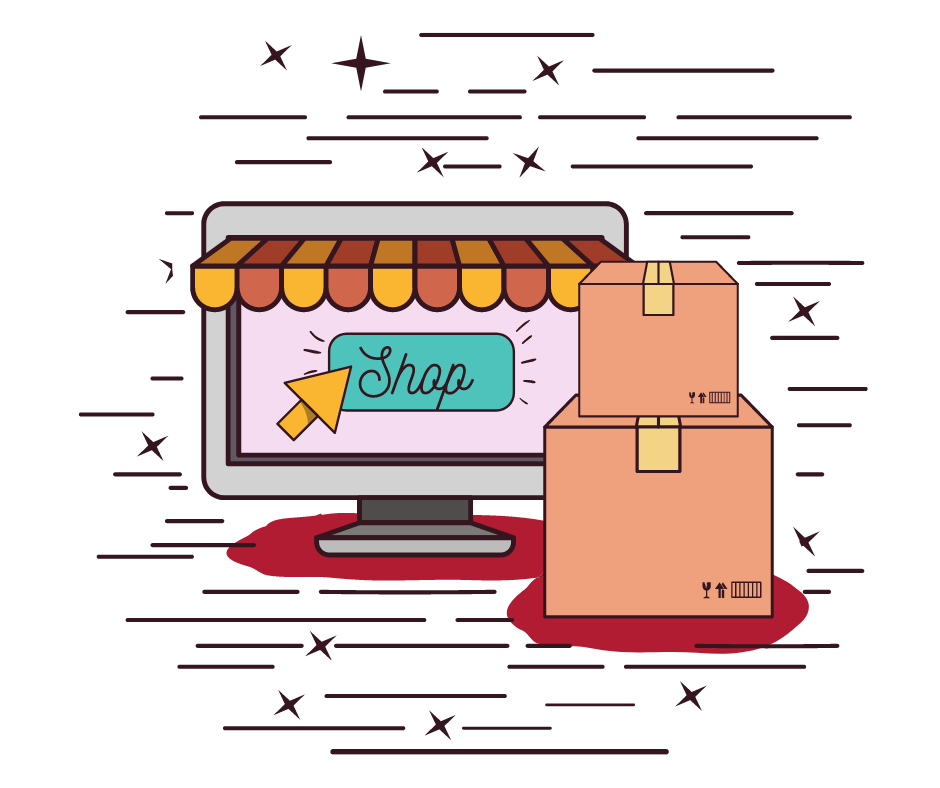 It's time…
Don't wait for success to come. Hire yourself and start your own dropshipping business
Types of Ads to Promote your Products on Facebook
Besides, Facebook allows you to use different kind of ads to promote your products or your catalog. Including the next types of ads:
Dynamic ads: Dynamic ads automatically show relevant items from your catalog to people who've shown an interest in them online. Dynamic ads match items from your catalog with events from a Facebook pixel or SDK, a piece of code installed on your website or app. Learn how to create a dynamic ad.

Collection ads: Collection is an ad format that shows four products from your catalog under a hero image or video. Facebook users can click on items to learn more or browse similar items. Learn how to create a collection ad.

Carousel ads: A carousel is an ad format that shows multiple images or videos that people can scroll through, each with its own link. You can choose to fill the carousel cards dynamically with items from your catalog.

Ads with product tags: You can create ads with product tags to promote specific items you are selling on Facebook marketplace. People can click on the product tags to go to a product details page where they can learn more about or buy the item. Learn how to create an ad with product tags.

Collaborative ads: If your brand sells items through a participating merchant, collaborative ads allow you to run direct sales campaigns for your Facebook listings. Your merchant partner shares a segment of their catalog with your business, which you can use to run dynamic ads.
As you can see Facebook took care of different ways of driving traffic to your Facebook store and products. You can learn more about these kinds of ads and set them for the best selling Facebook products from your catalog.
Starting to sell on fb marketplace knowing these key tips will be much easier. As easier as getting your first sale on Facebook.
So take into your account the next top tips:
High-quality product pictures: Make sure your products have high-quality images. It will help them to stand out from the competitors' Facebook listings.

Detailed and easy item depictions: Even if you are a man of few words, do your best to describe the thing you are selling on Facebook. The more details you give, the more chance your product will be found among thousands of others. Plus, a good item description can save you from unnecessary questions from your buyers.

Item size and weight data: You can take this data from your supplier's site (any eCommerce website). It's optional but yet can be helpful.

Item numbers or stock-keeping unit (SKU) numbers: You'll use SKU numbers or item codes to follow items in your Facebook shop. It will help you to navigate faster in your product catalogue.

Follow Facebook Advertising Policies and Commerce Policies to avoid product rejections and waste time on creating such listings. Yes, once you create your listing, Facebook will review it and if it violates their policies, they will reject it. And we don't want it. So get familiar with Facebook policies and know what you can sell on Facebook and advertise there, and what is not allowed.
Speaking about the last, let's learn what to sell on Facebook marketplace.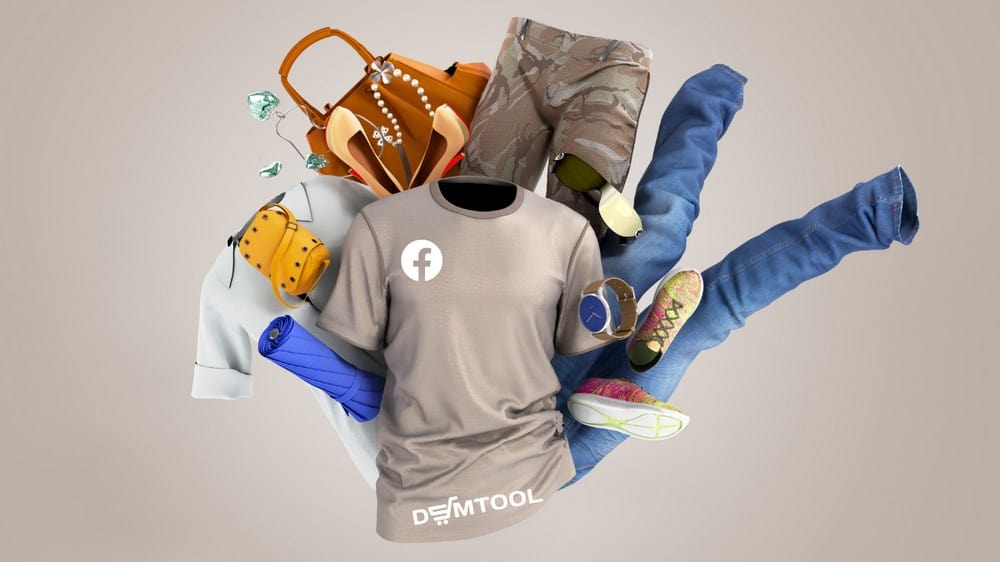 Just like on eBay or Amazon, you can sell just about anything on Facebook Marketplace — anything that fits Facebook's policies, of course.
This can include old furniture, old electronics, video games, kitchen appliances, and books. Take a look around the fb Marketplace and see what others are selling in your area.
Here's the Facebook product category list in full:
Vehicles
Property rentals
Apparel
Classifieds
Electronics
Entertainment
Family
Free stuff
Garden & outdoor
Hobbies
Home goods
Home improvement supplies
Pet supplies
Sporting goods
Toys & games
Groups
When it comes to the best categories you can dropship, there are several but a few stand out the most.
Furniture: Facebook has a lot of young users in the area. There's a lot of couples who are moving into their new homes and they find a cheaper option of purchasing furniture on the website rather than in a physical store. Don't forget college students.

Kids clothing: Furthermore, there's a high demand for kids clothing and even toys. Parents and even grandparents find it best to search for these types of products on Facebook.

Sports products: Sporting goods are one of the most popular items sold in the US. A lot of users look for bicycles, footballs, sporting attire, equipment and such. It's not a bad idea to sell on Facebook items like this. Especially in February when the Super Bowl is of huge relevance or even in April when the NBA playoffs are popular.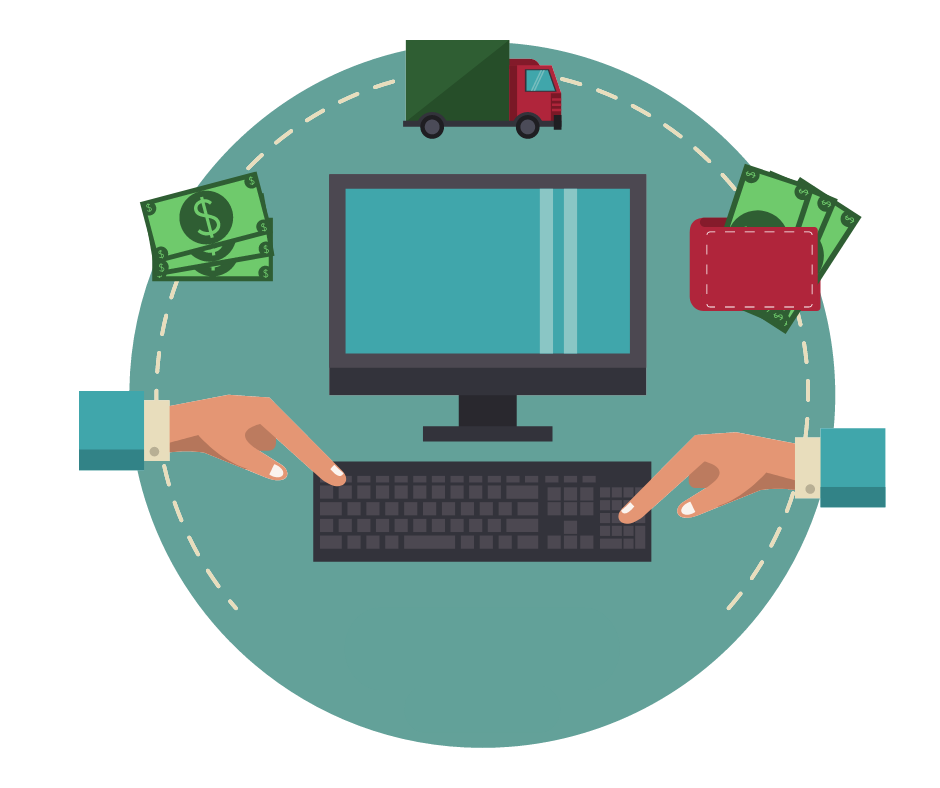 Not yet making money online?
Start your own dropshipping business. Sign up for a free trial of DSM Tool and we'll help you get started. Today is the day.
What to sell on Facebook Marketplace:
In this section, I will show you exactly how to find best selling items on eBay and Walmart that are selling well on Facebook Marketplace. That means you at the end of this article you will know how to sell on Facebook and how to find products to sell on fb marketplace.
Furthermore, you'll learn how to properly analyze a niche market and/or product on both sourcing marketplaces — eBay and Walmart. 'Sourcing" marketplaces mean here the source of your products.
Finding products to sell on Facebook via

eBay's Terapeak:
First of all, this product research method will fit those who are already selling on eBay and want to extend the market by going to Facebook. And those who just want to find ideas for popular products that are already bringing other sellers sales. IIn other words, we will analyze trends. For that, we will use one of the eBay tools – eBay Terapeak.
The first thing we'll do is to access eBay's Terapeak through the Seller Hub.
Tip
You can learn more about Terapeak, how to access it and how to use it in the eBay Terapeak guide.
Let's keep it simple by using 3-4 keywords on a product you would like to analyze. Even though Valentine's Day has passed together with trending Valentine's Day products, we're still in February, so let's use the following keywords as an example: "Valentines Teddy Bear" which is under the "Bear" category.
When you type in the magic keywords, you'll be able to filter the options. In this case, I'd recommend you filter the item's condition and format. The reason is that eBay is a marketplace where users can either sell at a fixed price and/or bid items. Furthermore, the products can be new or used.
When it comes to the condition you can choose either one since a lot of products sold at Facebook Marketplace are either new or partially used. However, when it comes to the format, always choose "Fixed Price".
Once you have placed all of the filters, I'd recommend you look for the items sold within the last 7 days. That way you know what are the hottest products or the most popular. Whenever we're analyzing an item, it's best to analyze the number of sales in the last week or month — at most.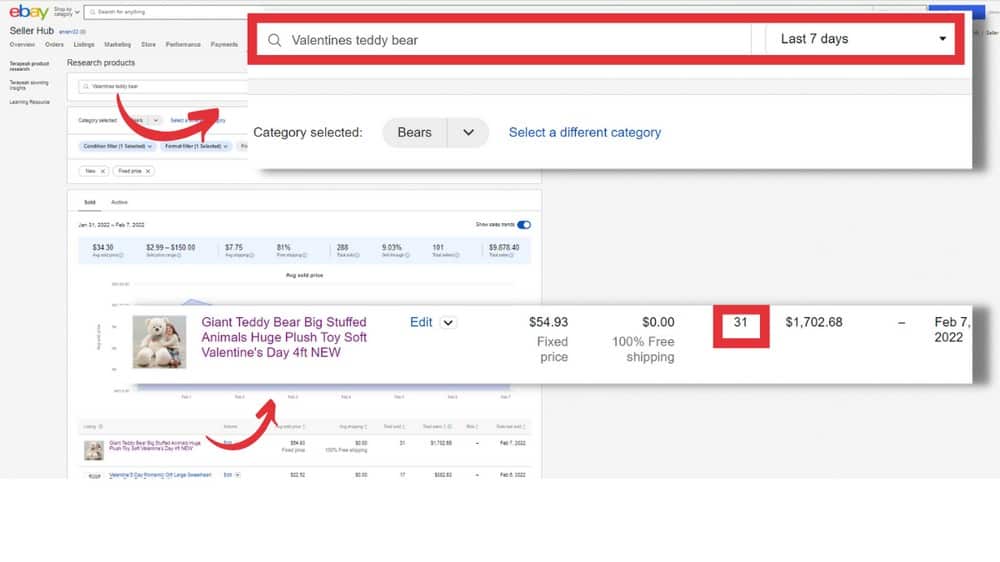 Now you have the results and you'll be able to find different Teddy bears or any Valentine's day-related products.
Lastly, choose a product that has more than 4 sales. The reason being is that you want an item that has a high sales demand — that's always a good indicator.
As you can see on the image above, I chose the Teddy bear that has a total of 31 sales.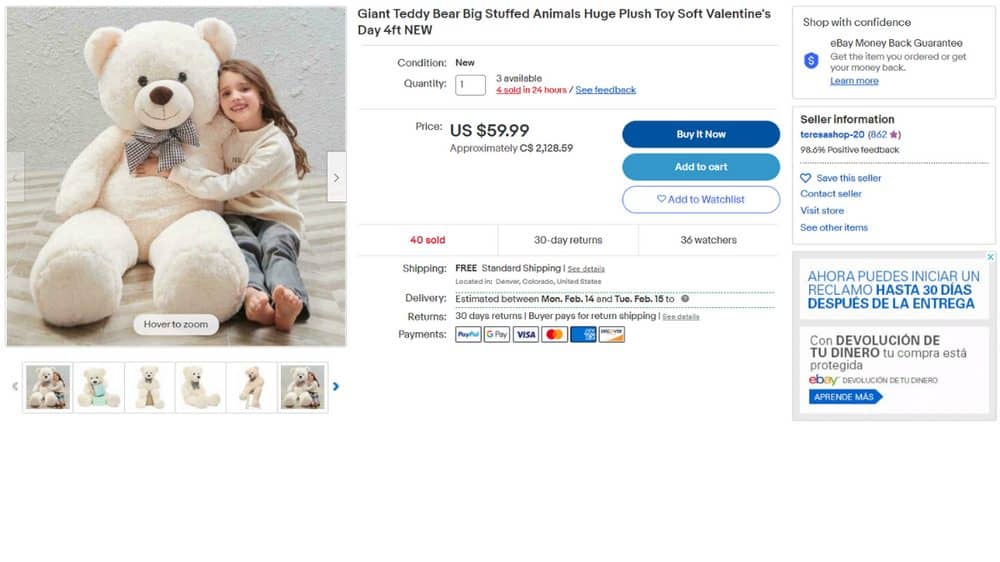 Using

Walmart

trending products to find what to sell on Facebook
We're going to do the exact same thing on the Walmart marketplace, finding trends there. Let's try to find the same product that we found on eBay or at the very least, something similar.
We're going to grab a couple of keywords from the chosen trending product on eBay. I will be using "Giant Teddy Bear Big Stuffed Animal" which I grabbed from the product's title on eBay's Product Page.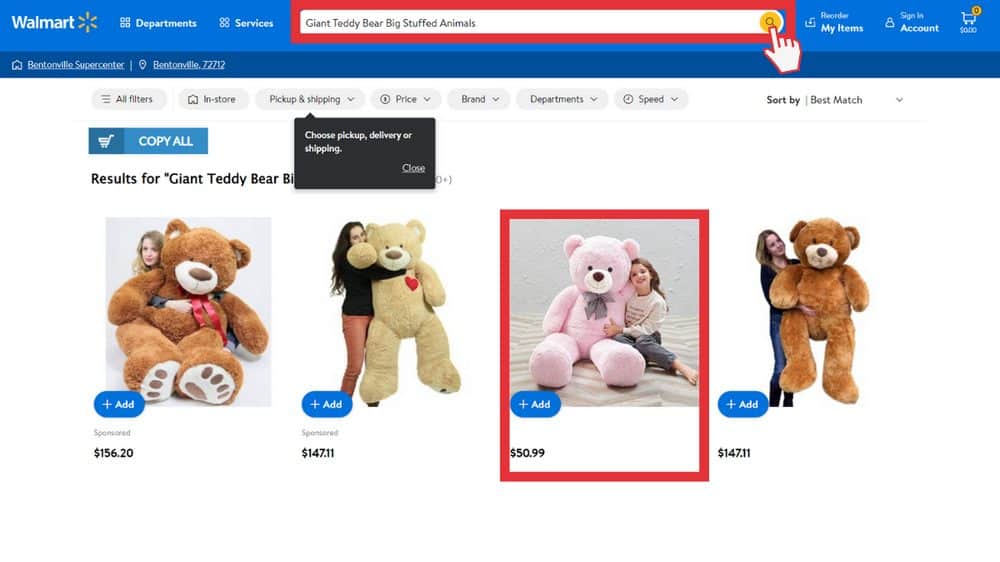 The use of filters is not that necessary if you have a specific set of keywords — like in this example.
As you can see, we already got the exact same Teddy bear variation as we saw on eBay. It even has somewhat the same price tag.
You can also apply the same tactic on other marketplaces: you can source the same item from other popular retailers and wholesalers.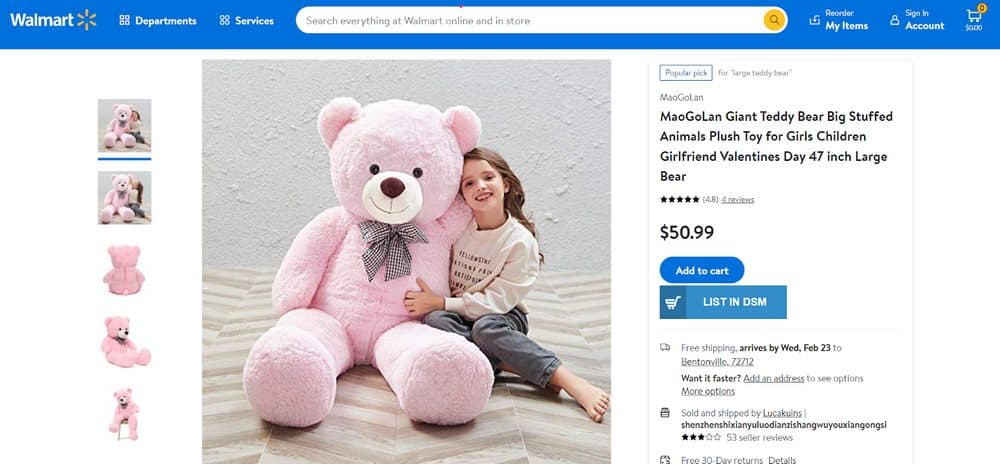 Here's a side by side comparison between both options: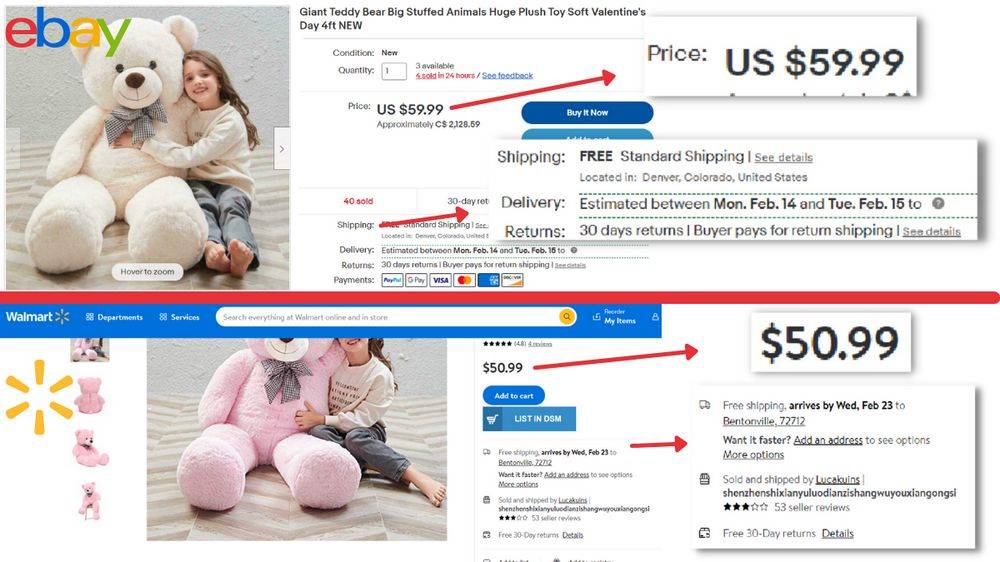 There are two big differences between both options: Price & Shipping estimation timeframes.
The seller on eBay offers the product at a higher price but the shipping time frame is quicker than the seller on Walmart who offers the product at a lower price.
Is this relevant? — To be honest, it isn't unless you want to be more strategic about the shipping delivery dates and/or prices when dropshipping on Facebook.
Analyzing Facebook's Market to find trends:
Now that we hot found a product we want to sell on fb marketplace, let's find out if the same product is being already sold there. And how many sellers are offering the item, and at what price?
Let's use the same keywords for the specific Teddy bear we found on both eBay and Walmart: "Giant Teddy Bear Big Stuffed Animal". Remember to use the filter options on Facebook.
We need to filter on Facebook:
Location: Facebook works by showcasing listings depending upon the location of sellers & buyers. That is why if you're an international Facebook seller, you'll need to focus on one location — is part of the limitations you get when selling stuff on Facebook marketplace.

Price: Choose a price range that will target the prices you found on the sourcing websites (where you will take this item). In this case, anything between $20-70 should be a good ratio.

Item condition: Choose the "New" option since it's the same option we chose at the beginning when we were sourcing a product.
— This is important because we want to figure out if anybody else is offering the same product on Facebook at the same price and determine if it's worth listing at all.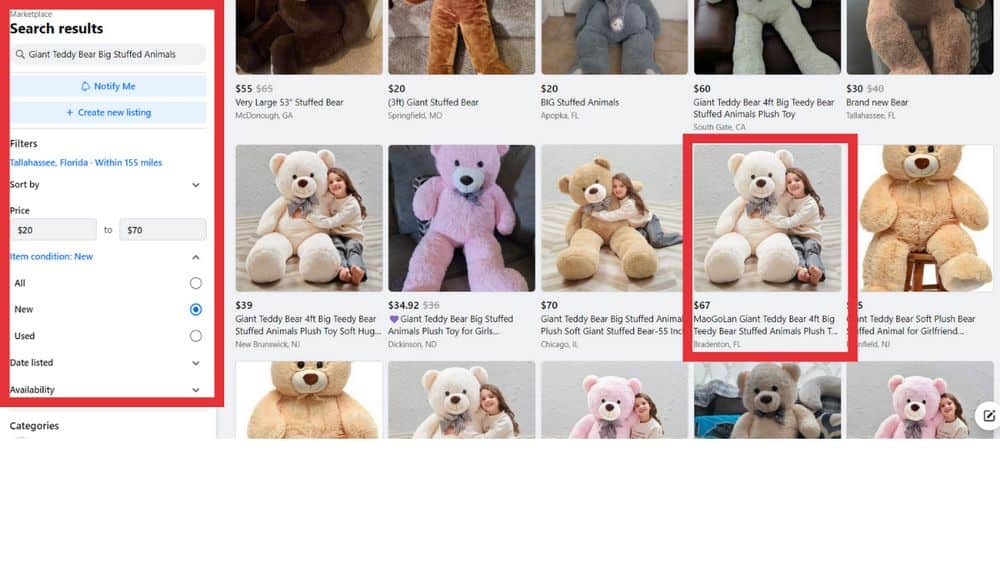 Once the search results come in, you'll see various similar options. Try to scout the same product by choosing the picture that fits with the other images on eBay and Walmart. Lastly, make sure that the price offered on Facebook is higher than on your sourcing website.
— Remember that we want to be competitive in terms of pricing as well. In which we want to offer the product at a lower price than our competitors on Facebook marketplace and still gain profits out of the deal.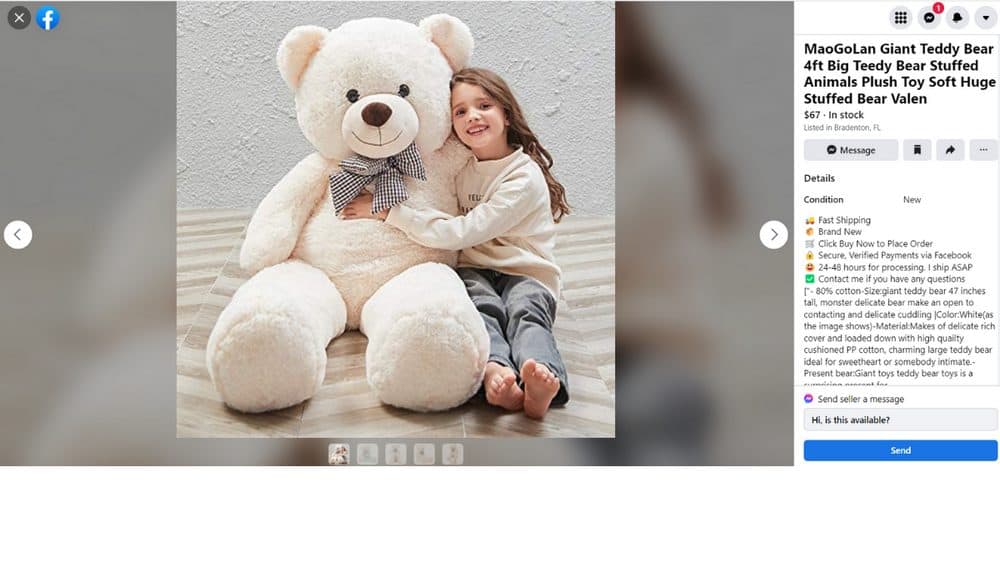 Furthermore, the client can analyze what the seller offers along with sending predetermined messages if the buyer is interested in the product. From a user standpoint, it's a safe deal since they're able to even see the seller's profile. They can even check out the seller's listings as well.
— This means that you, as a Facebook seller, have to have a professional-looking Facebook Page in order to provide that sense of security to buyers.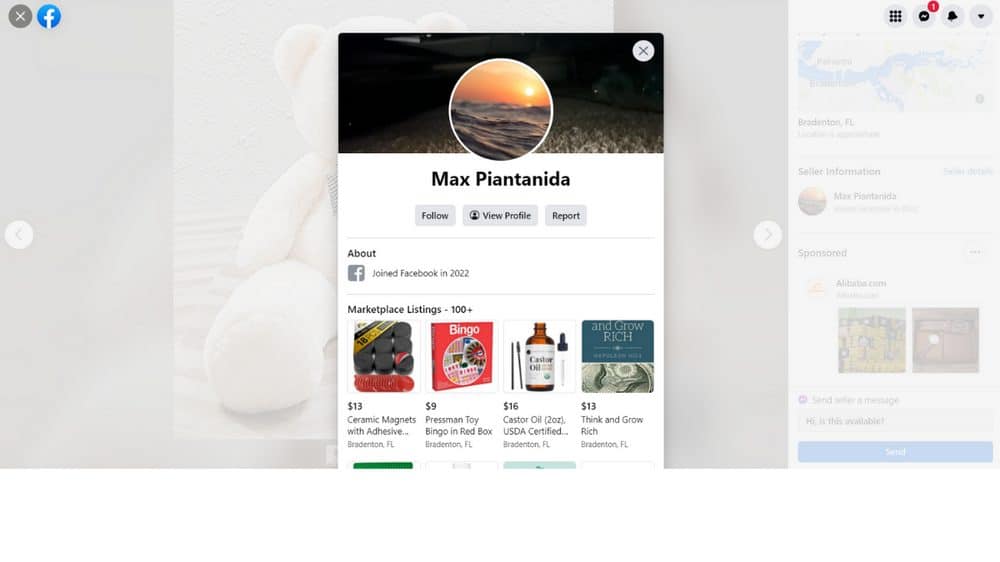 So, taking this example, let's do quick math:
If we source the product from eBay, we're looking at a cost of: $59.99 with free shipping. If we sell it on Facebook Marketplace cheaper than our competitor, we could sell it at: $65 (two dollars cheaper), we're looking at a potential profit margin of $5.01 per sale.
if we source it from Walmart, we're looking at a cost of: $50.99 with free shipping. Obviously from a financial standpoint, we might be able to square a higher profit margin if we sell it for the same $65. Giving us a total of: $14 per sale.
We can even lower our offering price to lure more potential customers and still gain a good amount of profit.
Lastly, if we choose to source it from eBay, the product's arrival would be sooner than the product offered on Walmart.
The seller on eBay has a shipping estimated arrival date between Feb 14th & 16th. Meanwhile, the seller on Walmart has an arrival date of Feb 23rd — you'll gain more competitive advantage by selling cheaper and shipping faster.
When you take products from other marketplaces or other thrid-parties and sell them on Facebook calls 'Facebook dropshipping". So, Facebook dropshippers do not hold nor pay for physical inventory. They take demanding products on eBay, Walmart, Amazon, or other dropshipping suppliers, and resell them in their Facebook stores. Once they get a sale on Facebook, they purchase the product from their supplier who will ship this item right to their customer. In a nutshell, dropshippers earn in the price difference between the original product price plus extra fees and the price of this item on Facebook.
It is another business model for F-Commerce you can consider. If you want to know more about it read the Facebook Dropshipping Guide.
Final thoughts:
Facebook Marketplace is a great sales channel with a high engagement rate with online users who are potential buyers. If you happen to be residing in the USA, you'll have more chances to enjoy a broader range of options when it comes to the checkout process. That means you can get more advantages from Facebook marketplace selling.
However, if you're an international seller or dropshipper, you may be somewhat limited. Still, it doesn't mean you won't be able to sell on fb marketplace. You can still profit wonderfully from this marketplace.
The best thing about the platform is that you can connect your external shop in case you have one, different accounts on Facebook and on Instagram. That'll certainly help your business grow both organically and through paid advertising.
Facebook is not a complicated market, it's all about showcasing interesting products and selling them at a reasonable price. Furthermore, it's important to have good shipping & handling time frame.

Learn more about how Facebook Marketplace works on this complete guide.
Good luck!