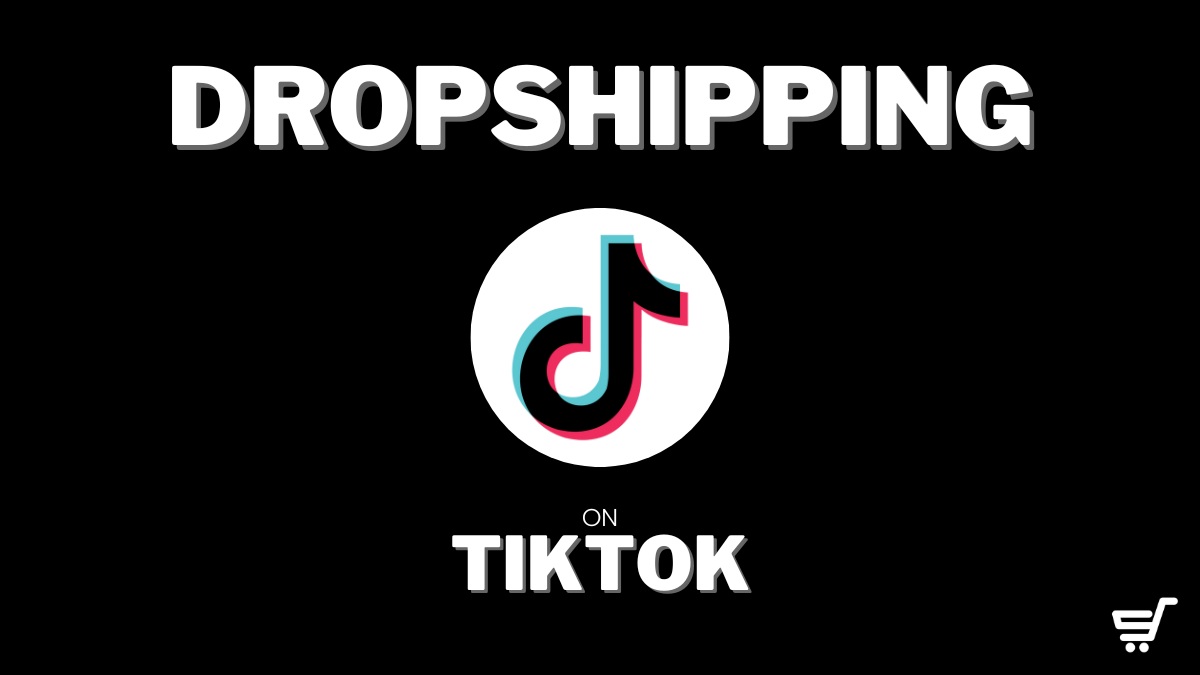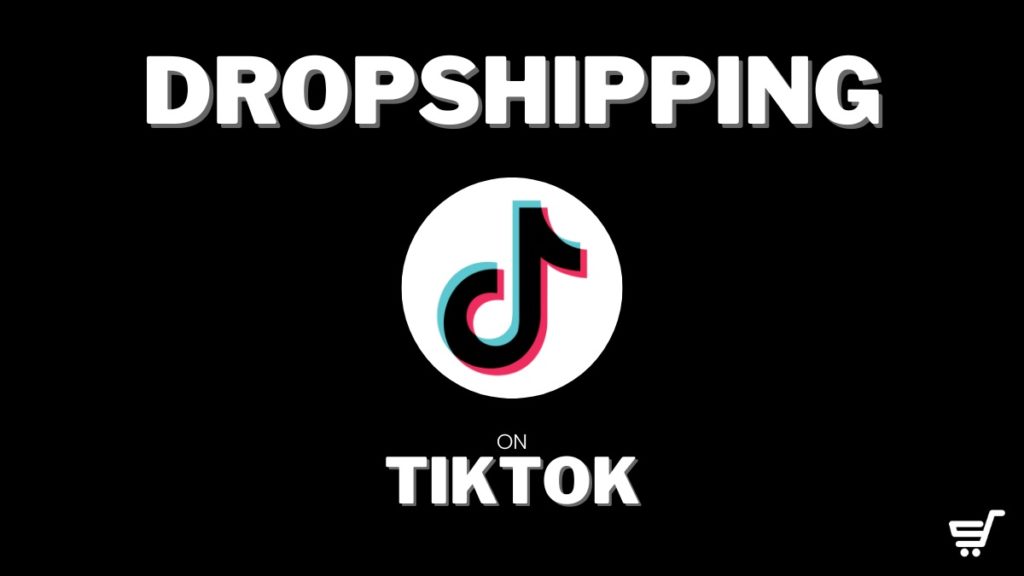 TikTok Dropshipping is a huge opportunity for online sellers to take advantage of this booming social media platform. Let's see why and how you can use it to sell your eCommerce products.
You've probably heard about the famous app, TikTok. It has had over 175 million downloads only in Q1 for this year, specifically from January 1st through March 31st — and counting!
According to Statista, as of January of 2022, the United States had the largest TikTok audience in the world. With over 136.5 million active users engaging with the social media platform. Indonesia followed with 99 million, Brazil with 74 million and Russia with over 50 million registered users.
US sellers and dropshippers can benefit from the popular social media application and increase their e-shop profits. Take into account that the majority of users are there to entertain themselves, don't try to sell them anything. Instead, try to tell an interesting story to capture attention. Further in this article, I will explain the different strategies to take.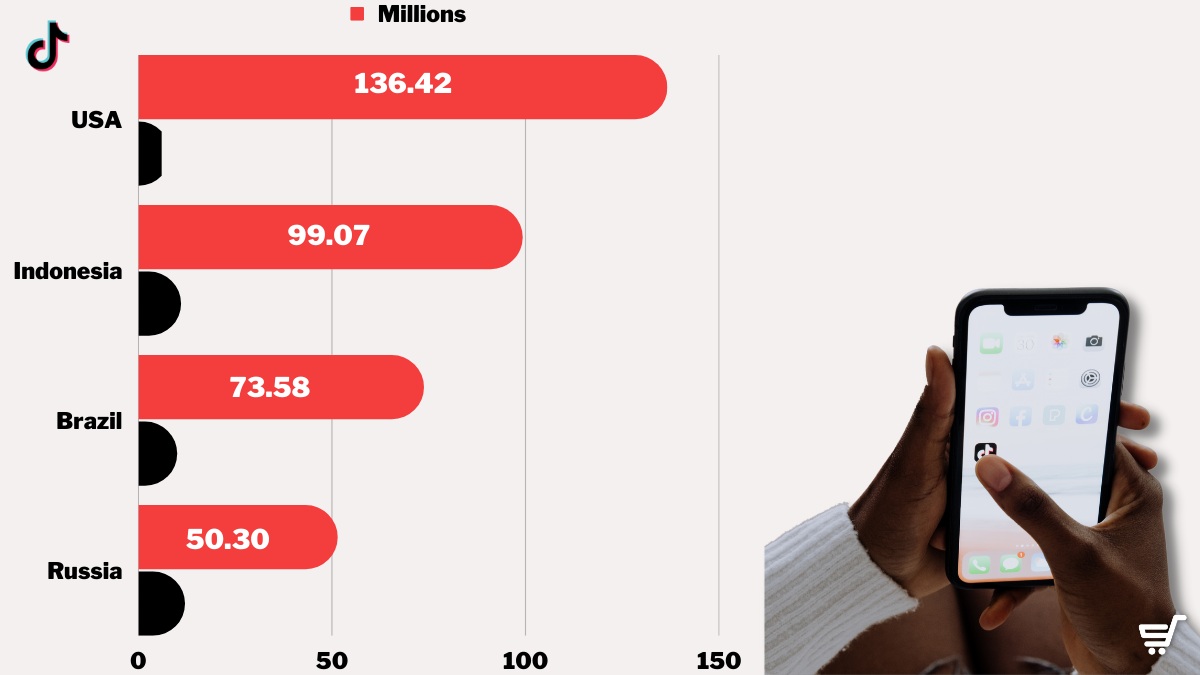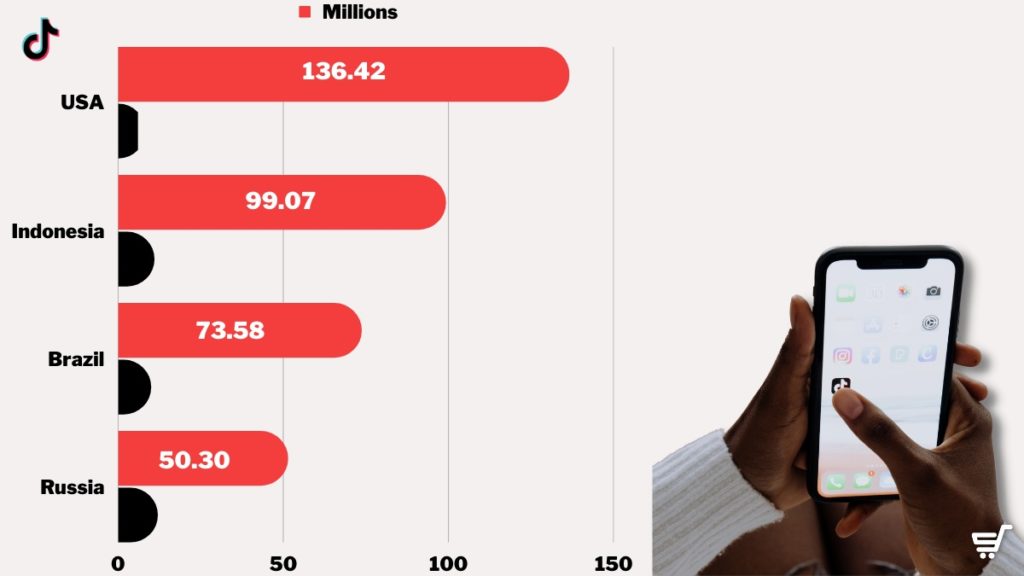 Dropshipping with TikTok is a great way to make some serious cash nowadays. It is the best way to engage with the audience, just imagine the possibilities you have to create interesting content in order to promote your products or services. This is why lots of eCommerce sellers are tapping into this endless market.
If you want to start a dropshipping business for TikTok, then you will also need a Shopify store which is the biggest platform that allows you to easily and effectively create a beautiful website for your store.
When it comes to eCommerce and dropshipping, it is not only about selling on marketplaces. Nowadays, you can perform Social Commerce dropshipping, the majority of Millenials and Gen Z are constantly active on social media. In 2020, Tiktok outranked popular social platforms such as: Facebook, YouTube, Tinder and even Netflix!
— Being this said, let's dive into what you need to know about dropshipping on TikTok and how to start:
Why should you start TikTok dropshipping?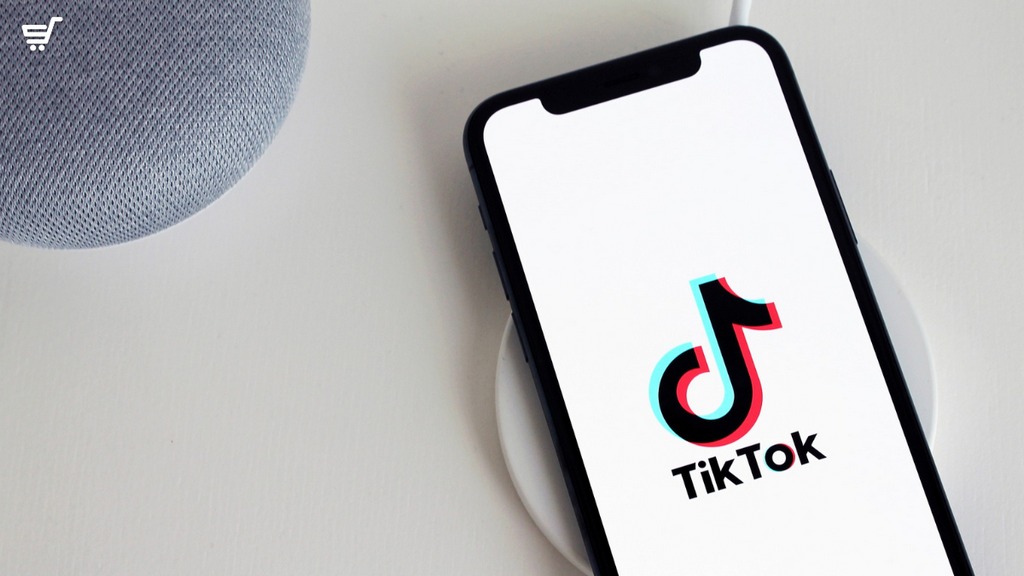 Let's start by quickly addressing what Dropshipping is. This is a business model where you sell high-demand products without the necessity of purchasing inventory ahead. You dedicate yourself to sourcing winning items from different suppliers. This way you profit from the sales of different products in your store.
Dropshippers tend to make between $1,000 and $5,000 per month. You also need to invest in order to grow. For example, you would also need to spend money on the products you sell plus the fees for hosting websites. Marketing is also important to attract customers.
For Tik Tok Dropshipping you need an online store, a product supplier where you can source from and lastly, good Marketing efforts in order to gain relevant traffic.
The best platform you can use in order to create an awesome store is Shopify, and here's why: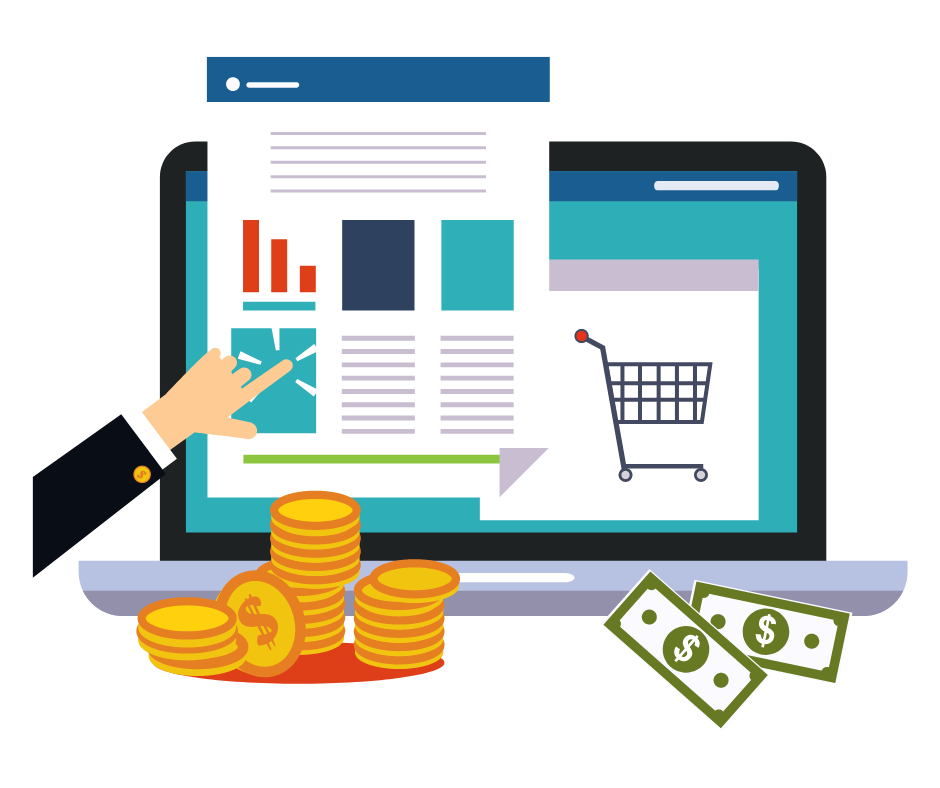 Don't wait for the profits, make them!
Start a profitable dropshipping business with DSM Tool. Get a free course and a free trial of the software.
Tik Tok Shopify store:
Shopify has an awesome integration system with different marketplaces where sellers can easily connect the platform to their own online store. Shopify dropshipping has become very popular nowadays, it has the potential of bringing quality traffic.
What's the catch, though? Well for beginners, it might be a little bit difficult to jump into the Shopify bandwagon right away, especially if they don't have a lot of experience and money to invest. The reason is that in order to build a successful Shopify store, you'll need to invest in paid advertising on Google and a good SEO strategy as well in order to rank in the search results pages.
The good news about integrating Shopify with the TikTok app is that this social media platform has an awesome ability to engage with users — and there's million of active users using the app every single day!
All you need is to understand your target audience and provide great products that they will want to purchase using awesome and dynamic content. Therefore it'll be easier for you as a dropshipper to create convenient ad campaigns on the social media platform.
Shopify allows sellers to enable an in-app shopping experience where they can place their products on the platform's discovery feed, helping Tik Tok commerce gain more traction.
Shopify and TikTok partnered up in order to bring product links to Shopify merchants. This can be used to tag products in organic TikTok posts. The TikTok online community can choose to shop directly from the seller's storefront or even click on a tagged product in a TikTok short video — which will take the user directly to the seller's online store for checkout.
Pros and cons of Tik Tok Dropshipping: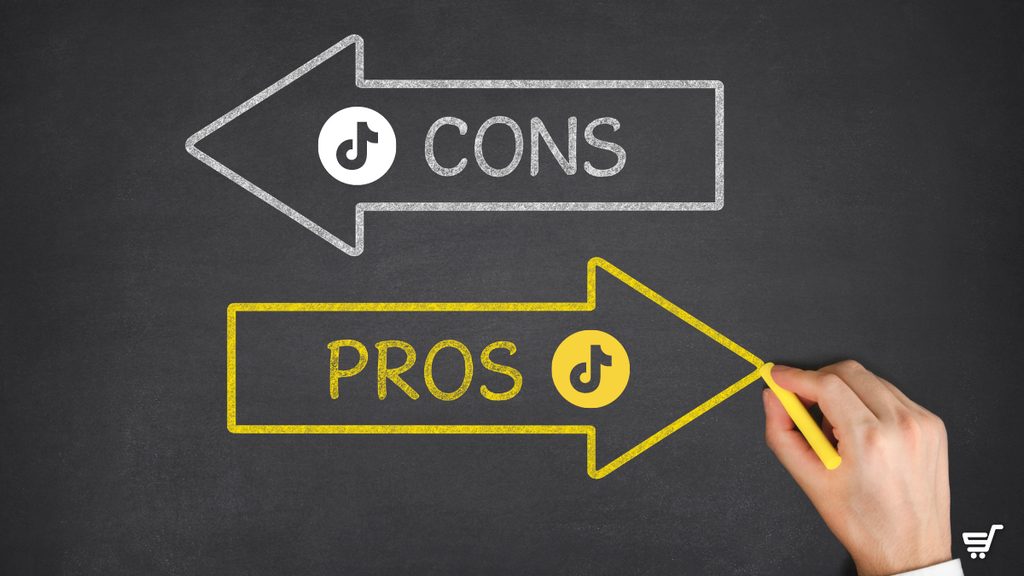 Even though TikTok is one of the most popular apps in the market with millions of active users, dropshippers are second doubting if TikTok Dropshipping is worth investing in. Let's take a look at the pros and cons of this approach.
Pros of TikTok Dropshipping
The first thing that has been mentioned hundreds of times in this article is the huge amount of active users interacting with the application. This will make your marketing efforts a little bit easier because organic traffic is constantly flowing — just like a river.
Being this said, you also need to understand TikTok's audience and who you want to target as your ideal customer.
What type of users engages with the TikTok channel?
Most of the TikTok users are Gen Zers. In other words, the platform is filled with teens and young adults. 60% of the platform's audience in the US is between the ages of 16 and 24.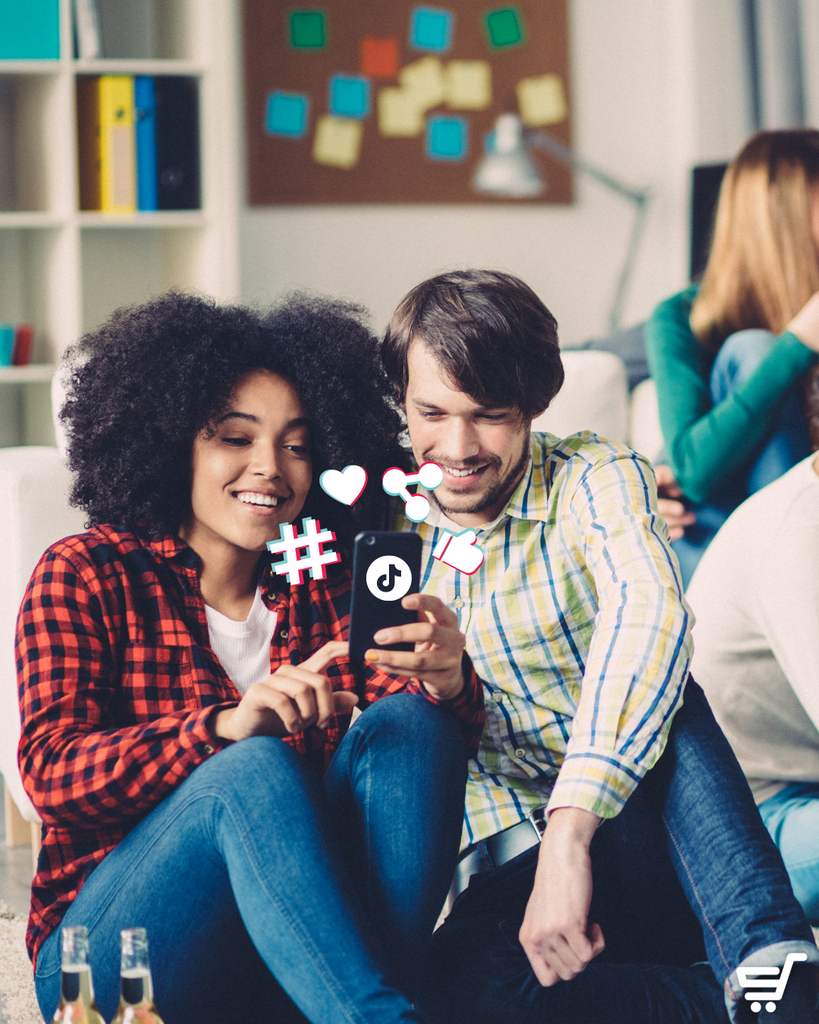 It's important to point out that while TikTok's user base is often associated with Generation Z, there are a lot of brands that are successfully selling on the platform, even though their target audience is older.
TikTok as a social commerce platform not only offers a high traffic rate but also an awesome engagement rate between creators, ads creative, influencers, etc. with the social media's audience. In summary, increasing your brand awareness or impressions along with potential leads and sales goes without saying.
Cons of TikTok Dropshipping:
— So we've discussed the pretty side of TikTok, but just like anything else in life, there is always a downside.
Although TikTok has an amazing volume of traffic where you can easily interact with the audience organically, if you really want to push some sales up, you need to invest in advertising TikTok video content. The catch here is that you may need to place down at least $50 per day to make an impactful campaign.
This is the difference between Facebook ads and TikTok, on Facebook although there is no actual limit to what you can invest, the minimum required is $20. So if you are a small business owner starting your TikTok Dropshipping journey, investing this much per day may be difficult to maintain.
Another downside of this platform is the type of content you create. The high amount of engagement rate you get is not only because of the app's algorithm, but also the quality of content you may create.
For example, the majority of TikTokers develop low-quality but highly impactful content with videos of lip singing, small dances, and comedy satire. However, if you're using TikTok for selling, it's important to step up the quality of your content in order to drive quality traffic that will not only engage with your ads but also enter as potential customers.
One way to improve the quality of your content is by incorporating green screen technology. With a green screen, you can create seamless and professional-looking video content that showcases your products in the best possible way. This can help increase the credibility of your brand and make it more attractive to potential customers on TikTok.
The problem there is not gathering the resources to start creating TikTok ads, but also you will compete with a high amount of daily content creators in an app that has millions of active users constantly engaging with these types of contents.
It is also important to point out that you won't be able to target desktop users since the app is pretty much only for mobile. This means that your marketing efforts will have to go to iOS and Android.
How to start effectively Dropshipping on TikTok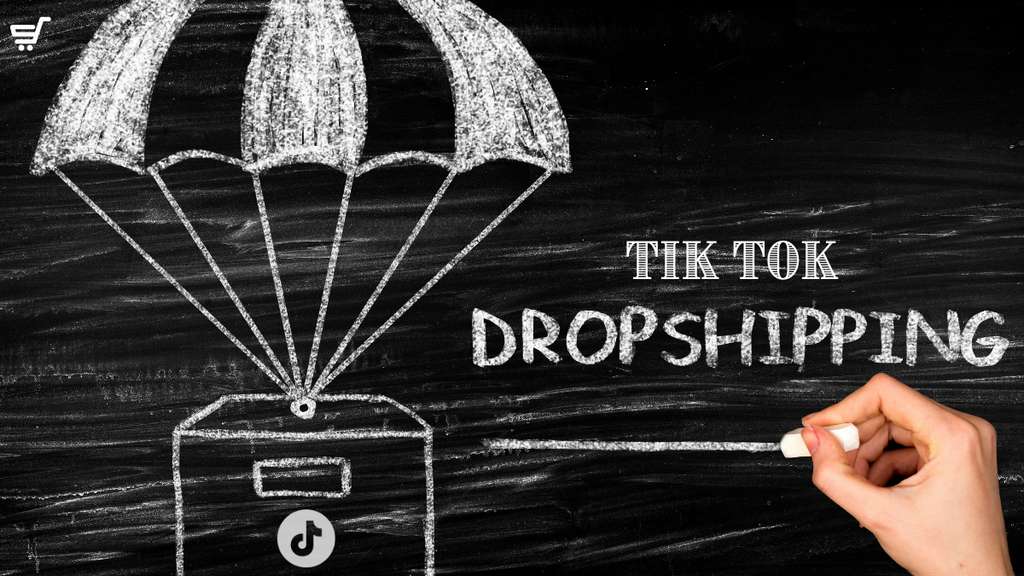 We know the benefits of TikTok as a platform and why thousands of sellers are looking at this opportunity to start selling in the app. However, the real questions are: How to sell on Tik Tok? How can we start sourcing and offering dropshipping products to the audience?
— Let's dive further into the subject.
Creating a shopify Tik Tok store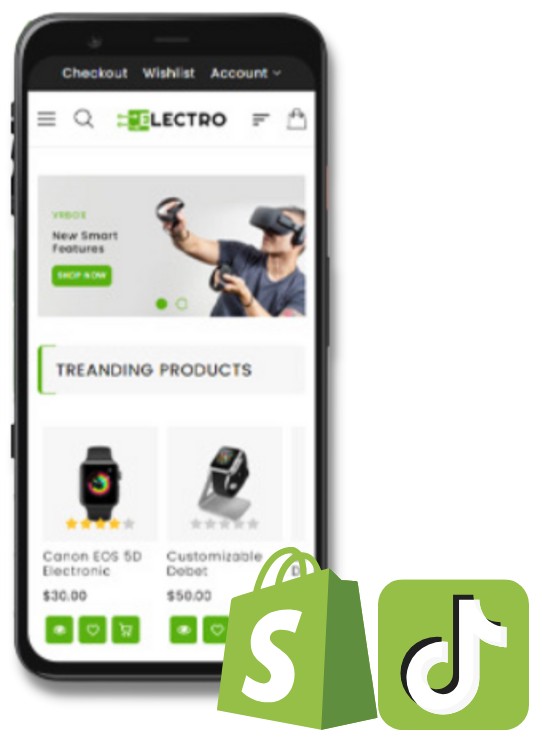 For starters, in order to use Tik Tok for selling products, you will need to have a Shopify business account and link it to your Tik Tok account.
It is very easy to create your Shopify account. The platform has monthly plans from $29 which is for newcomers, and new businesses. $79 which is the best option for growing your eCommerce store and then the top-notch plan of $299 which is when you are at a point where you really scale your business. You can easily upload your logo, create your own URL and design your store's appearance.
Installing TikTok on your Shopify store:
The process is simple, head over to the Shopify App store and download the TikTok app: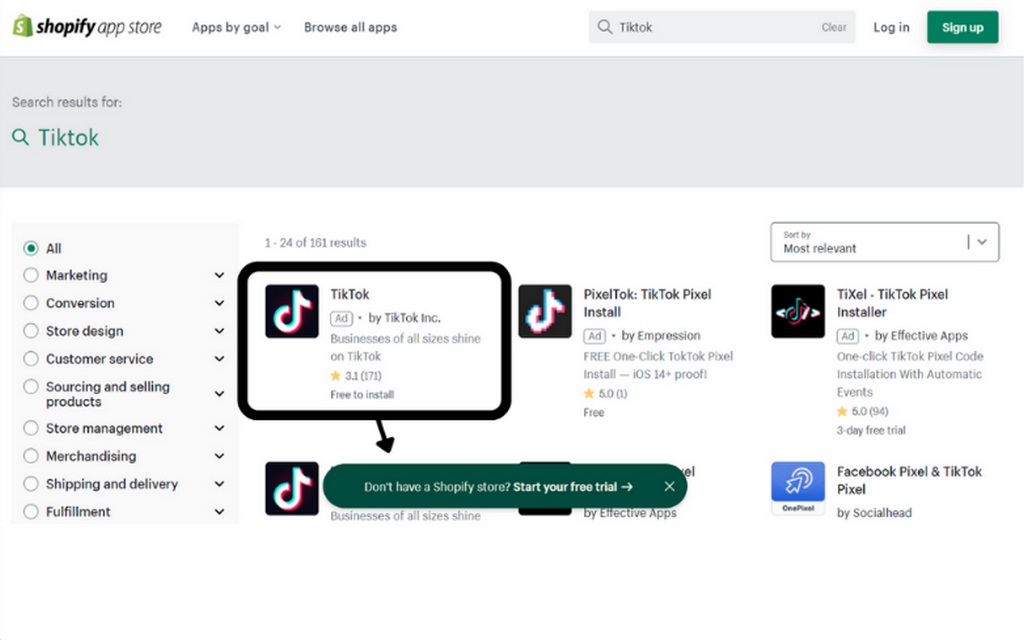 Once you're done with the installation process, the TikTok channel will appear on the left sidebar of your Shopify Admin Dashboard. From there, you will be able to connect your TikTok For Business account in order to have your TikTok shop.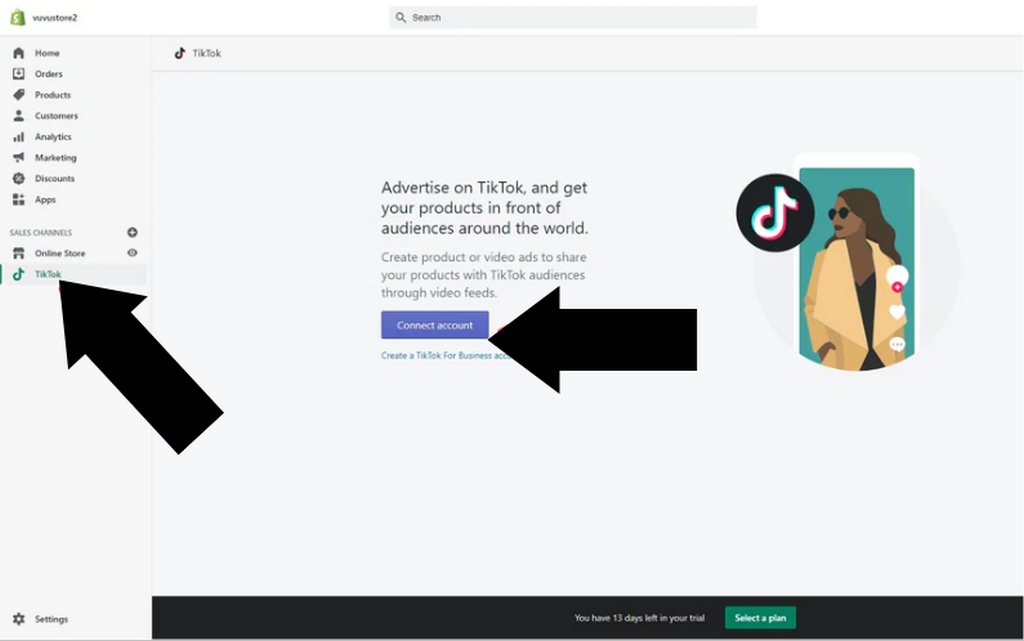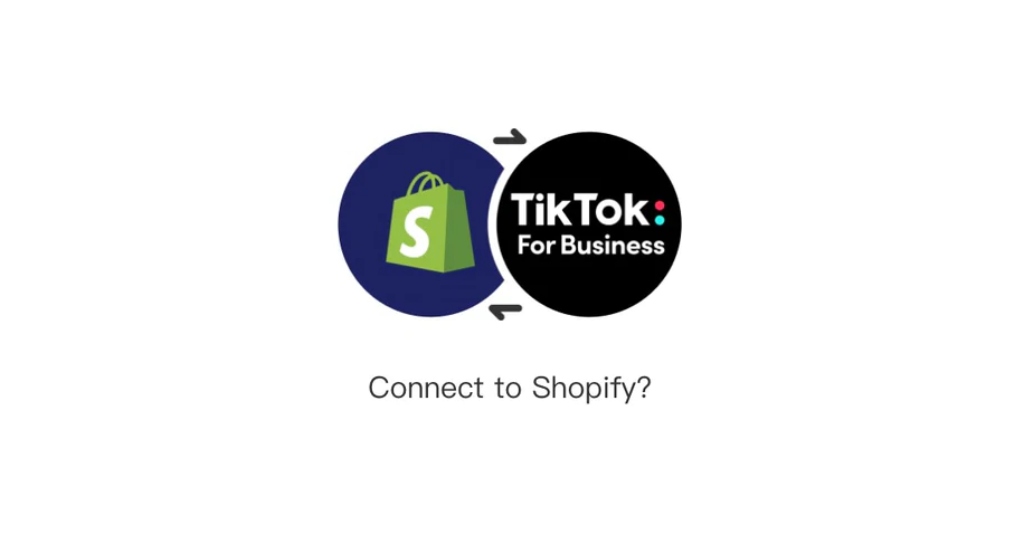 After you connect to your store successfully, you will see a Tik Tok Business Dashboard which is where you will be able to control the Tik Tok business account.
This is where you will be able to create an interesting video ad, target your audience, view your ad management toolbar to see insights reporting, etc. Tik Tok offers 5 main Ad business types which will be disclosed further below this article.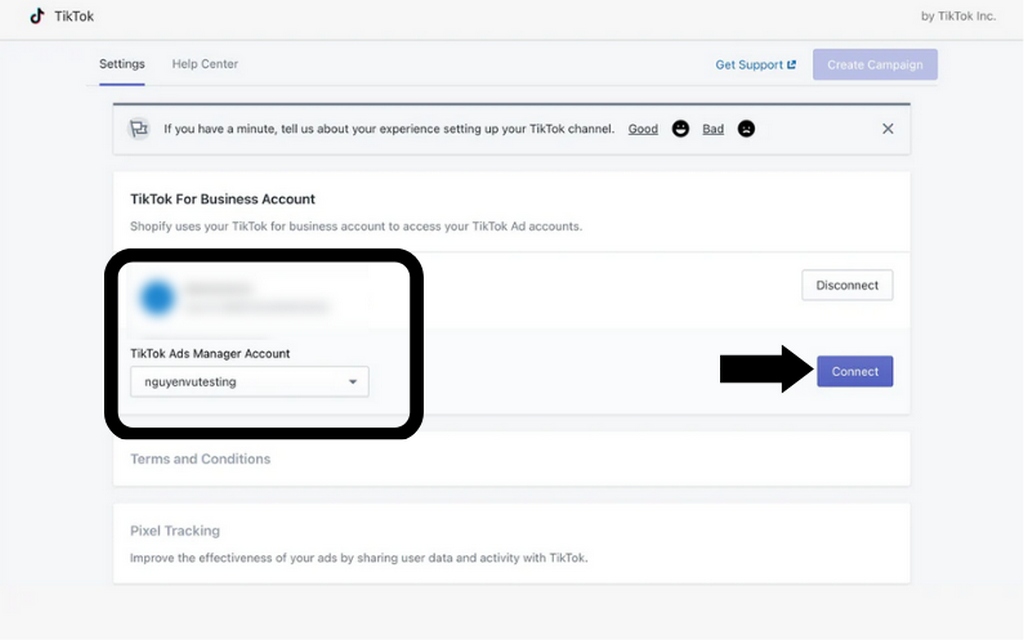 The top 3 Shopify Dropshipping themes you can get for this in 2023:
In case you lack the time or you don't have the creative touch and you struggle with the aesthetics of your store, then you have an option. You can opt for purchasing beautiful themes that will certainly boost your store's look.
Here are the top 3 options I consider would be perfect for you:
DropShip: This is a Shopify theme that allows you to sell anything without having it in stock. This website template is super easy to customize and the best part is that it offers fast web development, SEO promotion and social media integration.
Korando: This is a website theme for Shopify that easily adjusts to any device. It works well on a tablet, phone or desktop. It will offer a modern and elegant look to your store.
Porto: This Shopify theme offers 20+ modern designs you can choose from. It has various layouts and styles you can adjust to your store. It has an awesome optimized speed performance that will definitely help you boost your website organically. Plus it gives the best user experience.
Find Dropshipping Suppliers:
TikTok is not able to provide order processing and shipping service like other marketplaces such as Walmart or Amazon. Furthermore, it doesn't appear it will develop the service anytime soon. This is why you will need to find a supplier who supports product sourcing, order processing, and worldwide shipping helps a lot with scaling up your business.
— These are the best dropshipping platforms you can use: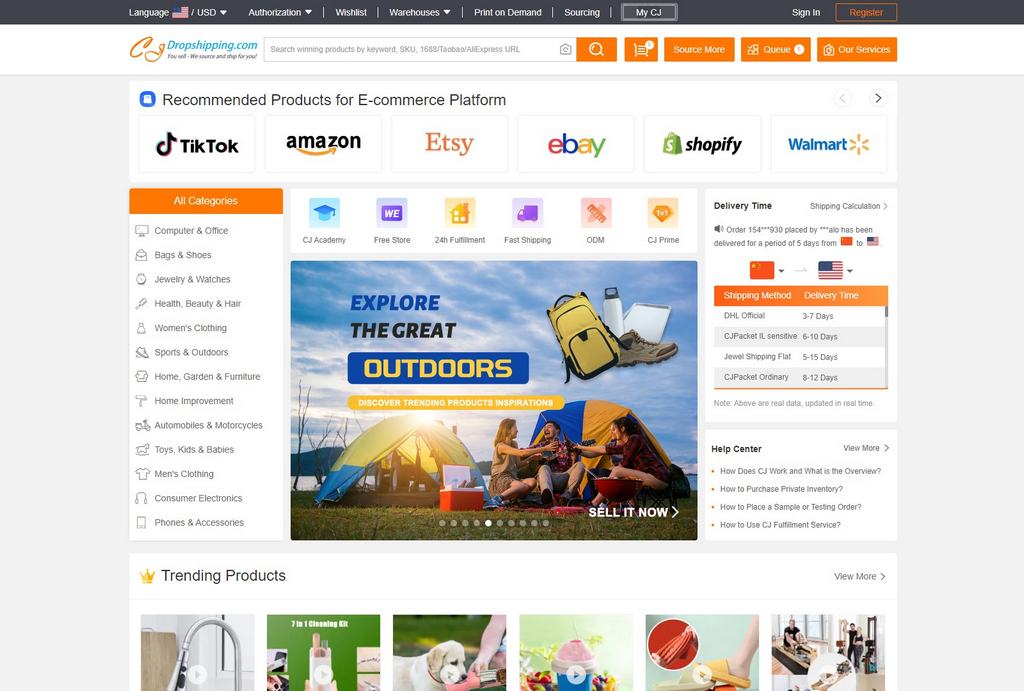 CJ Dropshipping is an integrated dropshipping platform based in China, however they have warehouses all over the world. They offer all kinds of services for sellers, such as product sourcing, order fulfillment, warehousing, packaging and parcel shipping. You can authorize this platform into your Shopify account in order to successfully import and manage your inventory.
Eprolo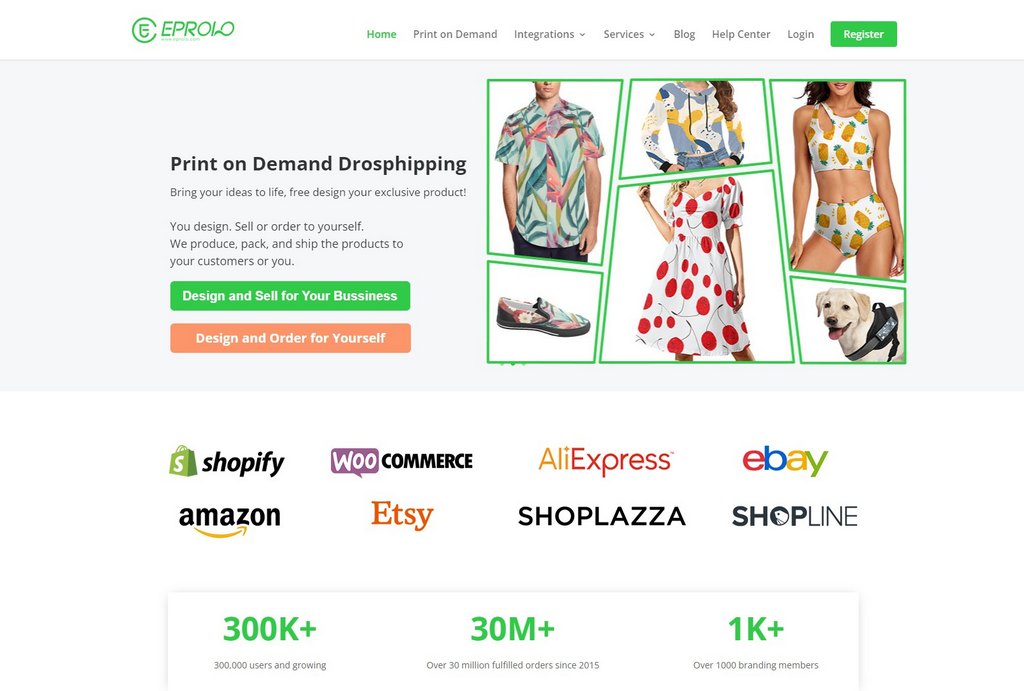 This is a free app to have a dropshipping store and boost brand awareness. It will allow you to list various types of products and easily list them in your store. Another great feature Eprolo has is the order fulfillment process. After the payment is issued, the platform will pick the item sourced, pack it and ship it out providing you the tracking information.
It is a great integration dropshipping platform that will certainly help with your TikTok dropshipping business.
Oberlo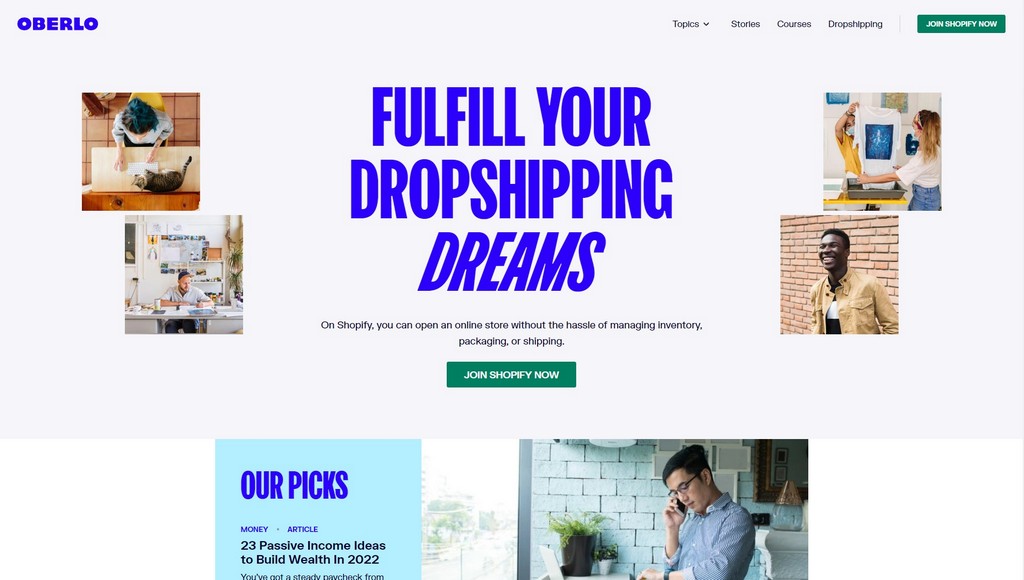 Oberlo is another great dropshipping app you can integrate with your Shopify store. It offers a wide range of products you can source as well. It has a smooth payment processing method where once your client purchases from you, you can then from there you pay the cost of the item sold — and whatever is left out is your profit.
It also offers dropshippers the order fulfillment feature which integrates all of the packaging along with the shipping process.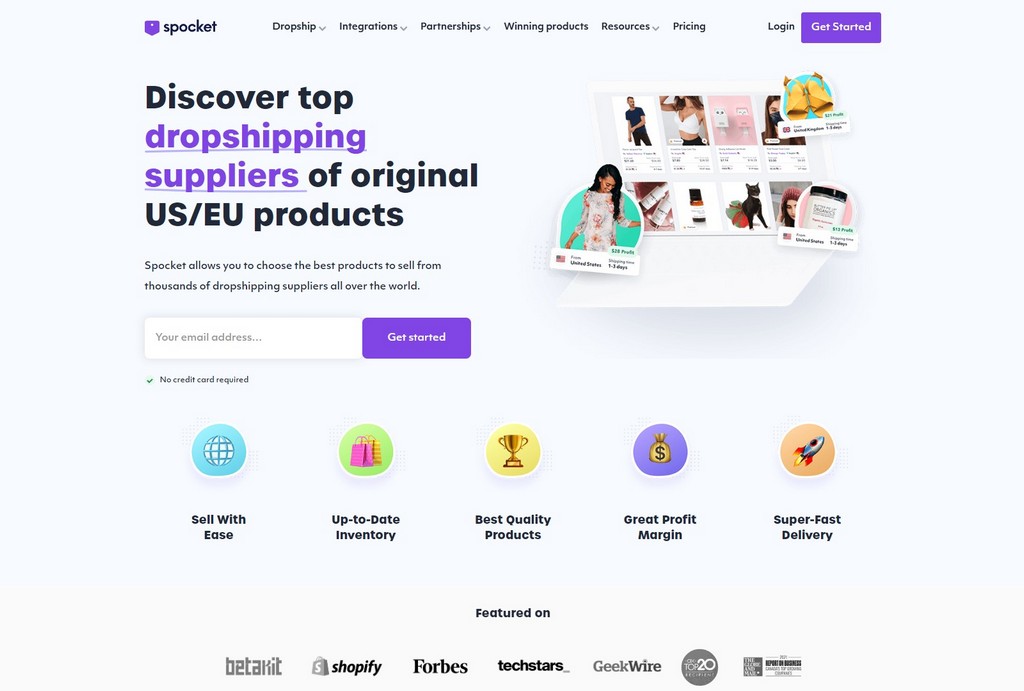 Spocket is a dropshipping supplier that is located in the USA, United Kingdom, Canada, and Australia with worldwide shipping. More than 50,000+ entrepreneurs use the platform. They offer 24/7 customer support via email and mobile messaging with an average response time of 2 minutes.
Furthermore, Spocket executes stock checks in real-time and also provides an effective automatic order management system.
There are a ton of dropshipping suppliers that will offer an integrated system where you can add your Shopify store and Social Media Commerce stores as well. It is all about finding a supplier that not only offers a good deal for all of the services you'll need, but also a supplier that is located in the country you want to dropship for a faster and cheaper delivery method.
Finding winning products
If you're looking for Tik Tok products for dropshipping purposes, then it is necessary to view a few options on the table. The first one would be to look at the product catalog that your chosen supplier offers. The second option would be to execute thorough market research on other eCommerce platforms or within TikTok to determine what item is highly demanded and how you can penetrate the market niche.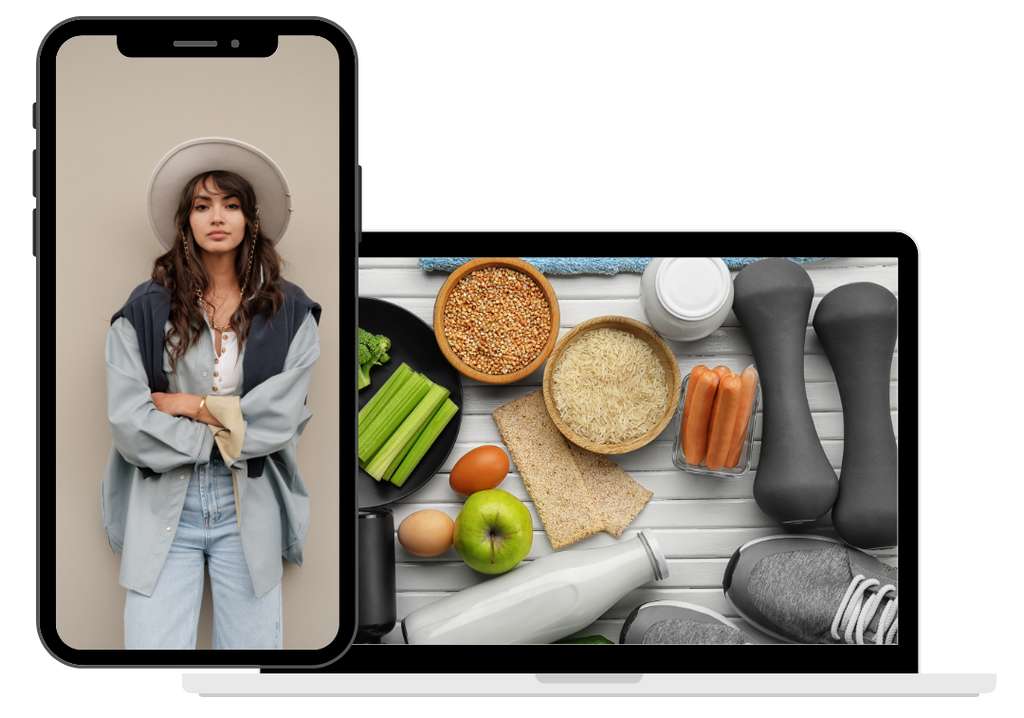 Now, when it comes to TikTok, there are some categories that will stand out such as: Fashion & clothing, beauty & health, LED strip lights, Kitchen and Appliances.
— Let's quickly review each of these categories: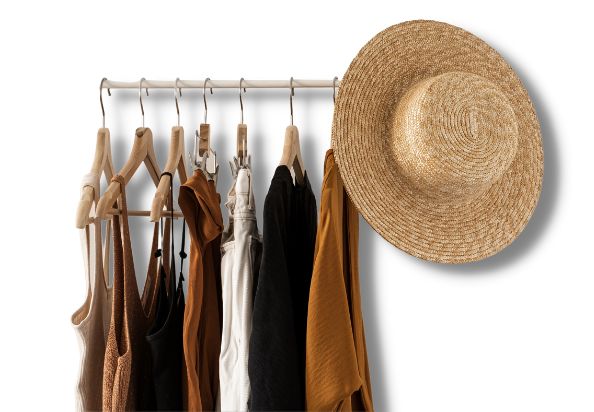 Fashion & clothing: As this app is developed to reach a younger crowd, it is not out of the norm to find numerous TikTok content related to fashion. There are so many clothing brands that will pop up on the platform's feed.
Consider selling trending clothing lines. Navigate the app through various hashtags related to fashion and see what type of clothes are trending.
You can also try to look at different terms and see the seasonal trend in the US using Google Trends.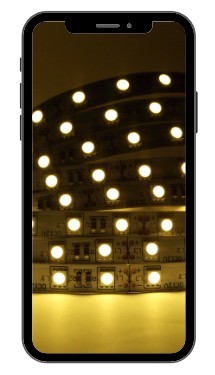 LED Strip lights: Another awesome product that Gen Z are crazy for. A lot of content creators tend to purchase this product to arrange a nice looking background for their TikTok videos.
Kitchen appliances: The app has had a massive wave of food-loving content creators and viewers are fascinated by the different appliances and tools you can use to cook your favorite dishes.
This is why it would be a good idea to start looking at some interesting products within the kitchen appliances categories. You can create an interesting TikTok video where you appear showing the benefits and use of the item.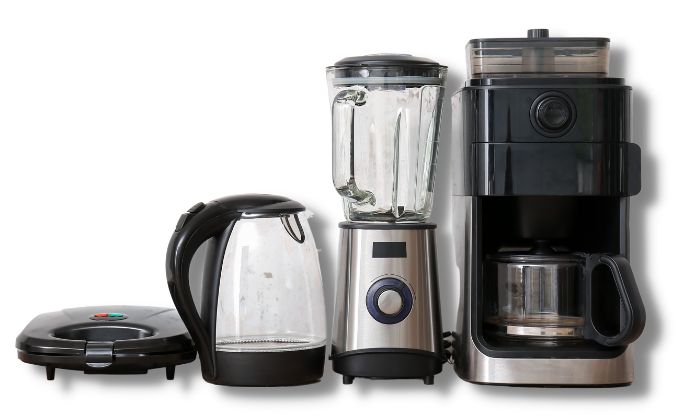 For example, the Beast Blender by Beast Health has thrived on TikTok. The hashtag they used was #beastblender which had over 240,000 views, where the videos were Beast Blender users that shared their smoothie recipes, unboxing videos, reviews, etc.
Beauty & health: When it comes to the beauty & health category, you'll find different sub-categories such as: Skin care for men & women, cosmetics, hair products, etc. On TikTok the two subcategories that stand out the most would be Skin care and Makeup styles.
There are tons of influencers and well-known brands that share the benefits of their skin care products. Moreover, these skin care products also have appealing and aesthetic packaging that makes the user want it even more.
So make sure you source skin care items that will not only provide good skin benefits but also that the item's package is nice looking in order to gain attention.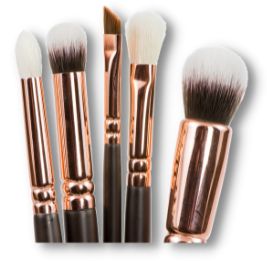 Cosmetics and beauty items are one of the most trendy products the platform has. #Beautytok is constantly trending on TikTok where multiple influencers and users share their experiences with the makeup items. They film themselves putting on the cosmetic product showing viewers the "how-to" and then finalizing with the end look.
— #BeautyTok is the optimal choice for makeup brands to launch their new products.
How to sell on Tik Tok: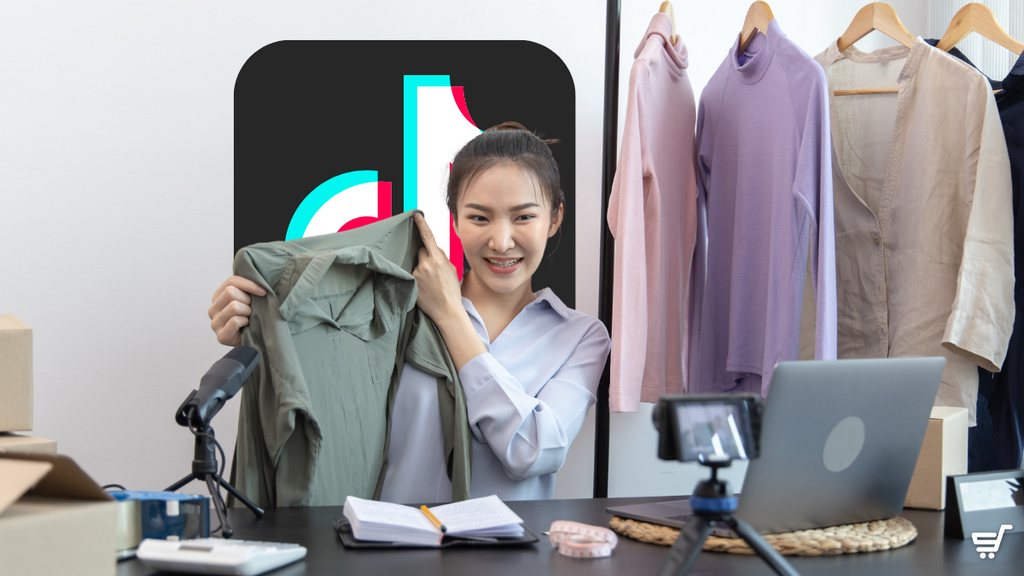 Now that we unfolded TikTok's amazing traffic and engagement along with the different aspects of dropshipping within the platform, it's time to talk about selling strategies.
— Let's dive into some of the best tactics you can use to start selling your products on TikTok.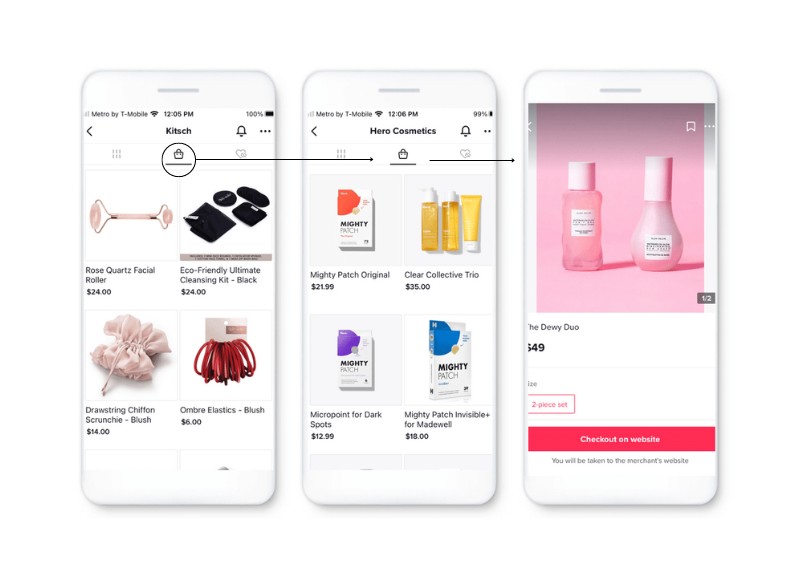 When you're a TikTok merchant you can easily display your product inventory through the Shop tab on your feed. Customers will be able to browse around your store and see what products you offer.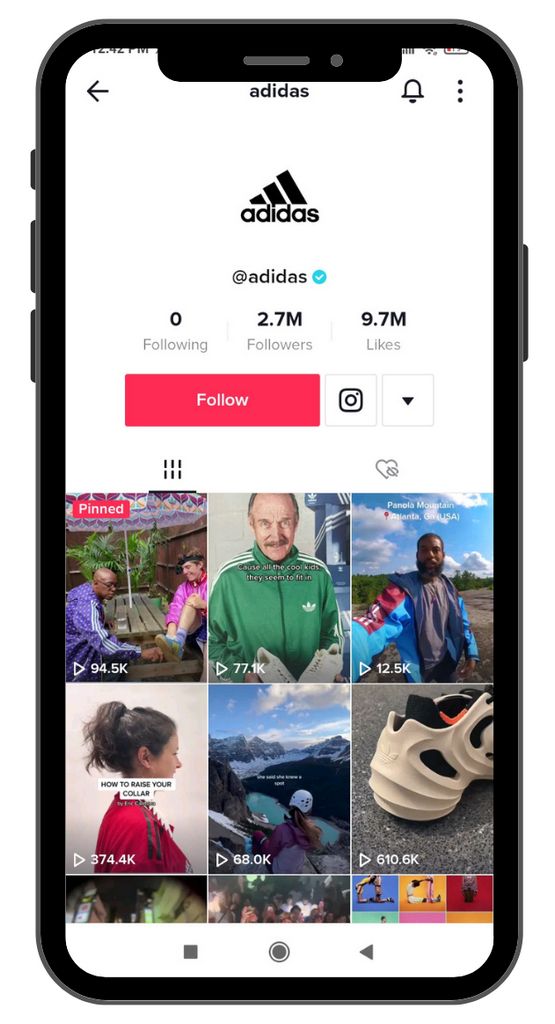 So the best way to have your store on TikTok is to have multiple videos showing the benefits of your products and also different users using them as well.
So this is how it works: After any shopper taps the bag icon in your video or clicks on a product in your Shop tab, they will then view the product's name, description, photos, price and — the direct link to buy the product in your Shopify store.
This shopping feature is available for online sellers that have their product catalog connected to TikTok for Business via their ecommerce platform being Shopify and their dropshipping supplier.
How to rank on TikTok:
TikTok is all about capturing attention through quick format videos. It is also a huge platform for User Generated Content where TikTok users share their experiences when it comes to products or services — after all, it is a social platform.
The app's recommendation system – a.k.a TikTok's algorithm:
First, let's understand how TikTok works. The way you elaborate your videos should take some time to plan in order to create a solid impact. The first goal you need is that your visual content makes it into the "For You" section. This works similarly to recommended pages on other social media platforms. The algorithms will define what type of content might interest a user.
The way you can work your way up on this platform is to:
Consistency is key: On TikTok the most popular categories are comedy, music, dance, talent, life hacks and short vlogging. So whatever category you see fit in order to promote your product, stick to it. Pay close attention to the first videos you post because the app will assign your account to one of the main verticals, or types of content. Lastly, upload constantly on a day-to-day basis. There is no such thing as "content spam" on TikTok.

Making sure your videos are watched from beginning to end: When a user starts watching your video but simply scroll down 5-10 seconds in, TikTok will consider your content is simply not interesting, therefore you won't be able to rank on the feed. Even though the app allows you to have a minute long video, it would be better to issue smaller formats, 15 seconds is the sweet spot to avoid users getting bored.
Also, don't forget to loop your videos. It will prompt users to watch a video multiple times, which helps increase the performance rating of the video.
Take advantage of current trends and music: One of the key elements of having a successful video is taking advantage of current trends and making your own version of it. So for example, users will be inspired to mimic a trend with a popular song. However, you can also upload your own original sound which I believe in the long run would benefit you since you will have a jingle — sort of speak.
Useful TickTock tips for you:
Entertainment, that is the fundamental aspect of this app. Users don't want to feel that they are being bombarded with different Ads. So, you need to create funny, entertaining, musically interesting and informative videos to capture your audience. When you start growing your following along with the sales you make, then you would be considered an expert in the field you are in.
This means that you can also create interesting videos giving out tips to your audience, this could be any quick business tip for entrepreneurs or even something as simple as giving out different uses to the products you sell. For example, if you sell cameras, you can make an interesting video with poses that can make you look great in pictures. People will love this type of content and they will follow your profile to get more tips like this — they will also be inclined to see more of your products.
Live streaming is also an interesting option. Once you hit 1,000 subscribers on your profile, you will be able to live stream. On TikTok, viewers can buy Virtual Items such as Coins and exchange them for Gifts as well.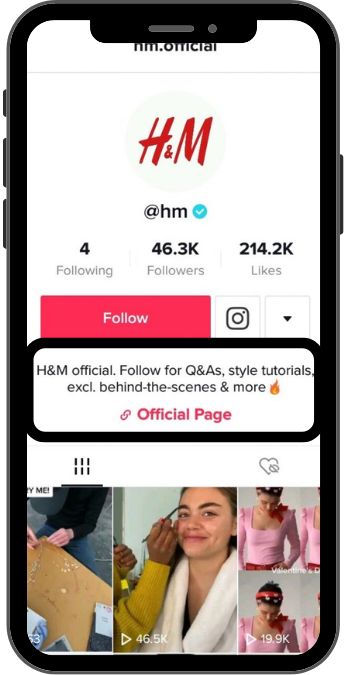 So this is important to point out because whenever you start a streaming video, you will be able to earn Diamonds which are based on Gifts from your viewers. You can then withdraw your diamonds to real money — now that's a game changer!
Lastly, you can add a small bio in the lower section of your profile such as your brand's slogan, general information and a direct link to your Shopify store. This would certainly drive TikTok traffic into your official website. To do this, go to your Profile tab, then hit the Edit Profile button and look for the Website field.
How to promote dropshipping on TikTok: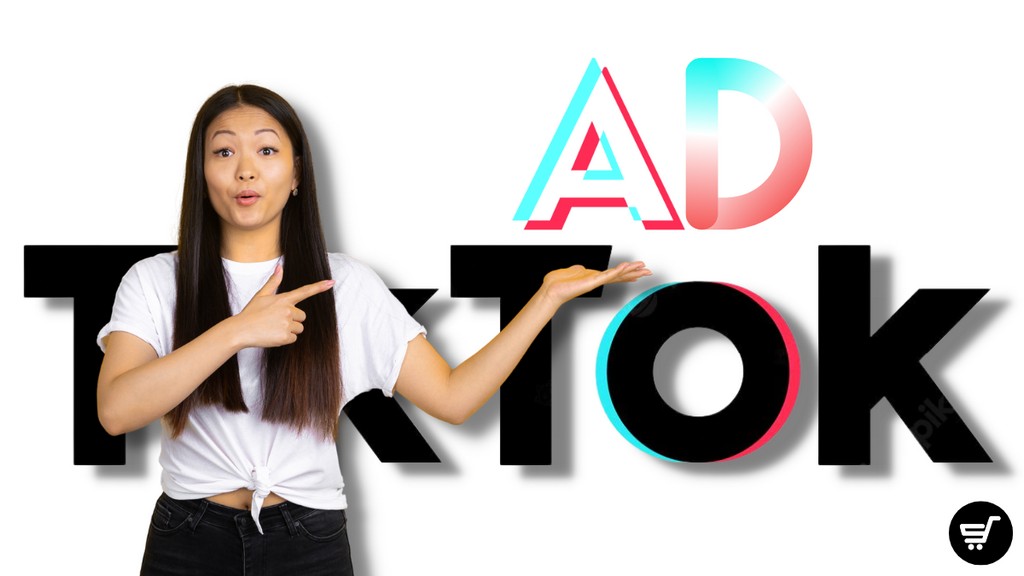 Types of Ads:
When it comes to promoting your eCommerce business on TikTok or even social media for that matter, you have different formats of Ads. You can integrate the organic reach on communicating your products — and of course, through paid mediums.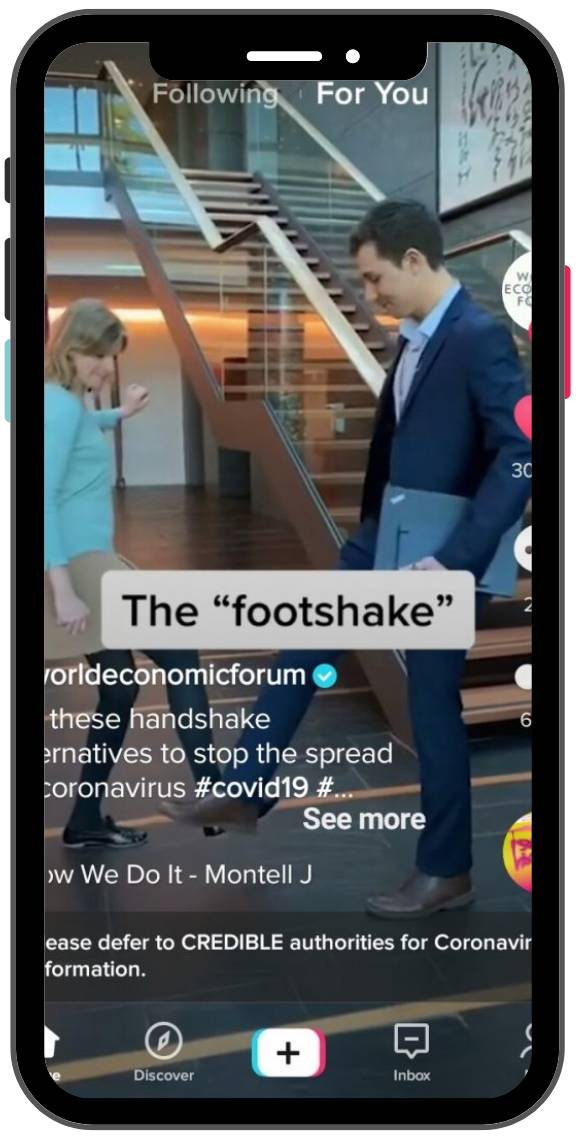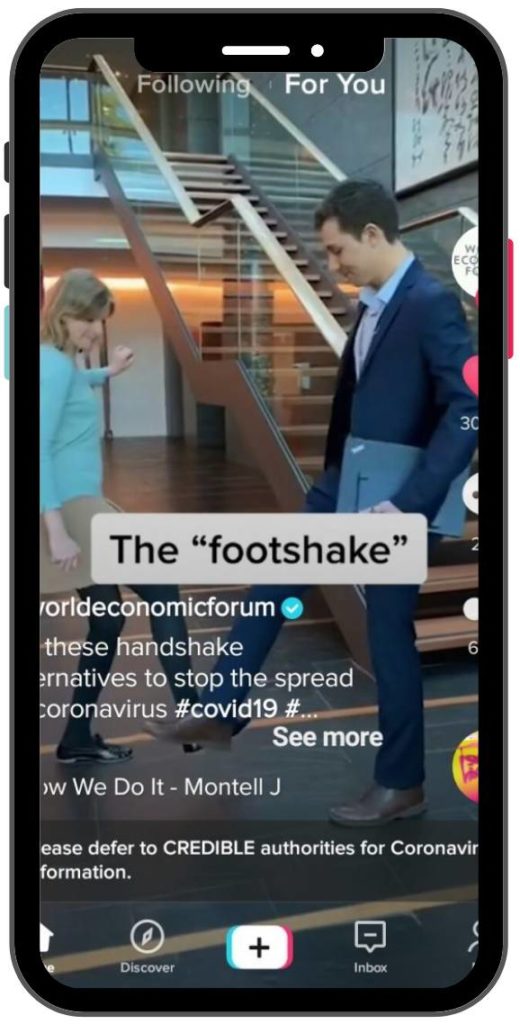 One of the most effective ways to engage your audience is by challenging them. You can invite users to participate in your challenge, all of the videos created for it will be aggregated in the hashtag challenge page on the Discover section.
One example is the World Economic Forum where by sharing fun videos informing about coronavirus precautions, they get more exposure.
— You can also take advantage of the Hashtag Challenge Plus where it'll allow shoppers to directly purchase the products you sell that are related to your challenge.
Spark Ads:
These types of Ads are simply the videos you share organically in your feed which you can then add a Call-To-Action button. The way it works is by adding your product catalog to your TikTok business account and placing a direct link to these Ads.
Collection Ads:
Users can hover over your product catalog in the TikTok App. You can set this manually where you choose the products they will be able to see or simply let the platform choose the most relevant product for each potential customer through the TikTok Ads Manager Display.
Catalog Sales Objective Ads:
Being only available in Indonesia and the United States, an interesting type of Ad that will specifically target your audience and hopefully convert them into paying customers, the Catalog Sales Objective. This Ad will display a specific item to users who expressed interest on your website. It's very useful if you use TikTok fro dropshipping or selling your goods and services.
Accessing TikTok's Seller Dashboard:
In order to run Ads, you'll need to properly set them up in your Overview Dashboard. Here you will be able to access TikTok Ad Manager, Data Sharing and Payment. There's a great feature named "TikTok Pixel" which is a piece of HTML code that tracks visitors' action in your store, create a segmented market niche to appeal to, find new potential customers, etc.
— Pixel is extremely useful when creating Ad campaigns and the installation is fairly easy: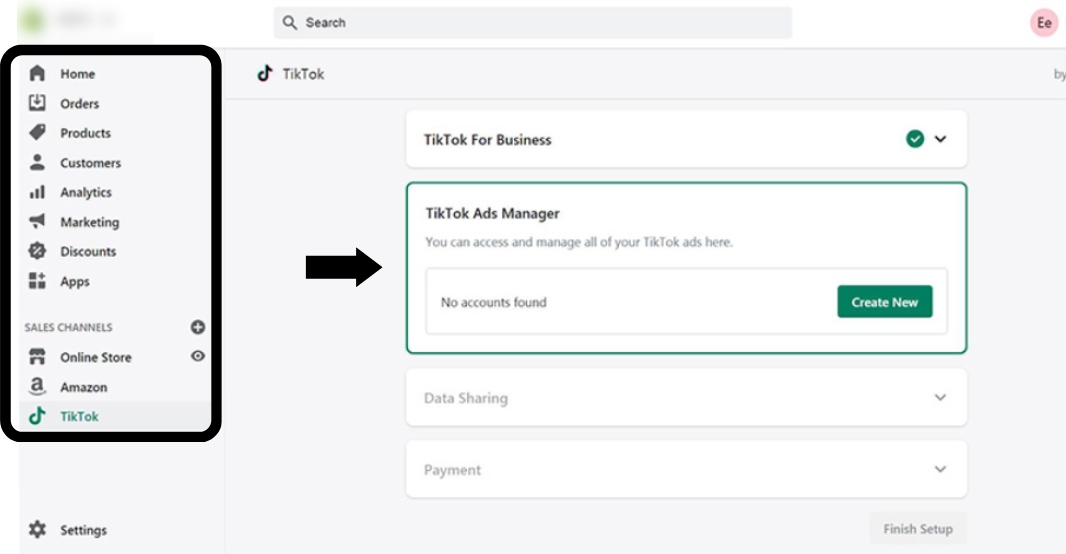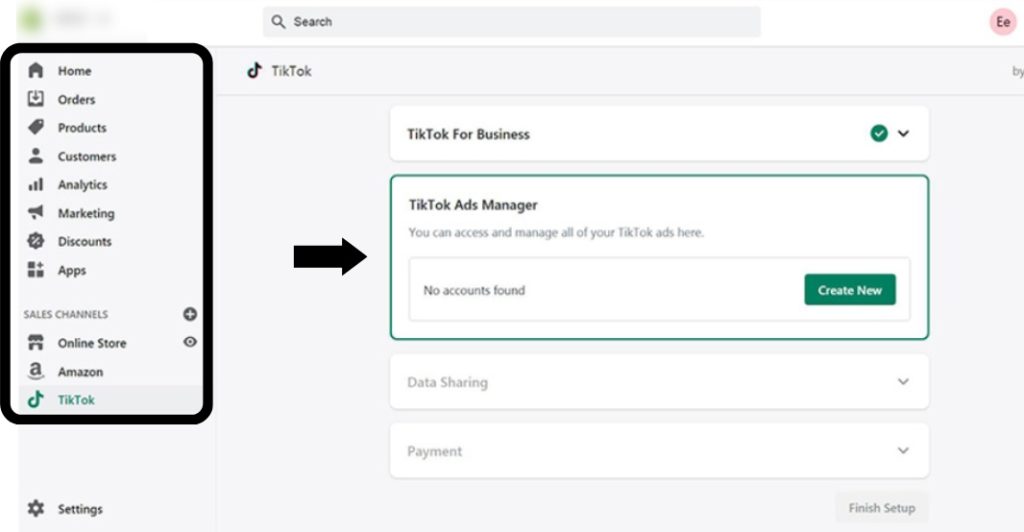 From your Shopify's dashboard, head over to the TikTok channel which you already connected at this point and simply add your TikTok account on the TikTok Ads Manager, there you will be able to control everything from your store.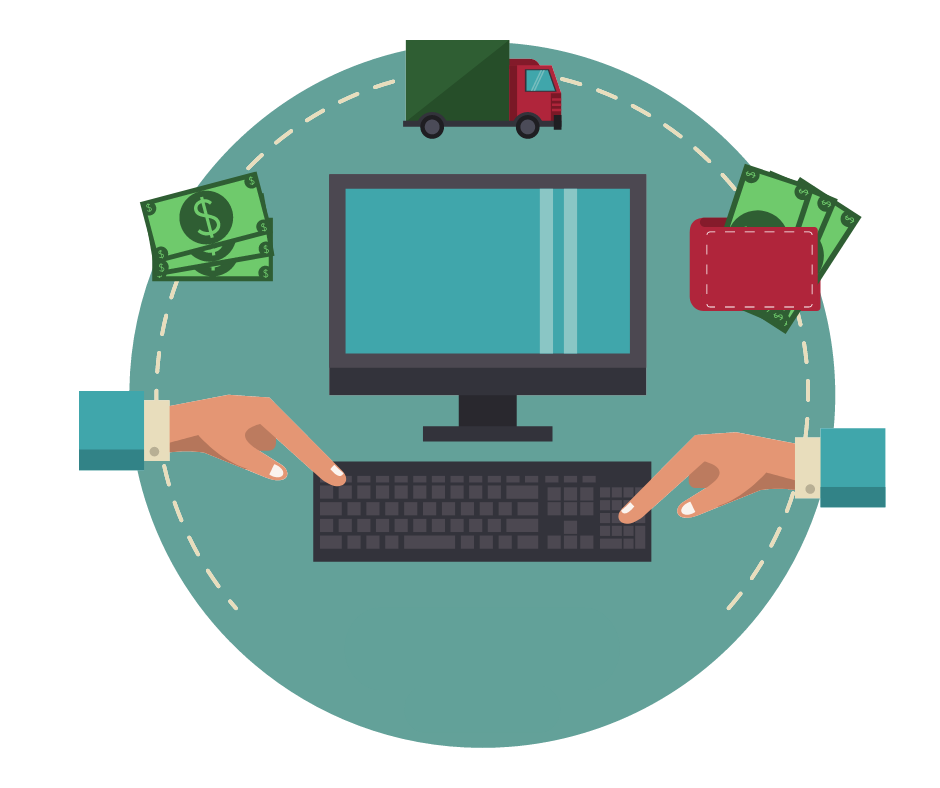 Not yet making money online?
Start your own dropshipping business. Sign up for a free trial of DSM Tool and we'll help you get started. Today is the day.
Start creating your Ads directed to your target niche: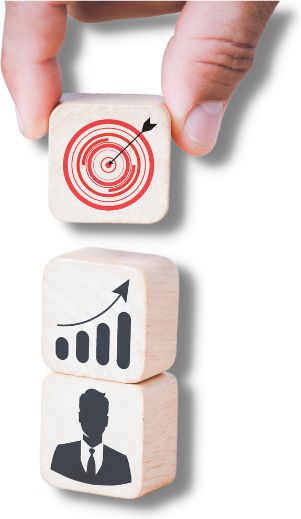 As part of your Marketing strategy, you need to segment your audience, meaning you need to focus all of your campaign efforts on users you consider might be potential customers.
What is the demand for your product? What is the demographic of your target market? How can you appeal to your niche market? — these are questions that you need to ask yourself first.
One of the best ways to identify your target market is by creating a buyer person which is a semifictial representation of your target where you describe the possible outcomes in terms of the user's motivation, hardships (things that might affect his/her decision to purchase the product), hobbies, etc. Also relevant information such as age range, gender, country, etc.
— You can set your target audiences on TikTok Ads Manager. It will help TikTok to push your Ad to users that meet your criteria.
Preparing your Ad:
Let's start preparing your Ads, head over to TikTok For Business, log in to your business account and then hover over the main menu. Click on "Assets" and lastly "Creative" to make a TikTok video.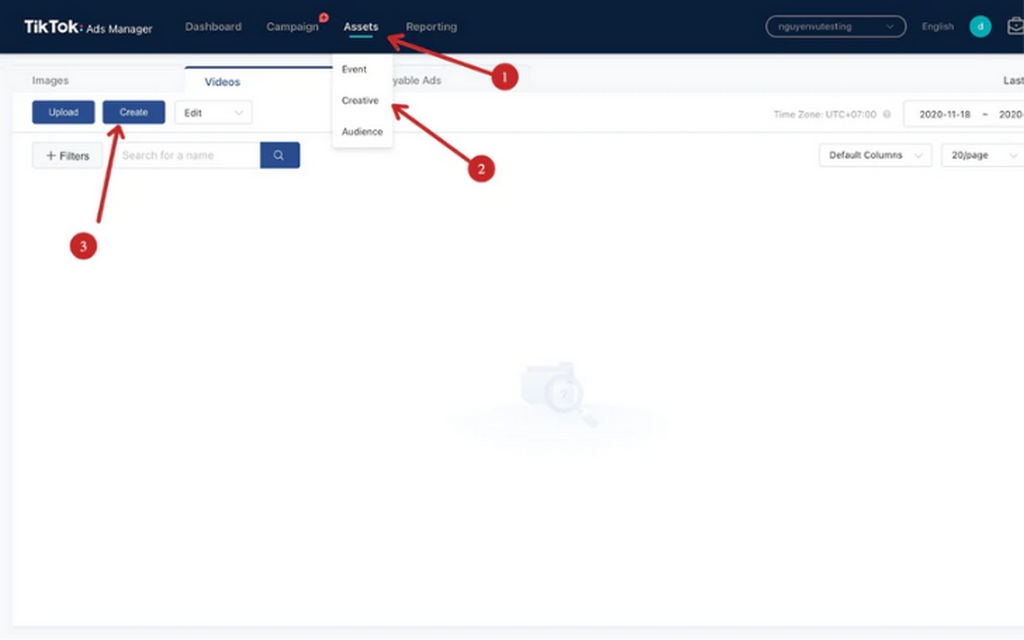 You will have 3 different options when it comes to the format of your video:
Video Template.
Smart Video.
Smart Video Soundtrack.
Video Templates will help you create a slideshow video for your ads. This video will be based on a template which can be edited and modified. Smart Video will allow you to upload the product images to this feature, and it will generate videos with background music as well. The best thing is that there's a ton of special effects and music available.
Smart Video Soundtrack: The Smart video soundtrack from TikTok finds you the best sound for your video. All you have to do is to upload the original video to this tool — that is literally it!
Once you're done creating your video, it is time to set up your Ad on TikTok: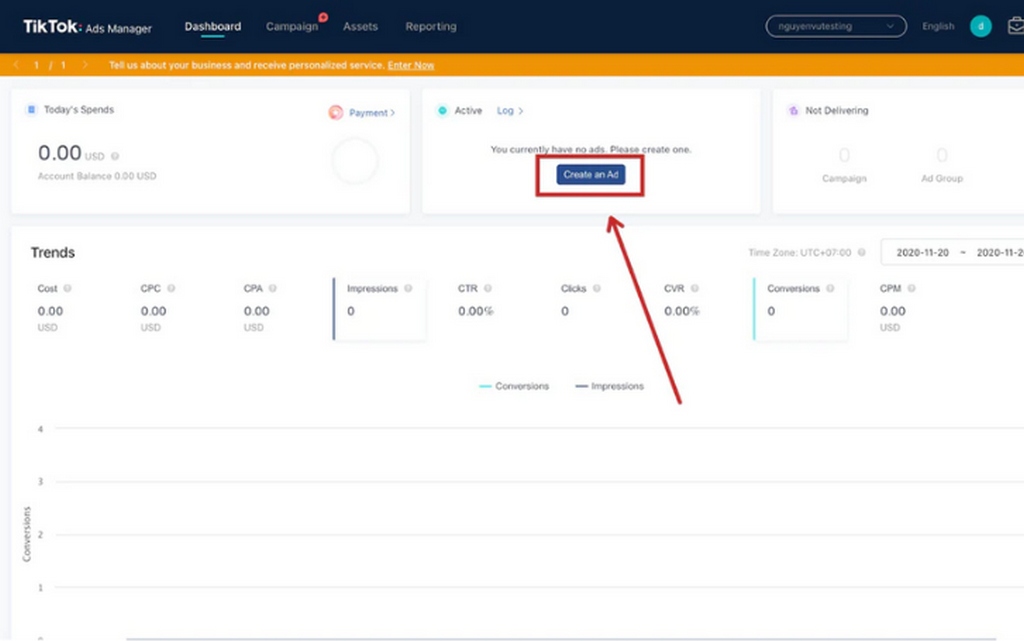 On your Dashboard page of TikTok Ads Manager, click on the "Create an Ad" button of the middle section.
After that, choose the Advertising Objective that you want to set and edit the some changes you see fit. You will find three main metrics you'll need to focus on: Awareness which is the potential reach, Consideration which correlates to the traffic you might receive and lastly, the Conversion which is how many of your viewers turned into either potential leads or buying customers.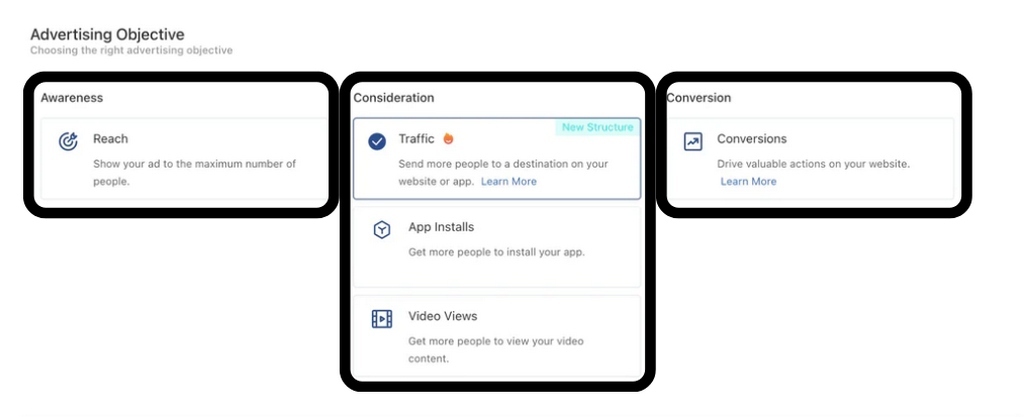 All of these previously mentioned metrics will be used for TikTok's A/B testing feature which will allow you to make changes accordingly in order to provide a better user experience and understand the elements that might affect user behavior. You will then be able to learn more about your target, therefore potentialize your Ad campaign.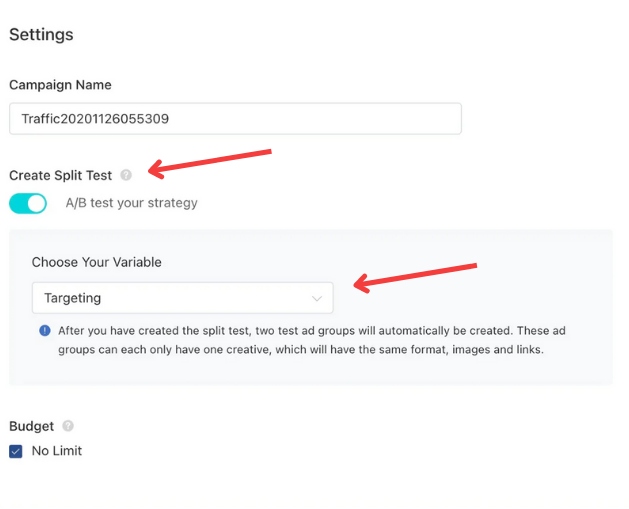 This split testing feature will let you choose between 2 variables, Targeting which will help you aim your ads on two different targets at the same time. Creative will allow you to test two ads contents on the same audience.
— It's important to point out that TikTok is a mobile app, therefore there will be some settings specifically for mobile devices. By choosing TikTok Pixel you will be able to track your metrics as well.
On TikTok Pixel you will be able to see important metrics such as: Cost Per 1,000 Impressions (CPM), Cost-Per-Click (CPC), Reach, Organic clicks, Engagement, etc. Bad advertising comes from various factors but one of the most crucial ones is Video Preparation.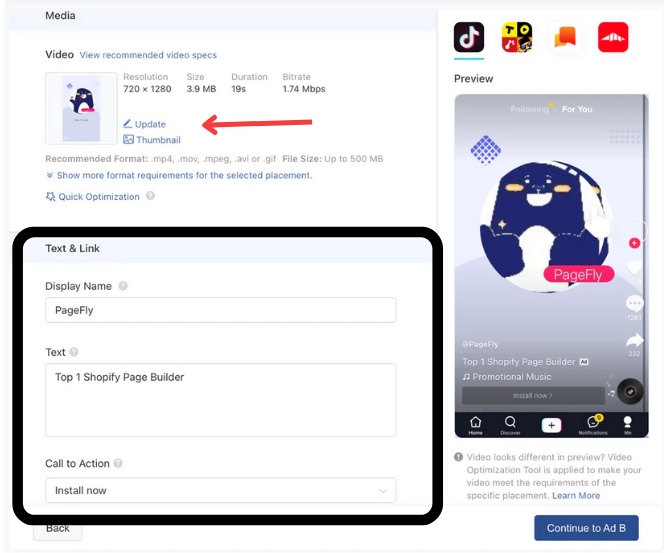 Lastly, work on the caption you will set for your Ad video, the title of the video and of course use an interesting thumbnail picture to capture the attention. Also adding a Call-To-Action is important, the platform offers different types of CTA such as: Learn more, Shop now, Sign up, Visit store, etc. Simply choose accordingly. Make sure you work on the copyright for your text.
Organic Advertising:
As previously mentioned earlier in this article, TikTok has a massive traffic on a daily basis. It is easy to engage with users. Although competition might be fierce, you can still get views, likes, comments and follows.
All you need to do is post content consistently day in and day out. Find what works best for your videos and simply create them and post them. Look, even though you need to be very creative for your content, you can use the most elaborate video content to pay for the advertising and the less complex but more simple to create can be used for generic organic purposes.
Organic Advertising:
TikTok is just like Instagram when it comes to Influencers. There are a ton of TikTok account owners who have a huge following and an insane engagement rate. Working with influencers may be beneficial in the long run if done properly. Now it is not necessary, but it helps.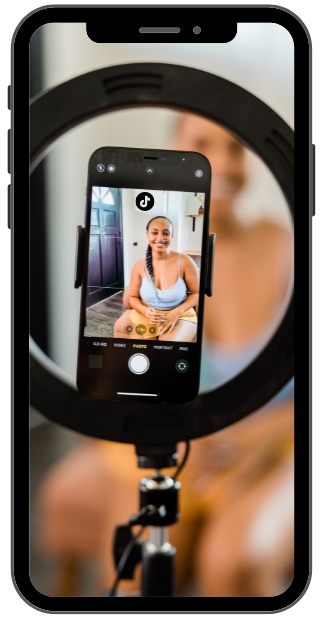 You need to look for an influencer that not only has a good amount of followers and authority but also aligns with your business and the products you offer.
The idea is that when you work with an influential person in the industry you want to tap into, they can upload interesting content showcasing your products and every click made on the video leads directly to your checkout page.
This is why a lot of influencers that work with different brands and products, offer consumers a discount code under their name and they get a small percentage of the sale.
Normally, the way it works is that once you contact an influencer for your products, you agree on the price you're willing to pay and send over the products to their house. Then they will make a video about it, reviewing it. The goal is to get as many of their followers to click the checkout button as possible.
However, using this strategy although great for exposure, it will not guarantee tremendous results. First, as a business owner, you need to target your audience, an influencer normally appeals to all of his or her followers without segmentation. This means that not all of the users that follow this person will be interested in your product.
Also, it is important to point out that since the platform offers an endless stream of content, users aren't usually driven to click on links that will let them exit TikTok. But still, it is an interesting approach and not that expensive. In fact, since TikTok content is very easy and quick to create, there's not a high production involved, therefore influencers won't charge as much — especially micro-influencers.
You can pay a small amount of money to micro-influencers or even offer a change of services, you send free products for them to use and review and you get exposure.
— Here's a small comparison of TikTok Ads: Paid method which includes influencers and organic reach: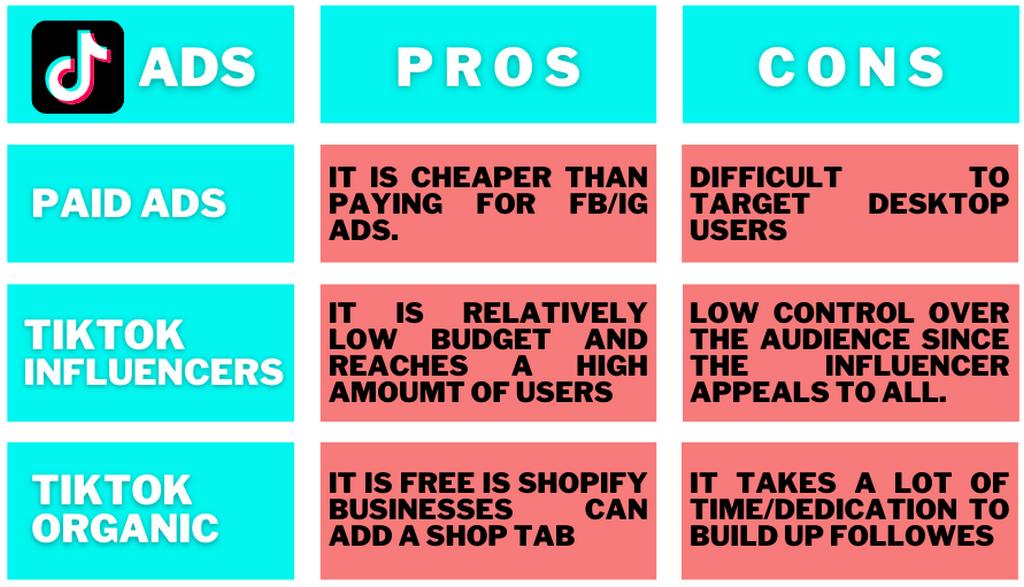 Final thoughts on TikTok Dropshipping: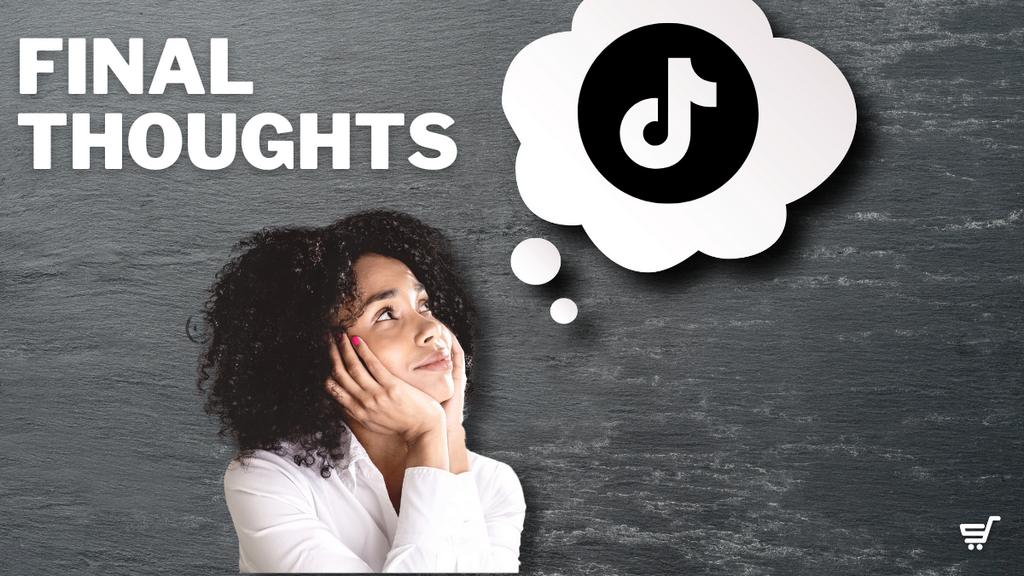 TikTok is a great platform that has overreached the online traffic streamline compared to other social media platforms. It has billions of users constantly interacting with the content provided on the application. Being considered an entertainment mobile application where TikTokers create funny, creative, dancing, and lip-singing videos for viewers to enjoy, it is also a gold mine opportunity for sellers.
TikTok's nature of traffic and engagement along with Shopify's business integration via the Shop tab, allows brands to easily expose their products. This is why TikTok Dropshipping is a new way of reaching potential customers for your online shop.
It is a matter of understanding TikTok's algorithm, your market niche, and the type of content you need to create on a daily basis. There are 3 ways of getting exposure through regular paid Ads, appealing to relevant influencers in the industry you want to tap into, and lastly, organic reach which persists on the consistency you have on posting content.