Since Facebook has implemented the option of creating FB online stores within company pages and Shopify has a feature to shop directly from the shop's Facebook pages, it has become a successful digital platform that unites sellers and a wide range of categories and products for selling.
The advantages offered by social networks let the world see who you are, and what business you do, and reach bigger audiences. As a result, selling on Facebook Marketplace offers a very effective and useful business strategy for your eCommerce marketing.
In this article, I would like to present to you 13 Shopify Facebook shop examples that will serve as a great inspiration to all entrepreneurs who are considering starting their own online store on the FB marketplace.
Take a look at these Shopify Facebook store examples, go through their pages and make notes about the wisest moves these e-commerce sellers made: company logo, beautiful product images, excellent visual identity, clearly defined navigation elements, simple and user-friendly design, and persuasive call to action buttons.
But first, why have a store on Facebook?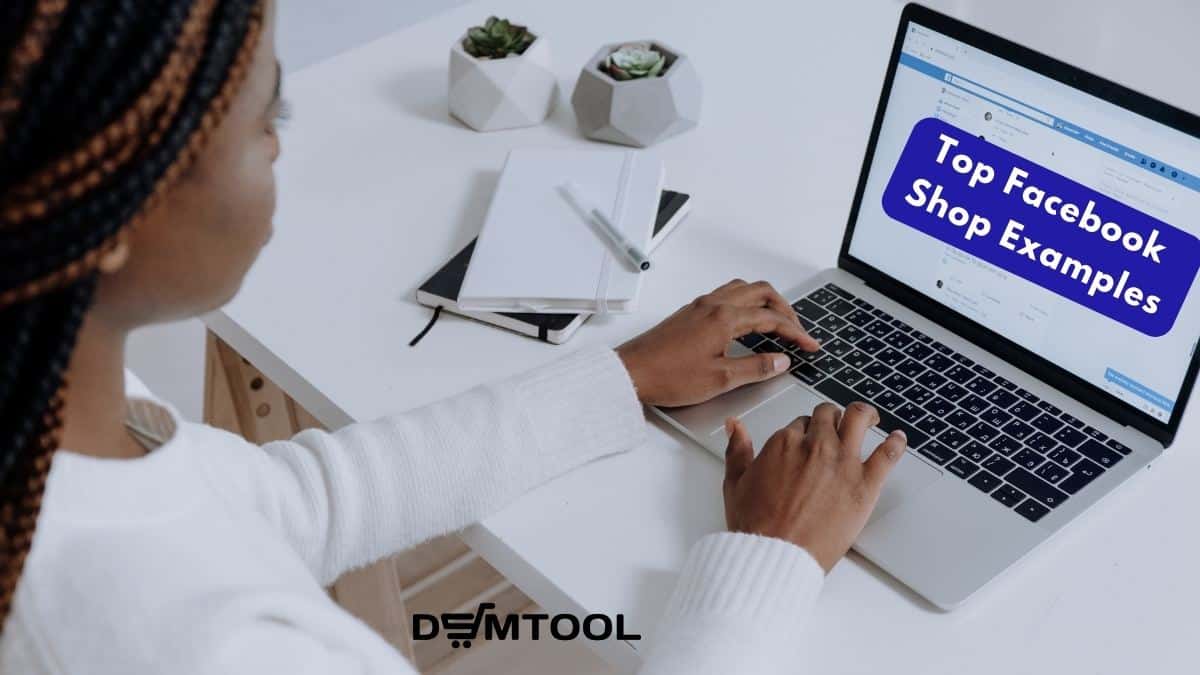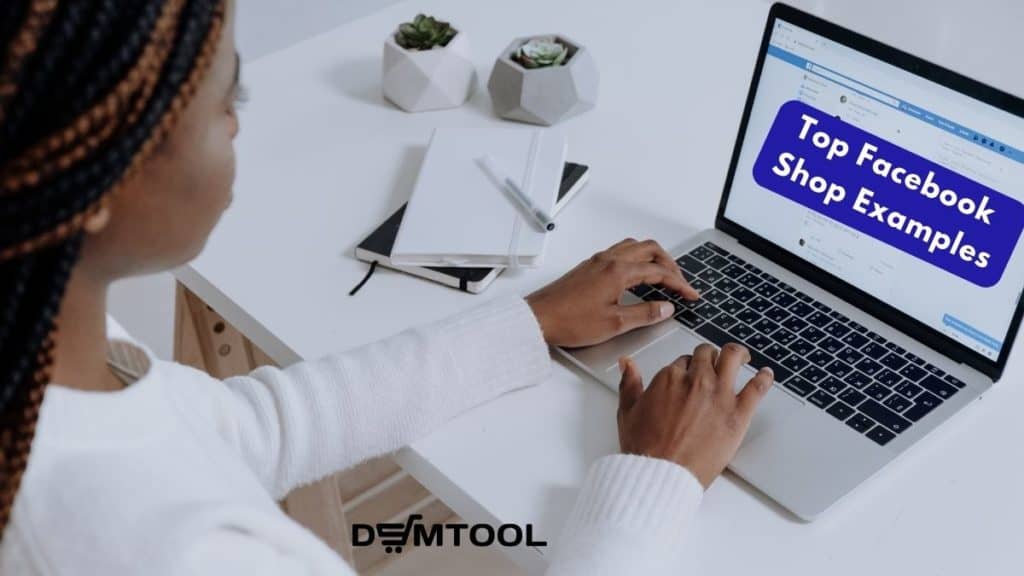 Advantages Of Running A Shopify Facebook Shop
This year, in February, Facebook has turned 18 years old and the company's constant improvement of the system through updates, new tools, and tweaks make Facebook an attractive marketing tool for any organization and entrepreneurs. It's one of the leading platforms for social commerce.
Worth noting Facebook has become the first social network to register more than one billion accounts with over 2.74 billion monthly active users and their report updates state that 160 million businesses use Meta apps (Facebook, Instagram, Messenger, or WhatsApp) to reach customers every month. Its revenue for 2020 was $85.965 billion, a 21.6% increase from 2019, and reached already $114.934 billion by the end of 2021.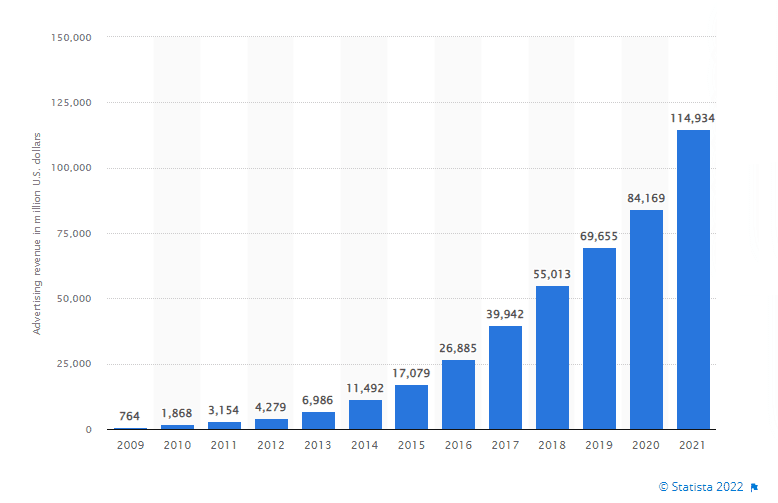 Facebook has proved useful in certain business areas, among them marketing, customer service, and even collaboration. Hence, it makes sense that using Facebook in conjunction with social media management tools would ensure optimal outcomes.
According to a report on Statista, Facebook is the most popular social media platform in terms of engagement in the United States and what is cool about selling and dropshipping on Facebook Marketplace is that when it comes to organic reach, it is so simple to work around their SEO in order to be discovered. Users can find Facebook Shops on a business' Facebook Page or Instagram profile, or discover them through stories or ads.
Here are more benefits that opening a Facebook shop gives you:
Little Budget to Start
It is perfect for the majority of online sellers who do not yet have a big budget. Having a store on the Facebook marketplace gives you the possibility of having an online space where you can offer your eCommerce products and services.
This saves your money as there's no need to create an external online store. Having your own website or company logo is very good, but it is not mandatory in order to start making sales.
Useful for Any Company
It does not matter if the business is small, medium or large. Big companies rely on Facebook platform to retain their consumers and make easier the process of purchasing.
Reach More Audience
When starting a business with your own webpage, it is common not to get visits to your website for the first few months. And, therefore, you do not sell a single product over the Internet. Help yourself to avoid this, use Facebook as another channel to target your customers.
This is one of the platforms mostly used by the general audience since it is one of the most intuitive for users who don't possess enough digital knowledge. That's why this social network and eCommerce marketplace platform is perfect to start taking your first steps in your online business.
Even if you already have your business on other social networks, such as Instagram or you are selling on eBay, Shopify, or if you are just starting out and want to test the social media sector, Facebook will be one of the best showcases where you can begin to interact with what will be your target audience.
Valuable Data on Store Performance
A Facebook store provides valuable metrics such as customer likes and feedback on their experience with you. It is also possible to measure the range of advertising campaigns among the target audience.
Free Ranking/Free Positioning
It is very likely that when you begin to take your first steps with your Facebook eCommerce, you do not have knowledge of how to improve your web positioning, or how users search for the sector online.
Even having some notions, when you start with any type of sales, you need, among other things, that customers find you, buy the products you sell, and stay with you. Therefore, until you manage to position yourself organically in Google, Facebook can be the channel from which you bring traffic.
Attract "Social Traffic"
Another reason why you should create a store on Facebook is that you can attract social traffic which will help you to increase the sales of your products (Social Selling).
Although we know that when creating a website, the most desirable thing is to have as much organic traffic as possible. This type of traffic will also be super important, because first of all, it will be highly qualified traffic. In this case, the users who go to the URL of your product are potentially interested in making a purchase of one of your products.
Increase Chances of Purchase
In offline stores, there is cross-selling which offline entrepreneurs have studied in a different way. If you think about it, you will see that the products that are being sold in this way are the typical ones that we all need at one time or another.
In the case of Facebook, it is possible to take advantage of the publications where you share valuable content for your community, enticing them to buy registered products in the Facebook shop related or complementary to what they plan to purchase. Cross-selling techniques include recommending, offering discounts on, and bundling related products.
In this way, you will give, similar to what happens in offline stores, subliminal visibility to your products.
Great boosters for your business, aren't they? What else works great for opening your own Facebook store is learning from other shops on this platform. By nature, small-business owners are creative. Here are Top 13 Facebook Shopify store examples you can look to for inspiration when creating your own Facebook Shop.
13 Shopify Facebook Shop Examples to Get Inspired and Sell More
1. Passion Delivery
Niche: Food Products
Followers: 67K (April 2022)
Shopify has a Facebook App that allows you to sell products on Facebook for free. By downloading the Facebook Store app, you can sell products and take payments without customers having to leave Facebook.
Passion Delivery is an example of one eCommerce store that uses the plugin to sell their high-end products: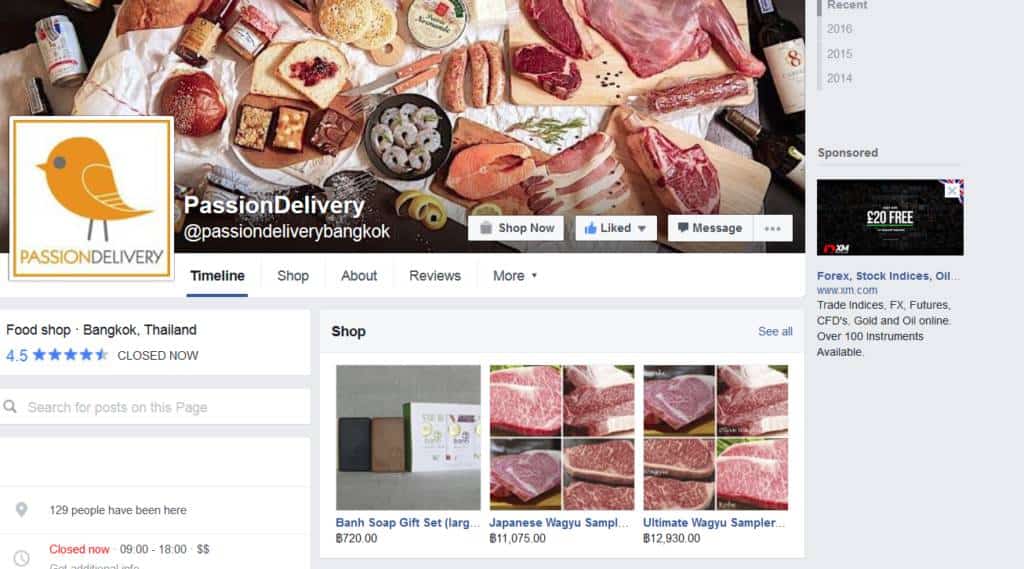 If a product is sold in USD, the user can buy directly from the Facebook marketplace, otherwise, they are sent to a landing page on Shopify where they are asked to fill out their payment details.
Does Passion Delivery have an Instagram account? Sure: here (2.3 K followers).
2. Meowingtons – Pet Shopify Facebook Shop
Niche: Pet Shop
Followers: 1.5 M (April 2022)
Instagram: Yes (701 K)
Meowingtons Facebook shop combines an appealing layout with humor and popular cat goods. Just because you run a pet store doesn't mean all of your products have to be for that particular animal. There are a plethora of pet-related accessories and goods available for us humans. Some samples can be seen on the website.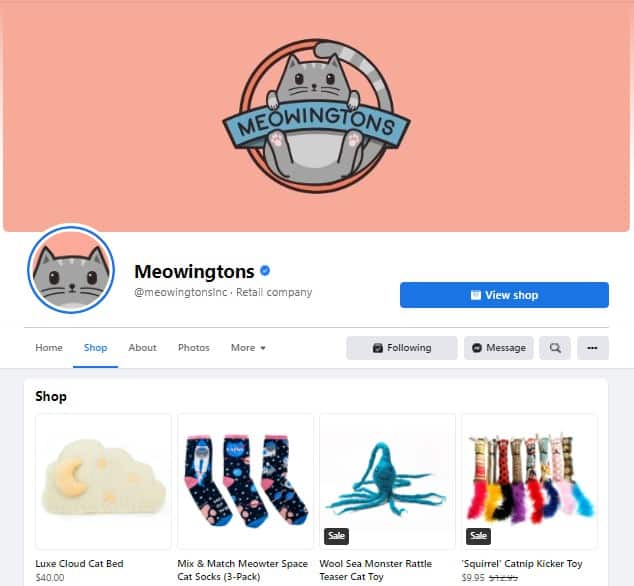 Their unique-looking pet merchandise is on TOP.
3. Taylor Stitch
Niche: Clothing Online Store
Followers: 61 K (April 2022)
Instagram: Yes (188 K)
On Taylor Stitch's website can easily be highlighted the inventive options that appear when you click over a product. Another fascinating feature about their website is that it almost instantly emphasizes its message over its products, with "Three Simple Ingredients" written over the majority of the photographs on the homepage.


Taylor Stitch is known for more than just its high-quality clothes. They also aim to reduce waste and aid the environment by using recycled or all-natural materials in their apparel.
4. Gymshark – Activewear Shopify Facebook Shop
Niche: Activewear
Followers: 2 M (April 2022)
Instagram: Yes (5.7 M of followers!)
Gymshark's Instagram page has 5.7 million active users, whereas Facebook Retargeting helps them scale using UGC on both platforms. As we previously mentioned, linking Facebook and Instagram shops can be a great idea and a useful option to increase the customer base for your business and use effective marketing strategies and tools to get more sales.
Back to Gymshark – is a leading activewear manufacturer with over $1 billion worth of value. After they replatformed with Shopify Plus, scaling is easy with the growing customer base and high-volume SKUs. And what I personally like is that they offer trendy, affordable products and efficient customer service.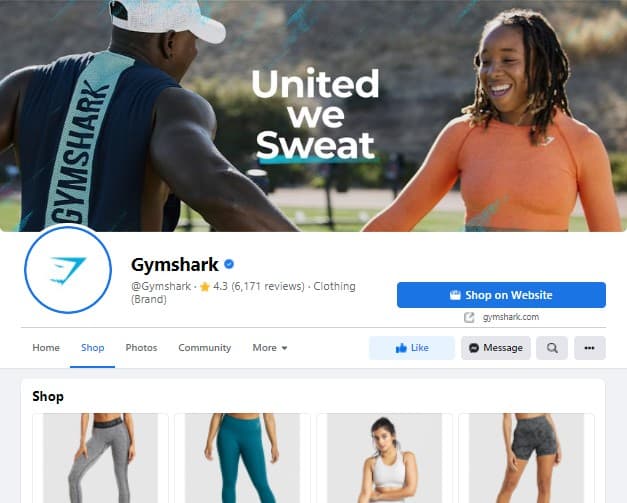 5. Fashion Nova – Clothing Shopify Facebook Shop
Niche: Clothing
Followers: 3 M (April 2022)
Instagram: Yes (21 M followers!)
FASHIONNOVA – the fastest-growing women's apparel company thanks to their USP – influencer marketing. The likes of Cardi B, Kylie Jenner have added to their popularity by endorsing FASHIONNOVA products on social channels like Instagram and Twitch, thereby bringing them the flexibility of multi-channel eCommerce. This Shopify brand uses Facebook Shops and Buyable Pins to deliver a native off-site buying experience.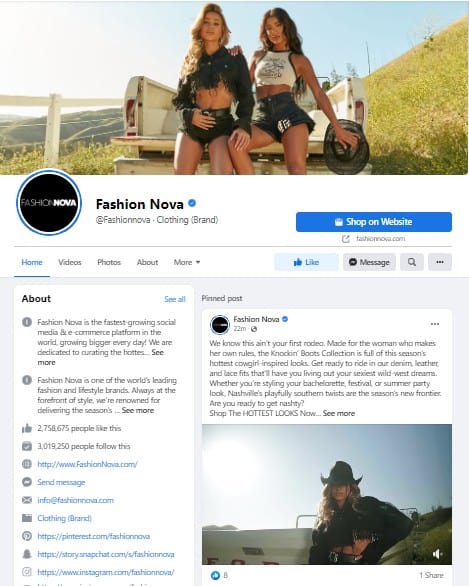 6. Toile Showroom
Niche: Home, Linen Bedding
Followers: 1 K (April 2022)
Instagram: Yes (1.3 K)
Toile Showroom is another Shopify Facebook shop example. It's a luxury bedding and bath linen brand that creates calmness and serenity with their product offerings that are more of a neutral mix between white and grey. On top of managing their offline brick and mortar showroom, they chose to sell the luxury bed, bath, and table linen to designer customers with a Shopify store.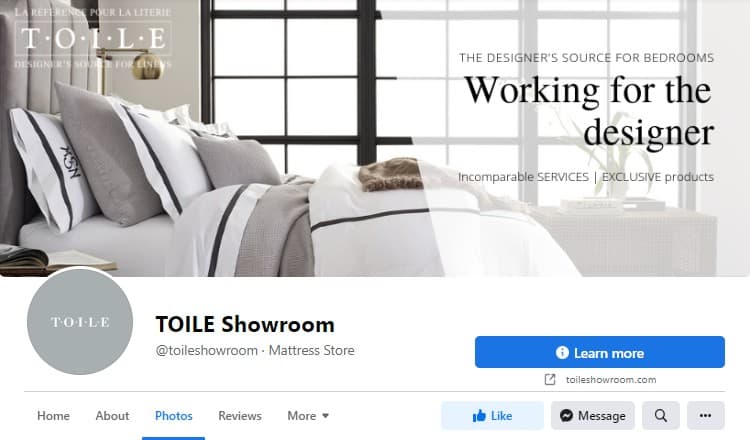 Their Shopify website has a minimalist approach. Rather than focusing more on selling products on the home page, they prefer connecting with users by sharing their mission, philosophy, and some useful suggestions. The crisp, large, and high-quality product photos are so appealing. They allow their customers to request customized services across multiple channels. Facebook and Instagram Shopping including the Shopify website elevate the checkout experience by utilizing express checkout with Shop Pay. With Klaviyo email marketing integration, they want to increase engagement by sending newsletters and upcoming product updates.
7. Gunnar Kennels
Niche: Pet Protection Supplies
Followers: 78 K (April 2022)
Instagram: Yes (183 K)
Gunner Kennels makes ultra-tough dog kennels to keep your four-legged family members safe while in transit. Facebook allows you to take more than one product from your Shop in an organic post. Take a look at how Gunner Kennels incorporated an unexpected second item, an orthopedic dog bed, in this organic post.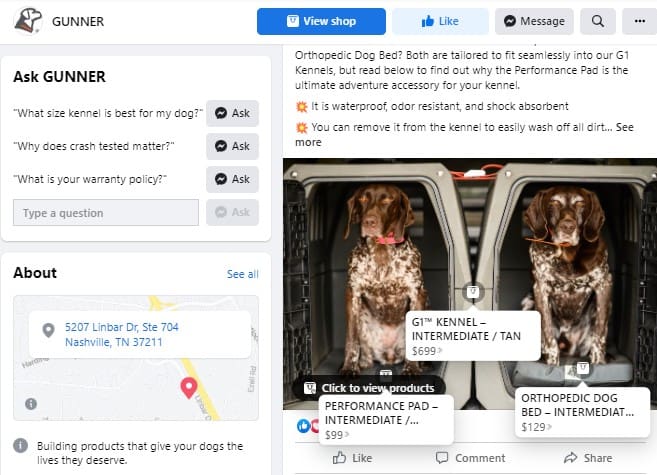 Also, notice the Shop tag in the original post. That tells visitors they can click and go to an image with more information. From there, the shopper can pick a product from the photo and save it, share it, or buy it from the Gunner Kennels website.
8. UgMonk
Niche: General Store: Product / Service
Followers: 12.5 K (April 2022)
Instagram: Yes (41.2 K)
Jeff Sheldon transmits a very simple motto: let people feel modern, unique products at affordable rates. This Facebook shop example is stuffed with modern, clean, and fresh items for everyday life. UgMonk also sells bags, prints, and other work items.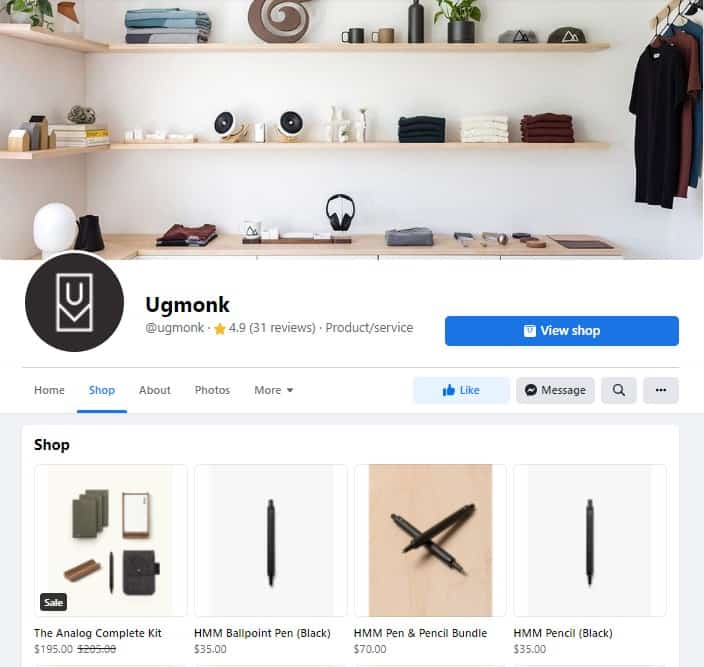 9. The Tiny Tassel
Niche: Jewelry / Accessories
Followers: 6.5 K (April 2022)
Instagram: Yes (71.4 K)
The Tiny Tassel offers a range of colorful, handmade tassel jewelry, accessories, and garments. The business has created collections of their products, which are featured prominently in their Shop.


10. Ink Meets Paper
Niche: Printing Service
Followers: 6.5 K (April 2022)
Instagram: Yes (20.5 K)
Ink Meets Paper is a letterpress and paper-goods company that makes one-of-a-kind cards on an antique paper press.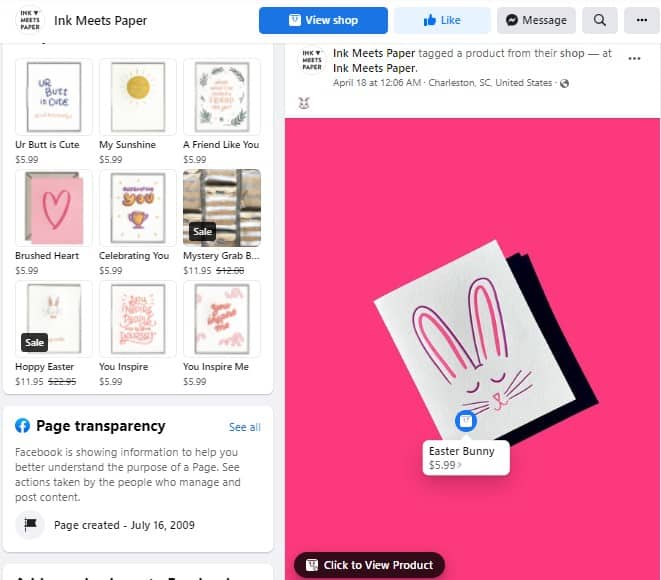 The business has done a couple of things to make it really easy for their customers to shop and buy. First, Ink Meets Paper used the button on the front of their Business Page to lead right to the Facebook Shop (many companies use that button to direct visitors to their website.). Then, the company incorporated Checkout so a visitor can make a purchase without leaving the Facebook marketplace.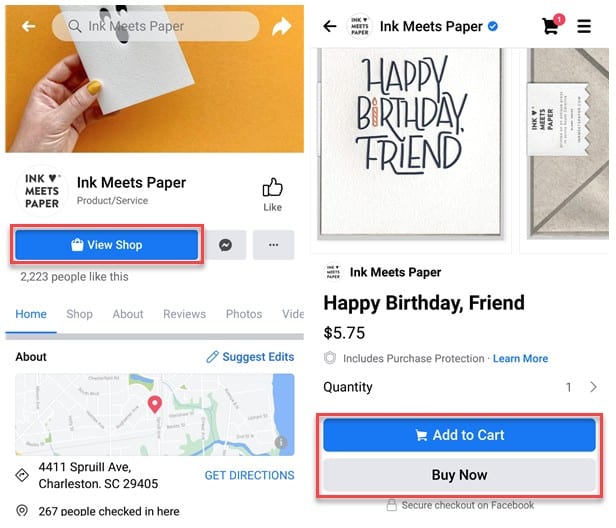 And since they've used Facebook's Checkout, Ink Meets Paper's customers won't have to fill out their details every time they make a purchase. That reduces all the friction from logging into different websites or filling out "guest checkout" details over and over again.
11. Ettitude – Green Shopify Facebook Shop
Niche: Eco-Friendly Products
Followers: 23.7 K (April 2022)
Instagram: Yes (120 K)
Ettitude Shopify Facebook store is oriented to the trade of eco-friendly products. Although they have not been able to accurately measure the percentage of sales coming from their Facebook platform store, they affirm that it has a positive effect on their sales.
They mention that on the Facebook marketplace, it is possible to update your inventory easily and constantly. If your audience likes what you post, they will let you know, increasing interest in your business with no further effort on your part.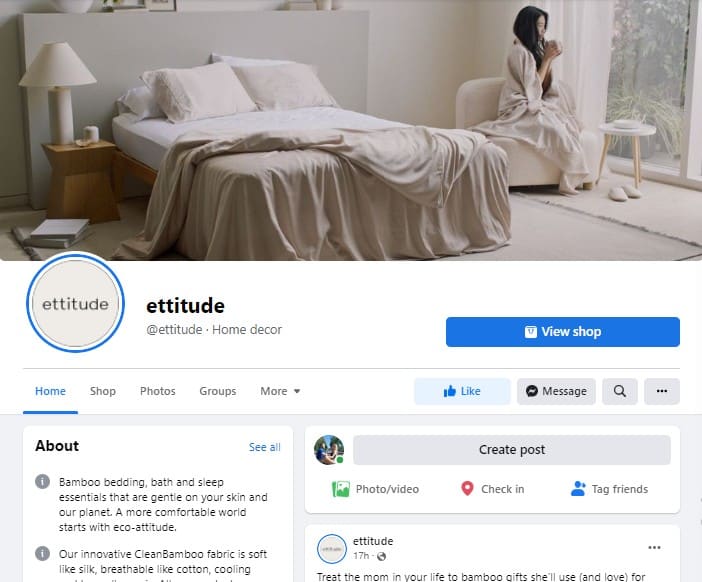 12. BestSelf.Co
Niche: Office/Planner
Followers: 203 K (April 2022)
Instagram: Yes (150 K)
BestSelf.co runs a great Shopify Facebook store. Below, you can see how BestSelf.co displays its store products beautifully on its Facebook shop.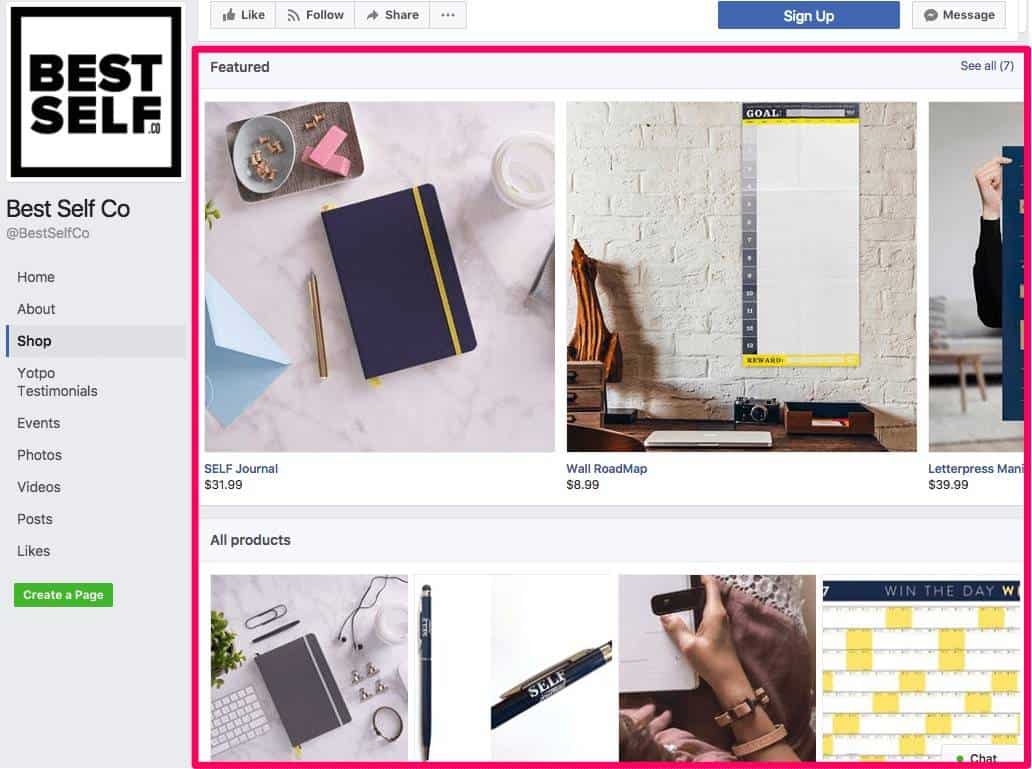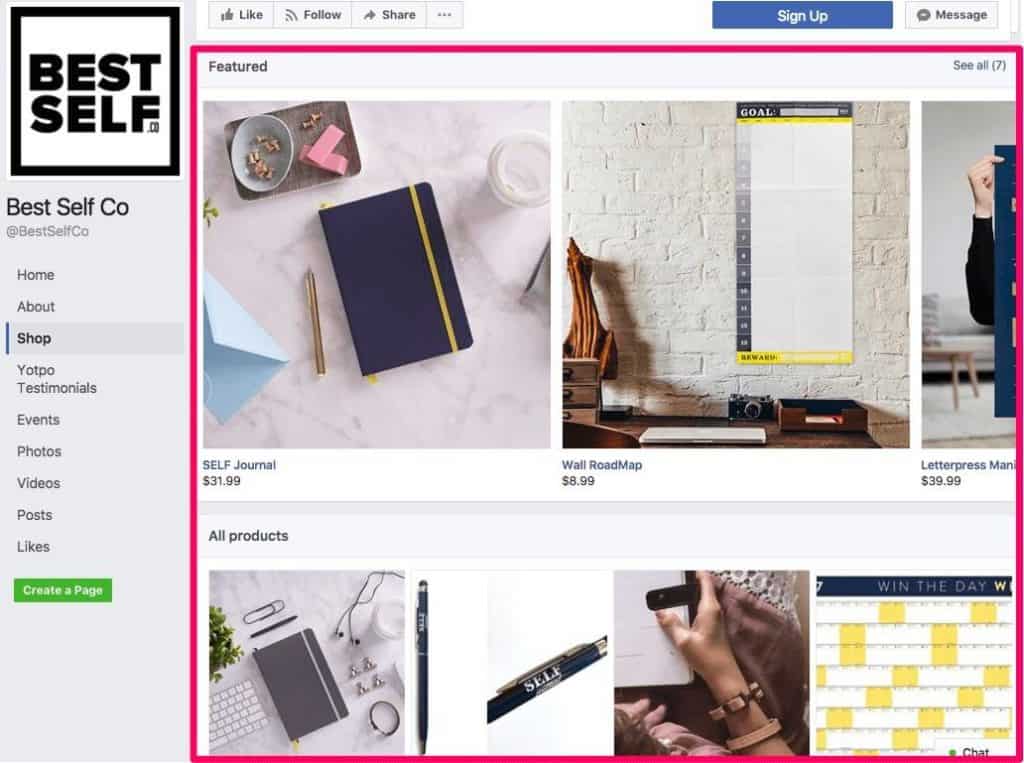 Putting your product for sale on (or via) Facebook adds additional engagement to the purchase process. For example, when a buyer clicks on any of your Facebook products, they can 1- like it, 2- share it with their friends, 3- save it for later.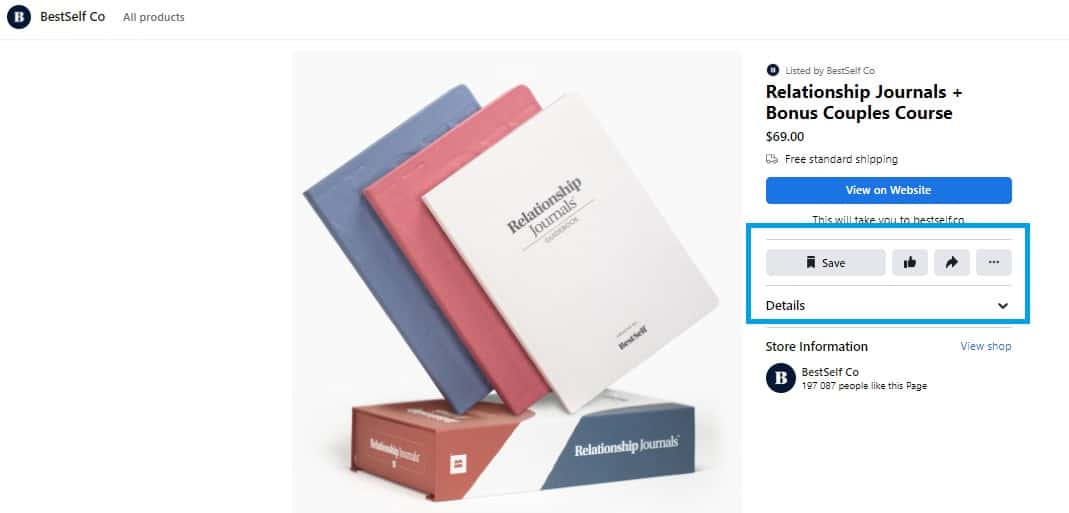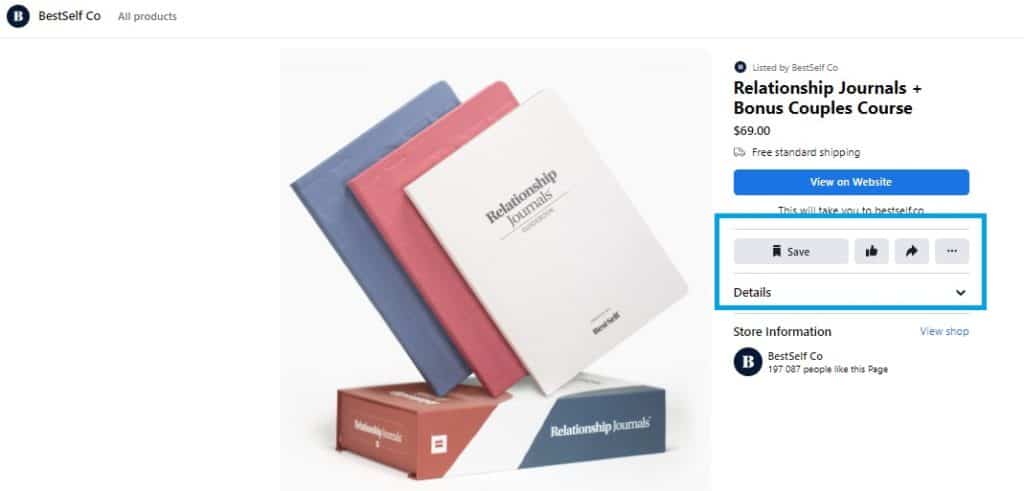 13. Beauty Bakerie
Niche: Health/Beauty
Followers: 200 K (April 2022)
Instagram: Yes (1.1 M)
Beauty Bakerie is a beauty brand selling a range of cruelty-free items on their website, Facebook shop, and Instagram page. The site is colorful and showcases all the different beauty products they have on offer. The curious thing about the marketing of their Shopify store is the way they entice visitors to sign up with their email.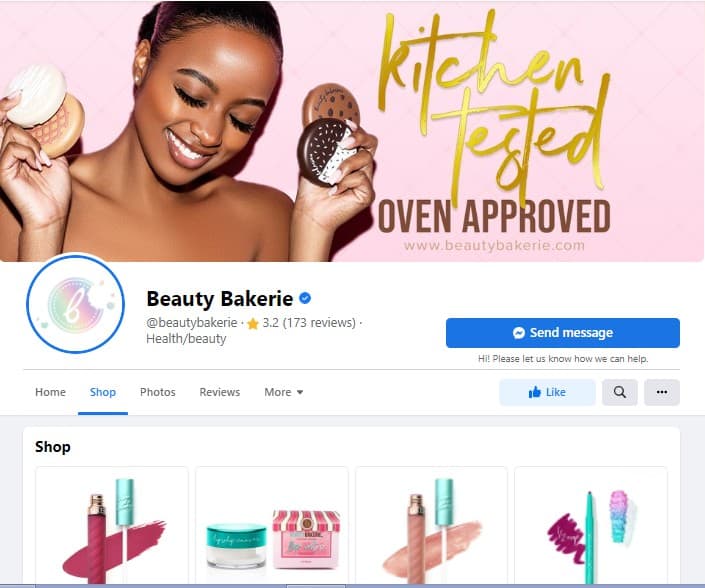 Conclusion
The best thing about Shopify and Facebook is that they are focused on making merchants successful. Stores put up there are great Shopify Facebook shop examples that leverage different layers of strategies to succeed. So I hope you've gotten some fantastic ideas for making your own Facebook store.
Get all tools and features to establish an online shop to fulfill your vision and mission and, who knows, your store can also turn out to be a huge success.
Recommended Articles: