So you've heard about the eCommerce world and decided you want to be a part of it. Or perhaps you are an experienced online seller who wishes to open up new untapped markets. eBay is a great marketplace to start an eCommerce business, but it is not the only one. There are plenty of eBay alternatives to suit all your needs or other sites like eBay to serve as additional sale channels.
We encourage the majority of our readers to start selling on eBay since it is one of the biggest marketplaces currently available. Furthermore, it's easy to create a seller account and start selling on the website. eBay is an amazing website to have an active store. You can surely grow your venture there and get incredible profits.
However, there are other sites like eBay where you can get a profit — So if you're fed up with eBay or simply wish to expand your business elsewhere, this article is definitely for you.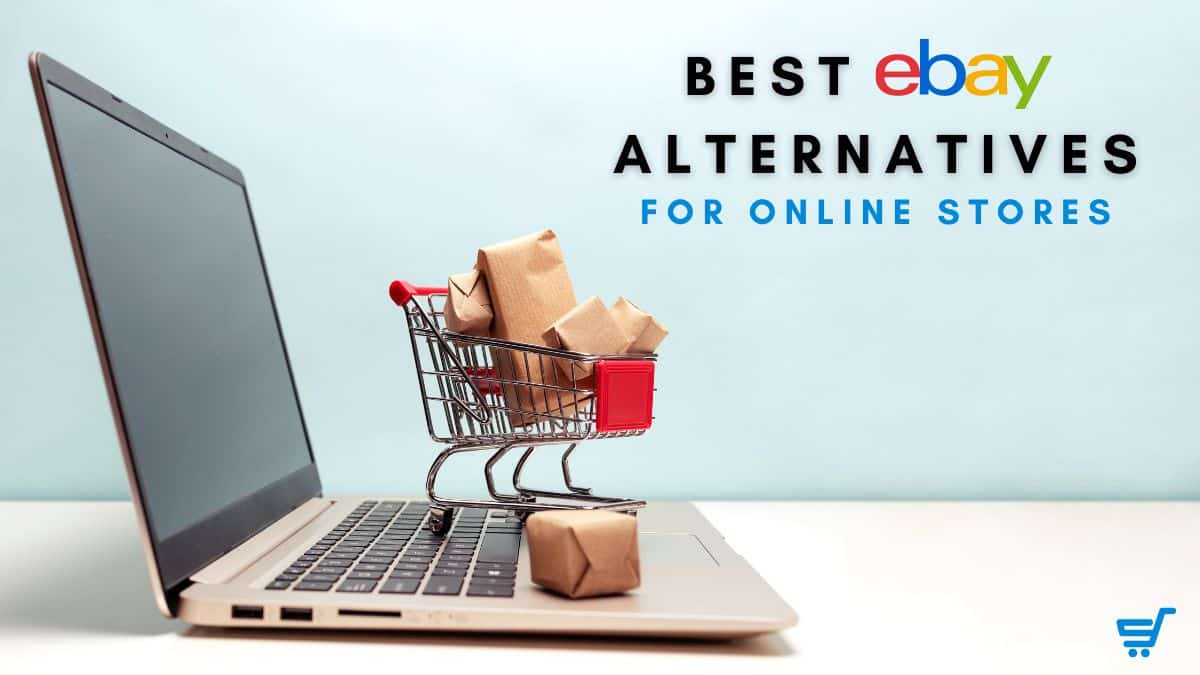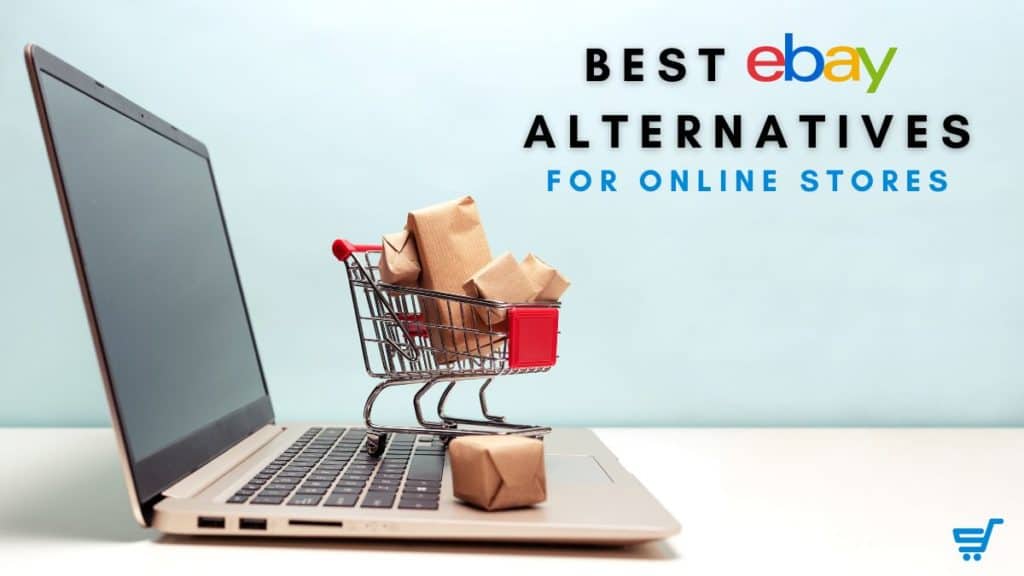 Let me give you a sneak preview of what other alternatives to selling on eBay you'll have listed in this article:
As you can see, the list is long meaning that you'll have a vast amount of options when it comes to online sales. Furthermore, I'll be adding a brief description of each online marketplace. That way you'll have a better idea of the pros and cons of each option and decide which sites like eBay will become the best platforms to sell online for you.
But before we dive into eBay alternatives, let me quickly explain why eBay has been the main go-to marketplace for sellers.
eBay: a profitable marketplace for sellers & beginners:
Lots of online sellers choose to start selling on eBay marketplace because as previously mentioned, it is easier to open up a store there. Furthermore, based on profitability eBay has overcome a lot throughout the years. It has over 187 million active users constantly buying products from this online marketplace.
Just take a look at a survey conducted a little over a year ago, back in January 2021, where online buyers rated eBay as the most popular marketplace.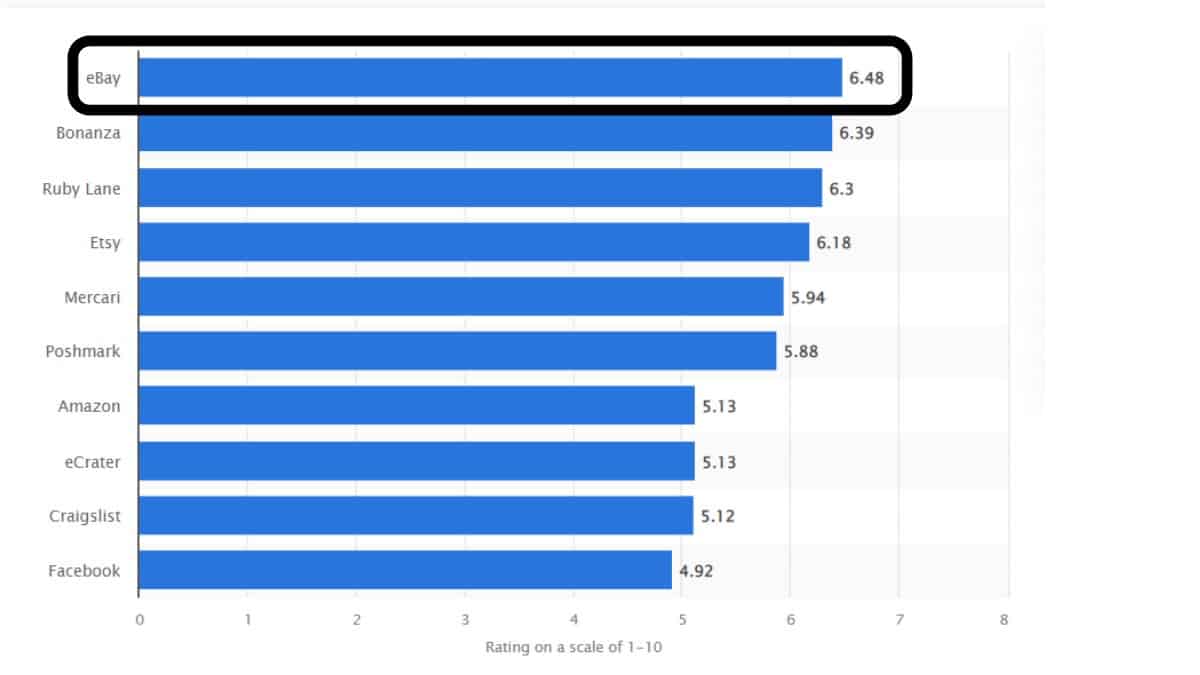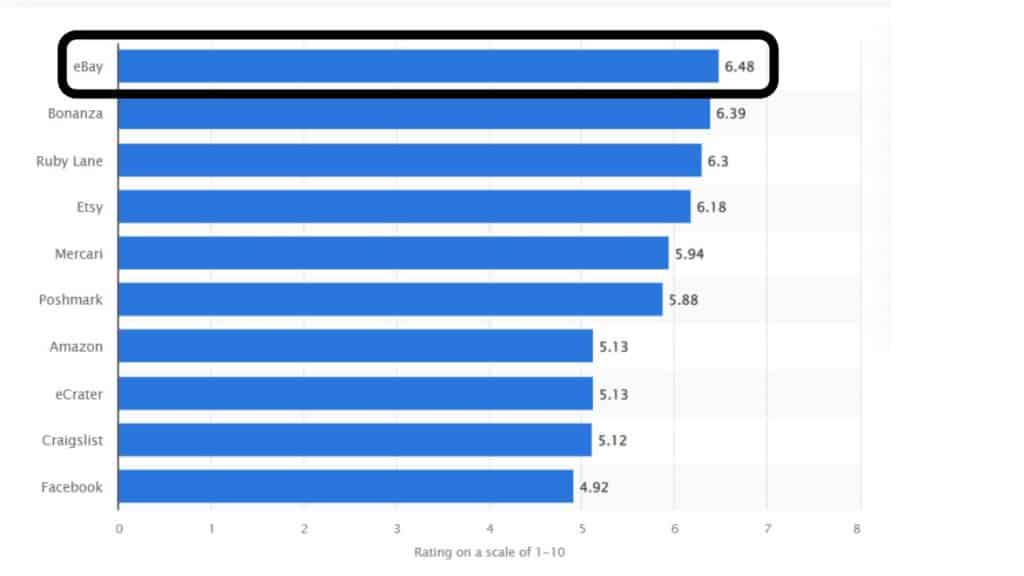 In summary, eBay came up to be the most popular website for online shopping — even more popular than Amazon!
The results were mainly based on four key main points: profitability, customer service, communication, and ease of use.
Why would you need an eBay alternative for your eCommerce business?
So if eBay is such a great marketplace to sell in, why would you change the platform? There are a few reasons why an online seller would need to have alternatives to eBay.
Now don't get me wrong, I am not saying you need to completely abandon the platform, I am saying that you can also expand your eCommerce business and migrate to other profitable marketplaces.
— Let's take a look at some of the reasons why eBay is not completely reliable to sellers.
Company policy: Unfortunately eBay is known for having a poor and controversial policy towards sellers. For example, whenever there's an issue between the customer and the seller, eBay will always place the client first meaning that the seller will need to accept whatever resolution they come up with.

Costs & fees: When you sell on eBay, you'll have insertion fees for your listings and a final value fee. Nowadays, eBay has Managed Payment fees which will be 12% for the majority of categories of items. Furthermore, you'll also have to pay a monthly store membership fee. So these types of fees all add up at the end of the road.

High competition: As previously mentioned, eBay has over 180 million active users which means that there's a huge amount of sellers in the market. The market share will vary on the niche you choose to target. However, it'll be hard to fully compete against others in order to be within the first pages of the search results. You'll need a solid listing optimization strategy to showcase your products. Or you can always invest in advertising your items with eBay Promoted Listing.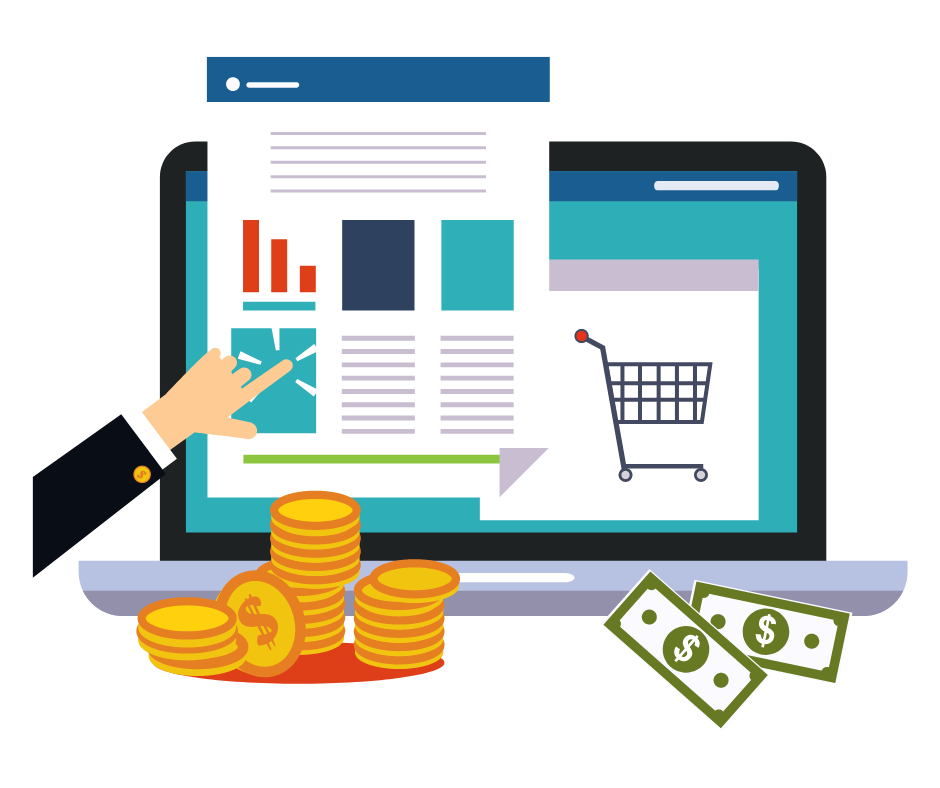 Don't wait for the profits, make them!
Start a profitable dropshipping business with DSM Tool. Get a free course and a free trial of the software.
Are There Any Alternatives To eBay?
Short answer — Yes. But let me give you further context and explain what other outlets there are equally as good if not better.
Nowadays eCommerce as a whole has grown substantially. For example, eBay used to be an online auction platform but it has evolved to so much more being one of the largest online marketplaces in the world.
Thanks to the evolution of online shopping, other marketplaces have arisen giving online shoppers a broader range of options to purchase from depending on shipping timeframe, pricing, product availability, and much more.
This also means that online sellers have more options of where to sell their products — that's the beauty of this!
— Let's review some of the best online selling platforms in 2023.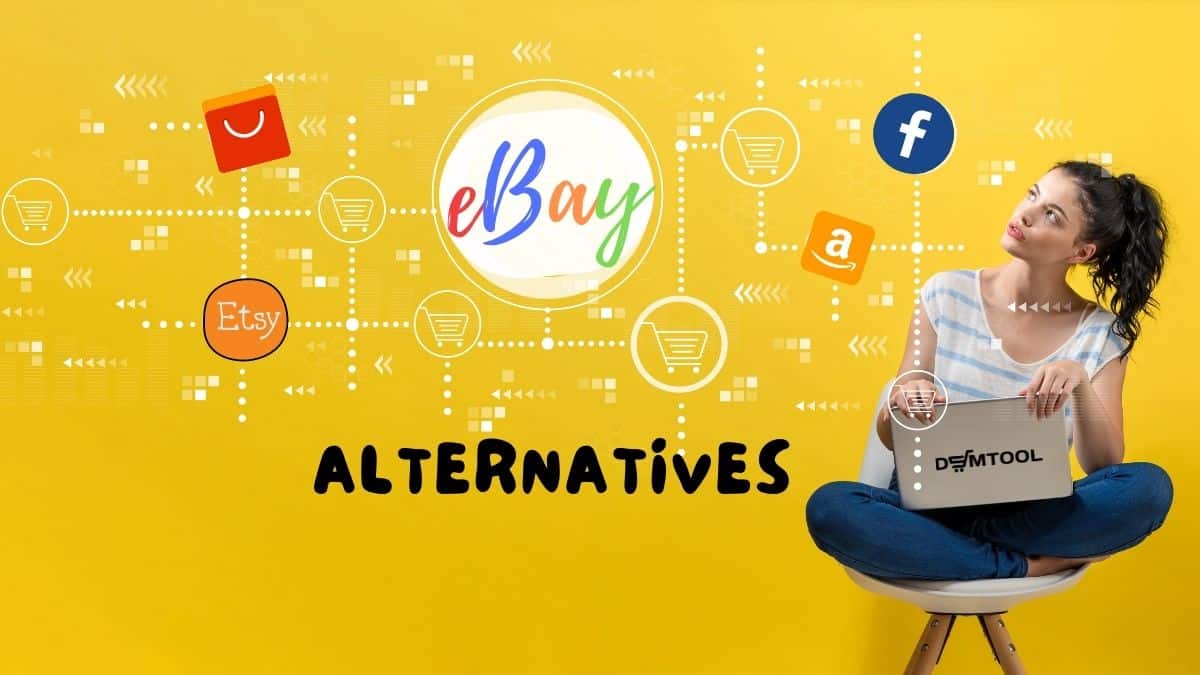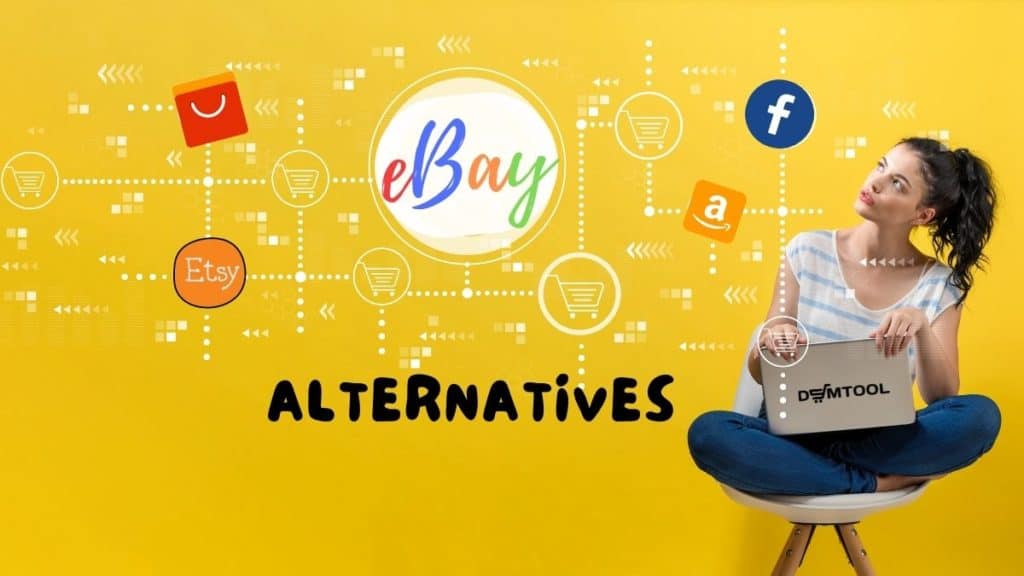 1. Amazon as eBay Alternative
Amazon is a great place to buy and especially to sell. Is one of the biggest eCommerce marketplaces in the world. It's right up there with eBay and on some occasions, users tend to prefer Amazon over eBay — why not consider this platform to have an online store?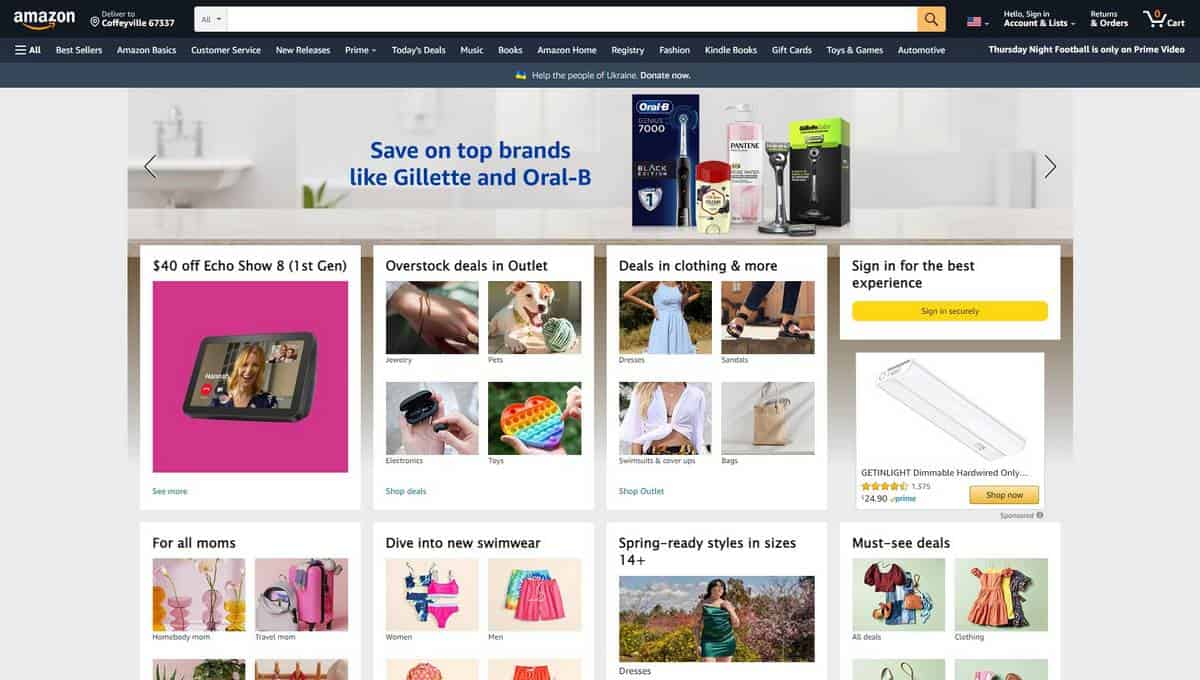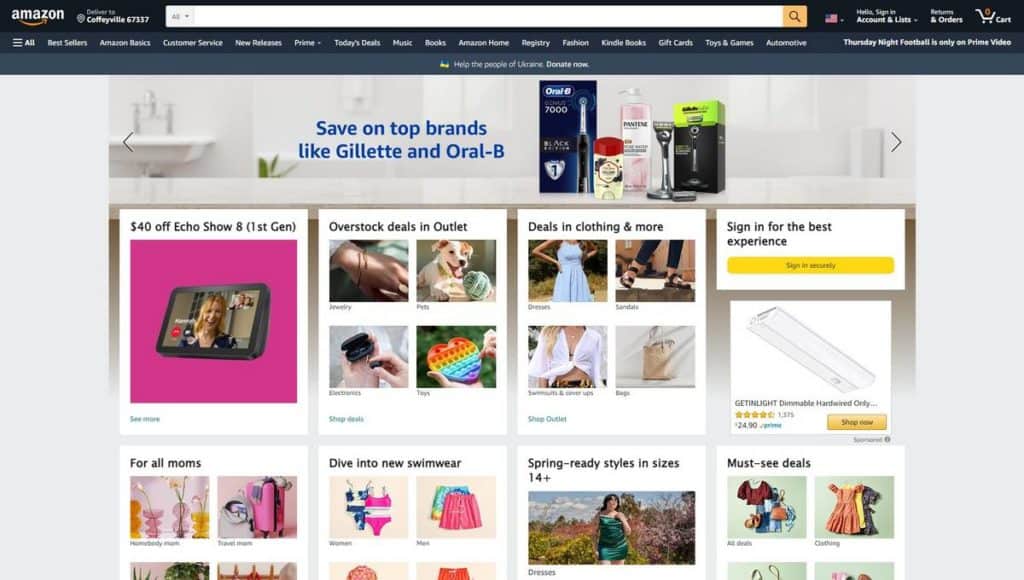 Amazon FBA:
Fulfillment by Amazon is a well-known program for sellers. This program allows online sellers to have their inventory placed in Amazon's warehouses where the only thing they need to do is to make sure they have products in stock and place the order. Once they make a sale, Amazon will take care of shipping the product to the client.
Furthermore, sellers will be able to benefit from the Amazon Prime two-day Shipping which will make their stores much more competitive with fast shipping.
— So in essence, sellers will get free storage space for their products, free shipping, free return processing, and liquidation.
Sellers are charged for storage space and the orders we fulfill. The cost of shipping is included in the fees, with no extra charge for Amazon Prime free Two-Day Shipping.
The way you can apply and enroll in this program is by following these steps:
However, Amazon's selling fees are quite higher than eBay's. There's a 15% referral fee for the majority of products or categories you decide to sell on the platform.
Furthermore, sellers enrolled in the Amazon FBA program will have to pay a monthly fee as well. The selling fees vary depending on an item's category, size, and weight.
How can you be a successful seller on Amazon?
Just like any other business, one of the key factors of a successful store is to offer the correct eCommerce products. High demand with low competition items that will boost traffic and convert into sales — that's why you should place time and effort into your store.
Product research is essential when it comes to finding high-ticket products to sell. Whether you'll be dropshipping different products or purchasing a bundle of items in order to add them to your inventory, you'll need to know what's the demand of your specific niche market.
Moreover, pricing your products at a competitive level compared to other sellers is equally as important. You want to gain more attention therefore you want to sell for a cheaper price. Another strategy is having the Two–Day Free Shipping option for your customers which will certainly boost the sale conversion rate.
If you're a small e-seller, this can be a bit more of a challenge, as there will be others selling in large quantities making pricing very competitive — that's where you need to make sure you're selling the right products.
Walmart has gained a reputation for being one of the largest retail companies in the world. Walmart saw a 79% eCommerce growth in 2020 and the numbers have been increasing this year as well. With an eCommerce revenue of 75 billion $US in 2021, the retail marketplace is gaining momentum.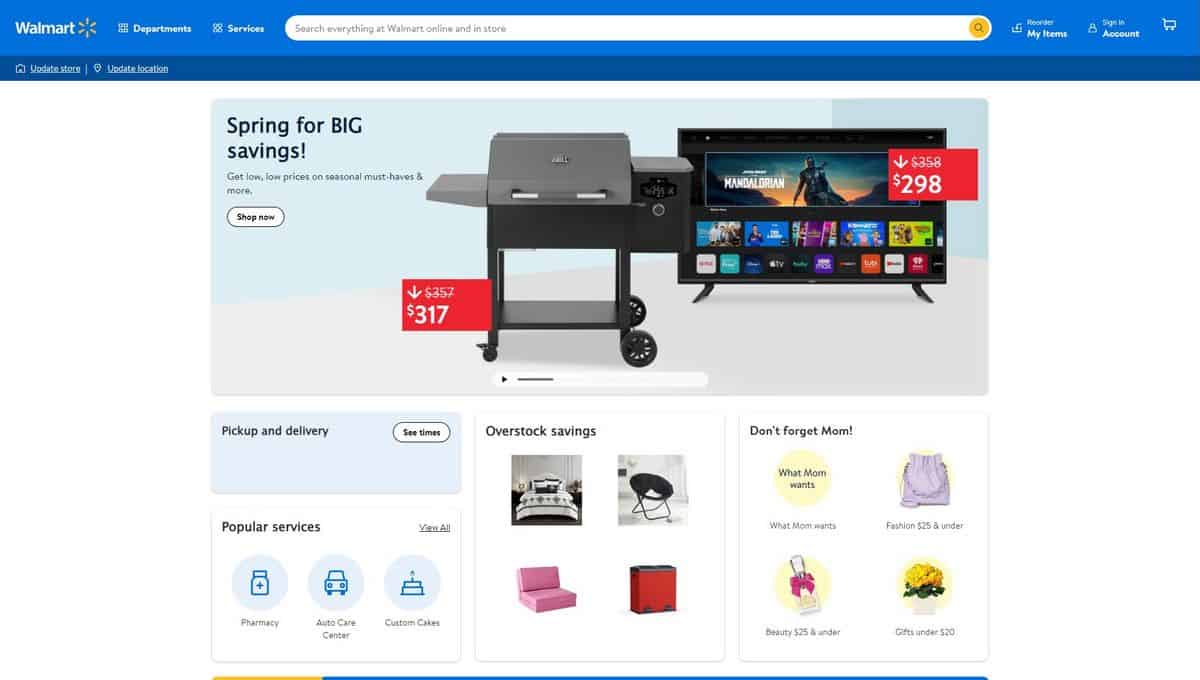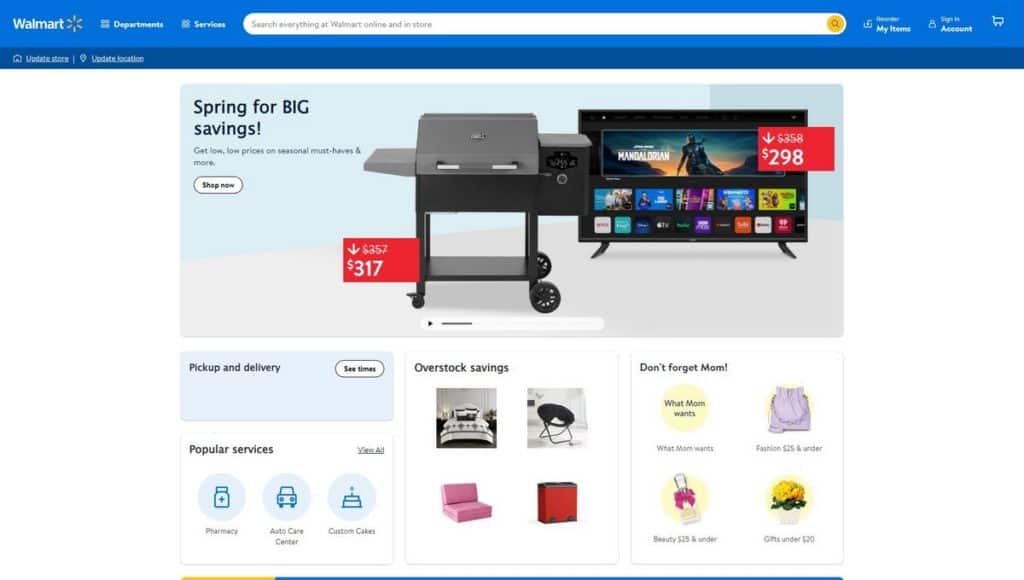 — That's why it's a great eBay alternative for sellers!
Walmart Marketplace is a selective platform, not everyone can simply create their own seller accounts. You'll need to apply in order to get in. This might be a small setback since it is easier to create a seller account on eBay or Amazon. However, if you're able to enter Walmart, you'll be able to benefit from a great profit margin that's between 25-45%.
When it comes to selling fees, Walmart will charge a referral fee of 15% for the majority of items you choose to sell for every successful transaction, just like Amazon. However, once you have an online presence within the marketplace, you won't need to worry about any other additional fees.
Furthermore, since Walmart Marketplace is selective, there's relatively less competition than on eBay or Amazon, leaving you a better chance of being seen.
How to enter Walmart Marketplace:
First, if you're starting your online business, I would suggest beginning to gain experience on eBay — let me explain why.
As mentioned above, Walmart is very selective about who they allow selling on their platform. You'll need to go through an application process where you need to present an established US business with your EIN number.
Additionally, you'll need to have an inventory of products and a website or Shopify store already set up. Lastly, you need to show Walmart that you have eCommerce experience, otherwise you won't be able to get in.
That's why I suggest every beginner start with selling on eBay since they'll be able to easily create a seller account and begin selling in no time. This will give them eCommerce experience and eventually profits in order to invest more in their business and start purchasing inventory.
Facebook has become more than just a social networking platform. It has evolved into a place where small to big businesses have an online presence. Furthermore, the website now offers a space for users to sell used products or new products among each other. This space is called Facebook Marketplace.
This is a great eBay alternative for sellers since it's an untapped market, meaning that there isn't much competition within the platform — for now.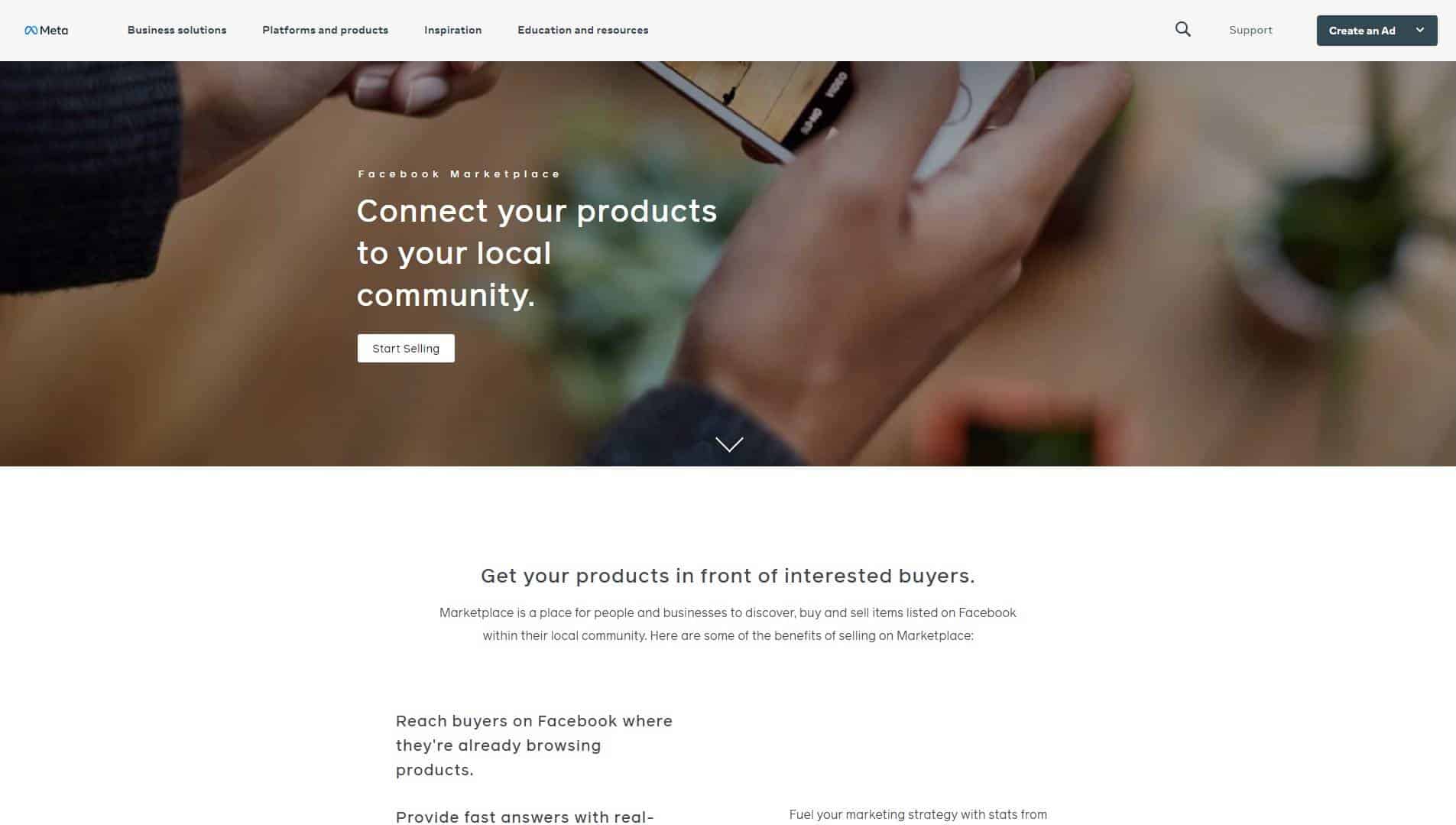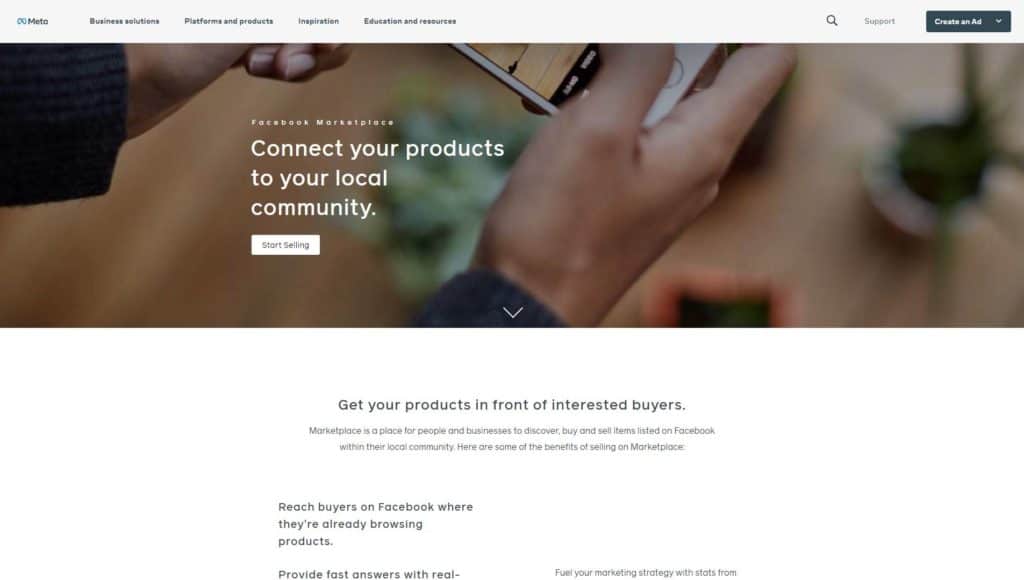 How does the Facebook Marketplace work?
The Facebook market is very simple and it has a high potential for engagement and higher reach. You create an online store where you place your business, shipping & payment policies.
You can choose the products you'd like to feature from your catalog and then customize the look and feel of your shop with a cover image and accent colors that showcase your brand.
Users can find Facebook Shops on a business' Facebook Page or Instagram profile, or discover them through stories or ads. From there, the potential customers will scroll through your catalog and eventually purchase from you.
Driven by the local community, Facebook Marketplace does not charge any fee. Therefore, anyone can build a local store which makes it easier to start selling.
However, not everything has a positive note, one of Facebook's huge flaws is that it doesn't provide the same protections as eBay. And there's also a possibility of fraudulent offers.
— That's why Facebook Marketplace is one of the good alternatives to selling on eBay and a good option to start as well and test the waters.
4. AliExpress as eBay Alternative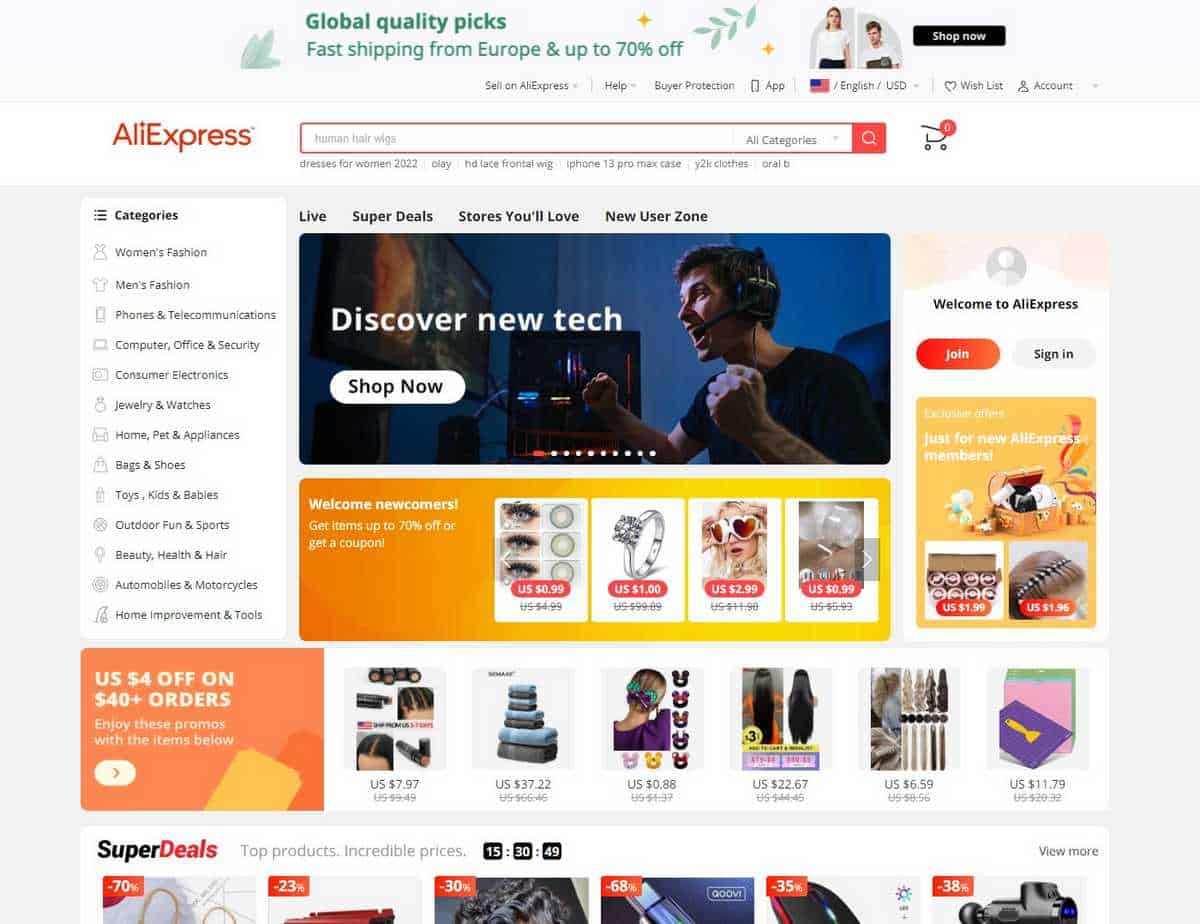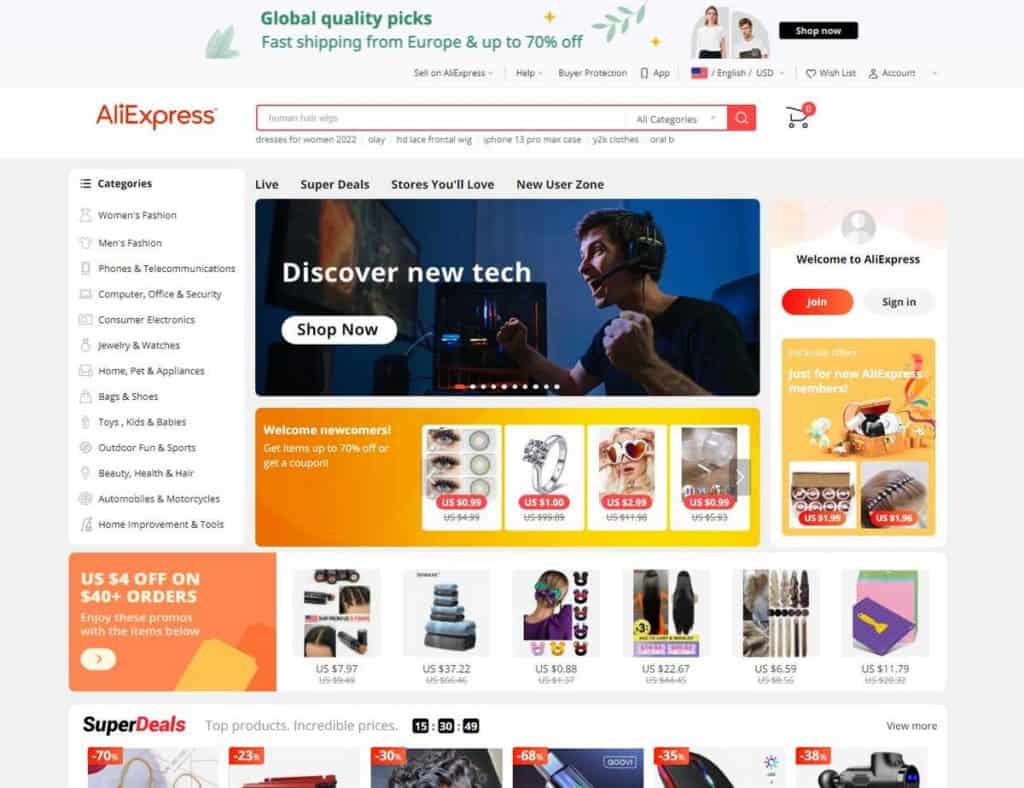 AliExpress is our next website like eBay and one of the main go-to's for dropshippers when it comes to choosing a supplier. However, it's also a solid marketplace to have an online store. It is one of the biggest online marketplaces in Asia. It's owned by the Alibaba Group.
Sites like eBay are very common nowadays, that's why AliExpress has become one of the chosen selling platforms by independent sellers. If you're looking to sell on European soil or in China, the delivery will be quite fast — up to 3 days delivery in Chinese territory.
However, becoming a seller on this online selling platform is not quite simple. Besides creating your account, you'll also need to Attach the relevant tax and banking information and wait for your application to be checked and registration to be accepted, which generally takes 2 to 3 working days.
When it comes to selling fees, AliExpress will retain between 5-8% for each item sold.
Keep note that sellers will only receive the payment when the buyer confirms receipt of the item, so the deposit may take 5 to 7 working days to appear. The deposit is made into Alipay, your AliExpress account.
Once the available balance appears, you'll be able to send it to the bank account of your choice. Keep in mind that each withdrawal of money from your AliExpress balance incurs a €1 commission.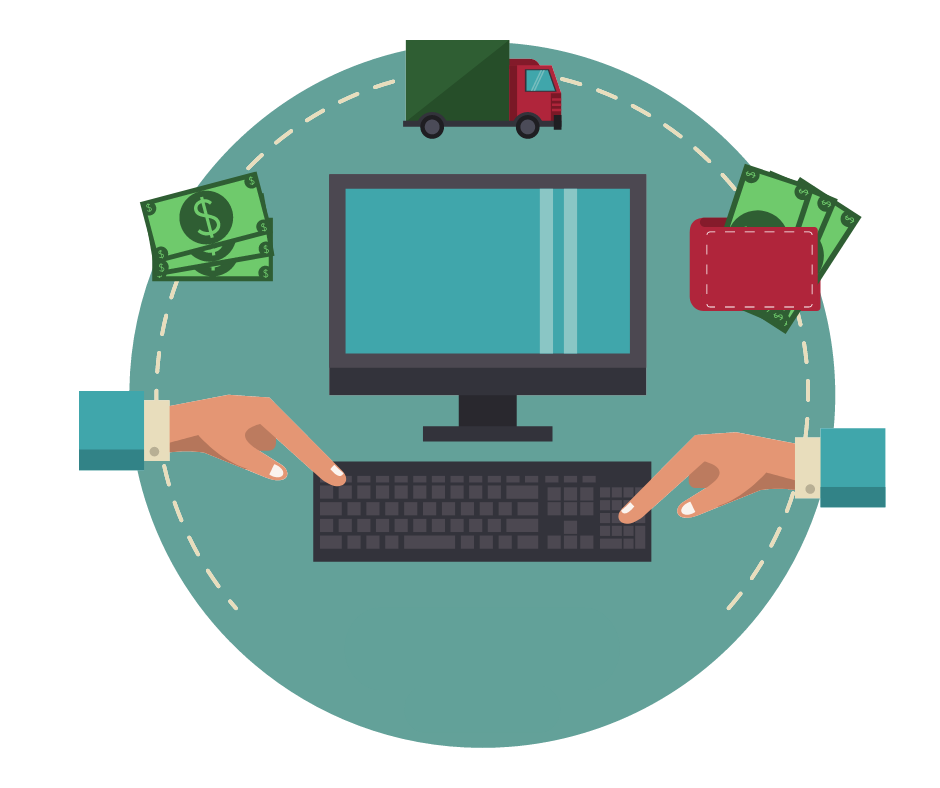 Not yet making money online?
Start your own dropshipping business. Sign up for a free trial of DSM Tool and we'll help you get started. Today is the day.
5. Wayfair as eBay Alternative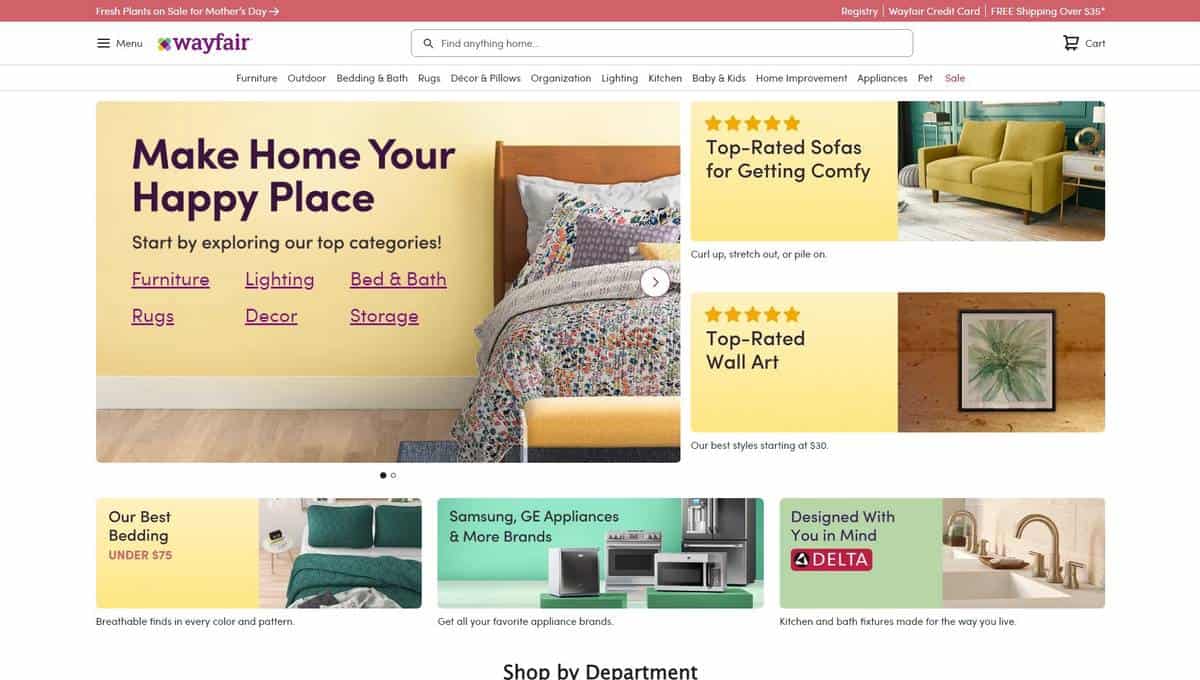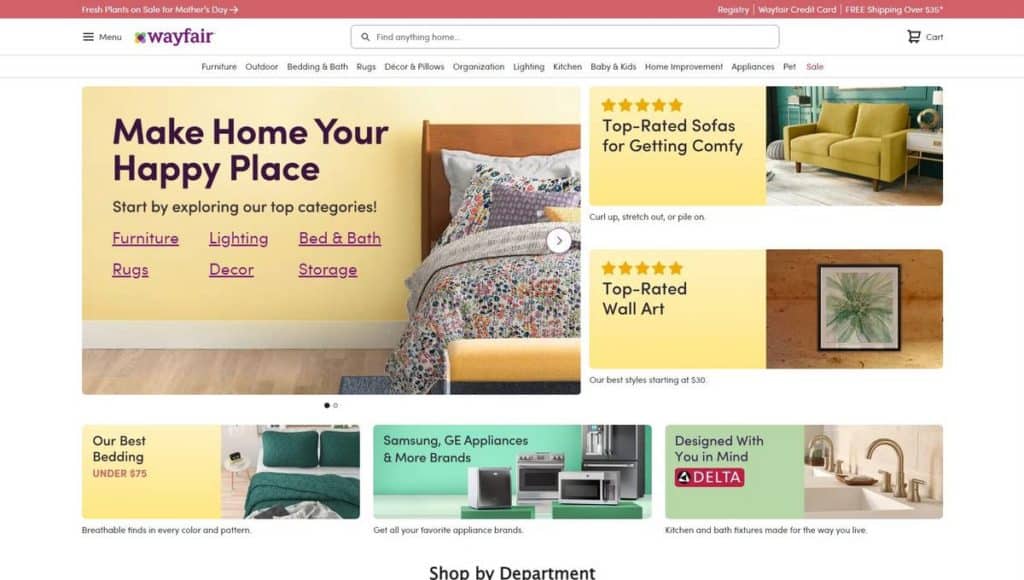 If your angle is selling home goods and furniture, then Wayfair is the perfect eBay alternative for you. The online marketplace may not be as popular as other outlets, however last year in 2021, it was ranked 9th among leading US eCommerce companies.
One of the best things about this selling platform is that it will not pay any selling fees like other platforms. The way they operate is the wholesale cost model, in other words, they will set a higher retail price on their site, and then pay you the wholesale price of your products. So, they profit on the margin — sounds sweet, right?
Furthermore, Wayfair is also a dropshipping platform. They will send the customer order to your warehouse or supplier and ship the product out.
6. Rakuten as eBay Alternative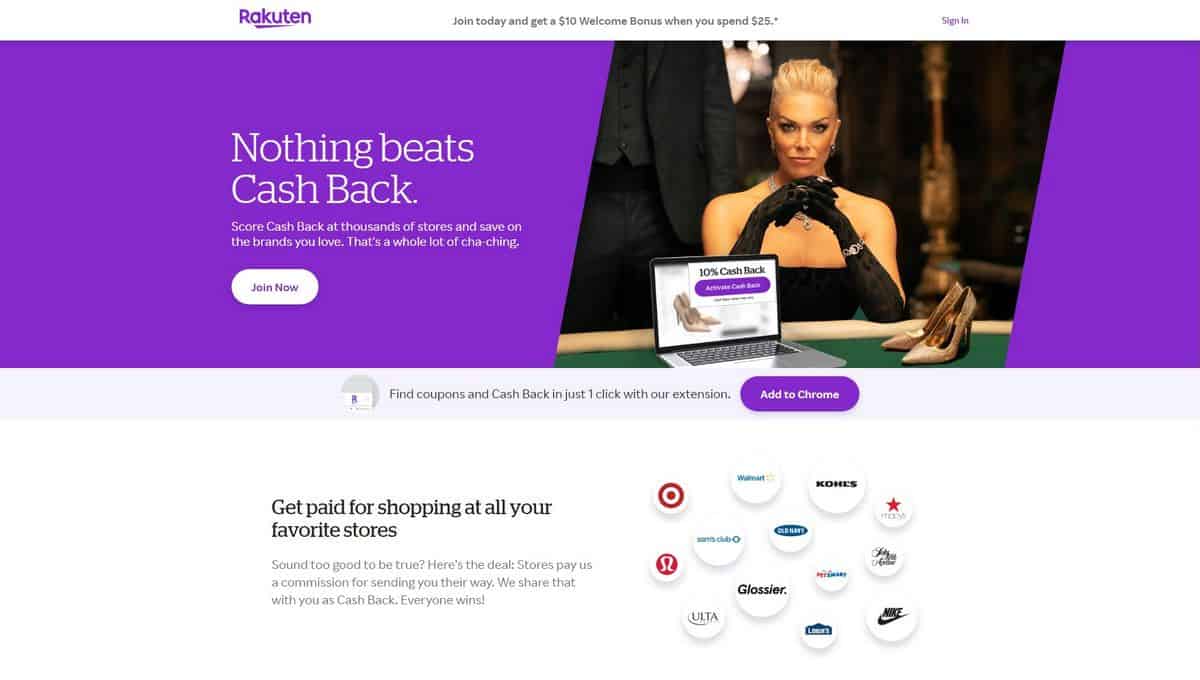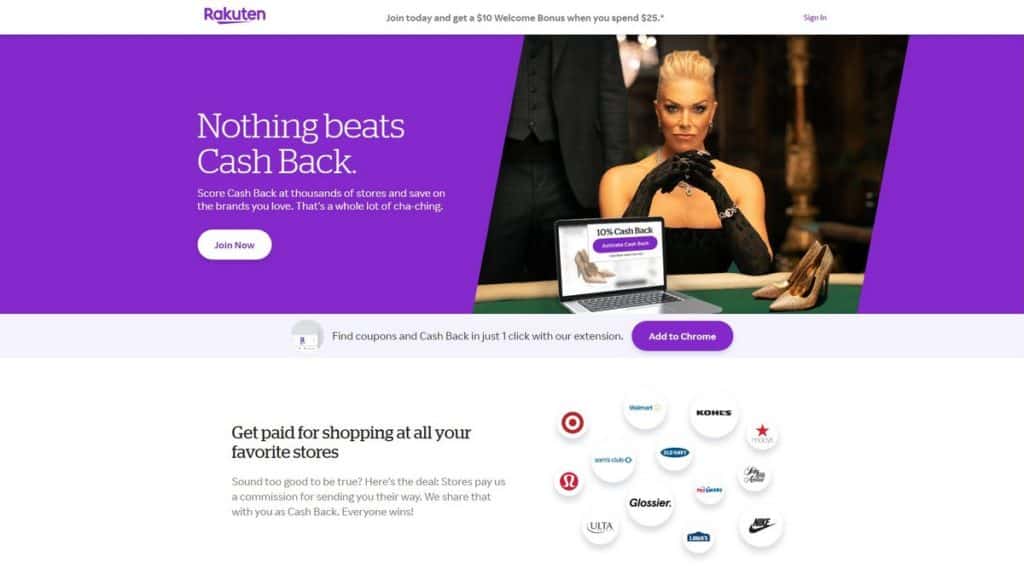 Most of you are probably familiar with AliExpress, a Chinese retailer. It's a strong marketplace in Asia. Well, there's another giant considered the "Japanese Amazon"— it's called Rakuten.
Rakuten is one of the best platforms to sell online. The cool thing about this eBay alternative is that you can customize your shop with various tools to design your own eCommerce store, and edit and change products, content, and blog to bring you closer to your potential customers.
Another great thing about Rakuten is that the website doesn't possess any brands. Therefore you won't need to compete against recognizable brands. However, just like any other marketplace, it has its flaws.
For example, when it comes to selling fees, Rakuten's fees are quite high. You need to cover a $33 seller monthly fee plus an 8-10% category fee added to a $0.99 commission — It's a huge amount to cover if you're a beginner!
But make no mistake, this is a great platform to really personalize your style within your store and offer it to a booming market in Asia.
So if you want to make things personal and stylish, be sure to try Rakuten Marketplace out.
7. Mercari as eBay Alternative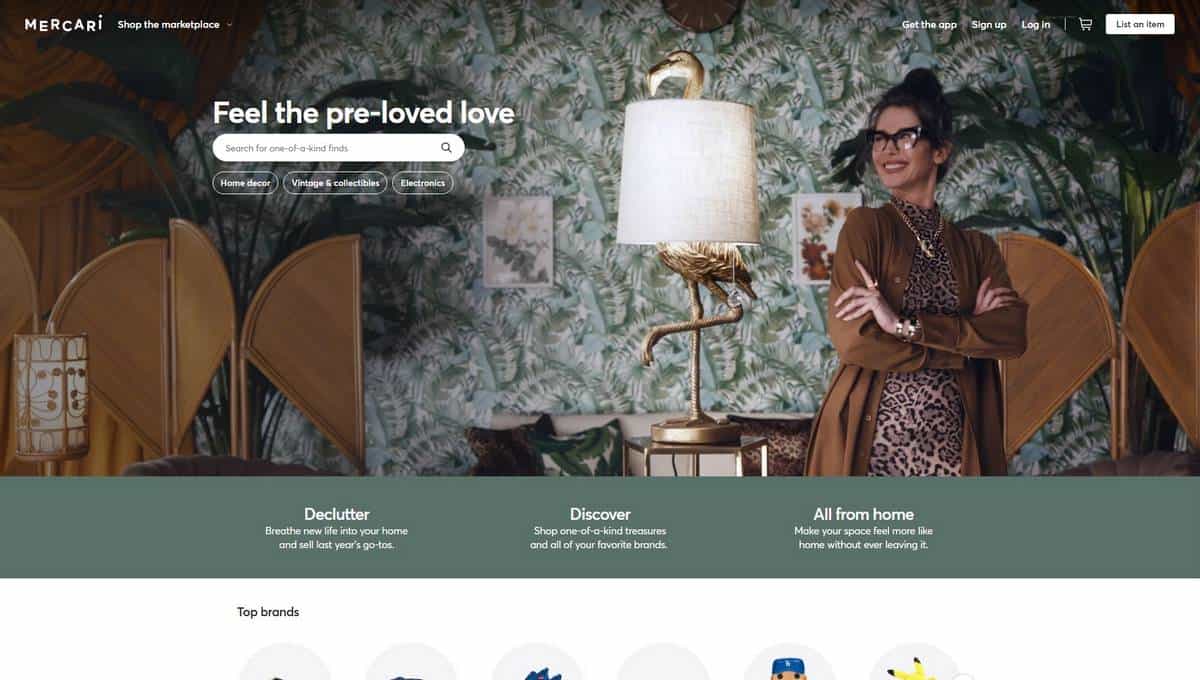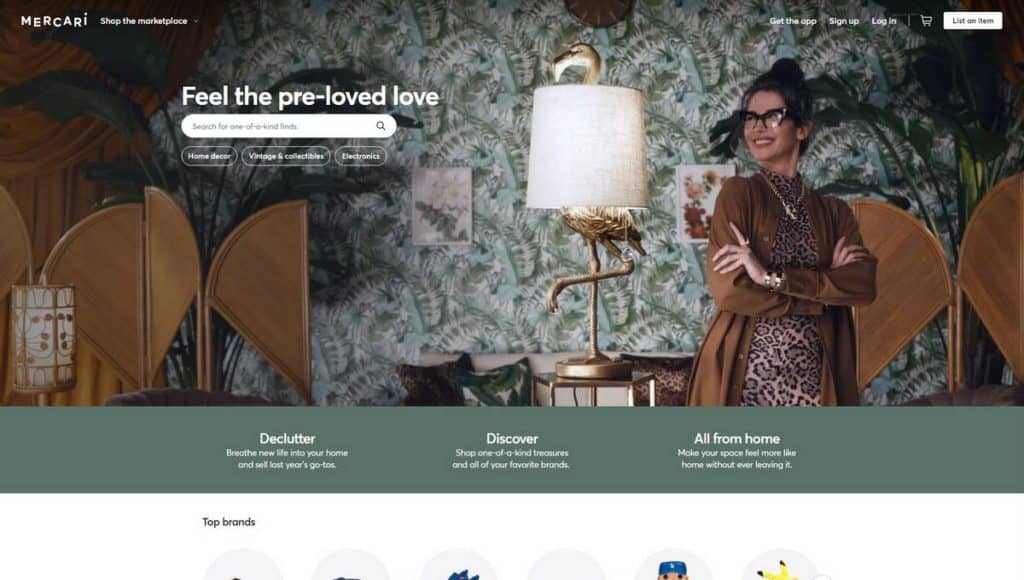 Speaking of Japanese marketplaces, Mercari is another Japan-based platform that is showing a substantial growth in the UK, US — and of course, Japan.
This selling platform is mainly an app for both sellers and buyers. The way it works is very straightforward, all you need to do is download the app, upload all required information such as images, prices, and description, ship the item when the product is purchased, and get paid — that's all!
In terms of selling fees or commissions, the app takes away only 10% for each successful transaction.
8. eBid Online Marketplace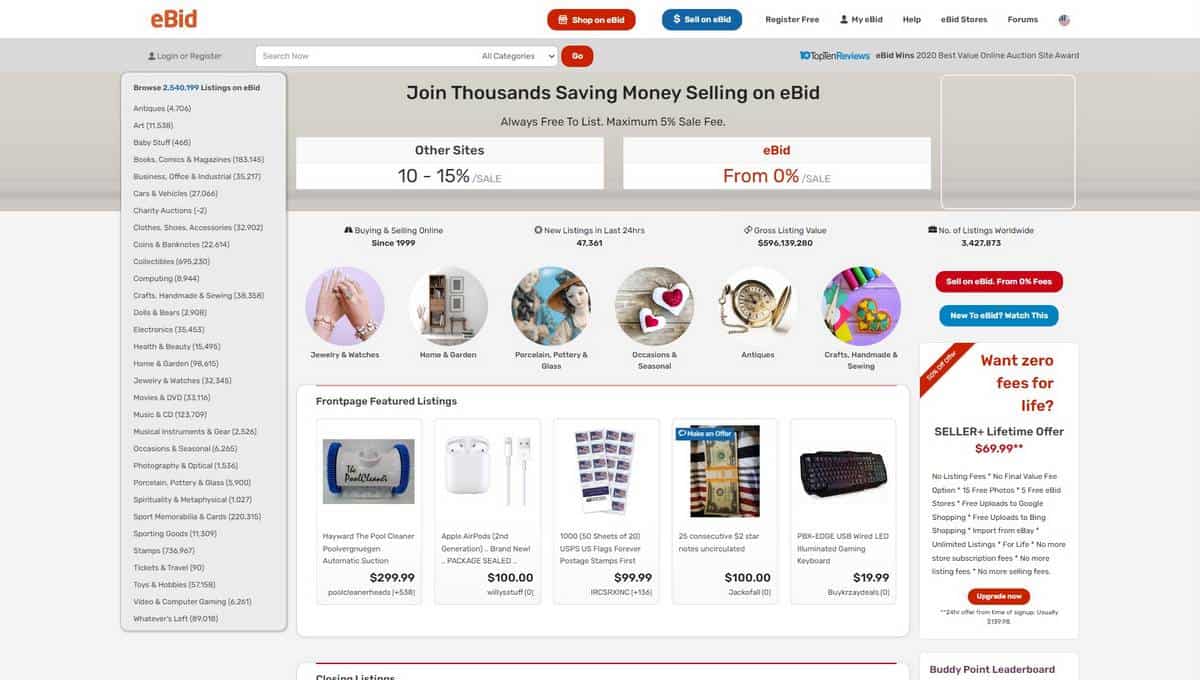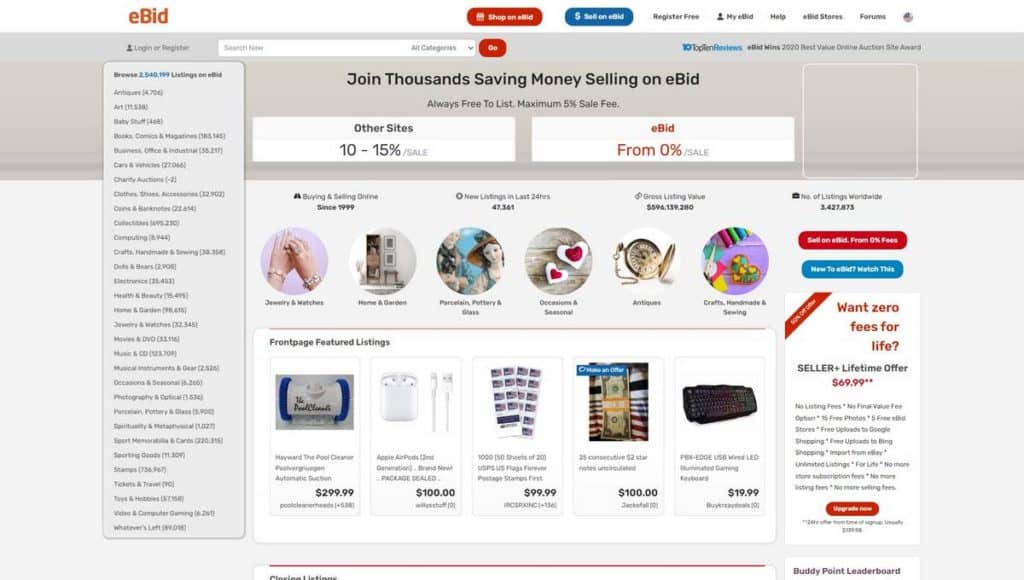 eBid is a smaller selling platform that offers pretty much everything that eBay offers to sellers. It has lesser fees therefore the costs of having an active store are lower. However, being a smaller market, you will not be able to sell on a big scale.
When it comes to fees, you start with a 5% commission per sale or you can upgrade to a Seller Plus subscription for $139.98 and never have to pay commissions again — sounds sweet, right?
I would recommend you to use eBid once you have a solid well-known brand or if you know exactly how to promote your products to gain loyal customers in order to gain profits out of the marketplace. Especially with the fact that you won't need to worry about seller fees.
9. eCrater As eBay Alternative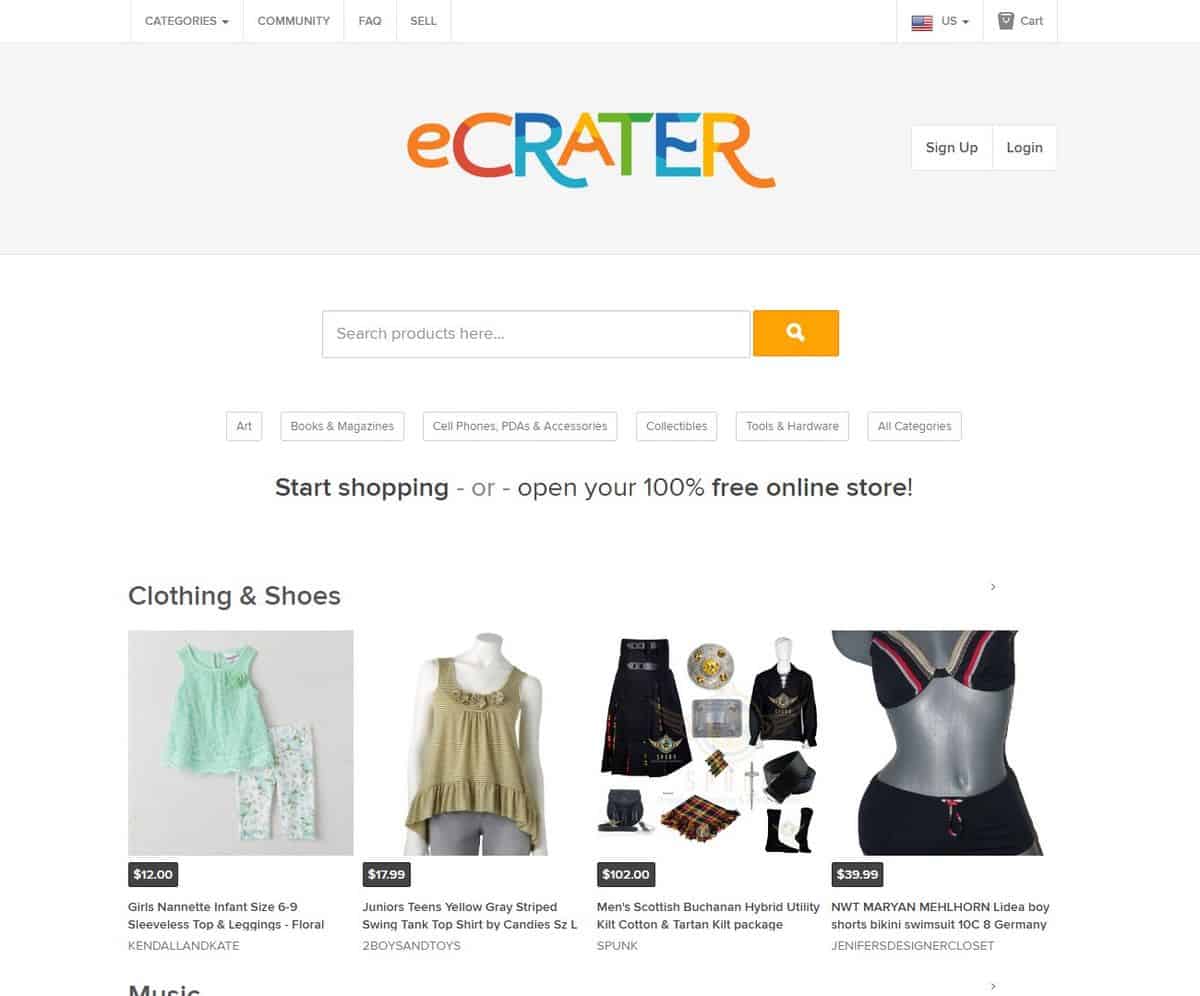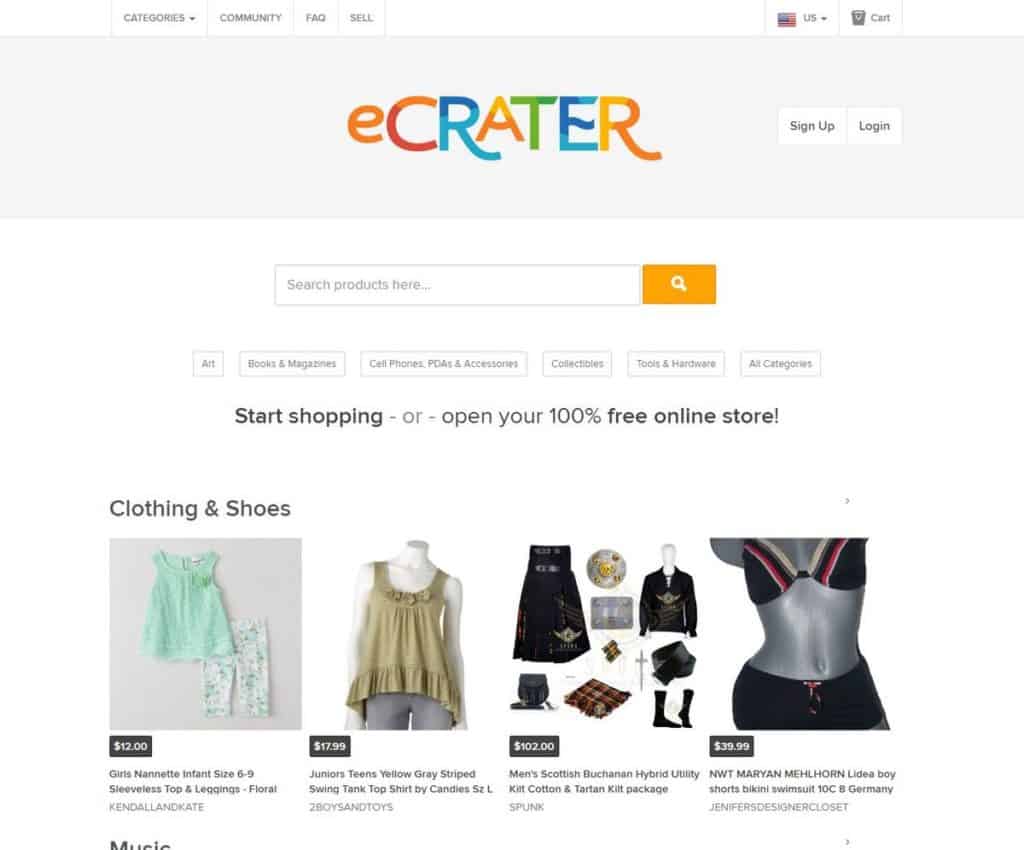 This is another alternative to eBay which is more of a traditional marketplace where sellers publish the price for customers to purchase any item right away. The best thing that eCrater offers to sellers is the extremely low commission fee of 2.9% in addition to the fact that it is completely free and easy to set up a store on the website.
There are many available templates to help you create your own store and it even lets you effortlessly import all your listings from eBay. Furthermore, it's necessary to point out that you need to really work on how you use SEO to be visible.
10. Bonanza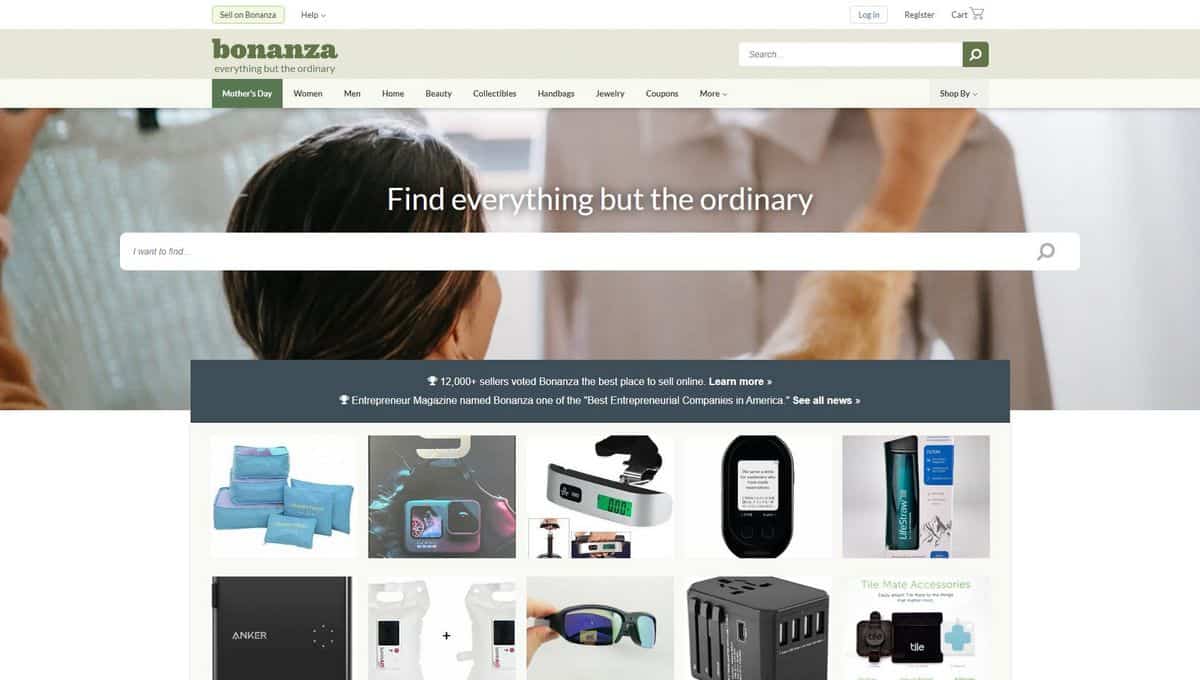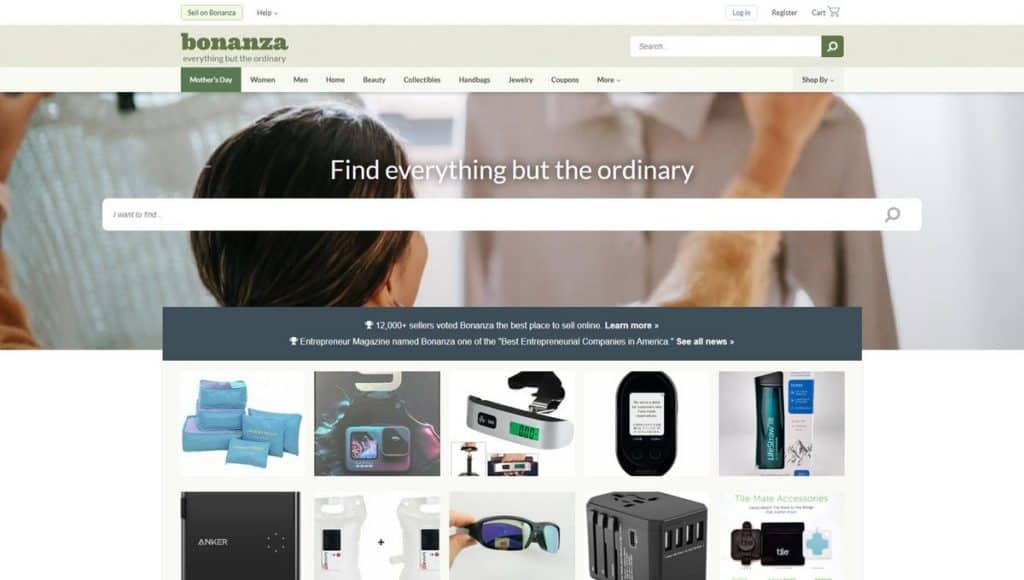 Recently founded back in 2008, this relatively new marketplace has gotten a lot of online traction throughout the years, becoming one of eBay's biggest competitors. This is another alternative to eBay.
This online marketplace now has more than 22 million product listings with over 40,000 online stores, meaning there is almost no limit on what you can sell. Furthermore, the fees are lower than eBay being a 3.5% seller fee for each transaction. Add the fact that there's no cost to list an item.
Bonanza is best suited to any merchants who have something to sell online. The platform specializes in unique items and one-of-a-kind finds.
— It's definitely worth giving it a shot!
What are the best categories to sell in Bonanza:
You could make a profit in any of its categories, but some of the top-selling ones currently include:
Home & Garden.
Women's Fashion.
Health & Beauty.
Collectibles.
11. OpenSky as an alternative to selling on eBay
OpenSky is a less-known members-only marketplace. But it is still one of the selling sites like eBay which eCommerce sellers use. It's mainly focused on a young audience. The website may not be as big as eBay, Amazon, or other marketplaces previously mentioned in this article. However, it has a decent amount of traffic per month where online users are constantly searching for good bargain deals.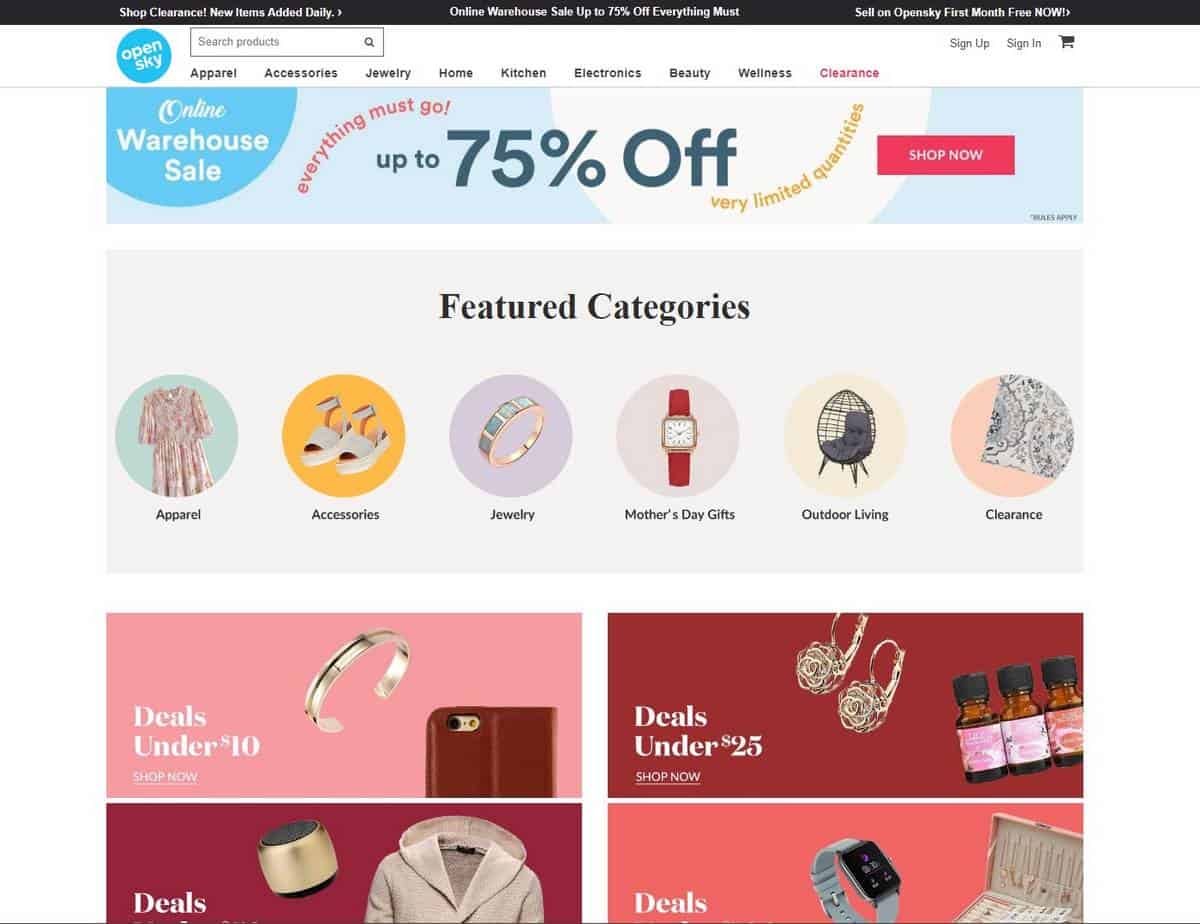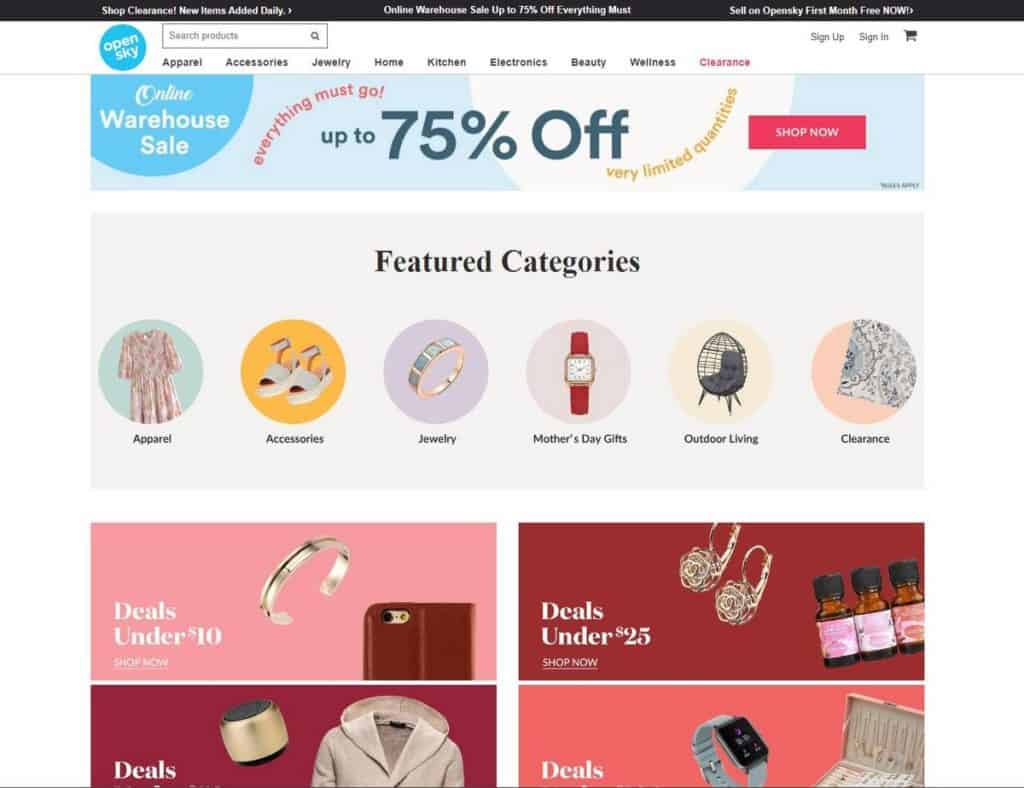 The best thing about this online marketplace is that it offers a wide range of items with good deals in terms of price. This platform offers sellers opportunities to be featured on more than 200 ad channels and on their social media channels to help you boost sales incredibly.
However, the selling fee is very high compared to other selling platforms. The fee commission can vary depending on the price you give your products but it can be up to 30%.
12. Etsy as eBay alternative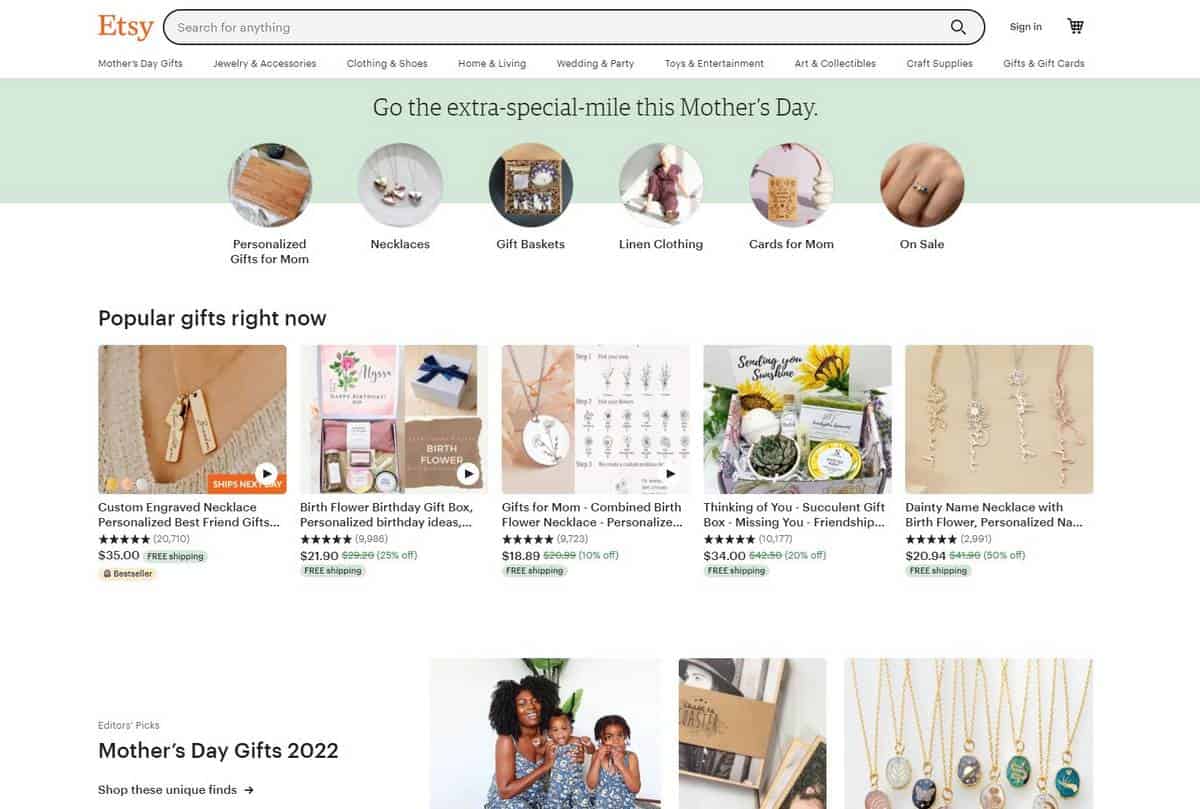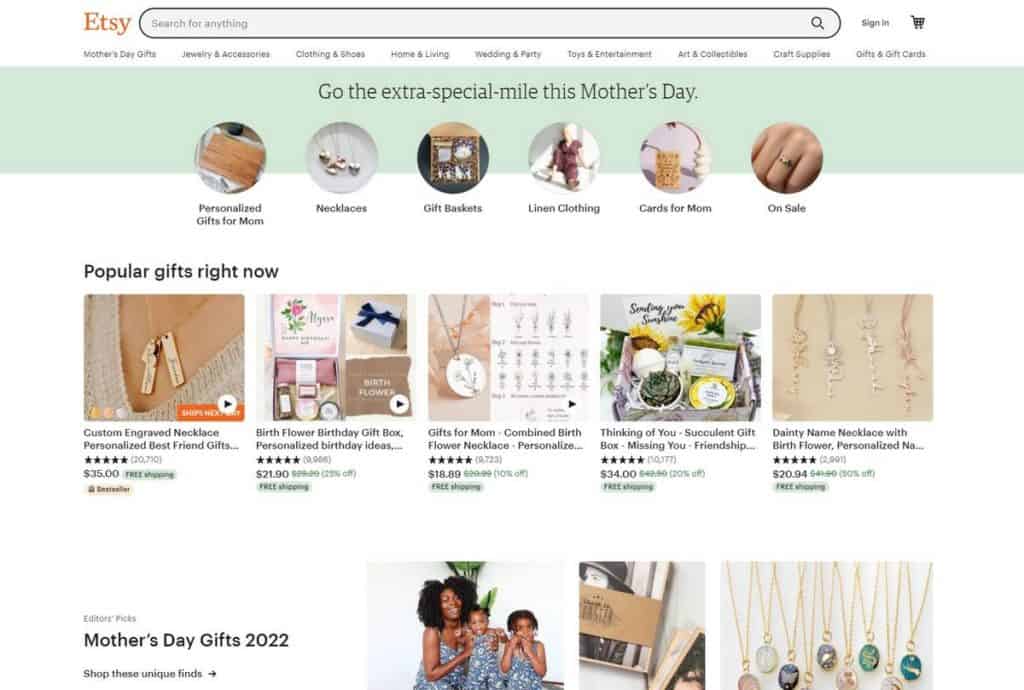 One of the best eBay alternatives there is currently in the eCommerce market. Etsy is well-known for handmade products, vintage items, and craft supplies. However, it has grown through the years and it is now a platform that has gained a huge number of more than 86 million active users selling and buying jewelry, accessories, home decor and gifts, and many more.
Etsy is similar to eBay in the way they charge a listing fee. The website allows listings for up to four months, unlike eBay where listings are up to 10 days or even a month for a fixed-priced fee.
In terms of selling fees, Etsy charges only a $0.20 listing fee per item, plus a fixed 3.5% commission, making it a much cheaper alternative to eBay.
13. Ruby Lane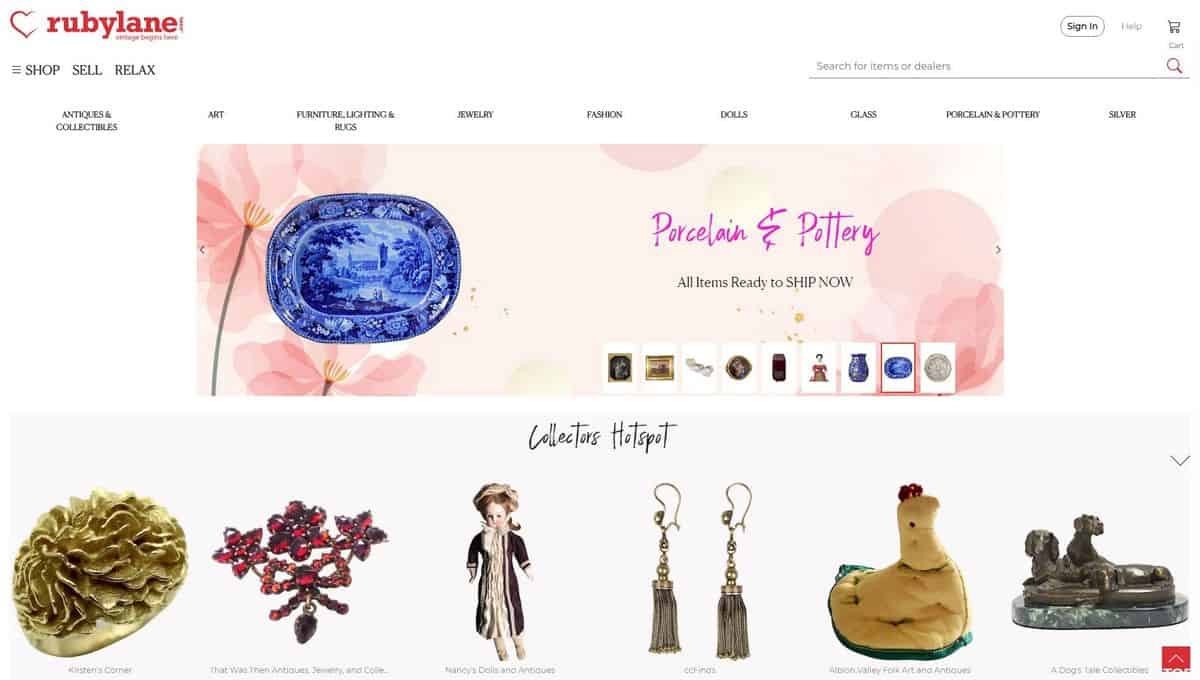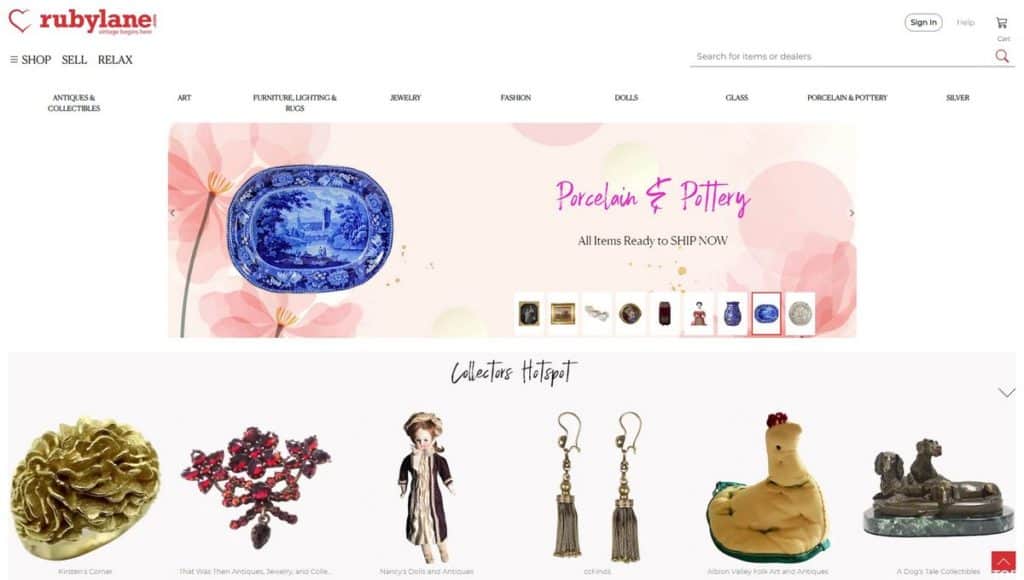 This marketplace is very similar to Etsy, where the main attraction to consumers is the selling of high-quality vintage fashion and collectibles, along with traditional art, antiques, and jewelry.
Now, If your target market is women up to 40 years old, then this eBay alternative is for you. All of the listings you have in Ruby Lane will have a fixed price of $0.19. However, you don't need to pay any extra commission fee.
Hacks to successfully sell in Ruby Lane:
It's important to write accurate descriptions of the product you are selling. Along with quality photography, excellent customer service, and strategic marketing which will definitely help you boost your conversion rate.
Furthermore, you need to know your audience is going to be more educated than most, so choose your products carefully and be honest in your product descriptions.
14. Newegg Selling Platform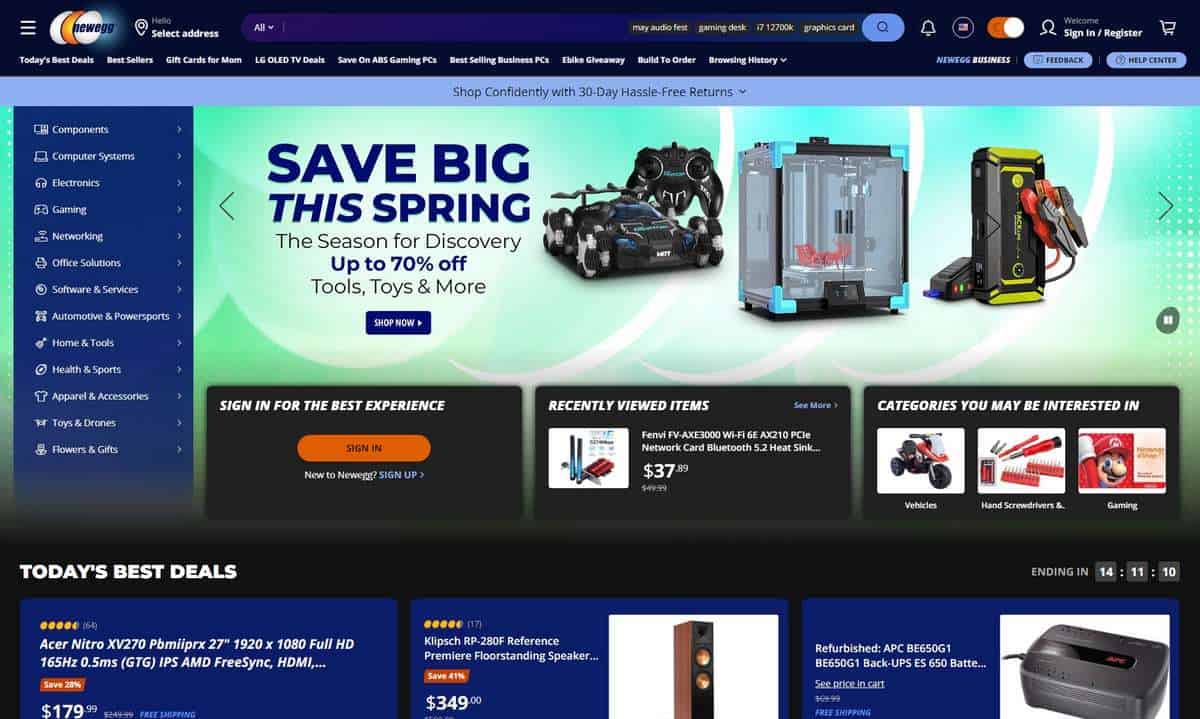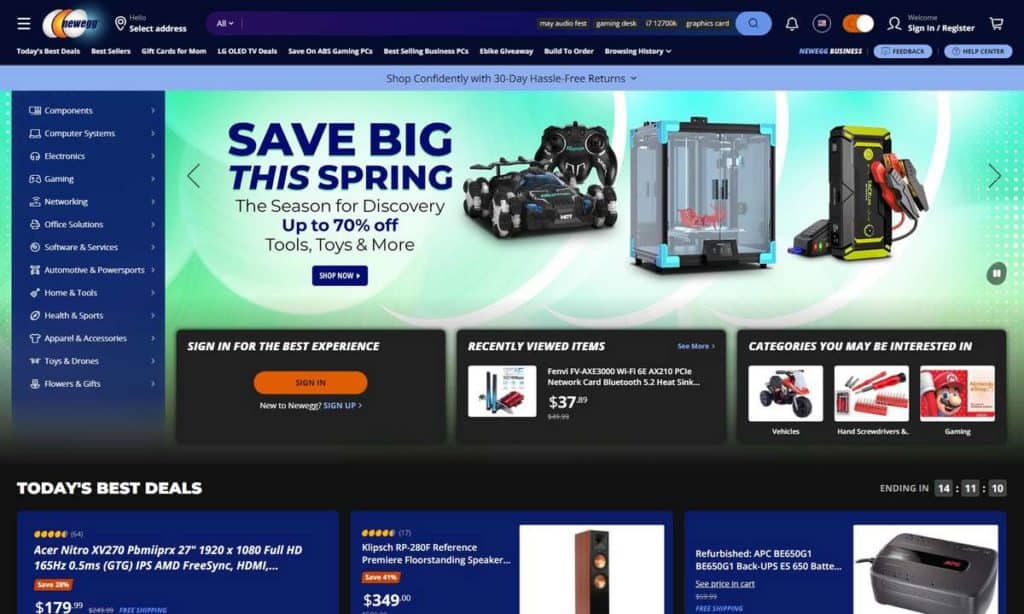 Did you know that Newegg is the marketplace beloved by every tech lover? Well, the main focus of this website like eBay is selling high-quality electronic products. So, this would be a great alternative to eBay if your focus relies on selling tech gear and electronics.
To give you a general idea of the type of audience that navigates through Newegg's platform, are tech-savvy men from 18 to 45 years old — the target market is very specific.
One of the things that differentiate this marketplace from eBay is that it resembles Amazon FBA's program where they offer their own fulfillment service, making the shipping process no longer your time-consuming task.
Newegg provides 3 different subscription programs, including regular, month-to-month, and commitment subscriptions, and the commission rate is between 8% and 15%.
15. Decluttr as eBay Alternative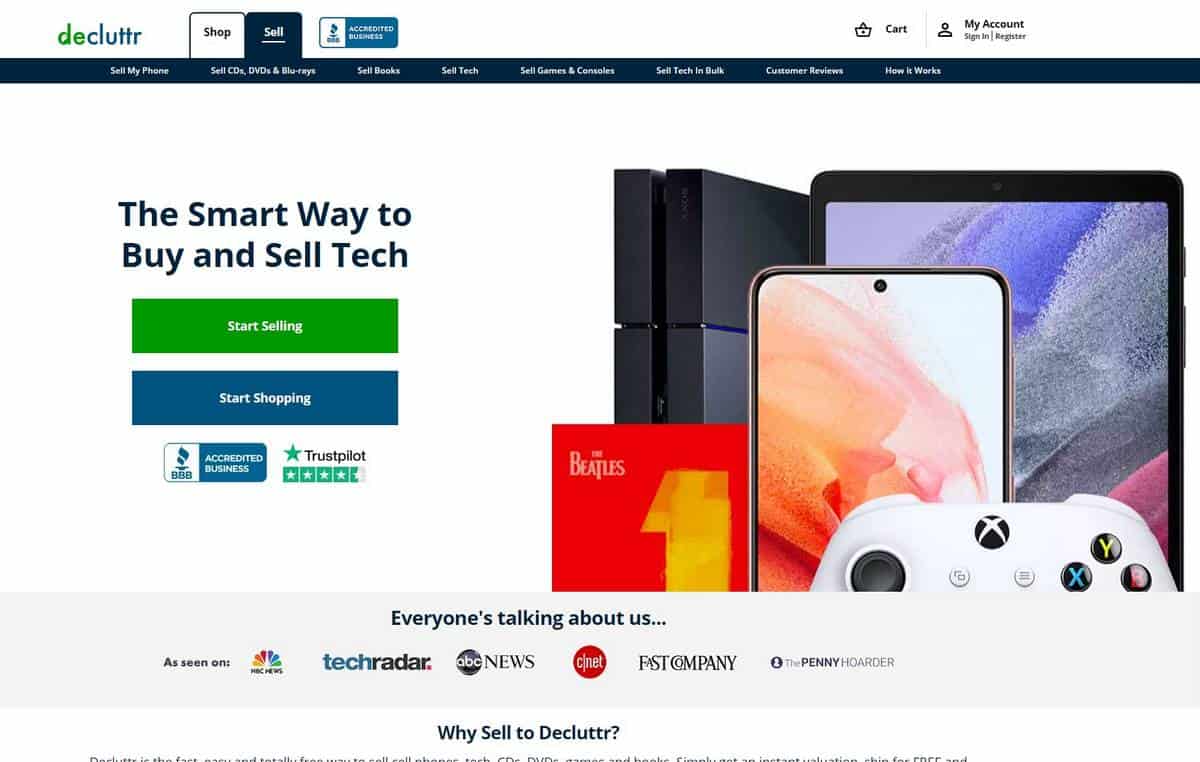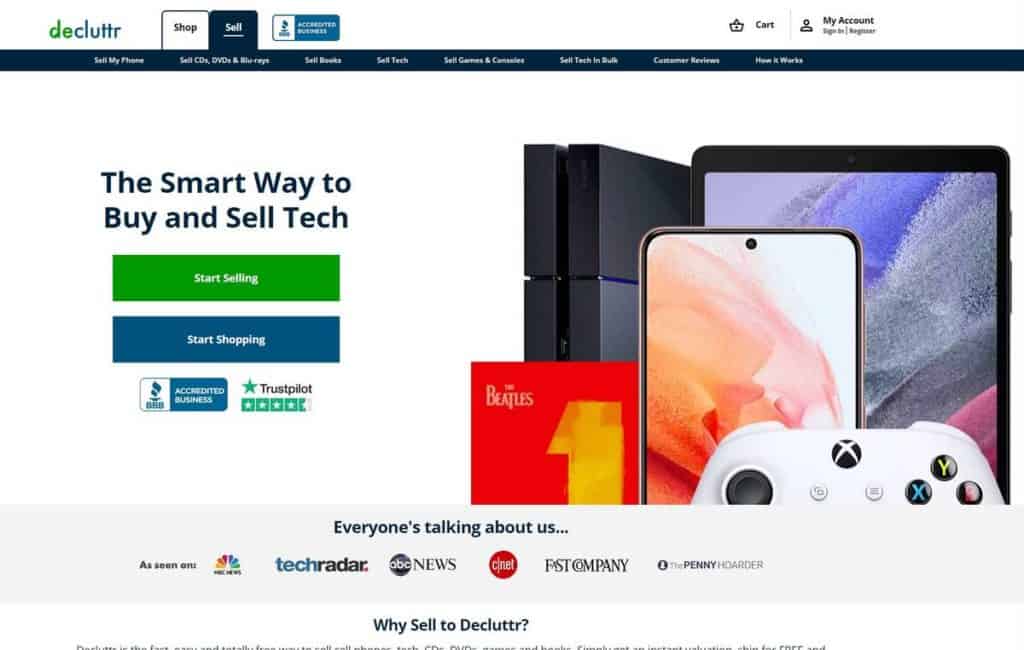 Decluttr is an online selling platform that specializes in used media items such CDs, DVDs, gaming products & electronics devices — very vintage-like.
The platform offers a smart way for sellers to sell their products. Instead of waiting for potential buyers, you simply tell the platform what you wish to sell and they will provide an instant valuation. You don't need to worry about delivery fees, all you need to do is ship out the product and once it arrives at your client's doorstep, you get paid.
Note that this platform hasn't grown as much yet meaning it's only available in some cities within the US. However, another perk that you'll have in Decluttr is that the platform doesn't charge any fees or commissions. It's also fairly easy to sign up and start selling your products with a few details required.
16. Wish Online Selling Platform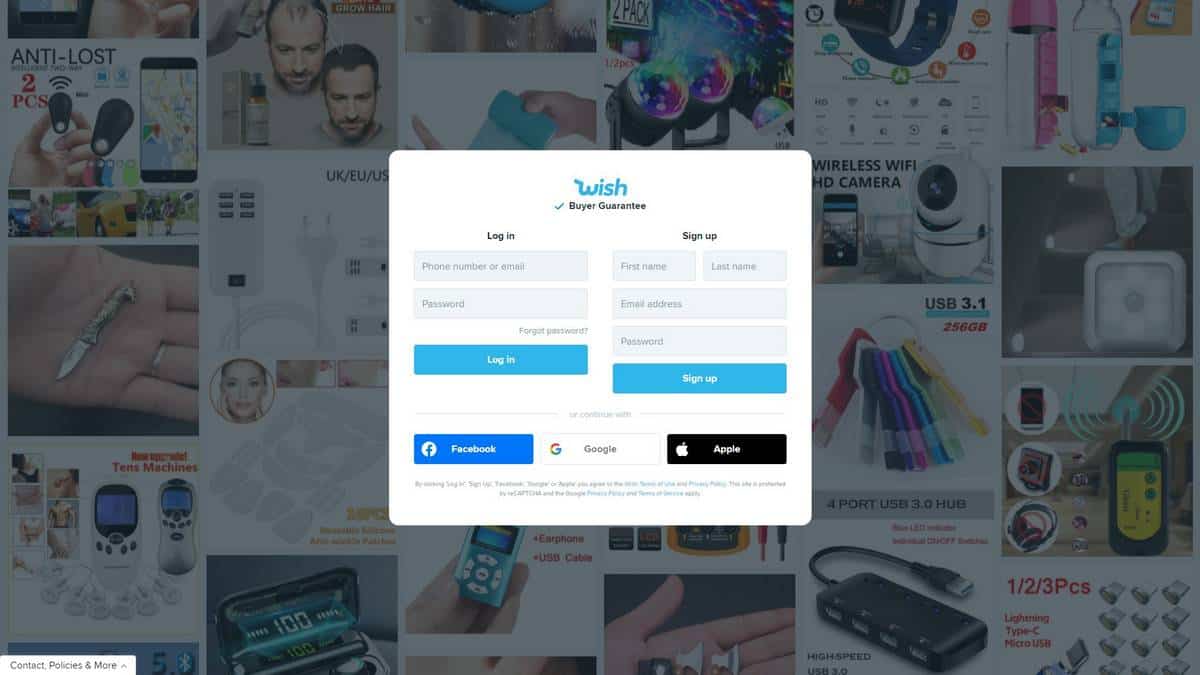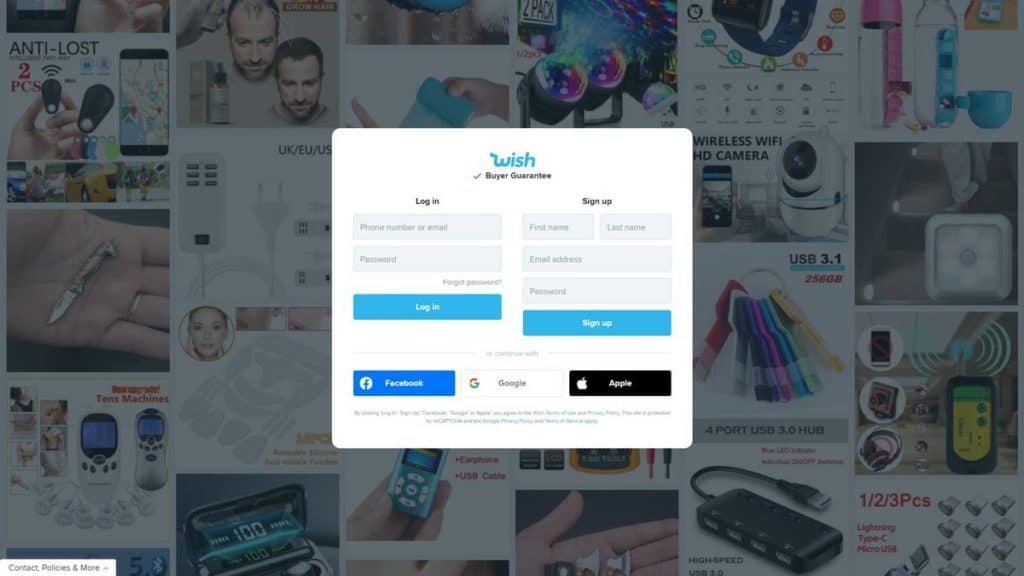 This selling platform is focused on both sellers and buyers. It is mainly for mobile shopping and it's all about mobile optimization.
According to the app, "Hundreds of thousands of consumers spend 30 minutes browsing products every day on Wish", this means that you get the opportunity of being exposed to shop-initiated users.
The app targets to put products in front of buyers that are the most "relevant consumers based on their demographics, buying behavior, and wishlists." However, the app has a couple of downplays for the seller. For example, this platform is not suited to sell high-end or fully priced products.
Another downfall is that Wish handles every transaction directly with your customer and it will then send you your fair share. This only happens once the delivery is made and keep note that this is based in China, meaning that it could take up to 3 months for you to fully receive your payment.
17. Craigslist as eBay Alternative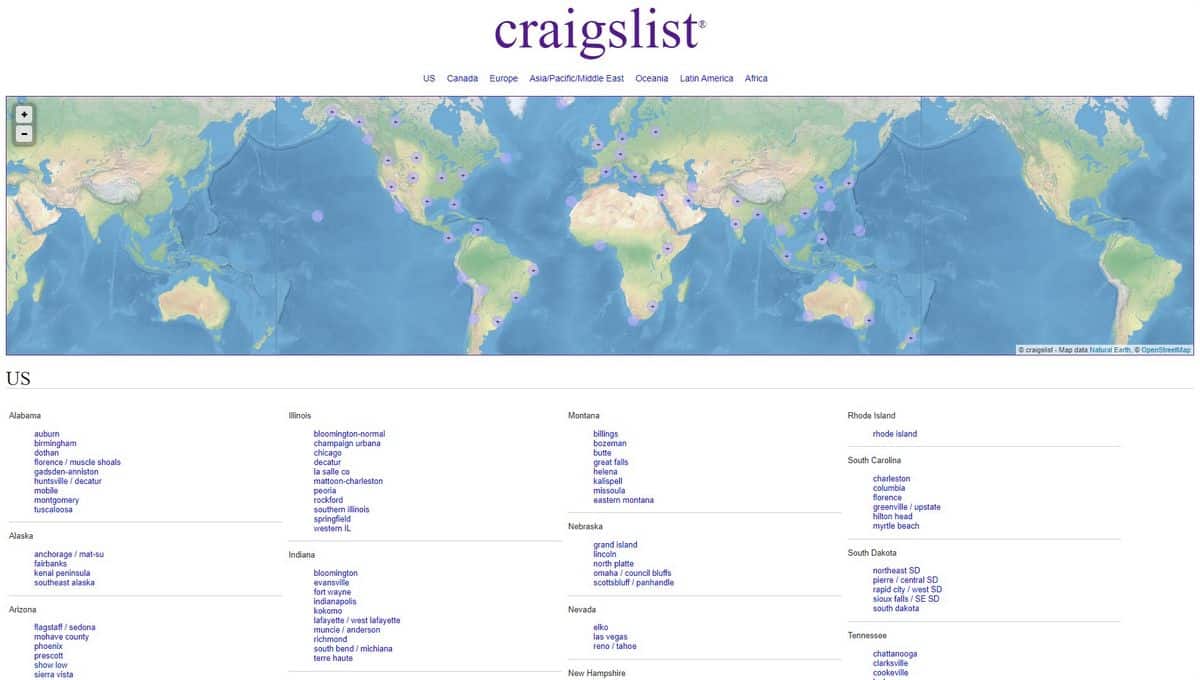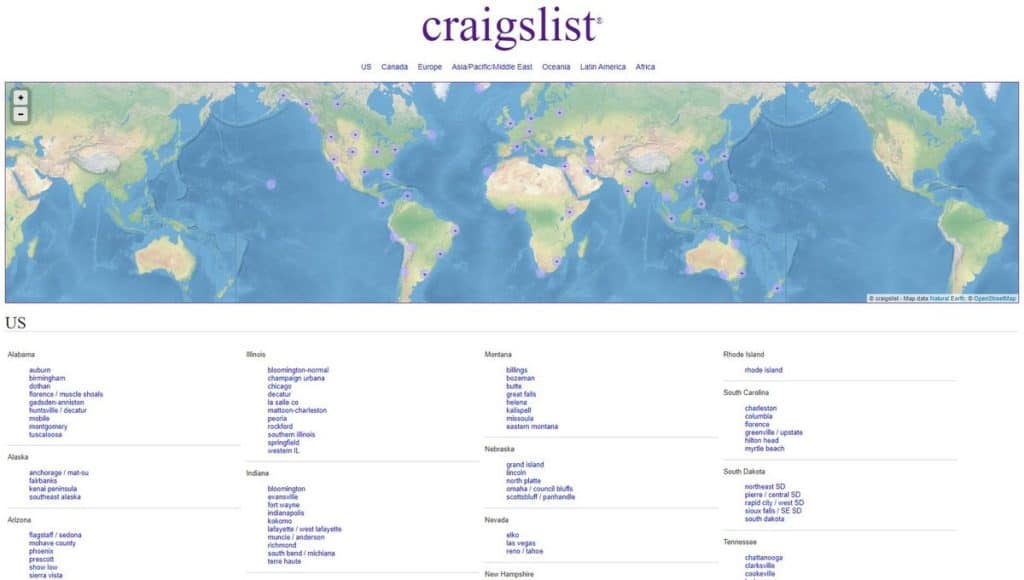 Craigslist is probably one of the oldest selling platforms in the eCommerce market. You can sell pretty much anything on the website, from products to services. There are no selling or listing fees. However, it has a super basic design in the automation of the selling process.
Whenever there's a dispute between customer and seller, the seller involved will have to directly resolve it. Unlike the eBay marketplace where the platform will be the middleman where the risk will be lower for the merchant.
Another downfall of Craigslist is that you're only allowed to sell locally, which limits your potential for growth. Another disadvantage is that the website is also well-known to have a handful of dropshipping scammers, this means that your credibility as a seller might be affected by this notion. 
18. Zibbet – One of the eBay Alternatives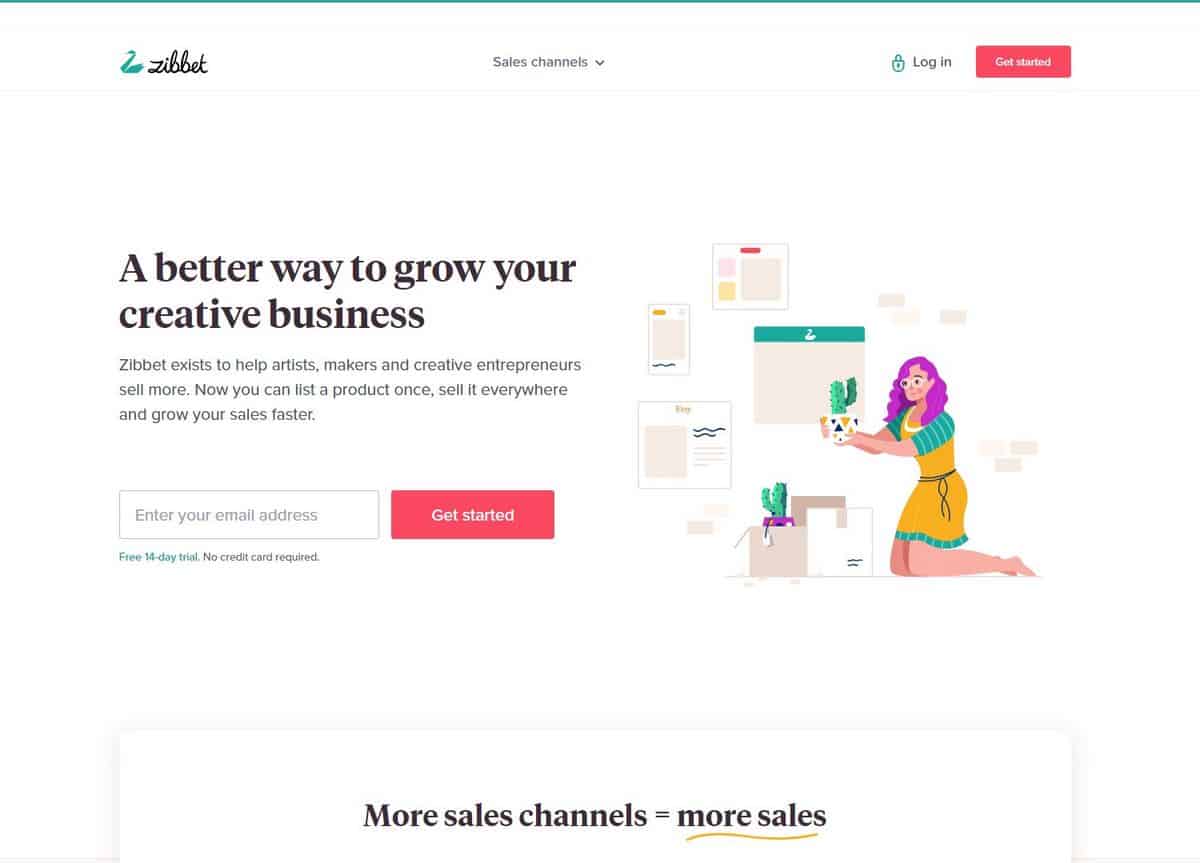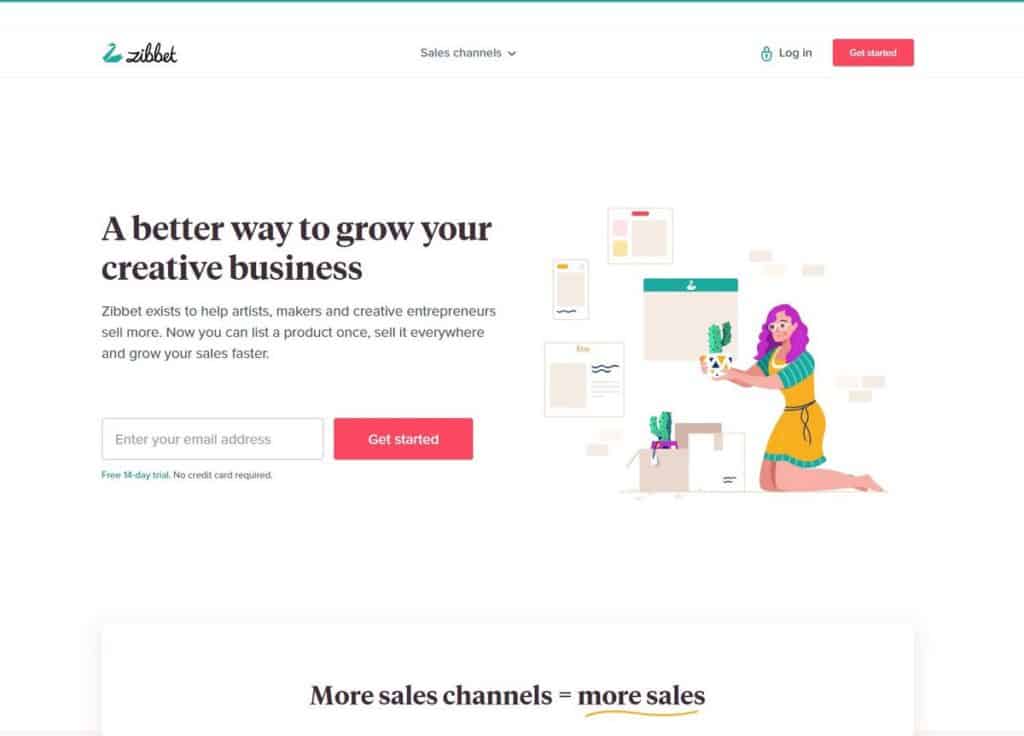 This eCommerce marketplace is actually a well-known source of handmade items and art. Like Etsy, Zibbet specializes in handmade and handcrafted products and attracts shoppers seeking these items.
A good thing that Zibbet offers to online sellers is the ability to list up to 10 different items and sell them without paying any transaction fees. This is a good starting point for beginners making it a good eBay alternative if you want to start gaining some eCommerce experience.
However, if you want to list more than 10 items per month, you'll need to pay for a monthly subscription plan that can start from $5. The platform also enables sellers to list on additional channels like Etsy, Facebook, Instagram, and so on.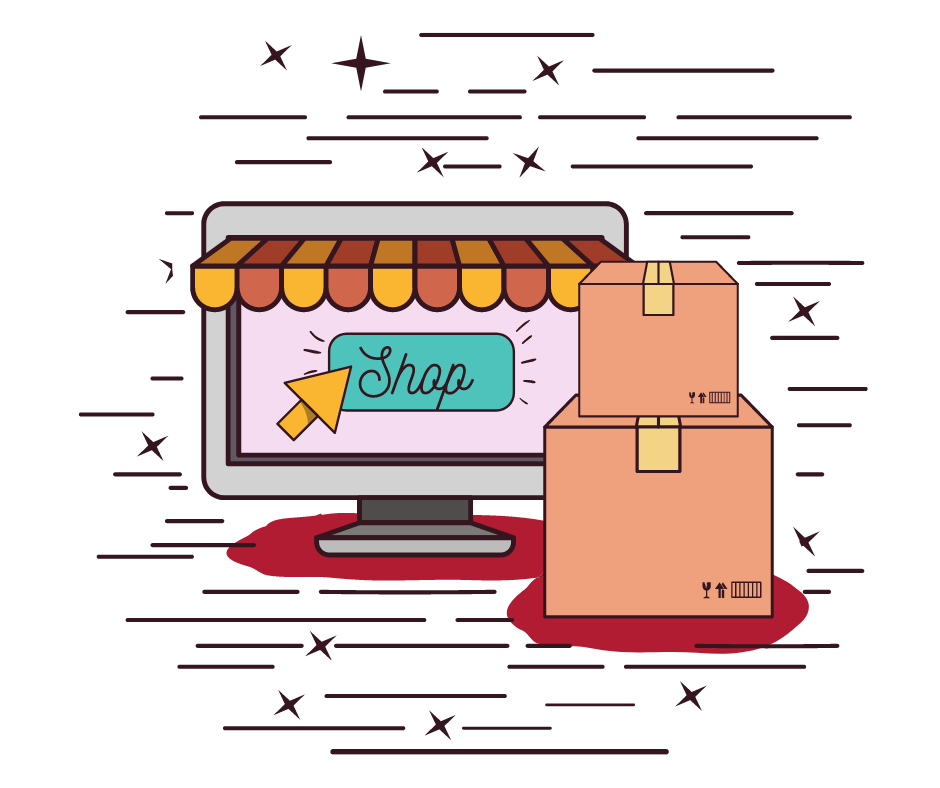 It's time…
Don't wait for success to come. Hire yourself and start your own dropshipping business
19. Taobao Online Marketplace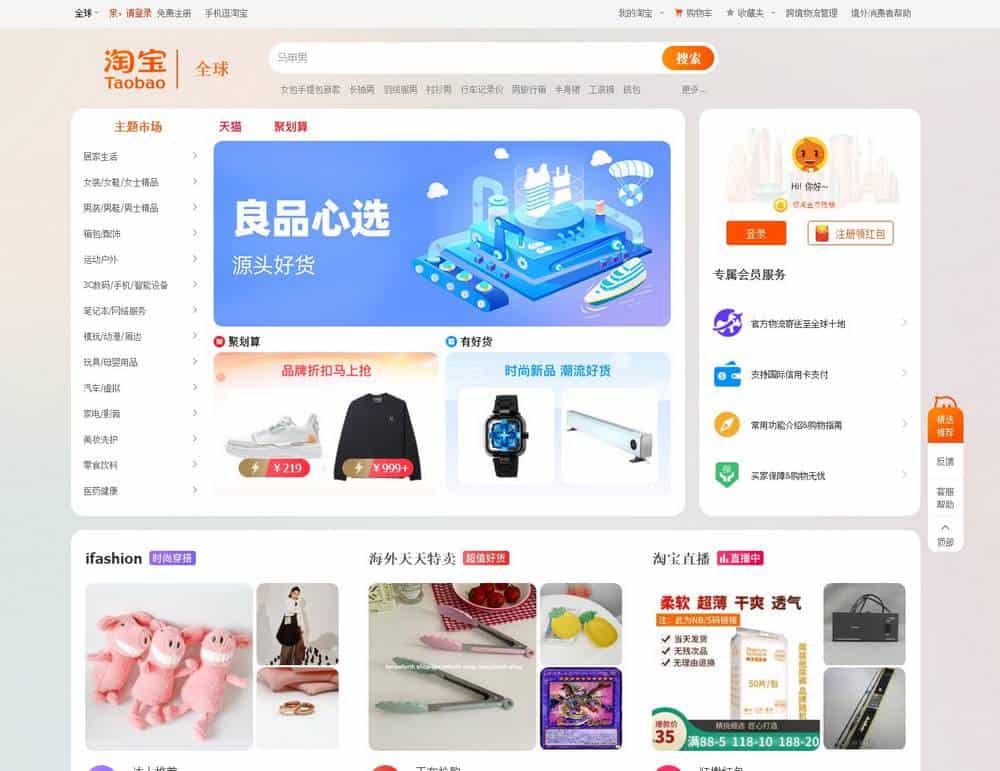 Taobao is another China eCommerce giant. It is specialized in both: Business to Consumer and Consumer to Consumer transactions, as well as the most popular online entrepreneurship platform, enabling thousands of young entrepreneurs to be successful.
Taobao is so big that it had 60% of the eCommerce sales and it is ranked 5th position for traffic generation according to Hootsuite in 2021. The main attraction to both consumers and sellers is that the online selling platform offers a variety of products at a super low price.
Merchants are charged a 0.55% fee for every successful sale. Furthermore, Taobao's instant messaging which is available directly within the app can be a powerful tool to grow your business and communicate with customers.
However, the downside is that the online selling platform is mainly based on domestic selling, meaning that it will work wonderfully if you sell in China. Another thing to point out is that you will need to establish a business in the country in order to open an account (rent an office, copy of passport bank account registered in China, etc).
20. Mercado Libre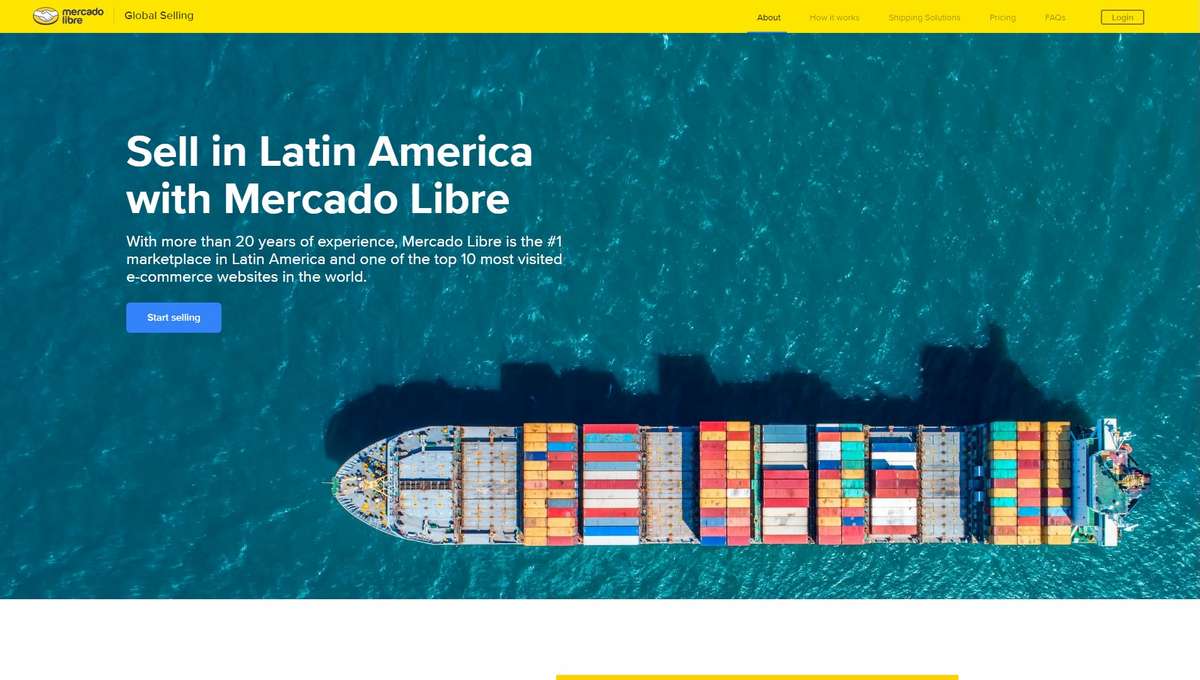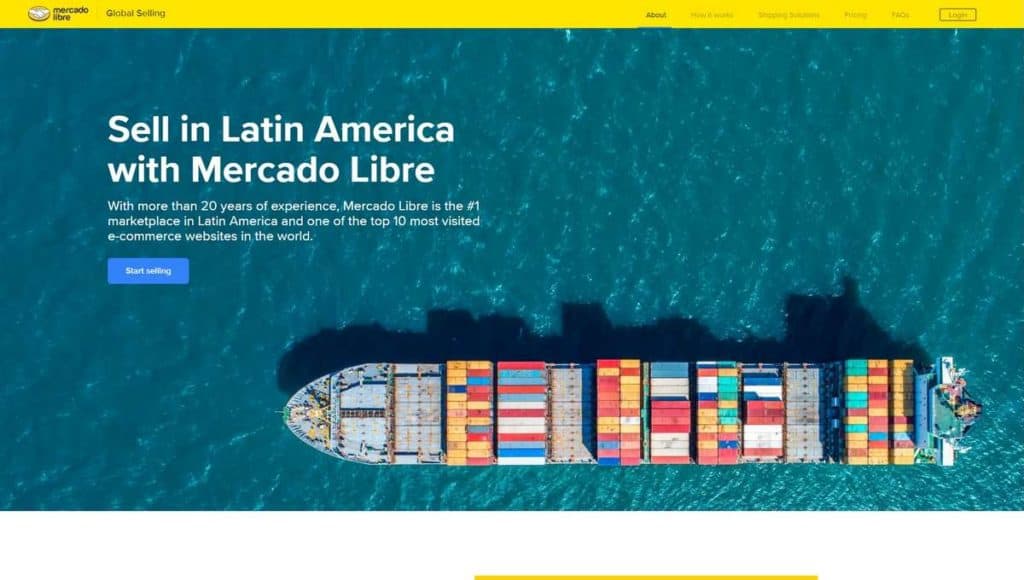 We've covered so far huge online marketplaces both in the US and Europe when it comes to alternatives to selling on eBay. However, there's another eCommerce giant and it is based in Latin America.
Mercado Libre is an Argentinian marketplace that has been growing substantially throughout the years. The online retail platform has experienced massive growth and is forecasted to account for 25% of all eCommerce sales in Latin America by the end of 2021 according to Statista.
For international sellers, it has a Global Selling Program, which allows U.S. sellers to showcase their products in Latin America. One of the benefits sellers will have in this platform is the logistic solution known as Mercado Envios. It consists of two shipping methods: fulfillment and direct to consumers. Sellers are able to choose the one that fits best for their commercial operation and strategy.
When it comes to selling fees, Mercado Libre has a non-mandatory fee and a mandatory fee structure. When it comes to the mandatory fee structure, the percentage will vary depending on where you sell. For example; in Brazil, the selling fee is 16.5% on each order.
In Colombia, México, or Chile, the selling fee will depend on the category you sell. The good thing is that you don't have to worry about listing fees. When it comes to the non-mandatory fees, it mainly focuses on the long-term storage contracts where you can keep your items in a warehouse provided by Mercado Libre and they will take care of the logistics and packaging. However, it's only applicable in México.
Final Thoughts
Now you know what other selling outlets you have besides eBay. It's important to really determine which of the given options is best suited for you. Remember that if you're starting, even though it is good to have an ambition of becoming a successful eCommerce seller, you need to begin with baby steps. Therefore I'd recommend you to begin with an easy to handle and a low-cost platform where you'll gain experience. eBay will offer viability to its sellers but there are a ton more options for upcoming merchants.
Furthermore, if you are a more experienced seller, there are other sites like eBay that'll definitely benefit your store's growth such as Amazon, Walmart, Facebook, or another marketplace. At the end of the day, the choice is yours, I just provided the options.
With nothing more to add, I wish you the best of luck. Go start or continue on one of these awesome eCommerce eBay alternatives!