Promoted listings is the paid advertising feature of eBay. There are two ways to get traffic on eBay – Organically and using paid advertising. To generate organic traffic you'll have to learn how to optimize your store for eBay SEO, this guide will focus on the paid feature of eBay called promoted listings.
Unlike Amazon and Facebook ads where you pay per click, eBay's promotions are risk-free. You only pay if your product is selling. The downside? If your product or the compensation you offer eBay isn't attractive enough – your products won't get promoted.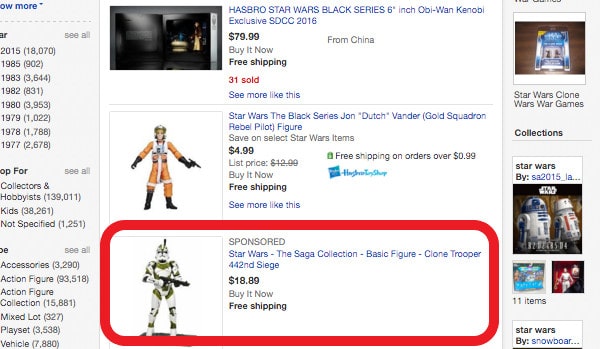 If you want to boost up your sales and really squeeze the experience of being an eBay seller, the eBay Promoted Listings feature is a great option for you. This tool helps eBay sellers to stand out among billions of listings in the marketplace, in order to attract more potential buyers and increase the revenue. Similar to Google Ads, Facebook Ads, or any other kind of advertisements.
Keep reading to learn:
Well, let's go ahead and get started by learning what eBay promotions mean:
What are promoted listings on eBay?
Promoted Listings is a feature that eBay offers its sellers to advertise their products on the eBay marketplace. It's also known as eBay ads or advertisements, eBay sponsored listings, eBay promotions, eBay selling promotions among others. It allows you as a seller to stand out among billions of listings in the marketplace in order to attract active buyers, this will increase the likelihood of making a sale. You promote your listing to gain more exposure. Moreover, you're only charged for the eBay Ads only in case you got a sale.
Can a dropshipper apply to eBay promotions?
Sponsored Listings are available only to eBay sellers who have a ranking level of Above Average or Top Rated Seller meaning that you should have your account in good standings. If you do dropshipping on eBay, it is very important to be on top of your store and provide good customer service in order to be an above-average seller.
When you're sourcing your products from another retail store or website, you will lose the opportunity to become a Top-Rated Seller since you will not fully comply with eBay's policies.
However, you can still maintain an Above Average Seller if you constantly list items in your store being an active seller, sell demanded products, optimize your listings and provide good customer service.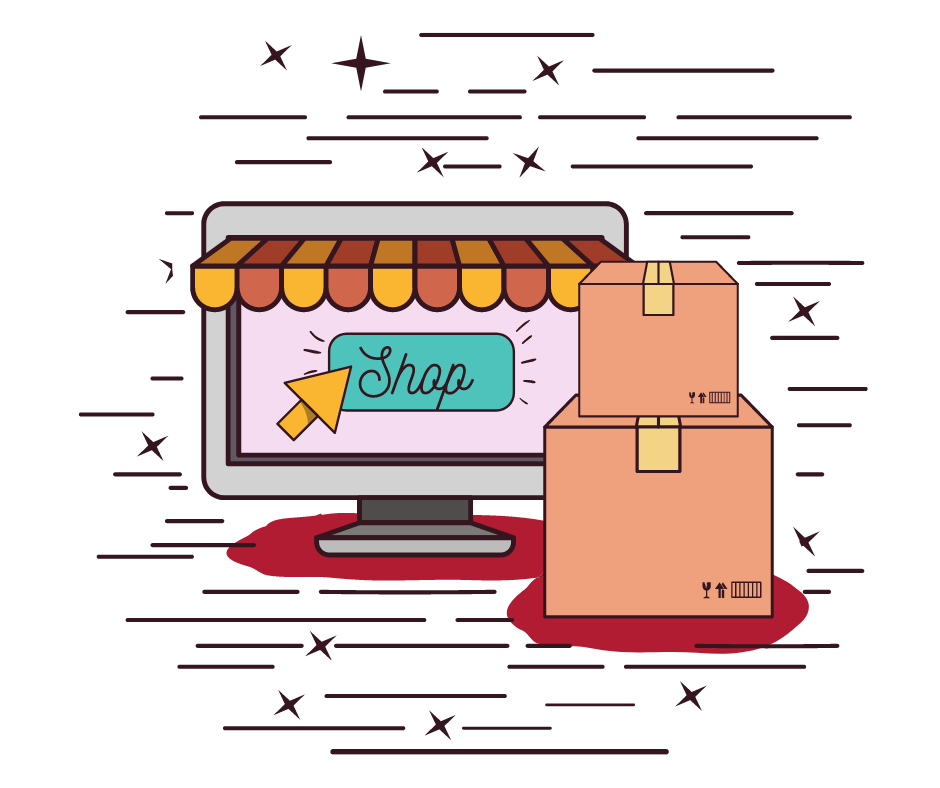 It's time…
Don't wait for success to come. Hire yourself and start your own dropshipping business
Why to use the eBay Advertising feature?
The item promotion feature is a simple way to give your eBay listings more exposure to active buyers. SEO and paid ads are two traffic channels, blocking one of them is like blocking one of the doors of a pizzeria that sits between two busy streets and has a door to each one of them.
There is no setup fee, all you need to do is to set up the percentage of the selling price you're willing to pay as a fee for getting the sale through the eBay promoted listings channel. You only pay when a buyer clicks on your eBay ad and purchases your product within 30 days.
Besides, you can view the statistics of your campaign through a user-friendly dashboard. It gives you an opportunity to adjust your Ad rate to remain competitive in order to reach the right buyers at the right time.
When you use the promoted listings your store is being empowered, it's a strong push for your Search Engine Marketing (SEM), it allows you to market your eCommerce business using paid advertisements without taking the risk of investing in the ads ahead of making the sales. When you promote products, they appear far more often and far higher in search engine results pages on eBay.
Now let's see how you can access them and how much exactly they cost.
How To Access eBay Sponsored Listings and How Much Does It Cost
How do you get promoted listings on eBay?
To access this tool, head over to your My eBay Active page from the Selling tab where you will see your active listings. Click the arrow dropdown next to the listing you want to promote. If the item is eligible, you will see a Promote listing option.
A pop-up will appear that will allow you to choose your ad rate, see the trending rate, and see your ad fee. Click Promote listing now to promote your listing.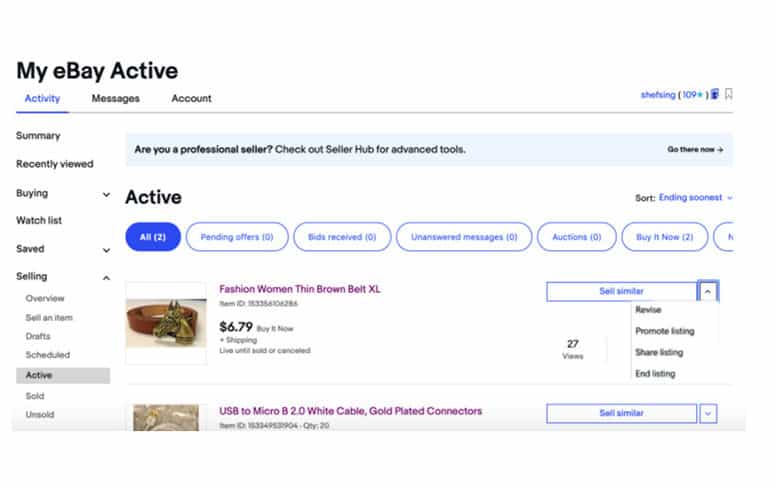 Which listings are eligible for promotions?
Firstly, this feature isn't available for all sellers. eBay Promotions are available to all sellers in good standing (Above Average & Top Rated Sellers) only with recent sales activity. So if you just recently started to sell on eBay or just opened your selling account there, you might have to wait and put some work and effort into making sales using organic traffic only before you become eligible to promote products there.
But even if you become an eBay top seller, you can still only promote certain listings.
eBay Sellers can promote the next listings:
Fixed price listings for most categories except Vehicles, Real Estate, Travel.
Has applied our recommended price guidance.
Includes at least 2 pictures of the item.
Does not have an item condition listed as "Parts not working".
Does not have shipping listed as "Local Pick-up".
Auction and Auction Buy It Now listings are not currently eligible.
How much does it cost to promote listings on eBay?
The eBay Promoted Listing fee is charged based on the Ad rate that you select. This Ad rate is the percentage of a product's final sale price (excluding shipping and taxes) and is only charged when a buyer clicks on your promoted listing and purchases from it within 30 days of that click.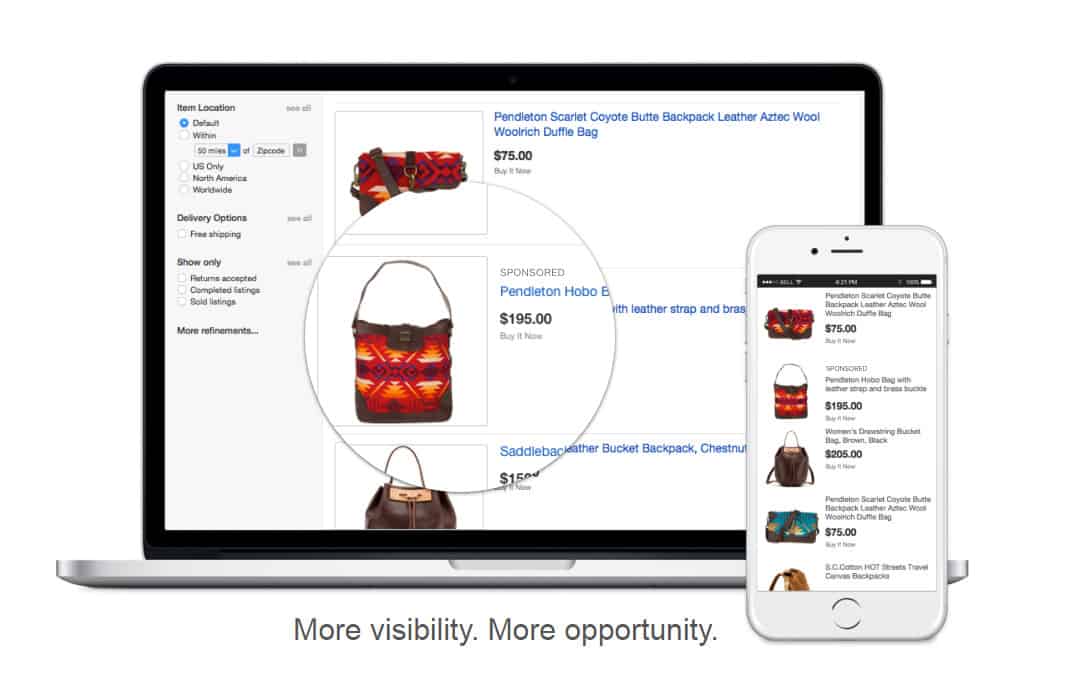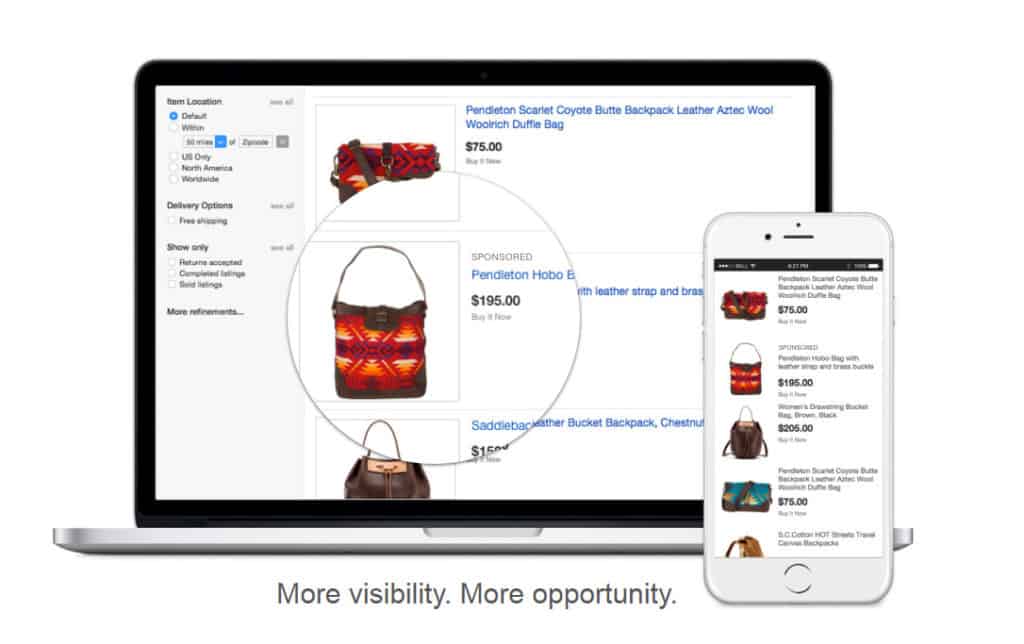 This fee is additional to other eBay listings and selling fees which will appear on your monthly eBay Final Invoice.
Now let's see where these selling promotions can be located…
Where will your eBay Ads appear?
Your promoted listings can appear in the following places:
Desktops and mobile search results.
Premium placements within the search results.
Premium placements related products module.
Listing product page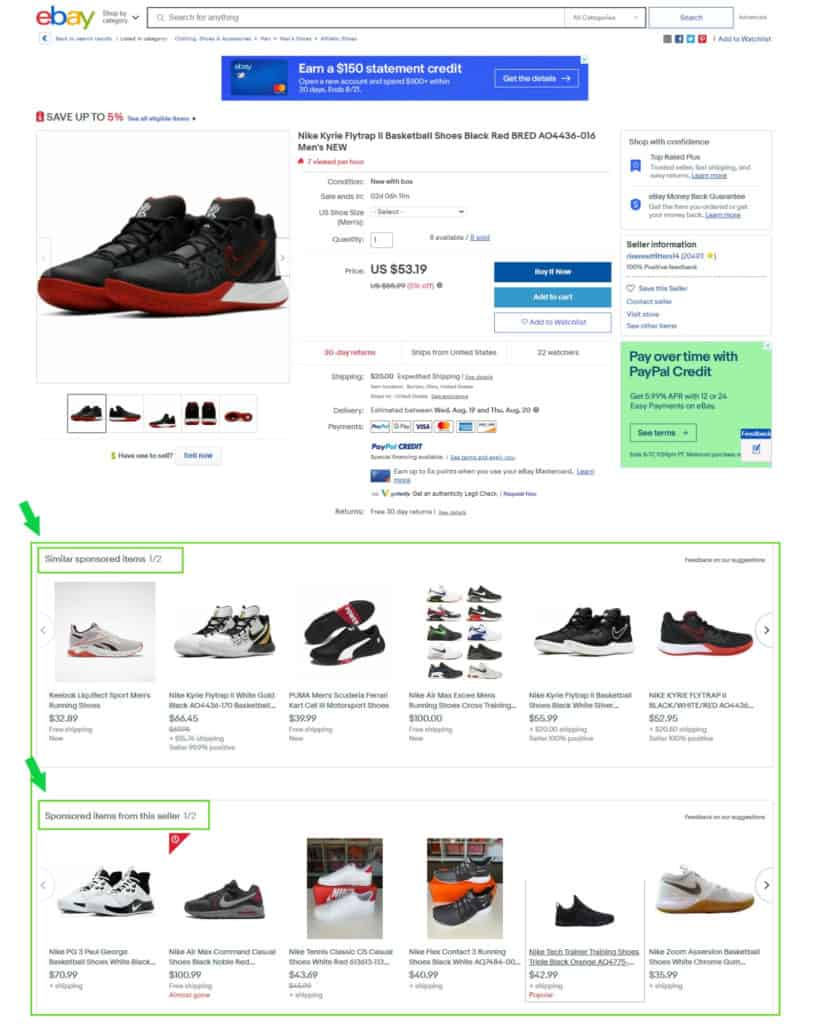 But does it worth it to use eBay promoted listings?
The importance of the eBay funnel for Promoted Listings:
Understanding the way traffic works on eBay is essential for every eBay seller. If you're planning on using the promoted listings then it has a further importance for you because it can help you track underperforming listings, these tend to impact the total impressions your promoted listings get.
For dropshippers it means something very simple – you have to work consistently on your listings, you must learn how to find trending products, and keep your store up to date with the latest trends. Especially if you're using the Sponsored Listings feature. The reason behind this is that if you advertise your eBay listings, you need to be active with your eBay store account.
If your store isn't attractive, why would eBay give you the luxurious promotion when they can promote your competitors? that's what this is all about – relevancy and attractiveness.
Let me explain the eBay funnel:
Impressions: Number of times your listings appear on the search results.
Click-Through-Rate: Number of users who clicked on your listing.
Sell-Through-Rate: Number of users who bought your product.
They are important for building a successful eBay store and increasing the number of sales. You can track your listings performance in the seller hub using the traffic report. But actually, it will only give you an overview of the entire store, which is important but isn't relevant enough for the optimization of specific listings.
Follow the performance of your listings and make stop the promotions of products that doesn't sell, don't keep them in under promotion for too long if they don't sell. Either reduce the price if you hold a stock or just remove them from your store if you're dropshipping.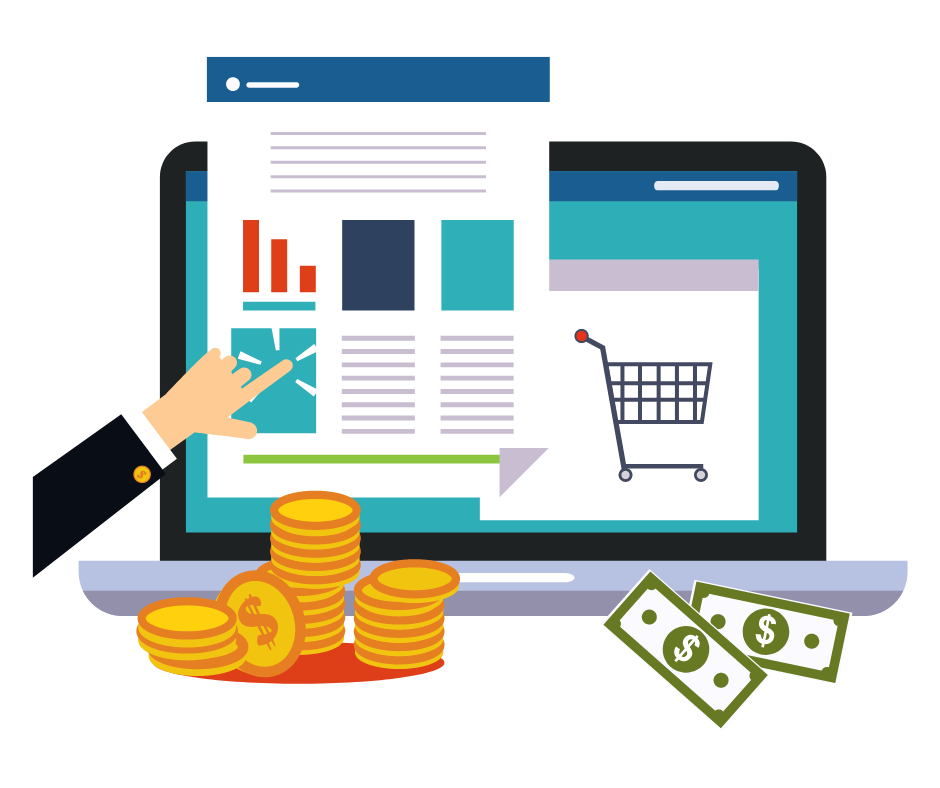 Don't wait for the profits, make them!
Start a profitable dropshipping business with DSM Tool. Get a free course and a free trial of the software.
How can we generate more sales with and without eBay Ads?
You do this by working with eBay's Search Engine Optimization (SEO). To clarify, this is a method in which you are optimizing the eBay listings before you add them to your store.
There are mainly two types of optimizations: ongoing store optimization and pre-publish optimizations. Let's start with the last one.
When you source products using dropshipping suppliers software like DSM Tool you import the information of the product from the source site, you perform the following optimization:
Editing the title using keywords from a keywords research.
Filling up missing item specifics.
Optimizing the main image.
Finding more images and creating collages.
Using an eBay template for the product description.
When it comes to ongoing store optimization, you must continuously find new products to sell and keep your store attractive. It is going to be the key to generate sales when dropshipping on eBay. Attractiveness and relevancy are both important when you want to get organic traffic and when you use the promoted listings feature.
Take this concept into consideration in the frame of eBay Promotions. Even though you are paying a fee to eBay (once you make the sale) to display your listings within their funnel, you will not get as much reach in your campaign. Your numbers will drop if you fail to have great winning products within your store, optimize each item, and have your account in good health such as no delays, no open return cases, good customer support, list an item every single day, etc.
That is to say, eBay SEO best practices should go hand in hand with the Sponsored Listings feature to further reach your selling potential.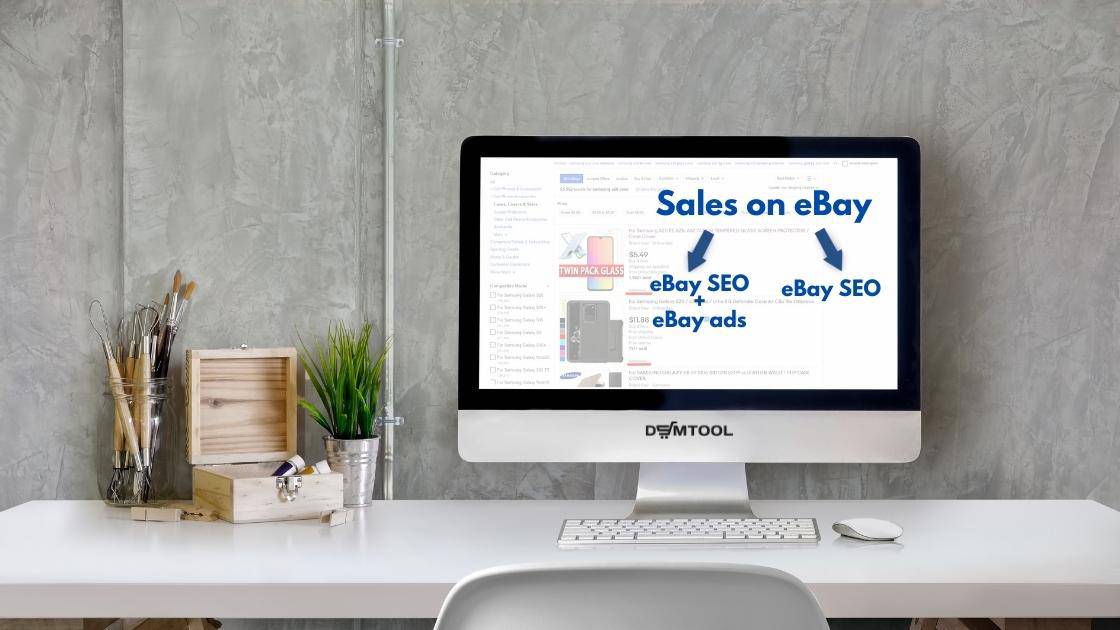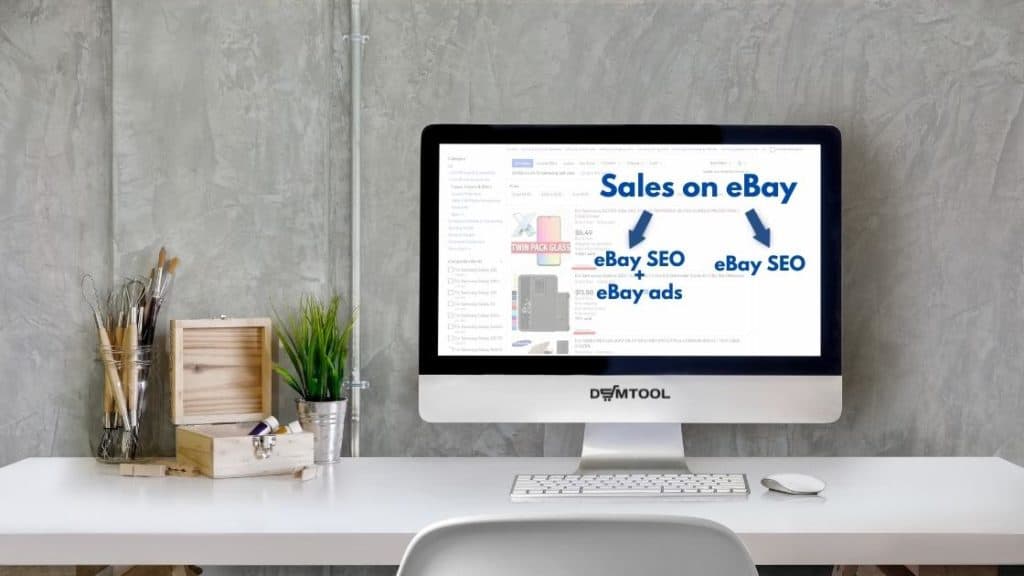 Promoted Listings & Flagged Accounts
It is much harder to use promoted listings when you're dropshipping. There is a theory that says that you can't at all use promoted listings when you dropship from other websites like Amazon or Ali Express because your account is getting "flagged" and these don't get any paid exposure.
Since 2018 we're seeing reports in the dropshipping communities about the promoted listings feature stopping to work for dropshippers. Are they really getting flagged?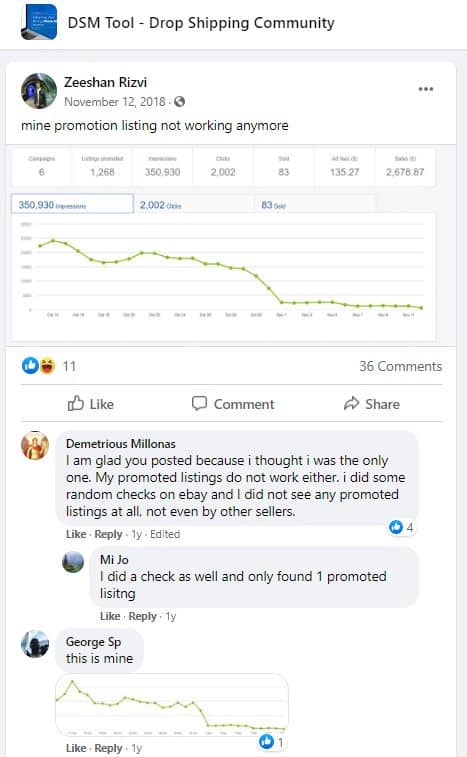 The answer is no, and the explanation is simple; just as I explained above, they are lacking in terms of overall store management. They might not be listing actively, nor having good products to sell. They also might not be on top of orders or they're simply not giving great customer service which not only affects you as a seller but also affects eBay's platform user experience.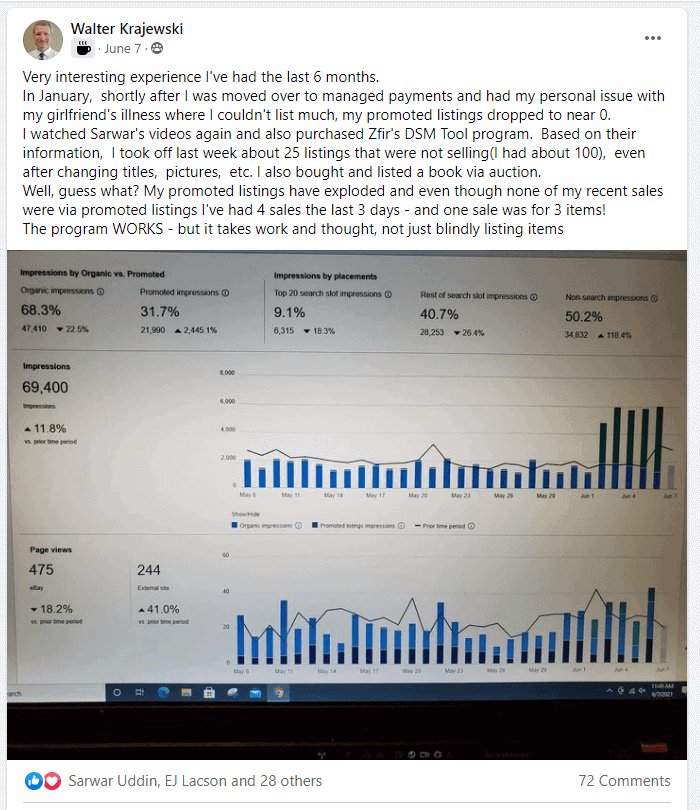 In other words, eBay will not care about exposing your listings if you don't exchange value in return. Simply maintain your account in good health and be active, that way you maintain the traffic generation to your store.
How to Create eBay Promoted Listings Campaigns
To start creating your Ad campaigns using the added Promoted Listings feature, you would need to access your Promoted Listings Dashboard under the "Marketing" tab of your Seller Hub.
Here you'll be able to see metrics for your campaigns, including impressions, clicks, number sold, sales amount, Ad fees, CTR, sales conversion rate, and the average sold ad rate.
Click "Create New Campaign" to set up new campaigns, or edit existing campaigns by scrolling down below the dashboard.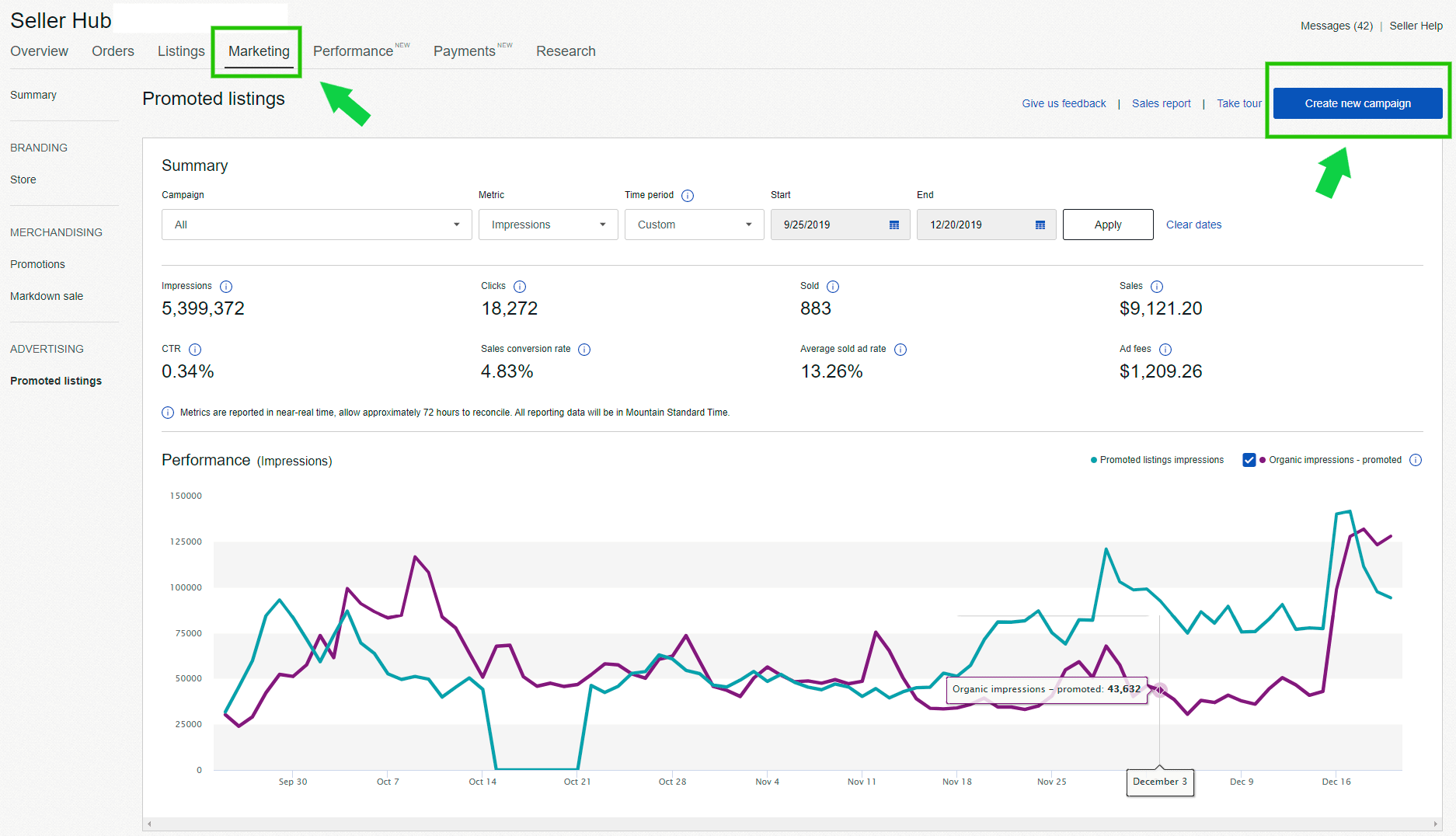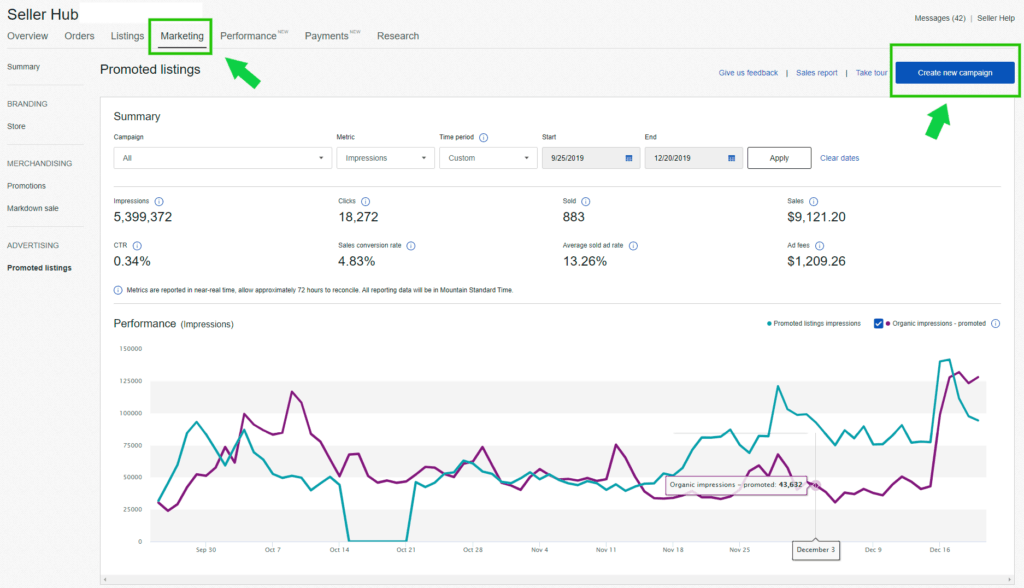 After you click on "Create New Campaign", choose either a Select listing individually (up to 500 listings) or Select listings in bulk (up to 50,000 listings). After doing so, simply follow the process that eBay will take you through.
The flow of the process of creating a new eBay promoted listings campaign is:
Select which listing you want to promote.
Choose how much you would like to pay for the eBay Ads.
Review your campaign and then launch it.
You can start creating your promotion campaign through your Seller Hub by heading over to the "Sell It Faster" option which allows you to quickly promote one or more items. Simply check the box, choose your Ad rate, and add your listings to an existing campaign or start a new one.
You can promote 1 product or multiple items. Let's see how you can do it.
Promoting individual listings & bulk listings:
Each option has its own set of steps. That's why we prepared instructions for both of these options.
How to promote a single eBay listing?
Let us start with the single listing option. The steps are the following:
Select the listings you want to promote. Keep in mind that you can filter your listings based on criteria such as category, price and quantity.
Choose your Ad rate strategy. Keep in mind that eBay will suggest Ad rates by default. If you want to change strategy, select Change your ad rate strategy and choose one of these options:

Apply suggested Ad rates: Suggested Ad rates are tailored to each of your listings, this will help you find the optimal balance between cost and performance
Adjust suggested Ad rates: Choose a percentage below or above the suggested Ad rate.
Apply a single Ad rate: Choose an Ad rate to apply to all your listings.
Select the toggle in the Ad rate column: Apply individual ad rates between 1% – 100% to a specific listing.
How to promote your listings on eBay in bulk?
First, you'll be given two options:
Help me select my listings.
I'll upload my listings in a CSV file.
If you go for Help me select my listings option, here are the next steps:
Check the boxes beside the eBay categories that you want to promote.

eBay will promote all listings in the categories you select.
If you check the "Include all recommended listings" box, eBay will promote all recommended listings as well, even if those recommended listings are not in the categories you selected.
Any listings that are already being promoted in another campaign will not be included.

Choose your Ad rate strategy for all listings in your campaign. You can choose from the following options such as the options I mentioned before.
Review and launch your campaign.
If you decide to go with the I'll upload my listings in a CSV file option, follow the following steps:
Prepare a CSV file with the item IDs that you wish to promote in column A and the ad rates for each item in Column B.
Upload the file.
Besides, you can also edit your sponsored listings in bulk using a CSV file:
Select Actions next to the campaign you want to edit.
Download the campaign file and include suggested Ad rates.
Make your changes to the CSV file and save the updated file.
Upload the file.
Review, name & launch your campaign
Above all, you need to follow the next file format:
The file needs to be in CSV format
You can add up to 25,000 Item IDs (sku's) in one file
Ad rates can be provided in 0.1% increments
Item IDs need to be in number format with no decimal points
Do not use the "%" sign
Large files may take up to an hour to upload.
Consider the trending rates
These are the average Ad rate set by other sellers for similar promoted items. By increasing the rate over the given average trending rate, you'll get further exposure.
When should you stop eBay promotions?
There is no definite answer to it. But if you have an eBay listing that you're promoting but it is not converting as much, you might want to consider stopping that Ad.
That is why it is important to market research and to properly optimize your listings with eBay SEO to elevate your Sell-Through-Rate. Therefore, be strategic about this feature, understand the market's demand when it comes to trending items, and provide the best service possible. That is how you optimize the benefits of using Promoted Listings.
We've covered the technical parts of how to promote your listings. But we didn't talk about which listings you should promote to get the most out of this feature. Let's go over a few popular strategies.
Different eBay Advertising strategies
It is important to have a strategy when it comes to advertising your listings. Using eBay's Promoted feature may boost your traffic but it will not guarantee sales. So, let's take a look at some of the good general practices that will lead you to generate sales through these Ad campaigns:
Promote listings with a good sell-through rate but low traffic.
Promote new items to provide traffic and establish a sales history.
Consider promoting your bestsellers if it makes sense to sacrifice some profit margin for higher sales volume.
Consider promoting seasonal products to kick off the season with good sales, or address any risk of overstocking.
Consider promoting products you need to liquidate quickly.
Optimize weak listings to improve the sell-through rate, before promoting them.
Stop promoting products that underperform, they take your account ranking down
Keep in mind that Promoted Listings is just a Marketing tool, it cannot improve your products, your seller feedback, returns rate, etc. Work on those before offering to pay an extra fee for the advertising.
Good to know
eBay recommends that sellers use eBay Ads to boost sales of products that are already bestsellers. The organic performance of your listings is directly related to how successful they can become using the promoted listings feature.
Even though it is normal to think that it is not necessary to boost products that organically are making good sales because you will lose some profits out of the deal when using this feature, you can try eBay Promoted Listings for a time so you can calculate the sales and profit you will make, both with and without the additional advertising.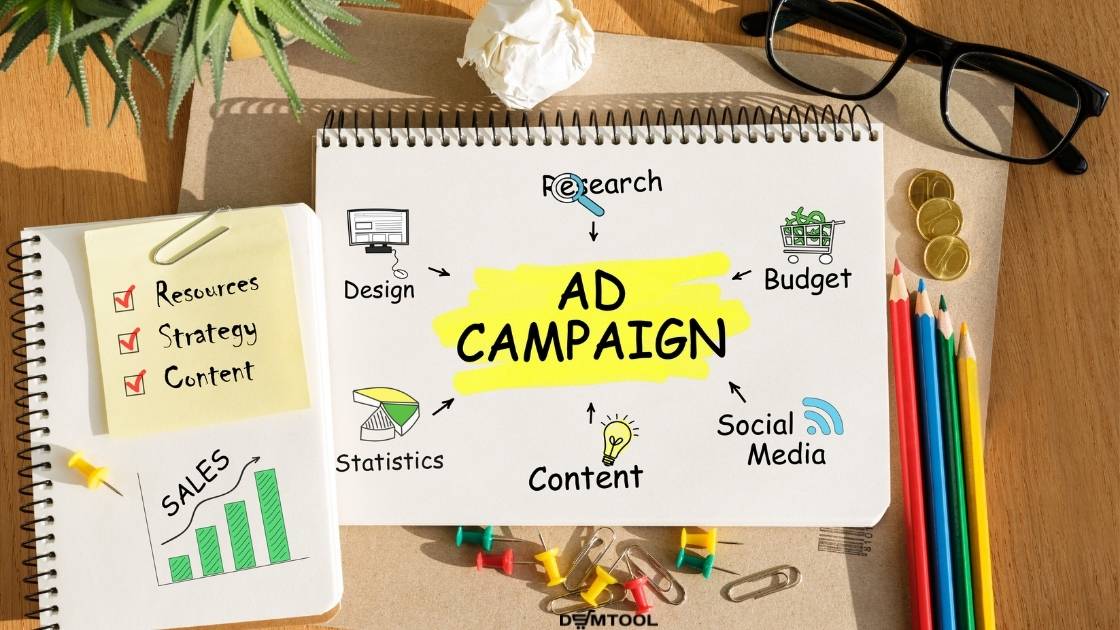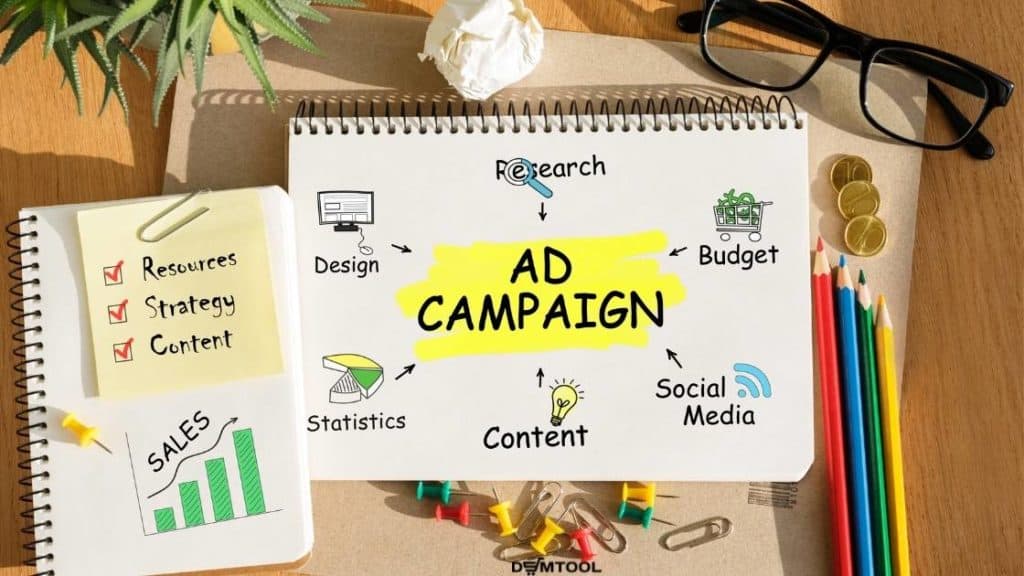 Taking into account one of the aforementioned strategies, I want to focus on one of the most important factors:
Sell-Through-Rate (STR) for Promoted Listings
In addition to looking at a seller's set Ad rate, other factors are also considered, such as relevancy and how well an item is selling at the time the ad rate is set.
Items that benefit most from eBay promotions are those which already have a high sell-through rate. This is backed up by feedback from other sellers on eBay. You can also use new items, with no sales history at all, and benefit from this feature.
If you think about it, it makes perfect sense. High STR means that the product has a higher chance to make the sale and that eBay has an incentive to promote it (they get paid an extra fee for it)
Avoid using existing items with a poor sell-through rate since they're unlikely to perform well and they will reduce the overall performance of your promoted listings even for products with higher STR.
This might feel a little unfair since sellers often want to use advertising to "fix" their under-performing listings, and don't see the point in paying to promote listings that are already doing well.
Instead, optimize the STR of your underperforming listings: reduce their price, add images, improve the description template, add more item specifics, etc.
It might be worth paying to promote listings with a good conversion rate and low traffic. As a consequence, you will turn that good performance into a lot more sales.
Stay competitive with eBay suggested Ad rates
Tailored to each of your items, eBay's suggested Ad rates are designed to help you stay competitive while finding an optimal balance between performance and cost. That's why, suggested Ad rates are calculated based on a variety of factors that may include item attributes, seasonality, past performance, and current competition for each of your listings.
At this point, you've learned what eBay Promotions is all about. You understand why a lot of eBay sellers are using it and most importantly, how you, as a wholesaler or a dropshipper, will be able to use it as well. Now, you will learn how to analyze the impact that your Ad campaigns are generating.
When setting up a Campaign, you will have access to a Performance Dashboard where you can follow up on the Ad's performance metrics:
The Performance Dashboard for Your Ad Campaigns
With the eBay Advertising Dashboard, you can easily check how your promoted listings perform, get valuable insights to scale your eBay store business. You can get a cohesive, streamlined view of your ad reach, compare it with the previous performance as well. Moreover, it allows you to see the impact of Promoted Listings on your listing impressions, clicks, and sales metrics. Overall, this information should influence your decisions regards the promoted listing campaigns.
You can access it from eBay Seller Hub>Marketing>Promoted Listings, and pay attention at the next bullet points:
Campaign performance:
Follow up with detailed reports on your campaign's performance through:
Impressions: The number of times buyers viewed your promoted listing.
Clicks: The number of times buyers clicked your promoted listing.
Sold: The number of promoted items purchased within 30 days of a click on your promoted listing.
Ad fees: The fees based on the ad rates set for your items.
Sales: Amount sold within 30 days of a click on your promoted listing.
Sales reports:
Review your sales reports to see detailed item-level reports for your daily sales tracking needs. Metrics include:
Items sold: The number of items sold within 30 days of a click on your promoted listing.
Date sold: The date when the items were sold through the Promoted Listings service.
Quantity sold: The number of items sold.
Sold amount: The sales amount from the items sold.
Ad fees: The fees based on the ad rates set for your items.
Download report:
You also have the ability to download data onto a CSV file to help you further analyze your campaigns, such as:
Click-through rate: Clicks/Impressions.
Click-to-sale rate: Sold Items/Clicks.
ROI (Return Of Investments): Sales/Ad fees.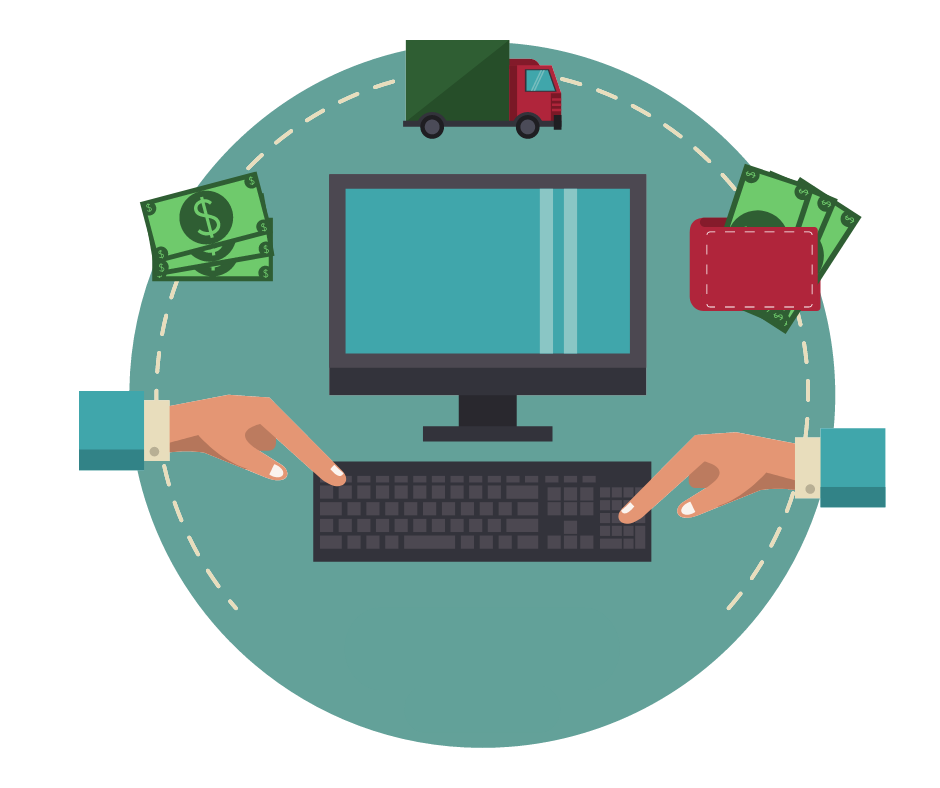 Not yet making money online?
Start your own dropshipping business. Sign up for a free trial of DSM Tool and we'll help you get started. Today is the day.
Conclusion
To sum it up, not using eBay item promotions make no sense if you're trying to run a serious business. it is an essential tool for driving traffic into your online store.
However, will these Ads guarantee more sales? Not necessarily. Although it can definitely help you gain more potential sales, the quality of your listing will be sealing the deal at the end of the day.
Keeping this in mind, I want you to understand that the most important factor of any successful eBay store is the quality of products you list, the customer support you provide, and setting up a compelling price for eBay users.
That's why, before boosting your products using this great tool, make sure you have your account in good standings and moreover, have good profitable winning items to offer.
Additionally, we have you covered when it comes to great profitable items, you can follow up with our winning products in what to sell category and use our DSM Tool Calculator sheet where we update every week 10 different demanded eBay items you can start listing and we also go LIVE every single week showcasing these items.