24

min read
If you're an online entrepreneur and you are asking yourself, "How do I start Shopify dropshipping?". 
Worry not, this piece of article will clear out all your doubts.
Supported by the largest eCommerce platforms, including Shopify, dropshipping is a flexible way to run a business.
Hoping that you will succeed in online business, especially on Shopify, research has helped create this guidance about creating and using Shopify Dropshipping easily.
Dropshipping is a business paradigm in which eCommerce entrepreneurs sell products without having to handle any inventory. After receiving the customer's order, the shop owner will contact the supplier, and the goods will be shipped directly to the customer.
Dropshipping is a business model suited to new eCommerce businessmen because it's simple to install and manage; above all, it does not require a large investment.
Shopify is the leading online eCommerce platform. Even if you have no technical experience, you will build your shop because of its simple operation.
Shopify is the perfect choice for entrepreneurs who want to launch their eCommerce store without getting any troubles.
The best choice for entrepreneurs to join the eCommerce industry is to begin a dropshipping business.
Establishing a dropshipping store is a hassle-free business model using a common eCommerce platform like Shopify.
Sounds simple, right? Kindly read on as we share the ultimate guide to starting your Shopify Dropshipping store.
This will help you create your store on Shopify and guide you by setting up for your dropshipping business success.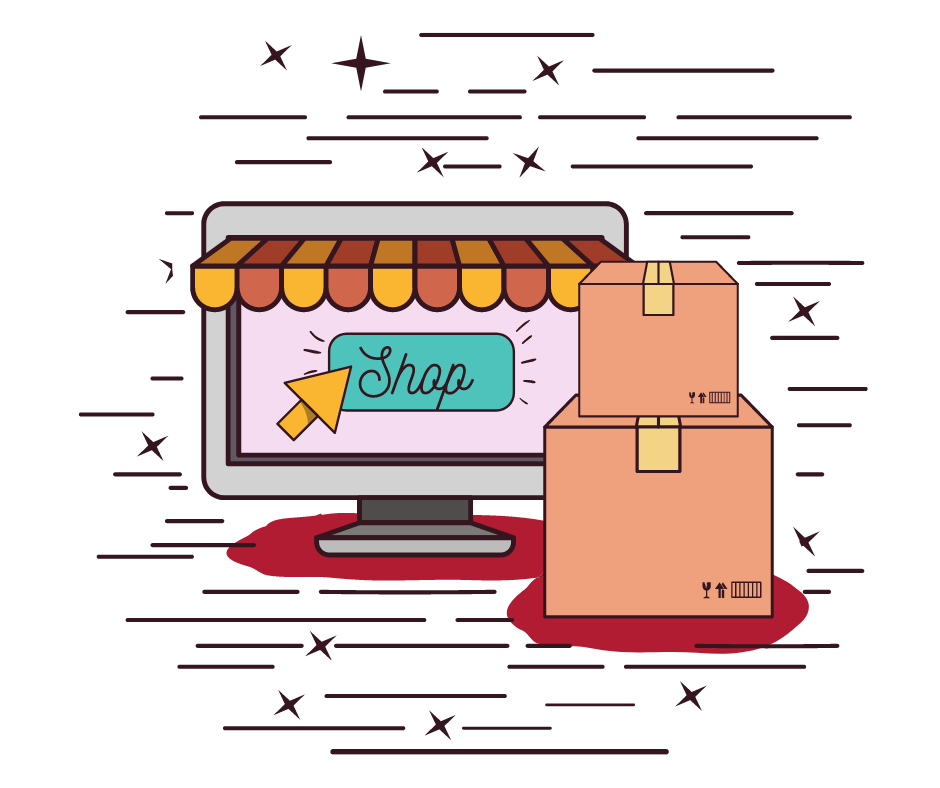 It's time…
Don't wait for success to come. Hire yourself and start your own dropshipping business
What is Shopify?
Shopify is an online eCommerce software that allows you to set up stores quite easily.
With this software, you don't need to worry about designing websites and hiring web developers.
It takes nothing less than 20 minutes to set up a dropshipping store in Shopify and start your online business.
You can complete the entire process in just a few clicks. It's that easy.
When you dropship, the most critical factor is timing. And with Shopify, you can use little up-front investment to create your online store in just a few minutes.
You won't in any way think or have to worry about excess inventory since you are to order products until they get sold.
If you use additional drop shipping software, you will control your inventory with just a few clicks, saving you time.
Shopify is not a free platform. They give you hosting, manage checkout systems, and more to help you serve your customers.
So, you'll have to buy a Shopify subscription to open your store to the public, which only costs $29 per month. That's nothing compared to what you can earn with your store.
Of course, you can test run Shopify for free for 14 days. No credit card is required.
What is Dropshipping?
Dropshipping is seen as a form of order fulfillment where an eCommerce store does not keep the items; it sells them in stock.
If a store sells a product, it buys the product from the retailer and gets it sent directly at once.
The distinction between dropshipping and the usual retail model is that there is no need for the selling merchant to think about handling inventory and further fulfillment.
Instead, the merchant buys inventory from the dropshipping suppliers as needed.
Why choose Shopify for your dropshipping business?
Although there are e-commerce solutions out there that can power your dropshipping business. Shopify is the most common eCommerce platform for starting selling online.
That is because it is Shopify:
Dropshipper-friendly – Shopify platform is friendly with solutions that are made explicitly for dropshipping, one of Shopify's best stuff.
( Oberlo), a Shopify dropshipping app that works exclusively with Shopify is one example.
Packed with great features – Shopify offers a host of features that allow you (not just a website) to create an eCommerce business.
Shopify has features to manage your sales, marketing, and payments, in addition to its online store builder, which helps you to design and set up your site.
Easy to use – One of the most user-friendly apps out there is Shopify.
It might be filled with functions and functionality, but it's not overwhelming.
The organization does an exceptional job of advising merchants about how to use its tools.
Now that you have a clue or better idea of the benefits of dropshipping with Shopify let's talk about building your dropshipping business using the platform.
How to Start a Successful Shopify Dropshipping online Store
It is straightforward to start a dropshipping store on Shopify.
We have split the process of setting up an eCommerce company on Shopify into ten simple steps in this guide.
These steps and guides will take you from setting up your Shopify store to using software, customizing a theme, and helpful tips to help you set up a successful company and make you a pro at Shopify.
Here are the steps to start and run a successful Shopify dropshipping business
Step 1: Market research for product ideas
Finding out the products to sell and who would like to spend money on them is the first recognizable step to take in developing a Shopify dropshipping business or company.
That means that your niche needs to be identified.
To ensure that you know what makes money, ideas can come from your passion and interests or study lucrative and fashionable niches. You have to do both, in my view.
Choose a niche that you're genuinely interested in, and make sure the market is in demand.
Or if you don't want to follow your passion ensure that the niche or product you choose is:
Low in competition

High in demand

Solves a problem or offer a solution

Has a wow factor.
Keyword research
Start the keyword search process by making a list of keywords for the product with potential markets.
In the latter section, will help you concentrate on your niches and copywriting to draw buyers.
By defining future needs, simply kick things off, then brainstorm keywords for those markets.
Try to dig significantly deeper and get more insights about their success over time from the common keywords.
One of the free applications that you can use is Google's Keyword Planner for this.
Start Shopify Dropshipping research.
One convenient feature is you can easily enter competitor's websites to get keyword ideas.
I find this helpful at the start since you can copy the keywords of those who already made it big.
Now let's go to the next action.
Determine product trends
To determine whether a keyword is gaining popularity or fading out, combine the list of possible keywords with trend data.
To find out the prevalence of one keyword over the last few years, you can turn to Google Trends (also free).
This will provide you with the courage to move forward with the option of your product.
Go back to the previous white sheet and list any new names if a product appears to be running out of steam. But if the chart of trends is increasing, carry on.
Figure out profitability
It is very nice if a product is trending, but do make sure you run some math first to see if it can profit.
Running a profitable Shopify dropshipping business requires relatively healthy profit margins since you will pay for a storefront, shipping fees, marketing, and suppliers' cut.
So you want or plan to sell at a price of at least 40 percent above the initial cost, some even raising the price to 2x or 3x the wholesale price.
It's okay because you have premium features for low-cost products, which means individuals can purchase at that price.
Do the study on markets and distributors, of course, to see how much people are selling.
To help measure the profit and determine your price easily, you have a Shopify profit margin calculator.
Now that you know what to sell/choose the supplier(s) to deal with. Since they probably deserve a whole section for themselves, we will learn through the suppliers later.
For now, let's see the next step in launching a dropshipping company for Shopify.
Step 2: Choose a dropshipping Supplier
The next significant move is to pick a vendor for dropshipping. A dropshipping supplier should be seen as an integral part of your company, as the eCommerce business relies heavily on the product stocking and timely delivery capability of the supplier.
Look for a supplier that offers dropshipping as a service, has a high feedback score, and substantial years of experience as a dropshipping supplier to pick a dropshipping supplier for your Shopify store.
Before committing to your service provider, it's always nice to check product samples from the suppliers.
Often, remember the fee and delivery time of the supplier as well.
Pick a name for your Shopify dropshipping business.
Make sure your Shopify store's name has excellent branding potential, as it is the first thing customers want to remember when they talk to you about their experience.
So, try to keep it as straightforward as possible but imaginative and as unforgettable.
Step 3: Signup on Shopify Store and choose a plan
Signing up on Shopify is easy; you will have 14 days of free trial to try before deciding on; What to Sell, the apps to install, and the Shopify themes to use.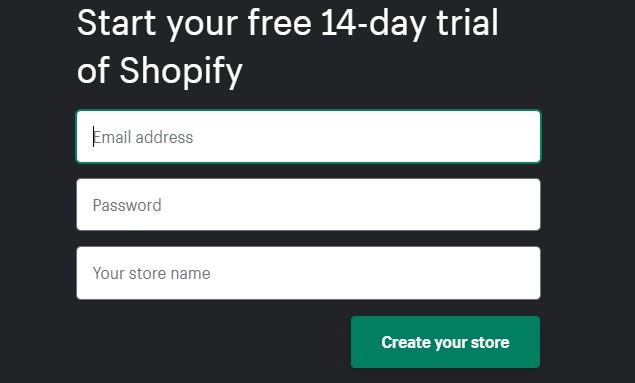 With hundreds of themes ready to add to your website in just a few clicks, Shopify offers robust options to explore.
To compliment your brand's look, store owners can customize all Shopify with text, logo, images, and video.
You can configure products to be added in the admin interface, change product photos, update price, stock inventory, and test your website before launch to ensure that your store is desktop and mobile devices are ready.
Shopify operates in more than 50 languages and more than 70 payment gateways and checkouts, making it easy to sell goods anywhere in the world.
Shopify is a cloud-based and already hosted platform. It mainly means that you do not have to bother about maintaining the software or the servers' upgrading.
Shopify Pricing
The monthly subscription fees are billed in US dollars, with credit card fees billed in your preferred currency.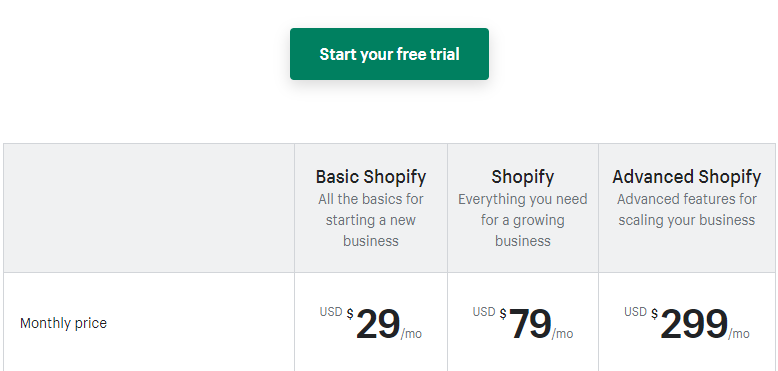 In summary, there are five options: Lite, Basic, Shopify, Advanced, and Shopify plus.
Shopify Lite Plan:
The subscription fee for Shopify lite: $9/month
Basic Shopify Plan:
Subscription fee: $29/month
Online credit card rate: 2.2% + 20p
In person credit card rate: 1.7% + 0p
Additional fees using payment provider other than Shopify Payments: 2.0%
Shopify:
Subscription fee: $79/month
Online credit card rate: 1.9% + 20p
In person credit card rate: 1.6% + 0p
Additional fees using payment provider other than Shopify Payments: 1.0%
Advanced Shopify:
Subscription fee: $299/month
Online credit card rate: 1.6% + 20p
In person credit card rate: 1.5% + 0p
Additional fees using payment provider other than Shopify Payments: 0.5%
Shopify Plus:
Subscription fee: prices on request but starting at approximately $2,000/month.
Start your Free Shopify 14 days trial now
Step 4: Setup and design your Shopify dropshipping store
Another next move is to set up and design your Shopify store by selecting a theme for your store, customizing it, and making it user-friendly, as your store would look and feel like this.
Shopify offers a default theme, but from your Shopify dashboard's theme section, you can select another theme and also customize it according to your own preference.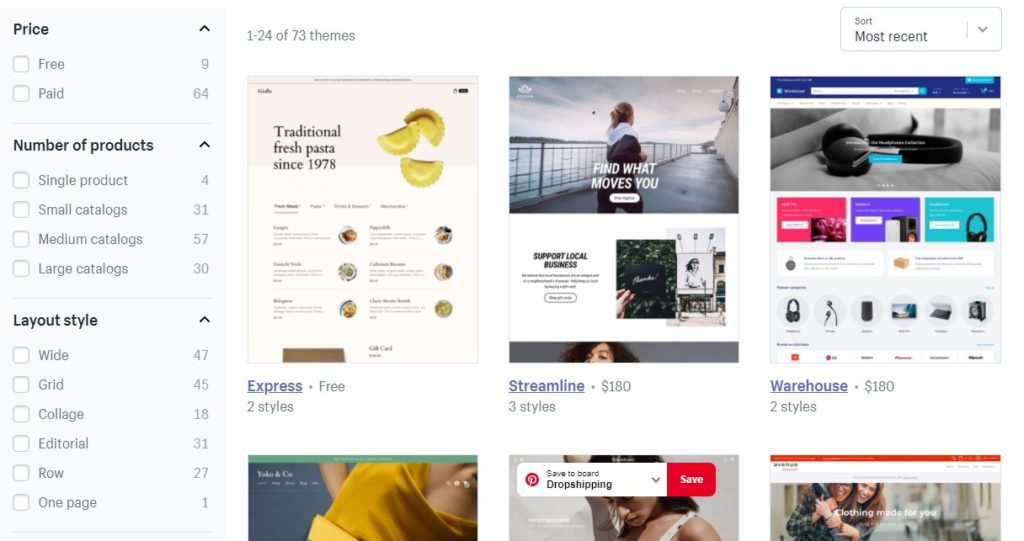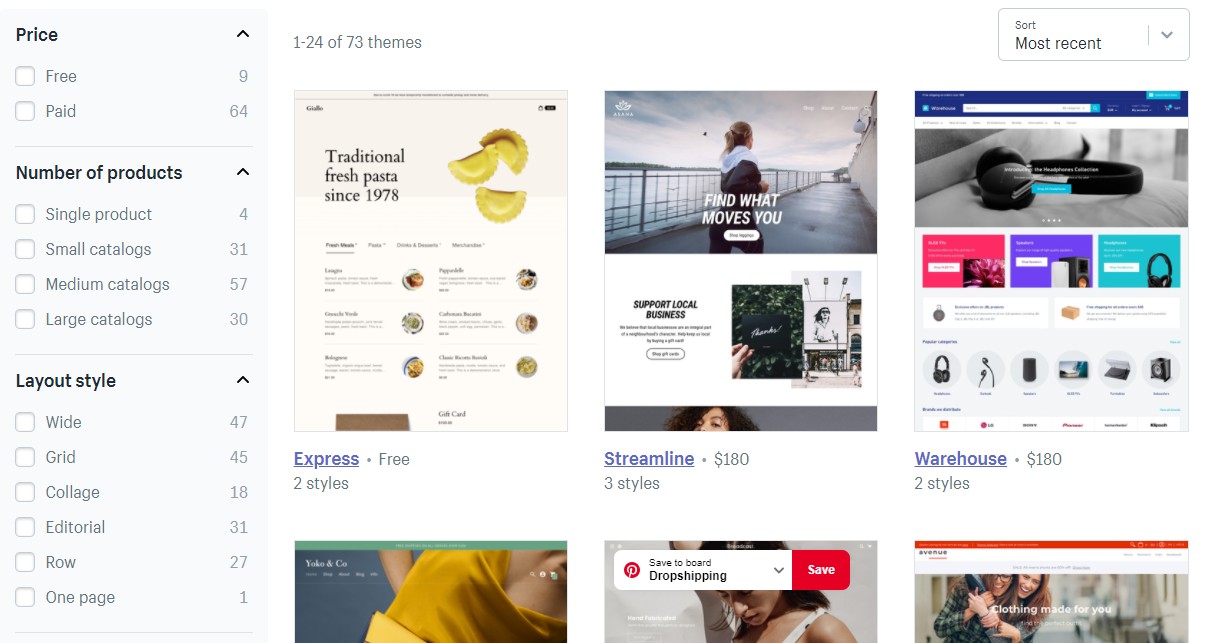 Set up a domain for your new company now with the theme in place.
Ideally, when you build your dropshipping business on this website, you should purchase a Shopify domain name.
It's time to add items and product collections to your Shopify Store once your store's domain name is registered.
Set Up Collections (Product Groups)
A collection is any group of products with specific common characteristics that clients can look for when visiting.
Clothes specifically for children, men, or women,

Products of a particular type, such as cushions, lamps, or rugs

Items available on sale

Items available in specific sizes or colors

Seasonal products, such as holiday gift cards and decorations.
In any number of collections, items will appear.
Usually, on your homepage and in the navigation bar, you can show your collections.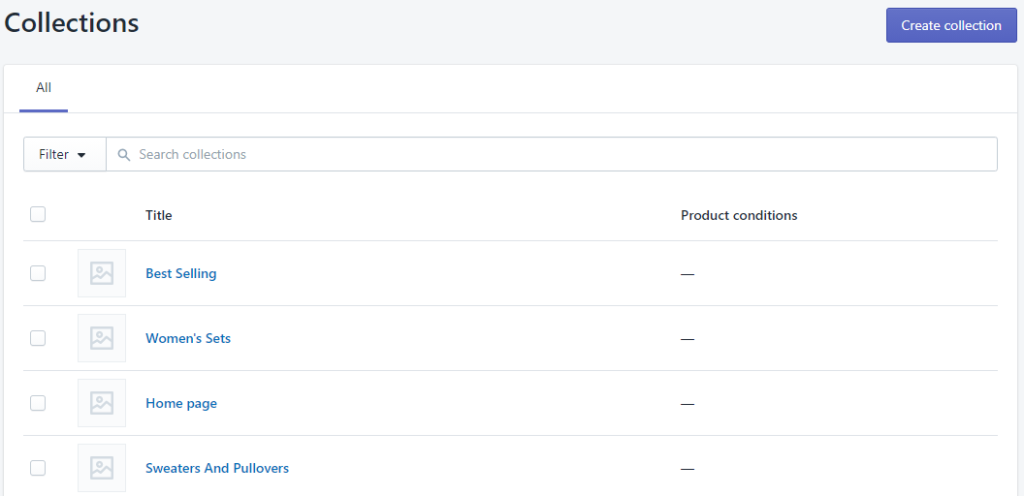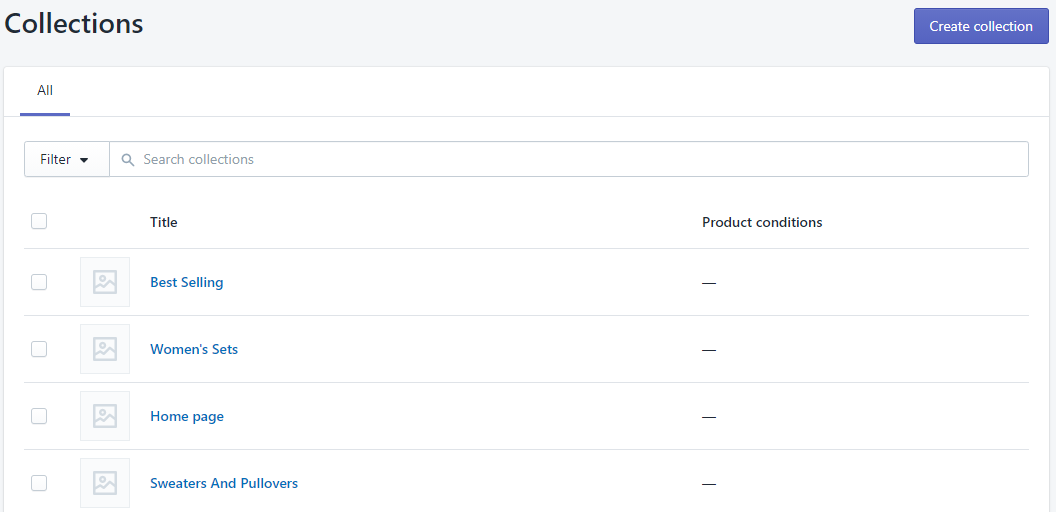 Without having to scroll through the whole collection, this helps clients find what they're looking for.
Payment Gateways
A payment gateway allows you via your website to take payments from your customers.
It is interesting to see the price and commission cost, but it's also interesting to see what features they offer. Not all payment gateways are equal in their development.
Add a Domain Name
You'll need a domain name to get your site going. You've got two options.
Firstly, you can purchase a Shopify domain, and it will be automatically added to your store.
It saves you time, especially if you don't know about website hosting. Usually, these domains cost $9-$14 USD annually.
Buying a domain for your store from a third party, such as GoDaddy, is your second choice.
They start at USD 10.00 a year for these domains. The drawback is that you're going to have to redirect the DNS records yourself, which at first may seem overwhelming.
Here are the steps for putting a third party domain name live on your new Shopify store.
Add the new domain in Shopify.
In the Shopify admin page, on the left side navigation, go to Settings and then Domains option and add your domain name by using the 'Add an existing domain' option.
Update DNS records
Log in to your domain registrar panel and make changes to the DNS records as follows:
Replace the @ or key A record with an IP address as follows: 23.227.38.32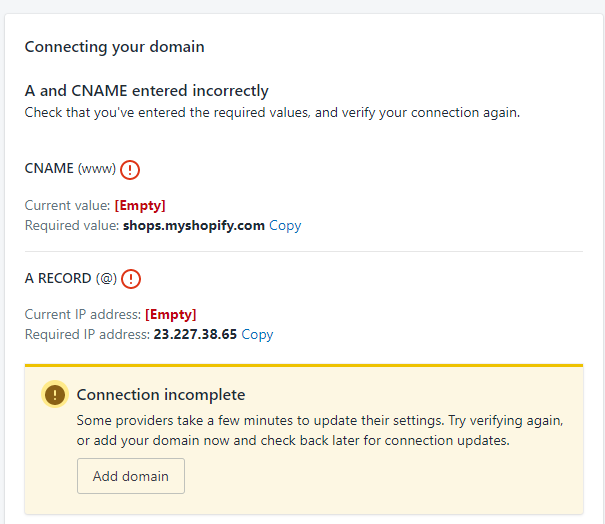 Add or replace www CNAME with your storename.myshopify.com (i.e., the HTTP-free Shopify link on the domain settings page).
Remove any passwords for the storefront.

Otherwise, even though it's online, no one will be able to access your site.
Set as primary domain
In Online Store > Domains, by using the dropdown at the top of the page, you can select your key domain: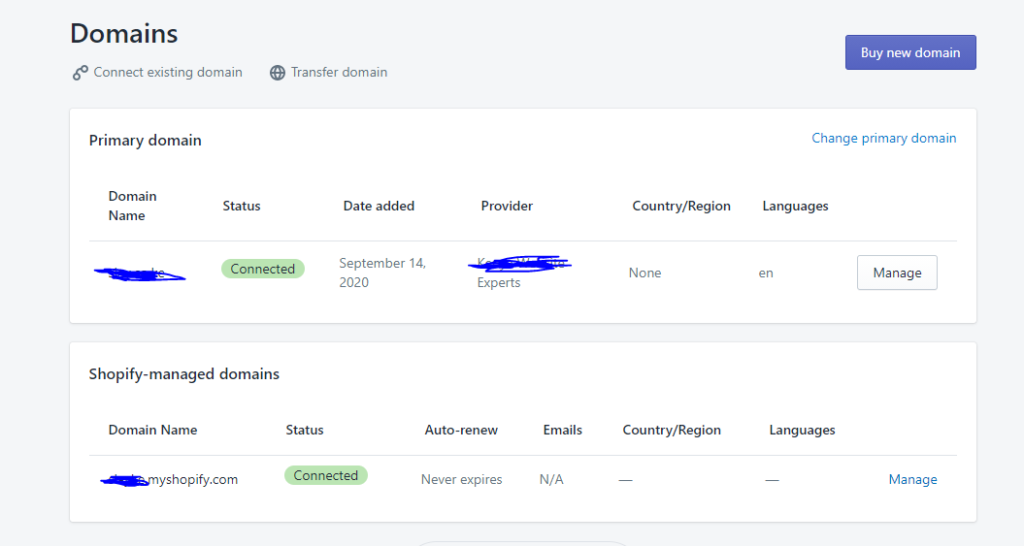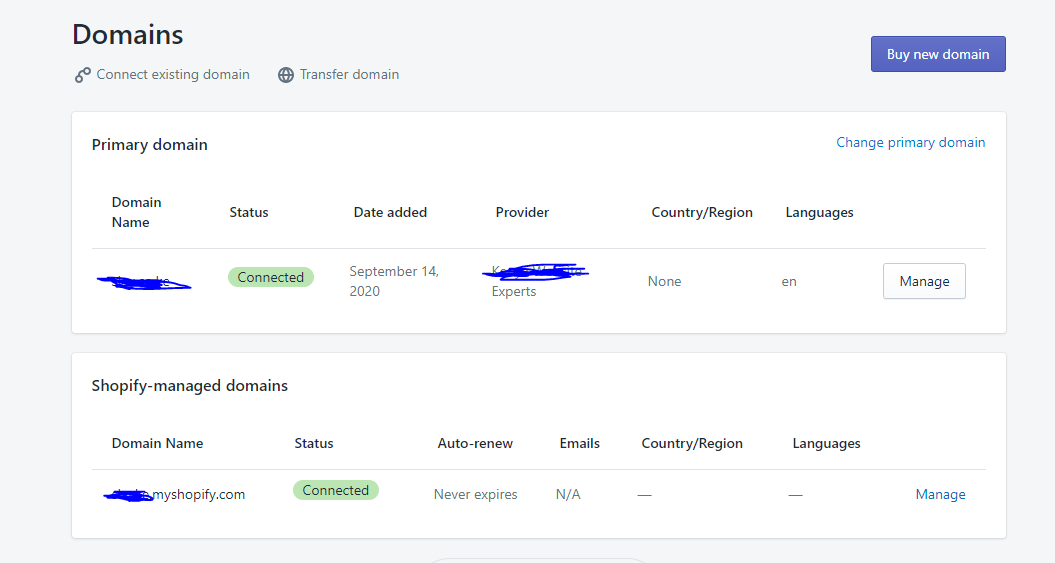 Make sure that you also check 'Redirect all traffic to this domain'. It ensures that traffic will be directed to your primary domain for all other domains. For successful SEO, this is important.
Step 5: Add products and also Create product collections
Start adding products to your store from your dashboard now.
To use and add products, the Shopify interface is straightforward.
For each product, make sure to edit the details. To make it easier for clients to view and purchase products from your store, add catchy product titles, complete product descriptions, and keywords. Launching a sale on Shopify helps to increase the number of sales as well.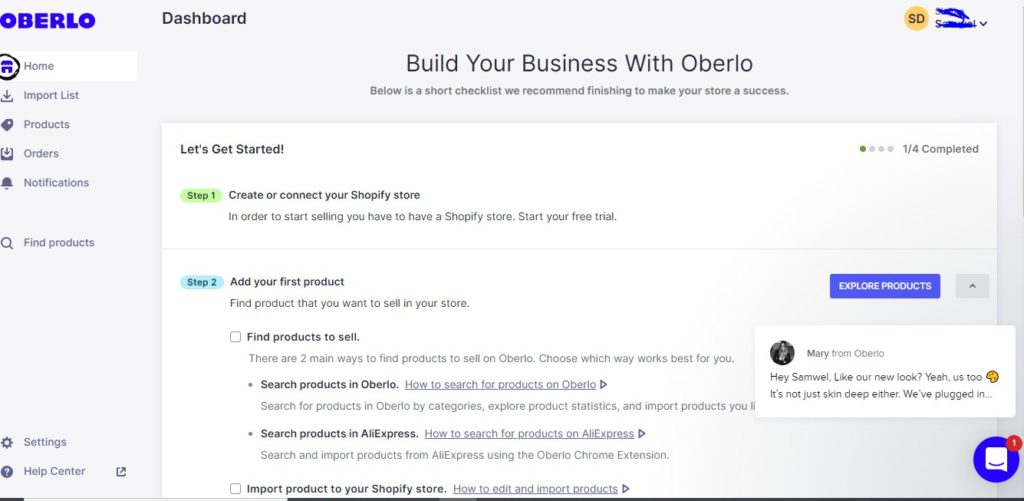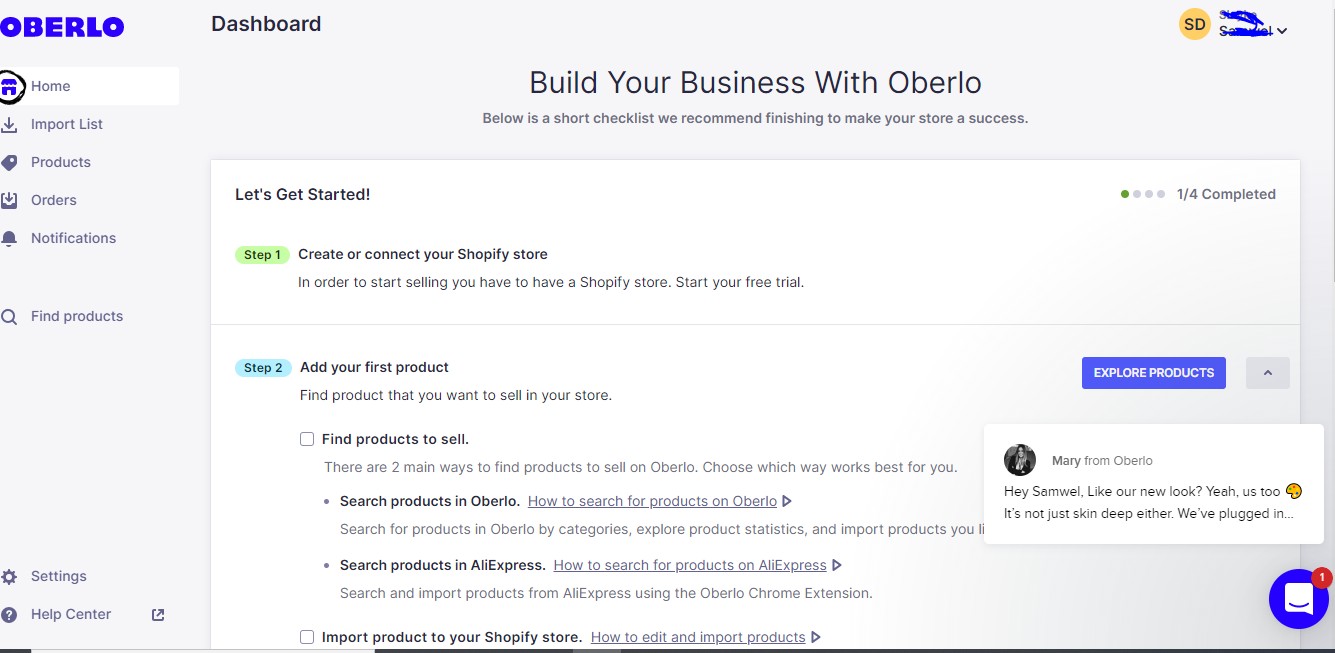 Creating product collections is another critical step. Collections in your Shopify dropshipping store are categories that allow products to be grouped under each collection.
Step 6: Set up an online payment gateway for your store
As a dropshipping business store, by offering customers various payment methods to make it easier for them to shop, you like to have the best customer experience.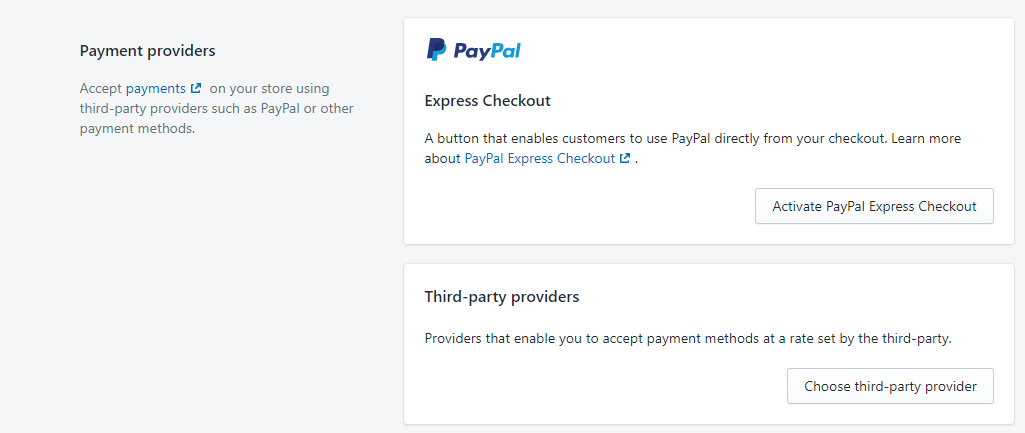 Usually, clients use PayPal credit cards for online purchases. A safe payment configuration, however, is to use Shopify payments, which is not only easy but also requires no design.
You may also accept payments from Shopify directly.
Shopify's payments often allow the seller to keep track of all transactions made from your dropshipping store Shopify.
Step 7: Configure shipping rates.
Based on your selling products, you need to update shipping rates on your store for accurate pricing.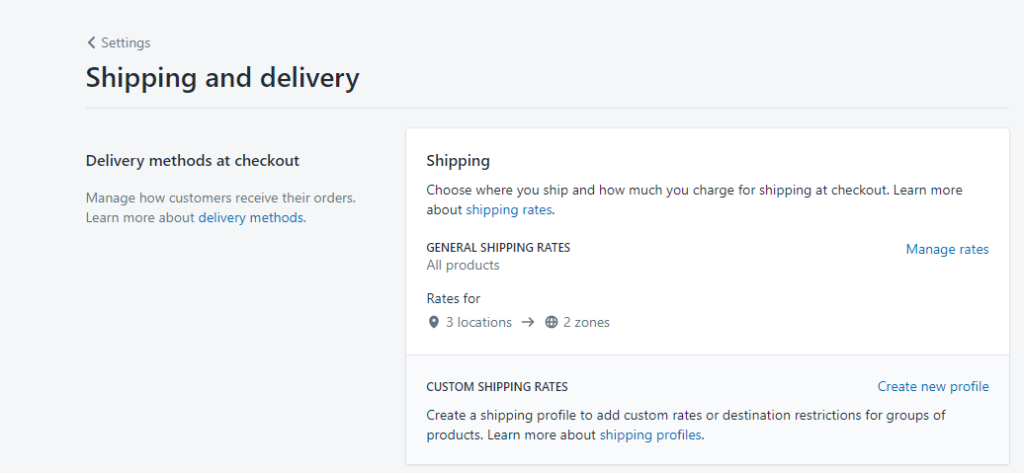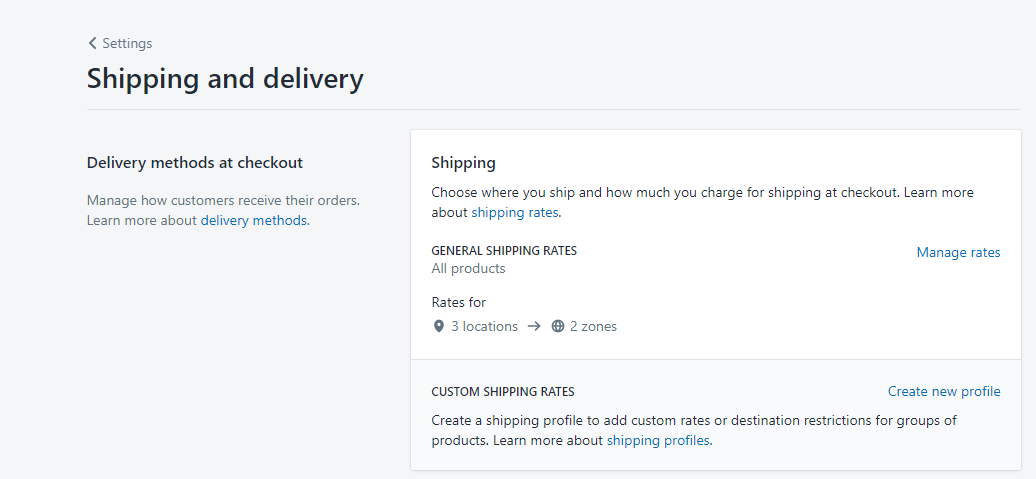 Consider shipping rates depending on the size and weight of goods, including foreign or local distribution, to measure shipping costs.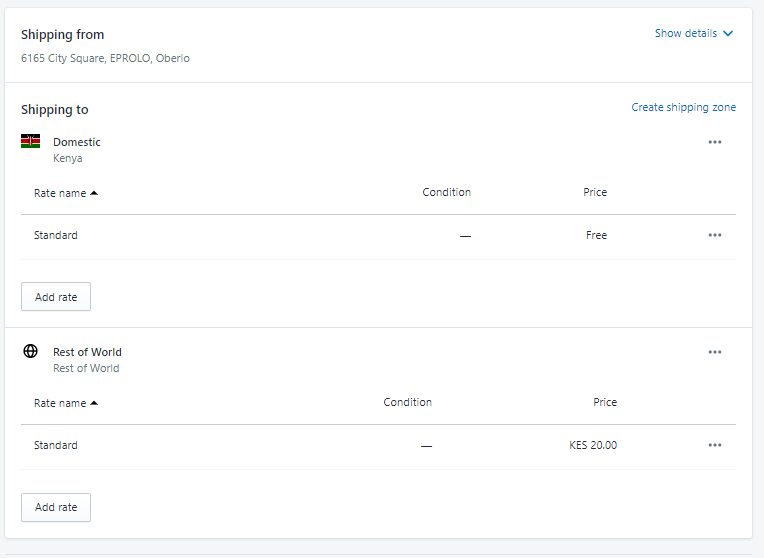 Add supplier costs as well, as these are the expenses that you have to pay the supplier to prepare and ship the goods.
Step 8: Add discounts and gift cards
A perfect way to get customers to your shop is to introduce attractions like discounts and gift cards.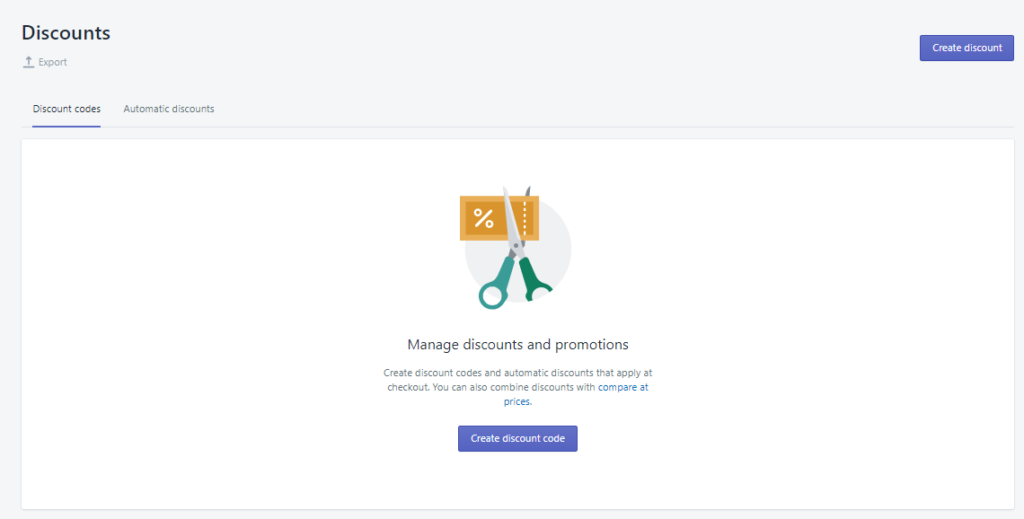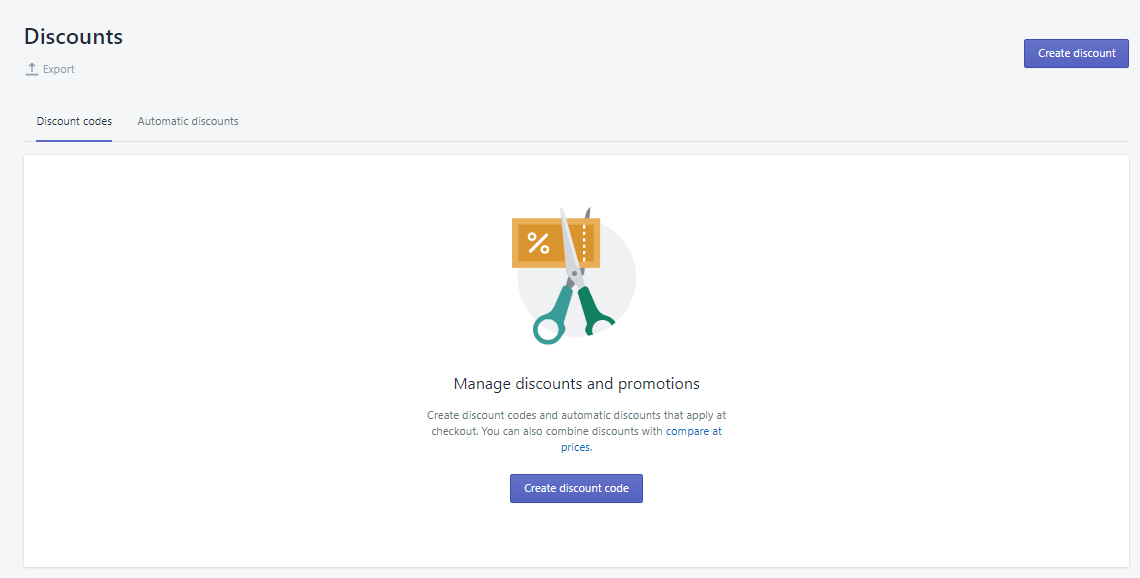 Discounts on the first order or gift cards will help boost revenue at your dropshipping store by providing clients, and you can capitalize on it.
Step 9: Setup customer support
An outstanding customer store is an essential feature of successful Shopify dropshipping.
Excellent customer service needs to set up customer support even if you have all the data covered in your Shopify store.
The simple approach is to build a contact page where clients can quickly contact you.
But the message feature available on Shopify is for fast and easy customer service.
Step 10: Launch your Shopify dropshipping store.
It's time to launch your Shopify dropshipping store now that you've set everything up.
To be successful, it does not stop here; to do a profitable business in the eCommerce industry, you need to evaluate, analyze, and use marketing techniques continually.
Finding wholesale suppliers
It's time to start searching for suppliers now that you can spot a fraud from the real deal!
There are many other several kinds of strategies that you can use, some more efficient than others.
In order of effectiveness and preference, the methods below are listed, with our favorite methods listed first:
Contact the manufacturer
This is our favorite way for legitimate wholesale suppliers to be quickly located.
Call the manufacturer via mobile and ask for a list of its wholesale distributors if you tend to know the product(s) you want to dropship.
To see whether they dropship and inquire about setting up an account, you can then contact these wholesalers.
Since most wholesalers carry products from different manufacturers within the niche you are exploring, this strategy will allow you to select products quickly.
You'll also quickly be able to identify the top leading wholesalers in that market after making a few calls to the leading manufacturers in a niche.
Use Oberlo
Oberlo Shopify app allows you to easily and quickly import products from suppliers directly into your Shopify dropshipping store and ship now to your customers—all in just a few clicks.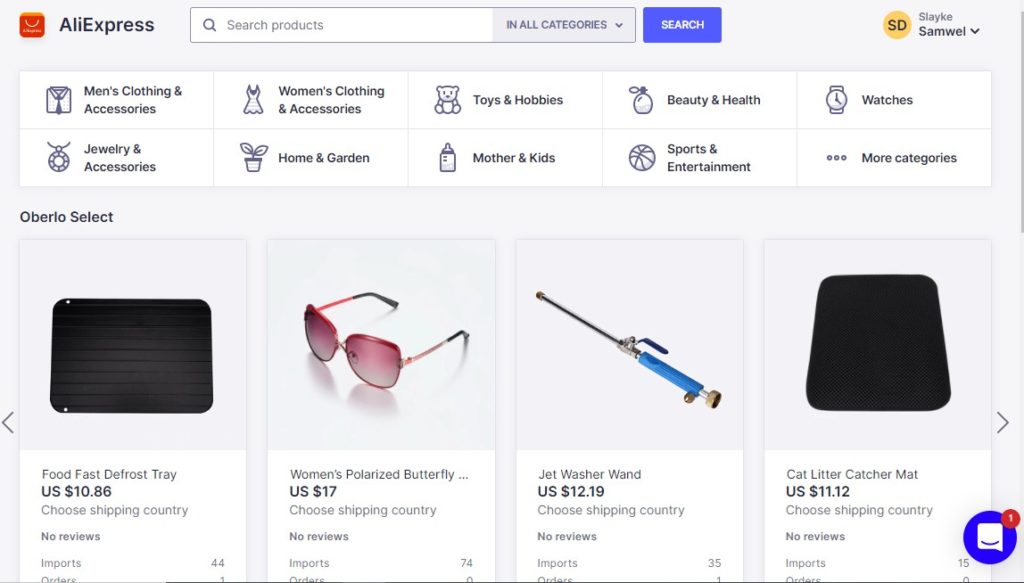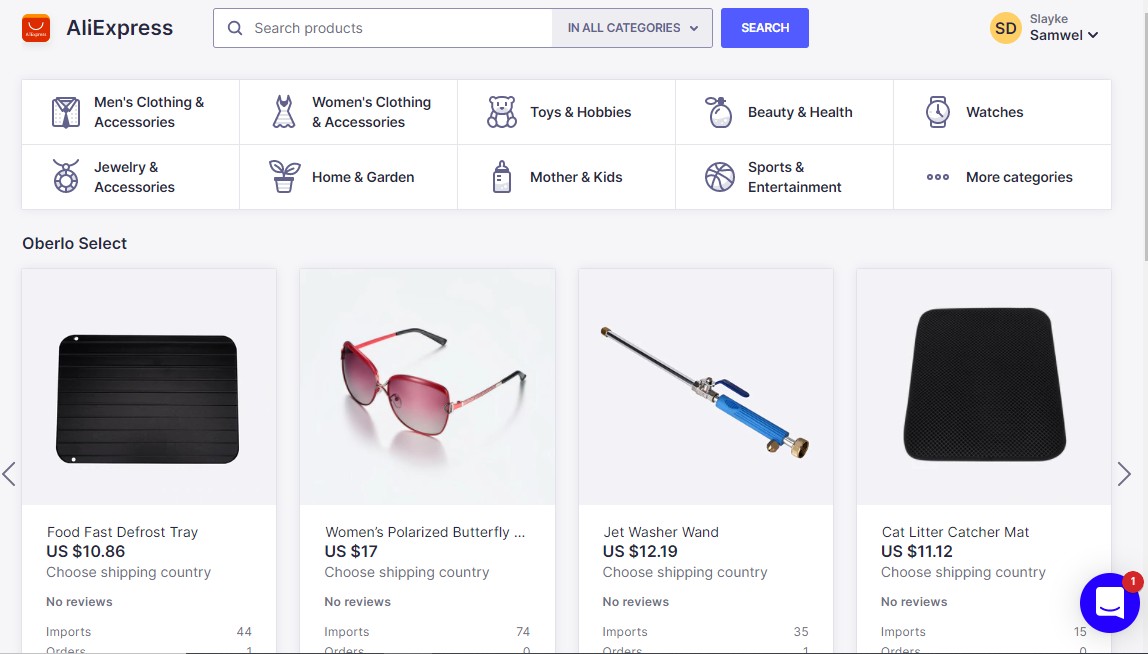 Features:
Import products from suppliers
Fulfill orders automatically
Inventory and price auto-updates
Product customization
Search using Google
It may seem obvious to use Google to find high-quality vendors, but there are a few rules to keep in mind:
You've got to search extensively. In marketing and promotion, wholesalers are awful, and they will not top the search results for "wholesale product X suppliers.
"This implies that you will probably have to dig through lots of search results, possibly hundreds, to find the website of the wholesaler listed at # 65."
Don't judge through their website. Wholesalers are also notorious for having '90s-style websites poorly designed.
While, in some cases, a quality site may indicate the right supplier, many legitimate wholesalers have cringe-worthy homepages. Don't let you get scared off by the poor design.
Use lots of modifiers for keywords. In order to ensure you find their websites, wholesalers don't do extensive SEO, so you may need to try different search queries.
Try using modifiers such as "supplier." "reseller," "bulk," "warehouse," and Don't just stop at "[product] wholesaler."
You can also use Ecomhunt to find hot-selling dropshipping products or niches.


Order from the competition
You can always use the refresh and go back to the old order-from-the-competition trick if you're having a hard time locating a supplier.
Here's how it works: Find a competitor that you think is dropshipping and place with that business a small order.
To find out who owns the original product, Google the return address when you receive the package. It will be and must be a supplier you can contact in some cases.
This is a tactic that we have heard others talk about but have not used ourselves.
And there might be a good reason if you haven't been able to find a supplier using the other techniques discussed above (for example, the market is too small, there isn't enough demand to justify a supplier, etc.).
So keep in mind this technique, but don't rely on it too heavily.
Attend a trade show
A trade show enables you to interact in a niche with all the major manufacturers and wholesalers.
It's a great way to make contacts, all in one place, and research your products and suppliers.
This only works if your niche and product have already been chosen, and it is not feasible for everyone.
But it's a very significant way to get to quickly know the producers and suppliers in a market if you have the time and also money to participate.
Directories
A supplier directory is a supplier database that is organized by market, niche, or product.
Many guides employ some screening process to ensure that genuine wholesalers are the suppliers listed.
Many are run by for-profit businesses that charge a fee for their directory access.
Although membership directories, particularly for brainstorming ideas, can be helpful, they are by no means necessary.
If you already know the particular item or niche you want to sell, with a bit of digging and the techniques discussed above, you should be able to find the major suppliers in your market.
Plus, once you start the dropshipping business unless you need to find suppliers for other products, you probably won't need to revisit the directory.
That said, supplier directories are an easy way to search for and/or browse a large number of suppliers in one location quickly and are great for brainstorming ideas for selling products or entering niches.
They can be a helpful tool if you're short on time and are willing to spend money.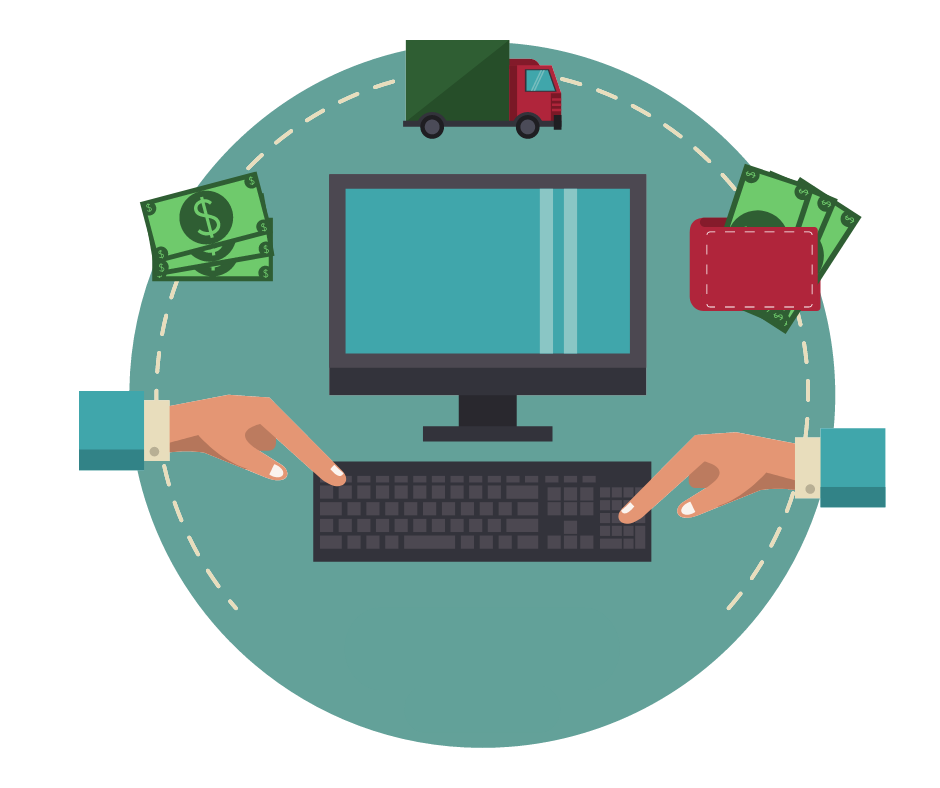 Not yet making money online?
Start your own dropshipping business. Sign up for a free trial of DSM Tool and we'll help you get started. Today is the day.
How to find suitable dropshipping suppliers
Suppliers are not all created equally, like most things in life. It is even more essential to ensure that you are working with top-notch players in the dropshipping business world, where the supplier is such a critical part of your fulfillment process.
Great Shopify dropshipping suppliers have many of the following six attributes:
1. Expert staff and industry focus
There are knowledgeable sales representatives from top-notch suppliers who know the industry and their product lines.
It's invaluable to call a representative with questions, particularly if you're launching a store in a niche you're not too familiar with.
2. Dedicated support representatives
An individual sales representative is always available responsible for taking care of you, and any problems you have should assign you to quality dropshippers.
It's essential to have a single supplier contact who's responsible for solving your problems.
3. Invested in technology
Although there are many right suppliers with outdated websites, a supplier who understands the advantages of technology and invests heavily in it is usually a pleasure to work with.
For online merchants, features such as real-time inventory, a complete online catalog, customizable data feeds, and online searchable order history are pure luxury and can help you streamline your activities.
4. Can take orders via email
This may be more like a minor problem, but it makes processing orders considerably more time-intensive to call each order in or manually place it on the website.
5. Centrally located
If you are in a large country like the United States, it is helpful to use a centrally located dropshipper, as packages can reach even more than 90 percent of the country within 2 to 3 business days.
Shipping orders across the country can take more than a week when a supplier is located on one of the coasts.
Centrally located suppliers enable you to consistently promise quicker delivery times, potentially saving you cash on Shopify shipping fees.
6. Organized and efficient
Some vendors have competent employees and excellent systems that lead to efficient and mostly error-free fulfillment.
Every fourth-order will ruin others and make you want to tear your hair out.
Without actually using it, the trouble is it's hard to know how competent a supplier is.
Although it will not give you a complete picture, it can give you a great sense of how a supplier works by placing a few small test orders.
You are able to see:
How they tend to handle the order process
How quickly the items are being shipped out
How rapidly they also follow up with the tracking information and additional invoice
The quality of the packaging job when the item arrives
Tip
Many dropshippers start with Shopify due to its numerous advantages. But to turn your one-page online shop into a big dropshipping store, you must utilize the Best Shopify Dropshipping Apps.
Summary
It's not as simple as speaking it or walking in the park to start a Shopify dropshipping business and operate one successfully.
You need to show up every day to drive traffic and sales consistently and do a damn good job of promoting, managing, and supporting them.
But with little upfront investment, it is super easy to start Shopify dropshipping, and you have the freedom to have your online business, so it is worth a shot.
So I hope this guide can help you do a profitable dropshipping business, whether you are thinking about it or already owning a Shopify store.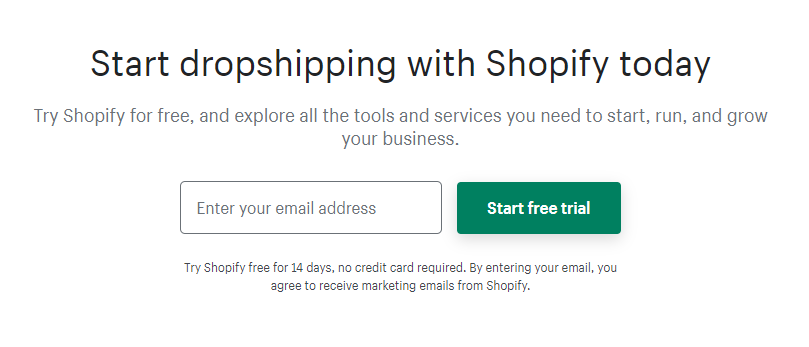 The business of dropshipping is easy to start but not so easy to keep alive.
If your first efforts have been unsuccessful, do not give up: this is the path of trials and mistakes.
Be consistent and provide good customer support if you want to make money.
The sooner you start, the better position you can get in the market. So until tomorrow, please don't put it off.
Keep experimenting as an entrepreneur, and within a short time, you will find the right way.
Best of luck!
This post was written by Samwel Dollah,a dropshipping expert and the founder of Dropshippingit.com a blog dedicated to providing valuable dropshipping information and dropshipping mentorship for newbies who want to start and run successful dropshipping businesses.