Father's Day 2022 is approaching. Therefore, it's a chance for your dropshipping store to boost sales on this special occasion by dropshipping great Father's Day gifts to your online buyers.
Currently, online shopping has its boom now due to the effects of COVID-19. It's a big opportunity for eCommerce sellers to get a slice of its pie called holiday online shopping offering the right products and using an effective marketing strategy. Similarly during other holidays: Christmas, Mother's Day, Halloween, Valentine´s Day, Easter, etc.
So, if you would like that your dropshipping store will be in the thick of things and take advantage of this holiday, start to prepare your business already now! We are going to help you by presenting the top 31 great Father´s Day gift ideas you can dropship or sell in your store.
Here is what you will learn after reading this article:
Let´s get started!
When is Father's Day 2021 celebrated?
Father's Day 2021 falls on June 20 in the US, UK, Canada. The holiday is celebrated annually on the 3rd Sunday of June. That's why the date can change every year. Additionally, the celebration date varies according to the country. For example, Spain, Portugal, and Italy, like many other Catholic countries, celebrate Father's Day on March 19. Australian and New Zealand celebrate it on the first day of spring. Father's Day in Germany falls on May 20 (always on the 40th day after Easter). Austria and Belgium celebrate it on the second Sunday of June (June 13 in 2021).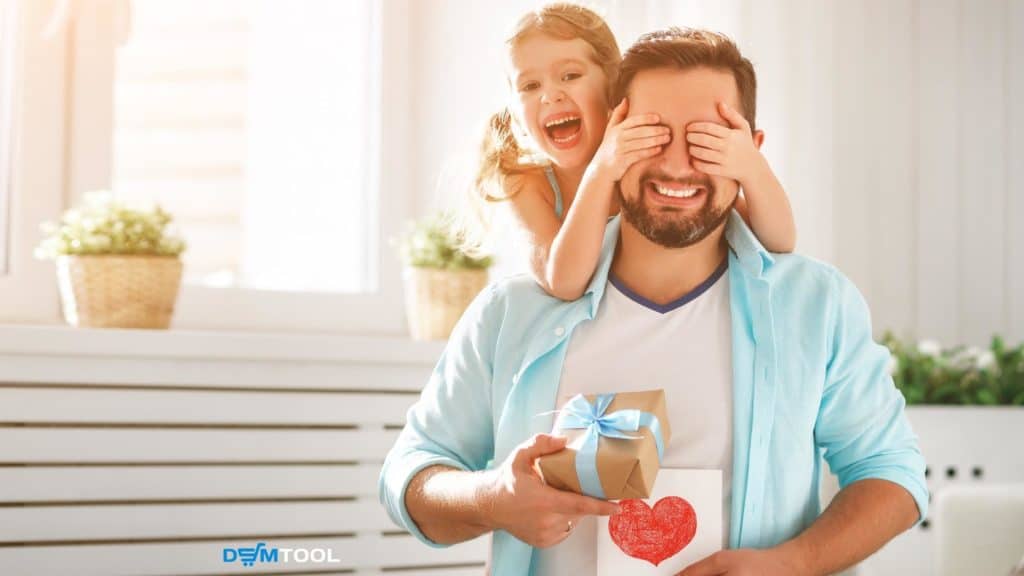 Father's Day eCommerce Statistics You Need to Know
Well, every serious preparation starts with in-depth research. Surely, it's a good idea to look back at Father's Day 2020 to know what to expect this year and where to pay attention.
Father's Day statistics showed that despite the pandemic and social distancing, 75% of people celebrated the holiday in one way or another in 2020. The total spending is expected to reach 17 billion dollars (that, anyways, grew 2 billion from the previous year). Meanwhile, the average spending per shopper was 148,58$.
The Gift Ideas Unwrapped Team prepared a pretty insightful infographic that shows last year's statistics you can consider for this year's Father's Day eCommerce preparations.
What is a good Father's Day gift to sell in 2021?
The individual approach on choosing the gifts for dads and father-like figures is the most important in the whole process. The Father's Day gifts that had to be unique or create a special memory were the most popular queries last year, followed by convenient and inexpensive presents.
Well, a reader might say that, basically, it can be anything…True! It can be really hard to pick a gift and especially to know which gifts to sell. That's why let's go more into detail and check the shopping behavior per category that was expected last year, presented by the National Retail Federation.
?Special outing was the most popular Father's day gift last year.
?Clothing was chosen by 46% of all shoppers as a perfect gift for dads. The gifts in this category covered 2.58 billion dollars in 2020.
? Gift cards were in 3rd place. 44% of shoppers planned to present gift cards to fathers.
?Electronic gifts were expected to gather 1,98 billion dollars in 2020. And they had average spending of 17.32 per person.
?Home improvement and gardening tools were among the most popular Father's Day gifts last year with approximately 1.22 billion dollars of spendings.
? Personal Care gifts got 1.15 billion dollars of expenses.
? Tools or appliances were envisaged to cover 1.10 billion dollars.
? Sporting gifts: 20% of buyers chose them. They had average spending of $8.63 per person.
?Automotive Accessories were marked by 19% of buyers as a perfect Father's Day gift. Such items estimated gathered 0,83 billion dollars.
?Books/CDs were not so popular gift choices in 2021, and covered 0,68 billion dollars.
? Other – 19% of shoppers picked their unique Father's Day gift among other categories.
However, if you check the gift choices from the previous year, some categories grew in popularity.
For example, home improvement and gardening tools gifts grew 29% over the previous year.
Auto accessories together with personal care gifts grew 21%.
20% more of shoppers picked tools and appliances as great Father's day gifts.
Sports gifts and leisure time items had the same 20% increase in percentage.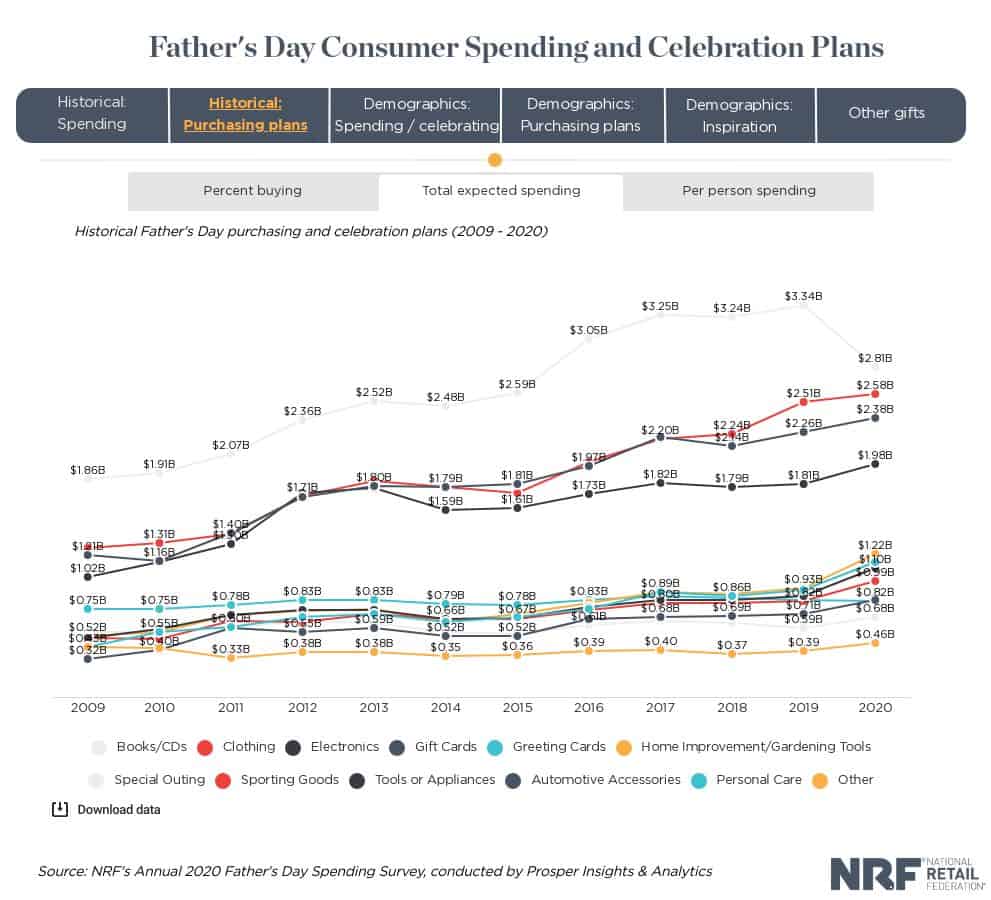 Let´s check the ideas of dropshipping products for Father's Day 2021 which you can add to your eCommerce store.
TOP 31 Products for Dropshipping on Father´s Day 2021
First of all, Father's Day is a special occasion to celebrate the contributions that dads and father-like figures make for their children. One of the common ways of expressing appreciation, love and dedication to fathers is spending time together or/and presenting a nice gift. This day is for dads and other father-like figures such as stepfathers, grandfathers, brothers, uncles, and other men who shape us.
That´s why it´s important to prepare your dropshipping store by adding there the relevant trendy products that online shoppers could use as unique gifts to their dads. Since the dropshipping product research isn´t the easiest task at all, we already elaborated for you a list with 31 great gift ideas you can sell on Father´s Day.
However, make sure to cooperate with the right dropshipping suppliers. In case you work with international suppliers, make sure that the products will be shipped in time! Start to sell their products at least 1 month earlier and replace them with local suppliers weeks before the holiday.
Now let´s go straight to the point: here are 31 cool gift ideas for dropshipping on Father´s Day 2021:
Best Personalized Father's Day gifts to sell online
Personalized gifts attract the attention of those shoppers who are looking for something unique and with a personal touch. Such presents can have a custom photo, text, etc.
In case you would like to add a few personalized Father's Day gifts to your store, make sure to find a reliable verified supplier. You can find such products on Etsy, Walmart, CjDropshipping, Wayfair, Aliexpress, etc.
1. Custom photo wine label or beer label
Wine and beer-lovers would definitely like such a personalized gift. There are many different options, for example, on Etsy: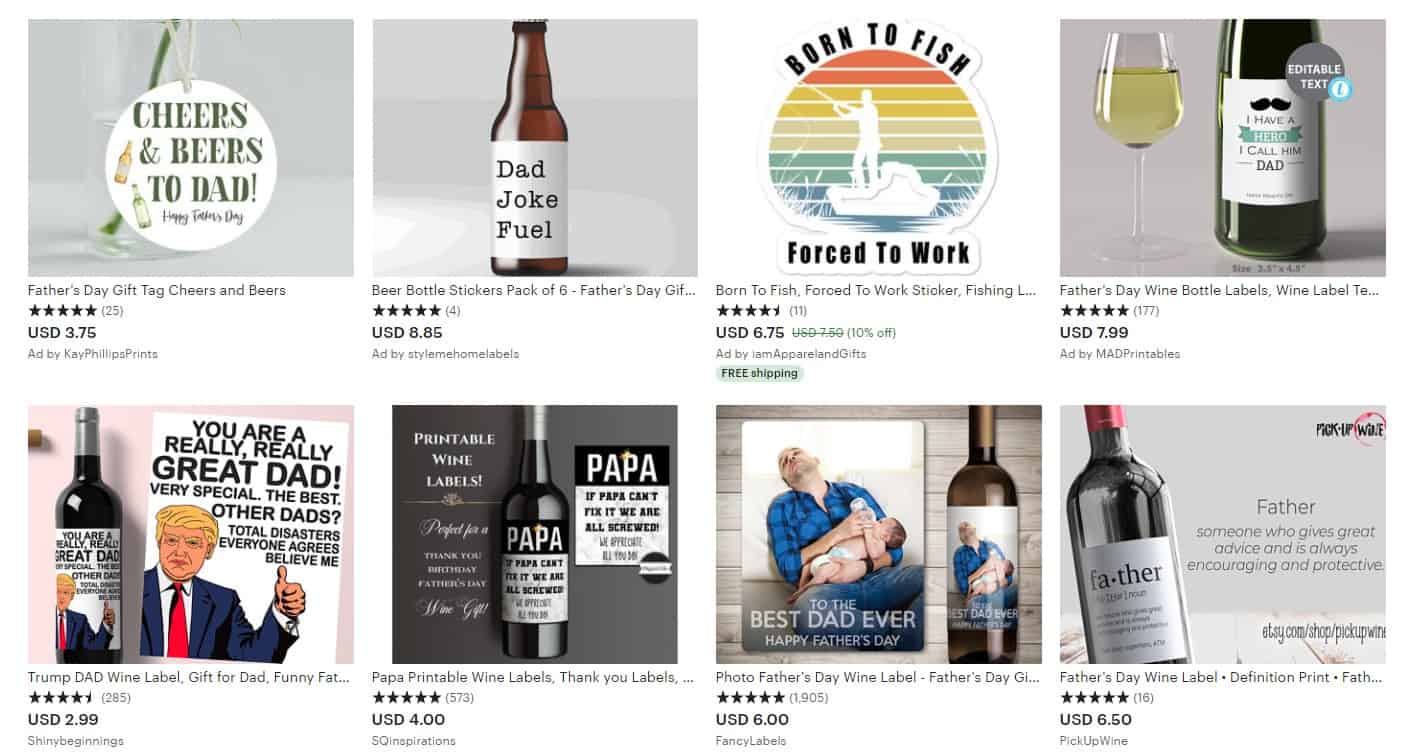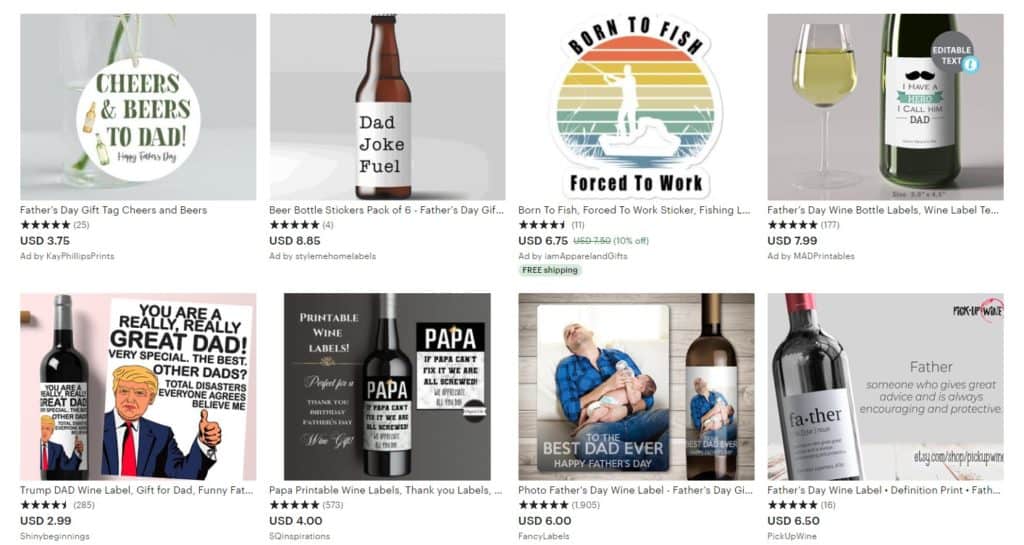 2. Personalized clothing
Another idea for a unique Father's Day. The options can be different: t-shirts, hats, hoodie, etc.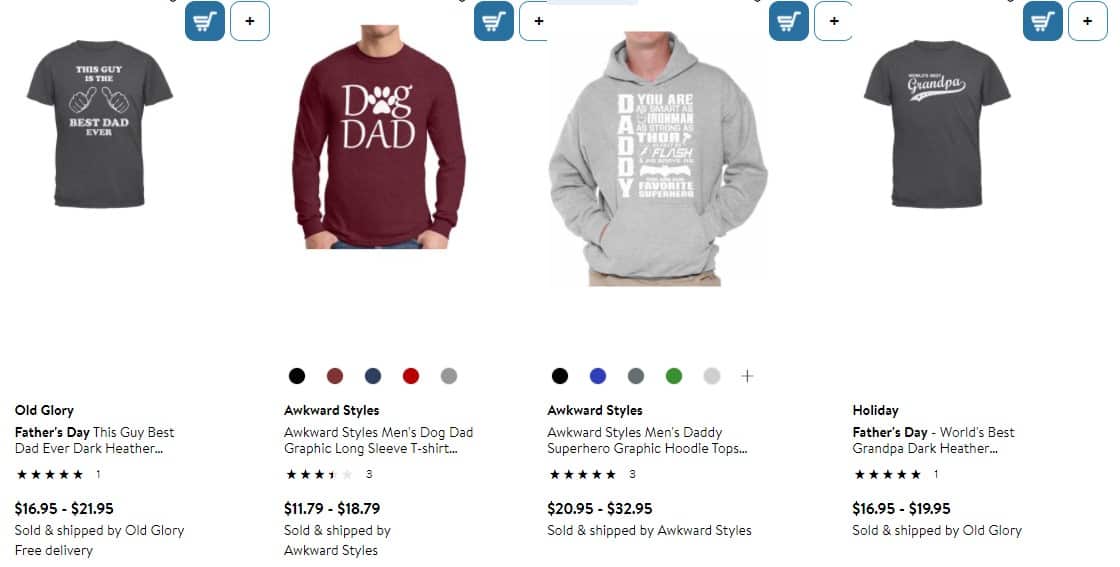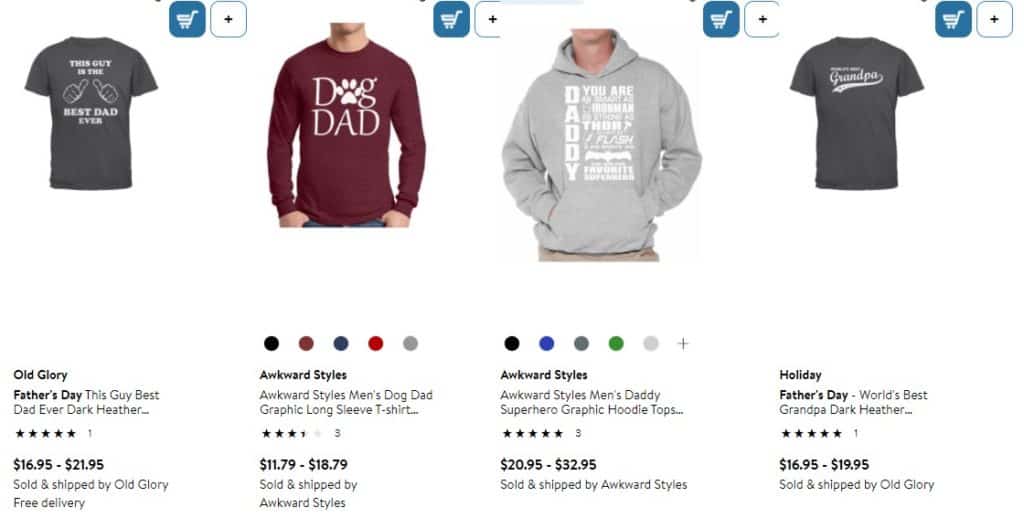 3. Personalized Tool or Multi Tool Hammer
It's a cool Father's day gift that will bring smiles to dad, bonus-dads, or other father-like figures. Besides, it's quite practical: 14 tools in 1. This Multi-Tool includes Mini Hammer, Nail Claw, Pliers, Regular Pliers, Wire Cutter, Knife, Saw, Serrated Knife, File, Flathead Screwdrivers, Phillips Screwdrivers, Bottle Opener, Carabiner more with a Safety Lock. And it will have a text that would show your love and appreciation.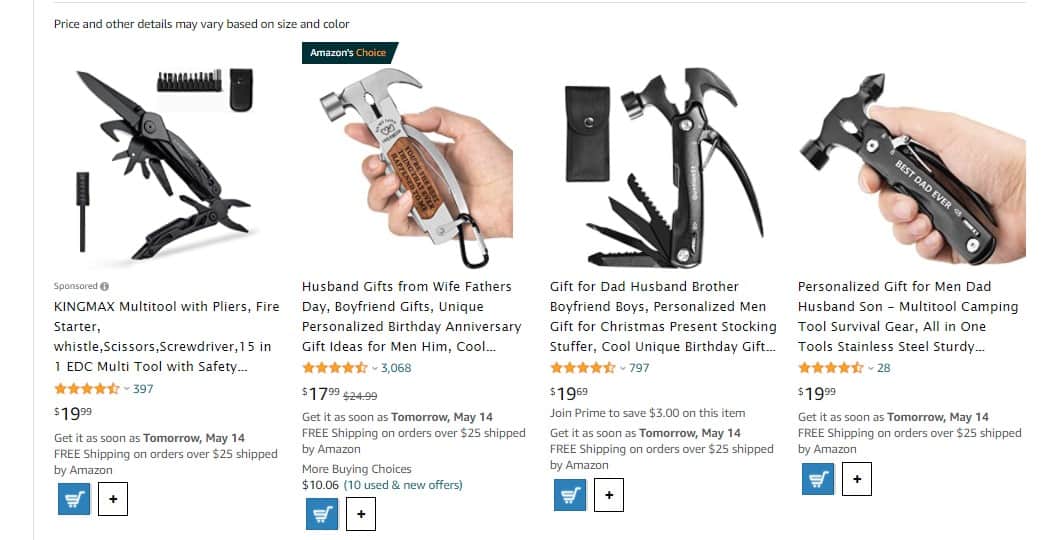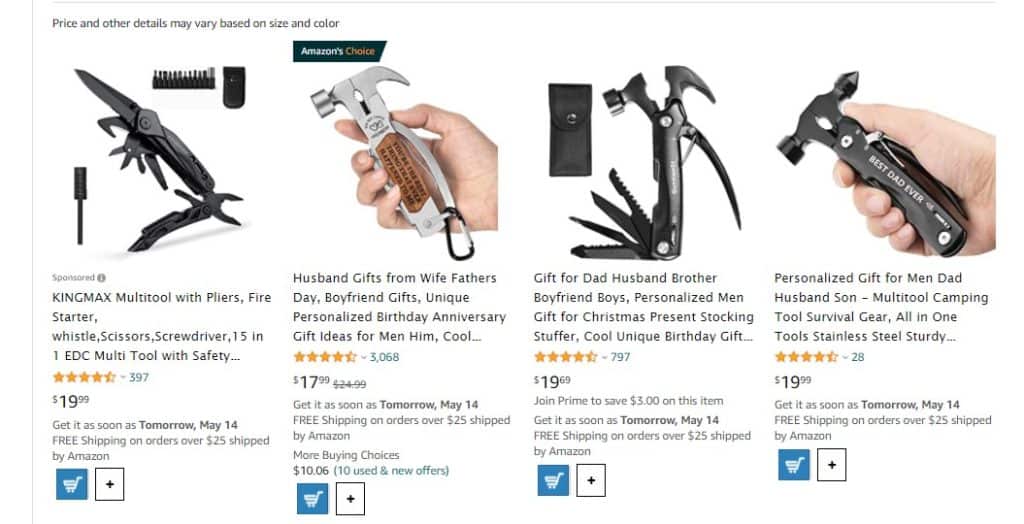 4. Custom mugs for dad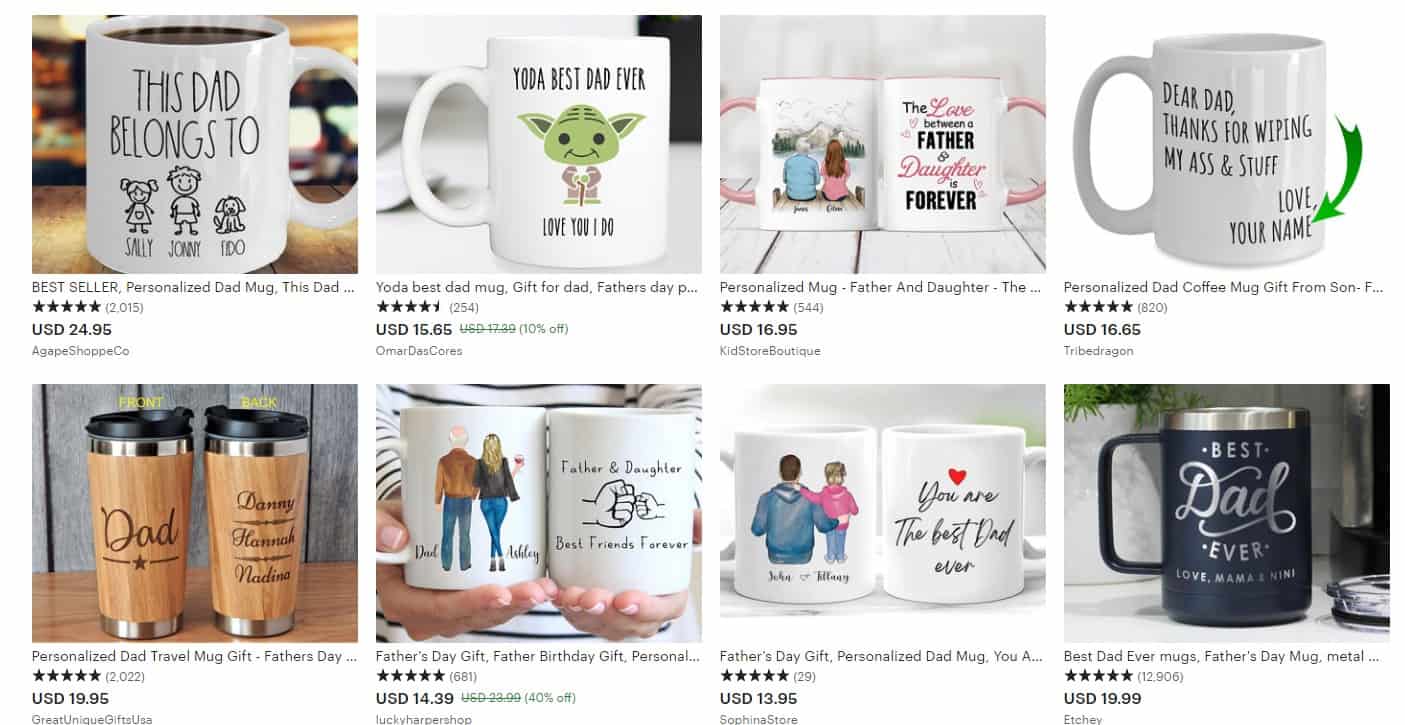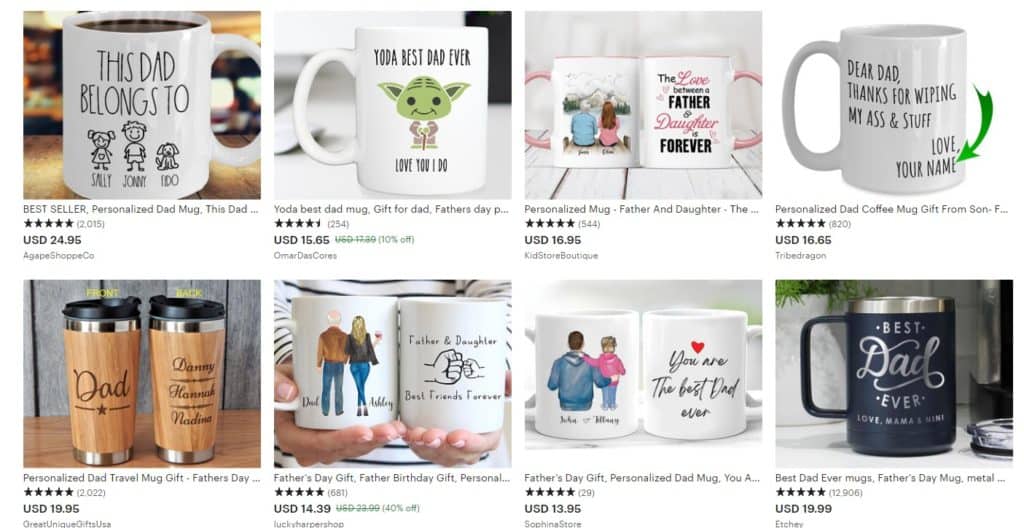 5. Personalized Dad Keychain
It's a small personalized gift for dads and father-like figures. It can be sentimental and unique. Moreover, there are many different options for consideration.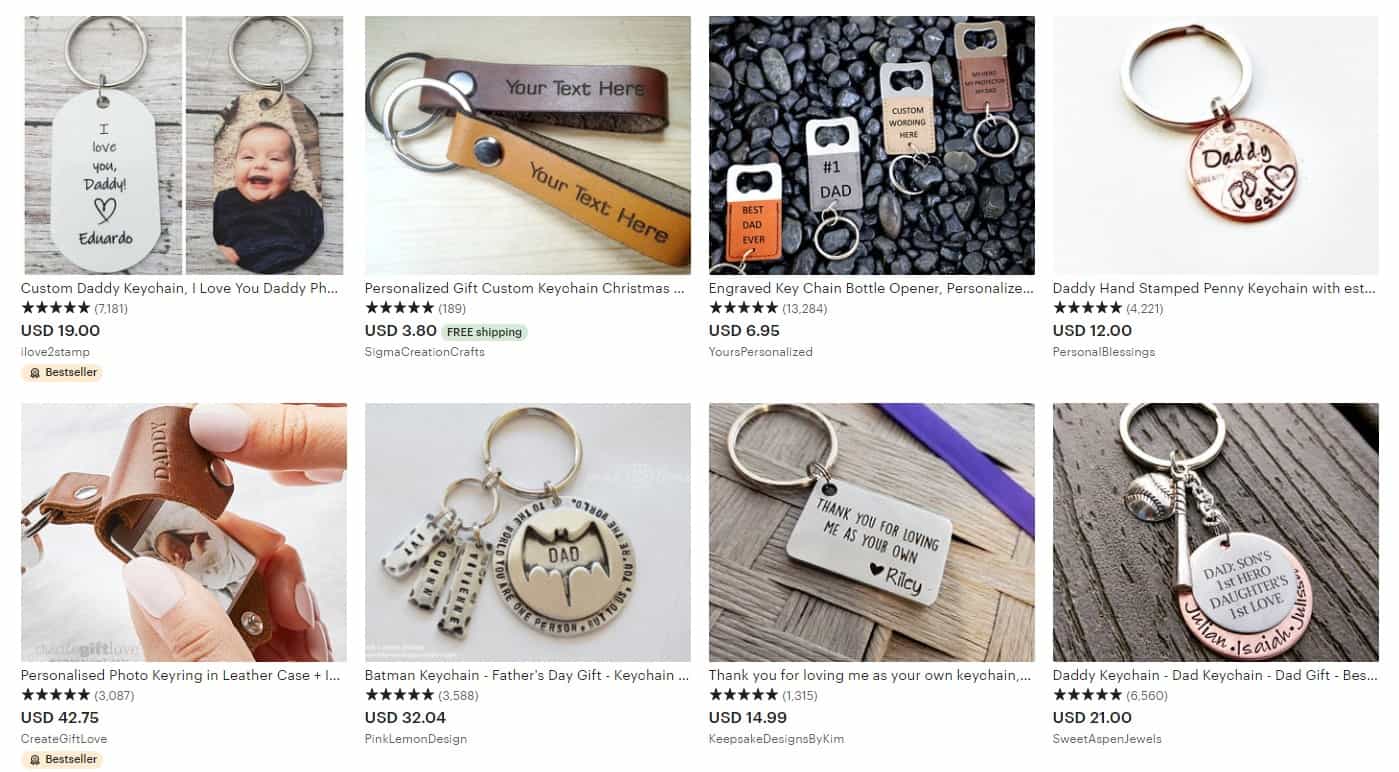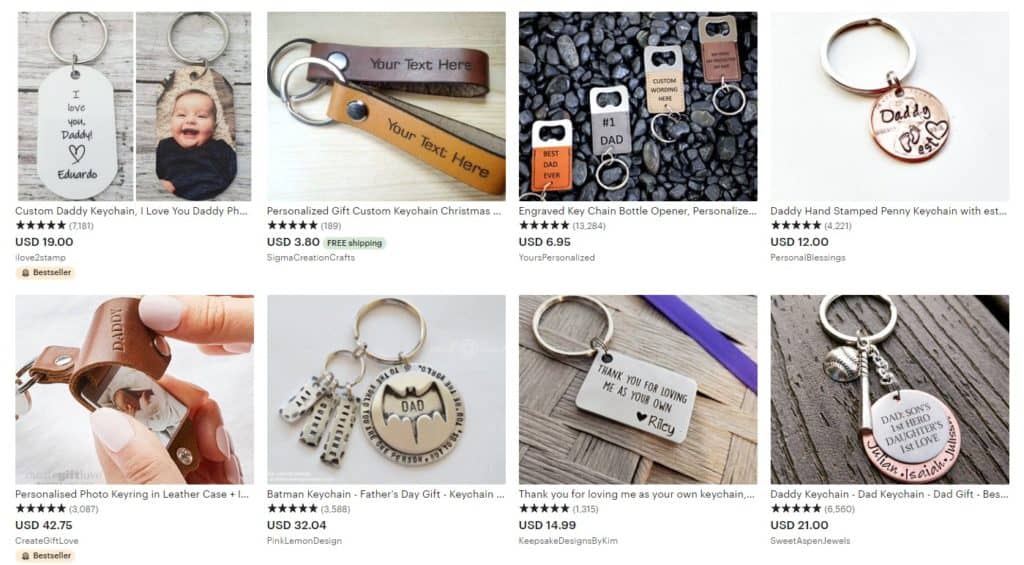 6. Personalized whiskey stones
Dads and grandfathers who don't like watered-down whiskey would like such a unique Father's Day gift. It will make every sip of their favorite drink pure and chilled.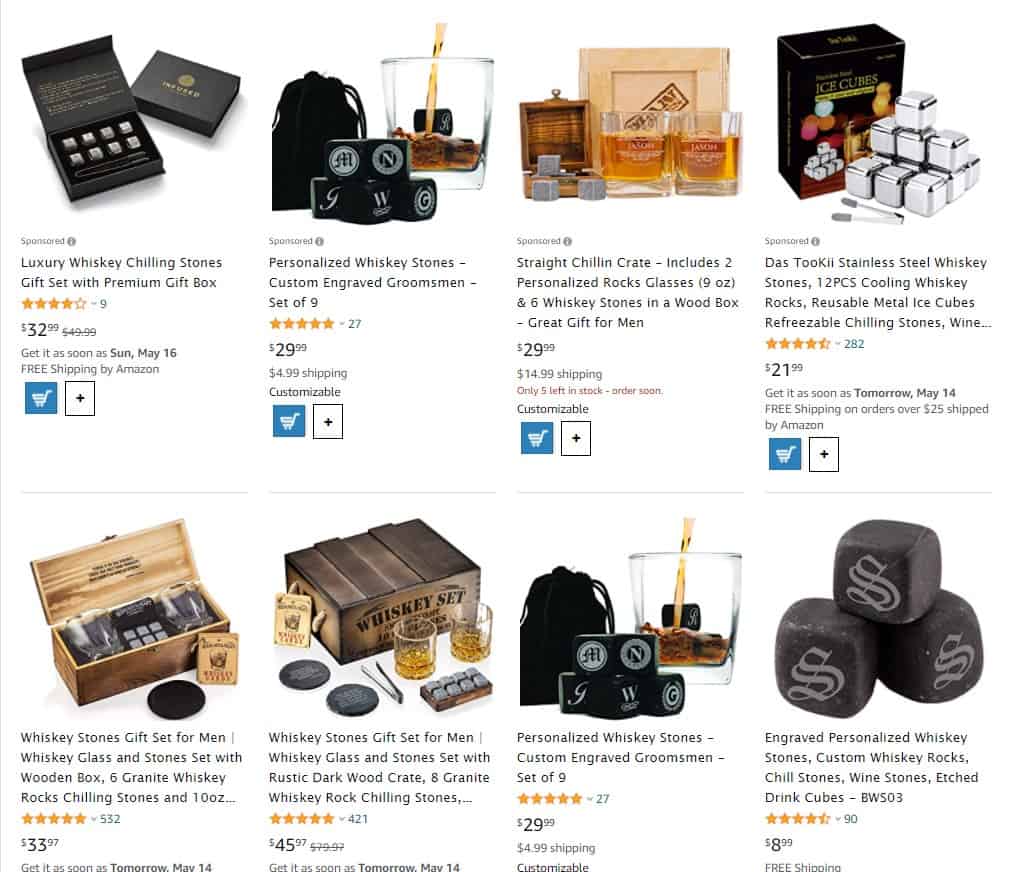 Cool Tech Gifts for Dads
7. Smart Watches
Those who want to support the fitness activities of their dads or who want to help them be more active will pick this gift idea. Smart watches and products related to them keep being in demand for a while and are among the products that are selling well.


8. Streaming stick or display receiver to make TV smart
Dads who adore spending time watching TV or some show will like this present. He will be able to connect a smartphone, notebook or iPad to a TV, projector or monitor and whatever the videos watched on mobile devices will be mirrored onto the bigger screen. It's a great Father's Day gift!
9. Wireless Charger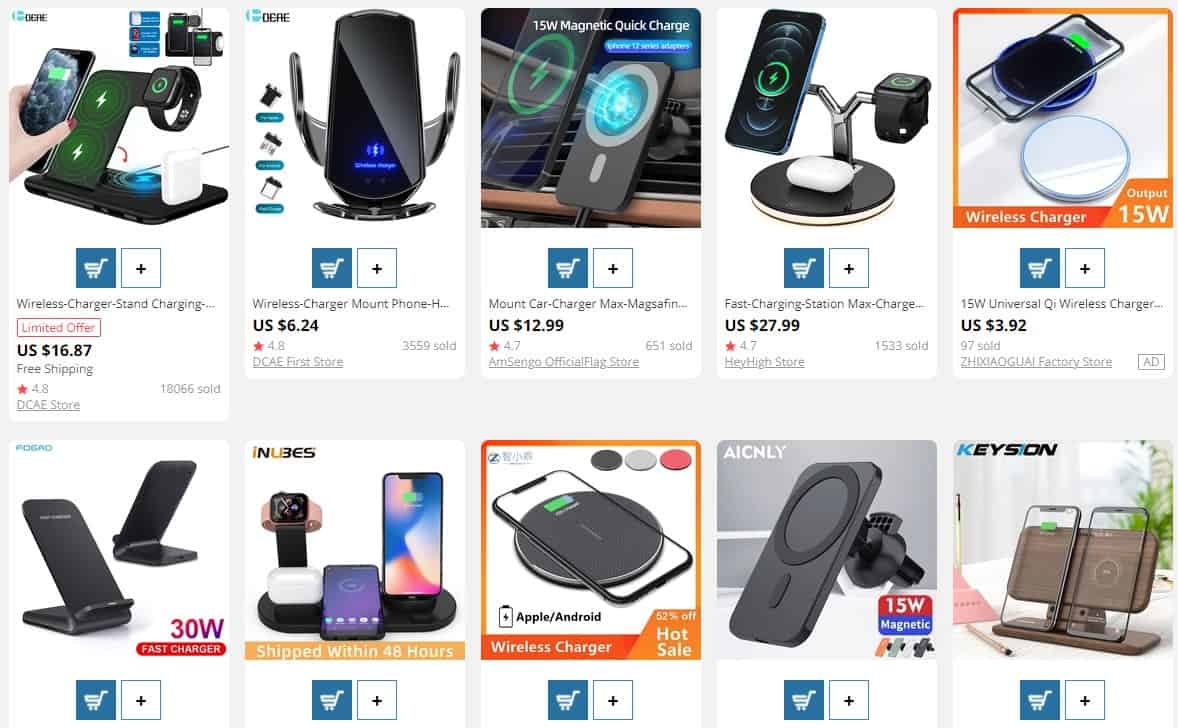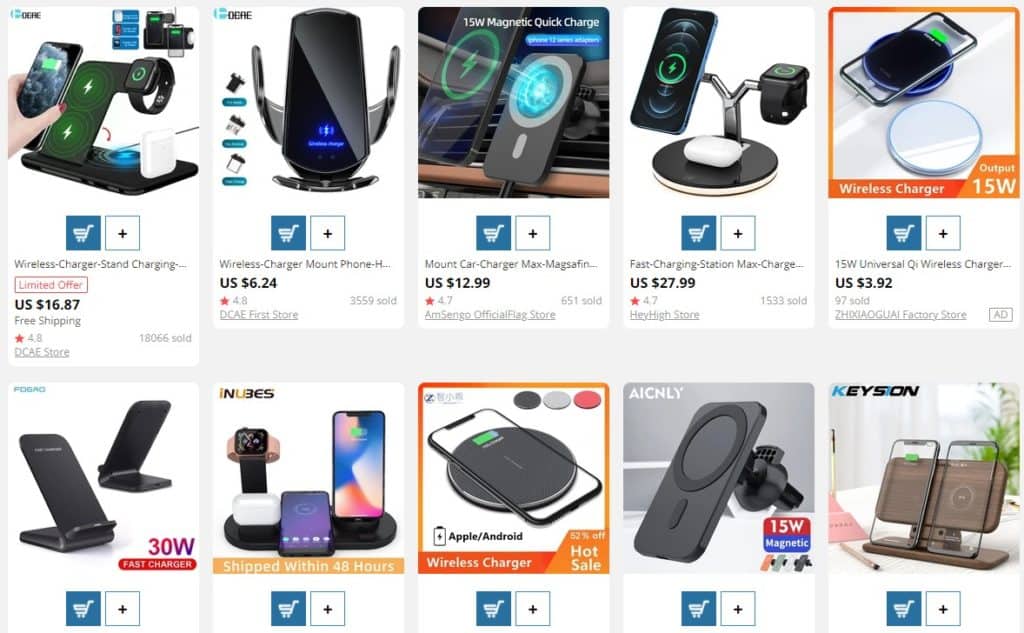 It's a great tech gift for dad or father-like figures. This product usually becomes more trendy right before holidays when people search for good gifts: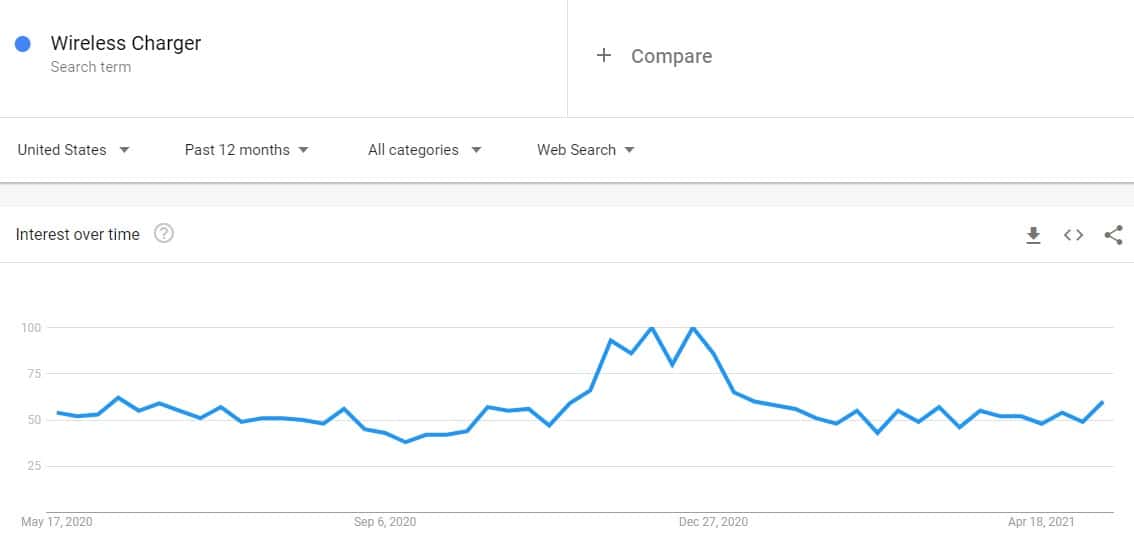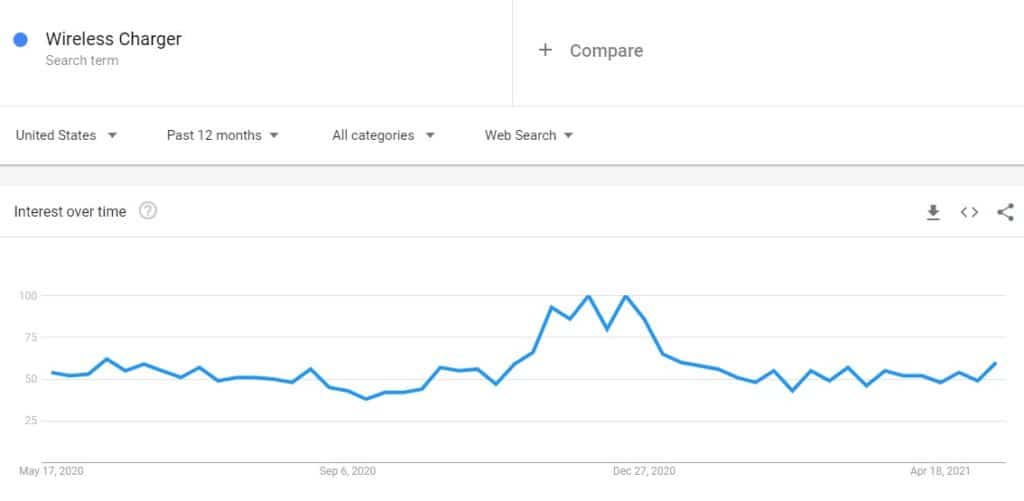 10. Good home security camera
A home security camera will be a practical Father's day gift, especially the one that includes speakers, microphones and sends alerts right to dad´s phone.
11. Portable Bluetooth Receiver for a car
This trendy product is a great Father's Day gift because it's practical, useful, multitasking, and, besides, inexpensive. Additionally, such a Bluetooth audio receiver can be used not only in a car but at home as well. It can be connected to non-Bluetooth car audio systems, home stereos, speakers, wired headphones via the 3.5mm AUX adapter. Dads can enjoy music and never worry about missing an important call.
It's already among Amazon bestsellers. In case, you are going to dropship this product on eBay, it can make 76 sales being on the top search results:


12. Bluetooth speaker
This tech gift to dads would be especially appreciated by audiophiles. However, who doesn't like to listen to music while cooking, just relaxing at home or garden, having parties with friends or family? It's a nice functional gift.
13. Back Neck Shoulder Massager
This is a must-have in every home. Coming home after a long working day, gardening or other outdoor activities, and getting a relaxing back and neck massage… it sounds even awesome! It's definitely one of the great Father's Day gifts he will never forget.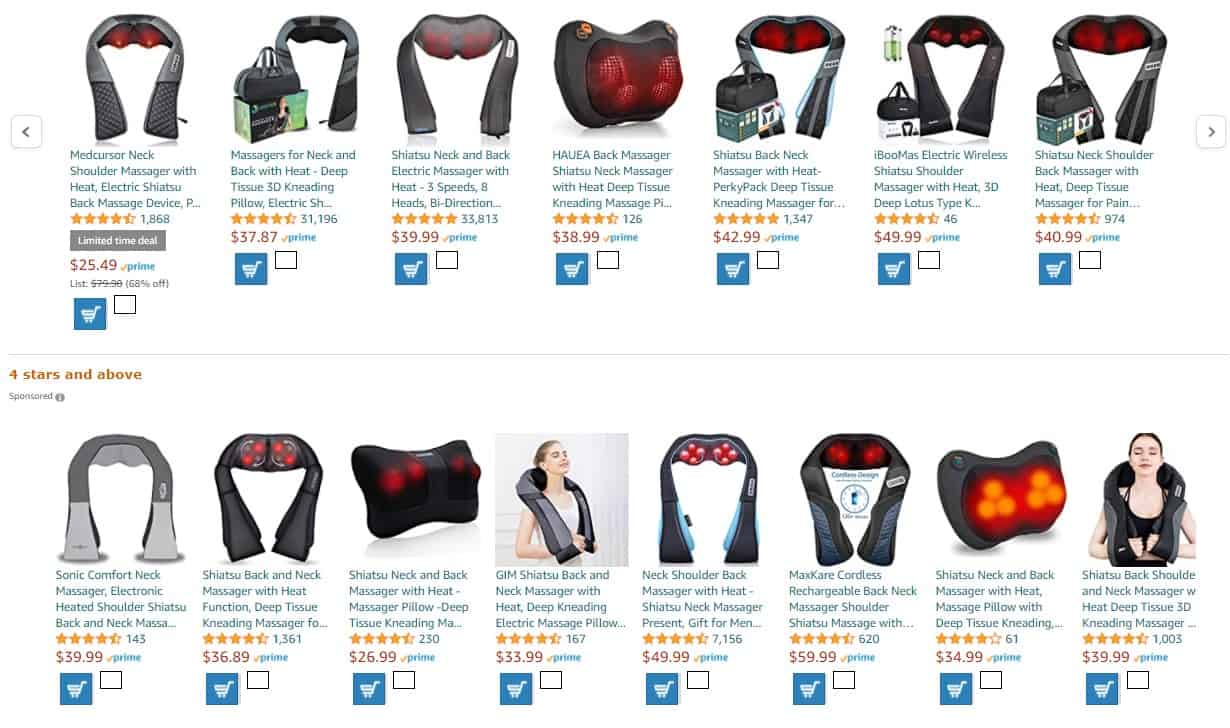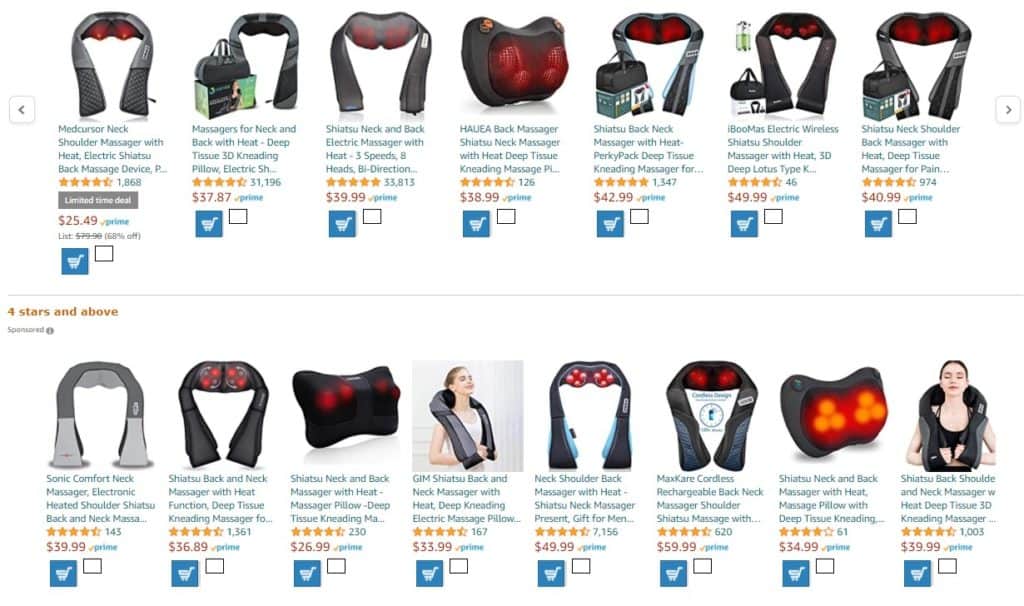 Shoppers, who are fans of individual approaches to the gifts, will search for hobby-related presents for their dads. And it basically can be anything related to a big number of leisure time activities: from golf, football, tennis, yoga to cooking, gardening, fishing, motos, autos, alcohol, cigars, etc.
You can sell some of such gifts in your online store. But not forget to include them in your marketing strategy so buyers would notice them while doing holiday online shopping.
PRO TIP: Probably some of your products are already related to hobbies. In this case, consider editing the title and description of these listings to adapt them to Father´s Day online shopping.
14. Mug Golf Balls and Tees
It's one of the great Father's Day gifts for golf-loving dads. Mugs, golf balls, golf bags, and tees with the Best dad text will definitely make them proud. Additionally, this present is inexpensive that makes a good profit opportunity for your store.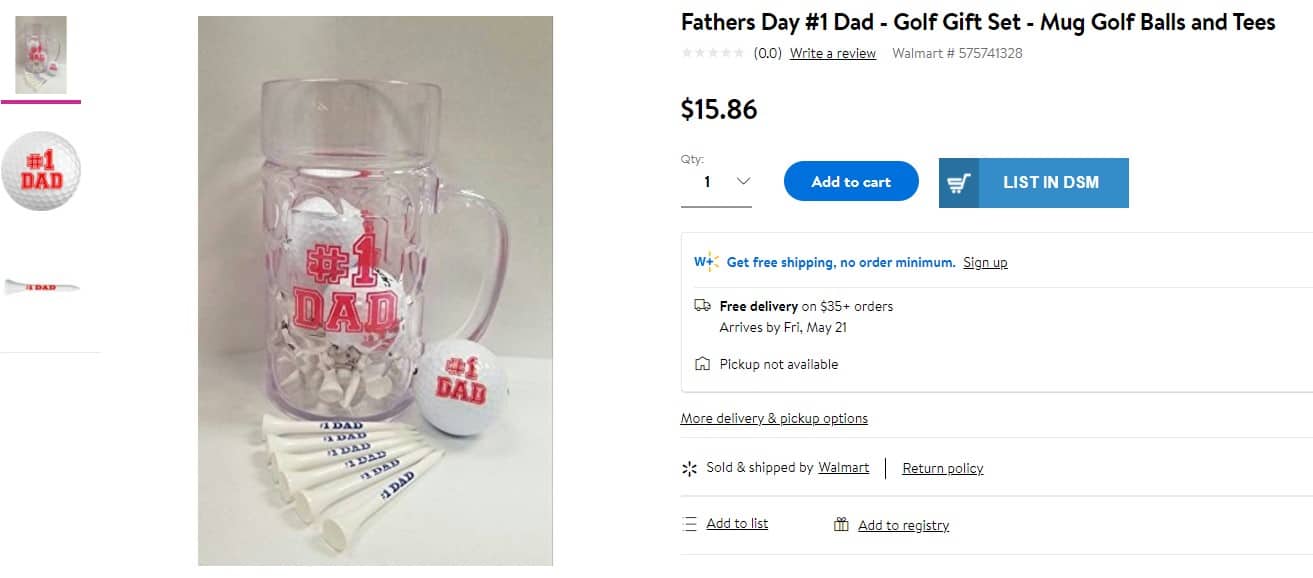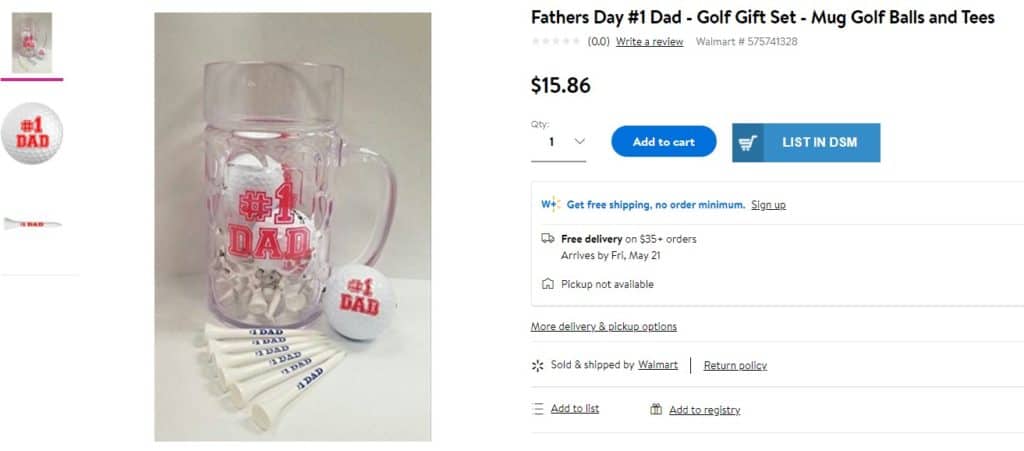 15. Bottle openers for golfers
Such a bottle opener is a must-have for golfer dads. They are classic, functional and highlight their love of golf.


16. LED-golf balls
Here is another golf gift idea for dads and father-like figures. Practicing golf at night sounds fun! Make sure to have it among your dropshipping products for Father's Day with the most effective title to catch more buyers.


17. Football 3D lamp
This is a cool Father's Day gift for fathers who are football fans. The 3D night lamp with different LED colors will be a nice decoration for their place that would remind them about their children who presented it…and of course football!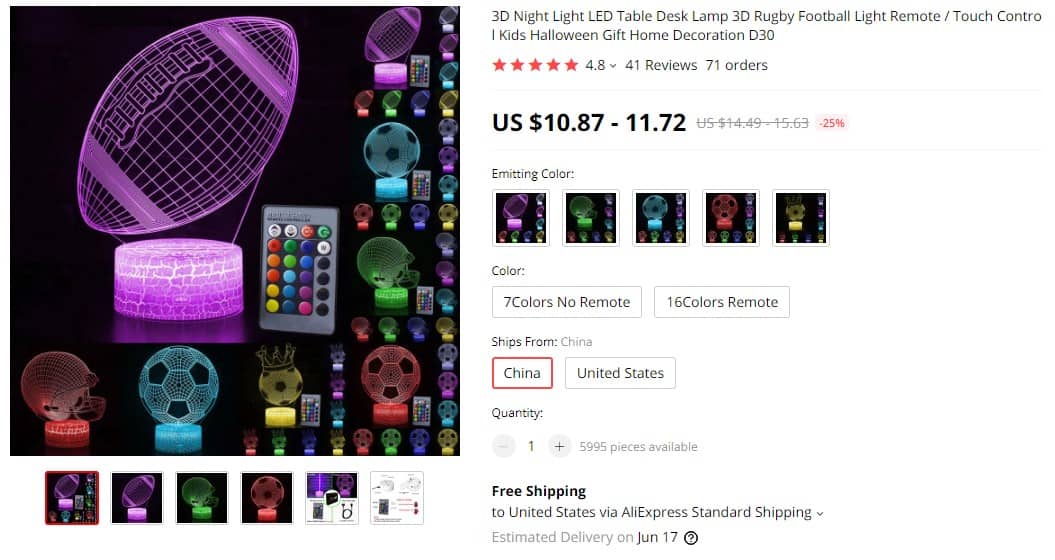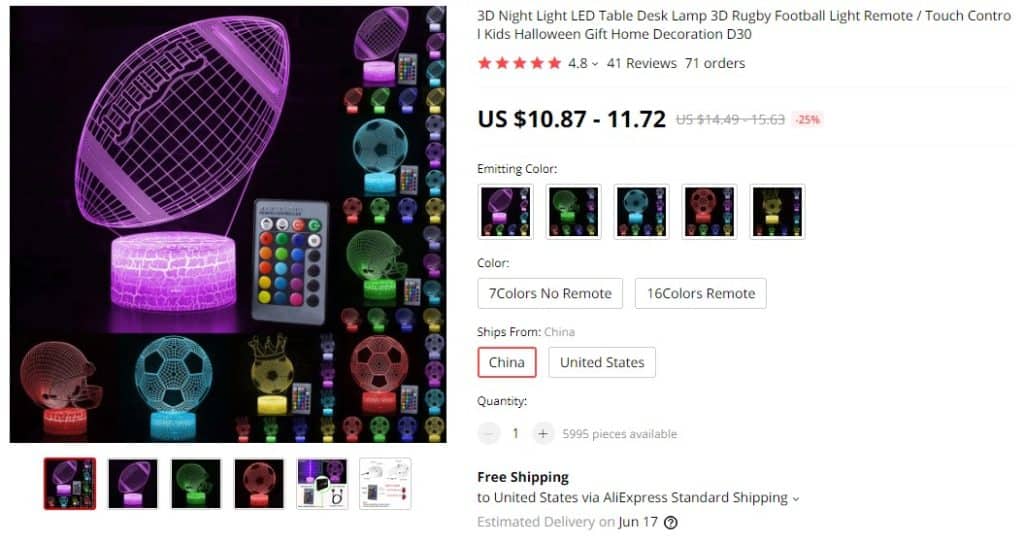 18. Travel cigar humidor case
Any cigar-loving father would be happy to receive such a gift.
You can consider it as a dropshipping product for Father's Day 2021. There is plenty of choice for different budget: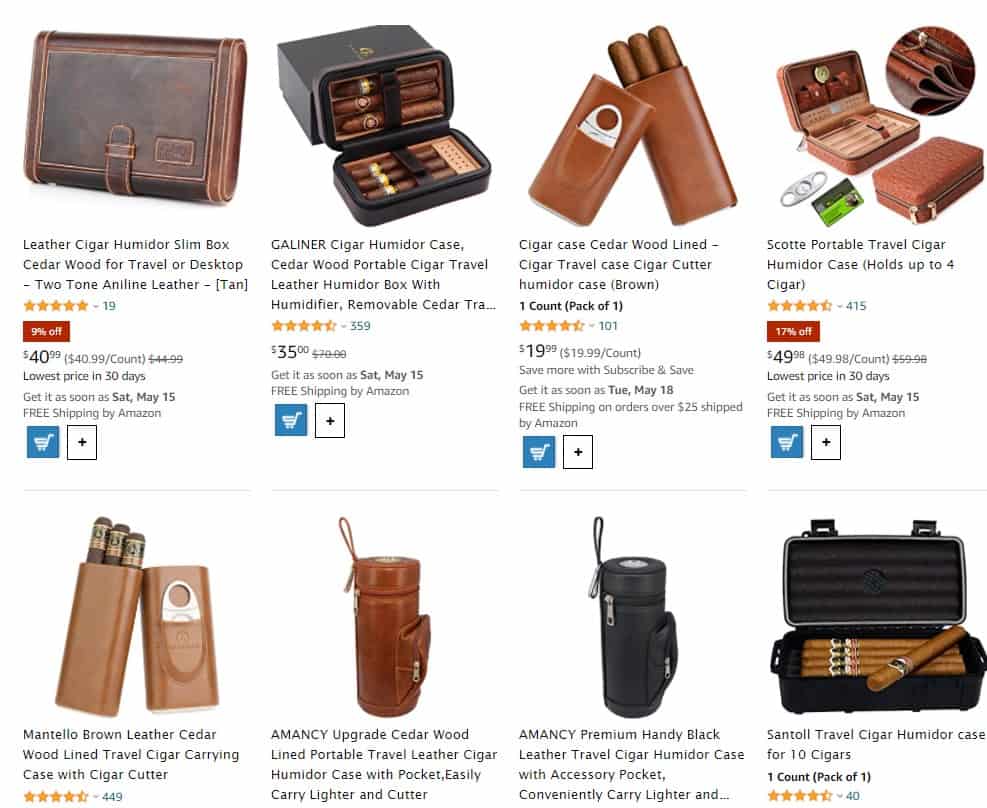 19. Baseball Whiskey Glass
It's a unique Father's Day gift example that a baseball-loving dad would enjoy. Additionally, there are similar sets for hockey, baseball and golf fans.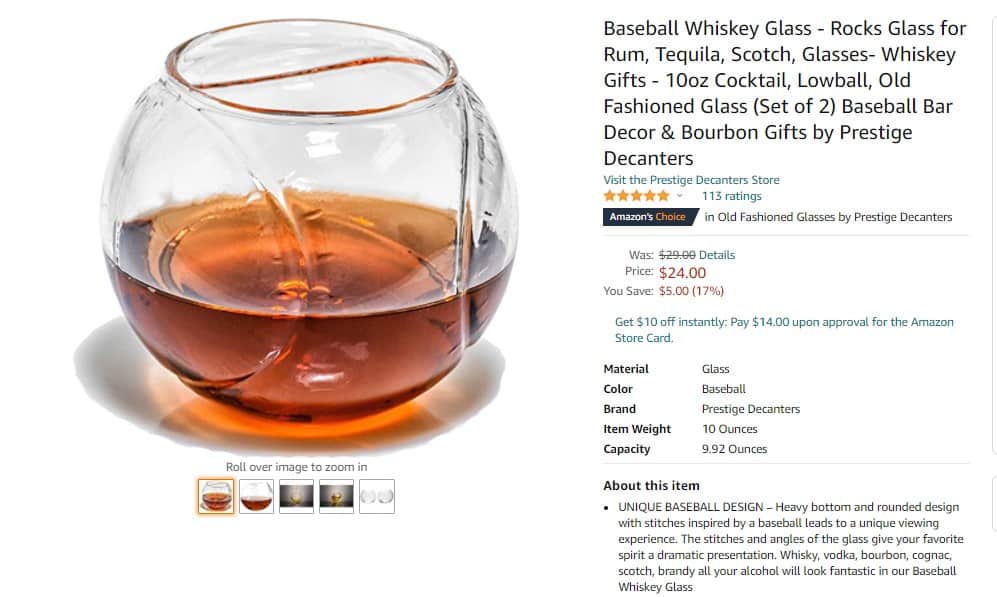 20. Personalized tennis rackets salad servers
It's a nice gift for tennis fans who besides enjoy cooking.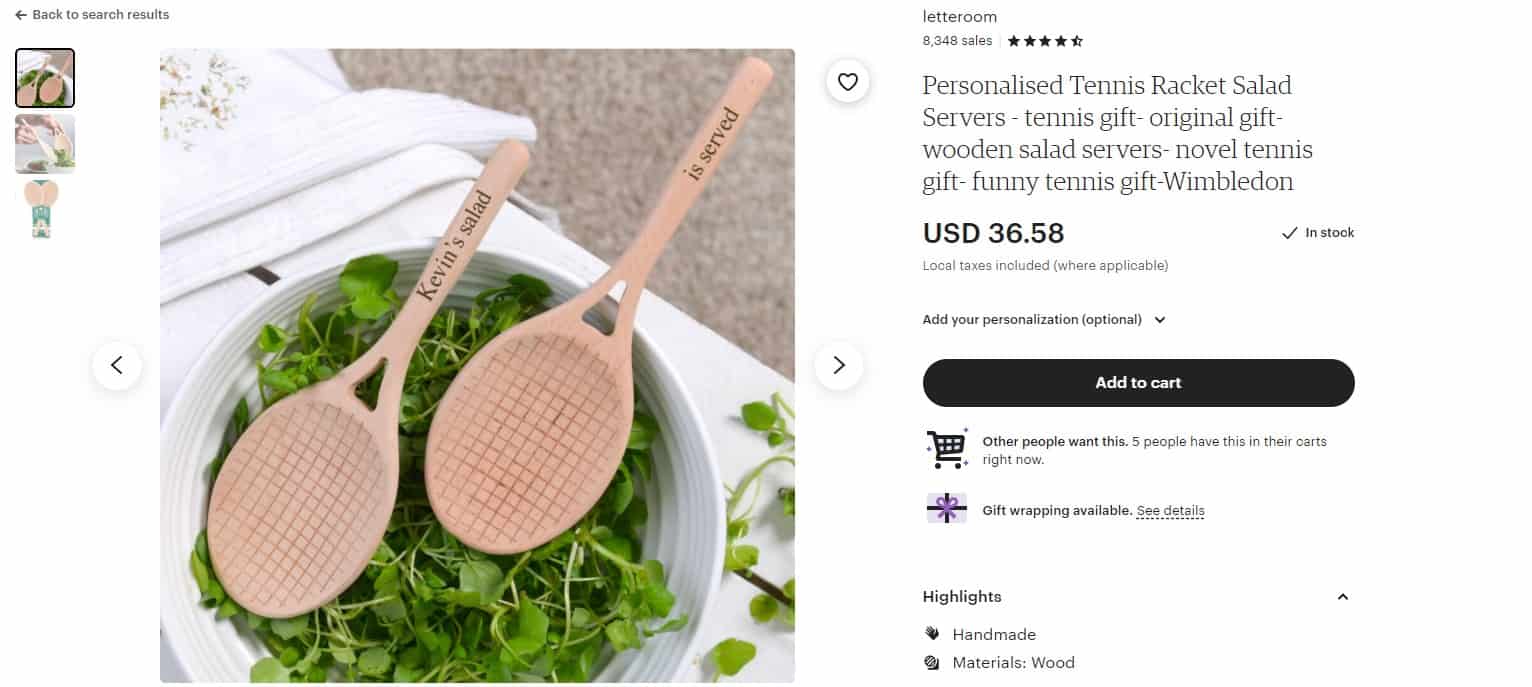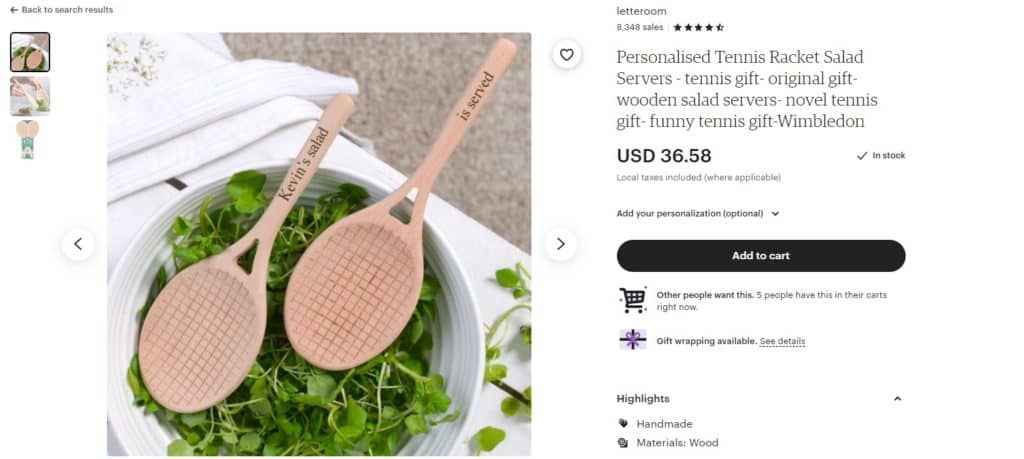 Outdoor Father's Day gifts
21. BBQ gift set
A gift set of BBQ instruments can double father's joy of BBQ with family or friends. There are different options for this gift. You can add to your dropshipping store even personalized BBQ sets especially for Father's Day 2021.


22. Outdoor Wine Table
Wine-loving dads can enjoy this gift gathering together with family or friends for a picnic or at the beach. It's a functional, light, portable and unique product for dropshipping during Father's Day.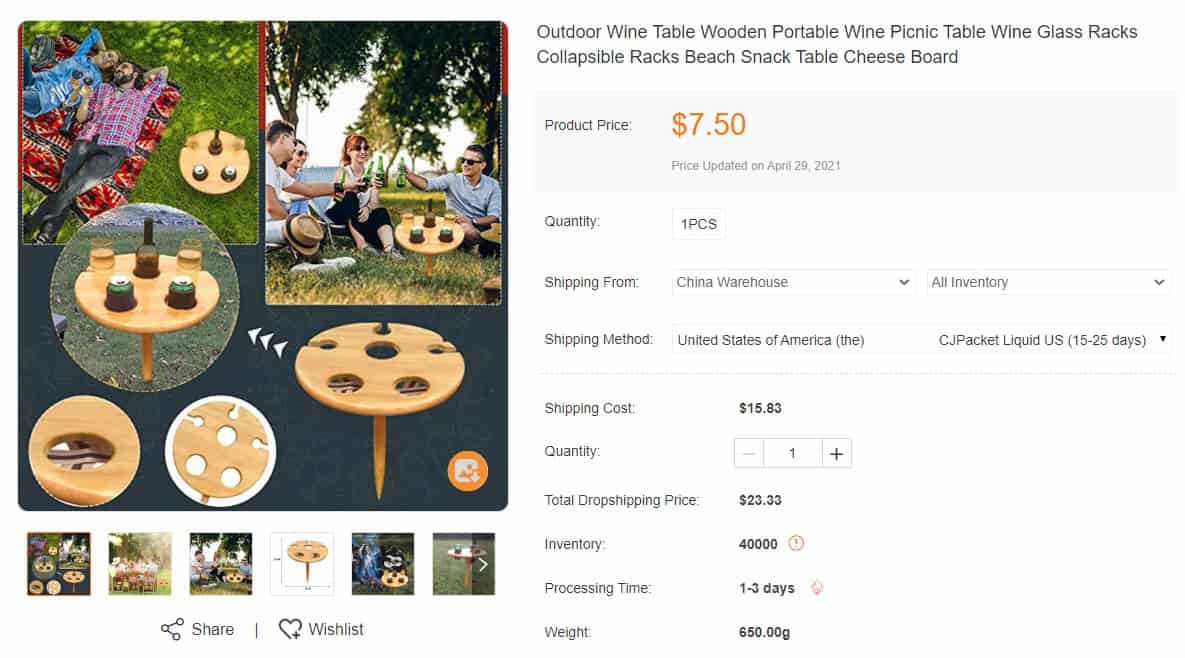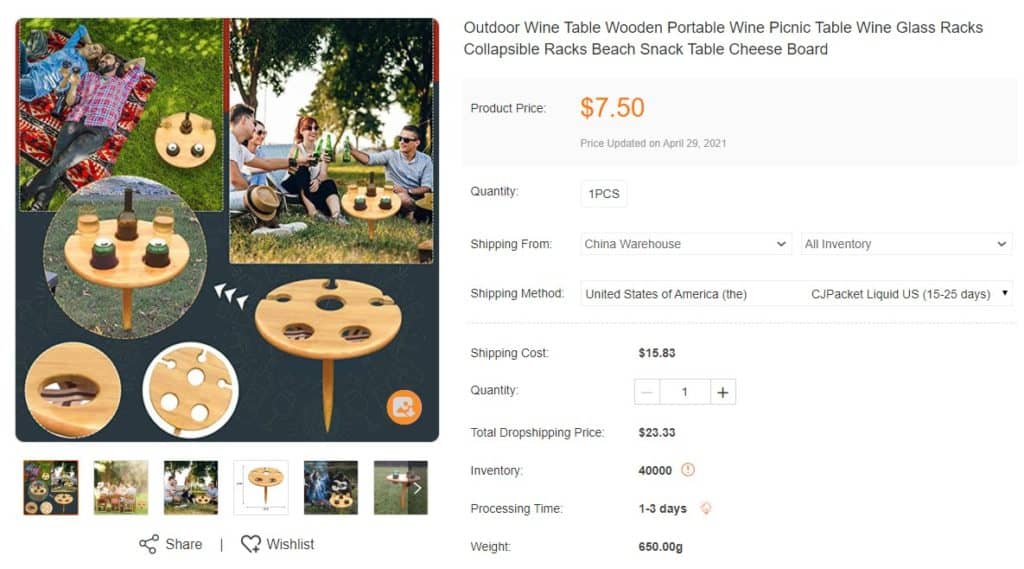 23. Solar light decorations
It's a modern and functional gift for gardeners for dropshipping on Father's Day and in general. It's an eBay trending product that has the potential to bring 515 sales being on the first pages of the search.


24. Outdoor umbrella stand with light and music
It's an outdoor umbrella stand with a chargeable Bluetooth speaker and LED light. It can be a great Father's Day gift since it will make any family outdoor party more live, bright and funny.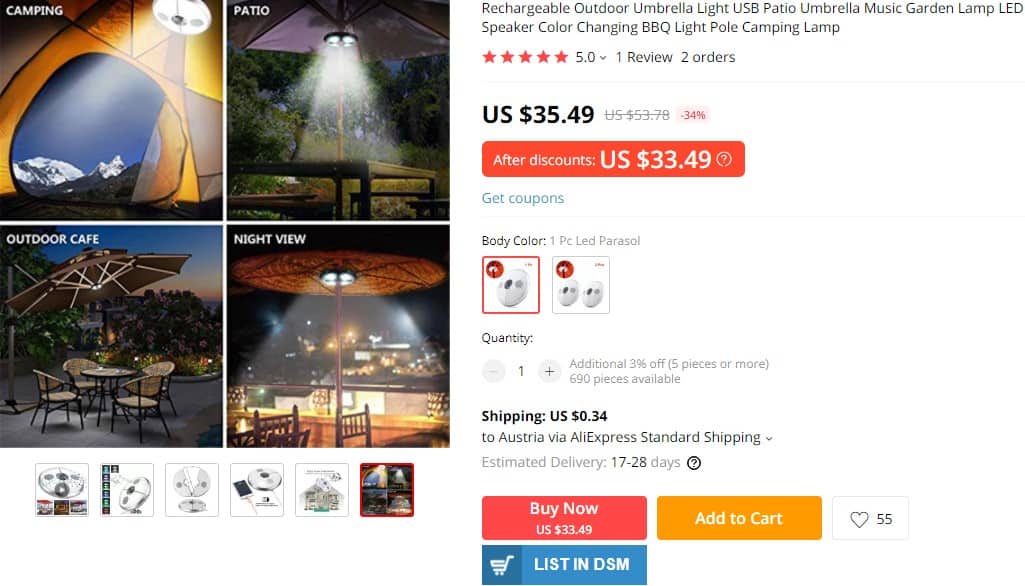 25. Hammock
A portable hammock it's a cool gift for dads. They can enjoy relaxing in it in their own garden, in their trips with friends after fishing, for example, etc.
26. Backpack Folding Stool with Cooler
A multitasking gift for dad for those who like functional presents. It is a portable cooler and a stool which you can wear as a backpack! This 3 in 1 product can bring a joy to those who like camping, fishing, enhoy a cold beer at the beach, etc. Surely, it will fins its owner quickly.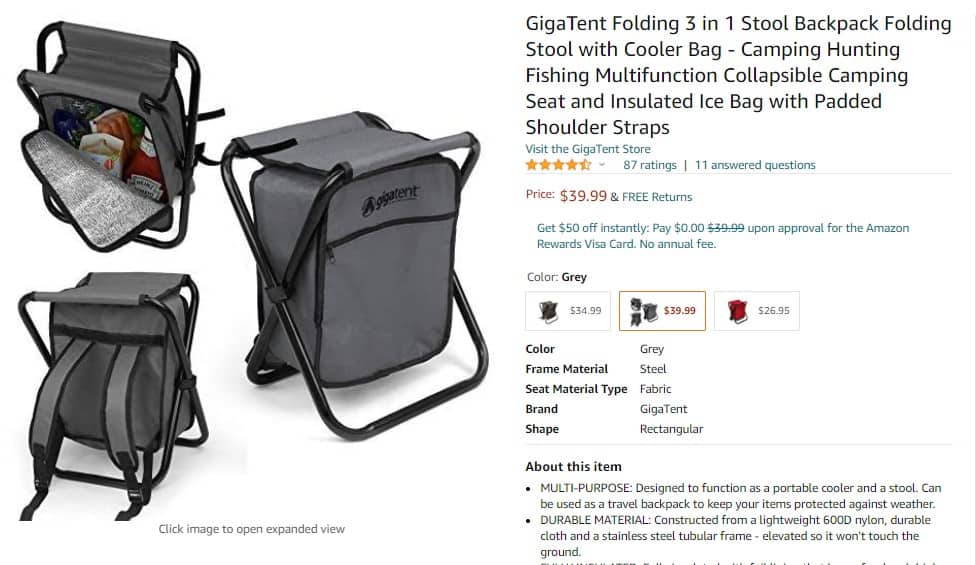 Other great Father's Day gift ideas for dropshipping
27. Gadget travel bag
This travel organizer will protect and keep electronics all in one place during traveling. Tech-savvy dads would treasure it… because their devices would be well protected and organized.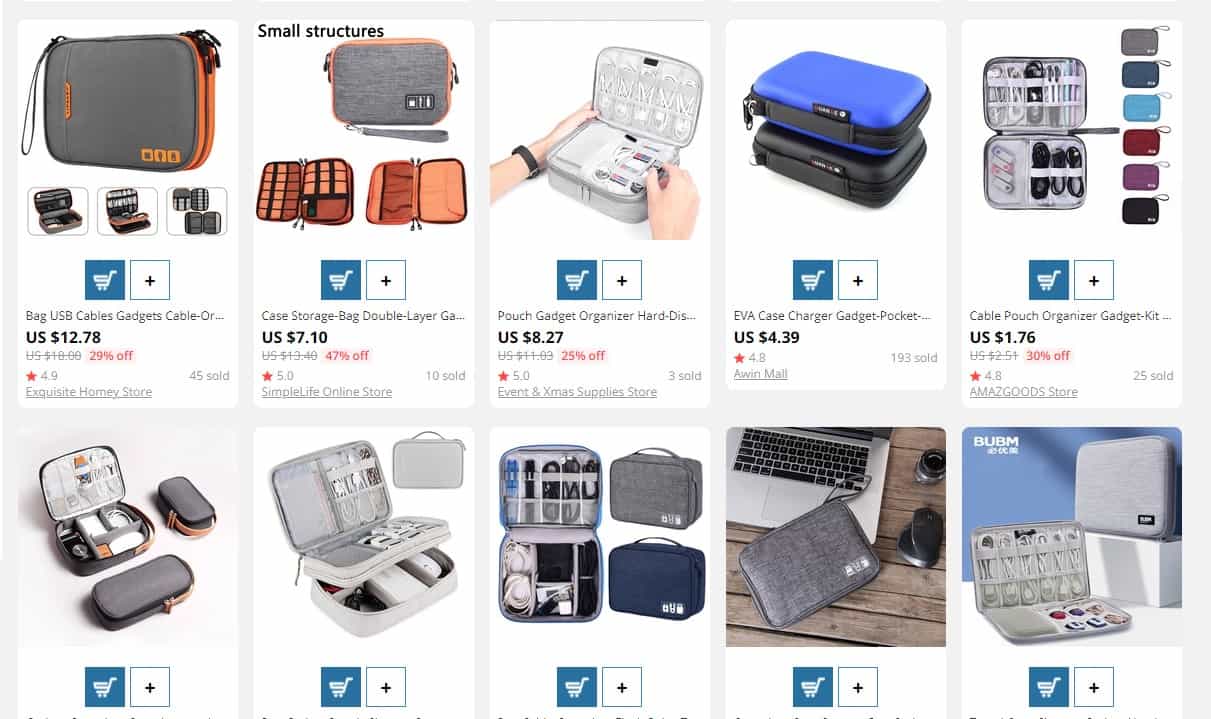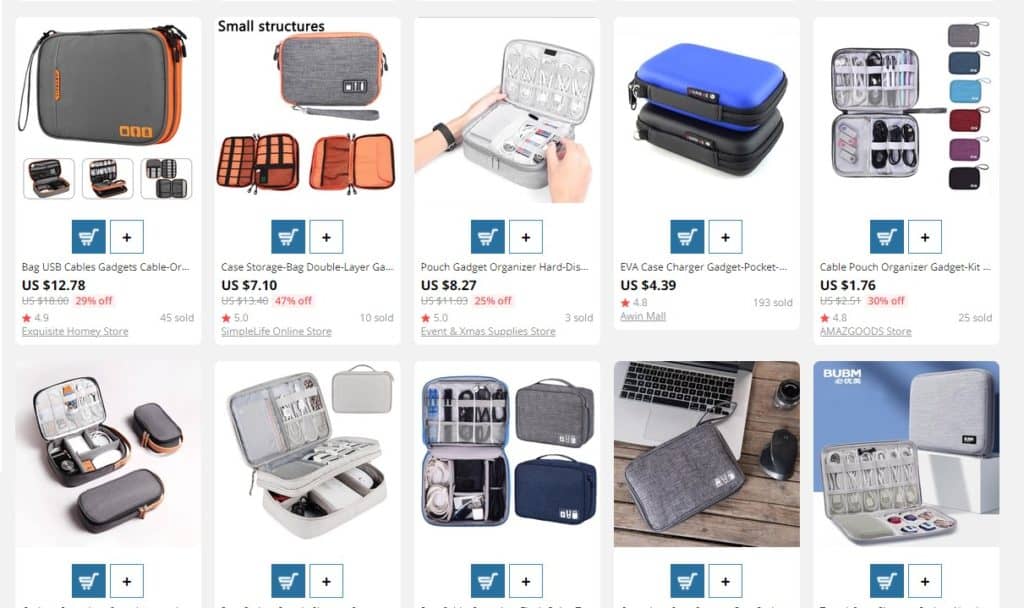 28. Wood phone docking station
How much time do fathers spend looking for their keys, wallet, or phone, lost somewhere in the house? I guess a lot. Such a wood phone docking station would be a great Father's Day gift. It's a beautiful and practical gift.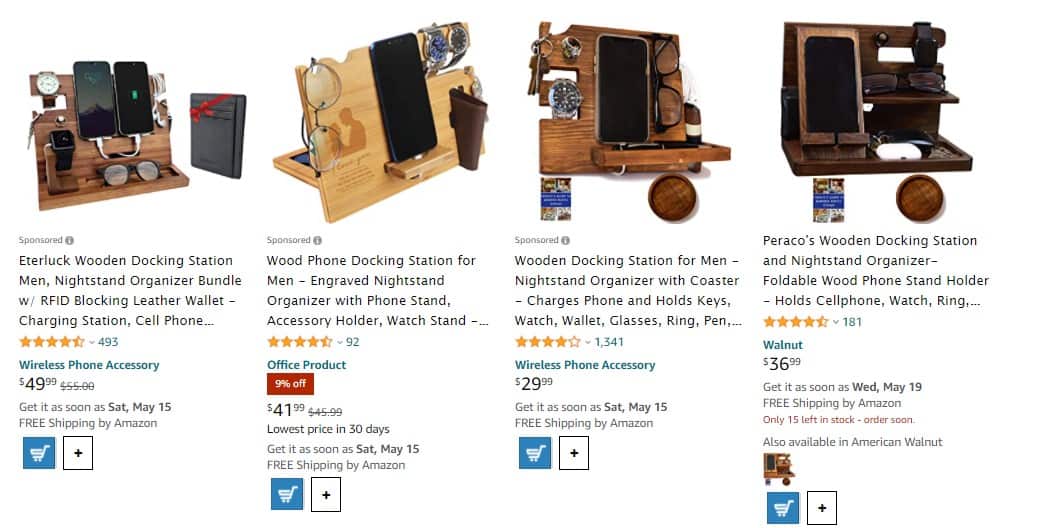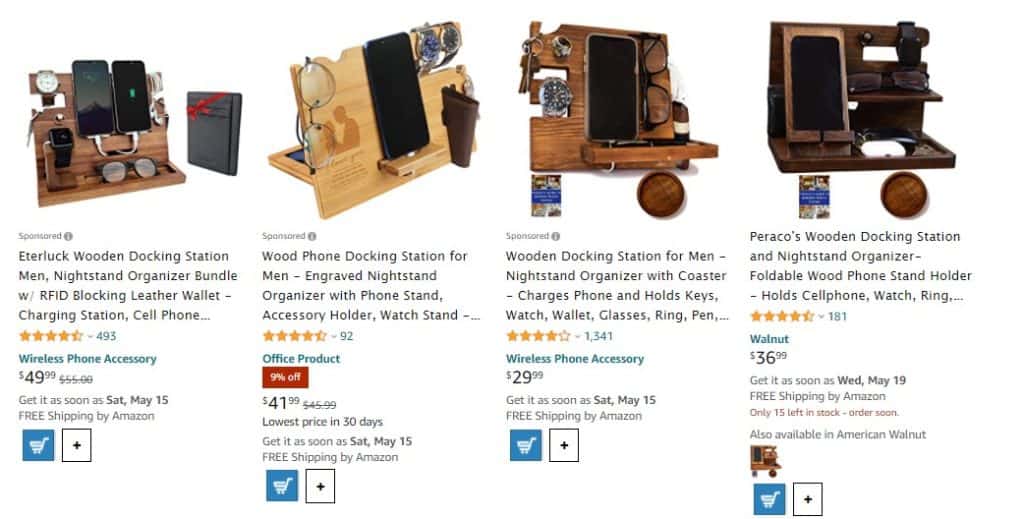 29. Dad Watch Organizer
It's a functional gift for dads and father-like figures. All his watch collection will remain in one place with a nice look.


Additionally, there are small leather versions for few watches only with a possibility to add a custom text.


30. Large Size Gaming Mouse Pad
Its a top selling item on eBay and Amazon from the Laptop & Desktop Accessories category. Dad – gamers would love this big gaming mouse pad with different LED modes: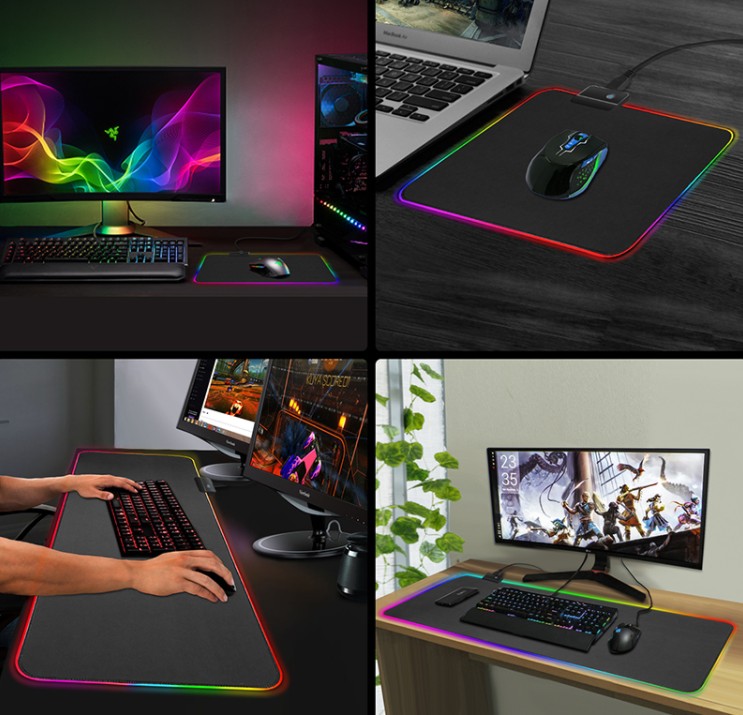 31. Hands-free Reading Light
It's one of the Amazon best-selling items that you can sell online as a functional Father's Day gift. It's bright enough to read at night without waking up those who are sleeping near. Dads who love reading would like it.


Final lines
Now you are good to go with preparation for the holiday. We hope that you got enough great gift ideas for dropshipping on Father's Day.
Remember to pick only reliable dropshipping suppliers and double-check shipping times to deliver presents right in time to your buyers. Also, make sure to run a good marketing campaign and apply the eBay SEO techniques, so your products can be noticed by more people during this holiday online shopping.
We invite you to find more product ideas in the What to sell blog category and our Youtube channel.
Happy Father´s Day!