22

min read
In this article, you will embrace the fine art of Instagram Reels Hashtags, but not only this! We will teach you how to achieve your goals when promoting your content by using Instagram reels tags and showing your subscribers that you care about them. You will also learn not to annoy your followers with a long list of IG reels hashtags that distract their attention from the content.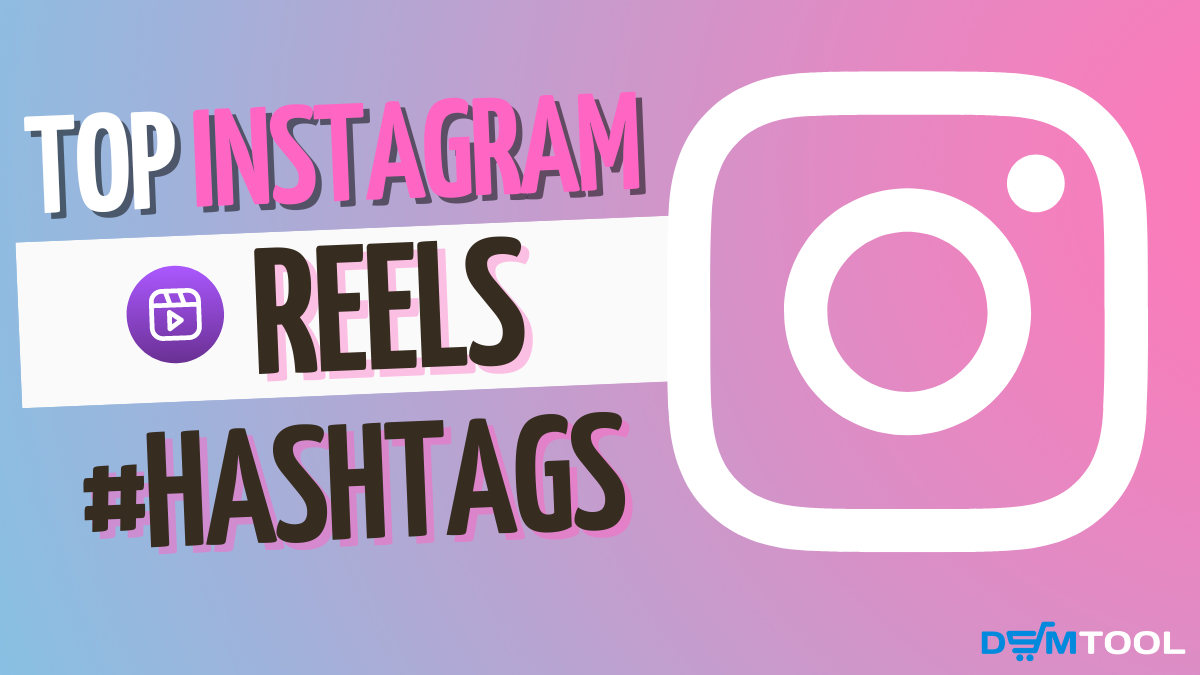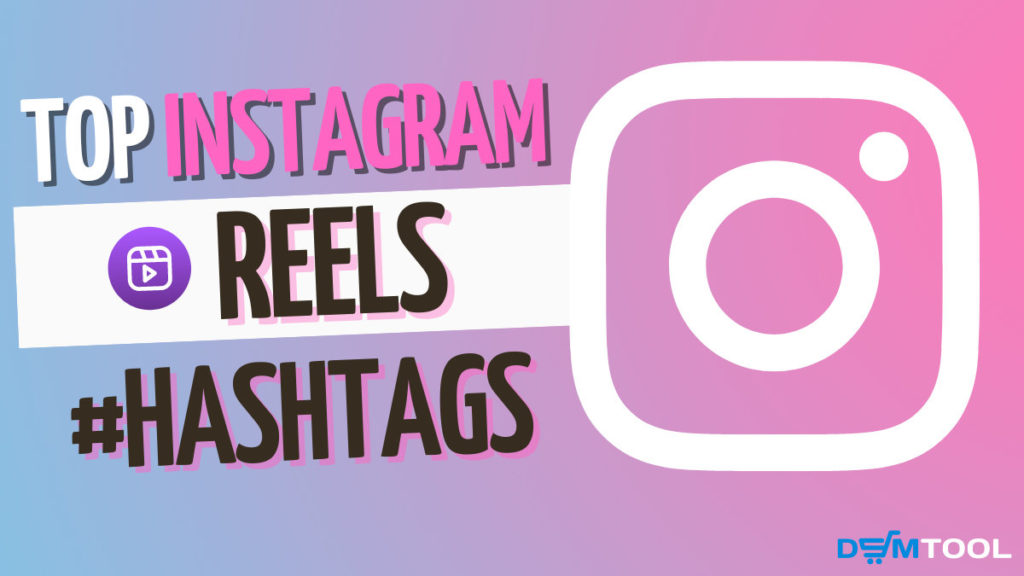 In our TOP 45+ Instagram Post Ideas For Business guide, we have put up a list of Instagram post ideas for business with examples to show what works best for different successful brands on Instagram. But content doesn't work if users do not see it. So what should we do? Post Reels and use…. hashtags! But not any Instagram reel hashtags, no. You need to use only the trendy hashtags that help users to discover your content. That is what our list of best IG reels hashtags is for!
The art of Instagram Reels is already well-known all across the world. People use them not just for entertainment but also to advertise businesses and increase brand awareness. We strongly advise you to explore all its features and possibilities for promoting Instagram accounts. It is one of the best ways to reach new audiences and grow your online presence.
With these top Instagram reels tags, you will skyrocket your business by getting more likes, followers, and shares! But first things first. Let's talk about the hows and whys of the hashtag world.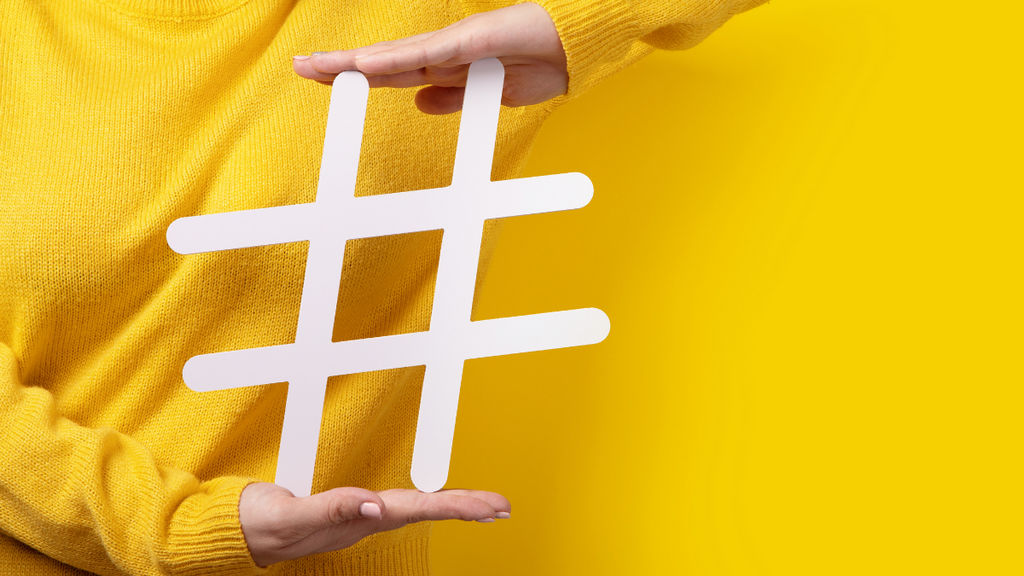 A hashtag is a keyword or combination of words, letters, numbers, and emoji with a # sign in front of it. Hashtags look like this: #reelsinstagram, #followme, #20likes. Hashtags serve as clickable links that feature all the content tagged with the same hashtags. When you click on an Instagram hashtag or do a hashtag search, you will be taken to a page that displays all of the content tagged with that hashtag.
You can not only add hashtags to your Instagram posts, but you can also follow hashtags to discover content relevant to your interests. IG reels hashtags are an excellent tool for discovering new content you might be interested in and getting your content in front of users who will enjoy it. Hashtags are also a great way to group your own content. If you are working on a special project, you can use a unique hashtag to connect all your related posts together.
A well-composed reel consists of two essential ingredients: the right content for the right audience and the use of current trending music. Hashtags are a part of the first ingredient, and it is crucial to use relevant and trending hashtags for reels to reach the intended audience. But what else can we achieve by using Instagram reels tags? Why use hashtags on Instagram?
Tip
Use Instagram managing and growing software like Flick to find viral hashtags and content.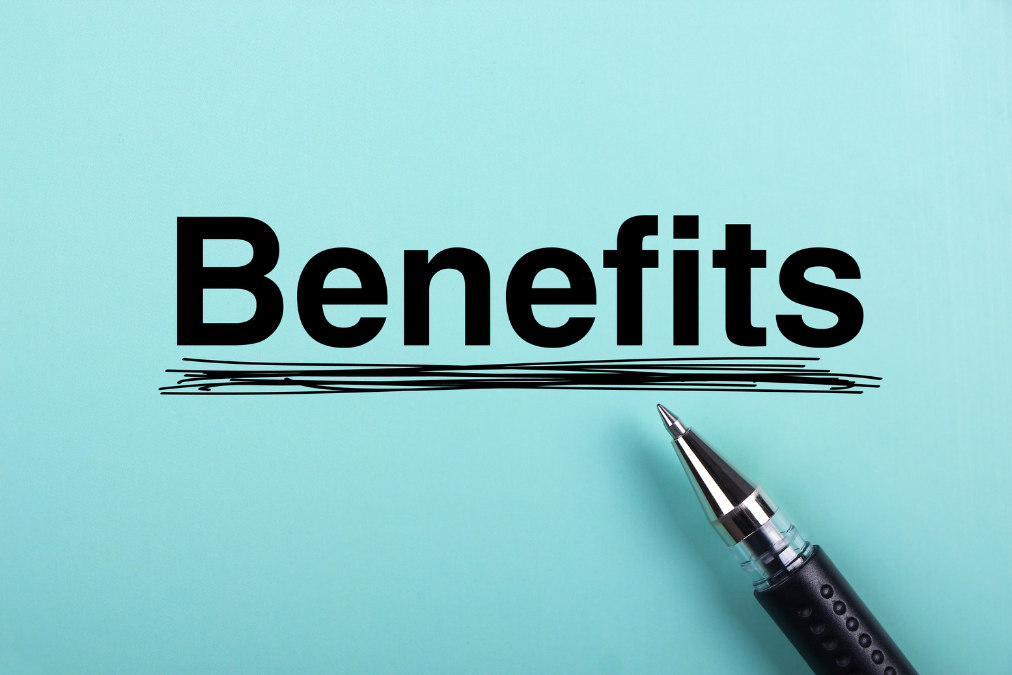 Boost Engagement
Using relevant hashtags is the simplest way to get your content in front of those looking for it. You can participate in the discussion on a specific topic and offer your product, service, or thought to users looking for or following the hashtags you use. As your reach grows, so will your engagement.
Increase Brand Awareness
Hashtags can help raise brand awareness and visibility. Nowadays, almost all brands create and use branded hashtags to promote their products or services and to push content to a larger audience. It is a good way of driving traffic to your content and boosting engagement, especially when using branded hashtags to create engaging challenges or increase UGC.
Represent Brand Values
Use hashtags to represent your company's values and show solidarity for social problems and issues you care deeply about and support. Especially younger consumers are glad to know that they are supporting companies concerned about global or regional problems they worry about too. Thus you demonstrate to your followers that you are more than just a brand.
Reach Target Audience
Using hashtags on social media helps your target audience to discover your content. Users look for and follow hashtags that are interesting to them. So, by using relevant hashtags, your work has a much better chance of being found by people interested in your products or services. Thus, hashtags attract new customers.
Hashtag strategy works on all social media platforms; those who remember when reels first came out would recall that hashtags were everywhere. Combining such an effective organic growth tool as Instagram Reels with trending hashtags can do wonders for your account, from making your social media content more discoverable to expanding the reach and popularity of your content and brand. Getting into Instagram recommendations gives more exposure to the account and posted content. We'll discuss the "recommendation page" later in this article.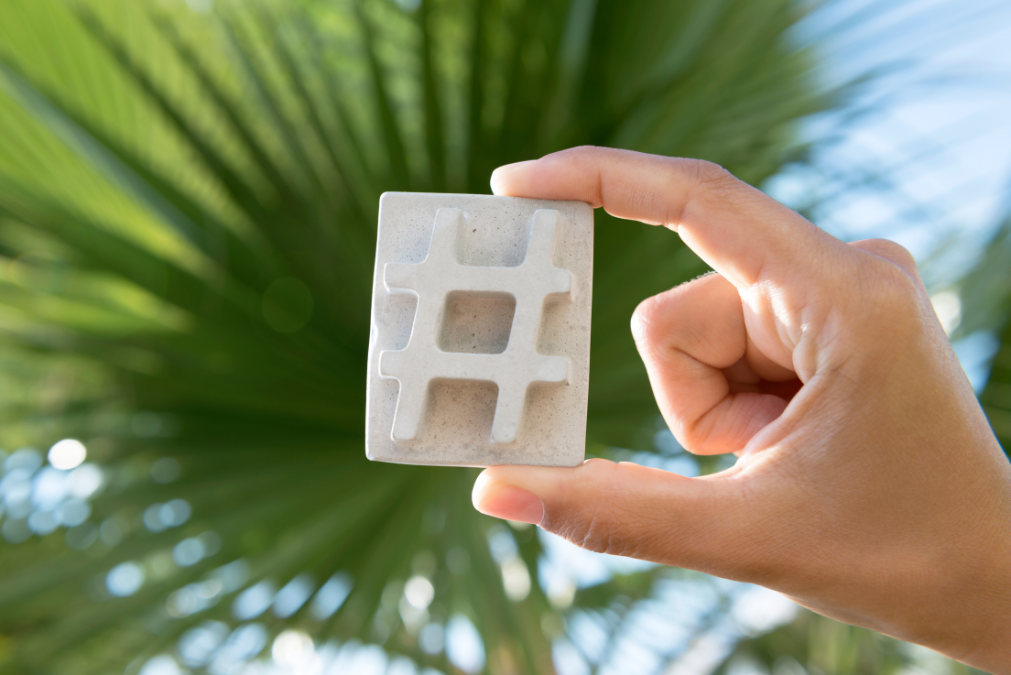 To add/set hashtags, start by writing the # sign and then entering a word that corresponds to the topic of the video or what you want users to do. It can be a solid word or a combination of letters, numbers, or emoji preceded by the # sign. For example, under a video with cats, you can write hashtags: #cats and #likeforlike. The first tag will determine the topic, and the second will attract accounts interested in mutual likes exchange. However, be mindful of the second example we provided. Although it does help to raise the number of followers, it will be about quantity rather than quality. And reputable brands usually value quality more since it builds a loyal customer base and meaningful interaction.
You can split Instagram reels hashtags into several categories or types:
These hashtags tie to places, most often a city or country. They are good to use when providing services or selling goods through your account. Do not write geographical names separately, but rather glue them with the name of the service.
In this example, photographer Anna Getman, who shoots in Ukraine and Moldova, lists available cities in hashtags. So when searching for services, it will be easier to find them.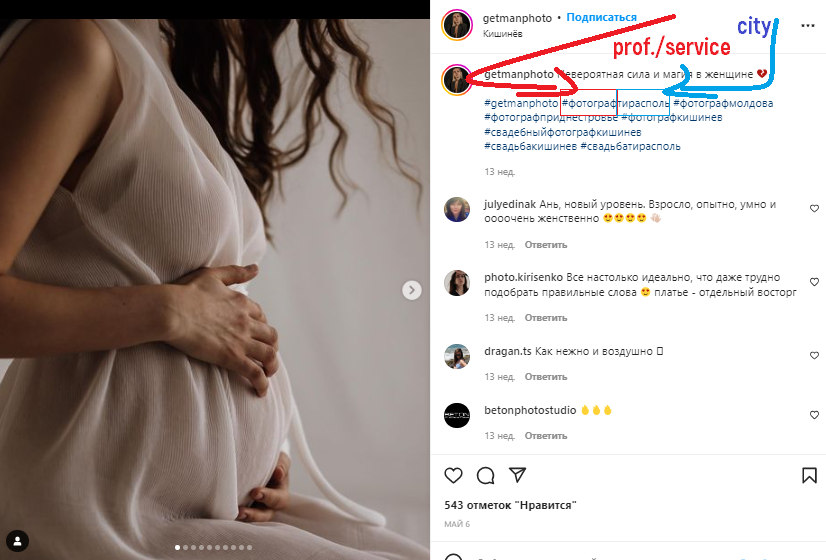 These Instagram reels tags describe the essence of your service. The goal is similar – when someone searches for an account on social networks, it will be easier to find you. You do not have to limit yourself to one thematic hashtag – you can write several. If it's hard to pick your own out of your head, start typing your hashtag options and see what your colleagues use.
In this case, Artur Cavalcanti Cakes – a cake artist, used several hashtags that describe the taste and features of the dessert: #cakes, #buttercream, #buttercreamcake.
These hashtags on Instagram are not to make it easier to find you. You create them to make it easier for your subscribers to navigate the content you produce. You can even list them in your profile header for simpler navigation.
For example, if you run an IG page for your eCommerce shop, you can create hashtags with type of your products. Convert your product categories into hashtags like this shop did:
Here is a great example of a professional organizer Carli Sabo, who has categorized her reels for easier navigation. #laundrytips is one of the hashtags she uses and even added it to IG highlights.
Another example is tattoo model and athlete Michael Braun uses #michaelbrauntkd to mark all his personal reels.
An event hashtag is a powerful tool to centralize all the online discussions around your event. It brings together all the online conversations, multimedia, and information about your event. A good event hashtag should be unique, clear, and memorable. Make a plan to highlight your event hashtag before, during, and after your event to make sure everyone uses the same one. Here are a few examples: #coronabirthday, #krystallpalastvariete, #InternationalDayOfYoga.
More than 70% of hashtags on Instagram are branded, which means they are specific to businesses. They might contain your brand name, your products, or a specific campaign – or they might have nothing to do with your brand name but everything to do with your brand identity. Branded hashtags are meant to connect you and your audience. They can be used to promote a scheduled campaign or to aggregate user-generated content (UGC). Using branded hashtags is a way to get your most loyal followers and customers to share their experiences with your brand, helping improve brand awareness. You should always use at least one branded hashtag.
Here is the eco-beauty brand Glossier which added a reel from Alicia – the founder of @rangebeauty, eczema and acne-centered makeup for the forgotten shades, and one of the grantees from Glossier's 2021 Grant Program for Black-Owned Businesses. Amazing user-generated content sharing the tag #GlossierIRL.
Lululemon also presents reels using their own branded hashtags for sales #chargefeel and #thesweatlife:
Every day of the week has plenty of its own hashtags, from #MondayBlues right through to #SundayFunday. Here are a few more examples to cover all the weekdays to choose from if you're looking for an easy source of hashtags to add to your reels:
Monday – #Monday, #MondayMotivation, #MondayMood
Tuesday – #TransformationTuesday, #TuesdayThoughts
Wednesday – #WineWednesday, #WCW, #WomenCrushWednesday
Thursday – #TBT, #ThrowbackThursday, #ThirstyThursday, #ThursdayNight
Friday – #Friyay, #FridayVibes, #FridaysForFuture
Saturday – #SaturdayNight, #SaturdayVibes, #Caturday
Sunday – #SundayFunday, #SundayMood, #SundayBrunch, #SundayVibes
Just remember not to use all of these hashtags in one reel!
Trendy Hashtag
Trendy hashtags are ones that have already shown and proved their popularity and keep staying on top. Trendy hashtags are also ones that relate to current events in the world and only recently started to be heard and discussed everywhere, like #russiaisaterroriststate, for example.
Pay attention to the type of hashtag and content that you are going to show to your audience. It should look harmonic and fit the idea of the reel. You can add a location to draw the attention of local users, a category for navigation inside your account, a trending tag if you participate in a challenge, or shoot a video on a hype topic. Don't use too general hashtags, too many high-frequency ones, and tags that do not fit the topic. It is like discovering the slippers in the fridge if you use the #cats hashtag in a video review of a new gadget or social media hack.
Now that we covered what Instagram reels tags are and how to use them, check out the list of top hashtags for Instagram Reels to use in 2022!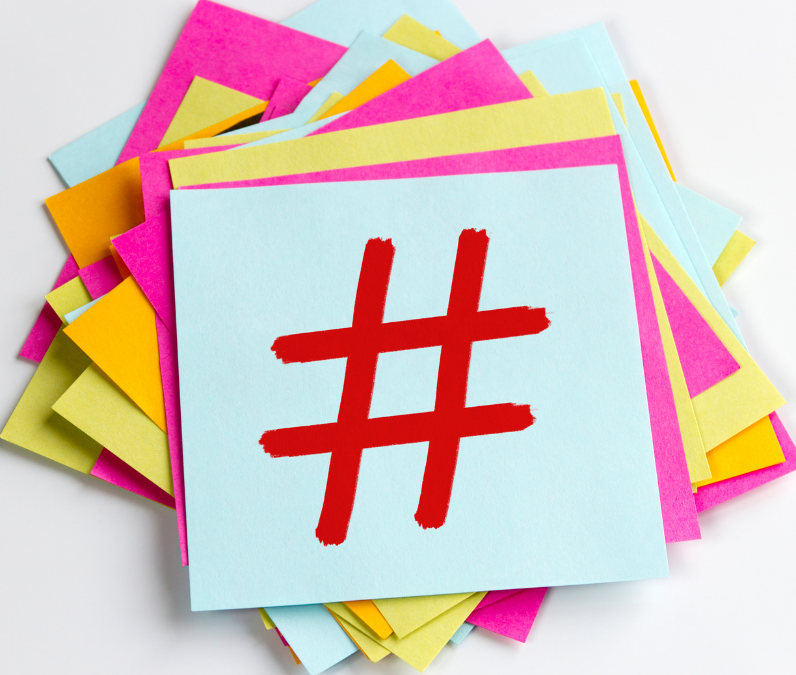 #reels #reelsinstagram #reelsvideo #reelsbrasil #holareels #reelsteady #instagramreels #reelsinsta #rossreels #instareels #fishingreels #reelsofinstagram #hatchreels #reelsinstagram? #reelsiki #reelsteadygo #reelsdance #reelsvideos #reelskin #reelsmakeup #reelsviral #reelservice #reelslove #reelskipper #reelsportswear #reelsitfeelsit #customreels #nautilusreels #businessreels
#ecommerce #onlinestore #marketing #business #digitalmarketing #ecommercebusiness #entrepreneur #onlineshopping #website #webdesign #marketingdigital #socialmedia #onlinebusiness #branding #shopify #smallbusiness #socialmediamarketing #webdevelopment #online #shopping #onlineshop #design #instagram #ecommercewebsite #wordpress #dropshipping
#love #instagood #me #tbt #cute #follow #followme #photooftheday #happy #beautiful #selfie #picoftheday #instatag #style #instamood #latestvideos #trending #trendingclip #trendingvideo #trendingone #viral #viralvideos #dance #viralone #life #nofilter #lol #pretty #repost #my #iphoneonly #throwback #20likes #colorful #makeup #photo #day #iphonesia #instalove #awesome #home #loveit #likes
Nature:
#nature #naturephotography #naturelovers #naturaleza #natureshots #naturelover #natureperfection #natureaddict #savethenature #natureonly #natureplay #naturepics #naturetattoo #natureporn
Sky:
#sky #bluesky #skyporn #skylovers #skyphotography #skyline #skylover #skyscape #skyscrappers #skycolors #skybrilliance #sunset #sunsetlovers #sunsets #sunsetvision #sunsetcaptures #sunsetmadness #sunsetbeach #sunriseoftheday #sunrisesunset #sunrisesky #sky #skyeyes
#fashion #fashionista #fashionblogger #fashionstyle #fashionweek #fashionnova #fashionable #fashionillustration #fashiondesigner #fashionblog #fashionaddict #fashiontrends #fashionmodel #fashionisart #fashionideas #fashioninspiration #fashioninfluencer #fashionshoot #fashionlove #luxuryclothes #fashion #instafashion #modareels #fashionstyle #modaplus #fashioneveryday #fashionitaly #fashionstreet #bigfashion
#foodpic #foodporn #foodphotography #foodpics #foodstyle #foodstylist #foodie #foodblog #foodart #foodlovers #foodheaven #foodgram #foodbloggers #myfood #myfoodfortoday #healthyfood #junkyfood #streetfood #healthyfood #foodhome #foodininstagram #foodreels #fitnessfood, #coffee, #cake, #foodanddrinks.
#business #businessowner #businessman #businesswoman #businessquotes #businesscoach #businessideas #businessmindset #businesslife #businesspassion #businesscasual #businessstrategy #businessgrowth #businessopportunity #businessinsider #businessmind #businesstip #businessclass #businessonline #businesshome #businessforeveryone #businesszero #businessinvestments #businesslady #businessnetworks #businessadvice #businessdreams #businesshigh #businessisreal #supportlocal #localbusiness #madeineu
Cars:
#cars #carsofinstagram #carstagram #carsdaily #carspotter #carsandcoffee #carsunlimited #carsgram #carsporn #carsoftheday #carsshow #carspotting #instacars #carscollection #carslux #luxurycars #carsdreams
City:
#city #cityphotography #citykillerz #cityofcapetown #cityscape #citylife #bigcitysife #citybell #citybestpics #cityskyline #cityart #citybestviews #citylandscape #citygirl #citybreak #citylimitless #citystreet #citycenter #architectures #citylove #cityhall #bestcity #mancity #lovecity #citysays #citydream #urbanlandscape #urbanstyle #citycontrasts #cityscape
Sport:
#sport #sports #sportmotivation #sportbikelife #sportsnews #sportsedits #sportsnation #sportgirl #sportsbike #sportstersquad #sportslife #sportsmassage #sportstherapy #fitness #fitnessmotivation #fitnessmodel #fitnessjourney #fitnessfood #fitnesslife #fitnessbody #sportforeveryone #sportreels
#makeup #makeupartist #wakeupandmakeup #makeuplooks #makeupjunkie #makeupslaves #makeuplover #makeuptutor #makeuptutorial #makeupart #instmakeup #makeupforever #permanentmakeup #makeupvideos #makeupaddiction #revolutionmakeup #mymakeup #makeupbyme #makeuptransformation #makeupartistworldwide #makeupobsessed #makeupinspiration #makeupideas #weddingmakeup #eyemakeup #nudemakeup
Love:
#love #lovereels #loveis #lovequotes #loveyourself #lovestory #lovekittens #lovepuppies #loveit #loveher #lovehim #loveyou #loveisart #lovestatus #lovelife #lovesongs #lovemyself #loveforever #lovely #loveu #loved #loveyourbody #loveislove #rainbowlove #loveme #lovetoshare #loveinside #loveisintheheart #selflove #loveofmylife #mylove #love #suchlove #lovewithin #feellove #unearthlylove #thislove #lovehere #loveinside #lovethis #loveatfirstsight #loveofmylife #mamayalove
Dancing:
#dancereels #hancehall #dancers #dancechallenge #dancecover #dancelife #danceclass #dancevideos #dancegoals #dancechoreography #dansestudio #dancefloor #dancecrew #dancepractice #danceworld #dancecompetition #dancecompany #dancelifestyle #dancemoves #dancetrends #danceon #dancereels #danceforlife #dancetillsunrise #danceforeveryone #danceathome #dancinggirl
Travel:
#travelreels #travelgram #travelphotography #traveladdict #travelinstagram #travelblog #travelawesome #travelstoke #traveltheworld #travelmore #traveldiaries #travellife #travelpics #travelgoals #traveldeeper #travelbag #travelinspiration #travelbloggers #travelnoire #travelnow #travellover #traveladdicted #travel #traveladdicted #traveltheworld #traveleasy #travelbright
#girls #girlsnight #girlslikeus #girlsreels #girlsday #girlsfashion #girlsrun #girlstrip #girlsroom #girlstyle #girlsquad #girlslovetravel #girlswhoworks #girlswhoworkout #girlsbestfriend #beatifulgirl #fitgirls #crossfitgirls #perfectgirls
#funnyasf #instfunny #lmao #epic #memes #cringe #donttellmom #cringe
To increase the number of views of your videos, use the hashtags that are in the top among Instagram users:
#reelsinstagram –172M
#reelsvideo – 48M
#reelsviral – 20.5M
#reelsinsta –14M
#reelsofinstagram – 5.2M
#reelslovers – 4.6M
#Reelsforyou – 1.8M
#holareels – 875K
#reelstrending – 200K
#Reelsforyourpage – 46K
#reelstrendingvideo – 36.5K
#Reelsislove – 5K+
By the number of mentions, IG reels hashtags can be divided into three categories:
High frequency – This group includes tags that have been mentioned at least 100K times. Examples: #reels #reelslove #reelsforyou #fun #reels #love.
Midrange – Used at least 50K times. Examples: #nofilter #followforfollow #reelsstar #pretty #moirils #bloginstagram.
Low frequency – Hashtags below 50K mentions. Examples: #reelsforlife #reelsfriends #reelsgram #reelsmusic
Instagram Hashtag Tips
So now you know all the information you need to start using Instagram reels tags, boost your statistics, and reach a new audience level. Here are other bonus tips that will be useful when promoting your content.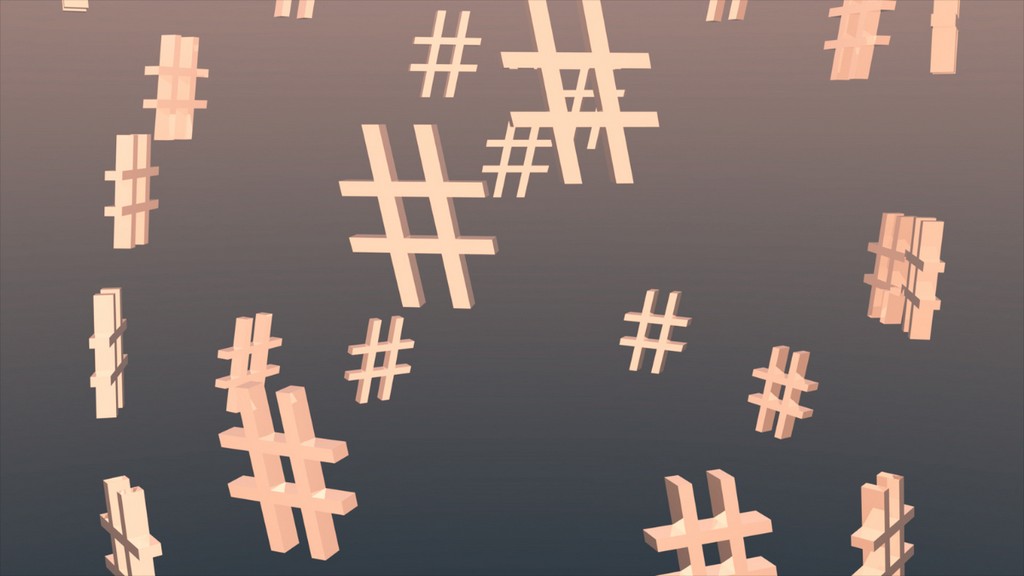 Feed posts and reels support up to 30 hashtags, while stories can include up to 10. That said, just because you can use that many hashtags for Instagram do not mean you should. There is no specific number of hashtags for every business or even for every post by the same account. With a correct approach, 10-15 IG reels hashtags will be enough to promote your reels while not annoying users with a sheet of tags that distract their attention from the content.
It's crucial to use hashtags on your reels to make them easier to discover. Add hashtags related to your video, and include a mix of trending and niche hashtags that match your reel's content. Sounds great, but how can we get it other than by using hashtags that users may look for specifically? Reels recommendation page is another free promotion tool that uses social network algorithms.
What Are Instagram Reels Recommendations And How Do They Work?
What are Reels recommendations? To give you the answer, we need to figure out where you can see the new content first. Instagram displays Reels videos in four sections:
The "Reels" section – accessed by tapping the Reels button in the center of the application's bottom bar. It is an endless feed, similar to TikTok main page. It includes the Reels of the authors you follow and recommended ones. Here you can also subscribe to the author whose Reels video you like.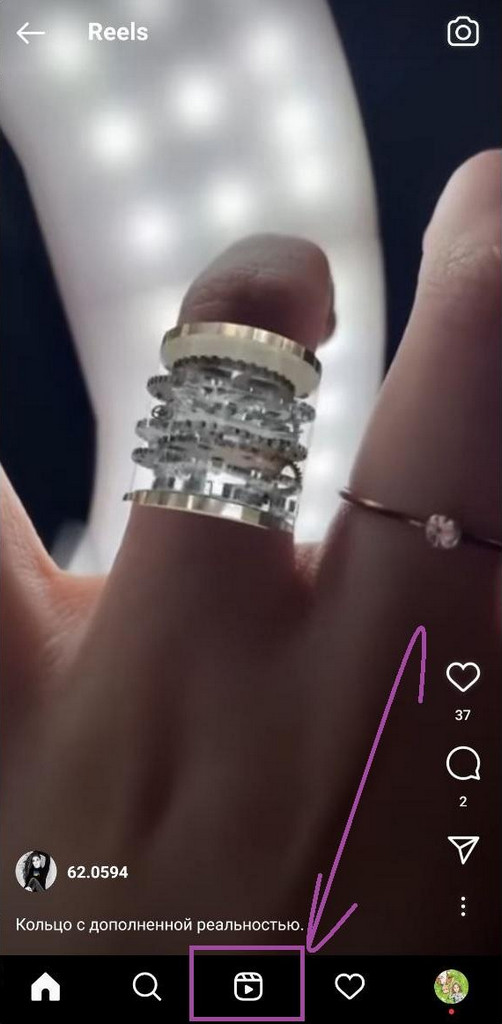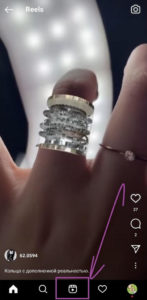 Standard Instagram recommendation section – opens after tapping the magnifying glass icon. You can see Reels among other content – posts, videos, stories, and IGTV. When the IGTV feature first appeared, Instagram actively promoted videos through this section. Now it also promotes Reels in the same way.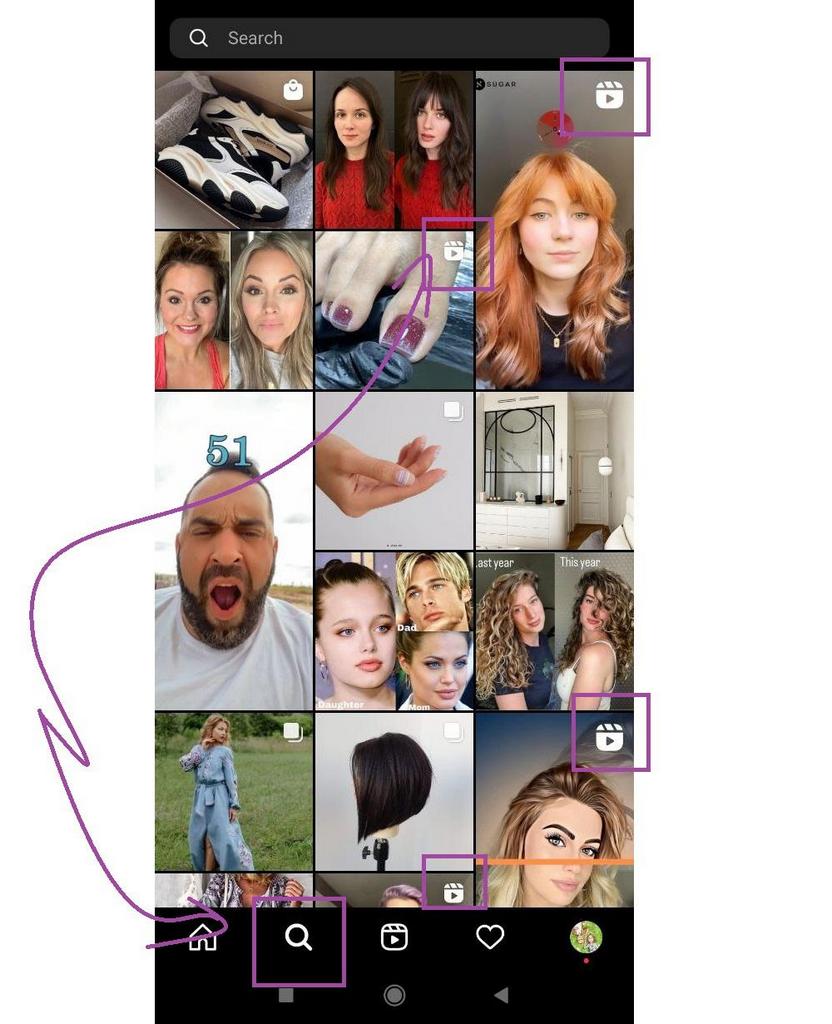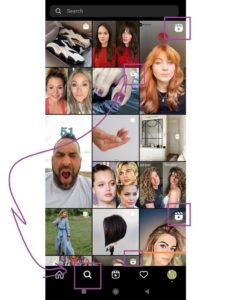 Smart feed Instagram – it is an algorithm that identifies what content and user accounts to show. When you publish something, this algorithm checks which of your followers might be interested in the post. Here, among the usual posts and videos, Instagram displays announcements of new Reels (can be configured at the time of publication). It looks like an IGTV announcement.
Reels section in profile – Located next to the IGTV section, shop, guide, masks, and marks.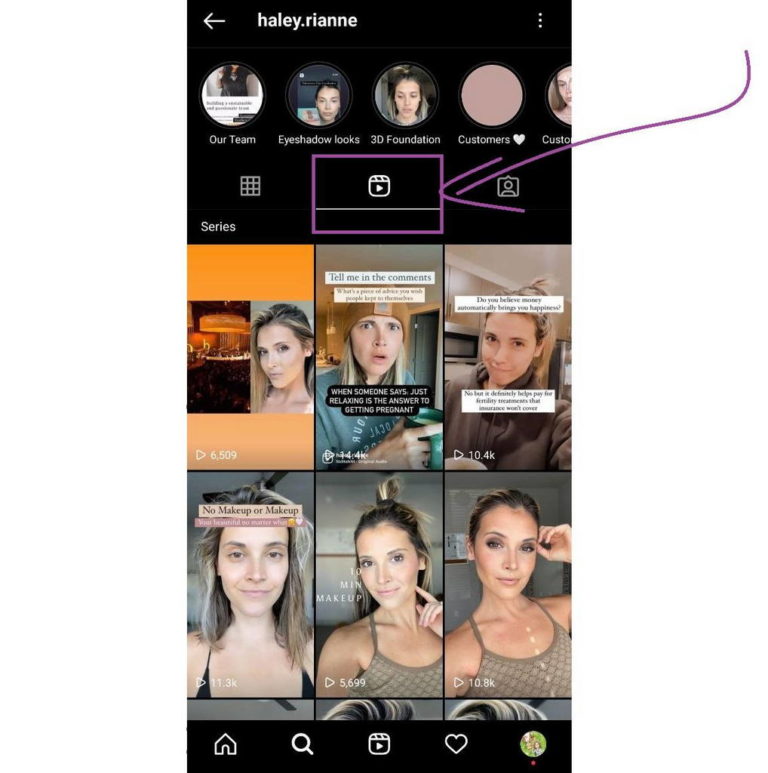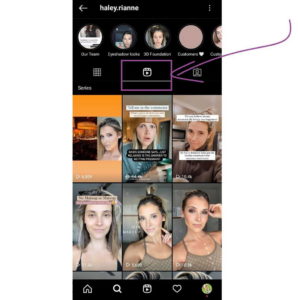 To get a wider reach and attract a new audience to your profile, strive to get into the first two sections – the endless Reels feed and the usual Instagram recommendations. The other two sections – smart feed and profile section – are more important for increasing the number of views and user engagement.
We gave you the list of the best Instagram reels hashtags, but which ones are the best for YOU? Here is how to choose:
Your Own Preferences
Firstly, choose IG reels hashtags that match the topic of your content, or your idea, or represent your thoughts so such content would be easily discoverable. Give preference to medium-frequency hashtags by narrowing the search for users. For example, if you have a coffee shop in Portland, instead of the general #coffee tag, use the more specific #portlandcoffee or #coffeeportland. It is the same as what TOV Coffee does, which represents a local coffee bus where people can enjoy the sweetest Egyptian dark roast:
Check Out the Instagram Search Bar
Another way to select hashtags is through the Instagram search bar. When typing a tag, the social network shows the closest options. So you can find the most popular IG reels hashtags on your topic.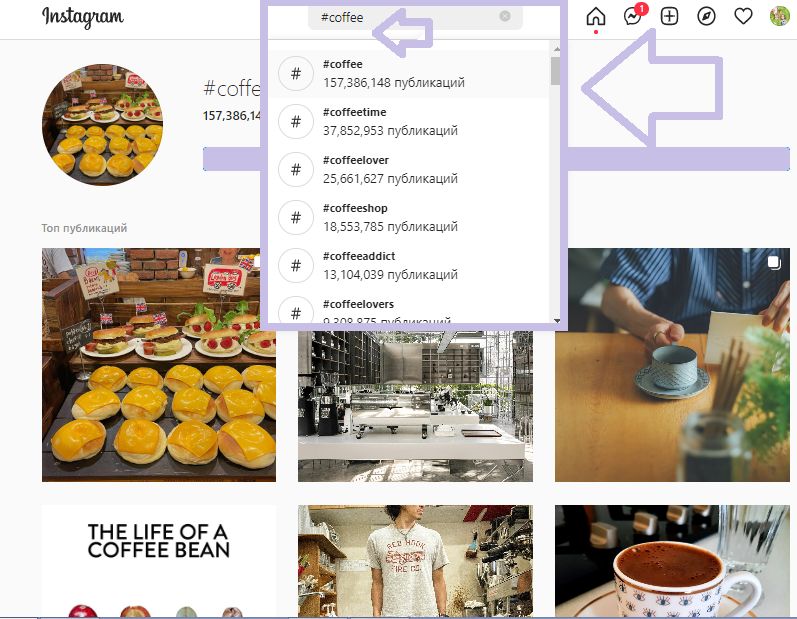 A hashtag trending on TikTok, Triller, or Instagram that hasn't made its way to Instagram Reels is a great opportunity to skyrocket to the top of the trends list.
Read articles like this one
The advantage of this option is that the research is done for you already, and you can get the information just by copy-pasting. The downside of this option is that such information might be outdated. So, if you want the best results, relying solely on the articles will not get you there. It is not a complete strategy; an easy one, but not complete.
Watch the Reels Done by Other IG Creators
It is also not shameful but recommended to peep or spy the tags from competitors and similar reels and videos! Watching videos by other creators is a great way to identify trends and have a brainstorming session for upcoming content ideas.
As we've previously mentioned in this article, it is essential that users discover your content. But what if you want to make it invisible how do you reach them? To hide a sheet of hashtags that distracts both loyal customers and new subscribers from the main shared idea? Here are some tips on how to make people see your reels without noticing the hashtags you use.
Compose your caption as usual, but don't include any hashtags.
Once your content is published, click the speech bubble icon under your post to leave a comment.
Paste the hashtags you want to use in the comment box, and tap Post again.
On mobile, your hashtags won't be visible unless a user taps View all comments. However, on a desktop, your comment will remain in the top position, so this trick works better if you're targeting a mobile audience.
You can hide hashtags on Instagram Stories, too. One option is just to minimize the appearance of your hashtags by pinching and shrinking them to make them very small. You can also tap the hashtag sticker to change it from a white background to a semi-transparent one. If you want to hide your hashtags entirely, you can paste an emoji, sticker, or GIF overtop to obscure them.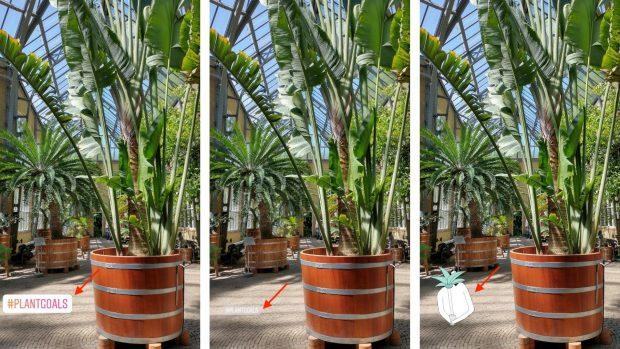 Conclusion
Using popular IG reels hashtags can help Instagram algorithms to categorize your content and guide potential customers to your account. As a result, your account will grow the right way and connect you with like-minded people who share your ideas. Use the tips and advice in this article, and you will see the result very soon!
To learn more about Instagram and Instagram shopping, make sure to check out the following guides:
What do you think about our list of Instagram reels tags? And what are your best Instagram Reels hashtags? Let us know in the comments!