16

min read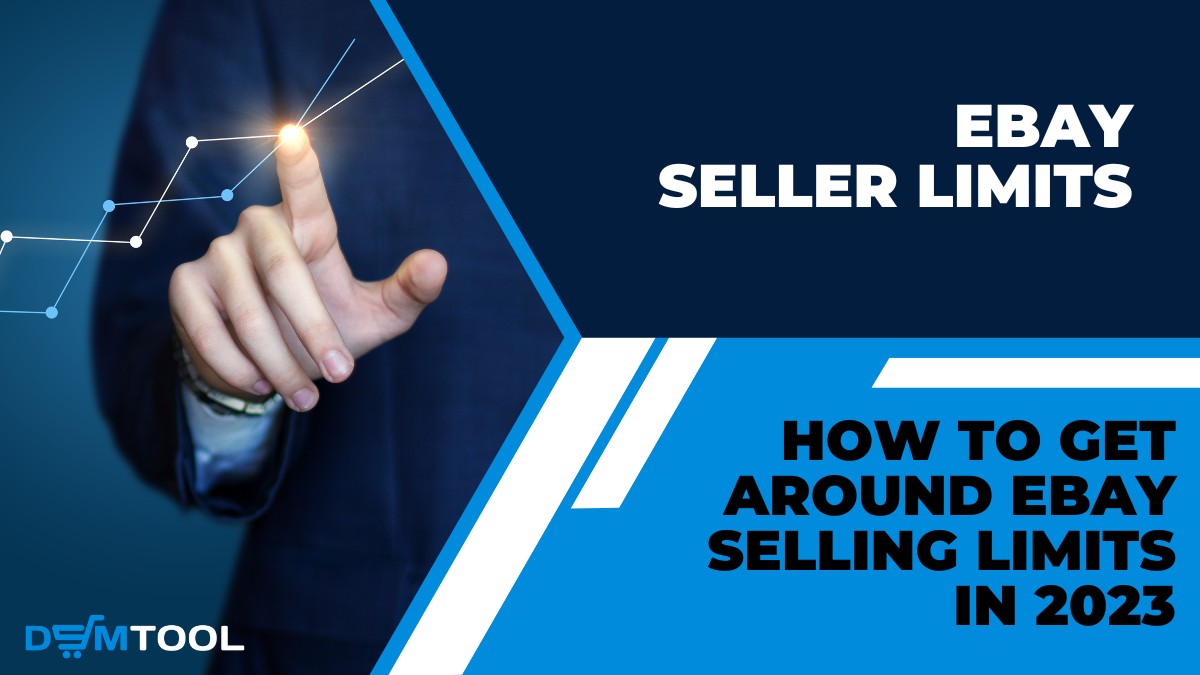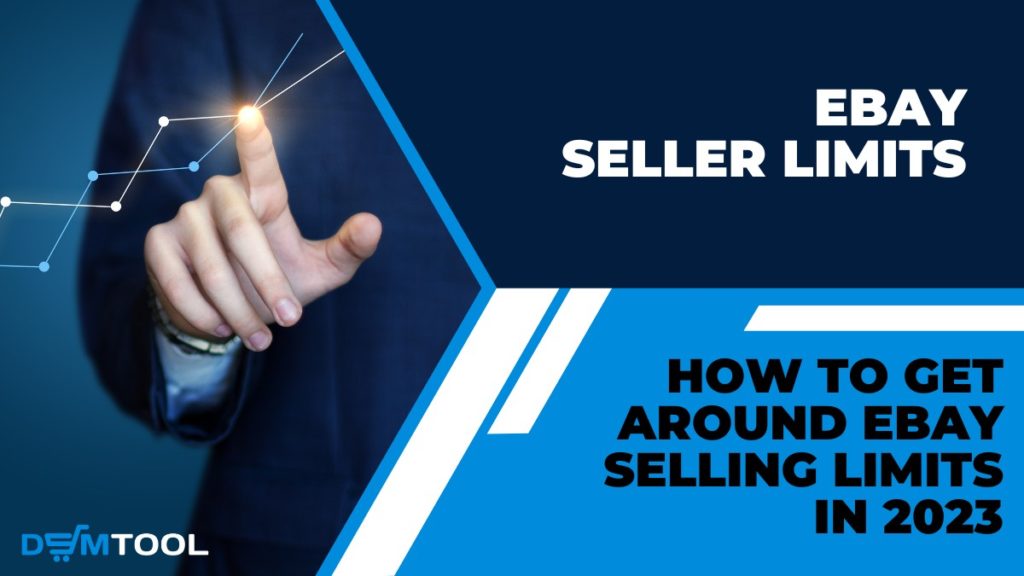 Opening a new store on eBay is never a bad idea, but it is not as easy as a newcomer might think. For instance, when starting from scratch, the first limitation a new eBay seller faces is eBay selling limits. When you start selling on eBay, you will get only 10 items selling limit. How to get around eBay monthly selling limits? There is a way. Learn about it further in this post.
In this article, you will learn:
What Are eBay Seller Limits?
Why Does eBay Have A Selling Limit?
What Is The Selling Limit For New eBay Account?
How To Check eBay Selling Limit?
Will eBay Automatically Increase Selling Limits?
How To Increase eBay Selling Limit?
What To Do If The Increase Of eBay Selling Limits Was Declined.
You will also learn tips on how to increase selling limits on eBay. Let's start!
What Are eBay Seller Limits?
eBay seller limits are restrictions placed on new and inexperienced eBay sellers to help manage risk on the platform. The service implemented these restrictions to protect both eBay buyers and sellers from fraudulent activity, such as selling counterfeit goods or engaging in unethical behavior.
The specific seller limits imposed by eBay can vary depending on various factors, including the seller's account history, feedback rating, and overall account activity. eBay seller limits restrict the number of items and the total dollar value of items that can be sold, and the types of products that can be listed for sale.
eBay seller limit is not permanent and can adjust over time based on the seller's performance and activity on the platform. eBay typically reviews seller accounts periodically and adjusts the limits if necessary.
For new and inexperienced sellers, eBay imposes more restrictive limits until the seller has established a positive track record on the platform. Experienced and high-performing sellers may be eligible for a higher eBay seller limit, which allows them to list and sell more items and generate higher sales volumes.
Overall, eBay seller limits are crucial for eBay's risk management strategy and ensure a safe and trustworthy marketplace for buyers and sellers alike.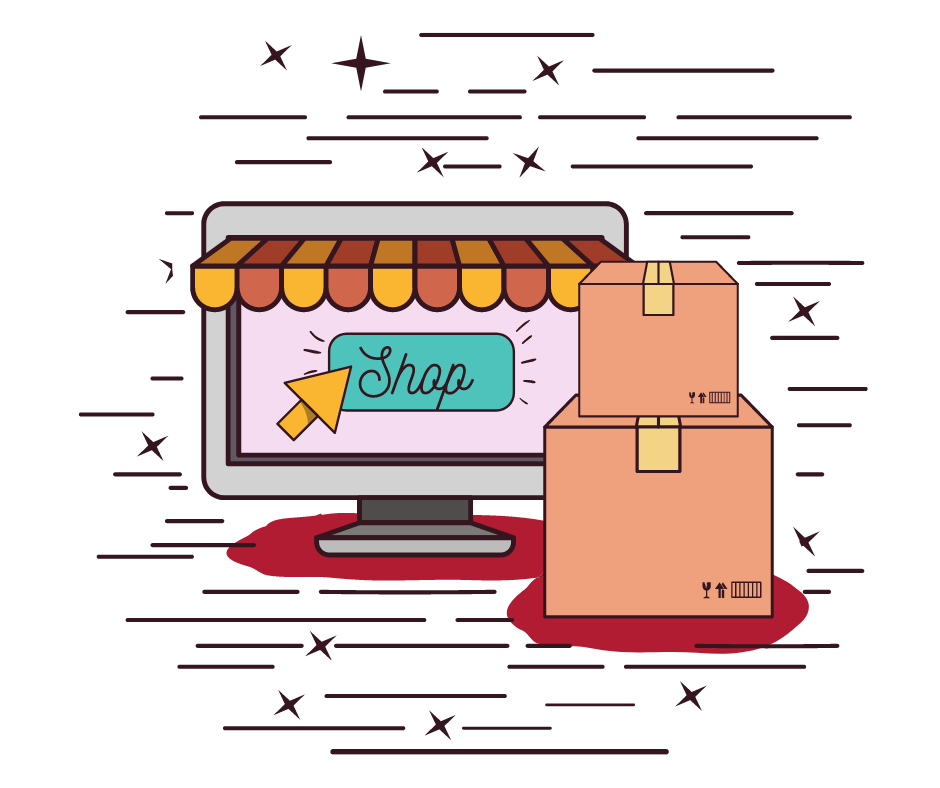 It's time…
Don't wait for success to come. Hire yourself and start your own dropshipping business
Why Does eBay Have A Selling Limit?
eBay sets selling limits for several reasons, including:
Preventing fraud. By limiting the number of items a seller can list, eBay reduces the risk of fraudulent activity, such as selling fake or counterfeit goods.
Maintaining a level playing field. Limits ensure that all sellers have a fair chance to sell their items on eBay. Without limits, a few large sellers could dominate the marketplace and make it difficult for smaller sellers to compete.
Protecting buyers. By limiting the number of items a seller can list, eBay ensures that sellers provide quality customer service. This helps protect buyers from scams and ensures they receive their purchased items in a timely manner with maximum satisfaction.
Encouraging new sellers. By setting initial selling limits for new sellers, eBay encourages them to start slowly and build up their business gradually. This can help prevent new sellers from becoming overwhelmed and making mistakes that could harm their reputation on the platform.
Before a seller can get a chance to scale up, they have to prove that they can deliver and not just sell. The eBay seller limit is applied to all new selling accounts to protect both sellers and buyers from scammers and make people start a side hustle like eBay dropshipping to grow slower. That method helps minimize the risks of negative buying experiences and policy violations, so buyers keep returning for more.
Obviously, it's not only delivering the packages that count. Sellers also have to prove their customer service skills and the handling of after-sales requests like returns or cancellations. Oh, and the products they sell must be authentic and accurate according to their descriptions, titles, and images.
What Is The Selling Limit For New eBay Account?
In the beginning, your eBay monthly selling limits will be 10 items with a value cap of 500$. eBay created this limit to let sellers demonstrate their credibility before getting wider exposure.
Let us dive further into this starter's eBay seller limit. You will get a 10-item limit, which means you can list only ten items throughout the month. Whether you list one product with a quantity of 10 units or 10 different products, each with only 1 unit/variation – it will still count the same.
Furthermore, if you listed ten items and immediately sold one of them, your eBay monthly selling limits will reduce from 10 to 9 until the limit bucket renews next month. Let us demonstrate the eBay limits using an edge case. If you are to list just one item worth $500, you will reach your eBay selling limit as well. You won't be able to list more products this month even though you listed just one.
That is why it is always better to start by selling cheap items in order to optimize your selling limits in terms of product listing and monetary quantity.
How To Check eBay Selling Limit?
There are two pages on which you can see your eBay monthly selling limits. The first is your All Selling page. It is showing right after the 'your performance' box. There you will get to know how many items you have sold and for how many $$, how many products you have listed and their value in $$, and how many products you can still list in both quantity of items and volume.

The second place to find your eBay seller limit is the Overview page of your seller hub. I prefer to work with the seller hub as it is much more pleasant on the eyes and easy to navigate. It will look like this: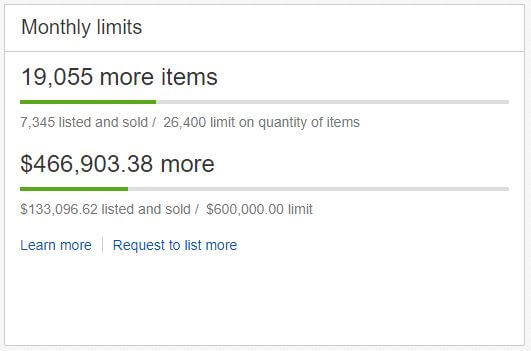 If you are new to the eBay Seller Hub and just opted in for the first time, there's a chance you won't find it straight away. In that case, go to customize on either the top right corner or the bottom of the page and click on the Monthly selling limits.

Remember that eBay seller limits are not connected to the level of your account subscription directly. So if you purchase a higher store subscription, it will not automatically increase your eBay seller limits. Then how to get around ebay selling limits?
Will eBay Automatically Increase Selling Limits?
Overall, eBay reviews the sellers' accounts on the 20th of every month and can update your selling limits without you even asking for this. They will reset the existing account limits at the end of the month.
The automatic increase usually happens after 90 days for new sellers if they meet eBay criteria and show active selling metrics and performance.
We'll review your account every month and adjust your limit automatically based on your sales volume and the feedback you get.
eBay.
But new eBay dropshipping sellers trying to start a business online often sell products at a rate higher than 10 per month. Over the years, dropshipping experts developed methods to increase the selling limits faster, regardless of eBay's automatic evaluation process. Will will talk about this later in the guide, so keep reading.
How To Increase eBay Selling Limit?
There are a few ways to get your selling limits raised. The easiest one is to click on the Request to list more button right under your eBay monthly selling limits information:

Requesting to increase your eBay listing limits will direct you to at least one of the two options:
Contact via phone – You will receive a number to call and one-time passcode to enter for verification.
Contact via text – Write an application explaining why you would like to request a limit increase.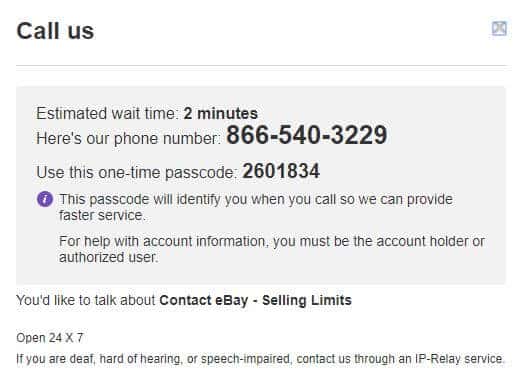 If you choose the call, which is the better option, you will be asked for some personal & business information about you and your store. eBay will ask for your email address, business address, what kind of items you sell, and where you get them from, among other questions. They are basically trying to verify your identity and ensure you're not selling eBay prohibited items and that your suppliers are reliable.
Since dropshipping on eBay from retail websites is against the eBay dropshipping policy, you should probably avoid mentioning the word dropshipping and refer to them simply as suppliers you work with.
For beginners, it is better to start dropshipping from Ali Express to eBay and not from US retailers. It will allow you to say you are sourcing products from Chinese suppliers you find online.
Consider that if you haven't made your first sale or have yet to reach the initial limit, there's a good chance you will be denied. Worry not. Despite what some would think, nothing stops you from calling again after a day or two.
In the case you already have an established account with higher eBay listing limits and a selling record, you can contact eBay the same way. Identify yourself as that account holder and ask to link the new store to it or by clicking on the request button.
However, there are some qualifications to which eBay pays attention in reviewing your request:
that your selling account is open for at least 90 days;

it has no open cases;

your buyer feedback

;

it has a high/active selling performance;

PayPal verification;

not violated eBay policies;

no comments from your buyers about the product's authenticity.
Although, failing to reach the mentioned criteria doesn't necessarily mean you can't ask, at least.
Multiple eBay Accounts Selling Limit
Chances are you might use multiple accounts to sell on eBay. For example, you might be a more advanced dropshipper on eBay, and you've created eBay Stealth Accounts. So if you're looking for a limit increase on your accounts, take into account the following points:
No unresolved cases on any of your eBay accounts.
Detailed seller ratings of 4.8 or higher in all areas, if possible.
Feedback from a successful sale from at least 90 days ago.
If these criteria are met, you can request higher selling allowances.
The Increase Of eBay Selling Limits Was Declined. What To Do?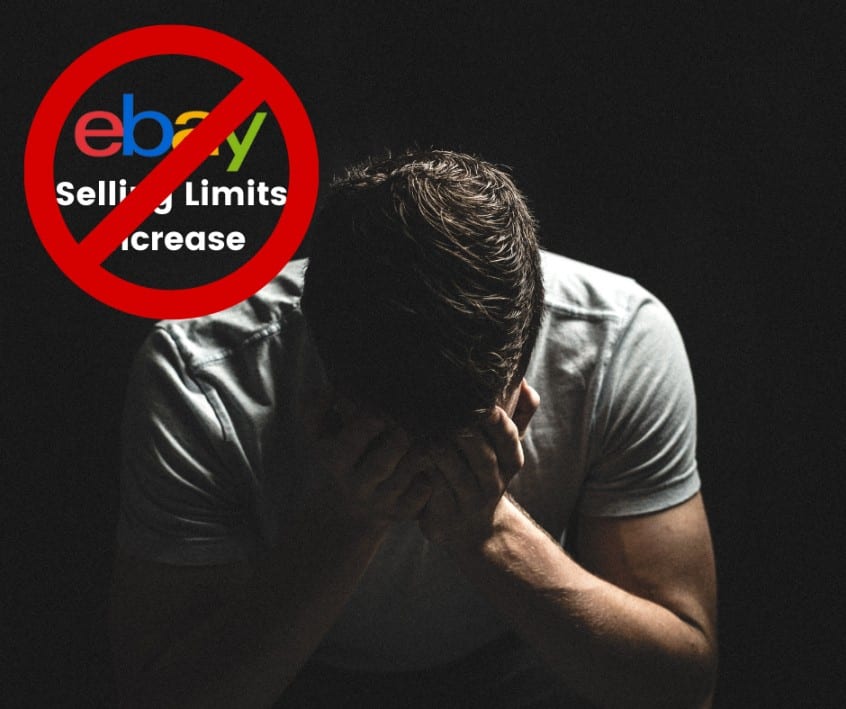 It can happen. In case of a refusal, you can request an increase of your eBay listing limits in a few days again, for example, by calling them. In general, you are allowed to request higher selling limits once in 30 days, but keep attempting more often than that, especially if your sales are growing.
In order to be able to request an increase in your eBay listing limits, you need to sell as much as you can and get feedback. How can you do it?
Try to sell cheap, demanded products at very competitive prices. It will raise your chances of sales.
Remove the products that didn't have sales for a long time and list new ones.
If you have a product with multiple variations, you can also remove a few of them to get more space for well-selling products.
Please remember: eBay does want you to increase your limits. The higher amount of listings you have, the more you sell, and eBay gets more money and buyers.
Tips On How To Increase Selling Limits On eBay
If you decide to increase your eBay monthly selling limits, here are a few things you should take care of before contacting eBay.
Exhaust Your eBay Selling Limit
The idea is simple: if you ask for a limit increase and still have room to list items, eBay will not even try to lift a finger. It applies whether it is a monetary increase or a listing number increase.

Keep Your Orders & Return Cases Clean
It is important to show eBay that you do your due diligence as a responsible seller by avoiding the issue of having open returned cases or any order cancellations.
If you want to increase your eBay listing limits, you must show the platform you are competent enough to handle more responsibilities. Remember, eBay has a glass ceiling for beginners in order to avoid any issues between the seller and clients.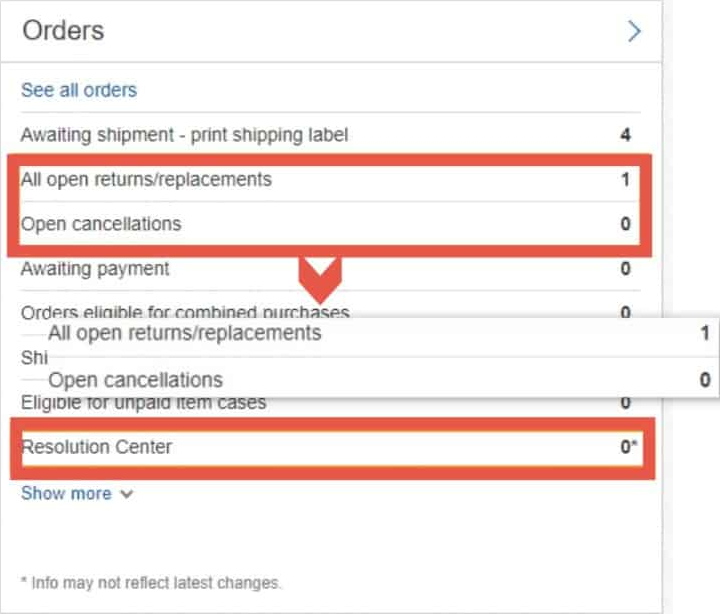 Seller Level In Good Standing
eBay reviews your account every month. Based on your performance, it assigns you a seller-level status. There are three categories you can fall into:
Top Rated Seller: This means that you are in full compliance with eBay policies, and in addition, you properly manage your sales and provide great customer support. Note that this seller status does not apply to dropshippers because you do not comply with the eBay Dropshipping Policy. However, this does not mean that your account will be banned.
Above Average Seller: This is the sweet spot for any eBay seller or dropshipper to be at. It means you have a good selling ratio, provide great customer service, and generate enough traffic in order to make sales. In essence, you may not be complying with eBay's Dropshipping Policy, but still be a good seller. Therefore, you can get this status.
Below Average Seller: This is where you are in the break of losing your account. This means you are not listing good products to sell, slack on customer support, are not active with your eBay store, etc.
If your seller status is on the Below Standard mark, do not even think to ask for a limit increase because it would be almost impossible to get. Focus on improving your store.
Here are a few tips to help you improve your eBay store:
Ship your items out on time according to their shipping policies.
Update tracking information on time according to the handling time in your shipping policies.
Close cases between you and your buyers. Preferably without asking eBay to intervene.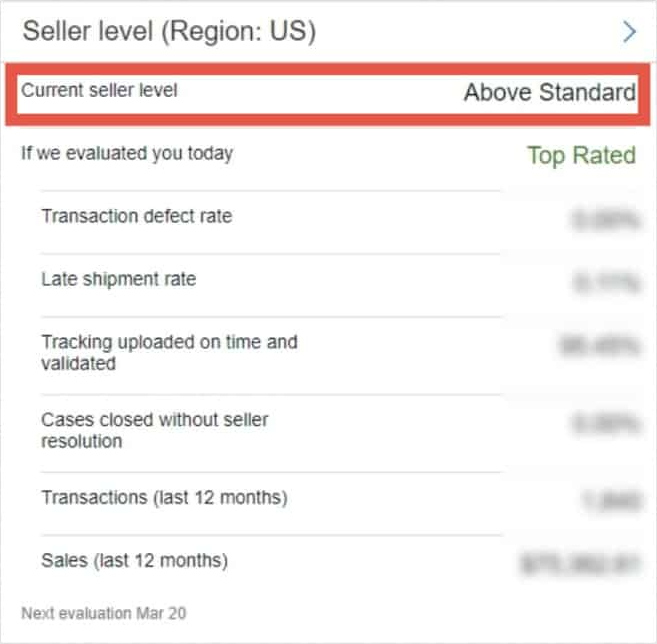 These are the three main points to consider whenever you want to increase your eBay selling limit.
Is it necessary to have all these points in check in order to get an eBay seller limit increase? Not really, but it will help your case. You can request a limit increase whenever you want, even if you only start selling. When you contact one of eBay's agents, they can decide whether to increase your ebay listing limits or decline.
However, having your store clean, in check, and with a few sales will prove that you're a good seller and can handle an increase. Think about it, eBay benefits here as well. They want to improve the customer buying experience by exposing good products to good sellers.
The better you perform, the better for eBay and the better for you as a seller since you'll be able to list more items and hopefully make more sales — meaning more profits!
Final Thoughts
eBay has done a great job protecting online buyers from scams without creating an environment that unfairly punishes honest dropshippers like you. As you may all know by now, it's not easy to keep a dropshipping eBay store alive without some serious work behind it, especially since eBay reviews your account on a month-to-month basis.
You need to demonstrate that you're an overall active seller that provides good customer support to its customers. That is where you can start growing your store by requesting an eBay seller limit increase on the items you can list and on the monetary ceiling your initially given in order to profit even more.
That's why it is crucial not only to understand how to request an eBay Selling Limits increase but also to know how to keep your account in good standing to get the increase.
Here are a few articles eBay sellers might find useful:
Have any interesting stories about how your eBay monthly selling limits increase requests? Do share with us in the comments below!