16

min read
How to list on eBay faster? And is it possible? Right, it's possible. Especially when e-sellers use eBay listing software. Such a tool helps with the speed and quality of eBay listings because it allows adding eBay bulk listing or a single product to your dropshipping store.
Besides, like in the case with DSM Tool, it offers a listing optimization as well. For example, all items will be listed on eBay quickly and with an attractive design. Of course, such tools usually provide a lot of different solutions for your dropshipping business. This is one of the reasons why Shopify and eBay sellers use them to save time, grow their business, and boost sales.
Do you want to learn to upload items to your Shopify store smarter and list on eBay faster? Yes?! Then let's get started.
In this post, we will show you how to list eBay items faster with DSM Tool, and walk with you through the process of creating listings. The process is the same for Shopify sellers as well.
What is DSM Tool?
DSM Tool is an innovative dropshipping software created for eCommerce sellers to automate their daily tasks. Thereby, DSM Tool unites Shopify and eBay listing software, inventory management tool, monitor, repricer, product research tool, etc. It's literally an all-in-one dropshipping platform integrated with more than 50 dropshipping suppliers.
Now, let's see how it can be helpful for you if you sell on eBay or Shopify.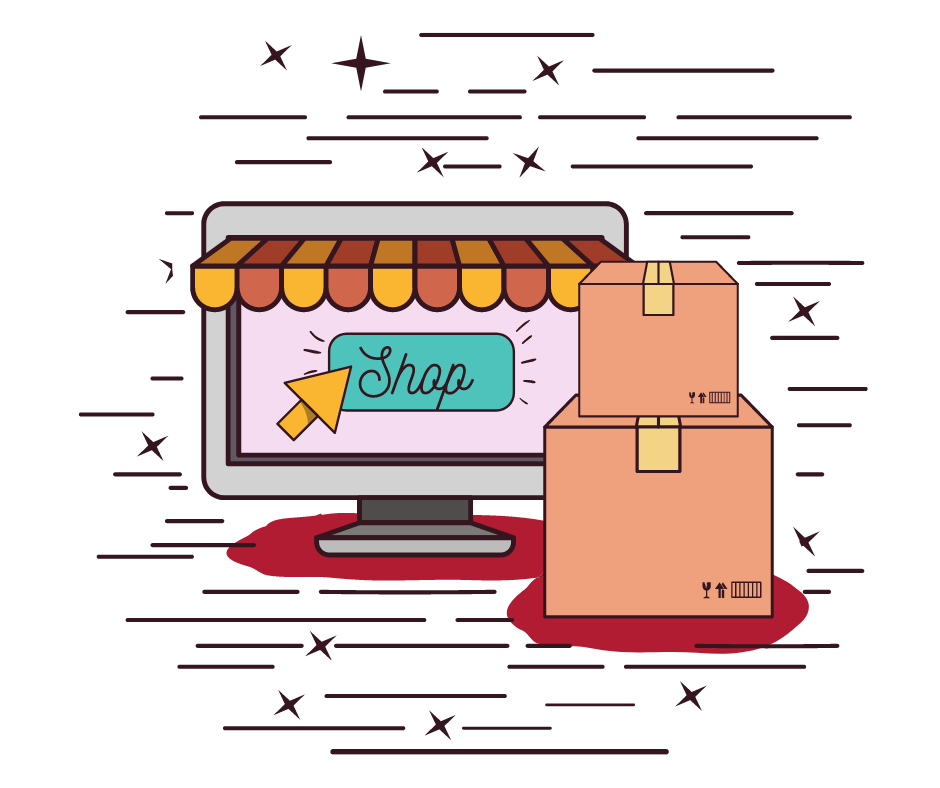 It's time…
Don't wait for success to come. Hire yourself and start your own dropshipping business
The DSM Tool Rapid Lister to create a listing on eBay and Shopify
First of all, the Rapid Lister is one of the main features of the DSM Tool? This is an easy eBay listing tool that was created to help you list products on eBay from your preferred dropshipping suppliers to your target marketplace, either eBay or Shopify, faster, and in a more productive way.
Besides, with this helpful tool, you can optimize the title, image, description of your product, design, and much more to make your product appealing and enticing to the buyer.
We'll go over the things that a drop shipper needs to know about using the Rapid Lister feature and show you a step-by-step process of listing on eBay or Shopify with it.
Collect Products For Listing
No doubt, you already have products that you want to add to your dropshipping store. And if you're going to list items on eBay manually, it will take about 10-15 minutes per product. Maybe more, if you will use some other tool for title optimization as well. The DSM Tool Rapid Lister comes in and saves a lot of your time when listing products. This tool helps to list a product literally just in seconds, how cool is that?!
Tip
Use the DSM Tool Chrome extension to collect different products for dropshipping. Use the List in DSM button to proceed to our Shopify or eBay listing software later and finish the whole process of listing.
Single Lister for listing on eBay
First of all, both options to list a single product or make an eBay bulk listing is possible with the DSM Tool lister. However, the process of listing will be different. Let's go one by one and check how to one listing on eBay (or Shopify).
Firstly, you need to pick an item you want to sell in your dropshipping store. Let's say we take this product on Chinabrands: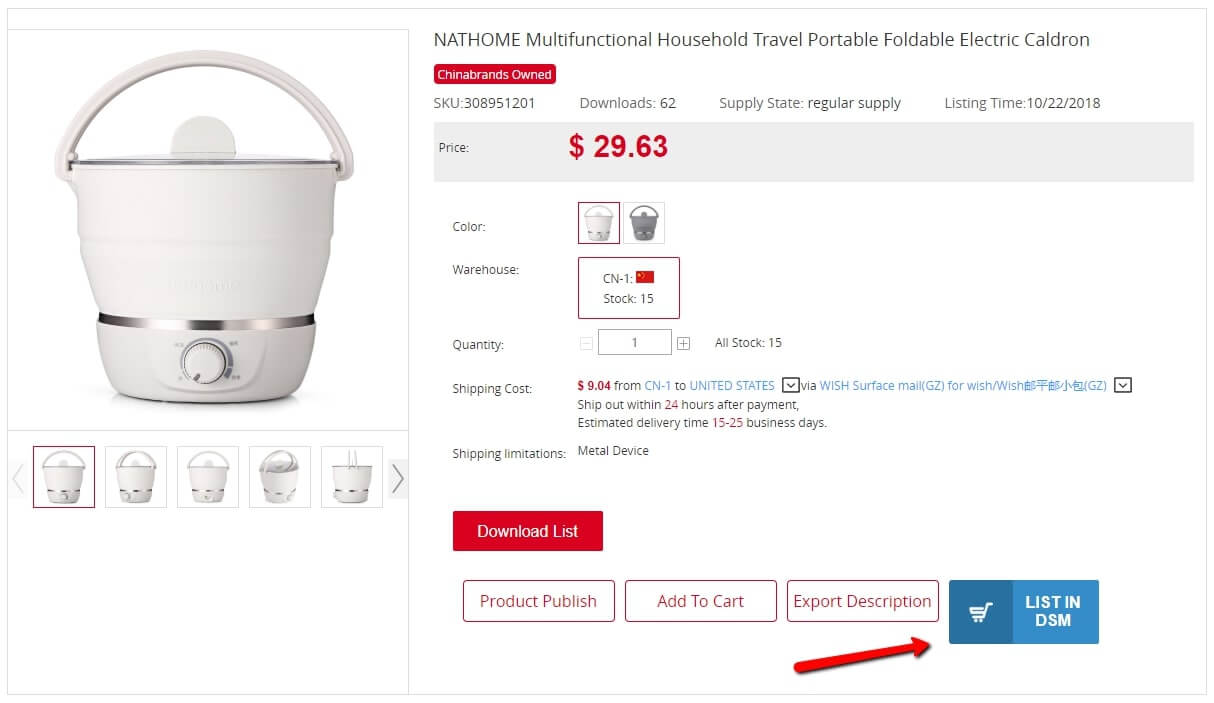 You can see above a product to list, and there is a blue List in DSM button right at the bottom. Click on it.
NOTE! This button will only appear if you have installed the DSM Auto-Paste Chrome Extension. Click here if you haven't installed it. Discover how to use this tool and its other features in the article Use the Chrome Extension to collect multiple items.

Therefore, you need to be logged in to your DSM Tool account and it will automatically redirect you to the Rapid Lister page of your account. You will notice the URL and the product link will be copied to the Rapid Lister.
Another way to do it will be to copy the link of your product page and paste it on the Link field in the Rapid lister page.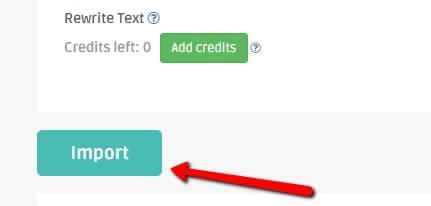 Click the Import button to proceed.
Basic Details for Listing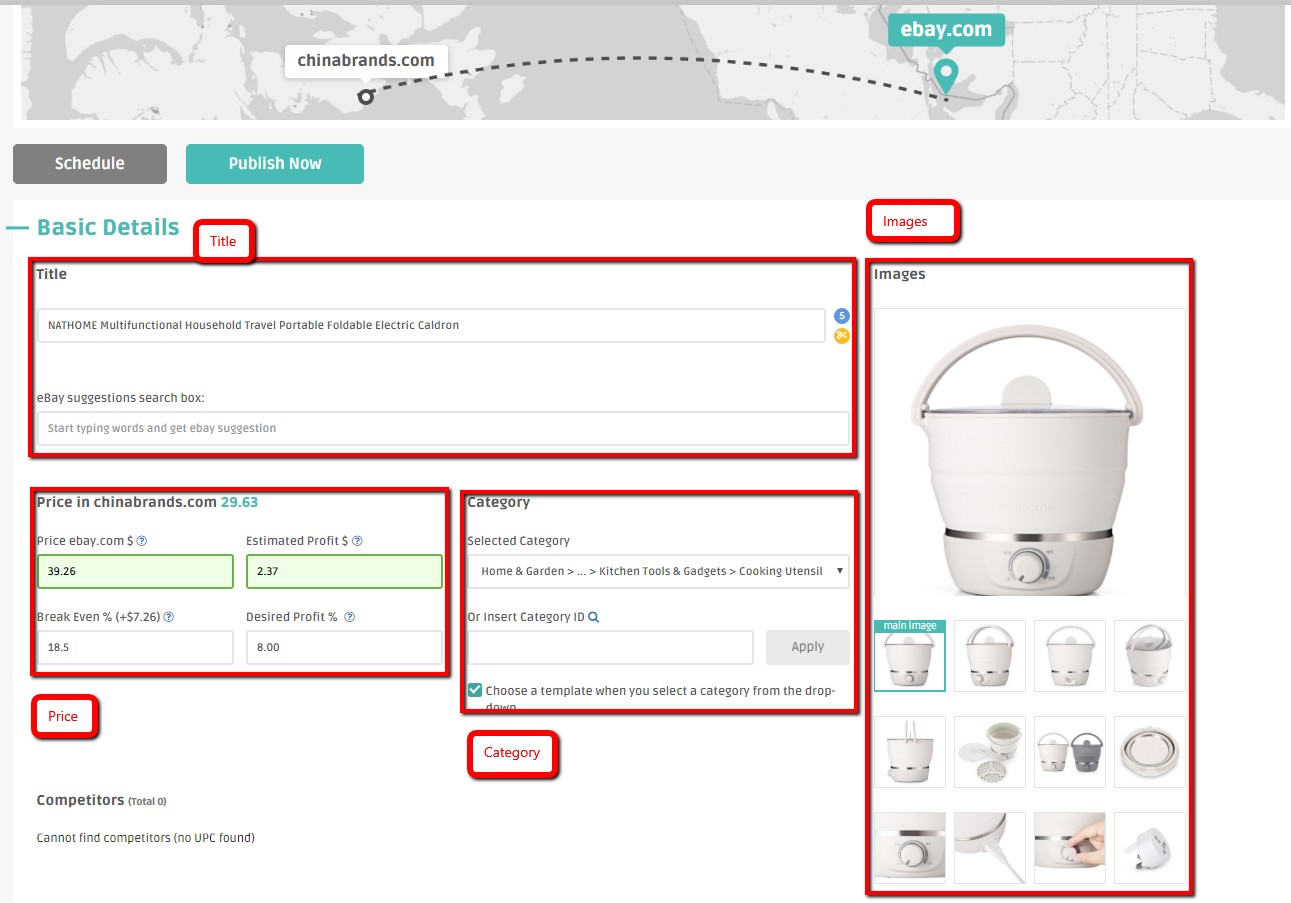 These are necessary details of the listing that you can edit according to your preferences like title, price, product category, and images.
Secondly, this eBay listing software has integrated eBay title optimization. It will give you the options of different keywords you can add to your listing title. The suggestions are based on the search results on eBay. You can add those keywords to the title or replace some of the other keywords that are already there. Just make sure that the title makes sense, remember that it must convert impressions to clicks to stay up in the search results.
In regards to picture optimization, there is an option to create a collage out of the uploaded images. Additionally, your store logo can be automatically added to all listing images.
Listing Settings

In the following section of the lister, we can see the settings of your listings consisting of item location, package dimensions, policies, and quantity.
For the item location, it will be taken automatically based on the supplier that you've chosen.
Package dimensions sometimes are not taken automatically if the information is not present on the product source page.
As for the business policies, it should be automatic since we've already set that up before we list an item.
The quantity of the product that you want to sell depends on you, you can set whatever you need.
Variations of your dropshipping listing

Product variations mean selling the same item but with different options like color, size, etc. If the product that you're listing has different variations, it will appear here in the variations section of the Rapid Lister. You can choose which variations you want to keep on this listing, and which to remove. Similarly, you can edit them up to your preference.
Read more details in our post List Multiple Items on eBay in one list.
Shopify or eBay Item Specifics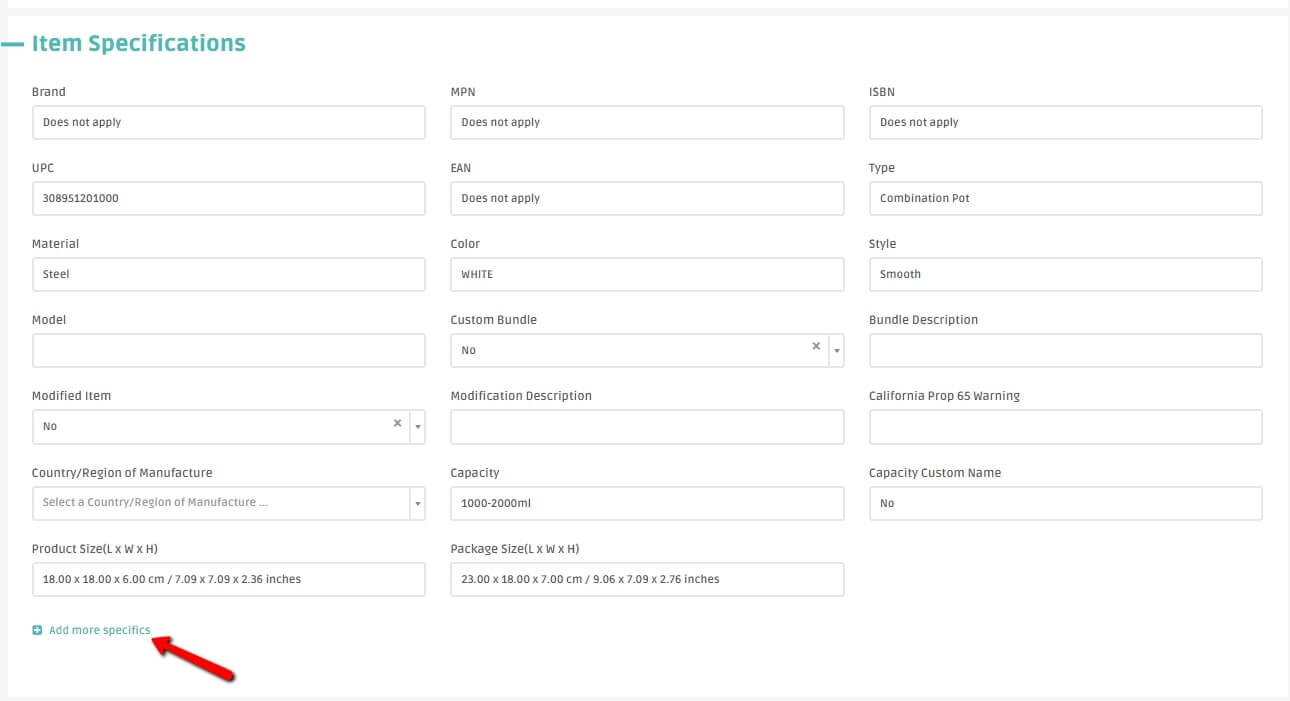 Item Specifications are the attributes of a product you sell. This part is also essential to fill in because the most accurate and complete information will encourage your buyers to make a decision to purchase and reduce the number of returns. Thirdly, this eBay quick listing tool will automatically fill product specifics that are present on the product page. However, you can add more item specifics. It's even one of the best practices of dropshippers.
Tip
Your listing title, item specifications correctly set can boost your eBay sales. Know how on our complete guide on eBay SEO.
Full Product Description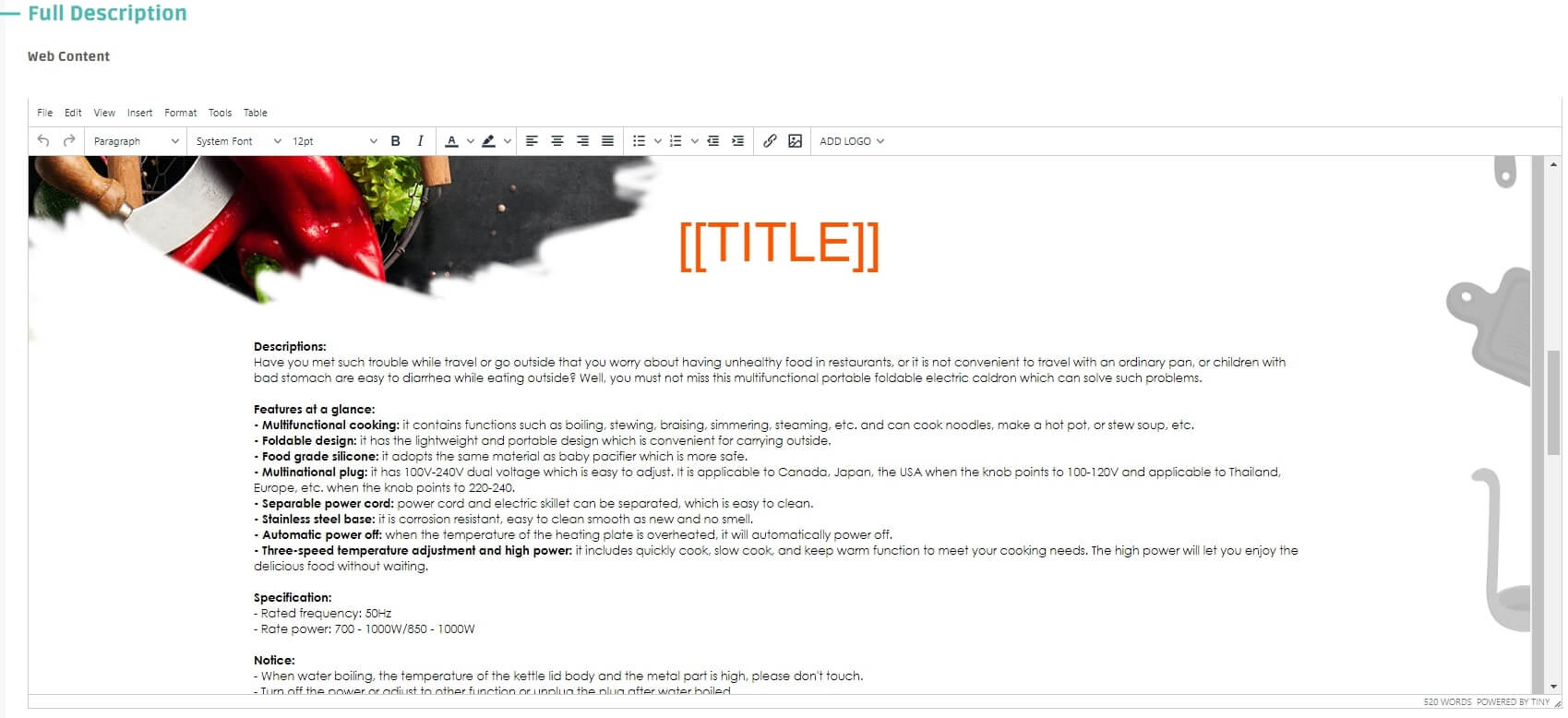 So, when you use this eBay listing software with the chosen template, you get a copied product description. Moreover, DSM Tool pulls the description of your business policies (shipping, return, and payment options you offer to your buyers) in the listing design. However, you would need to give the preferred text for your suppliers in the Templates settings beforehand.
The Web Content section will show the preview of your listing before uploading it to your store. Make the final edit here if you want to add some information or design to it.

Once done, press the Publish Now button and it will be added to your eBay store, and it will also appear in the Price Monitor.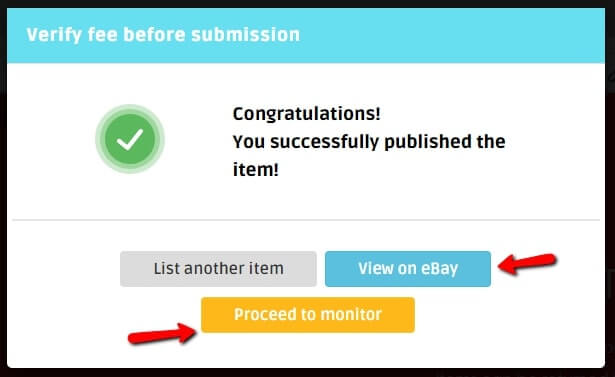 Bulk Lister – List Multiple Products with One Click!
As it was mentioned, you can use DSM Tool as an eBay bulk listing tool similarly. Listing multiple items are possible from all its supported suppliers (50+ sources) and for all target sites (eBay and Shopify). In addition, you can schedule the time when you want items to be published on your eCommerce store. The listing process becomes even faster and smarter with this ebay listing software!
Collecting Items
Listing 2 or more products at the same time is as simple as that. This feature can really level up your listing process. Especially if you've already planned the products that you want to list or if you have a specific niche for your store.
Let's go to the process of creating a Shopify or eBay bulk listing. We will use cookware as a particular product niche that you want to list.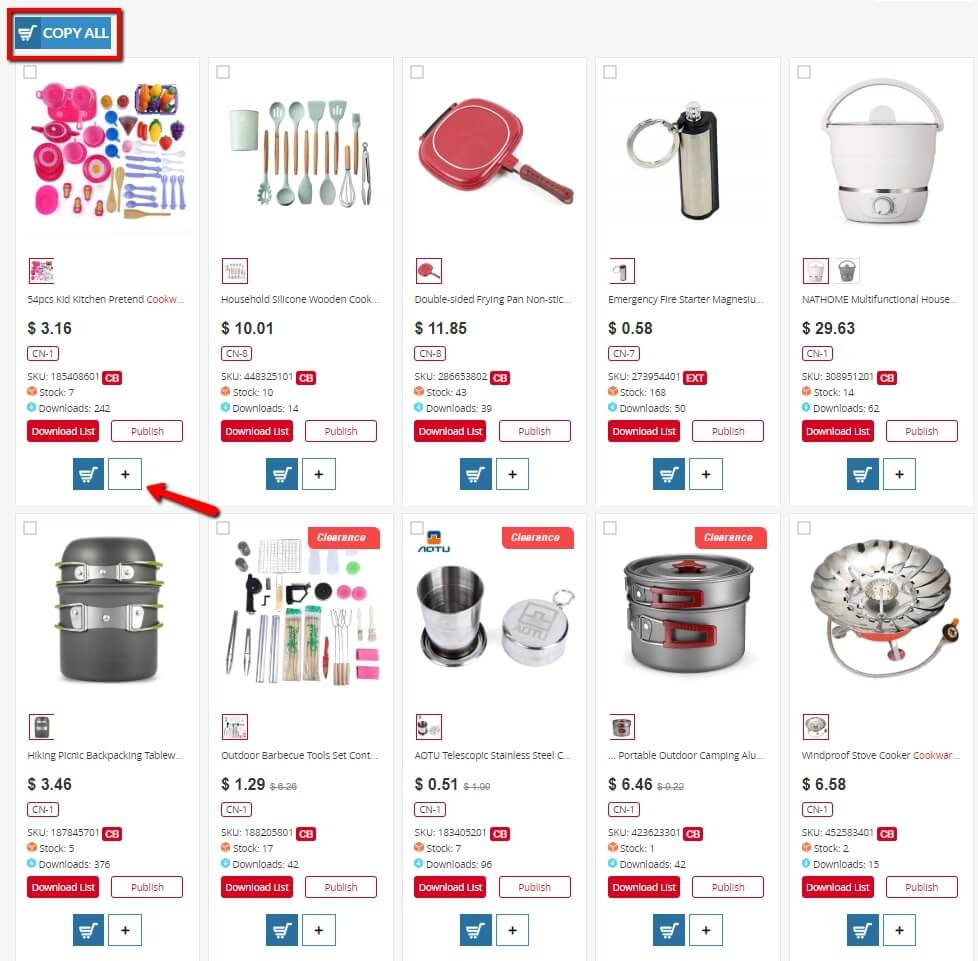 There are 2 ways to do product collection for the bulk lister.
Firstly, you can go through the products you want to add to your store one by one, picking the trendy items up to your preferences. Then click the + button, and these items will go to your bulk list. You can take your time and collect the items during days, or proceed with the listing process and click on the List in DSM button.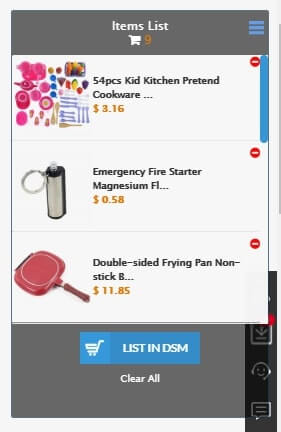 Secondly, you can open a specific category on your supplier site, or type the broad title in the search field there to sort out a product variation. Then click on the Copy All button and the DSM Tool extension will copy all the products on the page. This is to select all the items on the page.
You are ready to go further and list an eBay bulk listing or a Shopify one.
Bulk Lister Settings
After you've selected multiple products that you want to add to your store, it will create a list of products on the right of the page. Clicking the List in DSM button will redirect you to the DSM Tool Rapid Bulk Lister.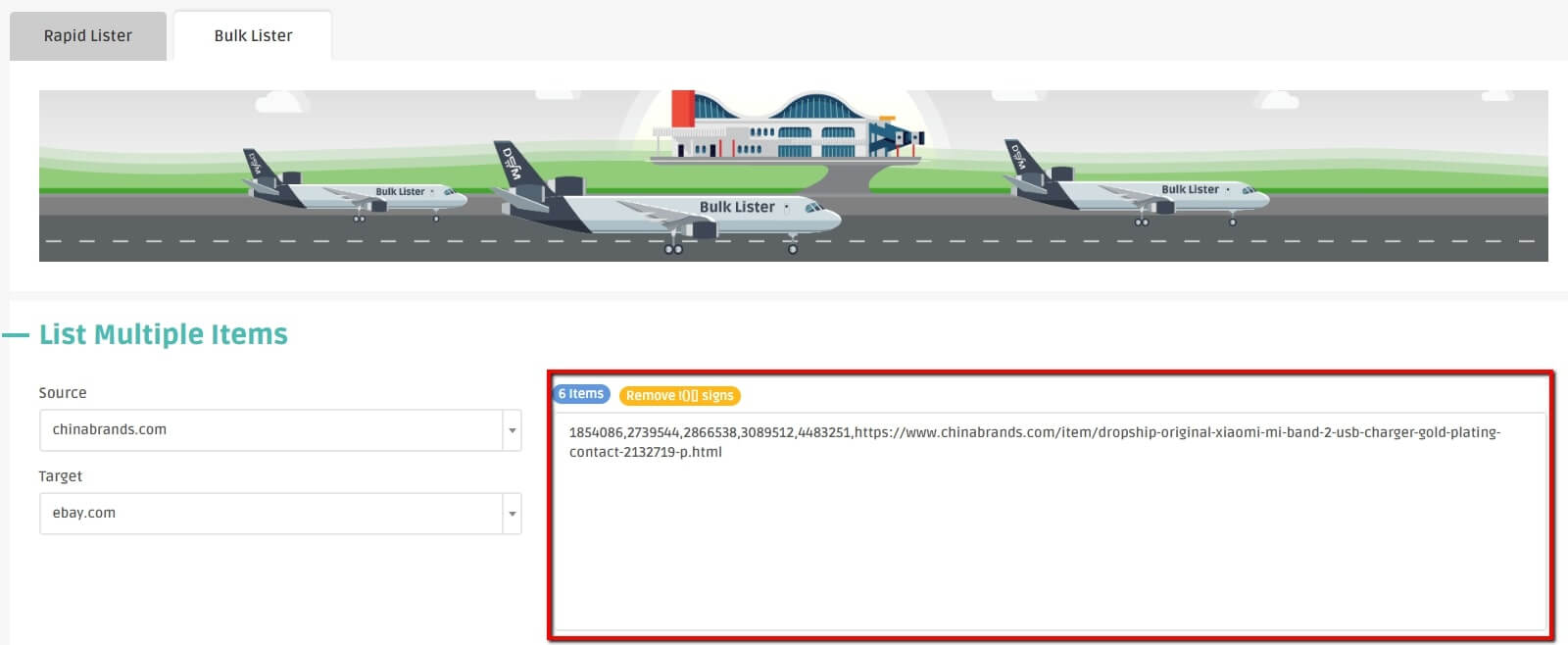 It will copy the product IDs of those items that you've chosen in the Bulk Lister.

Then everything will look pretty much the same compared to the single listing process. You can change some details of your listings, however, these will take effect on all of the products in that list. For example, the design template. Don't forget to choose the right design template for your eBay bulk listing.
The option of collage creation for your listing images is also available. If you mark the checkbox of that option, it will automatically create a collage for the main image on each of your product listings. Know more about it on the Collage Creator post.
The Auto fill of item specifications can also be enabled in this process. The DSM Tool Bulk Lister system will automatically pick the item specifications available from the supplier and will be added to your listings.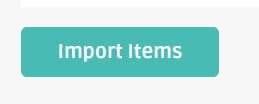 Press Import Items when you're done with the listing settings.
Bulk Lister Preparation

Now, the DSM Tool system will prepare all the listings for you. It can take some time depending on the data DSM Tool gets from the supplier site. Auto-Publish is also available if you want to automatically list the item after the preparation of the listing.

After the preparation phase, click the Continue button.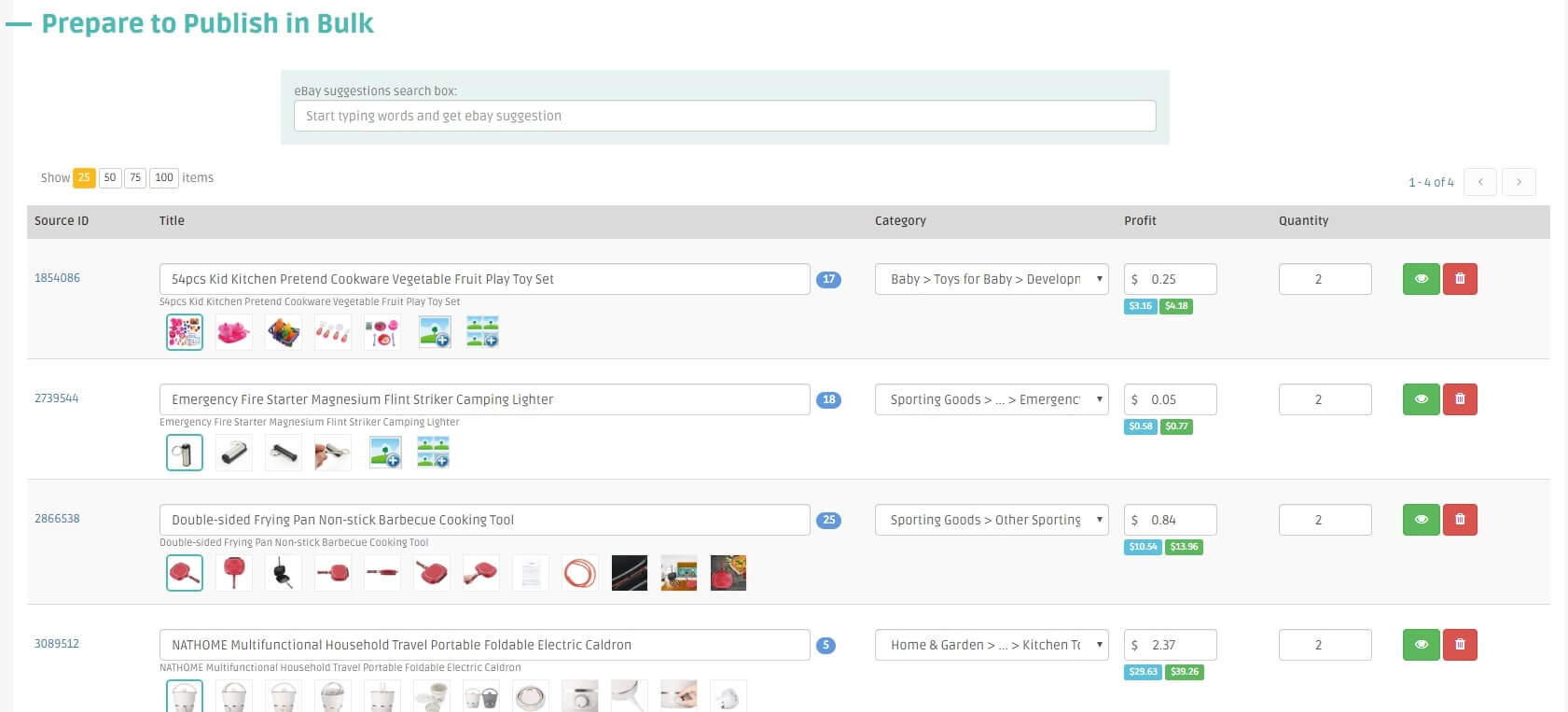 Unlike the single listing process when you can change many details of the unique product, for the bulk listings, it is only possible to change the title, profit, and quantity. You can click on the green eye button to see a product description for a specific product as well.

Click the Publish Now button once done. If you choose the Schedule listing button, it will allow you to list an item or items at a specific time. Read the article for more information about it: DSM Bulk Lister: Auto Publish And Bulk Schedule.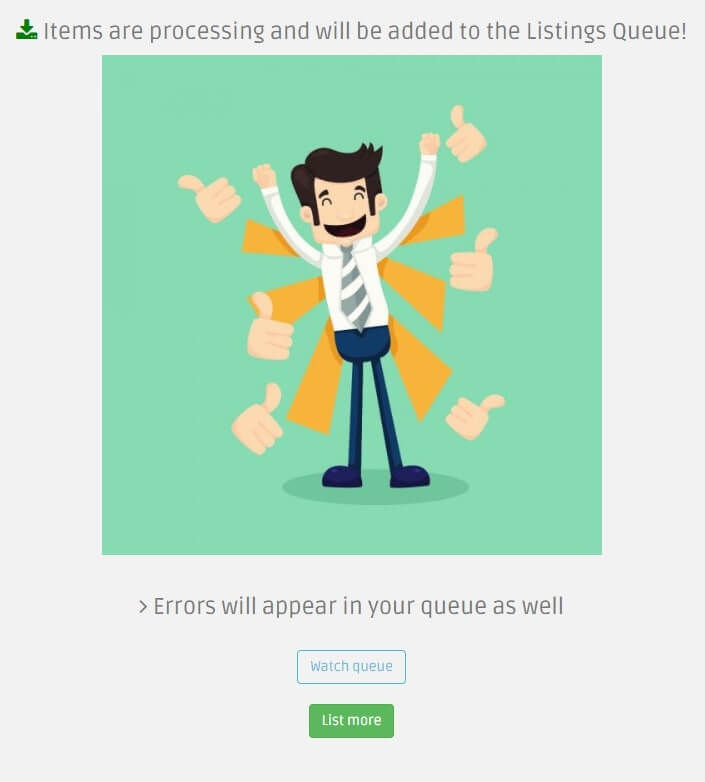 If you got to this page, it means that your products are in the final stage of the listing process. Next, they will be added to your dropshipping store and Price Monitor as well.
You can see the listing queue by clicking the Watch Queue button.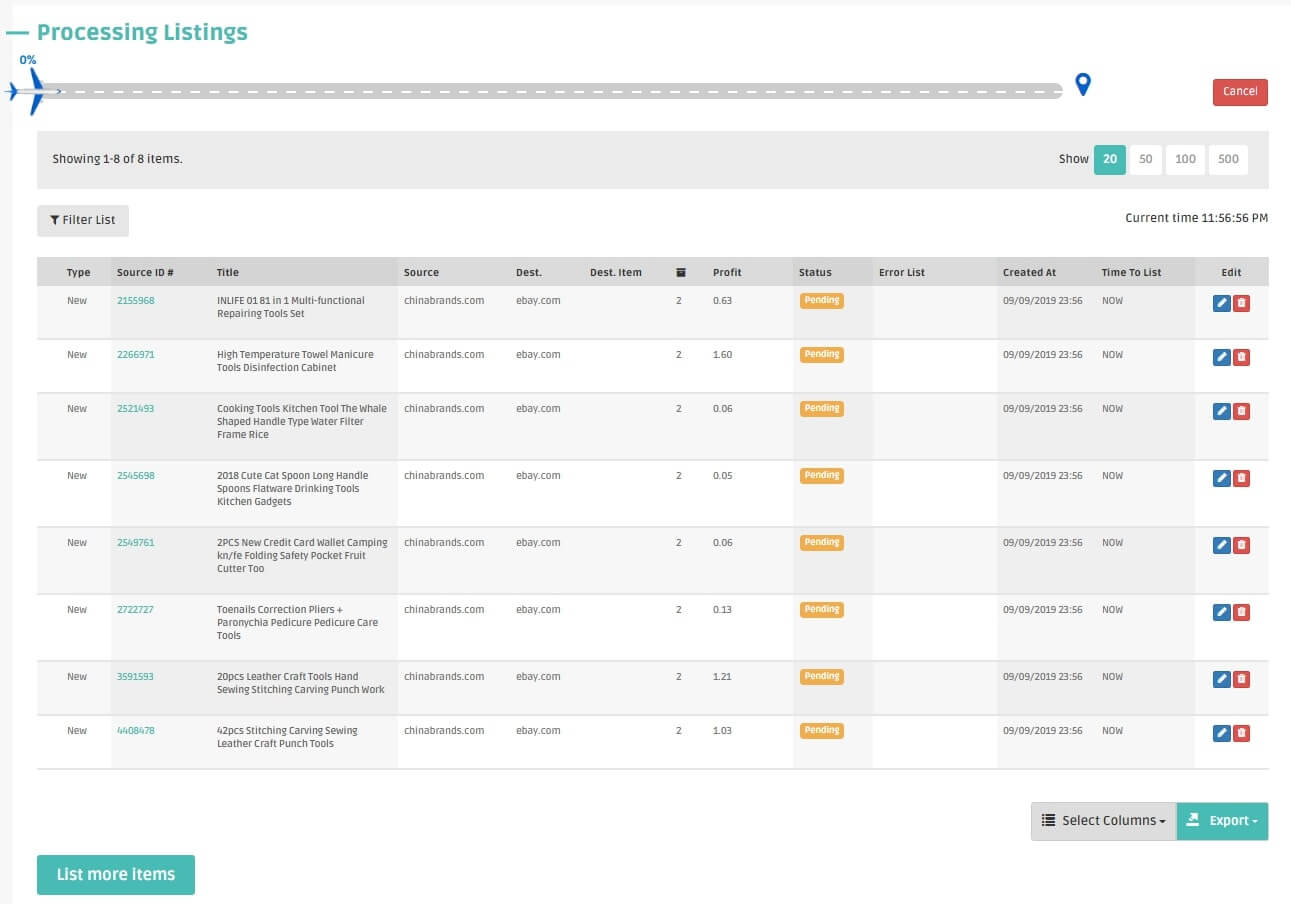 The queue for bulk listing shows the total number of listings and a progress bar showing the completion of the quantity listing process in percentage.

The results will be shown after the progress bar reached 100%. The items will be listed successfully in the Price Monitor. In case there are some errors due to the incomplete supplier information or other details in the listings settings, you can review it and relaunch the listing process.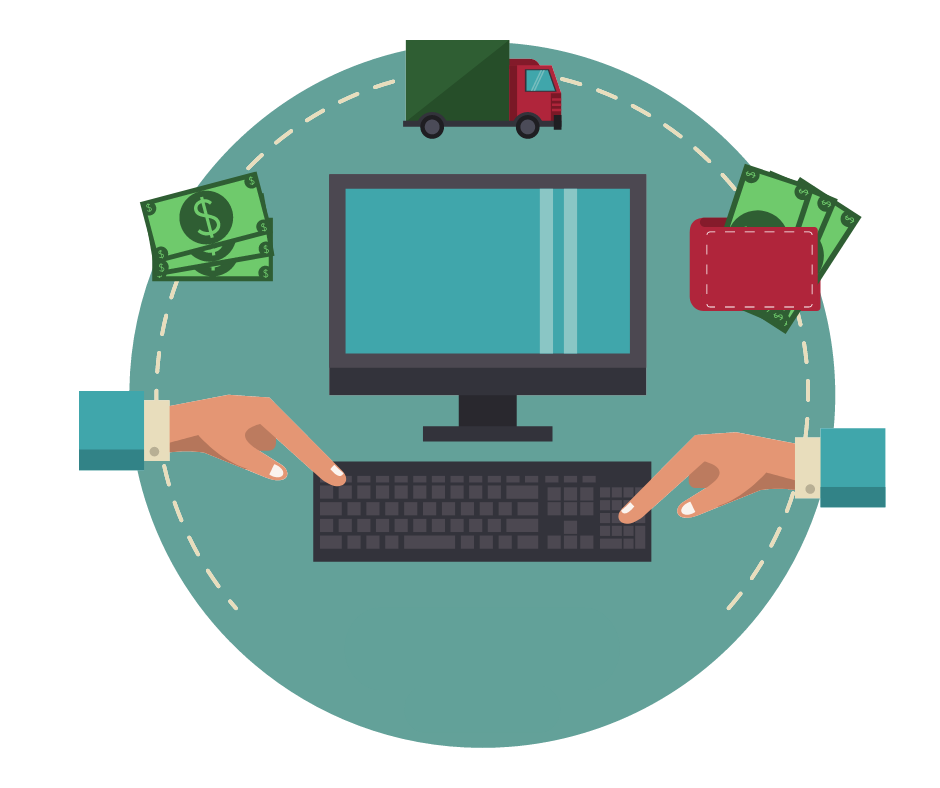 Not yet making money online?
Start your own dropshipping business. Sign up for a free trial of DSM Tool and we'll help you get started. Today is the day.
Summary
The DSM Tool Rapid Lister is the next generation of a simple product listing tool. It will make your life free from copying and pasting every detail of a single product to an optimization process that ensures the product will be bought. It's an answer for you on how to quickly list items on eBay or your Shopify store. Listing on eBay and Shopify become not only faster but smarter. Besides, DSM Tool isn't just a lister, but also is a monitor and repricer which is pretty convenient for growing eCommerce sellers.
Looking to upgrade your DSM Tool account and search for a coupon? Well, we have one for you!