5

min read
How long will it take you to make the first sale if you start dropshipping on eBay today?
eBay dropshipping is a low-risk business model that is very friendly for people who want to start an online business. In comparison to dropshipping on Shopify or starting an Amazon FBA business, it is much more attractive for anyone who wishes to save on the expenses side. I covered the cost analysis and risks in the article about how much does it cost to start dropshipping on eBay.
Dropshipping on eBay is not only risk-friendly, but it is also one of the most simple business models to start getting results with. I define making your first sale as the point you have jump-started the business, and in comparison to other business models, unless you have years of experience in digital marketing, eBay dropshipping brings results so much faster.
In this article, I want to show you how quick you can get results from dropshipping on eBay. Then, I will explain how you can start dropshipping today as well, and hopefully make such quick results as well.
Less than 7 days to make the first sale
This poll on the dropshipping Facebook community explains better than a thousand words what I am trying to say. 68% (actually 68.8%) voted that it took them less than 7 days to make their first sale on eBay.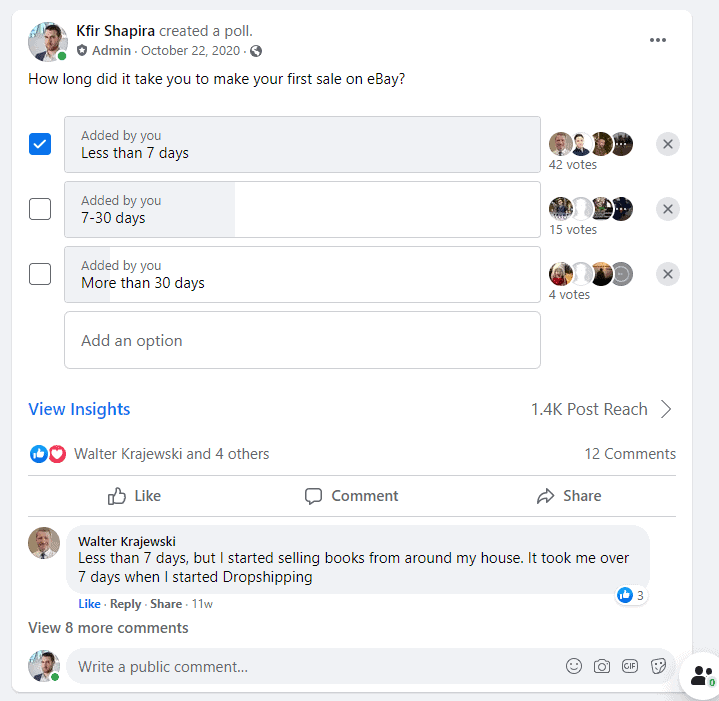 It is one of the clear advantages of the eBay dropshipping business model over Shopify, Amazon FBA, and others. You can start so quickly to generate sales, that it is quite unique to eCommerce in general.
It actually took Albert only a few hours
It wasn't enough for me to conduct a survey on Facebook, I wanted to ask the people who answered the survey to share their stories. Albert, from Paraguay, is dropshipping for 2 years using the dropshipping software DSM Tool agreed to speak to me.
Albert, tell me the story of how you started.
I started in dropshipping with DSM Tool probably 2 years ago. I started by looking into "how to make money online" and I heard that one of the simplest ways to make money online is with eBay dropshipping and it requires too big of an investment.
Where did you learn how to start dropshipping on eBay?
First, I bought a course and I learned just the basics. Then I started watching videos on YouTube, learning how to snipe profitable products.
How long does it take to setup everything you need to start selling: eBay seller account, PayPal account and the dropshipping software?
It can take me today… minutes… One hour or two with the right instructions.
Did you list one item and it got sold or did you have to list a couple of items, then remove under-performing listings according to the concept of eBay SEO?
After I learned how to snipe products I started listing, not worrying about whether I am going to make a sale, I just wanted to know if this is really going to work. It just happened after 2 days of listing.
Anything else you could share with people who want to start dropshipping on eBay?
I just want to say that DSM Tool is very user-friendly, and that the support there (24-7) is great.
How to start dropshipping on eBay
There are a few things you need to get before you can generate your first sale:
An eBay seller account
a PayPal account
A dropshipping software (like DSM Tool)
Guidance on how to get started
eBay and PayPal
Any eBay account has the ability to both buy and sell on the platform. But unlike buyers, eBay sellers can access an extended number of features such as the seller hub.
PayPal is used for payment processing, since 2019 eBay is moving it's sellers from PayPal to their own payment processing platform called "eBay managed payments".
To set up both follow the guide on how to setup eBay and PayPal and the recommended settings for eBay dropshipping stores.
Dropshipping software and guidance
The reason to use a dropshipping software is because it automates for you parts of the business that no human can do manually, such as syncing the price and stock of the products between the website you source products from and your store.
Moreover, it automates other tasks that you could do manually, but are just such a waste of time like messaging customers to generate positive feedback automatically.
When you sign up to DSM Tool, you can purchase a complete eBay dropshipping video course that has over 45 video lessons in it and really covers everything you need to know to get started, and more.
Moreover, you can count the cost of the course as nothing because together with it you get the dropshipping software itself in a discounted price. What's the catch? Nothing, we're believe that if you are willing to commit to your business – you deserve to be equipped with the best tools to help you become professional.
There is also a free self-learning path which I am happy to share with you if that's the way you prefer to go. Follow step by step the cheat sheet on how to start dropshipping on eBay, it contains a list of free guides that can help you get started. I also recommend the complete guide for dropshipping from Ali Express to eBay.
Don't forget to comment below: what is your goal? How quickly will you make your first sale?