12

min read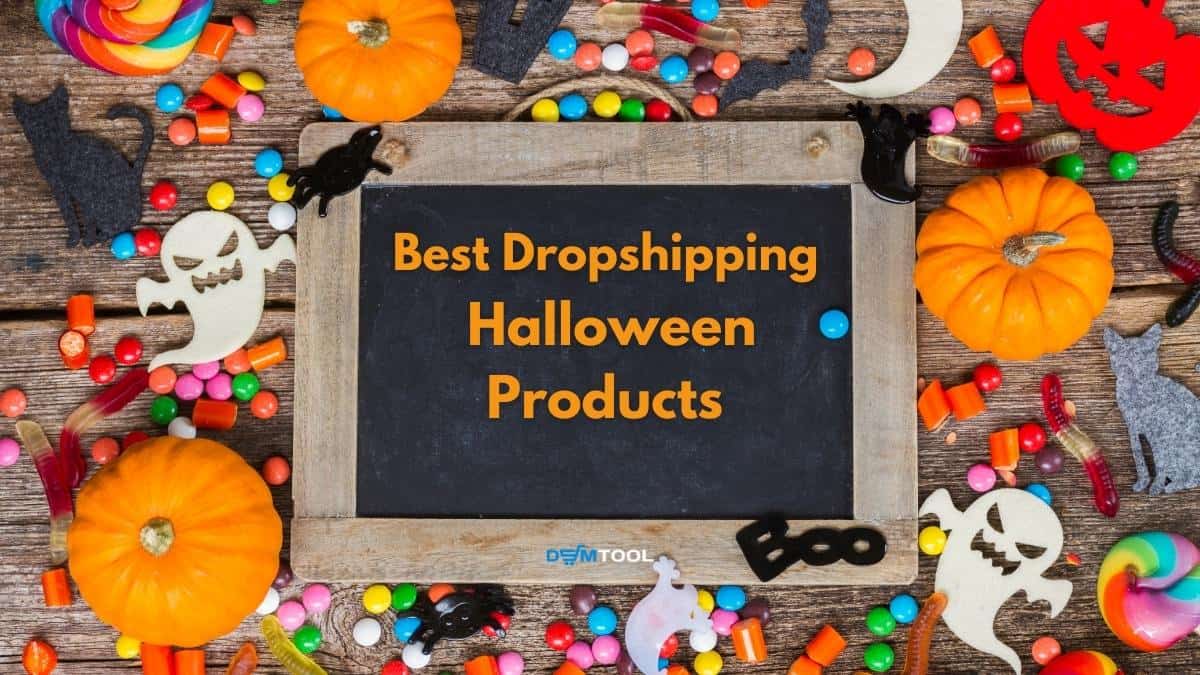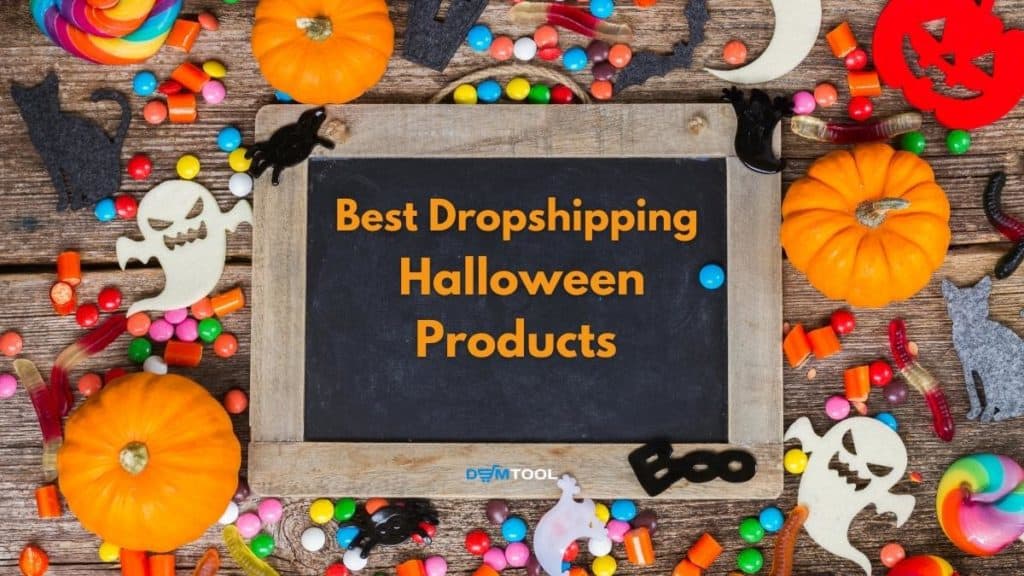 With Halloween dropshipping season approaching, it's time to conjure up the perfect selection of spooktacular products for your online store. Embrace the festive spirit and cater to the ghoulish cravings of your customers with the best-selling Halloween products.
Amid the ever-growing commercialization of Halloween, this popular holiday is more than just a day of spooky fun. It is a great opportunity for sellers and dropshippers to boost sales and make good profits.
In this article, we've brewed a cauldron of bewitching suggestions to make your Halloween dropship sales soar like a witch on her broomstick. From creepy costumes to hauntingly delightful decorations, we've got you covered. So, grab your pumpkin spice latte and prepare to discover the best Halloween products to sell in 2023!
Should I Dropship Halloween Products In 2023?
Yes. Like any other retail business, dropshipers can gain more traffic by offering Halloween dropshipping products. Moreover, with a combination of Halloween-related and general products, you can enjoy higher traffic because you are riding the trends.
Both experienced dropshippers and aspiring entrepreneurs should know that most sales online happen during the eCommerce holidays in Q4 and Q1. Halloween opens this holiday season.
In fact, Halloween is the fourth largest holiday shopping day for online retailers and wholesalers. While its traditions and customs vary worldwide, people shop online to participate in Halloween celebrations.
According to the National Retail Federation's (NRF) annual survey, 69% of participants planned to celebrate Halloween in 2022. Only in the U.S. market did shoppers spend $10.6 billion on Halloween products last year. It is $500M more than a year before. Considering the trend, we can expect the same in 2023.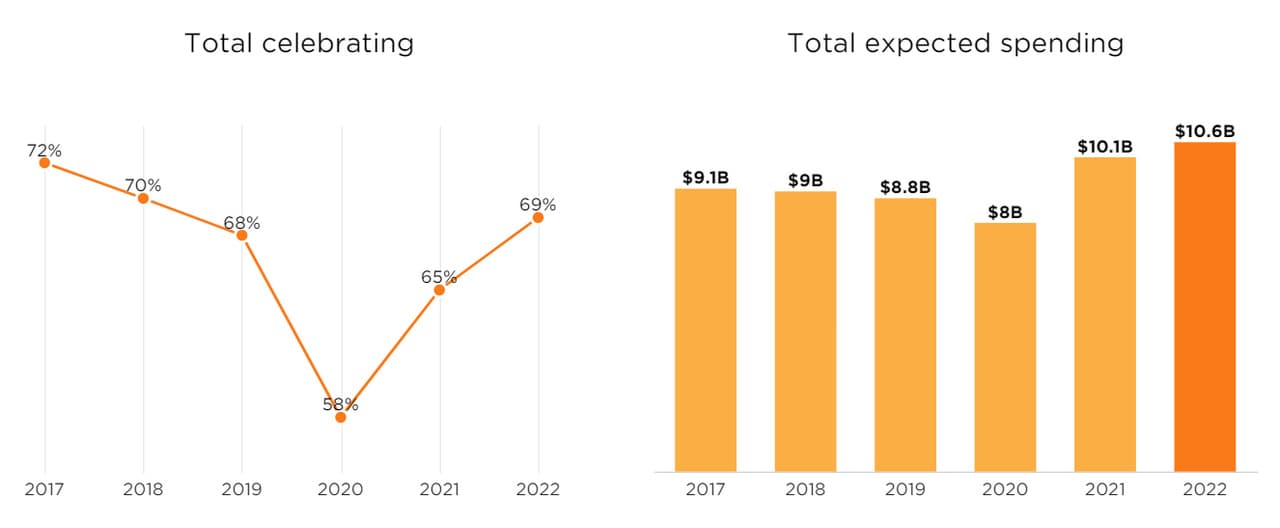 An average American spent approximately $100.45 on its celebration in 2022. Halloween is one of the most affordable holidays compared to the costly Christmas or Thanksgiving. Well, it is the secret of its popularity.
As can be seen, Halloween dropshipping is a lucrative possibility to boost your sales. However, you must prepare your online store with the right product selection. So, what are the best-selling Halloween products?
Best Selling Halloween Products For Dropshipping
Obviously, Halloween dropshipping products are seasonal, with demand limited in time. So you don't have to keep those listings in your online store for a whole year. We recommend you prepare your online store for any holiday 1-2 months beforehand.
However, don't be too quick to remove the Halloween items from your shop right after the holiday. Why? The reason is simple: the practice shows that some shoppers still buy the thematic products two weeks after the holiday is over since they want to save some money.
We composed this list of the best-selling Halloween products based on the following historical data: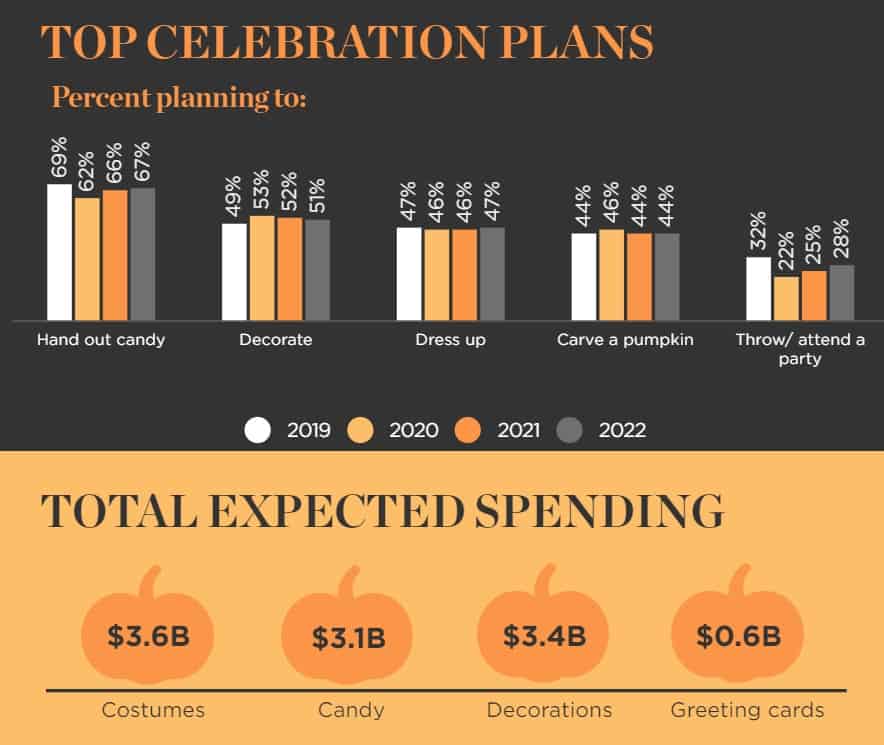 From this information, we can group Halloween dropshipping products into four main groups: Costumes, Candies, Decorations, and Greeting Cards.
By analyzing these groups closer and considering market trends, we receive the following list of the best-selling Halloween products and niches:
Halloween Costumes
Halloween Wigs & Masks
Halloween Accessories & Cosmetics
Halloween Jewelry
Halloween Decorations
Candies and Candy Accessories
Halloween Baking Supplies
Halloween Party Supplies
Halloween Photo Booth Props
Halloween Greeting Cards
Let's take a look at each category.
1. Halloween Costumes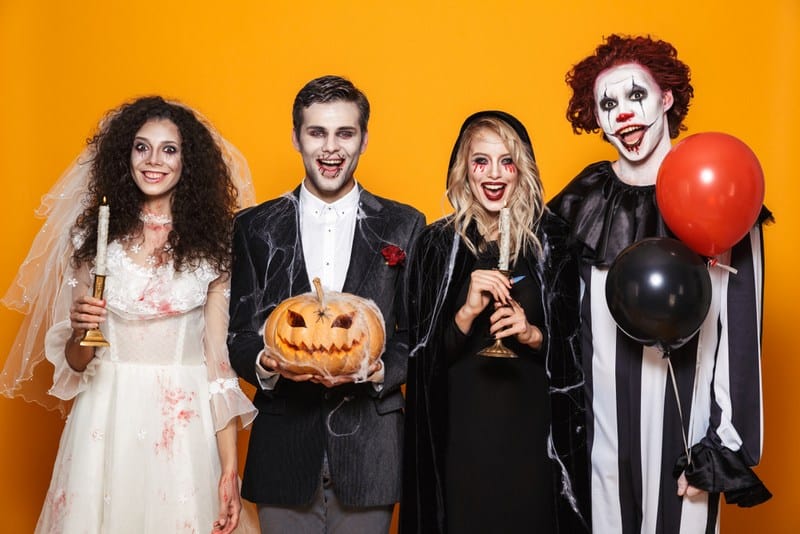 It's impossible to imagine this holiday without dressing up. The great thing when you dropship Halloween costumes is that this product group covers all ages. Costumes can be spooky, funny, creative, heroic, or anything you want.
Around 47% of all people celebrating Halloween dress in costumes. Moreover, shoppers spent over $3.6B on them in 2022. So, it is definitely worth it to dropship Halloween costumes in 2023.
Which Halloween costumes to dropship in 2023?
So you decided to dropship Halloween costumes. What are the popular characters in 2023? The most demanded costumes are:

You should pay more attention to adult Halloween costumes since they are selling best, according to statistics. Over 4.6M adults plan to dress like a witch, over 1.6M as vampires, over 1.4M as ghosts, over 1.1M as cats, and other 1.1M as pirates.
Children's outfits are going right after them. Over 1.8M children plan to dress as Spiderman, 1.6M as their favorite princess, 1.2M as Batman, and over 1.2M will dress as other favorite superheroes.
Pet costumes are popular too. If you dropship pet products, offer pumpkin, hot dog, superhero, cat, and bumblebee costumes.
2. Halloween Wigs & Masks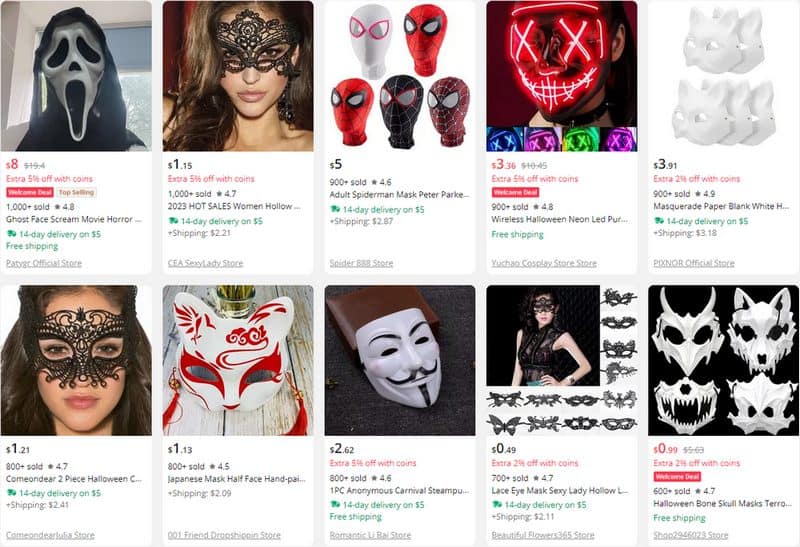 Halloween wigs and masks are in high demand during the holiday season. Many people look for unique and eye-catching accessories to complement their costumes. These are popular products for Halloween parties, events, and trick-or-treating.
Wigs and masks come in various styles, colors, and themes. You can curate a trendy and diverse selection, catering to a wide range of customers.
3. Halloween Accessories & Cosmetics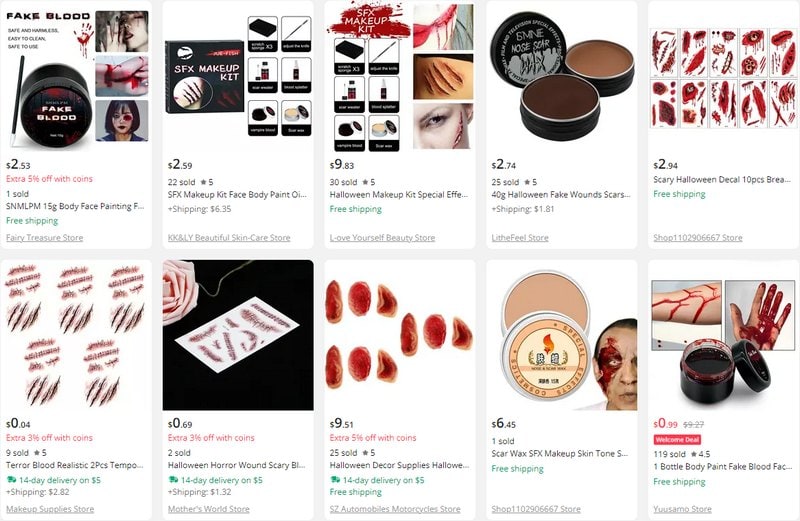 Accessories like fake scars and stitches are also popular Halloween products to sell. These spooky and realistic adornments are popular among Halloween enthusiasts and cosplayers to create jaw-dropping costumes and effects.
They complement a wide range of Halloween costumes, including zombies, vampires, mummies, etc. Thus, we can take advantage of their high cross-selling potential. Offer a variety of options that suit different themes to ensure there is something for every customer.
Cosmetics like makeup kits, face paints, contact lenses, and temporary tattoos are among the best-selling Halloween products. Make sure to add some pictures with makeup to your listings so your customers can imagine what it will look like.
4. Halloween Jewelry


These Halloween dropshipping products are affordable and combine well with different costumes. Whether customers dress up as a mystical witch or a seductive vampire, the right jewelry can add authenticity to their outfits.
Furthermore, some designs are always trendy. Gothic elements can be popular among those who enjoy expressing their personality through unique jewelry choices. For example, goth collars, rings, and earrings are quite popular throughout the whole year.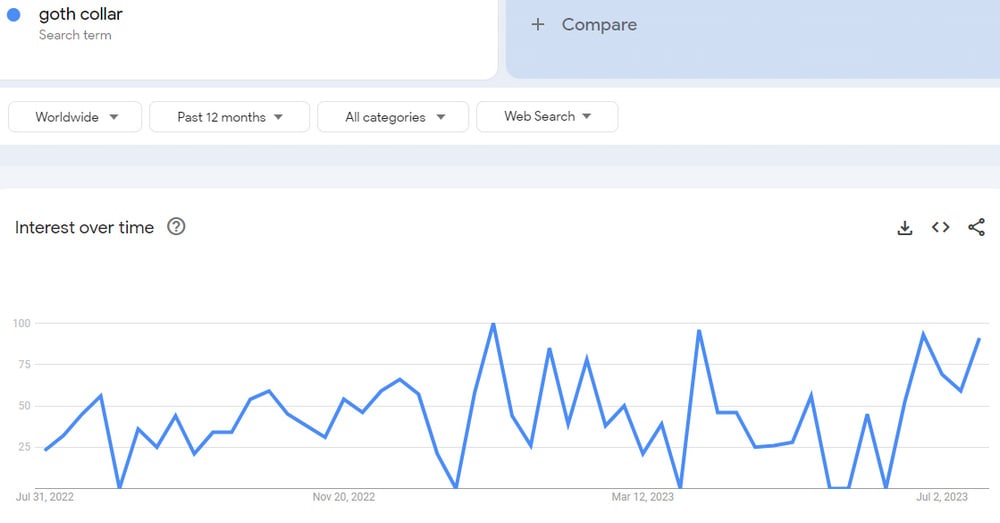 5. Halloween Decorations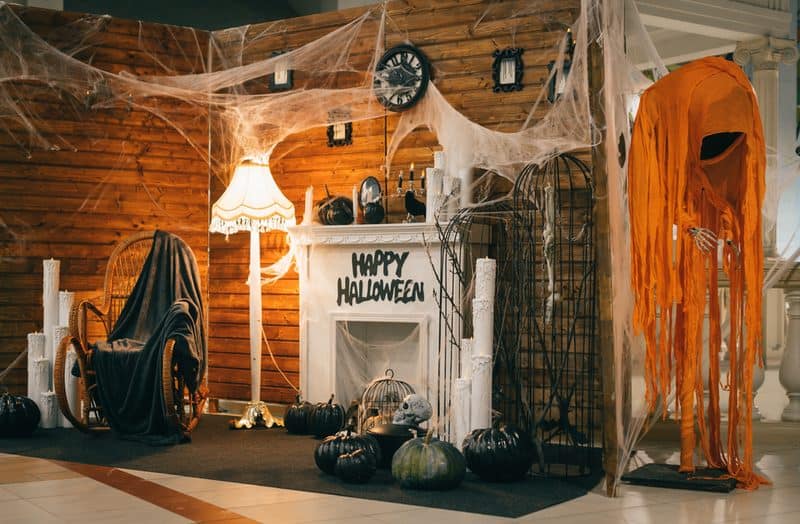 Decorations is another big group of Halloween dropshipping products that got $3.4B in spending last year. According to the surveys, around 51% of survey participants will decorate their homes in 2023.
This niche covers a huge amount of products for indoor and outdoor decor. For example, Halloween LED decorations & lamps, pumpkin lanterns, candles, fake spiders & web, different inflatable items, Halloween pillowcases, tablecloths, etc.
The vast niche varies from very affordable items like bat wall stickers to expensive high-ticket products like fog machines and animated skeletons. Because of this, almost any store can find something to cater to their customers.
6. Candies and Candy Accessories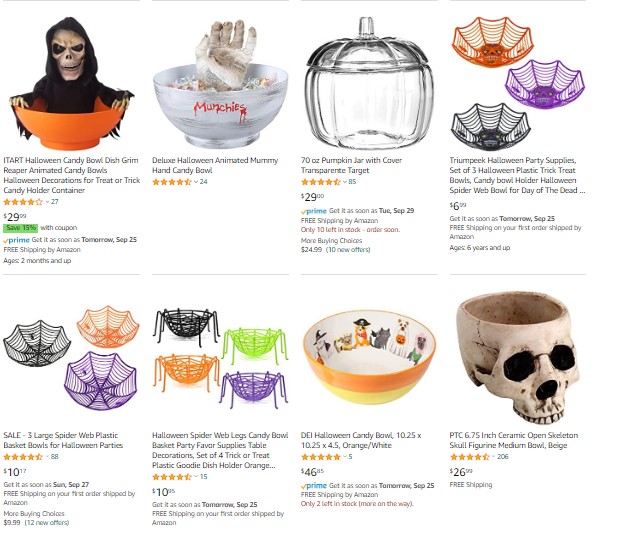 Candies and candy accessories are the absolute winners among the best-selling Halloween products for dropshipping. In fact, the highest percentage of the interviewees indicated that they would buy sweets.
Because Halloween is synonymous with treats, candy accessories are in high demand this holiday season. So, adding some accessories for Halloween candies, like buckets & candy bowls, trick-or-treat tote bags, etc., to your dropshipping store is a must.
Remember that you are liable for the products you sell. If a Halloween consumable product like candy harms anyone, this can cause serious trouble, or you even can get sued.
7. Halloween Baking Supplies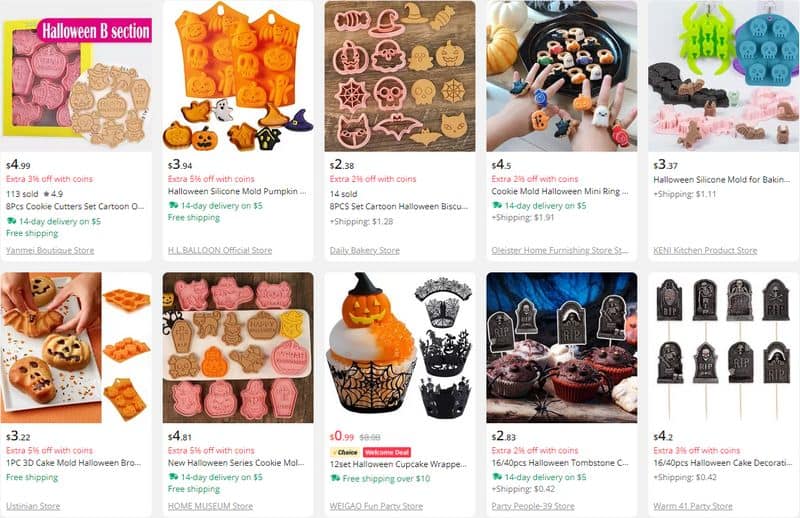 Halloween is a time when people love to bake and indulge in spooky-themed treats and desserts. Similarly to candies and candy accessories, baking supplies hold immense potential as best-selling Halloween products. Cake molds, cookie cutters, and decorating kits cater to this baking craze, making them highly sought after by customers.
Moreover, dropshipping Halloween baking supplies creates cross-selling opportunities with other holiday products. Customers purchasing baking supplies may also buy Halloween decorations or party supplies.
8. Halloween Party Supplies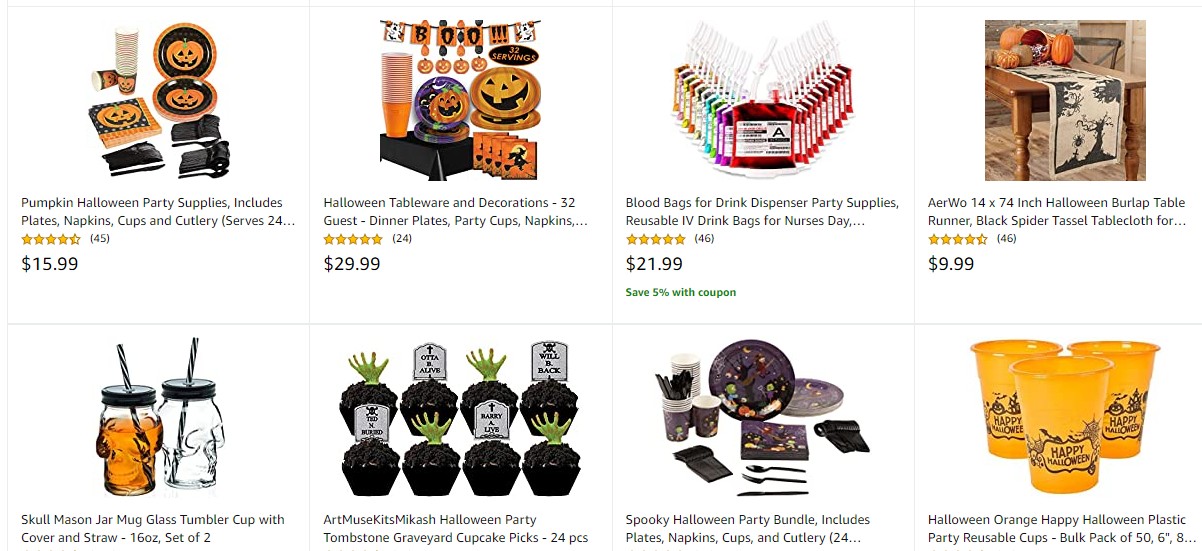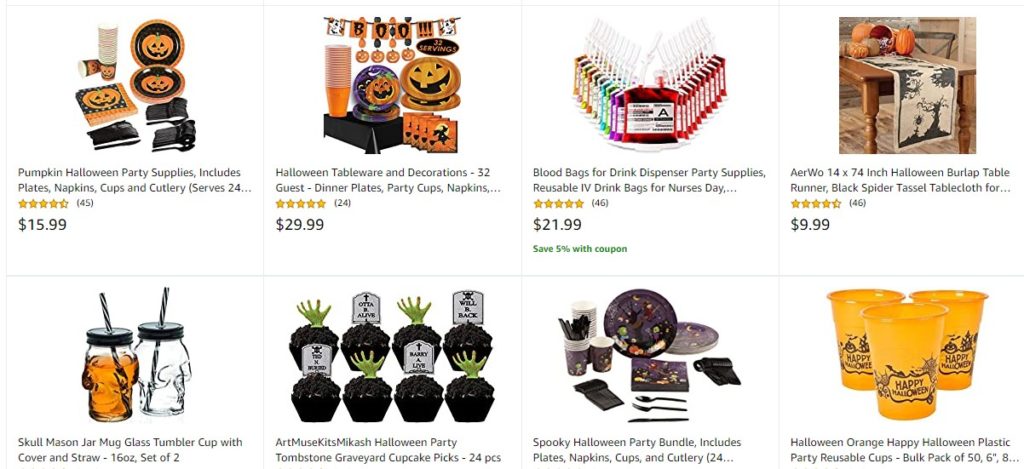 Around 28% of those who celebrate throw/attend a Halloween party, so it is worth adding party supplies to your online shop. This sub-niche covers everything needed for both a big party and a modest family dinner: tableware, cups, straws, games, pumpkin carving kits, etc.
For example, consider selling a trendy Waterproof LED Ice Bucket. This product isn't saturated yet on eBay, and it has a demand on other eCommerce platforms as well: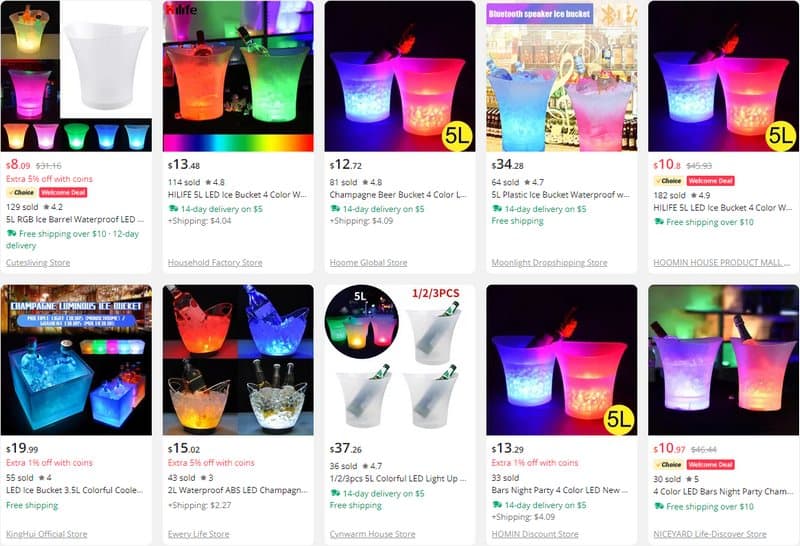 9. Halloween Photo Booth Props

Halloween photo booth sets can make any party even more fun. It's always a good time when everyone gets together, and the photo booth props will make the event more memorable and enjoyable. People love to create funny and humorous family moments, and they can capture them for years with multiple photos. So no doubt that these are good Halloween dropshipping products to add to your store.
10. Halloween Greeting Cards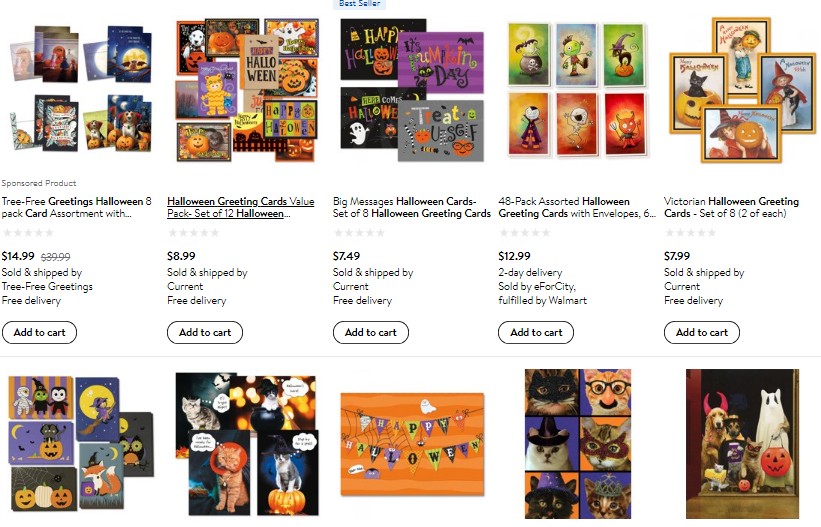 Sending a greeting card for the holiday is another lovely Halloween tradition. Last year, people spent over $600M on greeting cards in the US only. Considering their low costs, this is a huge number.
Greeting cards are a popular choice for Halloween gift-giving. Furthermore, customers often pair them with other Halloween dropshipping products like costumes, decorations, or treats. Shoppers may add a card to their cart while shopping for other Halloween items, boosting sales and profitability.
Conclusion
We've presented our list of best-selling Halloween products to dropship in 2023. Use these ideas to attract new customers to your dropshipping store and boost sales.
Halloween is the fourth largest shopping holiday for eCommerce sellers. While its traditions and customs vary, one thing remains the same – people celebrate and spend money.
Also, Halloween dropshipping season is a busy one. Therefore, double-check the shipping times of your dropshipping suppliers and their reliability. Late deliveries can lead to bad feedback from customers. Consider using dropshipping automation or hiring a VA to handle an increased load.
We wish you a happy Halloween dropshipping season! If you know other trending Halloween products to sell, let us know in the comments!