12

min read
You've discovered the amazing opportunity of selling on Facebook Marketplace and you want to start gaining profits already now! Here you go! Today we will give you tips for selling on Facebook successfully from the very beginning. They will help you to avoid mistakes that beginners usually do and start to get sales faster.
As you already know that selling on Facebook Marketplace is not complicated at all. It's a matter of offering interesting products your market niche would be interested in. However, you need to understand how the algorithm works along with the platform's policies in order to properly start dropshipping on Facebook.
So, let's get started! Use the next tips for selling on Facebook marketplace and getting more sales!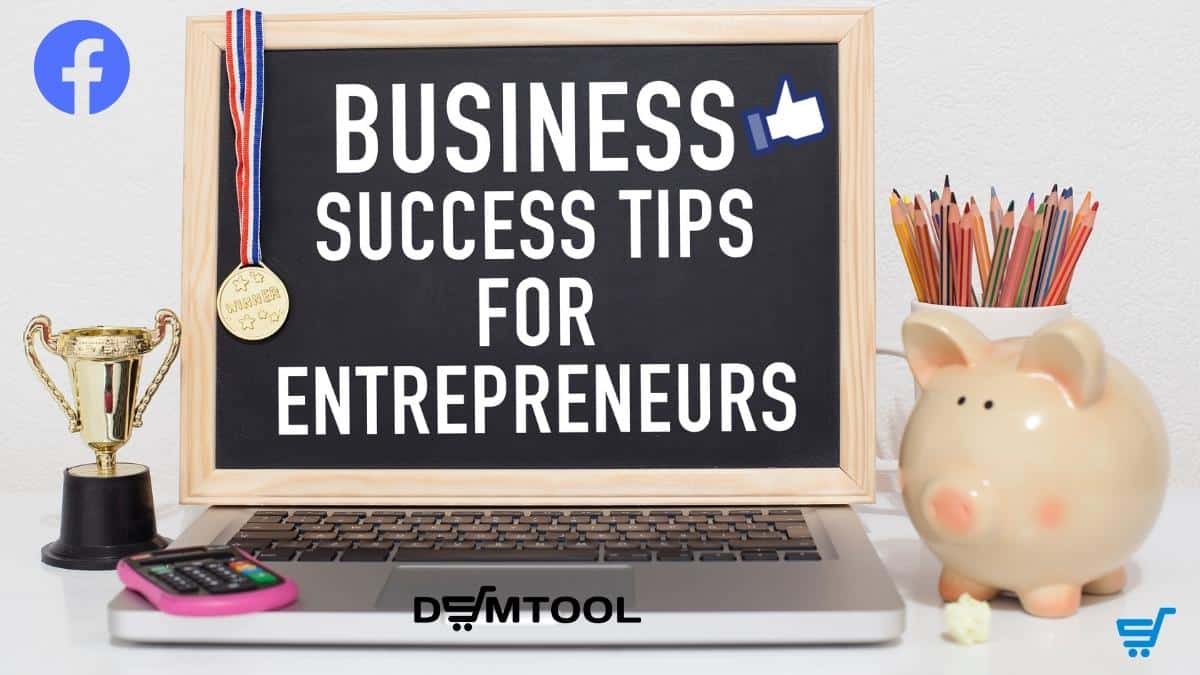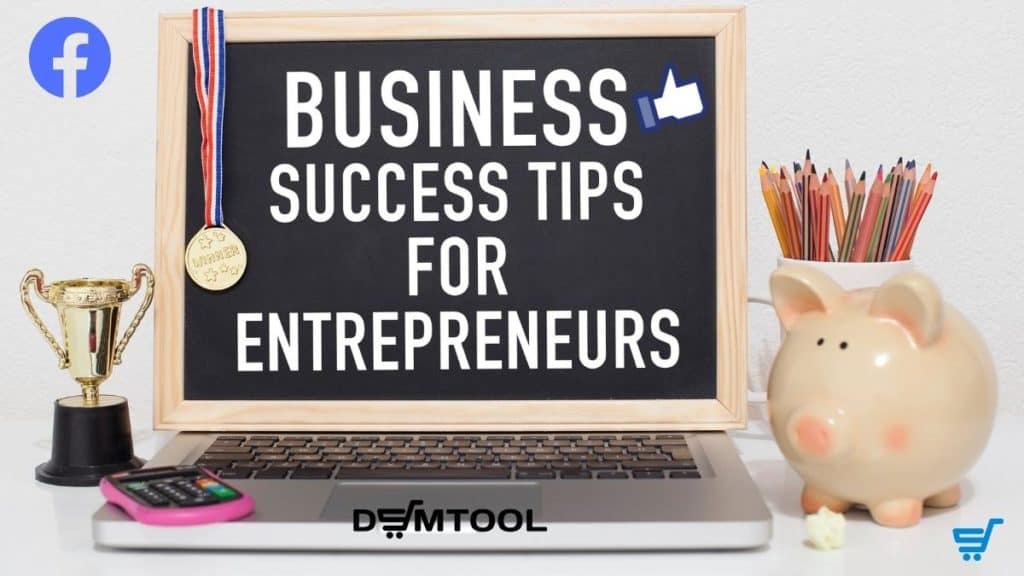 Tips for selling and dropshipping on Facebook Marketplace
Let's start by addressing the general tips you should always follow when it comes to selling on Facebook Marketplace.
1. Scout your potential competitors
It's important to be on the lookout for other Facebook sellers who will offer the same line of products you want to offer. Check out their prices and shipping options. That way, you can upload your product with a lower price to be competitive and if possible, with a better shipping option.
2. Take high-quality pictures of your products
We, Facebook dropshippers, who don't sell our own products should pay attention on find professional looking pictures of the item you want to sell from your supplier's page. Don't forget to upload images without the water signs or logo of your supplier. You can also put your own Facebook shop logo on it. Make collages or even small videos.
3. Give detailed item description
Provide as much information about your product in the item description. A good product description not only will help you with Facebook's algorithm since the platform prefers sellers to describe in detail what they're offering. But also, from the user's perspective, it'll give them more chance to decide whether they want to buy your product or not.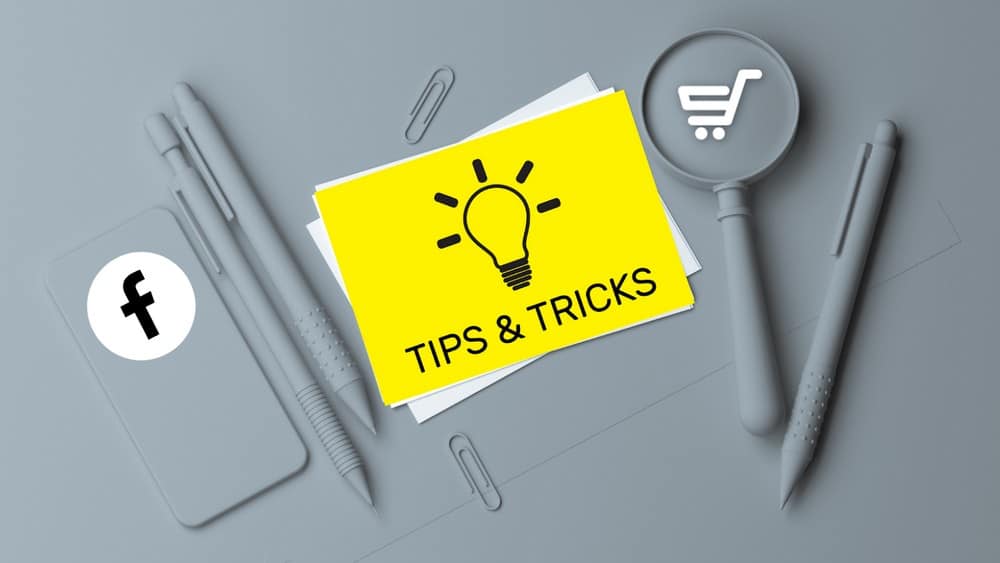 Details matter: Whether you're selling clothing apparel or a specific home decoration item, be very specific about the small details. For example, if you are selling a T-shirt that has double cotton on the sleeves, a detail that on the item description (if possible have a closed up shot to showcase it on the images). If you're selling a rug and the rug has circle patterns on it, specify that as well. Besides, if you will provide as many item specifications as possible, your potential buyers may have fewer questions. And contact you less often.
4. Choose the correct Facebook category to sell your product
Sell your item under a relevant category. If you sell a shovel, place it under "Garden & Outdoor". If you sell products under categories that they don't belong to, you won't get any buyers. Because they will be looking for your item in another place (the right Facebook category). As a consequence, you will get fewer views and you even might get banned for spamming the category section.
5. Be clear about the price you set for your product
You set your price and you set your standards as a Facebook seller. If you only accept a certain amount for an item you're selling, be clear about it. A lot of people will ask for the price and be upfront about it. If you're willing to negotiate the amount, you can be clear about it as well by placing "Negotiable" on the pricing.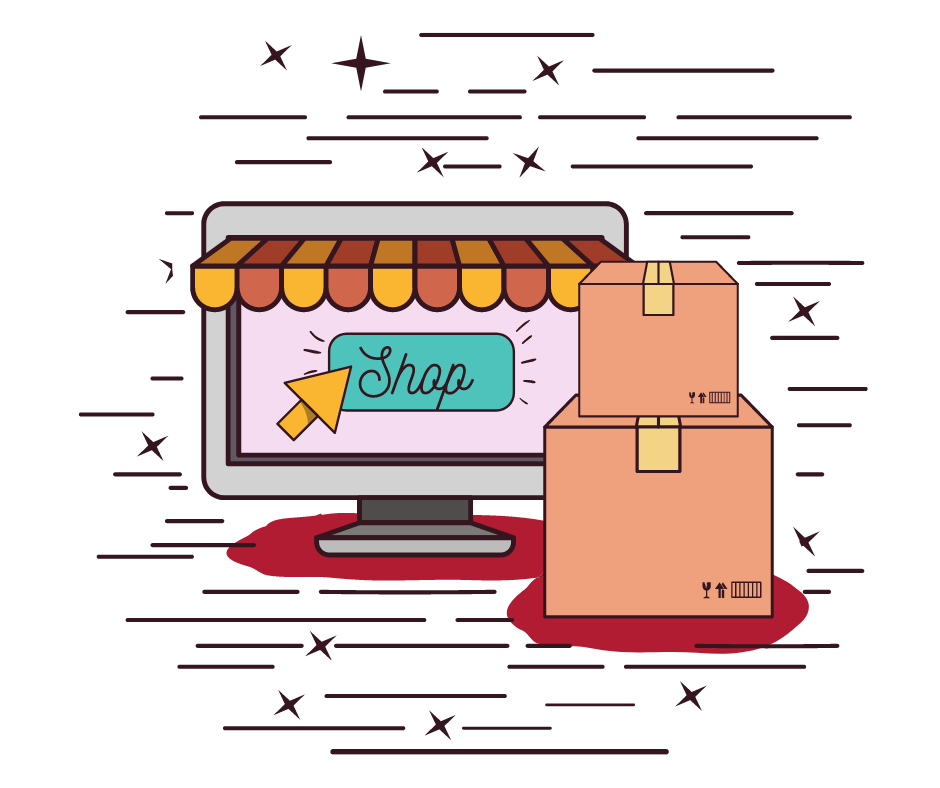 It's time…
Don't wait for success to come. Hire yourself and start your own dropshipping business
6. Reply to questions in a timely manner
It is normal that there will be a lot of inquiries about your products on Facebook Marketplace. Lots of potential buyers will ask you general or specific questions about your listing. Make sure you reply politely and on time. That will certainly help with the user's purchase decision.
7. Be open to offers and negotiations
Look, there will be lots of potential buyers who would want to negotiate on the product's price. That's not a bad thing at all. Be open to negotiations, be flexible and it will show the customer that they can trust you and they will come back to buy more or recommend your Facebook shop. Obviously you need to meet the customer halfway and offer a price that he or she will be happy to pay and you would be happy to receive. Especially if you are dropshipping on Facebook and need to cover your expenses.
8. Follow

Facebook's Commerce Policy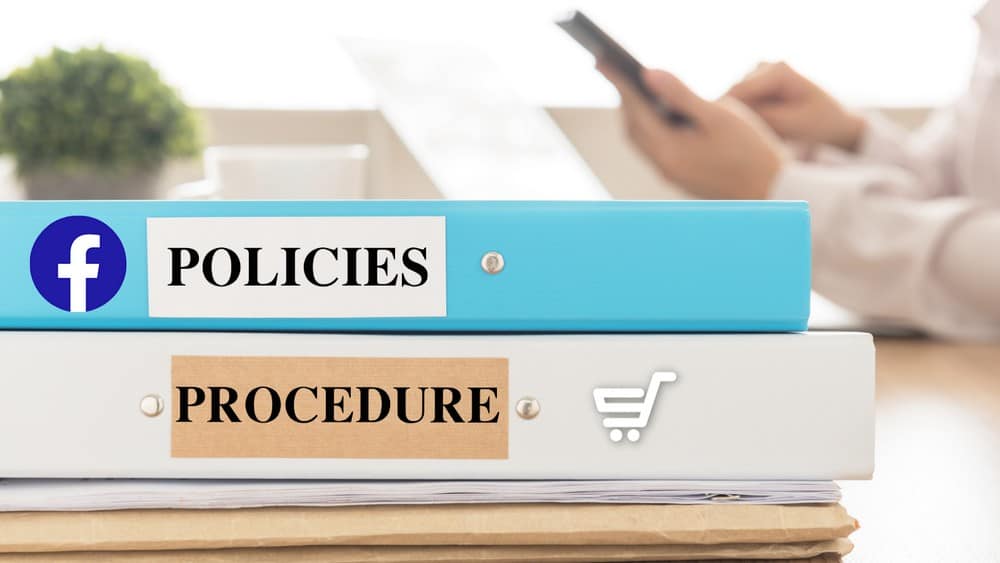 It's important to know the rules of the selling game on the Fb marketplace. Just like any other marketplace, there are certain rules you need to follow and your listings must comply with.
Let's take a quick look at Facebook's Commerce Policy. The first thing to note is that as a general rule, Facebook has very strict Community Standard Guidelines that every user has to follow. This will also apply to the FB Marketplace. Those are the standard rules about respect to all people, No to Violence, privacy rules, and respecting intellectual property among others.
When it comes strictly to product offer on your Facebook shop, you need to avoid selling:
Adult products.
Medicaments, vitamins, drugs.
Alcohol.
Body parts & Fluids.
Digital Media and/or Electronic Devices.
Any discriminatory product to any minority group.
Documentation or Financial Instruments.
Gambling.
Jobs.
Guns.
— Etc.
Other restricted contents you may not present are:
Tickets to any commercial event.
Gift cards or vouchers.
Just know: If you believe that your listing hasn't broken any Facebook Commerce policy. And your Facebook listing got rejected, you have a chance to submit an appeal. All you need to do is fill out a form given by Facebook and explain the issue. You'll get a response within 24 hours.
— Here's the direct link to the claim form.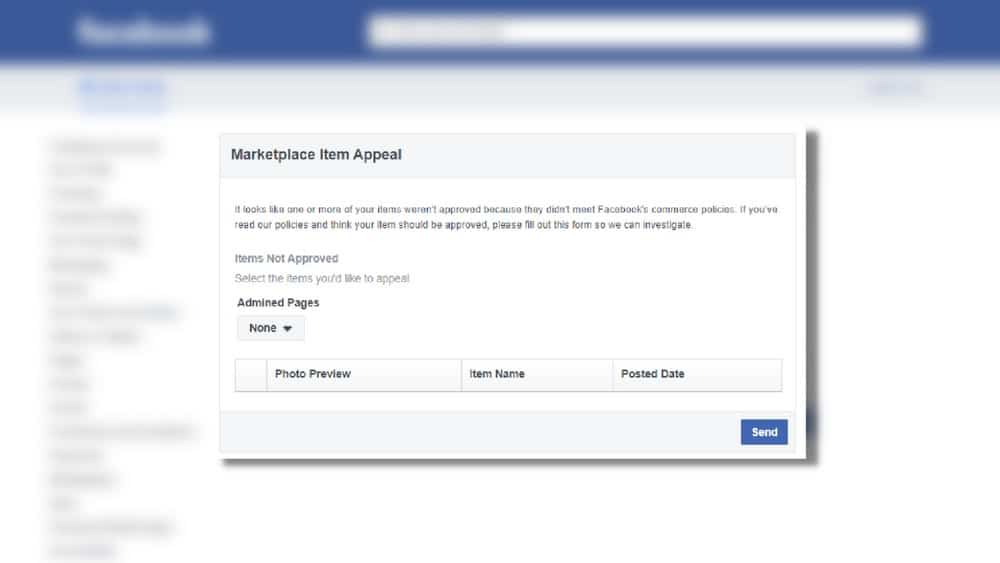 10. Provide

High Quality Catalogs of Facebook shop
A Facebook catalog will contain the products you wish to sell across Facebook and/or Instagram. Providing good quality content where you describe in detail what you're offering will certainly help the customer discover your products and be more informed about their purchasing decision.
— It will certainly help you as a Facebook seller to not only gain more attention and credibility. But it will also boost the confidence of your customers to buy from you.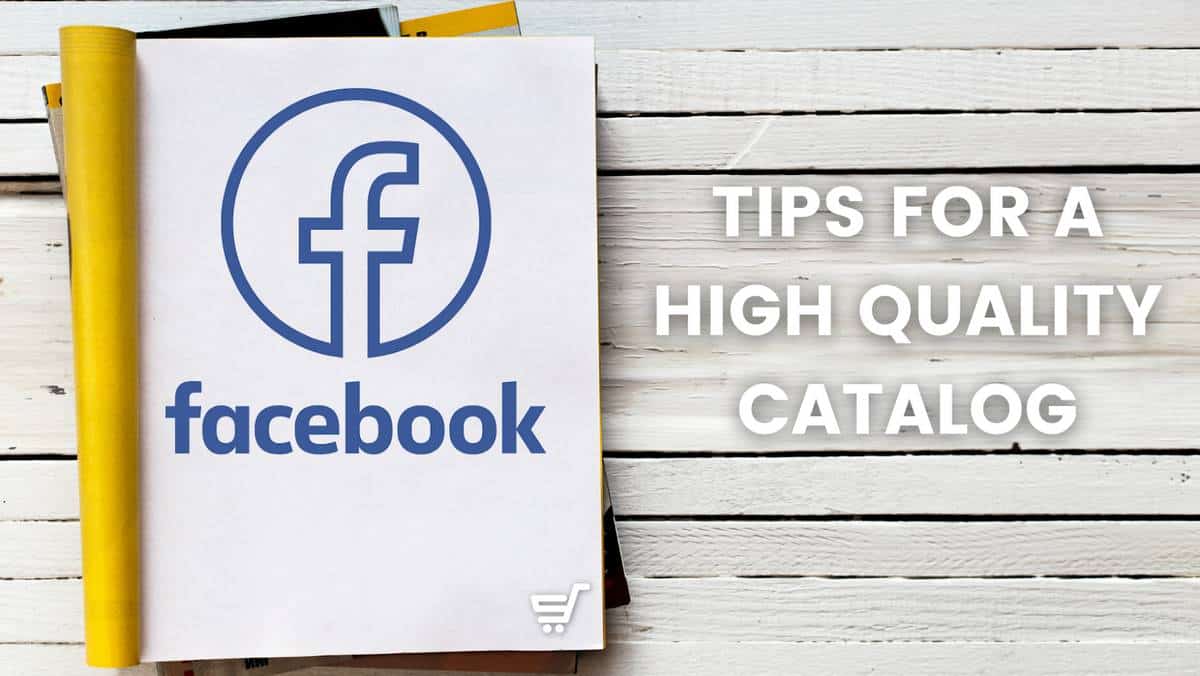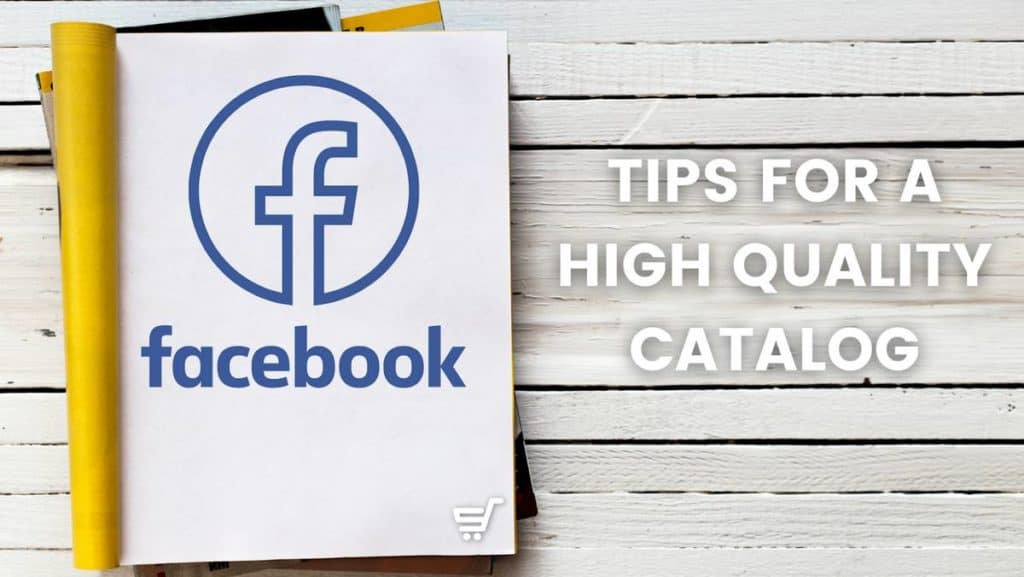 Follow these best practices in order to boost your sales and work on your store's image:
Using only one single catalog for both ads and commerce on Facebook: It is best to keep your items in one catalog because it'll be way easier to manage your inventory. Furthermore, it will help you build your audience for ads whenever you wish to invest.

Keeping your catalog up to date: This is crucial, especially if you're dropshipping on Facebook Marketplace. You need to keep your products within your catalog with every piece of information updated. Your inventory has to be in stock, meaning that you need to be checking back with your supplier. This also applies to any price change the item might have on your supplier's end.

Title and description optimization: It's important to create a good first impression of your items through a winning title and a good detailed description. Avoid keyword stuffing, proofread for spelling and don't include any links in these fields.

Choose high quality pictures for your products: Use high resolution images that are at least 500 x 500 pixels and show your items accurately. Normally, a lot of suppliers you choose to source from will have professional pictures of the product. Choose the best looking ones.

Link the products properly: Make sure that within your catalog, you place the direct link to your product properly. Make sure that the links begin with the typical "http:// or https://".

Setting up the product's variants: If you're selling under categories such as Apparel, Home Decorations, etc. Make sure to include different variants of the item. For example; Sizes, colors, add-ons, etc. It's important that these variants display correctly in the catalog so the user can take a better look at them.

Check if any of your products are rejected: When you upload your catalog, Facebook will review if your items comply with their Advertisement Policy and Commerce Policy. If they don't, you can either remove the item or edit the product in a way it will comply.
— Try to follow the aforementioned steps above in order to properly showcase your listings on Facebook Marketplace.
That way you can gain more traction whether it's a paid approach such as Facebook Ads or an organic approach.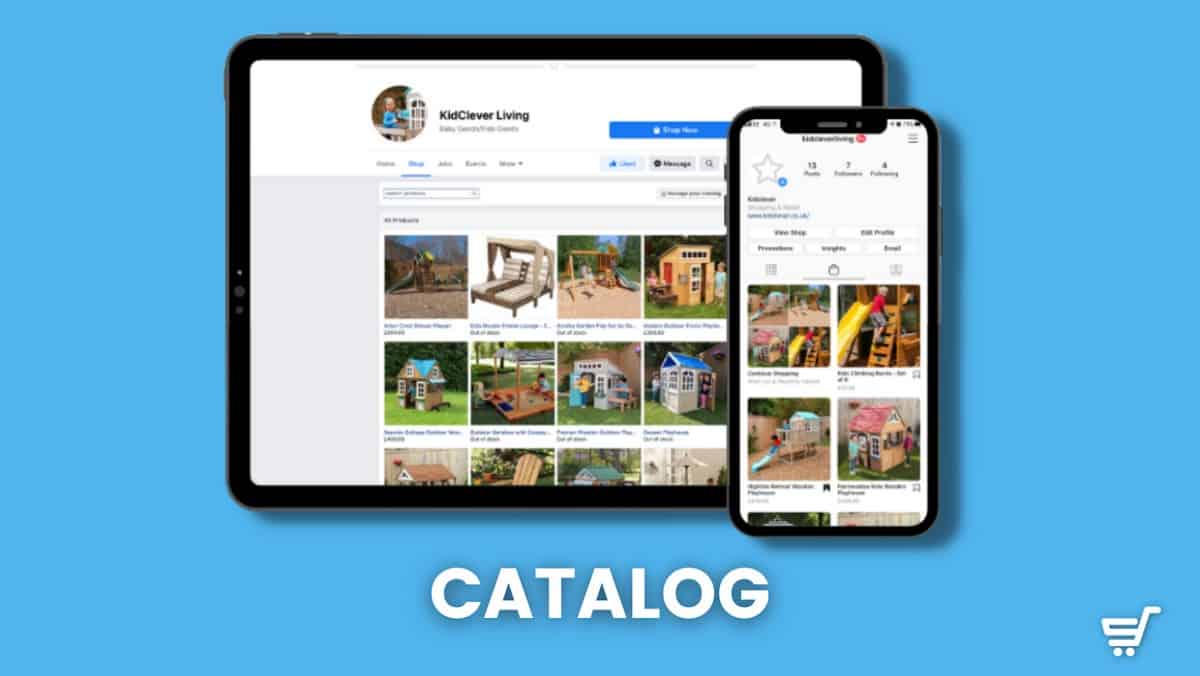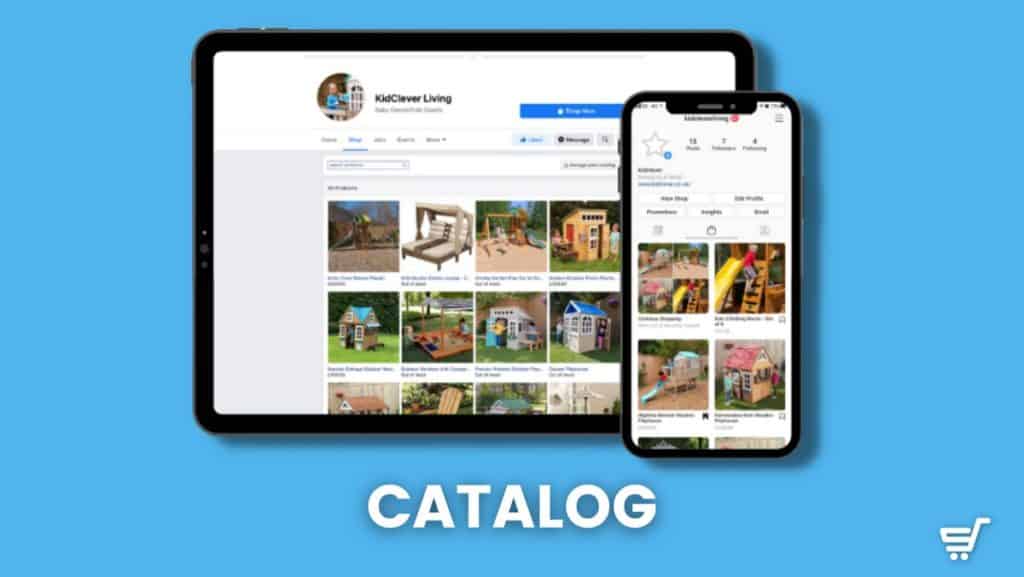 Selling an item on Facebook Marketplace:
After you learned the best selling tips for selling on Facebook marketplace and you want to quickly list a product, follow these steps:
From your Facebook Feed, click on the left-hand side of the screen where it says "Marketplace".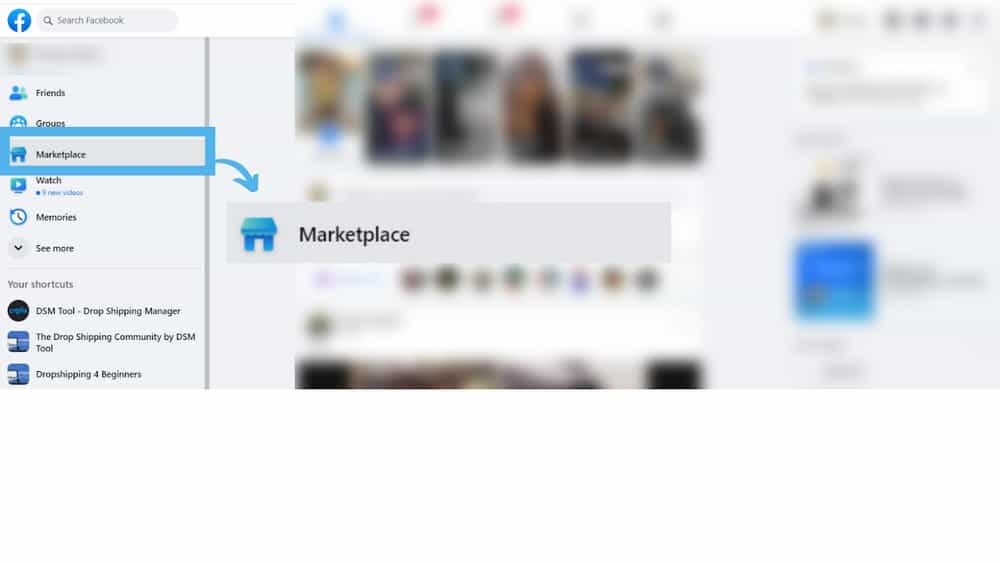 Afterwards, click on "Create new listing" to upload your product. Make sure you click on where it says "Item for sale" in order to move forward.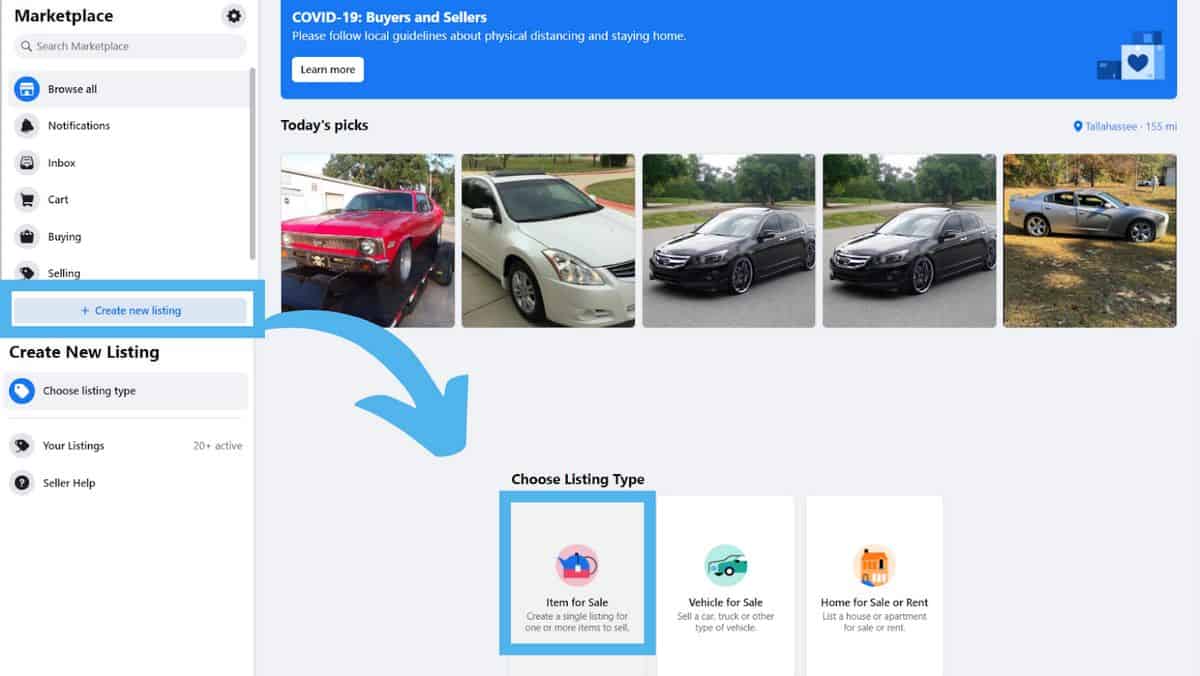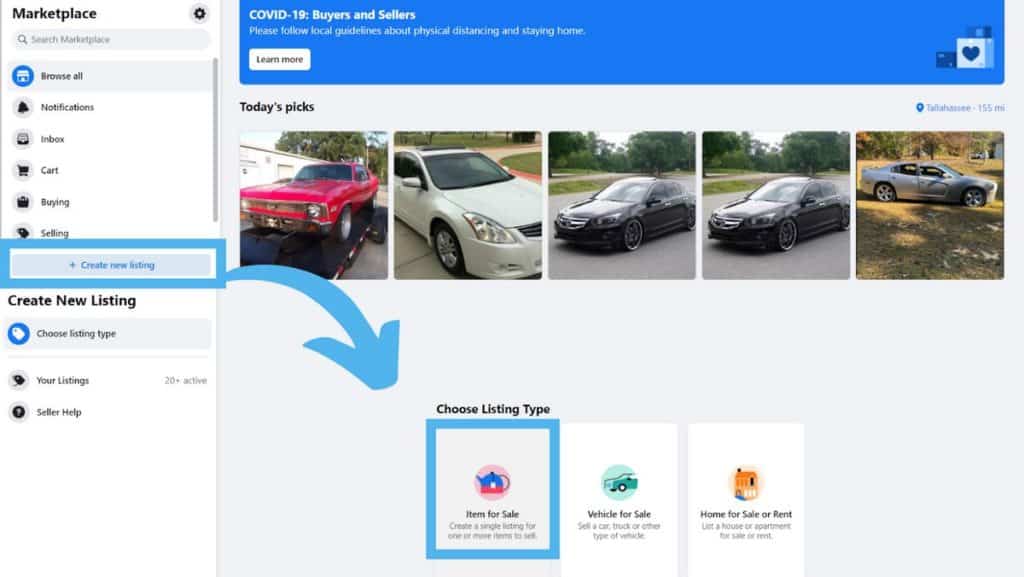 Simply start adding your item's pictures, fill out the product description, and so on.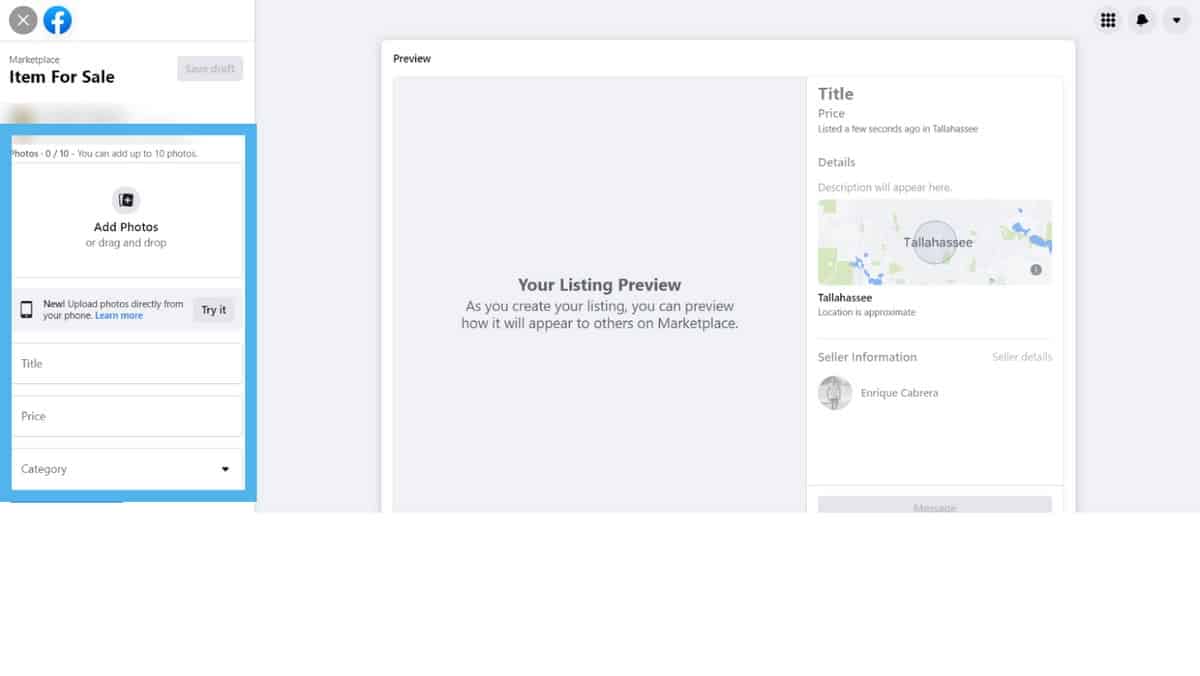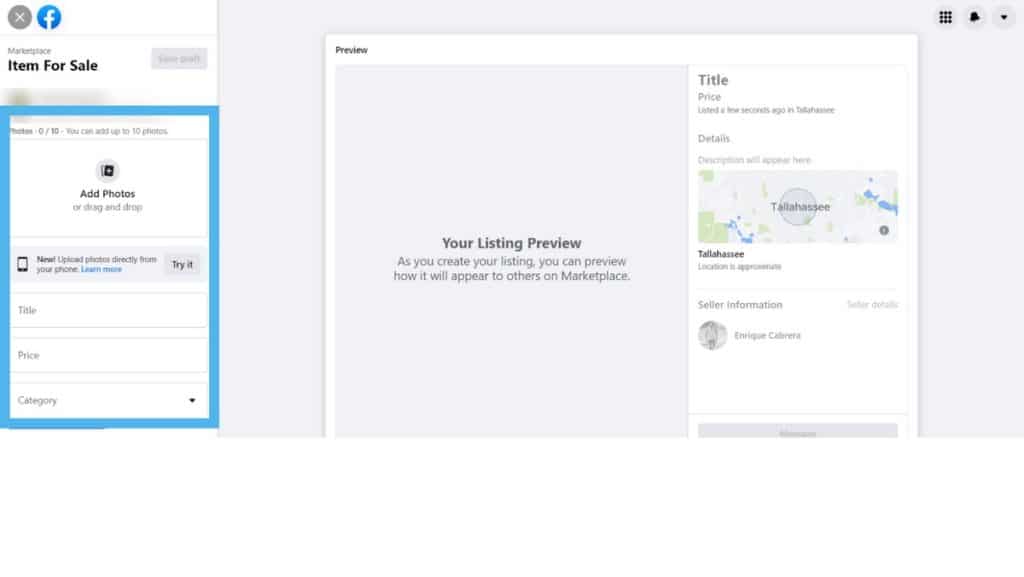 After you've finished filling everything related to the product you're about to offer, you either can boost your listing through paid ads to get more traffic or you can also hide your listing from your facebook friends if you wish.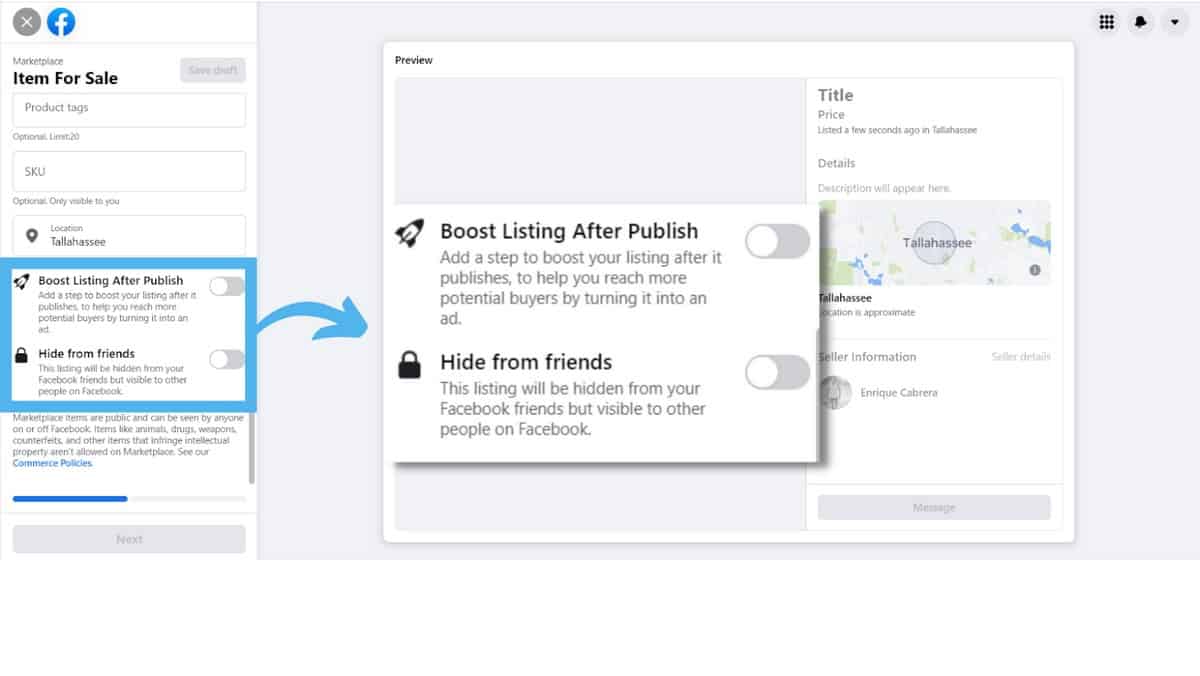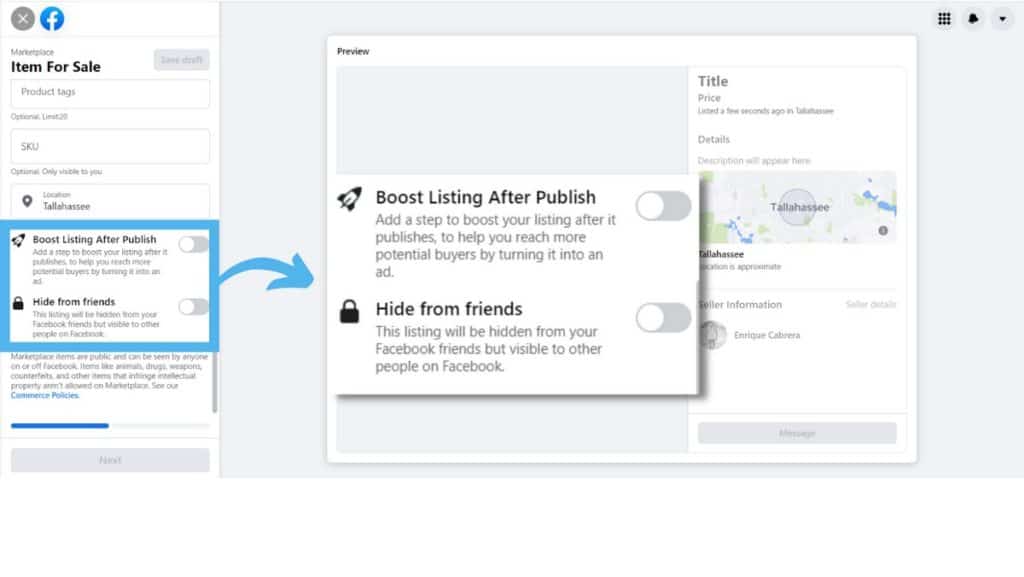 Publish your listing — as simple as that!
If you wish to edit your listing or even get rid of it, follow these steps:
From your News Feed, click Marketplace.
Click Your account.
Click Your listings.
Click on the three dots shown on the listing you want to edit.
Click Edit listing.
Edit your item's details and then click Update.
What to do when you sell an item?
Once you have successfully made a sale, it's time to mark your listing on the Fb Marketplace — in other words, update the status of the listing.
You can mark your item as:
Shipped.
Sold.
Pending.
Available.
When you mark a product as "Sold", the listing will no longer be visible to anyone on the Marketplace.
Another cool feature of Facebook is that when you update the status to sold, it'll automatically send a notification to all of the users who previously asked for more information about the product letting them know that it is no longer available.
Tip
After the product is sold, you need to ship it. Check our Facebook Marketplace Shipping in 2022 guide to learn about Facebook Marketplace shipping options you have, and how they differ.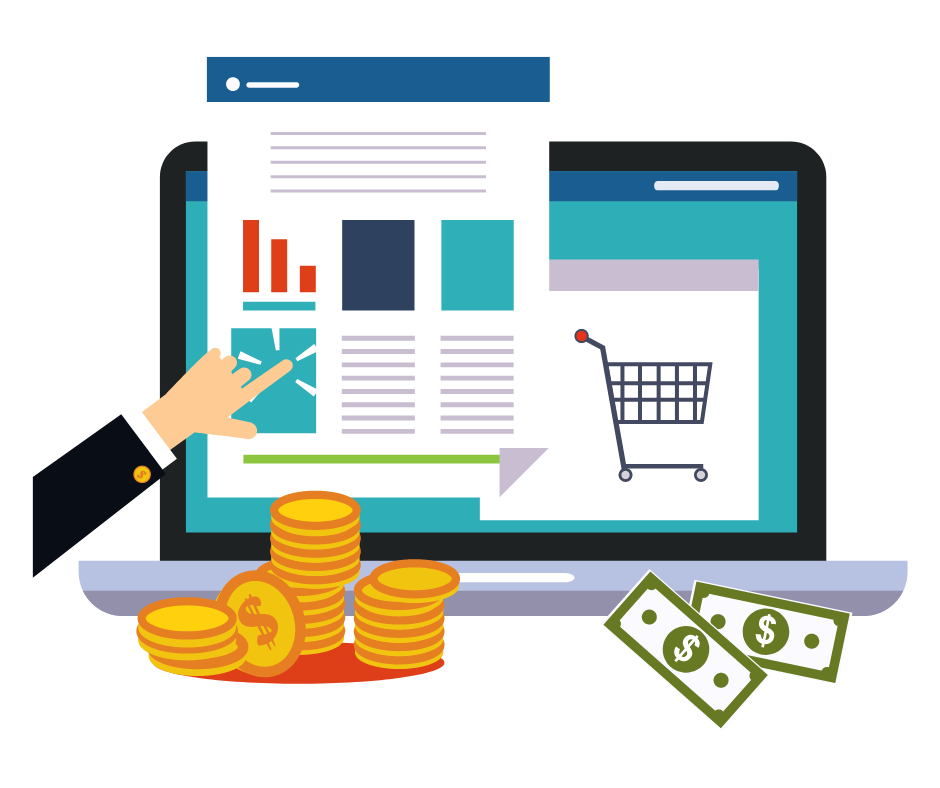 Don't wait for the profits, make them!
Start a profitable dropshipping business with DSM Tool. Get a free course and a free trial of the software.
Final Thoughts:
Facebook Marketplace Dropshipping or F-eCommerce, in general, is not complicated. It's all about making sure you find a good set of products to offer within your listings that comply with Facebook policies and properly working your listings in order to gain organic traffic.
You can always boost your Facebook listings to gain more views and potential sales. However, the best thing about this platform is that it is a powerhouse for organic reach. Following these tips for selling on Facebook marketplace will ensure that you gain potential customers.
Lastly, you need to be on top of your Facebook shop. Constantly update your listings with new profitable products along with the status of the item. Let potential buyers know about what you are selling by detailing the product's information and showcasing nice professional images to capture attention.
— And don't forget to provide the best customer service possible.
Happy Selling!