5

min read
Why are you here? Why are you reading this article? I believe it is because just like the rest of us online entrepreneurs of the #dropshippers community when you see the bad things happening around you in the world, you care. We all understand that while the question "why are we here?" is bigger than any of us, we are not to drown in hesitation – we must act. And who else would act other than us entrepreneurs, right?
"I always wondered why somebody didn't do something about that. Then I realized – I am somebody"
(Lily Tomlin)
I also wanted to change the world.
My early attempts to make an impact
When I was 16 years old I started volunteering at the local SPCA (Society for the Prevention of Cruelty to Animals) in an abundant dog shelter. I used to be a boy scout and when I became a counselor I started taking other kids with me to volunteer. At the age of 22, I decided to travel to South America and I devoted a whole month of my travel to volunteer in an animal shelter in Samaipata, Bolivia.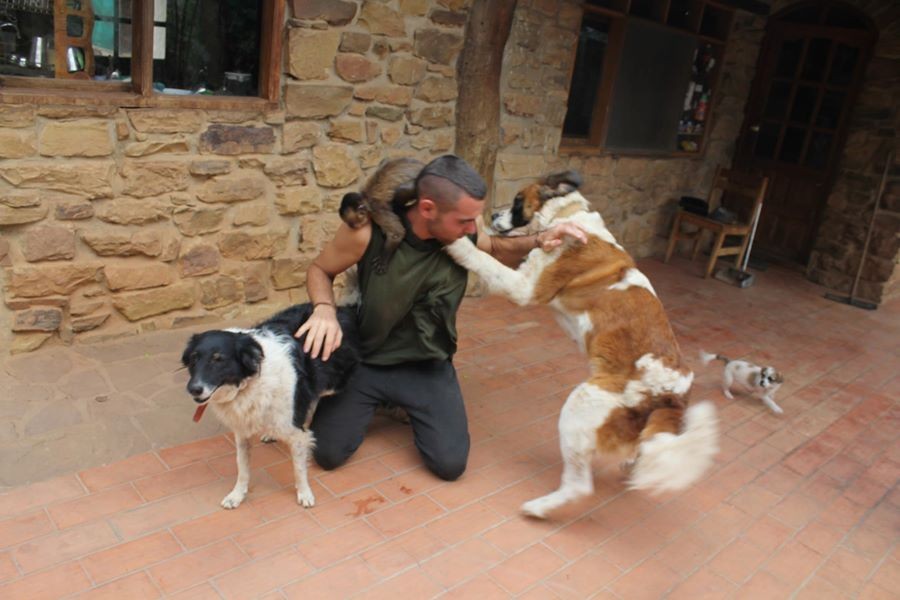 In "Zoologico El Refugio" with Kiki the Capuchin monkey and a few dogs, Panda is the black and white one. All of which were rescued in Samaipata, Bolivia.
When I got back home from my travel I also got back into my hustle-business activities. Back then I was trying to build a local guitar picks print-on-demand service which miserably failed and lead me to realize how important is it for me to develop my digital marketing and business management skills. At the same time, I opened a Facebook page and called it "Panda Project", I named it after one of the dogs in the shelter and I tried to raise $5.000 for a renovation project for the shelter.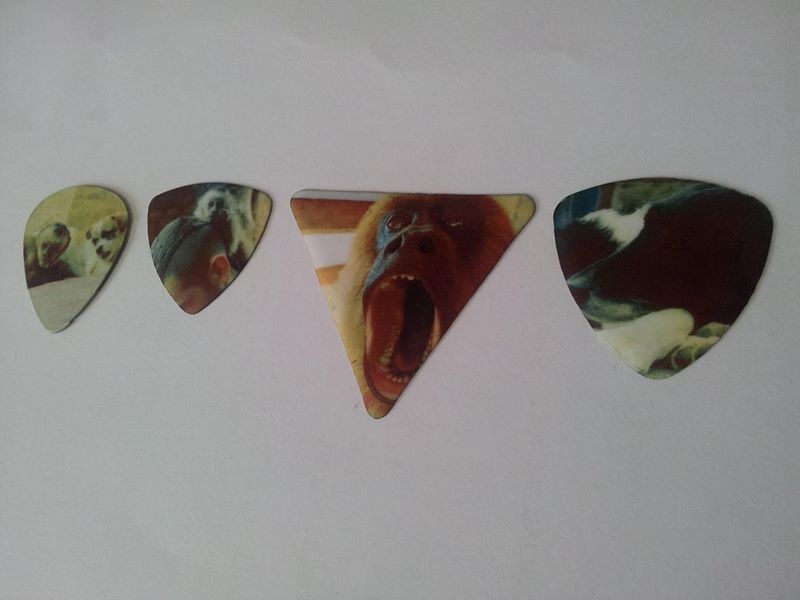 Guitar picks I've printed with pictures of animals from the shelter.
How I failed and the secrets I have since learned
It failed. I did not manage to raise a dime from any of my customers, and here is why: First, I did not know how exactly to gather the money. I asked people around if anyone will be willing to donate, and no one was even familiar with the place, it is, after all, a small shelter on the other side of the world and there are so many problems to take care of right here, locally. In other words, they simply did not share the same feelings with me 
Second, even if I would raise the money, I did not know how to forward it to the shelter. Until today I have no idea how to send money to Bolivia, it's a third-world country and the shelter isn't registered there as a non-profit, it is a sort of hustle volunteers-based place. How do you explain that to your bank or the authorities that this is money for donation and not for illegal activities? 
Luckily, as I encountered eBay dropshipping I also learned a secret method that helps me not only earn more money – but also make a better world by donating to organizations I believe in. Moreover, by sharing this secret method with you I can increase the impact circle. 
Change the world while dropshipping on eBay
It's called Giving Assistant and it's a cash-back service that you can use for what is known in dropshipping as "backend profits". These are all of the profits you make from the purchases you make on the dropshipping suppliers websites you source your products from for your business. 
Using cashback websites as a tactic to increase your profit margins is, in general, a best-practice for dropshipping sellers. There are many different cashback websites and expert dropshippers are many times using multiple cashback websites to maximize their profits. They do it because different cashback services offer a different discount percentage depending on their contract with the website you are purchasing from. For example, Giving Assistant is giving up to 7% on every purchase you make on Ali Express. 

Earning from the Giving Assistant cashback program
But Giving Assistant is by far my favorite choice for a cashback service because it is the only service that allows you to automatically donate part of your earnings. This is why I decided as of the day of writing this article to donate 100% of my cash-back earnings to SPCA Texas. I got to know them from the Youtube show "Animal Cops" which my wife and I are watching on Youtube, so it is an organization we know and believe in.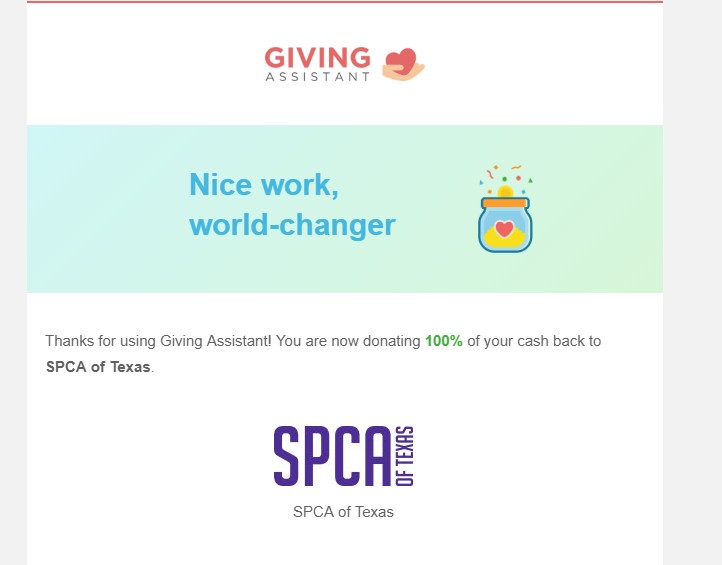 The email I got when I setup Giving Assistant to donate 100% of my earning to SPCA Texas
Here is how it works. After you finish registering to Giving Assistant you go to the account settings and you can there choose what percentage of your cashback earning you wish to donate and to which organization.
Use this link to complete your registration, Giving Assistant is actually donating $5 for every referral I make to them when the person I refer makes its first transaction (in that case SCPA Texas) as long as you register through this link through their refer a friend program, isn't that amazing of them?

Due to the success I've had with my businesses I decided to donate 100% of my earnings, you can start with 20% donation and 80% cashback and increase it when you grow!
And probably the best part about Giving Assistant is that it is working for you in the background while you are processing your orders using the DSM Tool Auto Paste Chrome extension! All you have to do is to also install the Giving Assistant Chrome extension and make sure to activate it while you process your orders.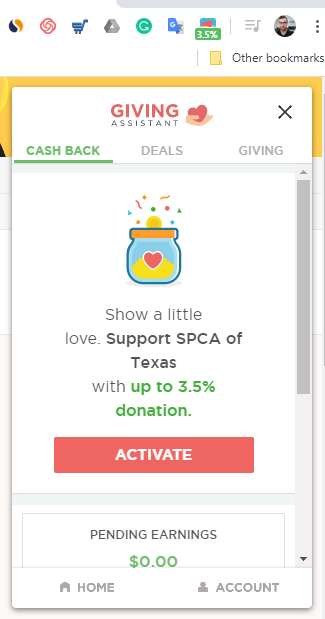 The Giving Assistant Chrome extension, enter the suppliers' website you use for your eBay dropshipping business (for example Aliexpress.com) and open the Chrome extension, then click "Activate" to make sure you get the cashback earnings
So who did you decide to donate to? Let me know in the comments below!