12

min read
Dropshipping is an exciting business. However, it can also be overwhelming especially if you have already built a strong customer base and your products are sought after. This is especially true if you maintain a 9 to 5 job or if you have other businesses on the side.
There are multiple approaches to help you keep up with the demands of your growing dropshipping business. The most obvious is automation. We all know how automation can help in the e-commerce industry. In fact, there is a multitude of dropshipping tools that you can employ to make the job simple. But as we all know, automation still requires that human touch to make sure that your tool accomplishes what it's supposed to do.
The ultimate solution and perhaps your best key to make things happen and still have some quality time to spend is to divide and delegate. In other words, divide and share the tasks. Unburden yourself of the workload by hiring a virtual assistant for your dropshipping store.
Not yet making money online?
Start your own dropshipping business. Sign up for a free trial of DSM Tool and we'll help you get started. Today is the day.
What is a Virtual Assistant?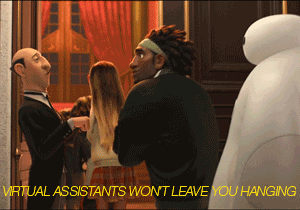 A virtual assistant is a hired help that provides support services to other businesses. They usually work from home, remotely. Virtual assistants are usually self-employed and work as a freelance but they can work full time if requested and if the price is right.
Virtual assistants provide varying services depending on their skills and concentration. Since you are in the e-commerce business, you would rather employ someone who is already skilled in the e-commerce business at least from experience. Additionally, you will need to create an employee onboarding checklist to help them integrate better
Where to Find the Best Virtual Assistants in the Industry?
When you have decided to hire a virtual assistant for your dropshipping store, you can either hire someone from your country or outsource. For most start-up businesses, hiring a virtual assistant from a trusted resource such as enterprise recruitment software is the best way to go. This gives you a guarantee that you are hiring someone who has gone through a pre-screening process. You get an assurance that you are hiring a real person with proven skills to do the job.
A good starting point would be to visit Lensa, Upwork, Fiverr, Toptal, PeoplePerHour, FlexJobs, or Freelancer.
You can find virtual assistants practically from any country. If you complete the candidate sourcing process properly. However, if you are looking at a tight budget, hiring a virtual assistant from Asia is more feasible. As of recent, many studies show that the Philippines have surpassed India when it comes to outsourcing. It is also in this note that more and more businesses, regardless of the size, are hiring virtual assistants from the Philippines due to cheaper labor costs and higher work ethics. Read more about how to outsource daily tasks in your dropshipping business.
Here Are the Best 10 places to Hire the Right Virtual Assistant
1. Upwork – Professionals / VA
Upwork is a freelance platform that works much like a marketplace. But instead of offering physical goods, they offer a pool of talents that can work remotely for a specific task. To put it simply, it connects jobs to highly skilled virtual assistants and professionals across the globe.
How it works?
You can post the job requirements that you need and it becomes visible to many freelancers. Once you receive an applicant, you can communicate by sending them a message. Alternatively, you can browse through thousands of freelancer profiles using the skills you require. Once you found your ideal freelancer or virtual assistant in this case, you can send them an invitation to apply for your job post.
Note that there are fees involved when using the platform. The current fee structure requires the client (you) to pay 2.57% of the billed hours.
Specifically, Upwork charges the freelancer a fee of: 20% for the first $500 billed with the client. 10% for lifetime billings with the client between $500.01 and $10,000. 5% for lifetime billings with the client that exceed $10,000.
Virtual Staff Finder was founded by Chris Ducker in 2010. The company works like a recruitment service for you where they match your requirements to a qualified virtual assistant from the Philippines.
How it works?
The client (you) will be charged a one-time fee of $495 upon signing up for the service. After payment had been received, the company will send you a job description document where you provide in detail about what you are looking for in a virtual assistant. Based on your requirements, they are going to present you with three qualified candidates from whom you are going to choose.
Is this for you? It really depends if you are willing to pay someone to provide you with the virtual assistant you need. The advantage of hiring Virtual Staff Finder is that you will be free from the worries of the hiring process.
Hubstaff talent is owned by Hubstaff, a time tracker software that allows employers such as yourselves to track the time of your virtual assistants. There are fees involved when using the company tracker but there are NO fees involved when searching a talent through Hubstaff talent. Indeed, it is a free way to hire virtual assistants to work for you remotely.
How it works?
The database of talents registered at Hubstaff is from various locations all over the world. You can browse agencies and freelancers, contact the team or freelancer of your choice directly, and come to a common agreement on how the work gets done.
Why is Hubstaff offering a free service?
Two reasons – To help their clients find the right people to add to their team of virtual assistants and to help remote agencies and freelancers to showcase their exemplary service to the world. The main service of Hubstaff is to help companies like you streamline remote teams via their time tracking software. Apart from this, they offer other services that can help better manage your team and increase productivity.
Tip
Are your employees communicate in English at work? Using English for the workplace is essential if you want your business to succeed globally.
OnlineJobs. ph is a huge database of Filipino virtual assistants. What started as a simple job board for friends grew into a huge network matching talented virtual assistants to remote jobs from all over the world. The company had been founded by John Jonas who is based in Utah.
Onlinejobs works on a subscription-type model. It starts at $69 per month. This allows you to gain access and contact any VA of your choice from their wide database of virtual workers.
PeoplePerHour is based in the United Kingdom. It is a freelance market made up of skilled individuals in specific fields. The platform allows businesses, regardless of size, to gain access to experts from worldwide who are able to work remotely and deliver work on time.
How does it work?
There is no cost to post a job. However, hourly projects posted on the platform are required to give a down payment to start working with a freelancer. This is for the protection of the freelancers. In the same manner, an escrow is set up to ensure that the project is delivered on time. This is an assurance that businesses don't lose their money when issues arise with a freelancer.
The Virtual Coworker is an Australian-based remote staffing agency founded by Braden Yuill in 2011. The company has a good track record of filling up a number of jobs, which includes virtual assistants, SEO specialists, web developers, designers, copywriters, and more. The fundamental idea is that virtually any job which can be done remotely can be carried out for much less from the Philippines.
How does it work?
Send your job description by contacting them by phone or through their website. Based on the job requirements you are looking for, the team will work on screening candidates perfect for the role. What sets Virtual Coworker apart? They do all the legwork for free however expect to pay higher salaries for your virtual assistant which may range from $5-6 per hour.
The company is based in India and was founded in 2012. They are an established firm providing affordable virtual assistant services or dubbed as professional assistance. They can handle any tasks from customer support, social media management, e-commerce assistance, and more.
How does it work?
A qualified Virtual Assistant will be assigned to you based on the requirements that you need. The rates start at $140 for a 10-hour a month plan. Below is a screenshot for their pricing taken from their website.
The company is run by CEO Nathan Hirsh and co-founder Connor Gillivan. They provide virtual assistant services throughout the globe. Virtual Assistants who are signed up with FreeeUp specialize in providing help to businesses in the e-commerce industry. They offer four main areas in VA services namely business operations, e-commerce, digital marketing, and web development.
Dropshippers will be happy to know that they offer the following support that can benefit your e-commerce business further:
product sourcing
order fulfillment
customer service
product listing
advanced Amazon management
eBay store growth
content creation
and so much more
When you use FreeeUp, you can expect to pay around $5-$50 per hour depending on the skills and experience you are requiring from a virtual assistant. Consulting services range from $30 to $50 per hour.
The company was founded in 2012. They have US-based sales offices in California and in Utah. The Task Bullet layout offers virtual assistants who have at least five years of experience in their specific fields. You can get an assistant who is able to manage your website, social media accounts, email marketing, research, customer service, and so much more.
How does it work?
Task Bullet works on a bucket system where you (employee) purchase a bucket of hours. Your VA is going to pull hours from your bucket. Once empty, you can simply purchase another bucket of hours and move forward. You bucket can start at $6/hour for the Expert Bucket at 240 hours of VA services. The most popular plan is the Light Bucket plan at 60 hours for VA services.
Among the most popular sites to outsource tasks online. They are commonly known for tasks that start at $5. The company was started in 2010 by Shai Wininger and Micha Kaufman. It is based in Tel Aviv Israel but also has offices in New York and San Francisco. Their database of freelancers is coming from various parts of the world.
How does it work?
On Fiverr, freelancers advertise what they can do for you by posting their profile on the platform. You (the buyer) will get to choose the type of service that you want to be done.
Don't be fooled by the $5 per project ads. When Fiverr first started, every project or gig was priced at $5 because the company takes out 20% in platform fee. Today, sellers can create their packages and their own pricing depending on the gig.
At Wishup we have well-trained and skilled virtual assistants, social media managers, and digital marketing managers for entrepreneurs, small business owners, and organizations. Hire a virtual assistant and get your work done remotely.
Wishup provides highly skilled Remote Workers at an affordable price point which is fulfilled through a tech-enabled marketplace. Our monthly plans start from $ 899 for 4 hours/day.
Lensa is a job board and career platform based in the United States that was established in 2016. Today, it is one of the top choices for hiring virtual assistants, whether for freelance or full-time positions and boasts a vast user base of over 20 million registered users.
Lensa takes pride in its cutting-edge, data-driven approach to talent acquisition, prioritizing people and streamlining the hiring process in terms of time and cost. Utilizing machine learning technology, Lensa swiftly matches job seekers seeking virtual assistant opportunities in various industries with positions that align with their skills, goals, personalities, and preferences, and connects them with potential employers. With its forward-thinking approach to career development, Lensa is poised to be at the forefront of the job market, revolutionizing the way virtual assistants and businesses connect for mutual success.
Final Thoughts
The list you find here is a selection of VA sites that we think you will find affordable, especially for start-up dropshipping businesses. If you are looking for more places to look for the best virtual assistants, you can check reviews at Virtual Assistant Assistant. They have a complete review of each Virtual Assistant sites you can possibly find. There you have it, 10 best places to find the best virtual assistants for your business.
Have we missed any of the best? Let us know through the comments below.