3

min read
For this week's update, we will talk about the updates of eBay business policies that they are implementing this year. We wanted to address the new return policies that are going to be introduced on June 1st, and talk about the retailers you can work with that offers the same policies as eBay expects from you as sellers on their platform. If you don't know what are we talking about, start here on 2018 eBay seller updates.
The main part of this update is the fact that starting from June 1st sellers are required to offer 30-day free returns in order to achieve/maintain a top-rated status. It also removes the 14-day return option in almost all categories but collectibles & art, cameras & photo and medical, and mobility & disability equipment.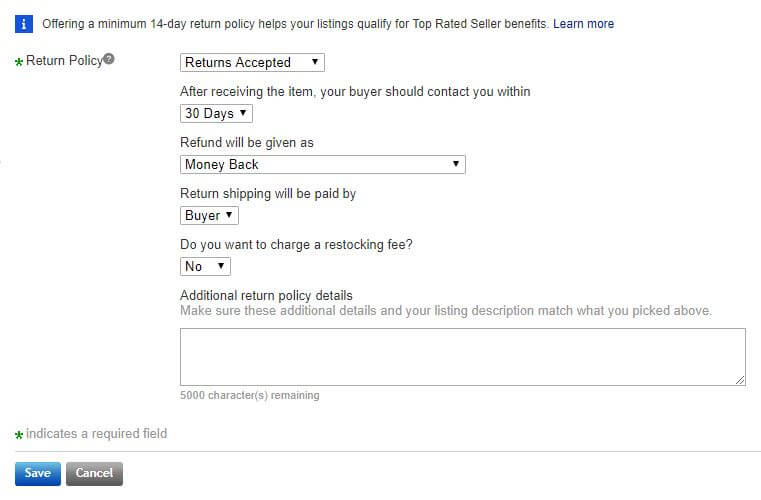 So, according to the upcoming update, a few of these fields are about to be edited. In the second field, stating for how long the return window is open after the item is delivered, the 14-day option will be removed. Also, the restocking field will be eliminated and no longer optional, and the additional details field will also get scrapped.
If you are selling your goods internationally or planning to do so, the update has introduced an important feature offering to use with items offered both locally and internationally, allowing you more flexibility. For example, you will be able to offer free returns on domestic purchases and paid returns on international ones.
Partial refund for damaged items – Sellers who offer free returns will be able to give out a partial refund on cases in which the item has made its way back used or damaged, for these categories among some others: Business & industrial, parts & accessories, collectibles & art, cameras & photo, medical, mobility & disability equipment, home improvement, furniture, musical instruments & gear, and yard, garden & outdoor.
Online Retailers offering 30-day returns
Amazon is considered by many drop shippers as the best source in terms of returns and refunds. The majority of items on Amazon are returnable, and you get to choose your best option like UPS or USPS pre-paid return labels, Pick-up (not recommended for drop-shipping) and having your buyer return it by himself (Perfect if you are not offering free returns)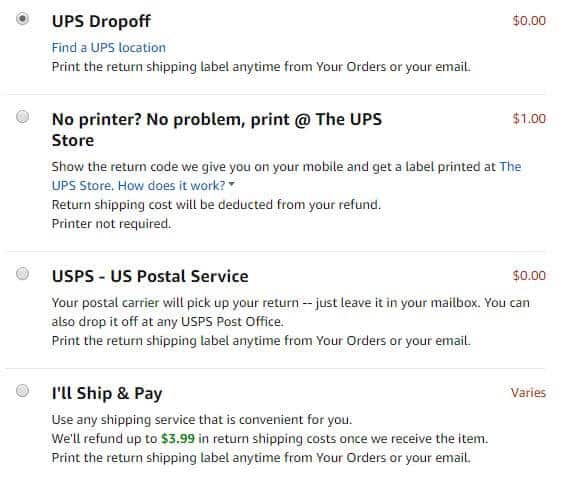 Sears / K-mart are offering 30-day returns on most items, however, if the item was purchased from third-party sellers it has to be sent back directly to the seller, and all holiday purchases are non-returnable (Valentine, Easter, Halloween, and Christmas).
Home Depot is offering a minimum of 30-day online returns. The labels are sent to your email and the packages can be dropped off at any UPS store or drop box.
Walmart is offering 30-day returns for the most part of their stock, however, it will only apply to items purchased directly from walmart.com, and all products bought through third-party sellers cannot be returned or refunded.
Aliexpress is offering 30-day returns, however, it will only be profitable to offer it on items with higher prices.
Which retailer do you believe offers the best return options among these? Let us know and tell us what you think about our content in the comments below!
Sources:
eBay return policies update
Home Depot return policy
Walmart return policy
Kmart return policy