8

min read
Whoa! It has finally happened! The most requested DSM Tool feature is now on! We released a system update so that the eBay dropshippers all over the world could create eBay listings with variations using our Rapid Lister.
In this article you will learn:
1. What are multi-variations in general, and specifically on eBay
2. How listing multi-variations reduces your monthly eBay fees
3. How listing multi-variations increases your listings stock availability
4. What is sales history and how it promotes eBay listings with multi-variations
5. How to list multi-variation listings using DSM Tool
6. Tip: increasing your profit with smart repricing automation
What are multi-variations?
What are the variations in general? Let's see, when selling on eBay, Shopify, or any online store you have many similar items having a slight difference in attributes such as color, size, material, style, width, length, etc., with multi-variations lister you can create a single listing that includes all the item variations you offer to the buyer. Naturally, even though it's a fixed-price listing the price can vary depending on the chosen variation. Each variation can have its own quantity. To put it simple, it could be any item. However, most commonly it's clothing, shoes, accessories.
For instance, these Sneakers have got size and color variations.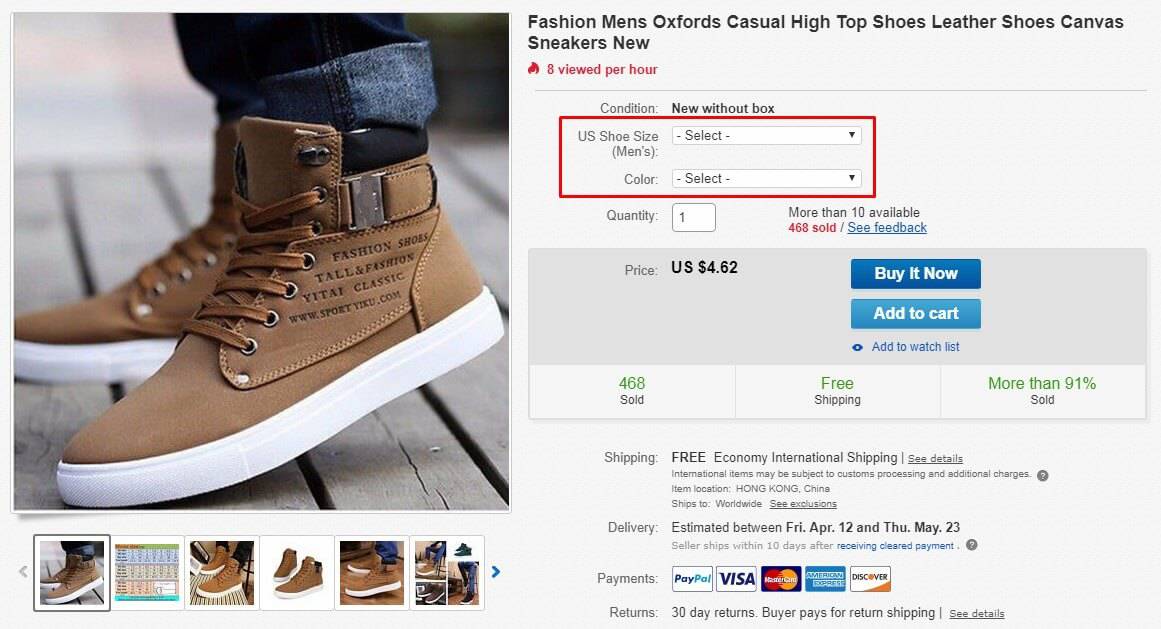 Paying less eBay fees by listing multi-variations
Instead of creating a number of separate listings for an item with multiple options, you can create a single multi-quantity listing. That's why selling multi-variations from the same listing is pretty much the same as selling multiple items from any other fixed-price listing, but much more handier and more beneficial both for buyers and sellers. Save your money on insertion fees and your time by creating 1 listing for many items!
According to eBay, each listing can have 5 variant details and up to 60 values for each of those details. Up to 250 variations in a single listing! Besides, there is no additional fee for listing with variations. Awesome, isn't it?
So, let's see the benefits this DSM Tool updated multi-variation listing functionality provides the sellers.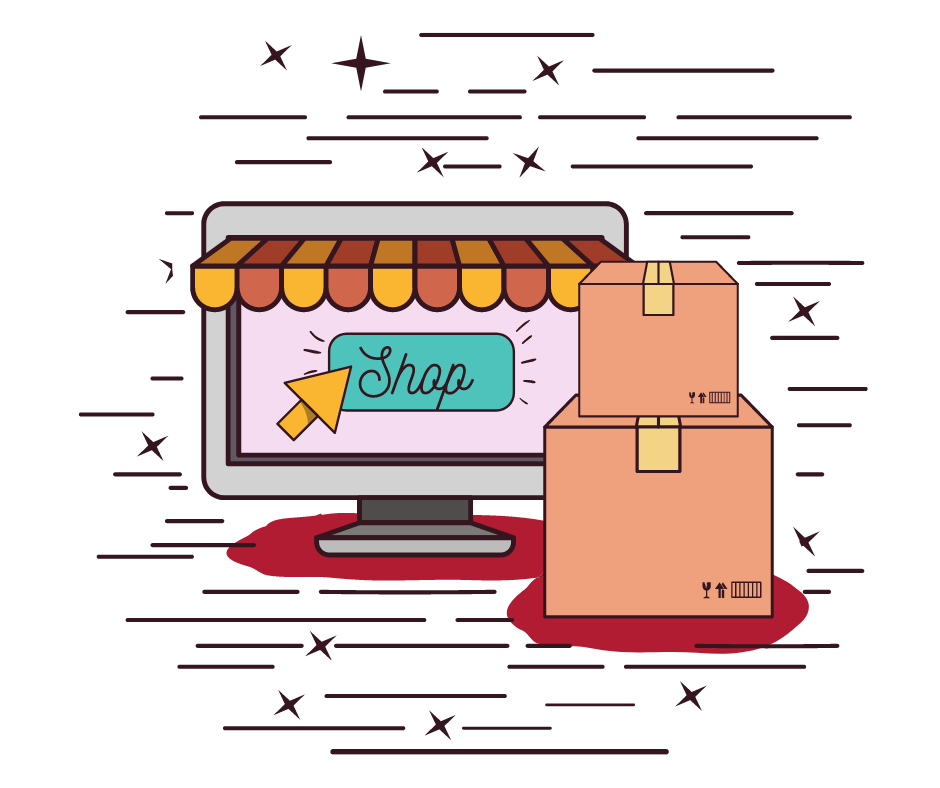 It's time…
Don't wait for success to come. Hire yourself and start your own dropshipping business
Listing variations will give you higher availability
That's a given that there are way more chances for the buyers to get to your listings. How does it work? Imagine the situation when one variation went out of stock the rest of the variations keep the listing "alive". The new feature is giving more exposure to your listings!
Check this out! This Summer Boho Dress is found on the first page of the eBay search results even though one item variation is out of stock.
In addition, listing the products with variations increases the chances to find your listing on eBay according to the best practices of gaining more traffic on eBay. For example, if the shoppers will apply the filter for colors, your listing will be among the results.
Sales history will be centered in one listing
First, for those who are not familiar with the term let's explain what is eBay sales history and why it is important. Here is an example of sales history of the previously mentioned item: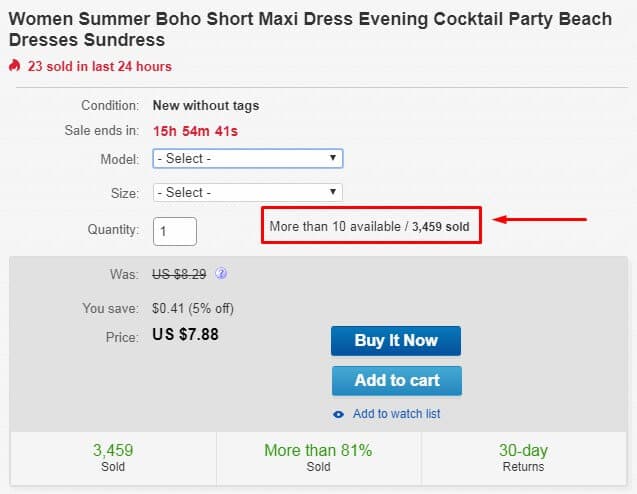 Sticking to the point, if one variation from your listing sells then your listing goes up in search results. This is awesome because normally the item itself has to sell for that to happen. Quite a different story with variation listings when only one of the variety of possibilities has to sell.
So, when there is a sell in a listing the entire listing gets promoted in such a way. It's a fantastic opportunity to boost your sales! And one of the reasons the variation listings are worth using!
Lower seemed prices by adding lower-price variations
Now, have a look at this Tied Waist Elegant Dress. Isn't it gorgeous? Ok, just kidding! What we are really interested in this item is the following. When you go to the item page, you see the minimal price by default.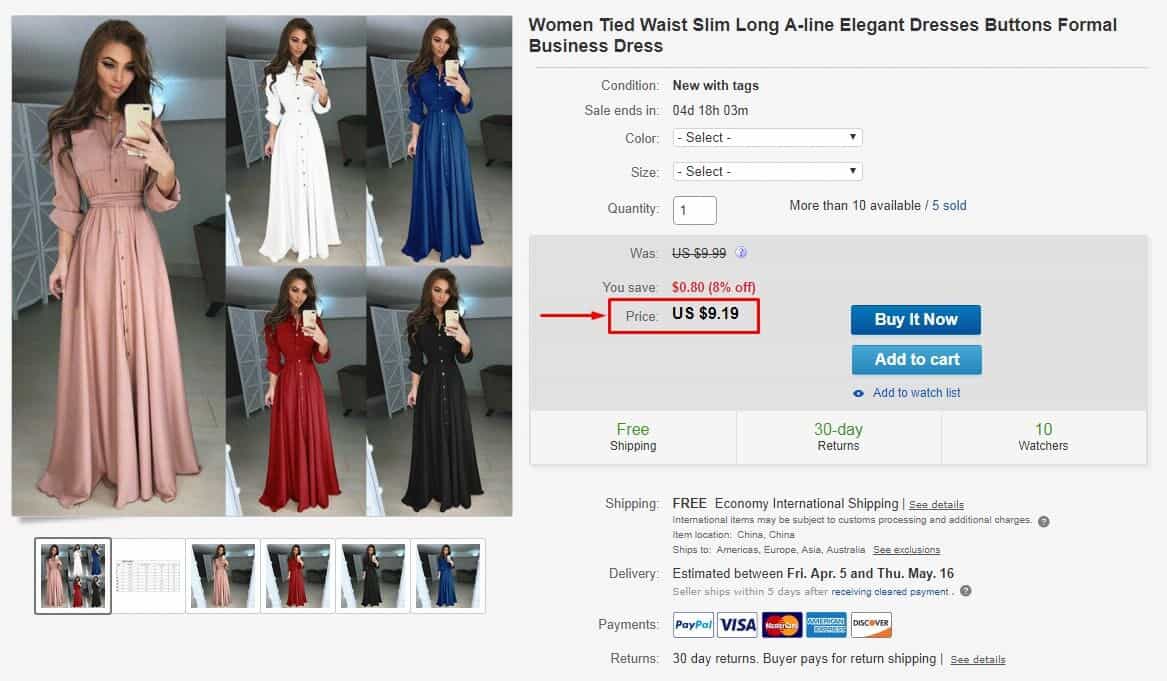 Although, when you pick another variation, you can see it changed.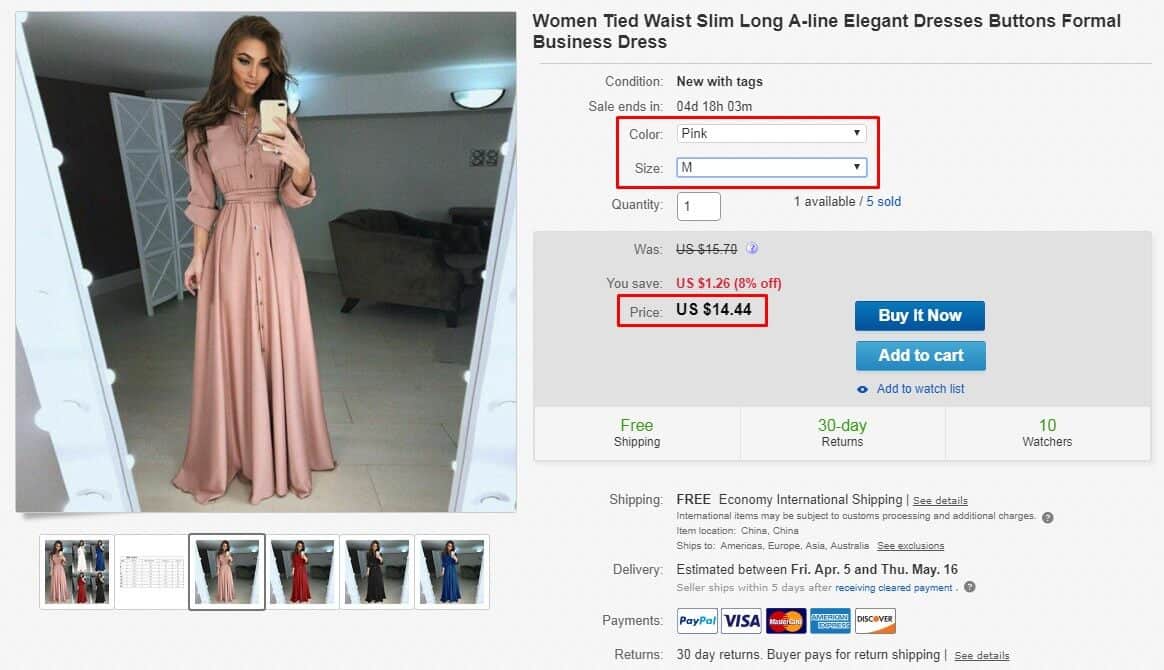 Thus, when choosing another color or size the price changes because this item has a different price per variation. What's more important is that the buyer at this point is already in your listing and there is a higher chance he or she stays there and makes a purchase. So, you get a perfect tool for cross-selling!
Saying that, make sure you use the cross-sales opportunity the right way. eBay will not tolerate listing a cheap item as a variation with a title of another item which is set to another more expensive variation, this is against eBay's search and browse policy.
That's how the variations pricing looks like in the search results. The lowest price is the first and the highest is the second.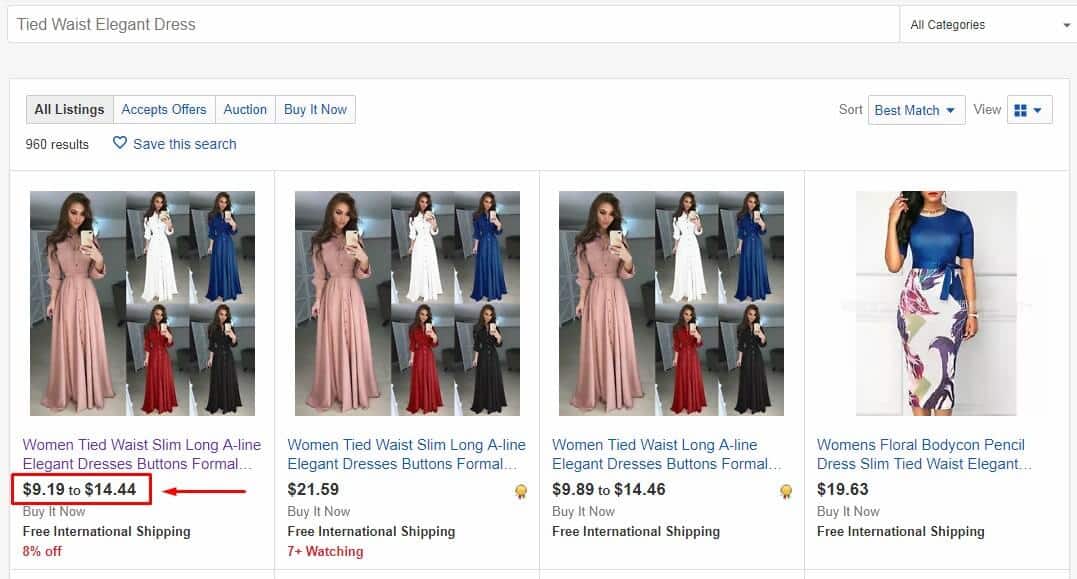 Listing multi-variations using DSM Tool
And finally how it looks in DSM Tool? While posting variation listings with DSM Tool Rapid Lister for drop shipping for eBay, the seller has the opportunity to change the target price, break-even, and desired profit values among many other fields. Let's take the desired profit as an example and make some changes to it.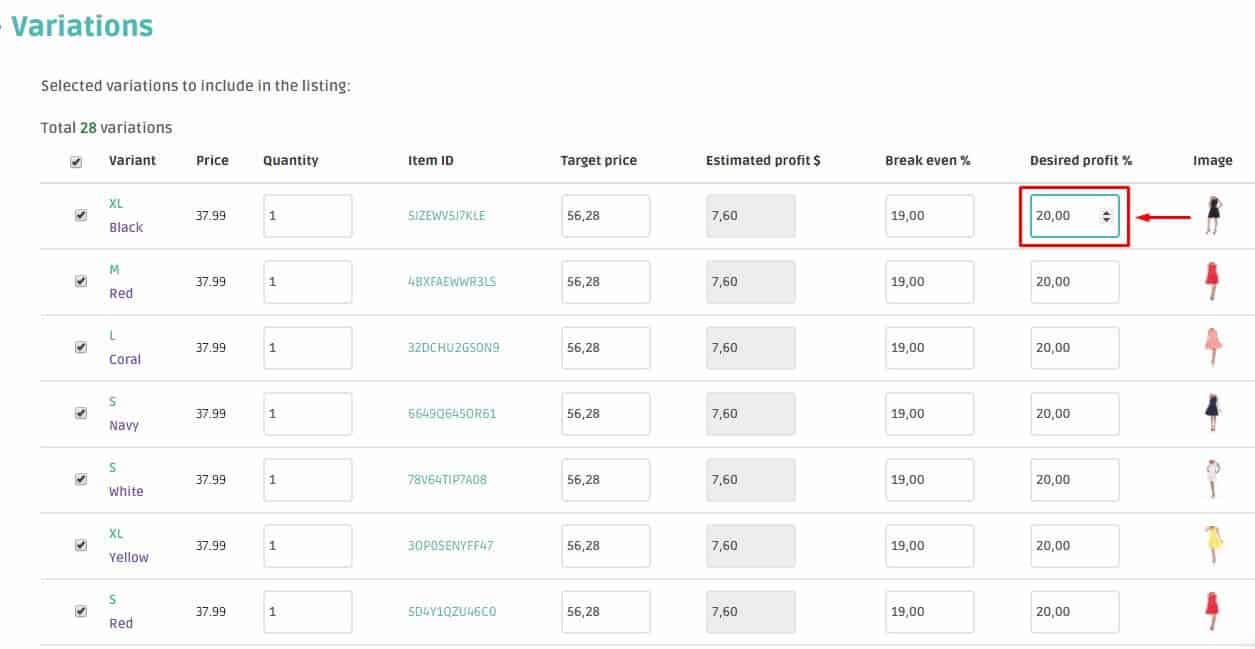 Please note that the target price and estimated profit values have changed accordingly. It's absolutely simple!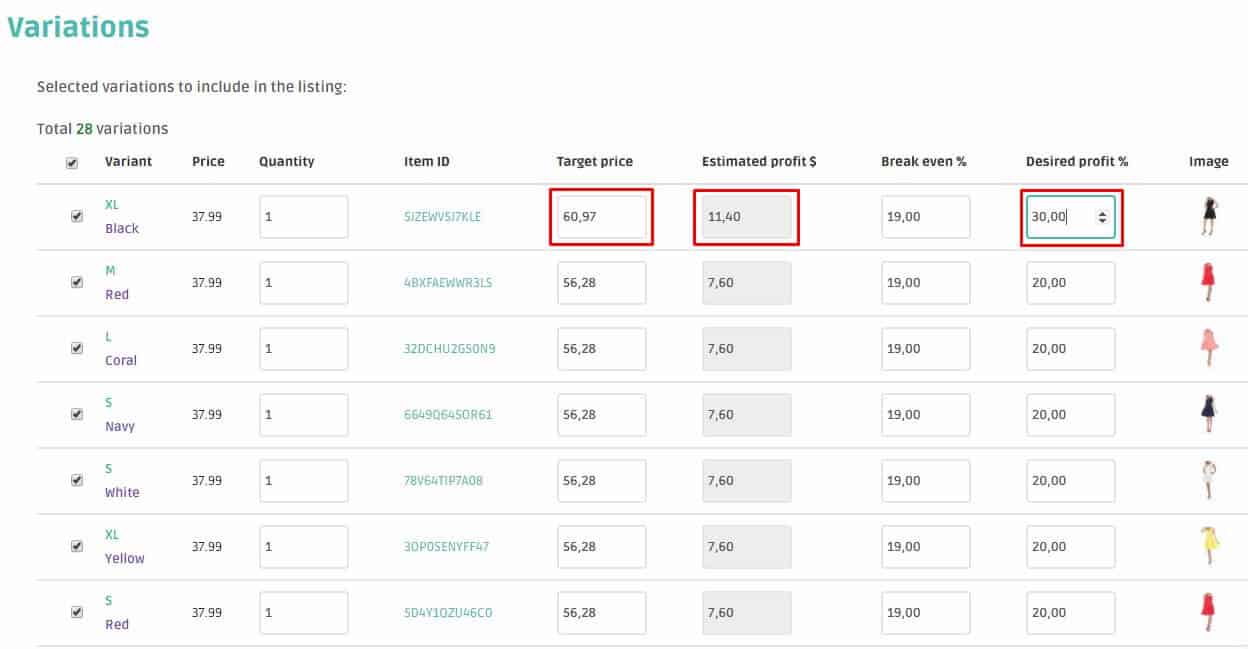 Why setting a different price for each variation is a great solution? It's a simple trick to gain more profit! If someone opts for a product that is a bit more expensive he or she won't give up because of the barely perceptible price difference.
Be sure, you can also edit these values in the Price Monitor whenever you need them to after publishing the listing. Click here to learn more about how to edit eBay listings with variations in DSM Tool and how to post variation listings with Rapid Lister.
Increase your profits with a smart repricing strategy
Be more profitable while dropshipping? Now it's as easy as a piece of pie! No more time-consuming daily actions and follow-ups on your sales and listings in order to increase or decrease prices based on the success of the listing.
The eBay Pricing Strategy feature is a smart dynamic pricing tool for the automation of your business routine. It allows you to adjust your listing's profit automatically according to their performance after sales are done, and it gives you control over the amount and the frequency of the changes. If one of your variations starts selling better than others you can put the higher price to the winning variation without much effort as soon as you see the regularity of buyers' behavior.
Visit our Help Center and check the quick guide for more info on how to start a drop shipping business using DSM Tool. Stay tuned and see you around!