5

min read
If you're running a dropshipping business, product reviews can be one of your most powerful E-commerce sales tools. According to a survey by PowerReviews, roughly 70% of respondents read product reviews before making a final buying decision. Likewise, 63% say that they're more likely to purchase from a website with product reviews and ratings.
Social proof is an effective marketing method that can turn hesitant shoppers into sure buyers. It can provide added context and minimize the chances of returns by ensuring that customers are satisfied with their purchase.
If you're ready to put your dropshipping business to the next level, read on to find 5 easy ways to help you go above and beyond with E-commerce product reviews.
Five Easy Ways To Get More Product Reviews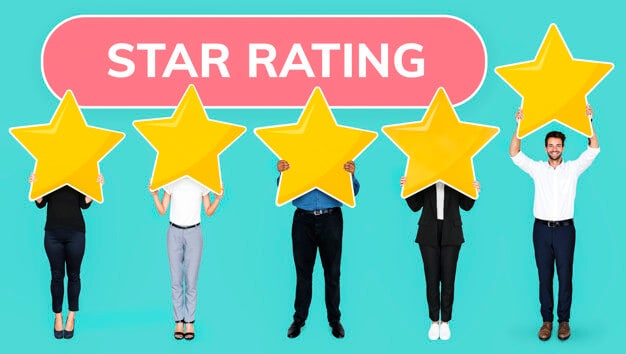 5 tips for 5-star reviews – Freepik
1. Get customers to write reviews via post-purchase emails.
Obviously, the first thing you need to do to get more product reviews is to straight-up ask your customers to submit them. The sad thing is, encouraging each customer to leave a review isn't the most effective way there is. Just imagine having to reach out to thousands of individuals, one-by-one. Very taxing and time-consuming, right?
As such, you need to find a way to gather emails from customers, right at the point of purchase. This can be done in your online or physical shop. Once enough time has passed since their initial purchase, you can request a review. You can do this either by bulk-uploading emails to send or using reviews and rating tool to send out post-purchase emails asking customers to submit a review on a specific product they bought from you. Check out this great piece we did on auto-messages using DSM Tool for more on that.
2. Make leaving a review easy for customers.
Nobody wants to waste their time having to go 5 levels deep into your website to search for a product just to leave a review. With that said, if you really want to gain more product reviews, you need to make it easier for customers to leave them.
Take a cue from popular online shopping sites like Amazon. Every single product page has a dedicated section for customer reviews, making it easier for everyone to find and leave reviews. This becomes especially easy when you sell on a marketplace, just make sure to give buyers the right link!
3. Don't be afraid of negative reviews.
Negative reviews shouldn't put you down. – Giphy
For every business owner, making sure that each customer has a good experience with the products they sell is important. However, you can't always please everyone. One way or another, a customer will end up unhappy with their purchase and choose to leave a bad review.
Don't take this personally and hide those negative reviews. In fact, the folks at IHateWritingEssays top paper ratings, who always have to deal with customer reviews, found that too many negative reviews can – believe it or not – actually boost conversion rates!
Over 60% of consumers trust product reviews more when there are negative ones in the mix. And when everything appears to be positive, about 30 percent of customers believe the reviews are fake. That's right. If it's too good to be true, people tend to ditch it!
On the other hand, if your business is getting more negative reviews than what you expect, it's probably best to suspend review submissions first until you figure out what's wrong. Whatever you do, just make sure to listen to those complaints and learn how to make sure the issue will not repeat itself once more with other customers, and of course, stay classy. Here's how to deal with angry customers.
4. Reward customers who write product reviews.
If asking your customers for reviews isn't cutting it, you might want to consider incentivizing the process in order to get the conversion rates you need. Find a way to encourage customers to leave feedback for your products, like offering incentives. For instance, you can offer discounted or limited-only free shipping to customers who leave reviews on products they've ordered from your site. Not only will this boost product content, but it's also a great way to get the same customers to come back to your site to shop again.
5. Make your review forms mobile-friendly.
If it's not obvious yet, do remember that optimizing your dropshipping website for mobile is very important. Time and again, studies have been conducted to show that the use of smartphones to access the Internet has already surpassed the use of a standard desktop. And one of the biggest challenges of getting product reviews on your dropshipping business from customers is by making the process complicated.
With that in mind, you need to develop your site in such a way that users won't have to go through multiple steps before they could leave a review. Make it as straightforward as a one-click process. In fact, don't even make them log in to their user account. Most importantly, make the user experience "simple" in a way that they can easily leave reviews using their mobile device.
For many dropshippers, online product reviews have become an integral part of their business. Without feedback from buyers, potential customers will look elsewhere no matter how amazing your products are.
While it's challenging to get people to leave reviews, it's one of the most powerful and affordable ways to market your products. All you need to do is to keep things simple, provide topnotch service, and most importantly, follow the methods we've discussed above!
About the Author: 
Carol Duke is very keen on teaching students new, effective ways of learning. When not freelancing and blogging on education-related matters, Carol enjoys travelling. She takes immense pleasure in visiting new countries.