2

min read
On July 6, 2018, The Trump administration has imposed $34B in duties against China. Prior to this announcement, China had been said to retaliate by imposing tariffs on agricultural and energy products from the United States. Many economists view this new tariff as a threat to the economy.
The fear of US-China trade war is on the verge of emerging and there is a big fear that all product trades, regardless of size, may be affected. This may include those in the business of dropshipping whose main source is from China.
On June 16th, Marketwatch stated in their report that the first list of products affected by new tariff does not include common goods being used by consumers on a daily basis. There is a second list of products affected by the tariff however, this list will still undergo review and public hearing.
The good news: The updated list does not include many items most consumers use on a daily basis. Here is a list of 818 items included on the list totaling around $34 billion. "The list does not include goods commonly purchased by American consumers such as cellular telephones or televisions," the U.S. government said in their statement.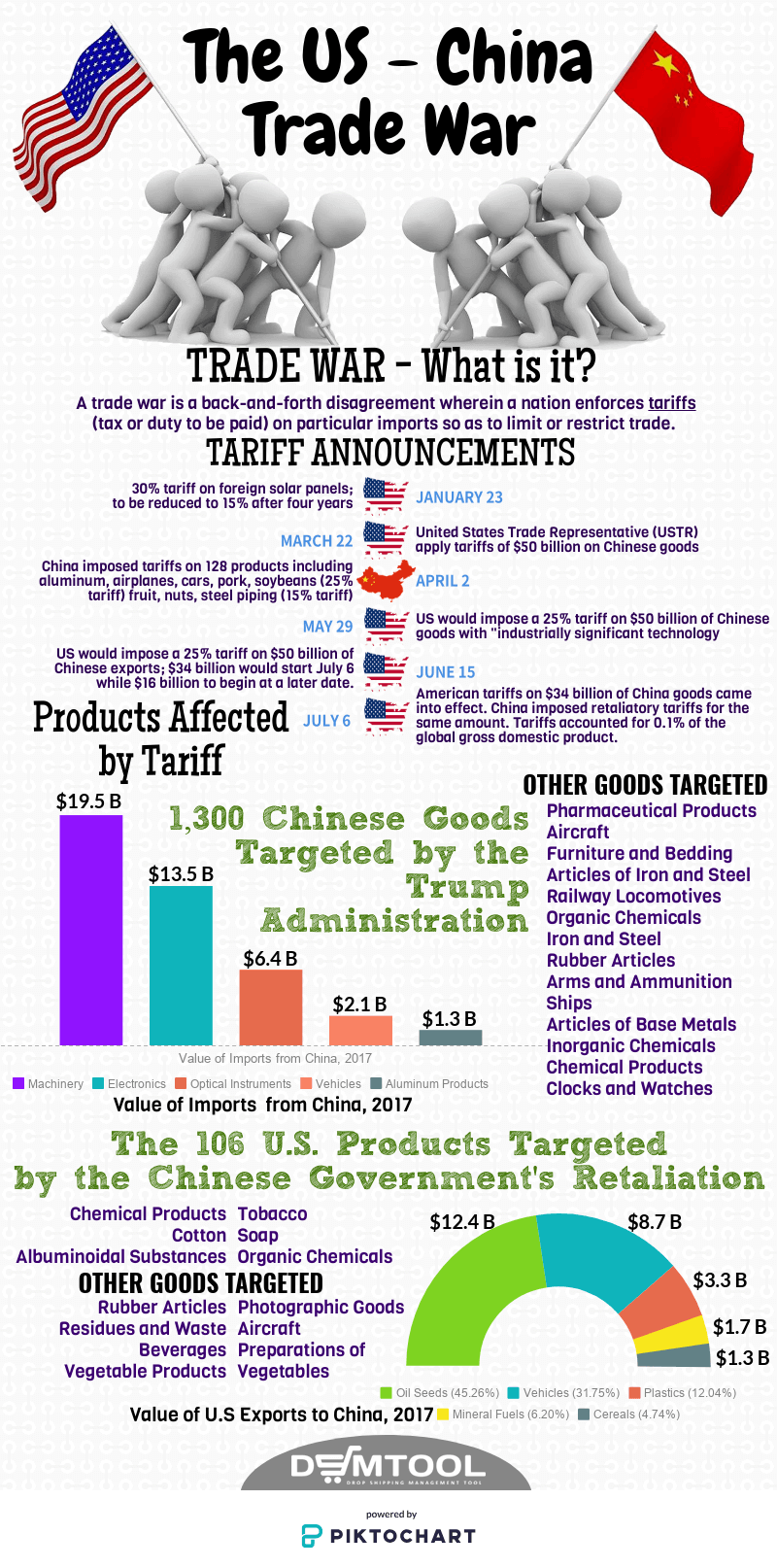 This kind of trade war may have a heavy cost on the U.S. economic climate. The new tariffs that policymakers are looking to impose and take effect will not just have an adverse effect on the trade part of development. It might also affect the consumption and purchase which means that there could be a drop in the lifestyle for several Americans.
While the U.S. government is anticipating a retaliation from the Chinese government, the effect could be huge in the economy of both sides. In 2016, the U.S. exported $25.2B of agricultural products to China. The same value of exports will be affected thereby affecting the price of exports to China. When this happens, China may seek another alternative route which is to scout another cheaper source of agricultural products affected.
Sources:
Forbes, Marketwatch , Barrons, Wikipedia