11

min read
It can be tough to choose an email marketing platform that works best for your eCommerce company. And if you're stuck comparing major players like Omnisend and Klaviyo, it might be even tougher to come to a quick conclusion.
There's a good reason why Omnisend and Klaviyo are considered industry leaders for eCommerce email marketing. They both offer powerful automation workflows, robust list-building tools, and dozens of integrations with third-party apps.
But which platform might suit your e-commerce business best? And why?
Let's take a closer look at Omnisend vs Klaviyo by comparing each of their major features. We'll also walk through their biggest similarities and differences to help you make an informed decision, including factors like: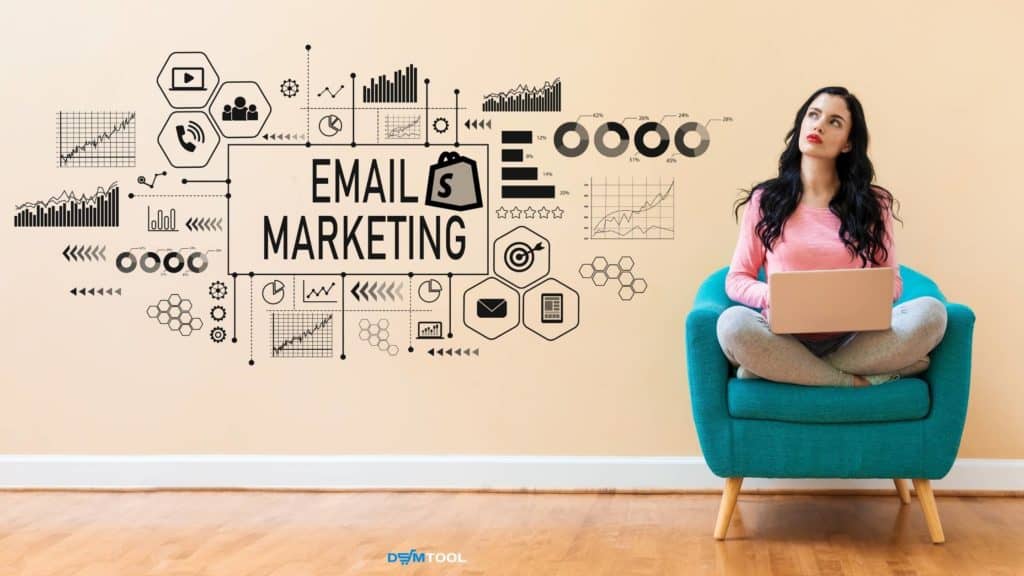 Pricing
The price differences between Omnisend and Klaviyo are relatively small. Both offer a free tier to all users, and both offer prices that scale alongside the number of contacts you reach every month.
For Klaviyo, there are three tiers:
Free Plan: $0
Email Plan: $20
Email & SMS Plan: $35
There's also a fourth solution called Klaviyo One for enterprise-level organizations.
Omnisend also provides three tiers:
Free Plan: $0
Standard Plan: $16
Pro Plan: $59
Upgrading to new tiers provides you with more emails, more contacts, and more SMS messages per month.
As mentioned earlier, the price you pay for Omnisend and Klaviyo depends on the number of contacts you have. Here's what that looks like compared side-by-side:
| | | | | |
| --- | --- | --- | --- | --- |
| Number of contacts | Omnisend Standard | Klaviyo Email | Omnisend Pro | Klaviyo Email and SMS |
| 1,000 | $20 12,000 emails 60 free SMS | $45 15,000 emails 150 free SMS | $59 Unlimited email 3,900 SMS | $60 15,000 emails 1,250 SMS |
| 10,000 | $115 120,000 emails 60 free SMS | $175 105,000 emails 150 free SMS | $150 Unlimited email 10,000 SMS | $265 105,000 emails 10,000 SMS |
| 50,000 | $330 600,000 emails 60 free SMS | $790 550,000 emails 150 free SMS | $650 Unlimited email 43,000 SMS | $1,150 550,000 emails 40,000 SMS |
| 100,000 | $720 1,200,000 emails 60 free SMS | $1,440 1,050,000 emails 150 free SMS | $1,150 Unlimited email 76,000 SMS | $2,115 1,050,000 emails 75,000 SMS |
Keep in mind that there's a difference here for custom quotes.
If you have an extremely large number of contacts in Omnisend (200,000+), you will be prompted to connect with a rep for a personalized estimate.
For Klaviyo, the largest number of contacts you can have without a custom quote is 150,000. Any higher, and you'll need to contact the company directly.
Channels
Email marketing platforms should be so much more than email management systems. In fact, many of the best platforms help you create an omnichannel presence across multiple channels, including text and social media.
Klaviyo currently offers three major channels:
Email
SMS
Facebook Retargeting
Facebook Retargeting allows you to connect with leads on social media by naturally fitting your ads into the flow of their favorite content.
Omnisend provides each of these three channels as well, along with two additional options. Their five channels include:
Email
SMS
Web Push Notifications
Facebook Retargeting Sync
Google Retargeting Sync
Both Omnisend and Klaviyo offer an SMS channel in countries outside of the United States. However, Klaviyo's messaging system is currently limited to recipients in the US, UK, Canada, and Australia. In contrast, Omnisend provides global SMS messaging to hundreds of different countries.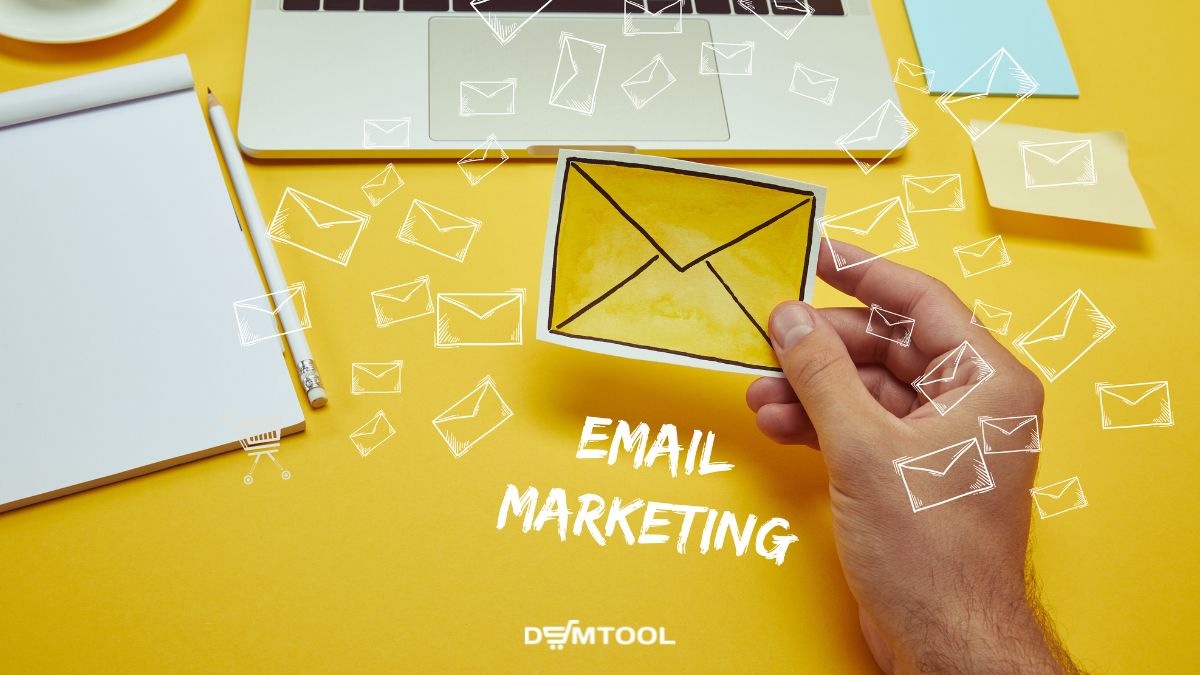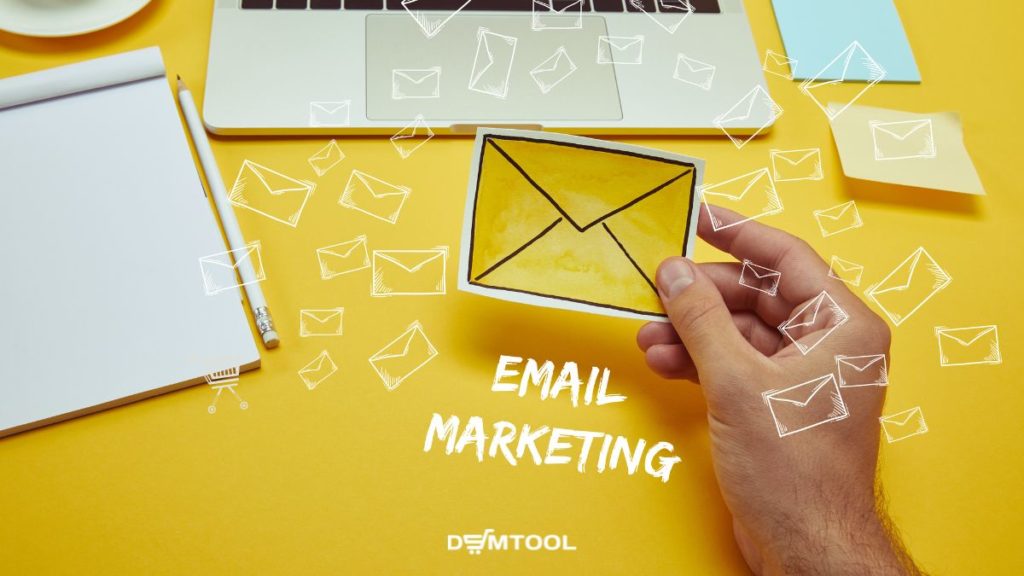 Email builder
Both Klaviyo and Omnisend offer no-code, drag-and-drop email builders with a gigantic library of pre-built templates.
Many of their features are relatively comparable, as you can see here:
| | | |
| --- | --- | --- |
| Email Building Features | Klaviyo | Omnisend |
| Email templates | Yes | Yes |
| Drag and Drop Builder | Yes | Yes |
| A/B Testing | Yes | Yes |
| Savable content blocks | Yes | Yes |
| Product recommendations | Only for certain categories | Yes |
| Mobile responsive | Yes | Yes |
| Gamification | No | Yes |
| Discount codes | Yes | Yes |
With Klaviyo, you can add customizable blocks for text, images, headers, and much more. You can even add recommended products from your store to create dynamic or universal content for targeted recipients.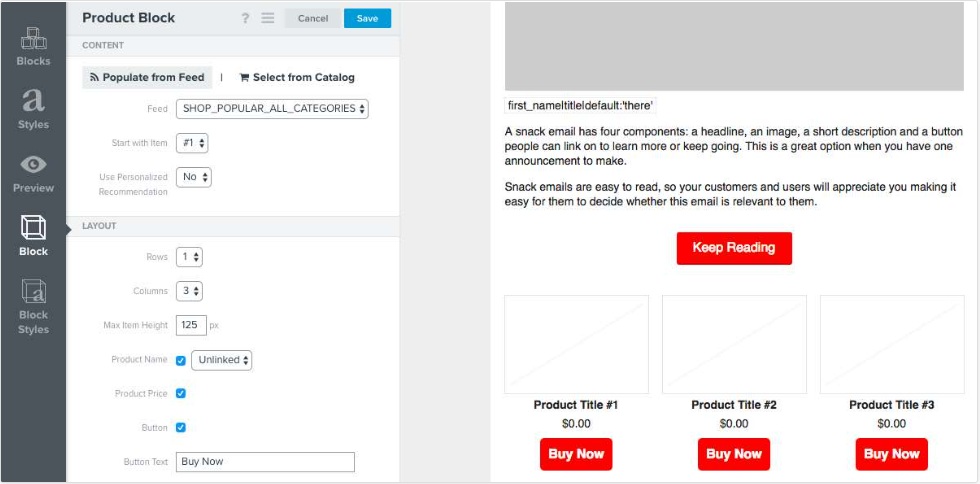 Omnisend allows you to customize virtually any field, from images, text, and headers to columns, white space, and even the number of products shown.
Omnisend also offers gamified features that can be directly embedded within your email campaigns. For example, unique discount codes can be created for each user without the threat of inbox sharing. Fun-like gift boxes and scratch cards also work to engage customers with a touch of delight.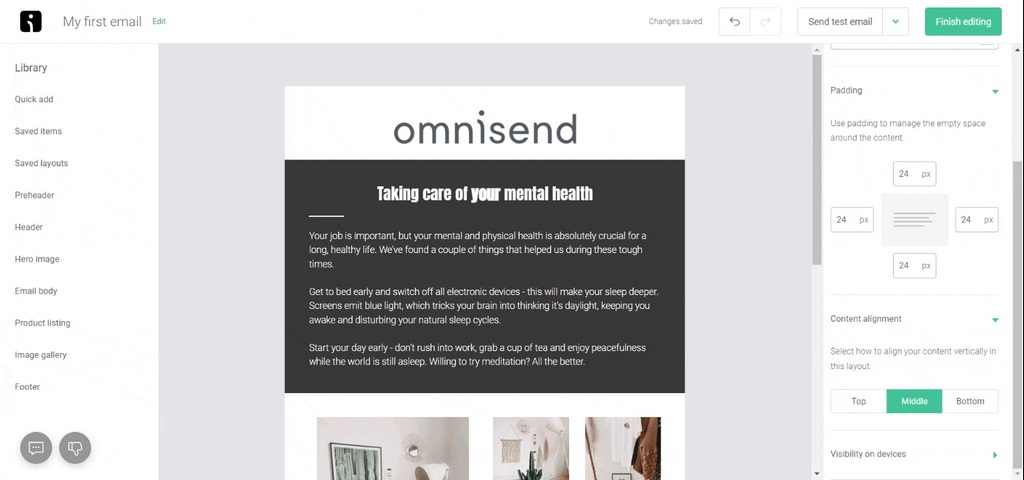 Beyond the basics of email building, Klaviyo and Omnisend also take separate approaches to deliverability disclosures (i.e., the number of emails that bounce, hit spam folders, or reach dead numbers or addresses).
Klaviyo discloses deliverability statistics alongside industry benchmarks. You must provide your industry and meet certain eligibility requirements to see these benchmarks.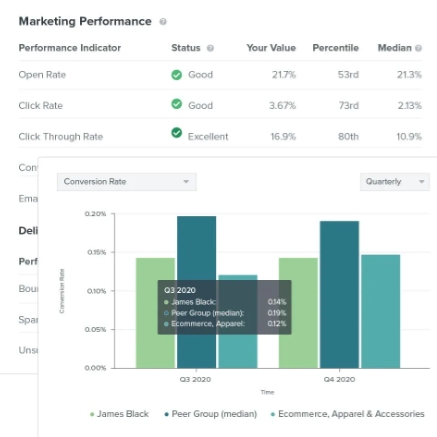 Omnisend provides full disclosure on deliverability for every email. These can be viewed in your analytics dashboard after each campaign.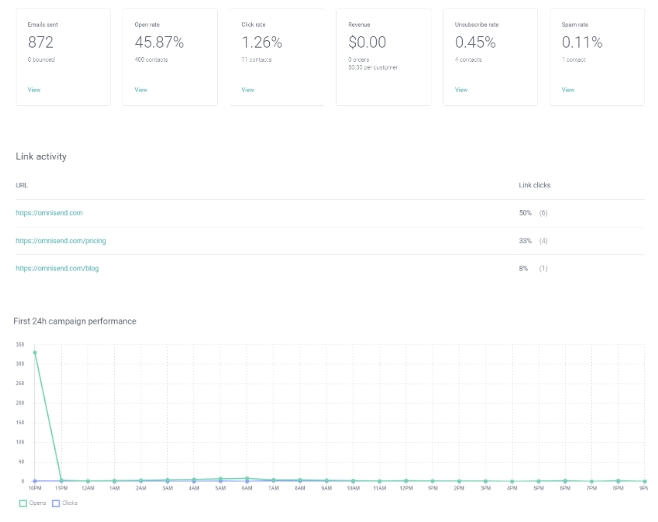 Omnisend also provides a warm-up program for younger contact lists, which mitigates certain deliverability concerns for new startups or companies that are new to the email marketing scene.
List building
As an eCommerce brand, your email list is one of the biggest ROI machines for ongoing sales. Ergo, it will be important to partner with an email marketing platform that can really make a difference by growing, nurturing, and attracting high-quality leads to your list.
Omnisend and Klaviyo are packed with some incredible list-building tools. Both have beautiful libraries with pre-built sign-up templates, and each of them covers the basics for attracting and satisfying customers.
Klaviyo provides a slew of options, including embedded signup forms, order confirmation emails, out-of-stock messages, and loyalty programs. Users at any tier can access and use these features to the limit provided by their plan.
Omnisend also offers each of these features, plus a little extra. The platform offers landing pages that let users build custom experiences surrounding specific products, particularly with dynamic timing.
There are also some gamified popup pages that attract the attention of visitors before they bounce off your page. The wheel of fortune is perhaps the most popular of these, as evidenced below: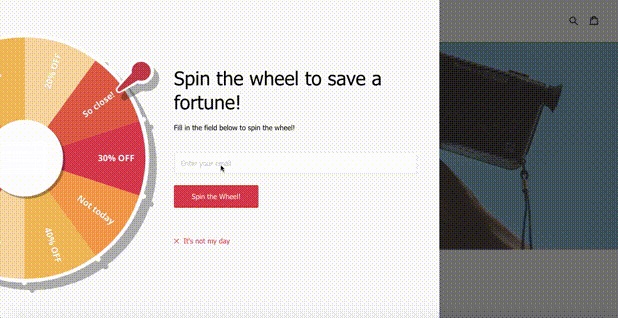 We'll look more into each platform's gamification options later on.
In the meantime, it's worth taking a closer look at each of the list-building features here:
| | | |
| --- | --- | --- |
| Email List-building Features | Klaviyo | Omnisend |
| Landing Pages | No | Yes |
| Popups (immediate, exit-intent, on specific URL, announcements) | Yes | Yes |
| Signup Bars | Yes | Yes |
| Gamified Popups | No | Yes |
| Embedded Forms | Yes | Yes |
Although many of these list-building features are quite similar, only Omnisend offers landing pages and gamified popups. Klaviyo has not indicated that they are working on either category.
Automation
Automations are the differentiator between a good marketing platform and a great one. Not only do they reach customers even while you sleep, but they empower your brand to create personalized messages that meet any expectation.
Klaviyo and Omnisend share many of the same automation features. Both allow you to create custom workflows with email and SMS, and both offer easy access that immediately put your marketing campaigns on autopilot.
However, each of these platforms take a unique approach to webflows in their automation builders.
Klaviyo's flow builder provides options for triggers, splits, and time delays. You can connect with third-party apps to create more complex triggers, or keep things simple using their native tools.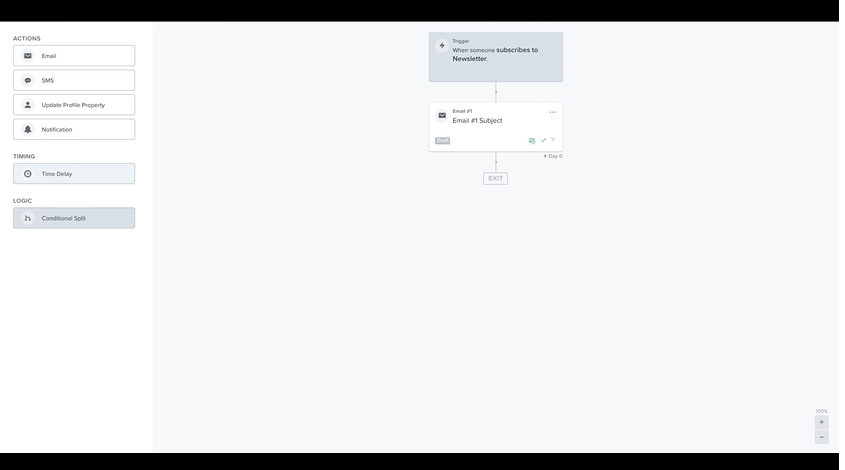 Omnisend's automation builder offers all this and more. The platform provides automation options for more than just SMS and email, including web push notifications. Unlike Klaviyo, they use cookies to track cart abandonment before users click away from your website. This can may increase sales and decrease missed opportunities as a result.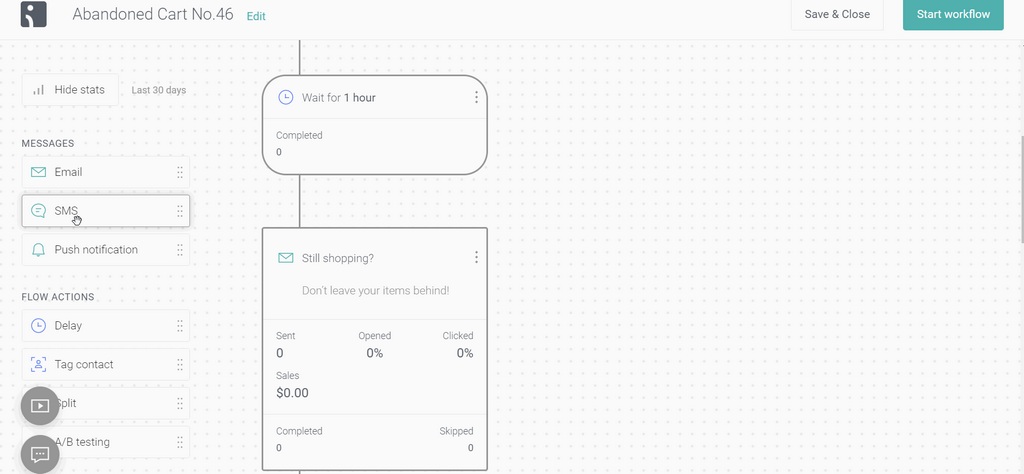 Both Klaviyo and Omnisend offer third-party integrations that work alongside their respective automation workflows. Klaviyo has 220 integrations. Omnisend currently sports 93+ integrations, with the intention of adding more.
Gamification forms
Gamification makes your website genuinely fun and interesting to visitors. Not only can it boost your brand perception, but it can also drive customers to take action by signing up for your newsletter, browsing your inventory, or even making a purchase via discount codes and prizes.
Unfortunately, Klaviyo doesn't offer any gamification forms at all. However, some of its third-party apps (including Wheelio and ODICCI) provide some limited options.
Omnisend provides native gamification forms to all users — including those on the Free plan. There are a number of different signup forms to choose from; popups, landing pages, wheel of fortune, and signup boxes, to name a few. This allows your business to sustainably grow interest in your brand without appearing cookie-cutter or boring.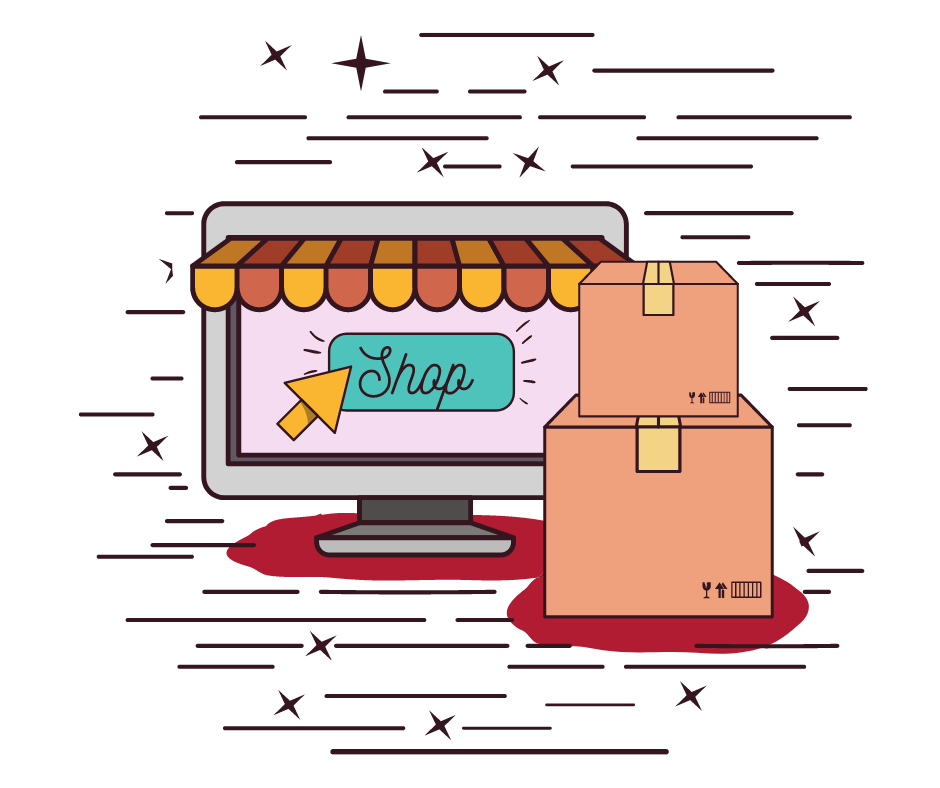 It's time…
Don't wait for success to come. Hire yourself and start your own dropshipping business
Support
Customer support can make or break your email marketing process. Too inaccessible, and the service won't be much of a help at all. Too restricted, and you won't be able to get help exactly when you need it.
Klaviyo offers basic customer services to all users, including those on its free plan. However, this is email only.
The hours are quite limited: 6 AM to 10 PM ET on weekdays and 10 AM to 4 PM ET on weekends. Keep in mind that customer services may not be accessible at all during holidays or big events.
In contrast, Omnisend offers 24/7 email support to each of its users, and 24/7 live chat to its paying customers. The average response time is just 5 minutes — even during peak sales times like Black Friday.
If you require additional customer support, Omnisend also offers free Customer Success Managers to brands paying $400 a month. Although Klaviyo also offers this service, users must be paying a minimum of $2,000 per month to be eligible.
The final word
Omnisend and Klaviyo are both incredibly powerful email marketing platforms. Each is geared toward eCommerce businesses, has highly advanced automation solutions, and relies heavily on modernized list-building features to connect with customers at scale.
So which is the best platform for your business?
As always, it depends.
The right choice for your business largely depends on your company's size, budget, and use cases.
If you're looking for a robust, well-rounded platform with hundreds of gamification possibilities, Omnisend may be the perfect option. On the other hand, brands with more limited channels and less need for support may find Klaviyo to be a good fit.
In either case, the most efficient way to determine the best email marketing platform is to give both options a spin.
Klaviyo lets you sign up for a live consultation and walkthrough on its website. You can also get started with Omnisend for free in 10 minutes or less.