9

min read
Chinese New Year is celebrated in almost every nook and corner of the world. And it's really interesting to know how Chinese New Year is being celebrated in major consumer markets like the United States and Europe.
This year, Chinese New Year is on February 5th. In modern China, New Year's is also referred to as the Spring Festival. The celebration includes dragon dance parades, colorful and vivid floats, martial arts exhibitions, carnival shows, and the most awaited fireworks display. The fireworks display highlights the celebration because it entails good luck, the louder the firecrackers are, the more blessings are in store for the year ahead.
China Highlights provides us a simple draft of how Chinese New Year is celebrated from the preparation, the day of the New Year, and post New Year Celebrations.
Chinese New Year Around the World
The event is not just recognized in China, but also in many countries throughout the world, particularly in East Asia and in various Chinatowns spread around the globe. In the United States, the spirit of Chinese New Year is celebrated in Los Angeles, New York, and San Francisco. In Europe, one can experience the warmth of the celebration in places like London and Paris. Where there is a small area called Chinatown, expect to see a celebration at this time of the year.
Major Consumer Markets (Outside of China) Celebrating Chinese New Year
Southeast Asia
In some nations of Southeast Asia, the Chinese New Year is observed as a national public holiday. It is also regarded as essentially the most significant holiday celebrated in the year. The eve of Chinese New Year is commonly a half-day holiday in nations like Malaysia and Singapore. The most significant festivities occur in Singapore, Indonesia, and Malaysia.

Countries with Biggest Chinese Population (Overseas Chinese/Wikipedia)
Singapore. In 2015, records show that there are 2,571,000 (76.20%) registered Chinese Singaporean. With Singapore population taking its roots from China, the Chinese New Year celebration is so vast that it's almost comparable to mainland China. Among the main highlights is the celebration in Chinatown. The Chingay Parade, a yearly street parade in Singapore is also among the most featured celebrations at this time. The parade is famous for its bright and colorful floats accompanied with various performances of every culture.
Thailand, Malaysia, the Philippines, and Indonesia. These are among the nations that are also populated by many Chinese people. Chinese New Year celebrations are also being observed from the preceding days to the 15th day following the New Year's day. Celebrations in the southeast are more family focused, gathering the family together over dinner. The venue is usually held in the home of the most elderly member of the family. Food is plenty and traditionally prepared.
With records showing more than 20 million Chinese population in Thailand, Malaysia, The Philippines, and Indonesia, it follows that the yearly celebration is a big one. Most shopping malls are adorned with lantern and lion or dragon decorations displaying a bright red and gold as the primary color. The dragon dance is a highly prevalent sight in temples and on the streets of Chinatown. — Demographics of Overseas Chinese
In Hong Kong, the preparation for the Lunar year has begun with all the lights and lanterns adorning the streets from corner to corner and building to building.
The Lunar New Year, Lights and Lanterns are Now Up
Australia is among the nations that record the biggest Chinese population at 1.2 million as of 2016 data and statistics. The most prominent Chinese New Year is observed in Sydney and Melbourne. The event lasts for over three weeks with outdoor markets, night shops, street foods, dragon races, Chinese opera shows, film fests, and multiple parades. Chinese New Year is also observed in Brisbane, Perth, and Adelaide.
North America
Much like many nations, there are also noted Chinese populations throughout North America. Each year, many cities hold official parades for the celebration of the Chinese New Year. This includes New York, Los Angeles, San Francisco, Boston, Chicago, Mexico City, Vancouver, and Toronto. Even small cities with a significant Chinese population celebrate the Lunar New Year.
In the United States, the record shows 1.50% Chinese American and American-born Chinese as of 2015 demographics. Among the most prominent Chinese New Year celebrations are observed in New York and California.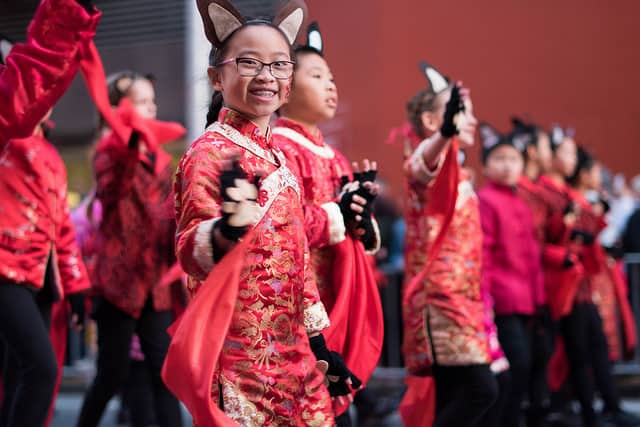 Chinese New Year Parade in San Francisco, 2018. Chinese Immersion School at De Avila. Candiedwomanire/Flickr Photos
In New York, Chinese New Year is also referred to as Lunar New Year celebration that takes about a week long. Cultural and music festival takes place and the celebration never misses to have fireworks display along the Hudson River. Special market days and exhibits take place featuring traditional Chinese products and art.
In California, particularly in San Francisco, the oldest and biggest event outside of Asia is the San Francisco Chinese New Year Festival and Parade. History accounts that the parade started in 1958 with a goal to introduce the Chinese culture among fellow San Francisco residents. Each year, there are more than 100 participants who join the parade with more than 500,000 thousand people attending. The event is televised to more than 3 million viewers across the U.S.
Europe
Although demographics show a lesser Chinese population in Europe compared to the Americas and the Asian countries, there are still notable Chinese New Year celebrations in various European nations such as the United Kingdom and France.
The United Kingdom shows a record of 433,150 British Chinese as of 2008 (the figures may have increased through time). The Chinese New Year in London is perhaps among the most notable events celebrated in the city. It takes place specifically in Chinatown, Leicester, and Trafalgar Square which includes parades, concerts, and fireworks.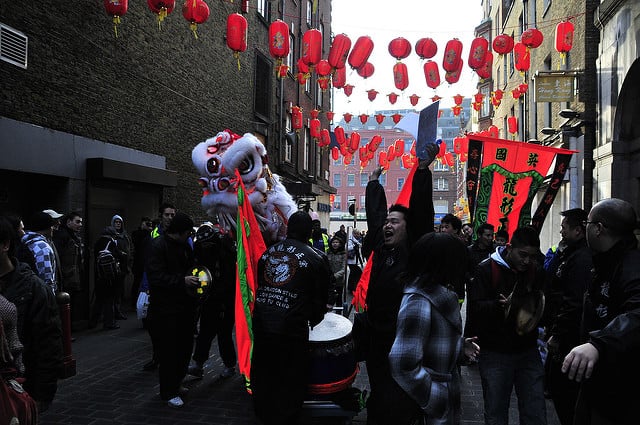 Celebrating Chinese New Year In London. Vegaseddie/Flickr Photos
In France, there's a record of 700,000 Chinese diasporas (people of Chinese ancestry, born or migrated to France) as of 2010. Among the most notable Chinese New Year celebration takes place in Paris. The event also features parades, performances, and fireworks.
Top Favorite Items Commonly Used In Chinese New Year
1. Nian Gao (Chinese New Year's cake). It is considered good luck to eat "nian gao" around this time of the Chinese calendar. "Nian gao" is another term for "higher year" and it also means a sticky cake that brings the family together. This famous Nian Gao can be purchased from Asian Market.
2. Red Envelopes ("Ampao"). Cash gifts enclosed in red envelopes known as "ampao". This is typically given on special occasions such as the Chinese New year, from an adult to a child, from parents to children, from an older married couple to younger couples, and so on. Get your red envelopes from Aliexpress. Many stores offer various red envelopes with varied pig designs this 2019.
3. Fireworks/Firecrackers. Much like the regular New Year and the 4th of July, firecrackers are an essential part of the Chinese New Year. It is believed that the very loud noise from the firecrackers wards off evil spirits and negative energy.
Note: Fireworks are banned in most cities due to safety reasons and therefore there are very few places that you can really get firecrackers for the season. But you can still find many Chinese suppliers and U.S. suppliers who offer this. Google searches show Dominator Fireworks, WFBoom, and Overstock Central among others who offer retail and wholesale firework products.
4. Incense. It is this time of the year when Chinese temples are filled on the third day after the Lunar New Year. They light incense and pray to the deities for good luck and blessings. Find incense also on Amazon, eBay, Aliexpress, and Banggood.
5. Red paper lanterns or "Lampion". The red lanterns with gold Chinese emblems are used as main decorations on the streets. It stands for hope for a brighter future. Red means happiness and gold for wealth. Check out Amazon. Various Chinese lantern decorations are on sale.
6. Window Flower. A paper cut folk art that displayed on windows. These decorations are in Chinese words and auspicious symbols drawn over red paper. Related images of animals are drawn, for this year of the pig, the favorite is pig drawings over red paper.
7. Pig ornaments. 2019 is the year of the pig. In line with this, several online stores are offering the year of the pig ornaments such as figurines in red and gold and other pig crafts. You can find cute pig items from Amazon, Aliexpress, eBay, and even Banggood.
8. Fu, Happiness, Good Fortune Hangings. Chinese words that mean Fu, Happiness, and Good Fortune are drawn in a piece of red paper (cut in squares) with gold writings. These are pasted onto doors, walls, and windows. There are ready-made crafts of this type which you can find from print-on-demand shops. Most Chinese would rather create their own purchasing only the materials needed for the hangings.
Impact of the Chinese New Year on eCommerce
Over 2 billion people are celebrating the Chinese New Year/Spring Festival this year considering the sizable Chinese communities spread across the world. For this event happening year after year, the impact on commerce (traditional and eCommerce) is huge. Expect delivery of supplies to be stalled if you are managing an online store with most of your products coming from China. And if you are running a traditional retail store, you can expect a sudden rush of consumers increasing the demands for consumer products.
For anyone in the eCommerce retail industry, particularly in the dropshipping business, anticipate the Chinese New Year celebration, preparation is key.