4

min read
Along with our ongoing series of articles regarding the latest eBay announcement on the upcoming updates in their platform, we wanted to let you in on some of the changes that are bound to happen this year with a timeline of estimated dates, so you won't get caught off guard. If you still haven't caught up with our first update about it, you can do it now.
February

eBay catalog is launched, and will gradually include more and more items, which will present individual listings with multiple sellers in a buy-box. In our latest article relating this update, we explored how to improve shipping methods and lower your prices, as a means to adapt to the change by becoming the featured seller.
The new eBay catalog system is going to change the flow you go through when publishing items and revising items on eBay. All new items will be affected, but also all GTC items will be affected once renewed after 30 days. In an email sent to eBay developers a more specific timeline was announced: on February the catalog API will be accessible in developer mode to allow adapting the third party eBay listers to the change. On May, some eBay categories will start requiring the new flow, meaning that if you have items in those categories you might encounter alerts/errors related to them requiring you to publish/revise the items using the new flow.
Sounds hard to follow? The entire development community is working these days with eBay listers/repricers to adapt to the changes. Using a reliable software that is prepared for the near (and far) future is crucial in order to manage a long-lasting, fruitful drop shipping business.
March

Promoted listings make their way onto eBay Homepage, paving the way for smaller sellers to appear in the first place buyers enter to shop. The placements are controlled by eBay's algorithm, so it only shows to buyers looking for those items that are promoted.
More sellers can enter their items into the eBay Guaranteed Delivery Program. This allows items that will be shipped within 3 handling days to be more visible to buyers, using the new Filter. Up until now, the requirement stood on at least 100 transactions in the last year and a late shipment rate of less than 5%, which now is changed to just 3%. Sellers will also not be required to use eBay shipping labels, but none the less, they still have to upload validated tracking in time for at least 95% of their orders.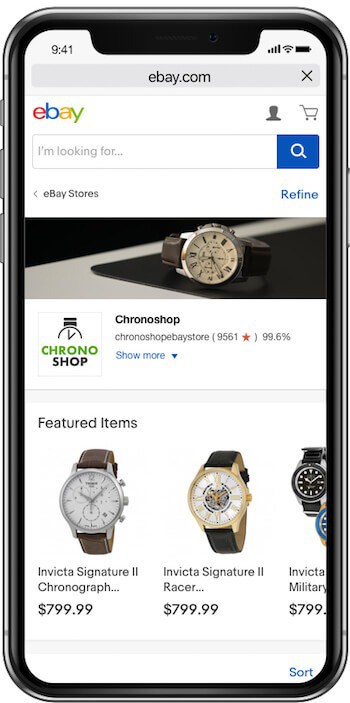 May

Two more eBay stores are being offered to sellers, helping newcomers to launch their business with a Starter account, and the big players with the Enterprise store. The Starter account lets you list 100 items with no insertion fees, and it costs $7.95 per month, or $4.95 monthly when paying for the whole year. The Enterprise store lets you have 100,000 listings with no insertion fees for $2,995 per month, and allows topping up listings as well.
If you have a basic store or don't have one at all, you should know that the insertion prices for listings exceeding the number of free listings will be raised by 0.05 cents.
Stores are starting to get a fresh design with the new shopping experience. The update will have your stores look more like eBay's homepage, improve the shopping experience on mobile devices and tablets, increased security and will show buyers the most relevant items in your store according to their search history and actions.
Also, eBay introduced the Highline Search Ads feature, which brings product promotion to a higher level!
June

Return policies are being simplified and Top-rated sellers are required to offer their buyers with 30-days free return windows. The number of options you can choose for your return policies are being reduced to just five (No returns, 30-day paid/free returns, 60-day paid/free returns), and the restocking option will no longer be available, meaning that many drop shippers will earn a bit less from returns.
New feature relating cases and requests data enter the seller hub to help with problematic items. The new metric will show you listings that presents after-sale issues and comparisons with other sellers offering the same item.
Summer

Shipping label creation updates and new pricing tool with API integration is introduced. Both of these changes will hardly impact drop shippers, mainly because they mostly use third-party repricers and their favorite source's shipping labels.
More about eBay Summer Seller Update here.
Want to know where we got all of that information? Here's our list of sources:
Inventory Optimization
Shipping Enhancements
Growth Tools
eBay Stores
Simplified Returns
Seller Protection
Update:
Just 2 and a half months have passed since the 2018 eBay Summer seller update was announced until this Fall update was released on August 7th, with plenty of things we should take into consideration.