One of the most important parts of your eBay store is the feedback rate. Auto Messaging on eBay has become an important element to receive a good feedback rate. In the pursuit to get as many positive feedbacks as possible, automating the process proves to be helpful in achieving a great rate of feedbacks from the total amount of orders your store produces.
Disclaimer: this feature is not available with the free plan of 50 listings on DSMtool.
As you are probably aware by now, many sellers on eBay are using automation processes in their customer service scheme. This automation process includes positive feedbacks that arrive instantly after you purchase something from them, or the tracking number when the item is shipped.
The Auto Messaging Feature on DSM Tool
When using DSMtool's auto-messaging feature, you can save yourself plenty of time, and still maximize your feedback potential. Here is how to use the auto messaging feature on DSM Tool.
Go to your account settings and enter the Sales & Orders tab or just open this link right here.

Go to the After-sale auto messages. You will find the message section where you can send a message to the buyer after you have marked his item as ordered. You can use DSM's default message or create your own.
The placeholders [[ITEM_TITLE]] and [[CLIENT_NAME]] can be placed wherever you like, and they will automatically be filled with the correct details.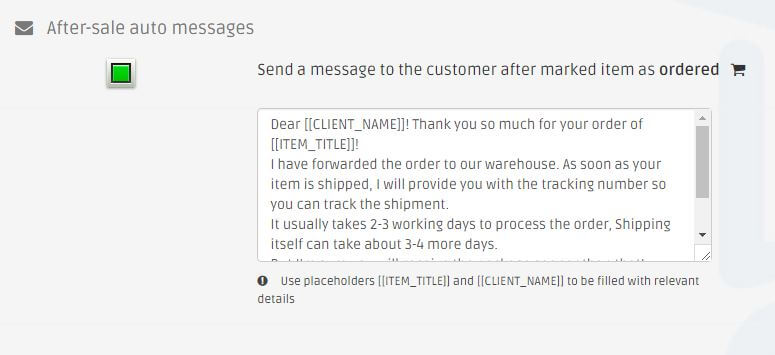 The positive feedback section. This section allows you to leave your buyer a positive feedback right after he made the purchase. This is quite important and will save you plenty of time doing it manually on eBay every time.

Message that automatically sends tracking number and carrier to buyer. Keep scrolling down and you will see the message going out to your buyers when their item is shipped. You have to enter the tracking information from your DSM Sales & orders page for it to work properly. It will automatically pull the tracking number and carrier and place them in the message, and let your buyer know that his package is on its way.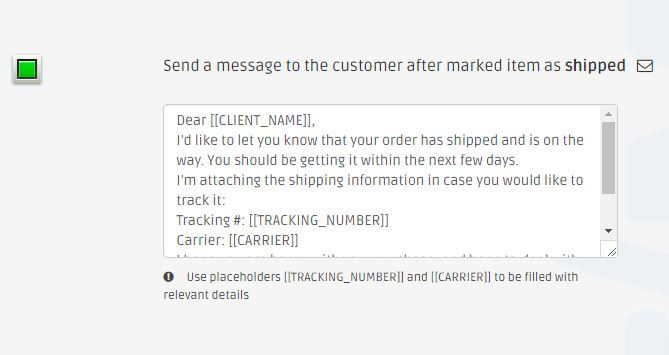 Message asking for a positive feedback. Last, but not least, is the message asking the buyer for a positive feedback. It will be sent after your desired amount of days from when the item was shipped: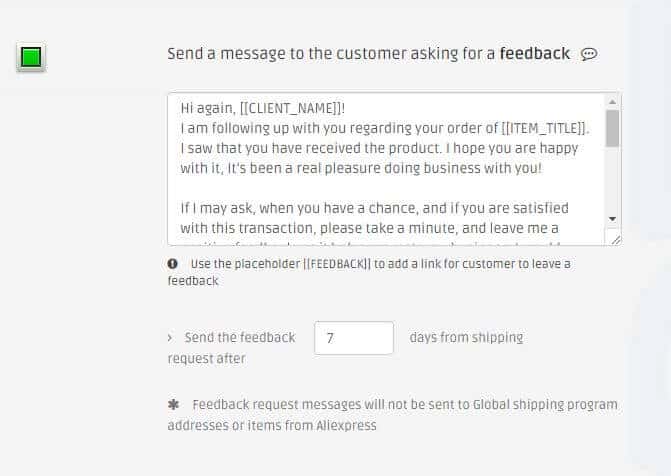 You should be aware that the feature can't detect when the buyer already left a feedback.  However, you can prevent the message from ever being sent by clicking on the green clock icon located on the left-hand side of that order in your Sales & Orders page on DSM, or just ignore those pesky replies saying they already did leave the feedback and the likes of it. Just make sure to do it if there's an issue with that customer.
About author
Shai is the editor of DSMagazine and our marketing expert. His eBay account is open since 2011, and he just moved out of Thailand after living there for 5 years to travel the world with his laptop. Also, he firmly believes in single-tasking. (P.S, He can speak Hebrew, English, and Thai!)